Zepo vs Shopify: Which Platform Wins?
Setting up a new firm may be a difficult job for many young entrepreneurs. However, with the advancement of technology, most industries, including retail and real estate, have gone online. Online retail and e-commerce are now proven and viable business choices. So, how does one go about starting an internet business, and what considerations should be considered?
Using online shop builders such as Shopify.in and Zepo.in is one of the simplest ways to create an online retail business. Both of these sites provide a wide range of features and packages that are bright, engaging, and user-friendly. This implies that anyone with a basic understanding of computers and the internet may use these services.
However, finding the best Ecommerce Platform solution for your specific requirements is a challenging process. Implementing software such as Shopify or Zepo necessitates careful consideration and evaluation of critical variables. You're probably thinking which is better, Shopify or Zepo. Therefore, in this article, we will look at the characteristics of each site and help you choose a winner.
About Zepo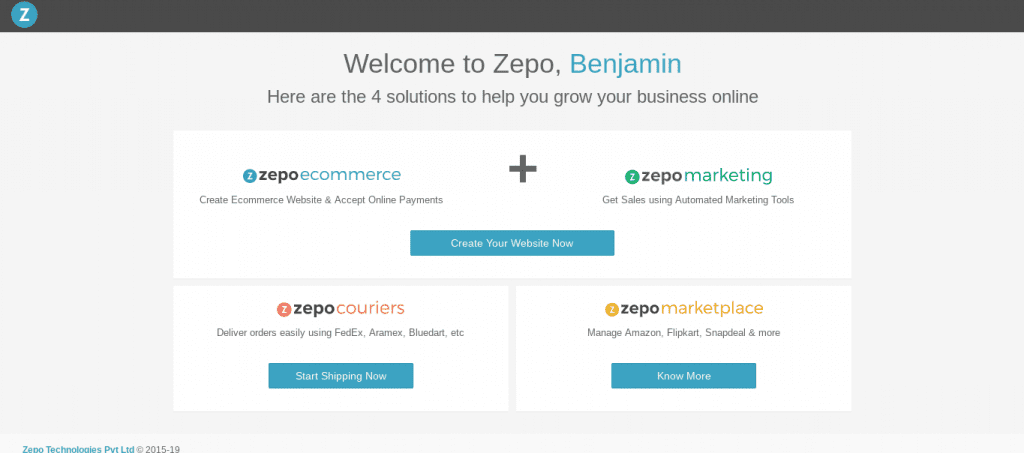 Zepo is a SaaS platform that offers complete eCommerce solutions to Indian companies. Anyone may establish their own online store in minutes using its sophisticated platform. Customers are given a free payment gateway to use on their website to accept online payments. They can plan and dispatch shipments all around the world utilizing renowned courier firms like FedEx and Blue Dart. Customers may handle purchases on numerous marketplaces such as Amazon, Flipkart, and others from a single dashboard, in addition to their own online businesses.
About Shopify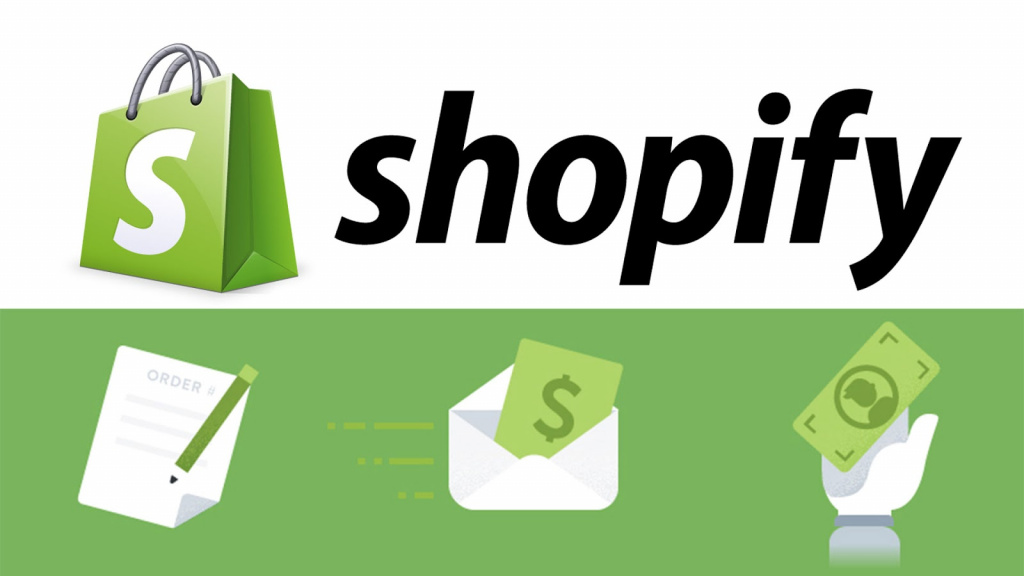 Shopify is a subscription-based platform that allows anybody to create and sell an online store. Shopify shop owners may also sell in physical places by utilizing Shopify POS, our point-of-sale app, and related hardware. If you are a Shopify merchant that has both an online and physical presence, your inventory and stock are synchronized so that you can manage your store(s) from a single account, on any device.
Main differences between Zepo and Shopify
There are some main differences that online shop owners should take into consideration before choosing either Zepo or Spotify. Firstly, Zepo eCommerce users can start selling on this platform from $31 per month with the flat-rate pricing model, while Shopify shop owners will start from $29 per month. However, the pricing model is not provided by the vendor. Secondly, when it comes to customer support, there are differences for you to notice as the quality and responsiveness of assistance is a crucial factor to consider. Shopify provides phone, email, live help, and tickets as customer assistance, whereas Zepo just provides email.
In addition, the intended client bases of Shopify and Zepo are quite distinct as they both have some characteristics that are most suited to your company's needs. Shopify targets startups, enterprises, SMEs and freelancers while SMEs, Agencies and Enterprise are Zepo's typical customers.
Zepo vs Shopify: Which platform will win?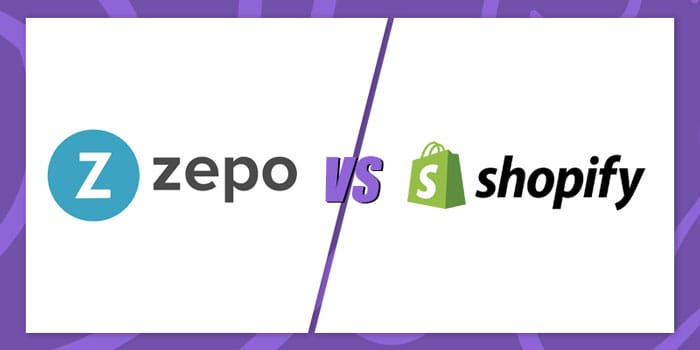 Features
| Zepo's features | Shopify's features |
| --- | --- |
| Template support | Order management |
| Email marketing tools | Email marketing tools |
| Selling via multiple channels | Selling via multiple channels |
| SEO managements | Categorization tools |
| Reviews management | Channel management |
| Multi-store | Multi-store |
| Kitting | Customer accounts |
| Inventory management | Inventory control tool |
| Data security | Inventory management |
| CRM | CRM |
| Promotions management | Discount management |
|   | eCommerce management |
|   | Mobile access |
|   | Gift card management |
|   | Promotions management |
|   | Refund and returns management |
|   | SEO management |
|   | Shipping cart |
|   | Shipping management |
|   | Product configurator |
Ease of use
Zepo's ease of use
It's simple to set up your Zepo store and manage it. The platform provides you with a step-by-step guide on how to getting started with Zepo. Also, its helpful features will help you understand the core of each step in the process so that you can maintain it more easily.
Shopify's ease of use
Shopify is also easy to use. Besides the in-depth guides, Shopify has a clean and beautiful storefront that is easy to follow. The simple visual elegance of Zepo's pages makes it professional but not complicated.
Final verdict: Shopify wins this round since it has the same ease of use as Zepo but goes along with a modern storefront.
Customers
Zepo's customers
Zepo is most suitable for SMB's who are small to medium businesses. Besides, customers of the platform can be SMEs, Enterprises, Manufacturers, or Agencies.
Shopify's customers
Shopify offers pricing plans suitable for all levels of business. The standard plan is for small to medium businesses. Shopify Plus is for Enterprise companies. Also, start-up companies, freelancers, SMEs can be its customers.
Final verdict: Shopify seems to be suitable for more business owners.
Pricing
Zepo's pricing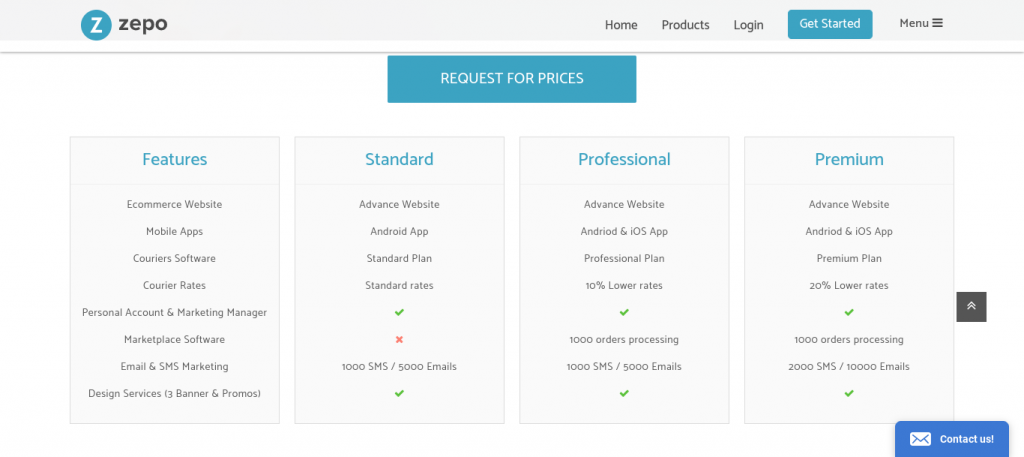 Zepo brings about three pricing plans for its customers to choose from. They start from $31 per month, including a free trial and a free version.
Additionally, for each individual product, Zepo provides its customers with Zepo Marketing, Zepo Website, Zepo Couriers, Zepo Marketplace.
However, it's impossible to point out how much Zepo costs since it does not have a fixed pricing table going with supported features like Shopify. In order to get the price, you have to request it by filling in a short form and reserve a call to find out details for each pricing plan.
Shopify's pricing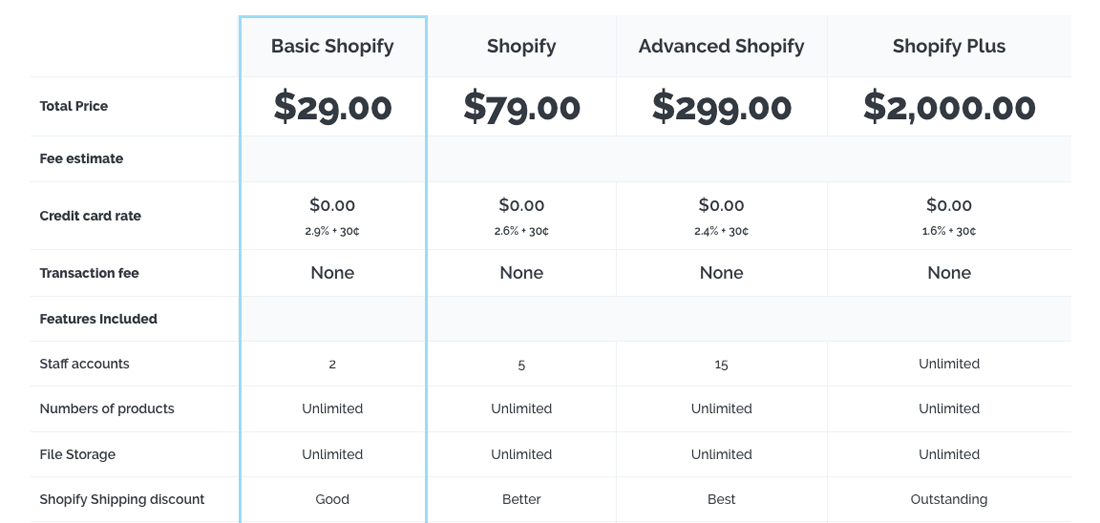 On the other hand, the pricing of Shopify is transparent and verified. There are 5 pricing plans for you to choose from, including:
Shopify Lite costs $9 per month with features like adding products to websites or blogs, social media selling, chatting with customers on Facebook, or accepting credit card payments.
Basic Shopify costs $39 per month. You can approach features like setting up online stores, unlimited products sold, 24/7 customer support, etc.
Shopify costs $105 per month. You can get all features of the Basic plan, additional features, better rates for shipping and payments.
Advanced Shopify costs $399 per month with more advanced functions and better rates.
Shopify Plus costs $2000 per month that is most suitable for large businesses or those with custom demands.
Final verdict: Shopify wins this round since it's more clear in displaying prices and provides more plans suitable for more levels of business.
Customer support
Zepo's customer support
The customer service of Zepo is excellent. You have multiple ways to approach the platform to get help. They include:
In-depth knowledge base
Articles on how to set up and use Zepo Marketplace, Zepo Marketing, and Zepo Couriers.
FAQs for each product with common questions from its customers
Fill in the short form on the website to ask for help
Email chat
Phone support
Shopify's customer support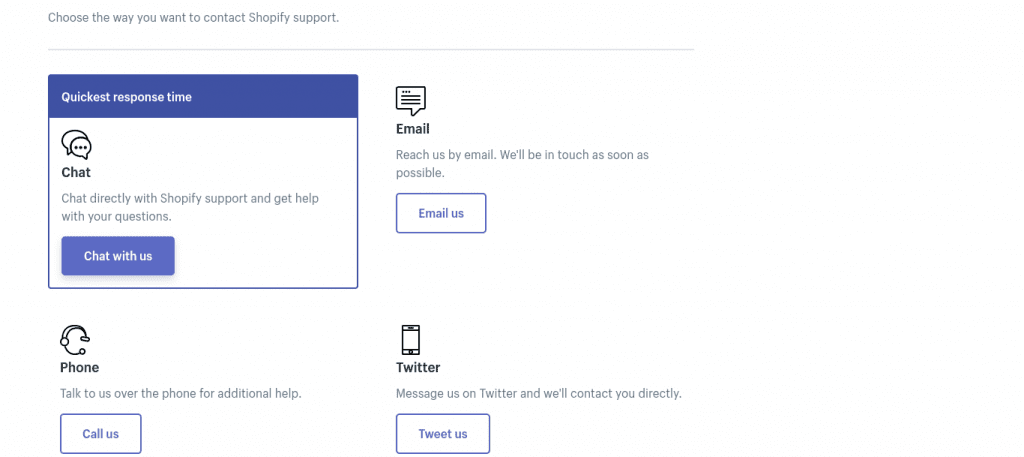 Also, Shopify's customer service is fast and dedicated. Some methods you can use to get help from its support team are:
Shopify Help Center to get information about setting up and managing your online store
Shopify Community on the public forums to ask something as well as share answer or eCommerce tips with other users
Live Chat
Email support
Phone support
Direct message via Twitter
Final verdict: It's a tie here when both platforms offer multiple helpful customer support methods. Shopify is a little bit better thanks to its community.
Deployment
Zepo's deployment
Zepo is only available on the Web App desktops platform.
Shopify's deployment
Shopify is available on Windows, Macintosh desktop platforms. When it comes to mobile platforms, it's available on both Android and IOS.
Final verdict: When it comes to deployment, Shopify is suitable for more devices and platforms.
Marketing and SEO
Zepo's Marketing and SEO
A very noticeable product of Zepo is Zepo Marketing. With this solution, you have all marketing and SEO features to grow your business as well as widespread your products or services.
Here are some functionalities of Zepo Marketing:
Advanced targeting: Easily and correctly target the right customers to send the most relevant content.
Multiple advertising platforms: You are enabled to launch product advertising programs on many platforms, including social media channels like Facebook or Instagram.
Ad Analytics: You are provided with real-time reports about the advertising situation.
Social media management: You have the chance to approach their brand position strategy to increase the number of followers. This feature also goes along with real-time reports as well as performance metrics.
Personal account managers: If you have any marketing needs, you can approach your account manager offered by Zepo Marketing to get solutions, advice, or guidance on marketing and SEO. For example, you can ask them how to run an advertising program well, optimize your listings for SEO, create an effective email marketing campaign, or set up an SMS campaign.
Shopify's Marketing and SEO
Shopify has multiple marketing and promotional features for all business levels to promote its online stores. As we mentioned earlier, Shopify has various integrations. When it comes to the marketing major, it has nearly 600 apps to help you which includes some categories like Email marketing, Sales, Discounts, Contests & giveaways, Affiliate programs, SEO, Content marketing, Social media marketing via Shopify Channels, Advertising, Targeting, Customer retention, and more.
Final verdict: It's a tie here. Both platforms have marketing and SEO features to help their users run their stores better.
Payment methods & Shipping
Zepo's payment methods and shipping
Zepo provides its users with a monthly payment plan. Also, it does offer a free trial for you to test all the features before spending money.
When it comes to shipping with Zepo, you need to know about Zepo Couriers. Besides being a function of Zepo, it can be used as a standalone product. That means you don't need to build up a website with Zepo to use Zepo Couriers.
There will be a list of different shipping couriers with their prices for you to choose from which are:
DHL
FedEx
Bluedart
Aramex
Dotzot
Delhivery
As a business owner, you just need to set the picking up time and print out the shipping label going with the package. Then, the courier service will come along to pick up the product to deliver it to buyers. Additionally, you have full control over the product delivery via email notification, SMS messages, and return shipment reports.
Zepo Couriers have integrations with multiple eCommerce software. As long as you have an online store on the following solutions, you can make up of Zepo couriers:
Amazon
Flipkart
Snapdeal
PayTM
Shopclues
Magento
OpenCart
WooCommerce
Shopify
Shopify's payment methods and shipping
Similar to Zepo, Shopify's users can have a monthly payment plan. Shopify also provides its users with a free trial to test the software before buying.
Turning to ship methods, Shopify also offers multiple quick and convenient shipping options. Via the shipping dashboard, you can approach the shipping management features. However, except for some fulfillment centers in the USA and Canada, businesses from other areas around the world are not supported with all shipping options.
Final verdict: So, Zepo wins this round since it provides Zepo Couriers that can be used when your website is on Shopify while Shopify doesn't. Besides, the shipping options of Shopify don't meet all the demands of customers.
Integrations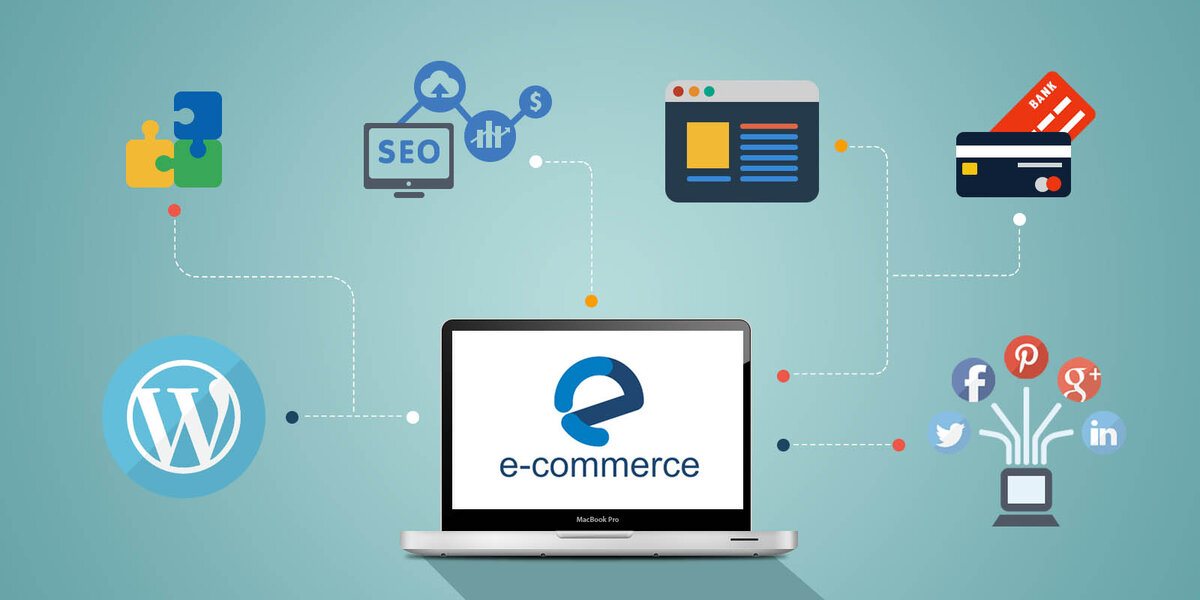 Zepo's integrations
Zepo Courier, which is a product of Zepo, has integrations with various popular eCommerce solutions. So does Zepo Marketplace. Their integrations are Shopify, Amazon, eBay, Magento, WooCommerce, or OpenCart. However, when it comes to the Zepo website builder platform, there are not many third-party solutions to add in or integrations with eCommerce platforms.
Shopify's integrations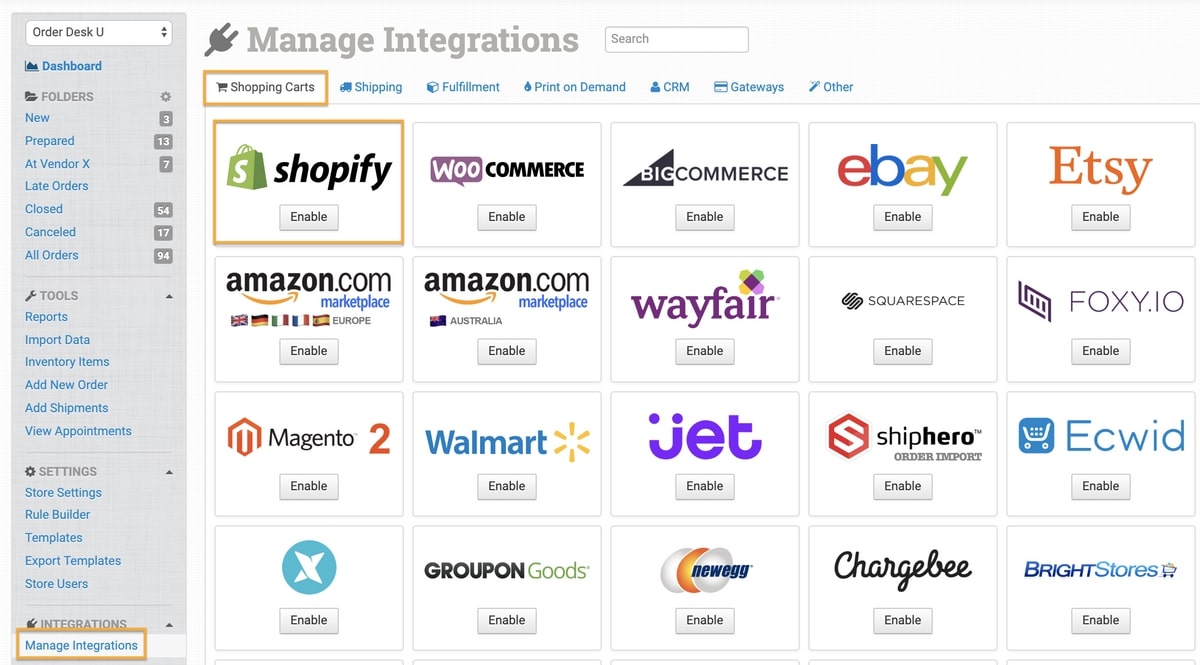 Differently, being a popular eCommerce solution, Shopify has integrations and add-ons for almost every third-party service like Constant Contact, PayPal, Zapier, Omnisend, and more.
In terms of apps and plugins, you can find them in the Shopify app store. There are hundreds of extensions and apps in all needed majors to help you advance your business and attract more customers.
You can find plugins and apps in the following categories:
Themes and designs
Finances
Productivity
Reporting
Selling places
Finding products
Marketing and SEO
Sales and conversion
Inventory management
Customer support
Security
Legitimacy
Final verdict: It's easy to see that Shopify, as a famous eCommerce platform, has more integrations.
Zepo vs Shopify: Pros and Cons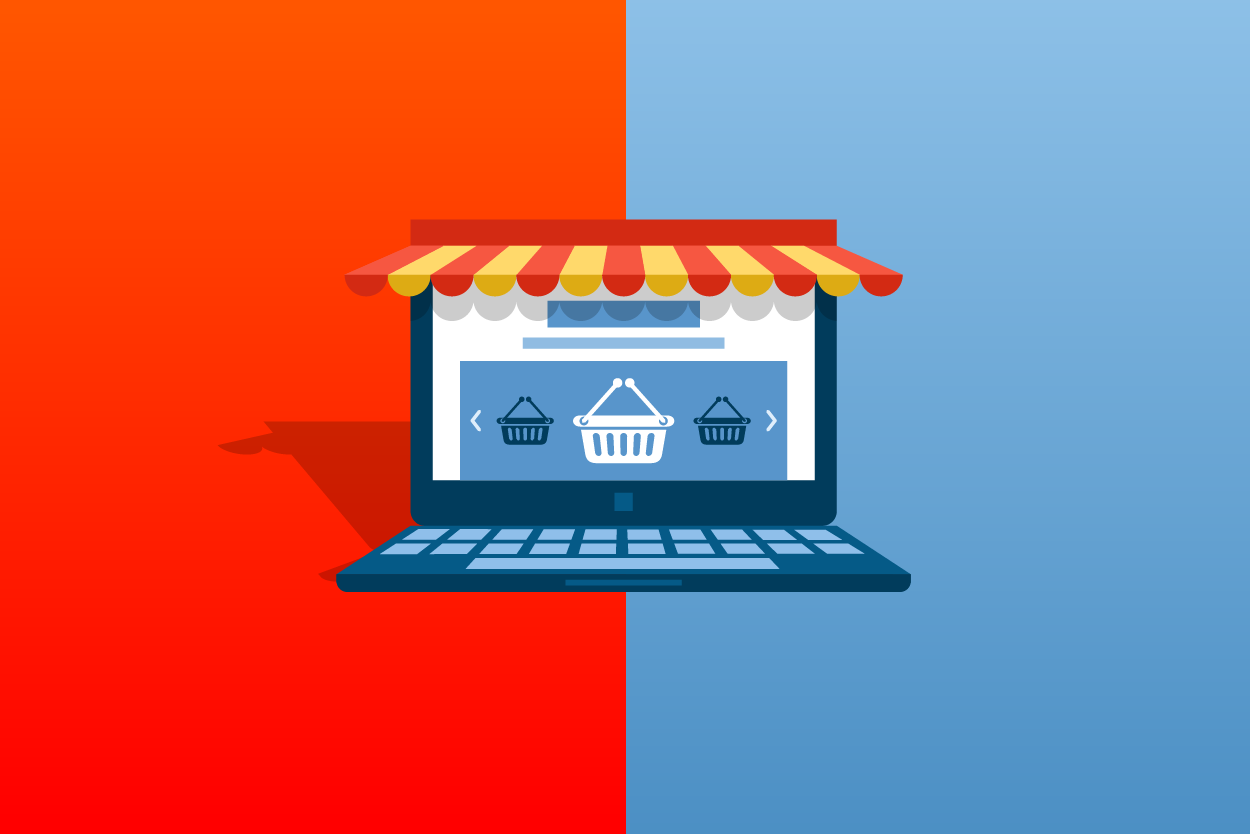 Shopify
What is amazing about Shopify is that notifications are excellent and it is very simple to navigate, especially for beginners. If you are a new company owner who wants to create an online market but have no idea where to begin, Shopify will be the right tool.
However, Shopify shop owners may find dissatisfied with the subscription choices when it comes to Shopify's pros as they are a little difficult to get out of. Another pro of Shopify that should be mentioned is that when users want to develop their own storefront, they must first go about and learn more about the subject because the storefront API has certain limitations, rejects connections, and occasionally produces errors. Moreover, there are also some users who report they were charged inadvertently and were unable to obtain a refund.
Zepo
Turning to Zepo, this platform is simple and easy to use, which is beneficial for beginners. The themes for website layouts are useful and the connection with jungle.com is free, which is a plus. Moreover, many online shop owners choose Zepo because of its low-cost and fair plans for new businesses.
On the other hand, Zepo does have some drawbacks that you should take into consideration. First of all, is their customer support. It is difficult to connect with the support team via phone. The emails need about a week to be responded to, and sometimes they have no logical solution for any request or concern. Another advantage we want to mention here is the COD remittance. It occurred after 2 months which is a bit longer than that of other platforms.
Conclusion
It's difficult to choose between Zepo and Shopify. Both websites provide an all-in-one e-commerce solution. While Shopify appears to have a much more distinct point of view, it falls short in key areas, such as pricing. It is significantly more costly than Zepo. Zepo delivers excellent service, but the site contains so much information that a first-time user may become overwhelmed.
However, when it comes down to it, Zepo is the best option if you want to promote a local brand and require a service provider who understands the local vibe and Indian market. Shopify, on the other hand, could be a better fit for a larger international market.
Having said that, becoming an entrepreneur is an exciting and demanding experience, and having resources like these sites may help you get a head start. However, all variables must be considered, and the user must be comfortable with the tools they utilize. So make an informed decision.
Related articles:
---
Mike is a content writer at Avada, with a love for video games, gadgets, and software. He has been writing about the industry now for over 7 years. He likes to keep up-to-date with the latest software releases. He's also an avid reader, and he enjoys spending time outdoors with family and friends. When he's not working, you can usually find him playing video games or exploring new outdoor activities.
New Posts
Stay in the know
Get special offers on the latest news from AVADA.