Yotpo Review: Shopify Product and Photo Review App
In this Shopify world, there is an app called Yotpo, which is one of today's most popular app that is generally positive across the Internet with its popular content-based marketing app. People recommend a small eCommerce site should consider trying this Yotpo app to increase their conversion rate. Also, even the brick-and-mortar retail stores, as well as eCommerce companies, should get the app installed because its built-in features are favored by online marketers a lot.
So, are you wondering whether Yotpo is worth using? or Do you know how much it costs? Don't worry if you have no clue about this, as I will spend all of this article's content today to talk and review about Yotpo: Shopify Product and Photo Review App
What is Yotpo?
Yotpo is a plug and play Shopify app, which is specifically designed for eCommerce stores and retail businesses to enhance their online businesses' growth with a full suite of solutions for customer reviews, visual marketing, loyalty programs, and referrals.
Also, this app is considered to be one of today's most popular and appealing content marketing apps. So far, the main factor in Yotpo's success is its ability to enable store owners to create multiple reviews for their products. When they have placed the reviews, it would be easier for them to choose the best and most impressive ones to utilize as marketing tools.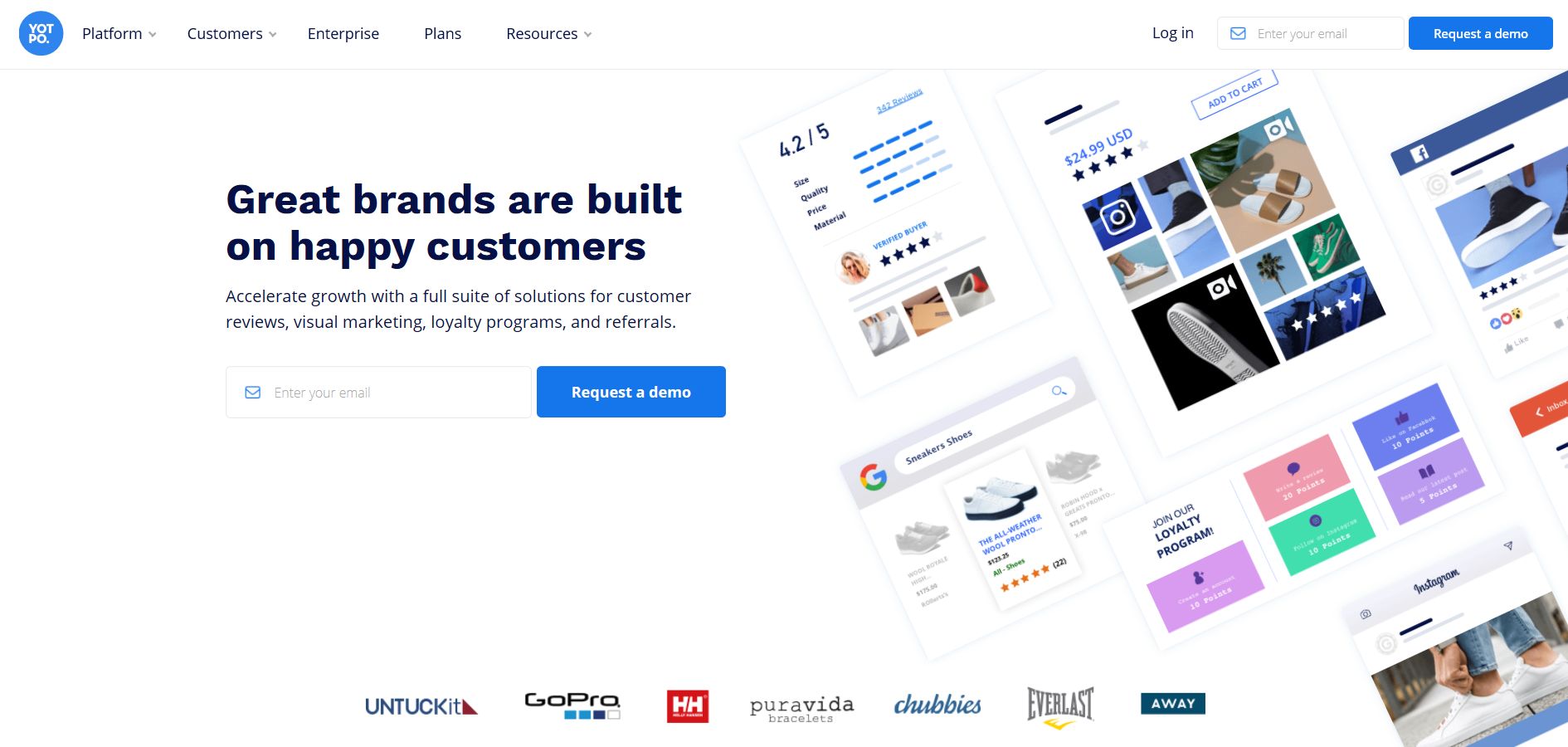 Yotpo can be installed and added to your Shopify store in just one click. At the same time, right after you finish the Yotpo integration, you will be able to start collecting reviews immediately for your stores as well as import your existing reviews from other platforms over to Yotpo. With the help of Yotpo to deal with your custom content, you will be able to increase your conversion rate, establish trust from buyers, and drive more traffic from social.
Why You Should Install Yotpo on Your Shopify Store
Why Should You Install Yotpo on Your Shopify Store? First of all, Yotpo can really help in generating product reviews and utilizing the best among them as their sales-boosting incentives. Plus, it is designed to be plug-and-play, which has the power to collect more verified reviews that other similar apps on the market currently. With Yotpo, your business will be made more trustful regardless of your market share or the location where it embedded.
What is more, Yotpo has the ability to gather more reviews faster, in case has more to work to do with on the marketing end. It is also optimized to help you reach both visibility and credibility, which are the two most central goals for marketing efforts. Also, you will get the peace of mind of making sure that you always can attract buyers on your side at any time as Yotpo will offer you a driven-by-process set of components that work together to maximize organic visits to your site.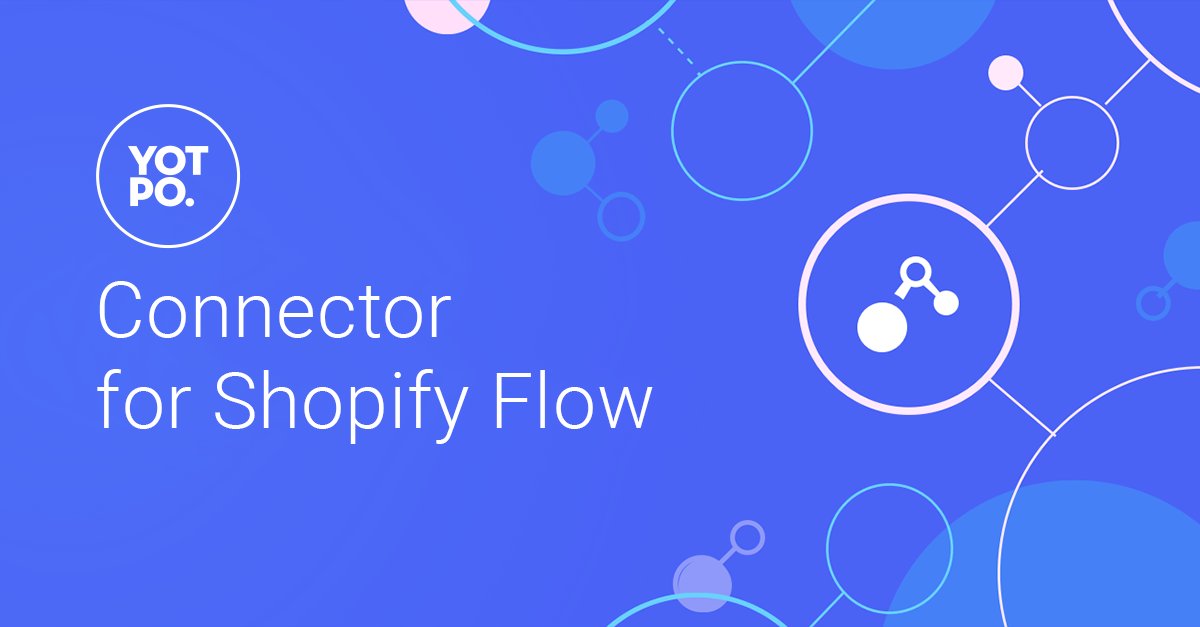 Yotpo is designed to keep an eye on every customer who has ever accessed your database or expressed whatever interest in your product or service, which will help you a lot in converting simply visitors into buyers. Yotpo's work will not finish until when the customer completes the purchase. Specifically, it will provide you various retention tools in this system to keep customers revisiting your website or purchasing more products from your store.
That's not all, it also has another way to help you obtain more traffic and conversions, which is sharing the content on various social platforms, and distribute reviews seamlessly as it engages loyal customers by email offers, coupons, news, and all sorts of social interactions. Finally, all the available features mentioned above will always be kept the expected price by Yotpo. At the same time, this app also has a robust free trial for users interested to test in advance.
How to Install Yotpo on Shopify
Add the Yotpo app to your Shopify account
Step 1. Log in to your Shopify merchant account
First of all, you need to come back to your store's admin account and log in.
Step 2. Click Apps
Look at the left side of your main Shopify admin page, and choose Apps.
Step 3. Click Visit Shopify App Store
Now, you will see the Visit Shopify App Store button, just click it.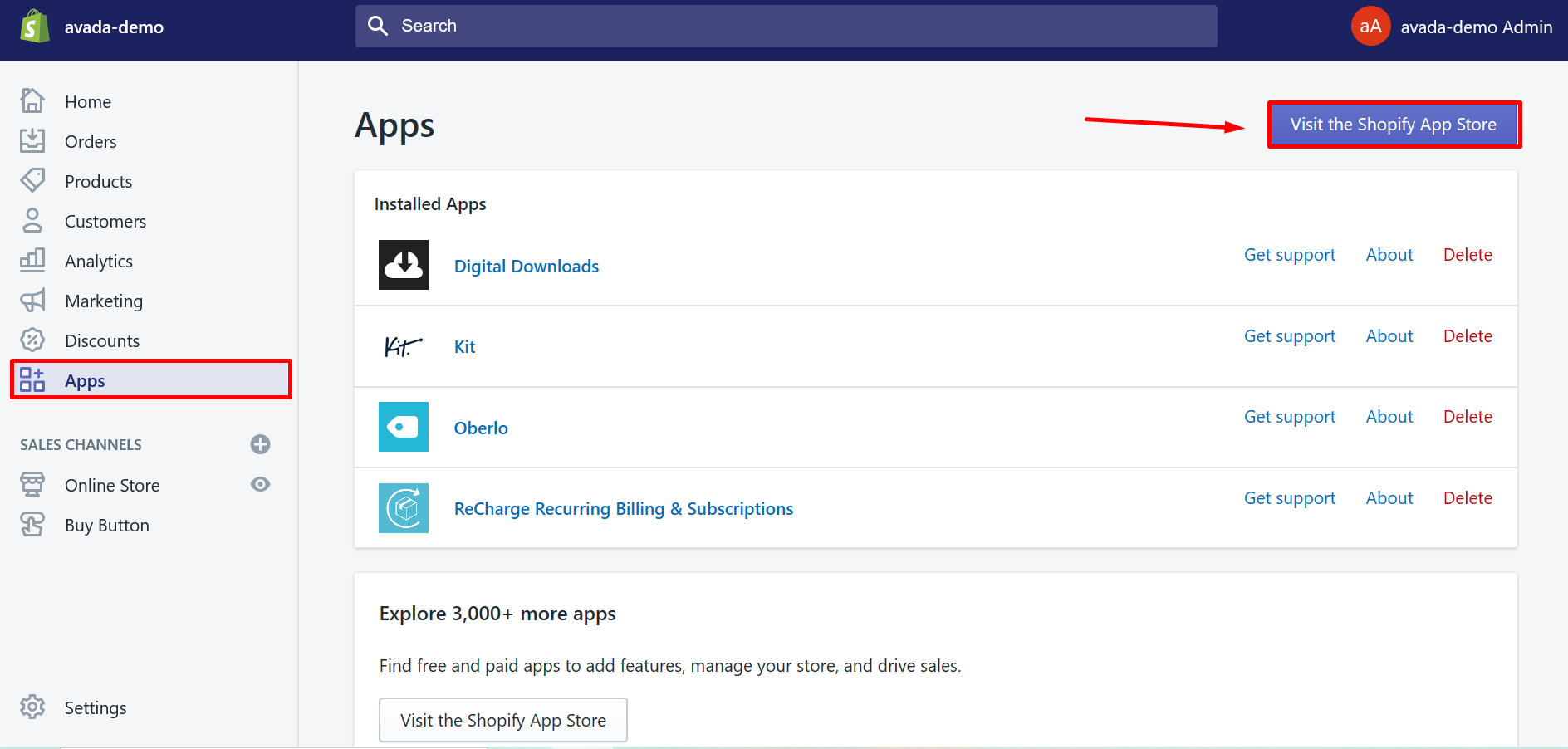 Step 4. Search for Yotpo
On the search bar, type this information in: Yotpo: Reviews, Photos, Q&A and search.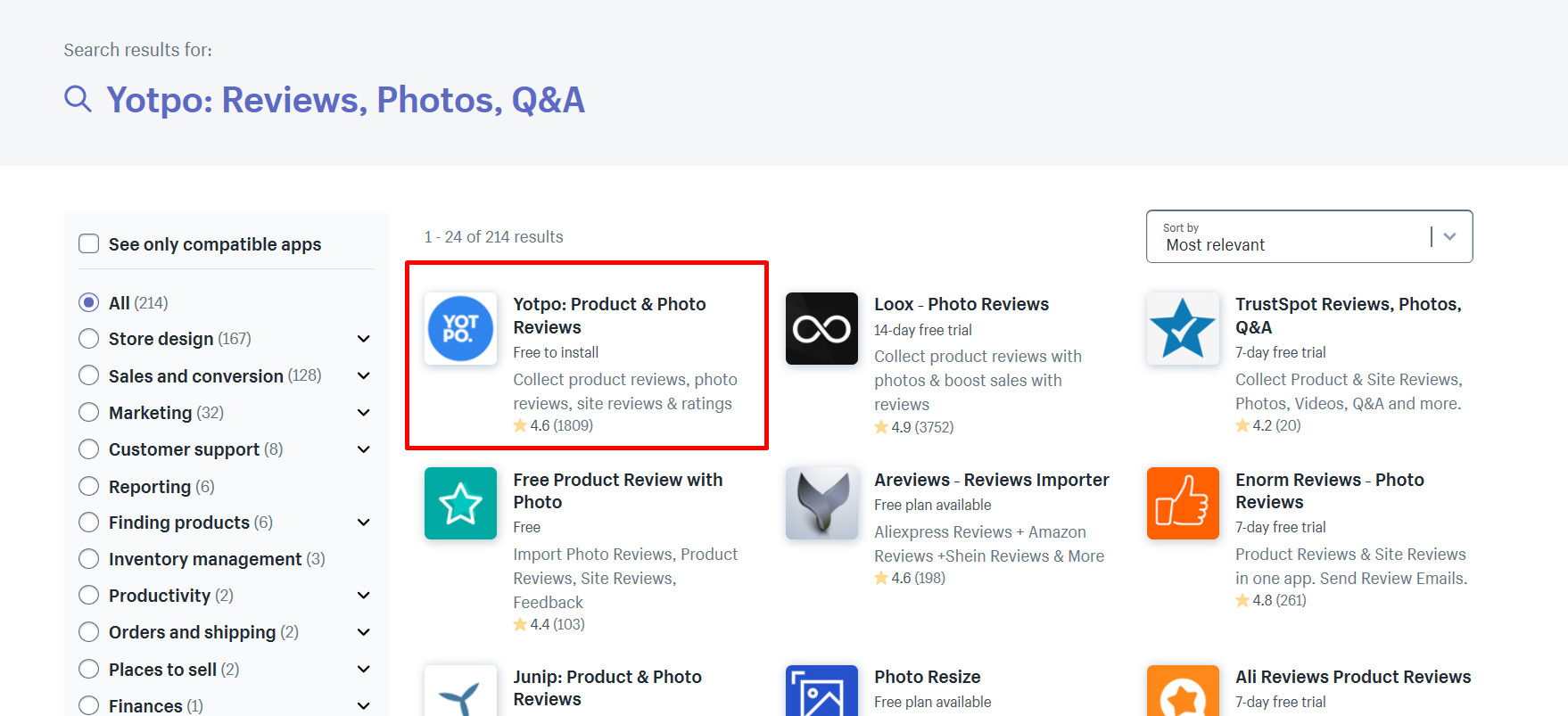 Step 5. Click Add App
When you see the result of Yotpo, just click Add App to get started.

Step 6. Select Install app
Next, choose the Install app button to start installing the app.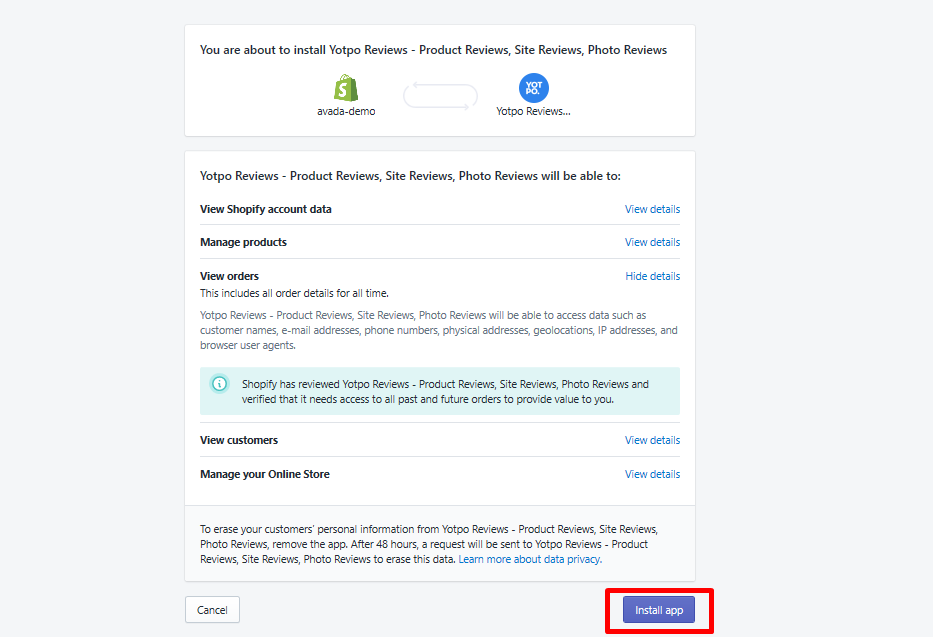 Step 7. Create a password
Now, it's time to have a Yotpo account for your own, you must enter all the necessary information in and create a password for it.
Install Yotpo
It's time for installation. I will present to you the automatic method.
Step 1. Complete customizing Review Request Email
First, we have the Customize Email section. You will be able to choose to turn on or off two options including Send Automatic Review Requests and Retroactively send to purchases from the last "NUMBER" days. The number will be flexibly picked by you.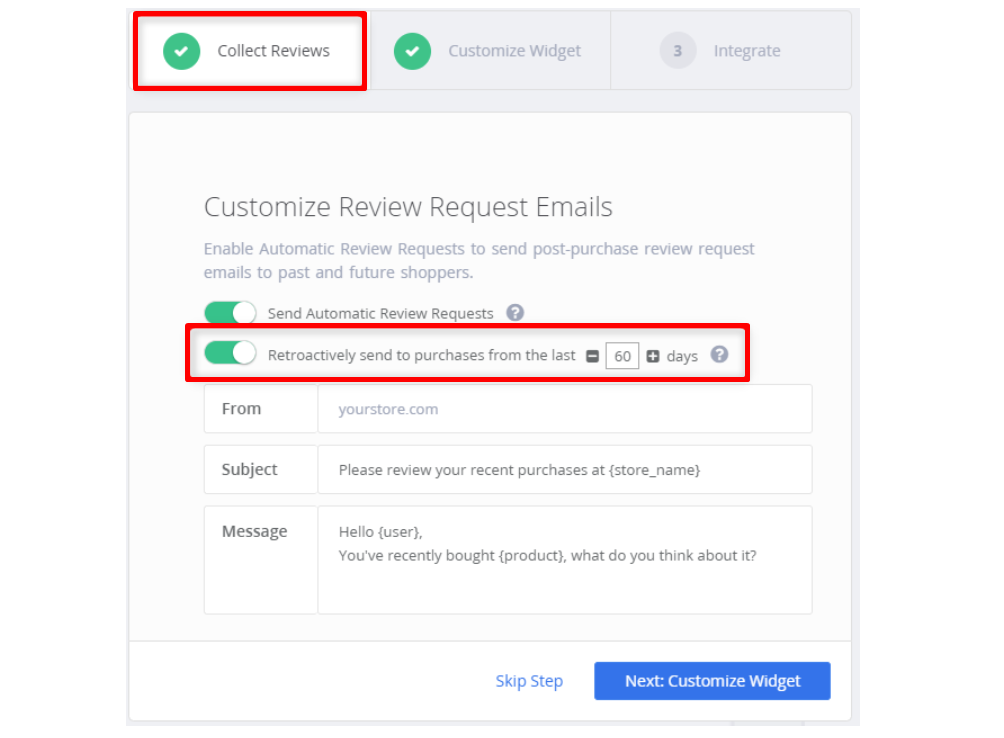 Step 2. Complete the Customize widget section
Then, you will have to complete the next section that is Customize Widget.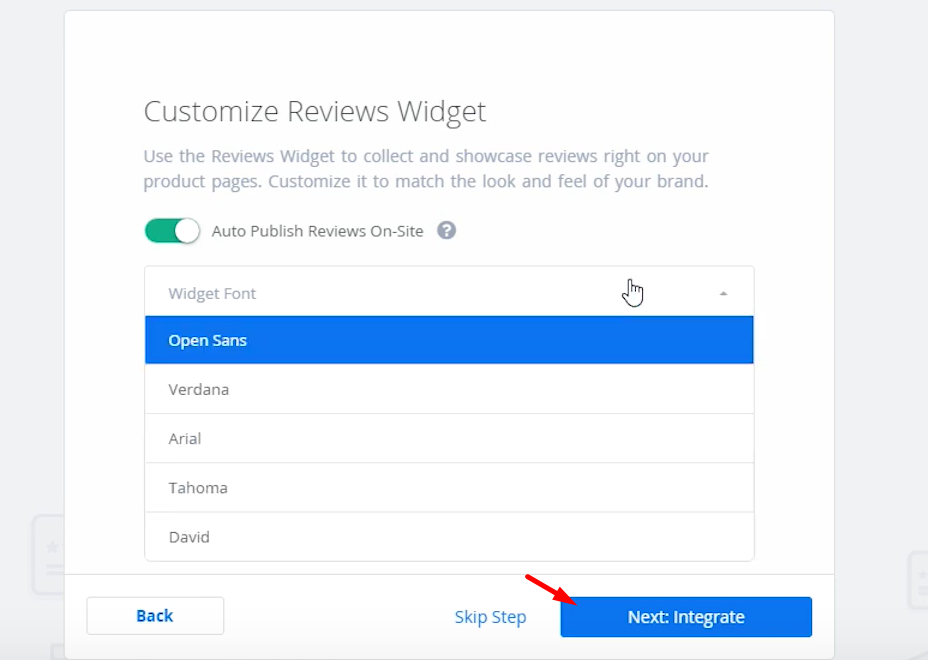 Step 3. Choose Install Now
Next, we will reach to the last step of the Installation Wizard, just choose the Install Now button, which lies under the Automatic Installation part.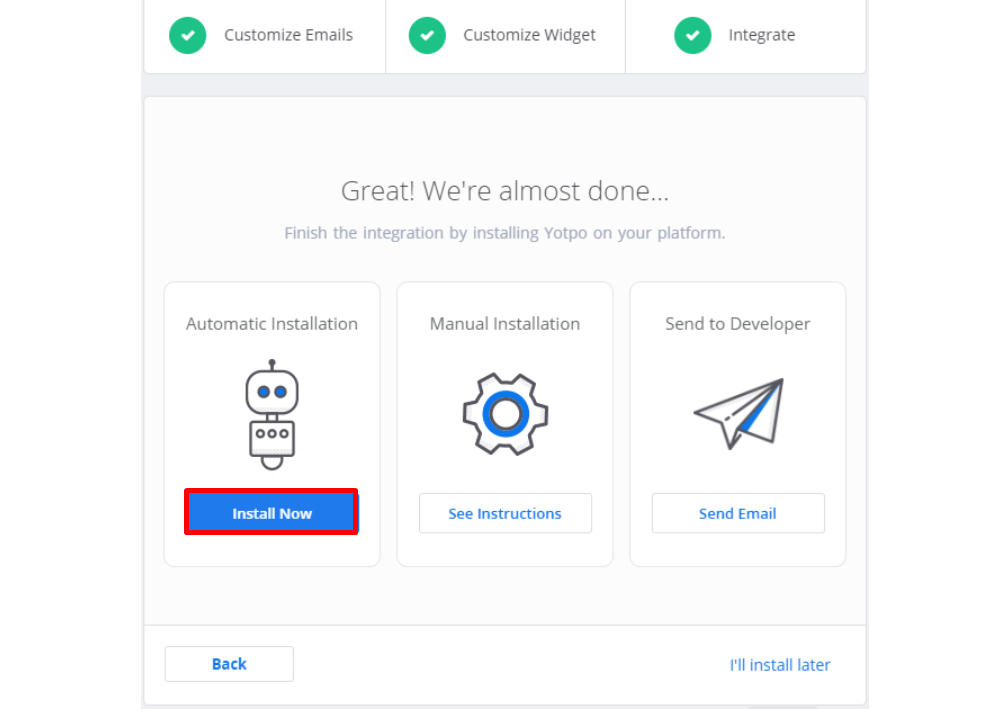 Step 4. Click on Install Automatically
You will be navigated to a new page, which asks you again for agreeing to use this service. Just click on the Install Automatically button.
Step 5. Wait for the process
Finally, all you have to do now is to wait for the installation process to be completed. After that, select Continue to Admin button.
After it is done, congratulations! You have successfully installed Yotpo.
Yotpo Main Features
Free Features
Yotpo offers you with this free feature to help your store increase reviews and sales: Automatic Review Request.
Automatic Review Request
The Automatic Review Request feature is one of the most effective ways to create more reviews for your store. To go more in detail, it will help you to create your Automatic Review Request reminder email with your appropriate amount of time when there is an order placed. Only "Complete" orders will get the Automatic Review Request emails sent, some other order statuses will be considered based on your platform.
Also, based on the number of days after the order date of purchase, we will send the reminder emails for you. It's not right at the moment when you changed the order to the "Complete" status. In case you often have delayed orders from some customers, then you should make sure that you had the email set in a far enough amount of time back so that your customer will have time to receive the item before the email.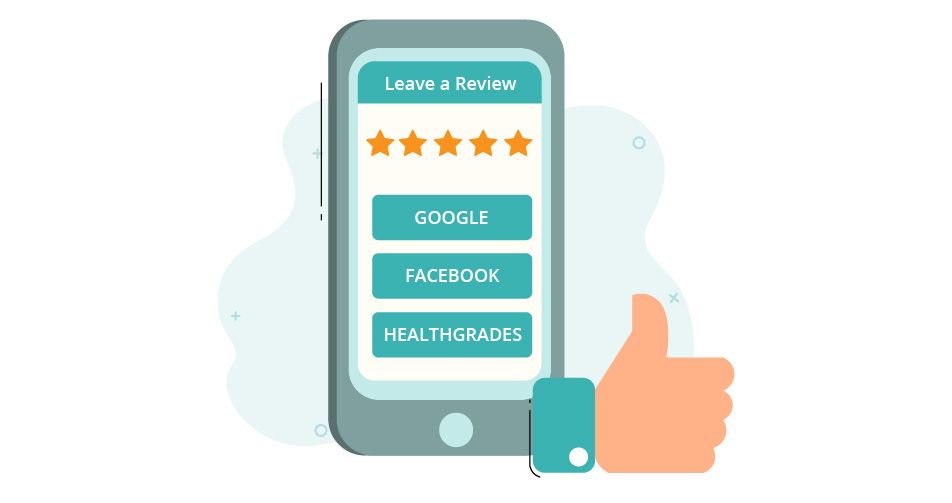 Plus, you should not compose a too long or too short reminder email as most customers don't like spending much time to read lengthy emails. Just focus on writing a catchy, to the point and appealing Automatic Review Request reminder email to convince your customer to write a review.
What is more, you should also create a second reminder after the starting reminder for those customers who have not written an original review. In this way, you will not spam your customers with added emails as well. Yotpo also has the "Unsubscribe" button available to let your customers unsubscribe from receiving emails at any time through the Automatic Review Request emails in case they want to do so.
Premium Features
Before we start, there is a reminder that these features below are available on selected Yotpo plans, you can check the pricing page to see whether this feature is included in your plan or not.
Review Tabs
The Review Tabs here is a great place for merchants to present all the reviews in one place for customers to view. In the reviews tab or in an easy-to-setup dedicated review page, you will be provided with the aggregated reviews by Yotpo.
Specifically, in the Reviews Tab, you will be able to select the option to show both product and site reviews or choose to have only one or the other. Plus, the look and feel of your tab can be easily customized as you can decide where it is displayed, the color, and many more options.
About the Dedicated Review Pages
The is the Dedicated Reviews Page available on Yotpo as a place to present all your reviews in one place. Basically, the SEO Page will play the role as your dedicated page for all your site and product reviews. To go more in detail, when shoppers search your products or brand on Google, they will be led to land on your site. From here, there is the SEO Page available to showcase the reviews according to the way your Tabs are configured from the Reviews Tab settings in your Yotpo Account.
Manual Review Requests
With the Manual Review Request email features, you will be enabled to ask a selected list of your customers for a site review request by simply uploading a CSV file of existing customer information. There are two main things that you should know about these features: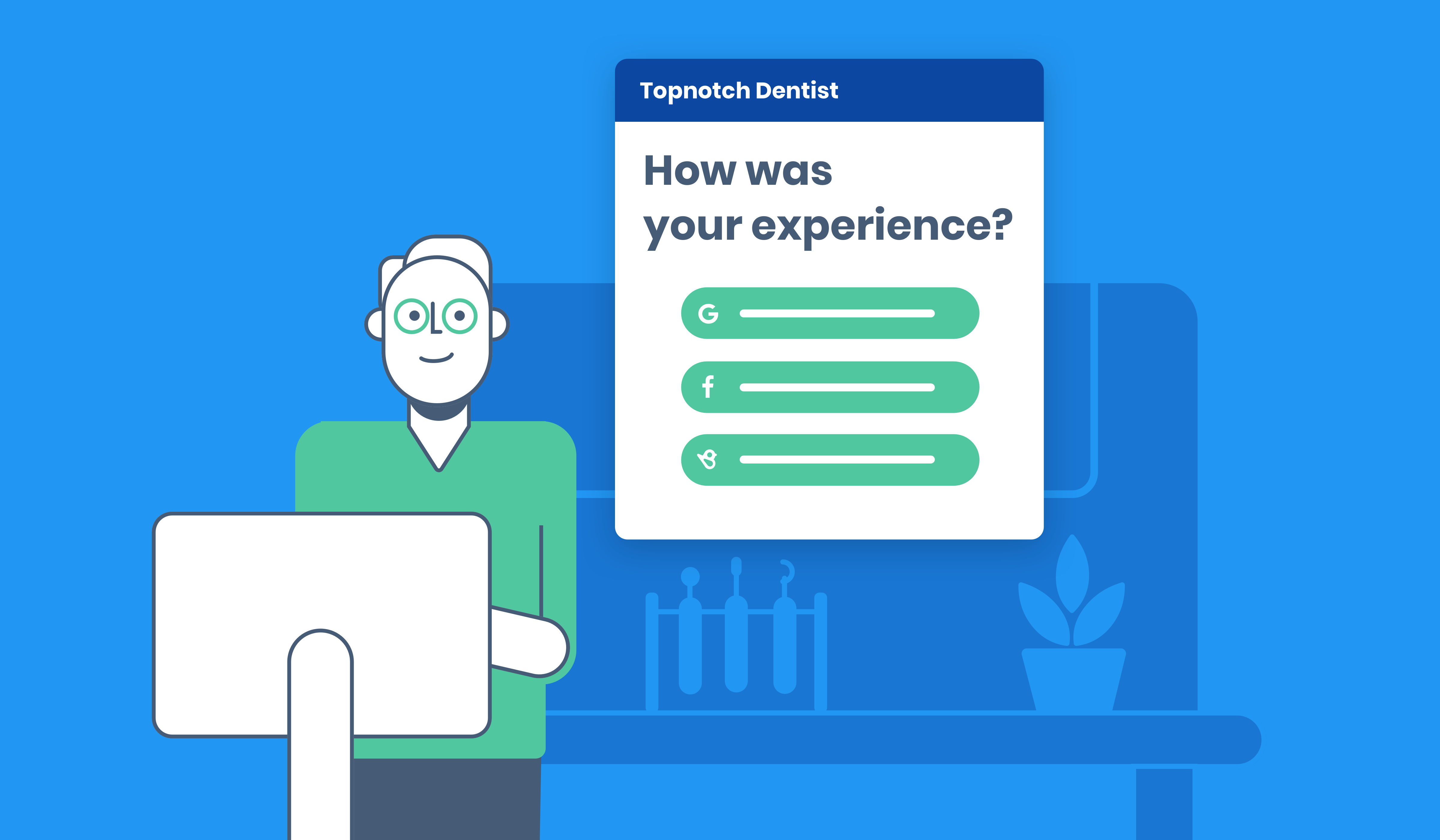 Customizing your Manual Review Request Text
In order to take advantage the most of your Manual Review Request Emails, it is a nice choice to recommend your customers to clarify that you are asking them to leave a review of your overall shop experience. These experiences could be customer service, shipping speed, and so on. As a result, the customers who have already reviewed a product, will also feel encouraging while reviewing your shop.
Moreover, from this Manual Review Request email section on Yotpo dashboard, you will be able to send yourself a test email so that you can see what the email will look like when the customers view it. In case you don't see any email on your Primary section, then check your Spam/Junk folder section because it might locate here, or you just have to wait a moment for Yotpo to send you.
Uploading a CSV File of Customers
In order to upload a CSV file of your customers, you will have to export all your reviews first. Then, it will send you a CSV file of all the customers that have posted reviews on your site and left their email address there. After that, you can choose to customize this file in order to pick out the particular customers that you want to send them the Manual Review Request Email.
Remember that you should set the format of the CSV file in the form of two columns including the name and the email address, each file should have no more than 2500 customers.
Yotpo always tries to find a way to avoid spamming your customers with emails. So it also sends burst emails to several groups of customer:

Those who received an Automatic Review Request email in the last five days or are going to get one in the next five days.

Those who are going to receive another Burst email review request over the next 30 days.

Those who have already written a review through Burst emails, and will not get a request to write some more.
Facebook Share
On Yotpo, you will be able to be given an extra opportunity to create site reviews while sharing a link in order to ask for site reviews on your Facebook page. This link can be copied so that you can publish it manually or post it directly from the page to your Facebook account.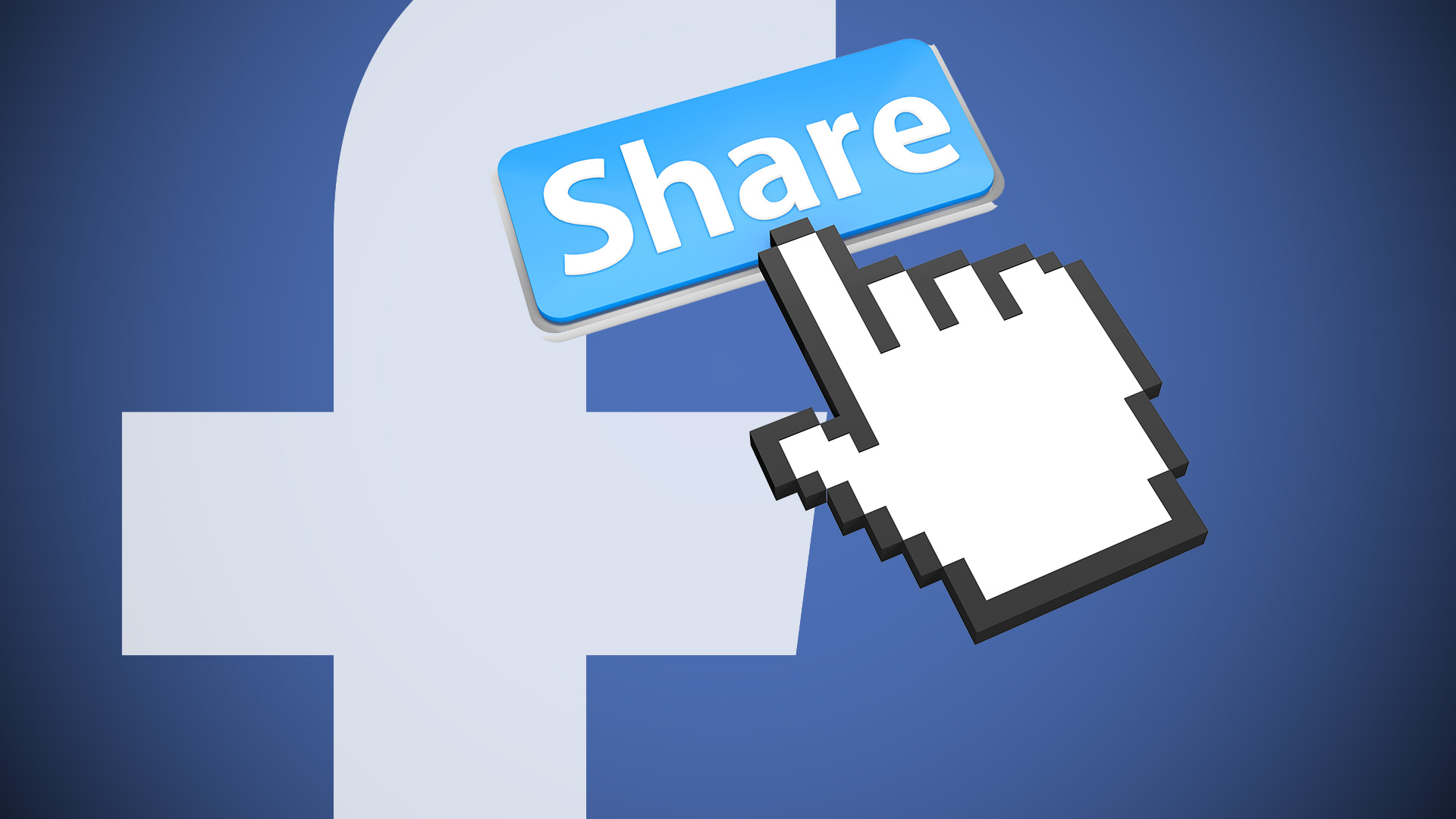 When your buyers click on the link, there will be a landing page shows up with the option available to leave a site review. You can see the reviews that are previously left here in the reviews tab, Facebook reviews tab or in the detailed reviews page.
Coupon
As you can see, coupon is a smart element to use in order to encourage your customers to give your products' reviews, at the same time, send them an incentive like a gift of your store.
With Yotpo, you will be able to change and choose in the Automatic Review Request section for emails to inform your customers about these coupon offers. Right when your customers comment on their review, they will get the coupon from your store after that. Plus, you also can give your buyers a coupon as an incentive for writing a review, or you can choose to include added value for both writing and sharing their written reviews on their social media channels. Of course, these reviews from customers will be able to help you drive new traffic to your store when they shared with your customer's social networks.
In some cases, it also is effective to provide one coupon for a set value, 5 percent of the product, for example, for those who write a review and another for sharing a review, 10 percent for example. As a result, those who both write and share a review will get a total coupon value of 15 percent off.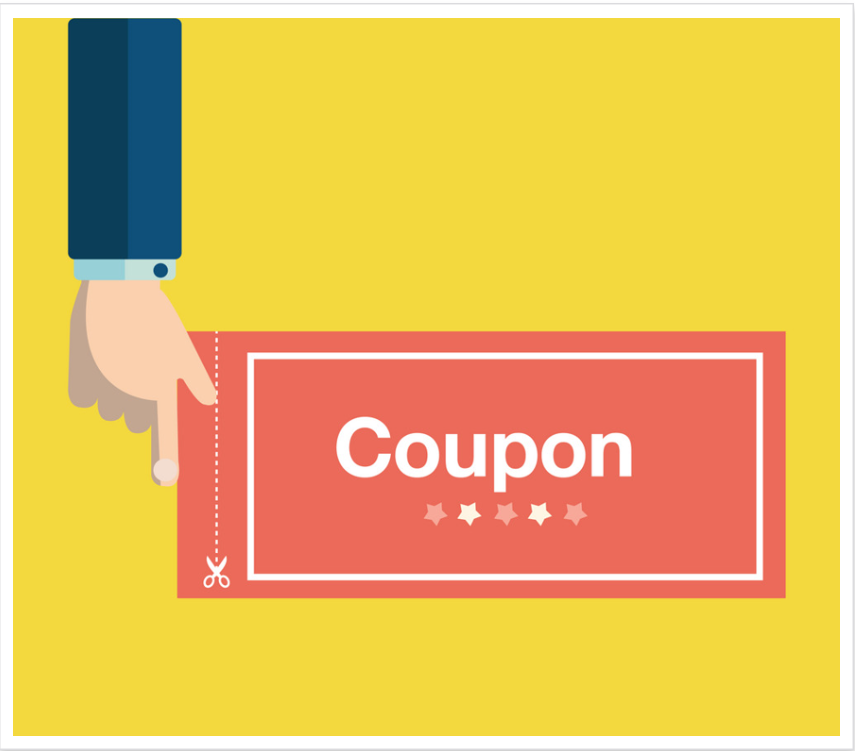 After when they have left reviews, your customers will get the coupon code sent via email. There are the options to check the statistics on the usage of your coupons and know how much is spent on the coupons section, and how much it can bring you each month.
Note: The same coupon code will be sent to every customer. In this case, setting regular expiration dates with reminders is recommended to use the coupons to show the number of days before the coupons expire. This is a smart way to encourage customers not to hold on to the coupons and use them before they expire.
There is also the Coupon Reminders feature provided on Yotpo, which will send out a reminder to notify some reminders to the customer to renew their coupon, like "x" amount of days after the coupon was sent or "x" days before the coupon expires. As a consequence, you will be able to increase your conversion rate of coupons, at the same time, an effective way to bring your customers back to your store to buy products.
Yotpo Pricing
Overall, you can flexibly choose the free trial and pay later or a free set of features provided on Yotpo. It also offers a "Growth Plan" that is operated as a tiered pricing arrangement and costs you $29 per month. When you have reached the level of 500 orders, you will be able to choose one of the customized pricing plans depending on your sales activity.
The Pricing plans on Yotpo will be based on your business needs, taking into account your monthly order volume, traffic, products, and domains. You can choose the plans built to grow with you, and it will help you get maximum value no matter the size of your business.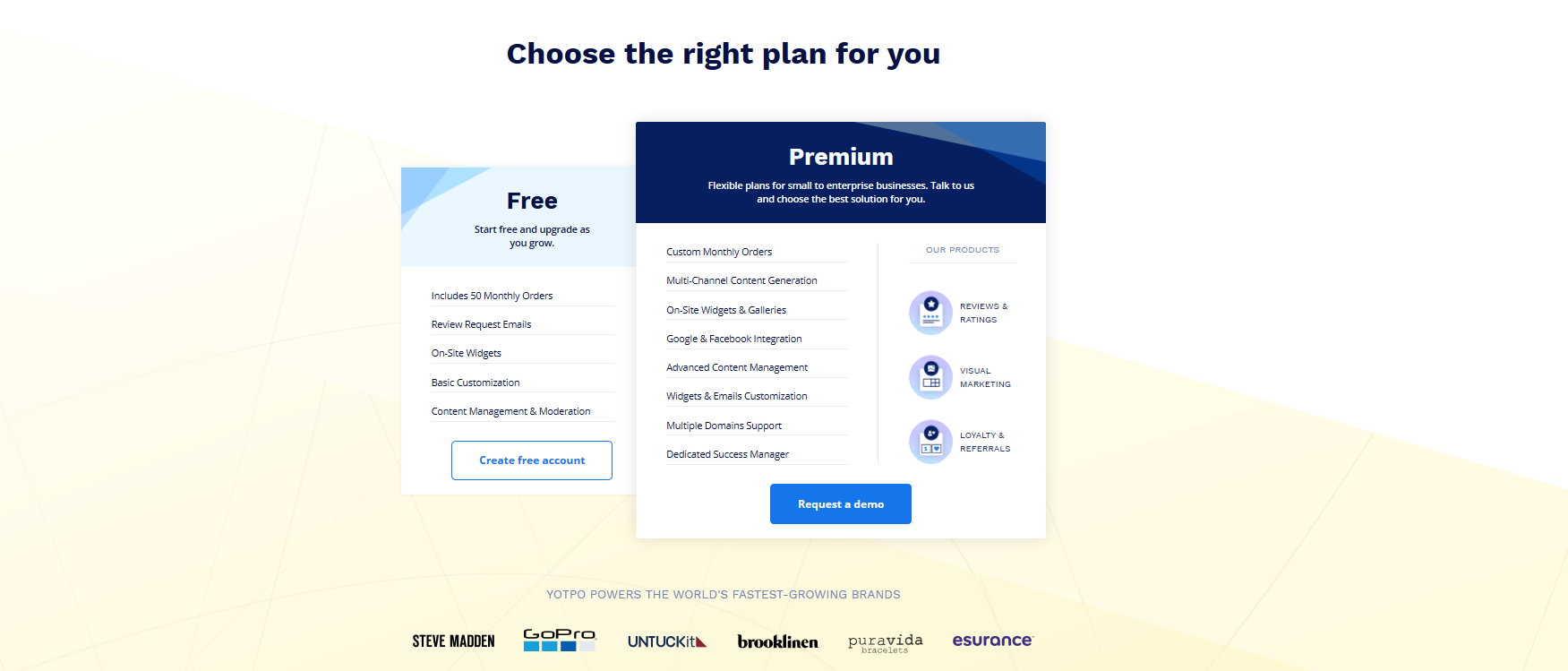 There will be three levels provided. The first is Free plan, which will cost you nothing. The second is Powerhouse plan, which is priced according to individual quotes from Yotpo. The last one is Visual Marketing plan, which is actually an add-on to the Powerhouse plan.
| Free plan | Powerhouse plan | Visual Marketing plan |
| --- | --- | --- |
| Product and Site Reviews | All Free plan features | All Free plan features |
| Smart Review Reminders | HTML Editor | All plan features |
| Import Existing Reviews | Custom Review Forms | Social Curation from Instagram |
| Manual Review Requests | Invoice-Based Review Request | User-Generated Photos |
| Star Ratings, Reviews Badge | Widget CSS Editor | Visual UGC Gallery |
| Reviews Tab, SEO page | Community Q&A | Photos Carousel |
| Reviews Carousel | Facebook Reviews Tab | Shoppable Instagram |
| Commenting on Reviews | HubSpot Integration | Yotpo Ads for Instagram |
| Coupons | Yotpo Ads for Facebook | Social Push with Customer Photos |
| Email Upselling | Google Product Listing Ads | Pinterest Push |
| Social Sharing, Manual & Automatic Social Push | Inline SEO |   |
| Rich Snippets (for supported platforms) | Help Desk Moderation |   |
| Dashboard | Promoted Products |   |
| Moderation | Product Blacklist |   |
|   | Grouping Products |   |
|   | Live Moderation – 3 seats, and Dedicated Client Success Manager |   |
Conclusion
On the whole, collecting and intelligently showcasing your customer content like reviews, photos and videos at key touchpoints throughout the buyer journey to improve trust, social proof, and sales has never been that easy.
I really hope this article today about Yotpo Review will help you in choosing the right app and developing your business. So now, just simply integrate Yotpo in just some couple of clicks and then you will be able to import all of your existing reviews with ease.
If there are any troubles that happen during your practice, let us know so that we can help you fix it through.
Related Posts:
---
CEO and Founder of Avada. Pursueing a simple and healthy lifestyle. A friend, a husband and a dad of four children, a trainer and an influencer wannabe. He is a big fan of sports and travel, also.
New Posts
Stay in the know
Get special offers on the latest news from AVADA.