Why Is Starbucks So Popular? And What Can You Learn From Its Success?
Starbucks is an integral part of American culture. It's always our first stop before we go to work or school; it's a temporary office for many of us; it can even act as an after-hour hang out — with friends or in isolation. The coffee there is refreshing, the temperature is welcoming, and music is playing some very good tunes. Almost everywhere in the world, the classic green apron offers a warm welcome; it's the familiar face of coffee.
The spokeswoman of Starbucks, Sanja Gould, told The Daily Meal, "Our aspiration since the beginning has been to build a different kind of company, performance-driven through the lens of humanity. There're so many reasons Starbucks has come to be such a celebrated brand".
It's undeniable that Starbucks is very popular all over the world. That might leave you wondering why it is so. In this article, I will explain to you the factors that bring popularity to the Starbucks brand, and what you can learn from it. Keeping reading on, and you will find your answer. But first, let's go through some history.
History of Starbucks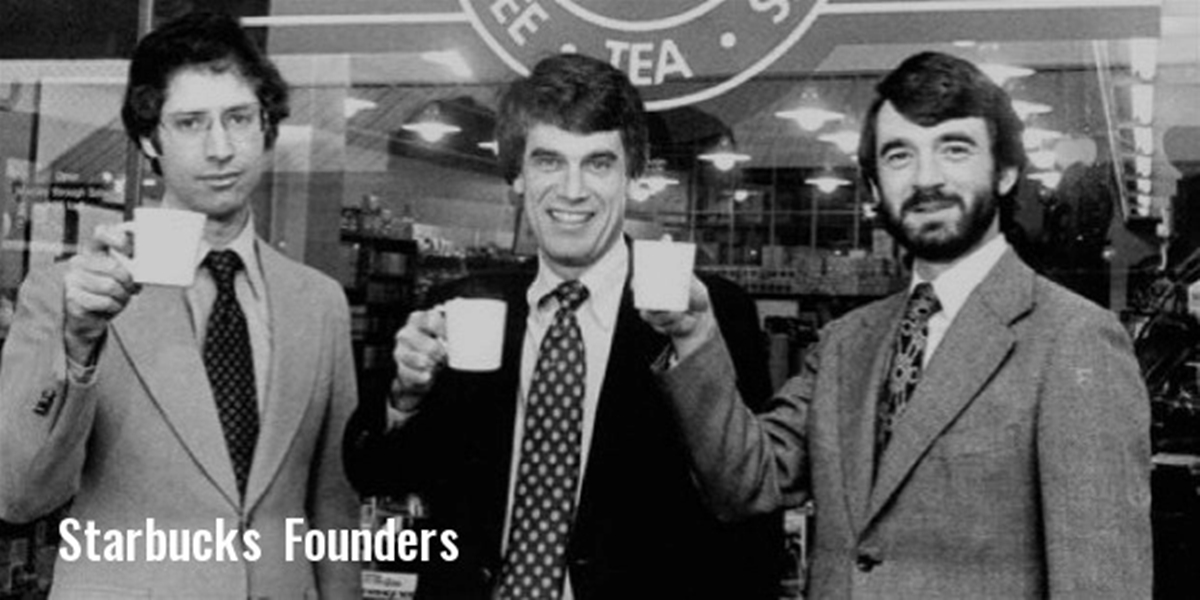 It all started in 1971 when three university friends launched a small coffee, tea, and spice shop near Seattle's Pike Place Market. The staff at Starbucks then wore plain brown grocery aprons, the same hue as the iconic siren logo of the shop — then, as now, a mermaid with two tails, although the original model featured bare breasts and a navel (the much more chaste and stylized new logo, of course, is green).
The name of the company was derived from Starbuck, Moby-Dick's chief mate — not that the sailor had some association with coffee or tea, but because a friend of one of the founders felt that brand name beginning with "st" was powerful (though the company's website now says that the name "evoked the charm of the high seas and the seafaring heritage of early coffee traders").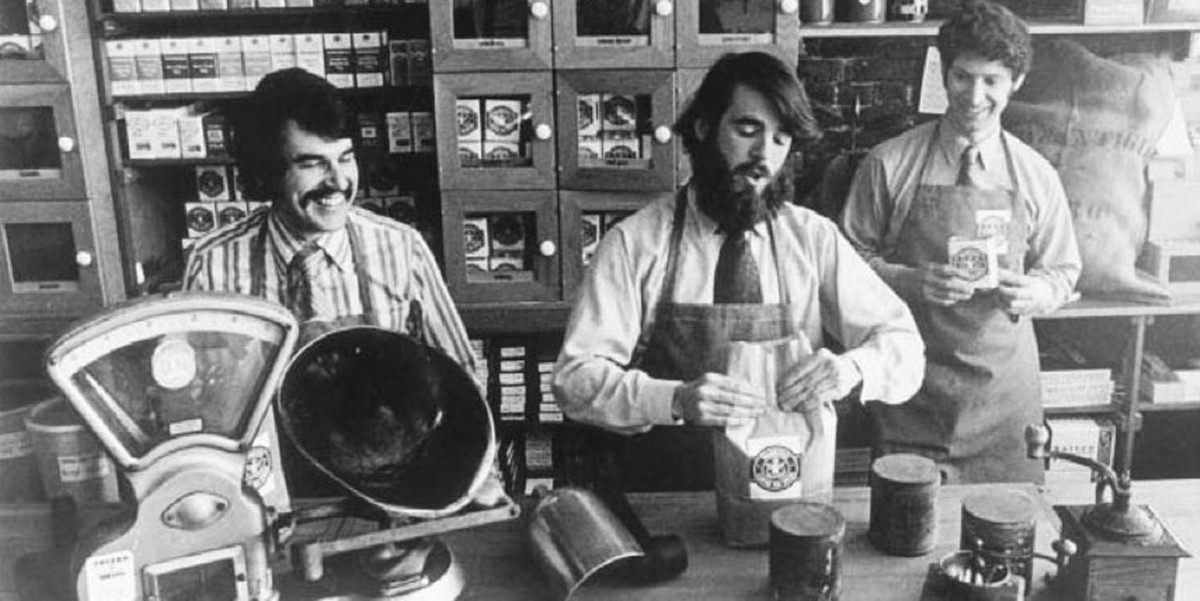 At first, Starbucks mainly sold high-quality coffee beans and equipment to fine restaurants and espresso bars. They had not brewed coffee for 14 years — just offering free samples to show off their wares. The brand's number of stores multiplied by four in 1982. William Stiles was a part-time clerk on the Starbucks Capitol Hill (Seattle) location, arriving just a few months before Howard Schultz, the businessman who finally purchased the chain and changed its trajectory.
A year back, Schultz flew to Italy, where he was fascinated by the success of espresso bars in Milan. Back in the US, he launched his own espresso chain — but in 1987, he purchased Starbucks from the original owners and rebranded it as a coffeehouse where people would meet and drink coffee beverages in a social environment, in addition to purchasing beans and coffee-making paraphernalia to take home.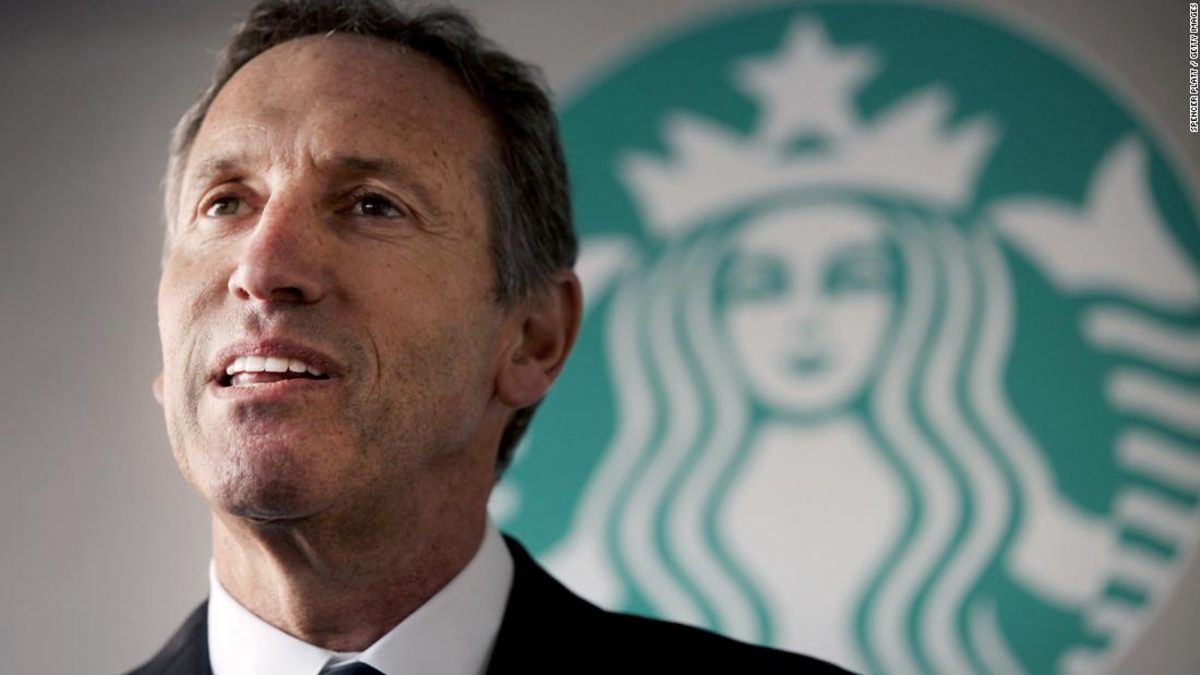 By 1989, Starbucks had 46 stores in the Pacific Northwest and Midwest, offering half a dozen crafted coffee and espresso beverages. The counter workers were given the sparkling new title "barista" and the fresh green apron — the premiering of the revamped logo — with clean white shirts and black bows, in the style of their Italian counterparts. Classical music and acoustic jazz were performed through the sound system and, not long after, Ray Charles and Ella Fitzgerald's vocals were added to the mix.
In 1992, Starbucks went public. Two years later, the brand purchased a smaller Boston-based rival called The Coffee Connection, thereby gaining the right to sell its iconic Frappuccino.
Today, there're more than 7,000 Starbucks outlets in the U.S., and as of January of this year, there were 25,734 globally, on six continents and in 74 countries and territories, serving a total of about 90 million customers per week.
Why Is Starbucks So Popular?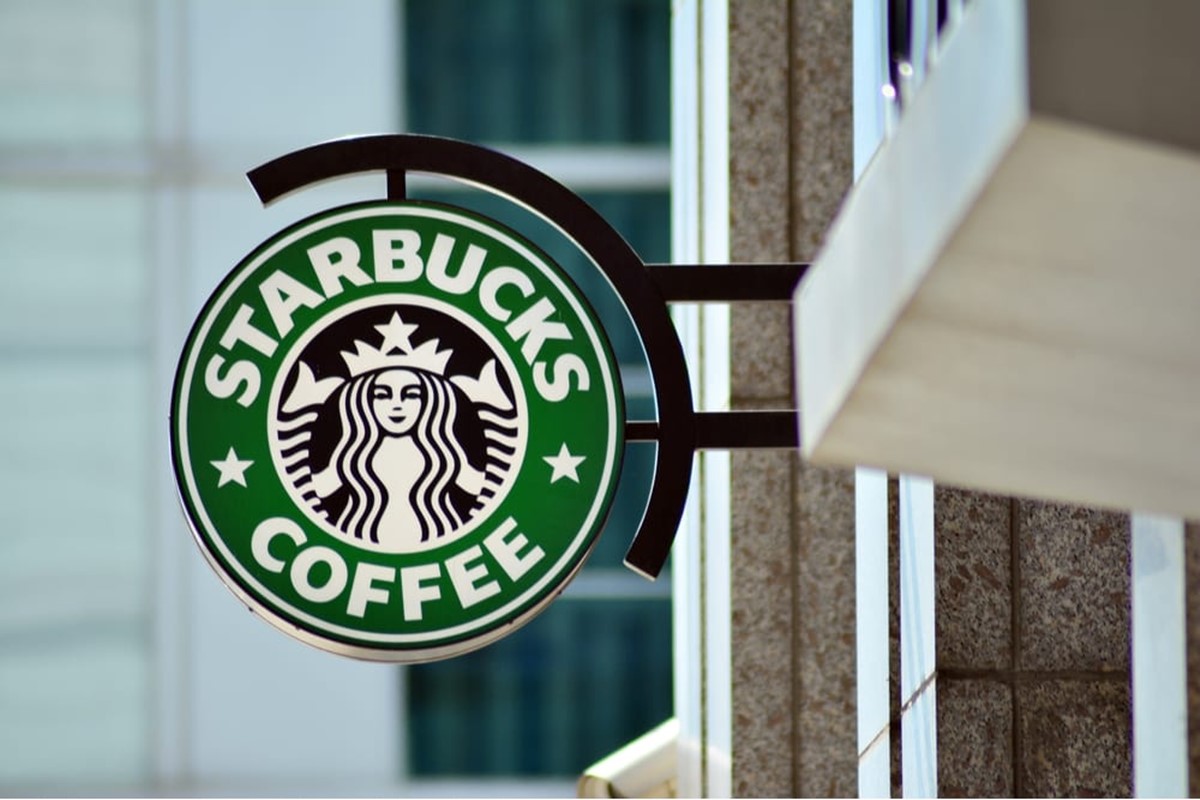 Starbucks has become one of the largest coffee chains in the world. Not long after they opened their first store in Seattle, they were expanding exponentially, and now the cafe brand has more than 25,000 stores worldwide. There are a couple of reasons why Starbucks has been so popular.
Starbucks creates strategic alliances with its partners and employees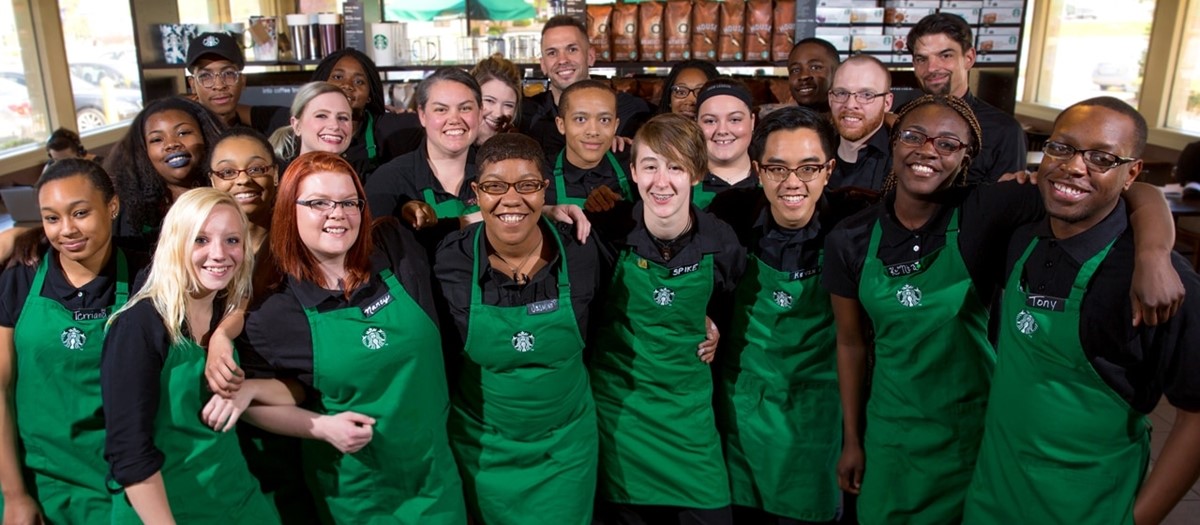 Starbucks ties the contributions of their partner directly to the performance of the entire business enterprise: if the partners succeed, Starbucks does too. This removes the usual zero-sum game and generates a win-win situation, as the more profitable Starbucks is, the more profitable the individual store partner is.
Many businesses have shied away from talking to their partners about profit, but Starbucks pursues a radically different approach. Starbucks' leadership has done an outstanding job, both connecting the financial gain of a partner to Starbucks's profits and making partners realize that profit is the lifeblood of a business.
On top of that, not every organization will award workers in the same way or size as Starbuck does. What we should do is handle our teams with adequate care and respect to encourage enthusiasm and innovation. Starbucks regularly spends more on employee training than on ads, resulting in a 120-percent-less turnover rate than the industry average.
Starbucks Lives its mission statement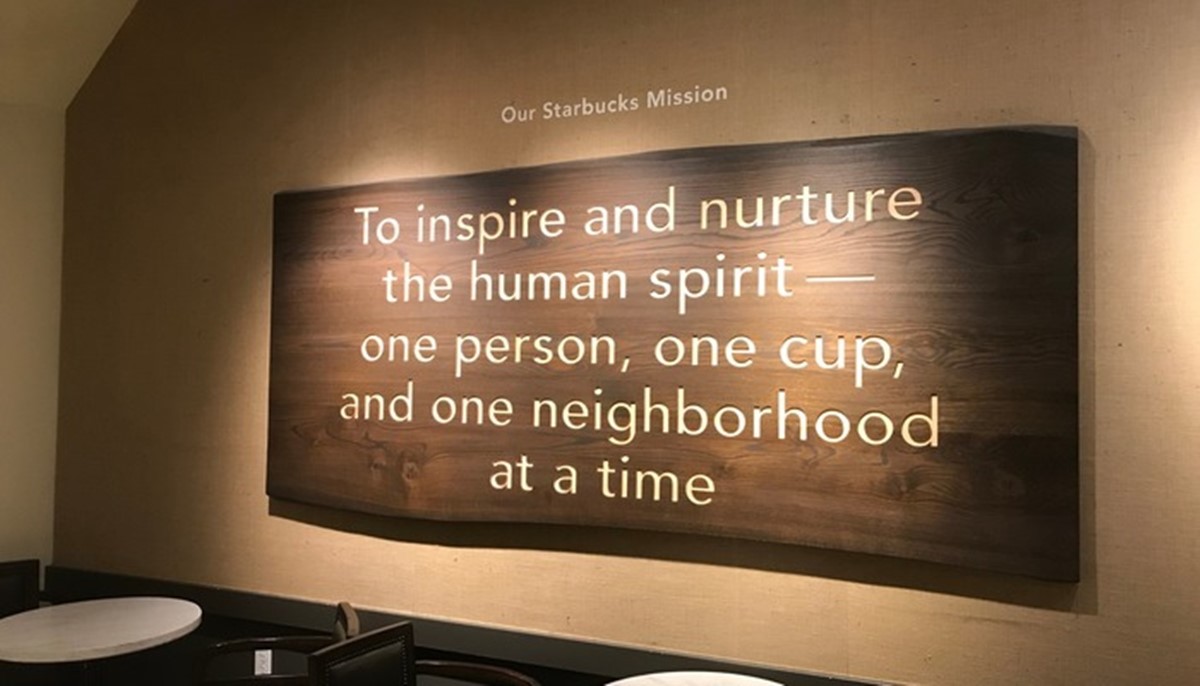 Paul Williams said best: "The mission statement and the goals – they must not be just on paper. They really have to be the way that things get done".
Leaders walk the walk, so they don't have to talk the talk. The company is consistent in their vision across all levels of the business. This consistency creates a culture of living the mission statement which, in turn, encourages everyone in the company to promote the same vision to the customers.
Every employee is coached on embodying the Starbucks ways of being, which establishes a consistently fresh and delightful experience for customers.
Be Welcoming – Leaders empower staff to use their own distinctive style to create an engaging encounter. Different means towards the same end goal – each individual is different and should promote their own strengths in order to create a lasting relationship with the customer.
Be genuine – Starbucks' ideology is "connect, discover, and respond." This involves listening followed by action. Do not get trapped in stagnation by the norm.
Be considerate – Remember the needs of others, how do you spend more of yourself and inspire your teammates to increase their commitment to be more thoughtful?
Be involved – in the community, and in the store with customers.
At Starbucks, everything matters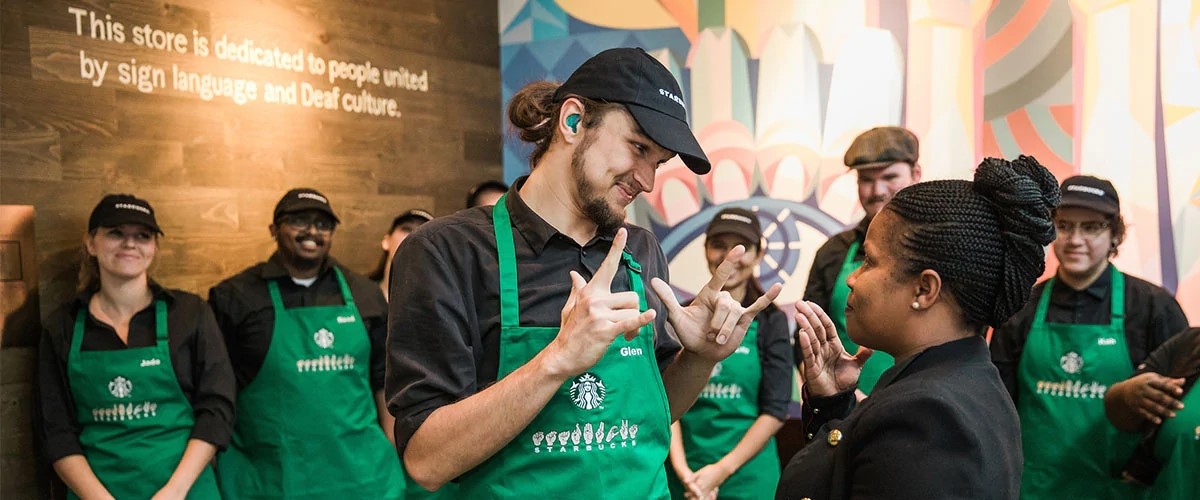 This refers to solid processes and procedures in day-to-day operations – "retail is detail". Starbucks stresses continuity, even in minute specifics. They take the attitude that nothing is minor, and our customers appreciate it all.
Starbucks focuses on finding ways to offer current goods and services in ways that make the brand more meaningful to the consumer – more than just a purchase, they concentrate on the whole shopping experience. Starbucks focuses on creating a sense of love about the brand. What Starbucks always tries to reforce is the Starbucks sensation. It is driven not just by the quality of its coffee but by the entire atmosphere surrounding the purchase of coffee.
Starbucks embraces resistance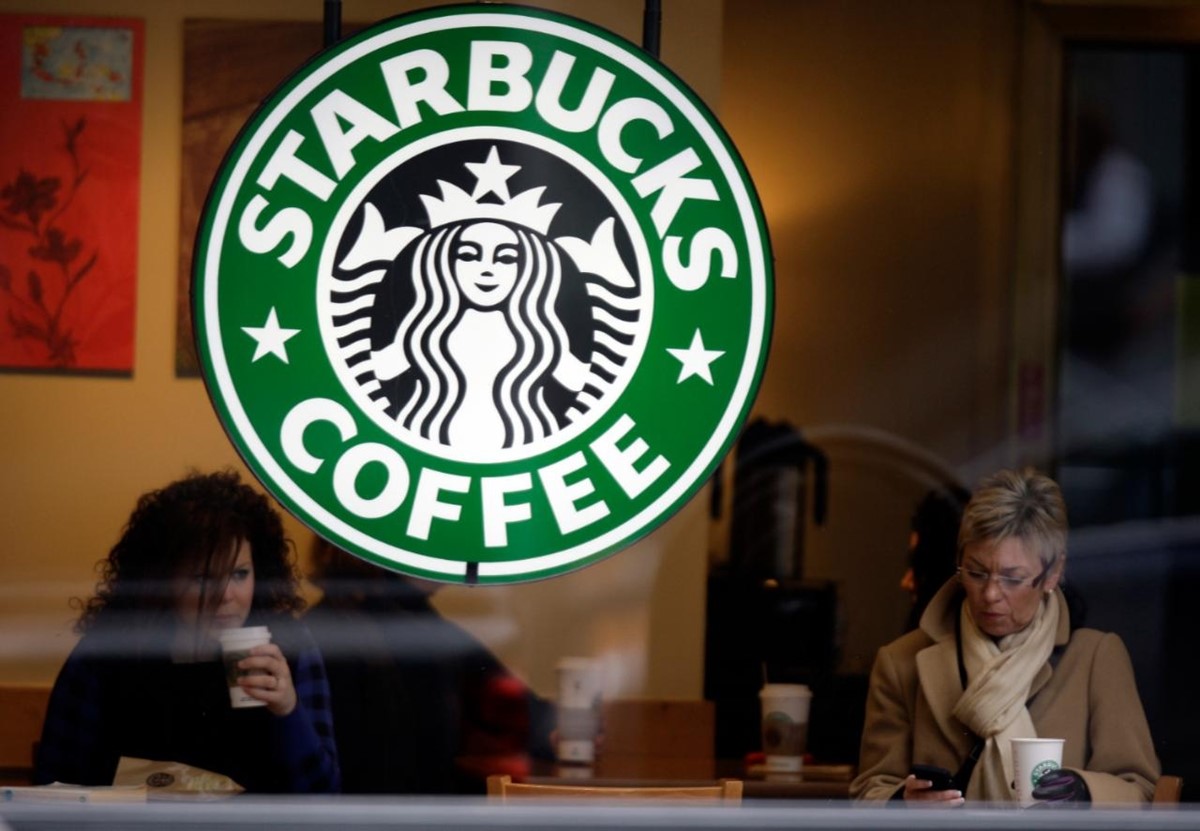 Customer resistance requires leadership to separate consumers who want to address their issues with others who will never stop complaining or be happy. Once faced with consumer concerns, there is an incentive to turn the perceived negative into a constructive head over heels. You obtain a rare insight on the mind of your customers. It is an opportunity to learn more about what you can do, how you can get better, how you can handle processes differently, and eventually get closer to delivering great customer experience. Only listening is not enough, you need to take action that shows consumers that their voices are heard and that leadership is concerned, building brand loyalty.
For example, when entering new markets, Starbucks receives a lot of resistance in some cases. The way they fought against this is to keep their core goods and services the same, but customized to other ways, such as selling food to local cuisines. It generates a sense of love, which turns many "haters" into long-lasting patrons.
Embracing resistance involves a complex set of skills that can enable businesses and individuals to create business and relationship opportunities when they are confronted with skepticism, irritation, or wariness. It is important to note that these discoveries have not been learned overnight, it has taken Starbucks several years to find the best ingredients for a perfect cup of coffee.
My recommendation to you as company leaders and entrepreneurs is to consider these ideas at the granular level and start applying them one at a time in our respective businesses. During the next strategic planning meeting, think about how these ideas apply to the business and build an action plan. Remember, it's all about the consumer.
Starbucks' success stems from innovative management, a creative entrepreneurial spirit, a social conscience, and guiding values that are instilled in the company fabric.
Lessons Learned from Starbucks
Lesson 1: Passion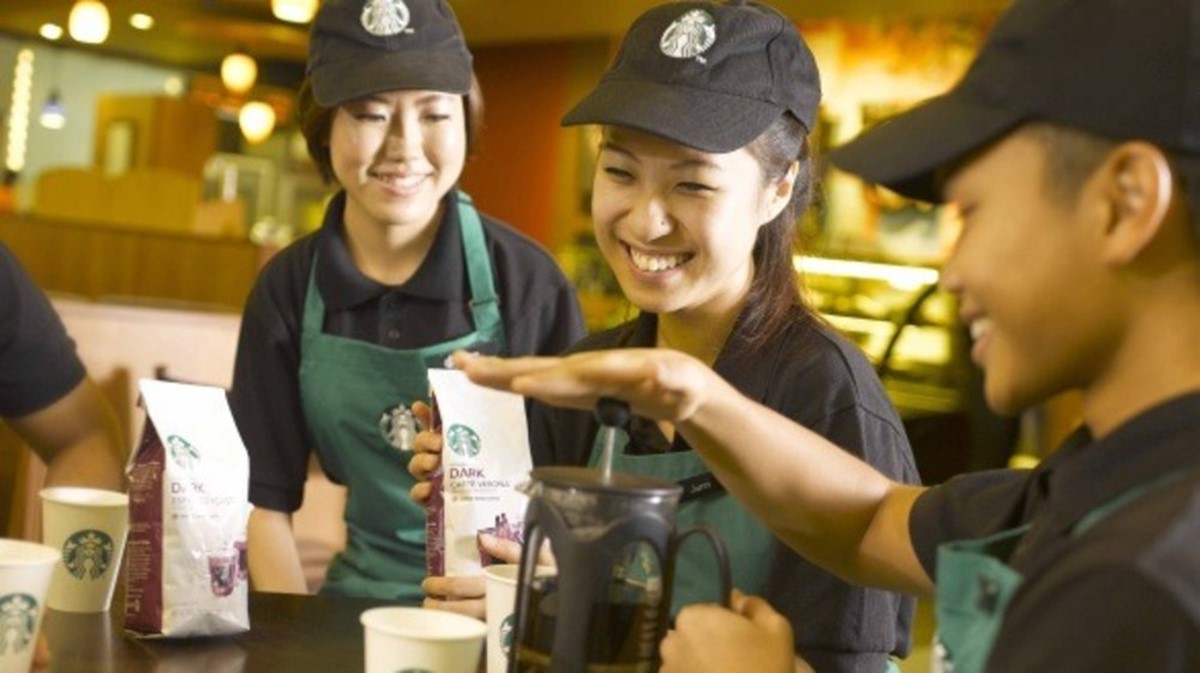 As Howard Schultz explains in his first book, Pour Your Heart Into It, the company has evolved from its mission to make a great coffee part of American life. Schultz had seen firsthand the influence of the Italian barista's enthusiasm for great coffee and left a lasting impression on him. The great brands are all born out of a desire to change things.
The enthusiasm remains, even though, as Schultz recounts in his book Onward, one of the biggest challenges of managing tens of thousands of workers in the service business — most of them working part-time while they concentrate on other items like university — was instilling the same dedication in all of them.
Starbucks has done so well in this area. Workers are referred to as "Partners". The company's internal training programs reflect this partnership. The education of employees is a vital part of the company's focus. There are various workshops and incentives for workers to develop their skills.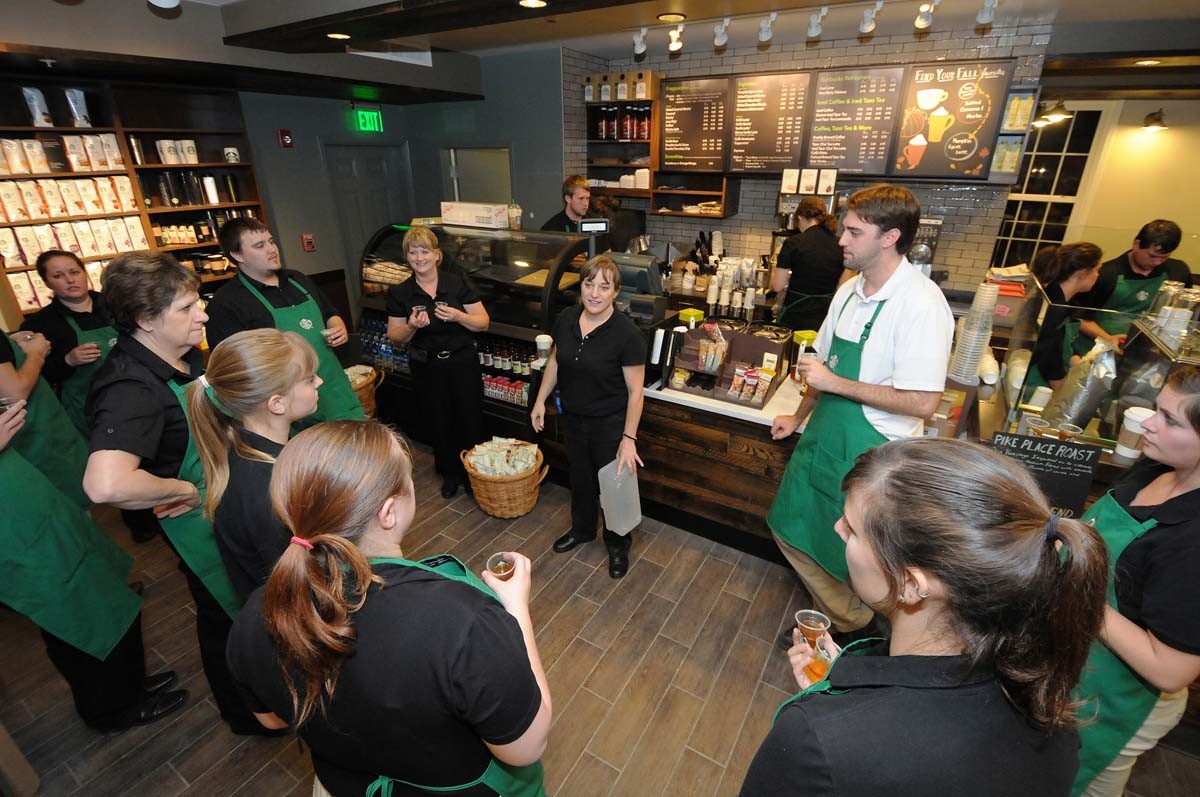 In reality, education is such a vital part of the community that Starbucks has even chosen to close their doors to a company-wide training session, preferring quality over short-term sales, even though it has bothered thousands of customers. The employees of Starbucks are also uniquely equipped to deal with customer concerns. When a mistake is made, the partners are encouraged to take responsibility and meet expectations to fix it. I was given free beverage coupons for such easy stuff that my drink would take longer than it should have.
This is an essential lesson in branding itself. I've seen franchisees attempt to justify away the issues found by customers. You can't do that. The business fails in any argument with the client. Indeed, I see this argument with the customer as a loss on both sides. Dealing with issues as soon as they arise and ensuring that the customer is satisfied is one of the most important aspects any service company can bring into its corporate philosophy.
Although it is true that some consumers take advantage of this ideology to do what is basically fraud, brands cannot use it as an excuse to fight back. Starbucks shines in this area of service. Passion is the core foundation of every great brand. You won't be able to build a loyal customer base without this key element.
Lesson 2: Education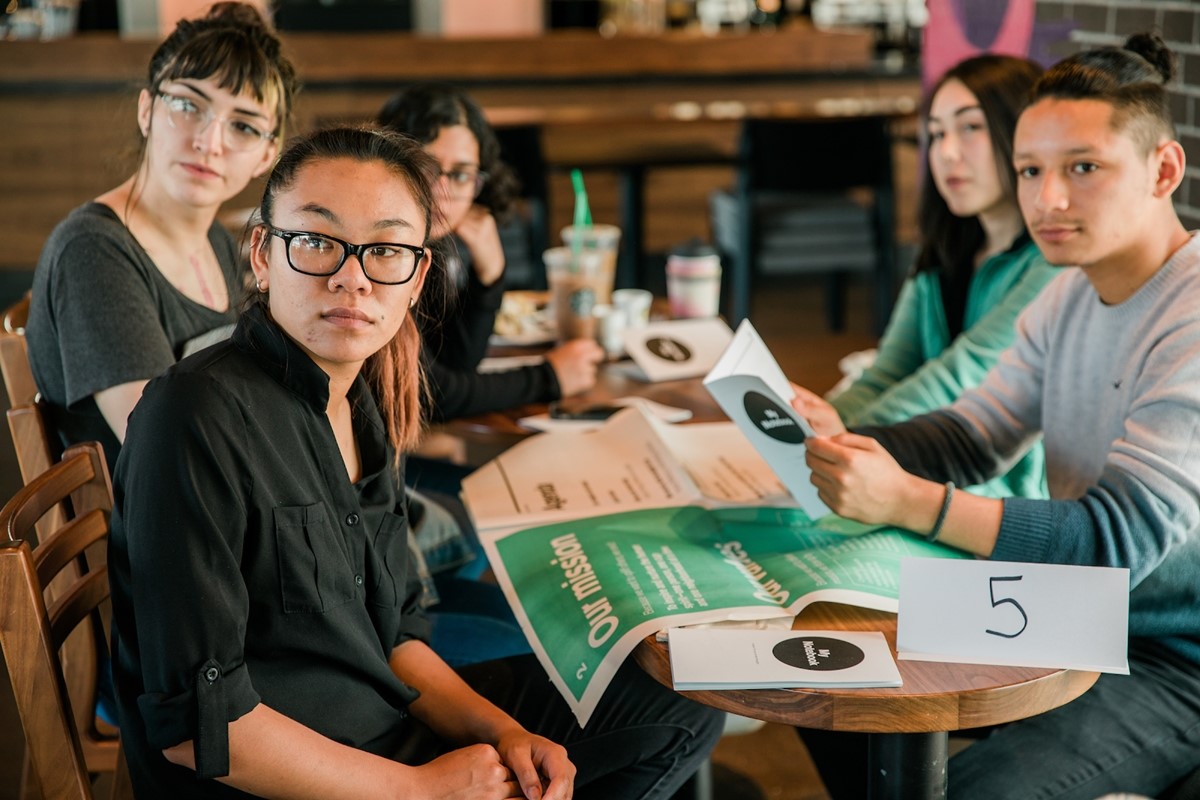 Starbucks has been helping customers learn about various blends of coffee for a long time, earning them respect through providing knowledge. The primary focus of the Starbucks brand, as Howard Schultz put it, was the "meeting place between home and work," by transforming coffee into a customized experience. In that position, Schultz created an entire industry that had not existed before.
Before Starbucks, people were drinking coffee at home and then going to work, where there was little brand loyalty to the kind of grounds used in the office coffee machine. People will go to a coffee shop and only order "coffee" with little regard to the origin or blend of the beans they produced.
There were coffee shops in America, but there were no places to enjoy great coffee. They were more likely to have breakfast or pie or ice cream. They were often usually boring looking areas. Starbucks came about and changed all that.
Not only did the educational focus of the business make people aware of coffee blends, but Starbucks started to promote the uniqueness of those who drank it. The method of ordering hand-crafted espresso drinks has taken on a whole new meaning.
Remember the "You've got Mail" scene where Starbucks is clearly described as a place where people with no decision-making skills will make six decisions just to order a cup of coffee? It has made Starbucks a status symbol for millions of people!
Lesson 3: Creating Emotional connections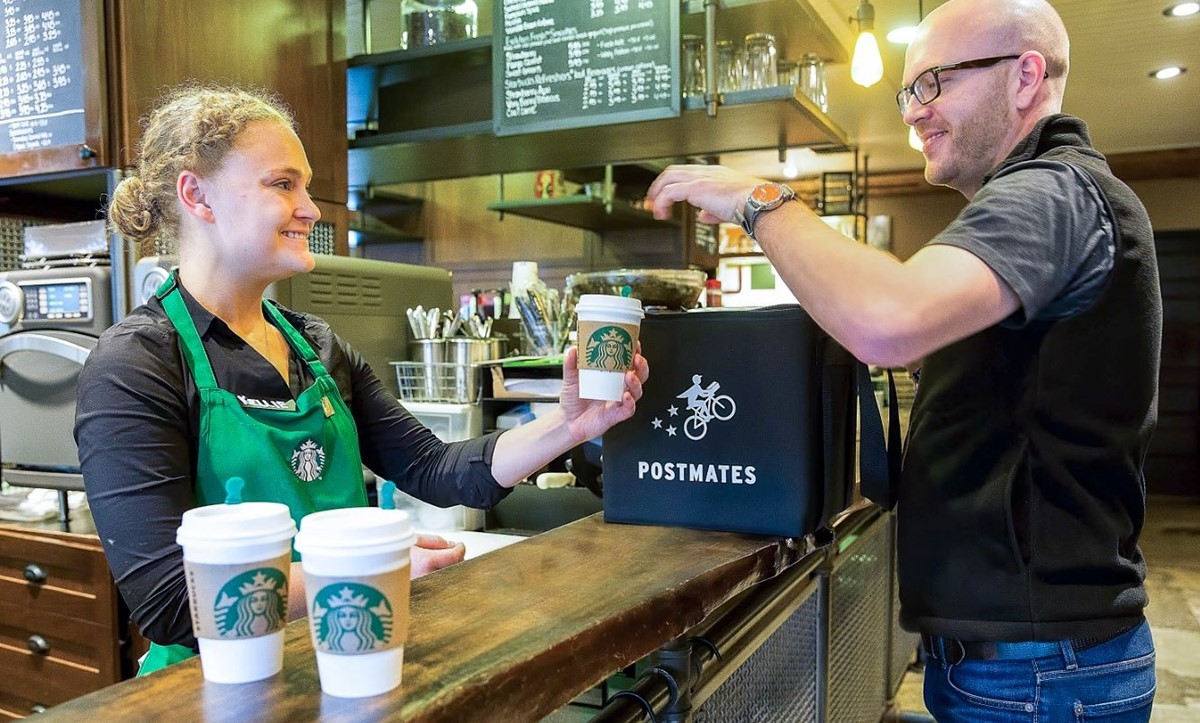 No one ever buys something without some sort of emotional connection. They use logical decision-making just to justify the emotional decision they have already made. All successful brands are well aware of this and build their relationships with their consumers on an emotional basis. Starbucks has also developed a strong emotional link with customers.
This process started with the emphasis on personalizing the process of ordering your beverage so that the very act of choosing your choice of drink becomes an emotional experience. But the emotional connection is much deeper than the ordering process.
Starbucks uses constantly changing decals on store windows to create an emotional bond between consumers and the brand.
How can coffee be emotional? It's a stream of black liquid! But when you take the time to dig deeper, you can find all kinds of stories in the middle of that rich liquid, and Starbucks has done an excellent job of capitalizing on that emotional story-telling potential.
Signage highlights the coffee's emotion with phrases like "There's a story in every coffee". Note that the message is not about "any cup" which could be self-serving and pointless, not to mention boringly planned. It's about the story in every "coffee" that takes a completely different direction and leads you to the various blends and their special qualities. This is just brilliant marketing.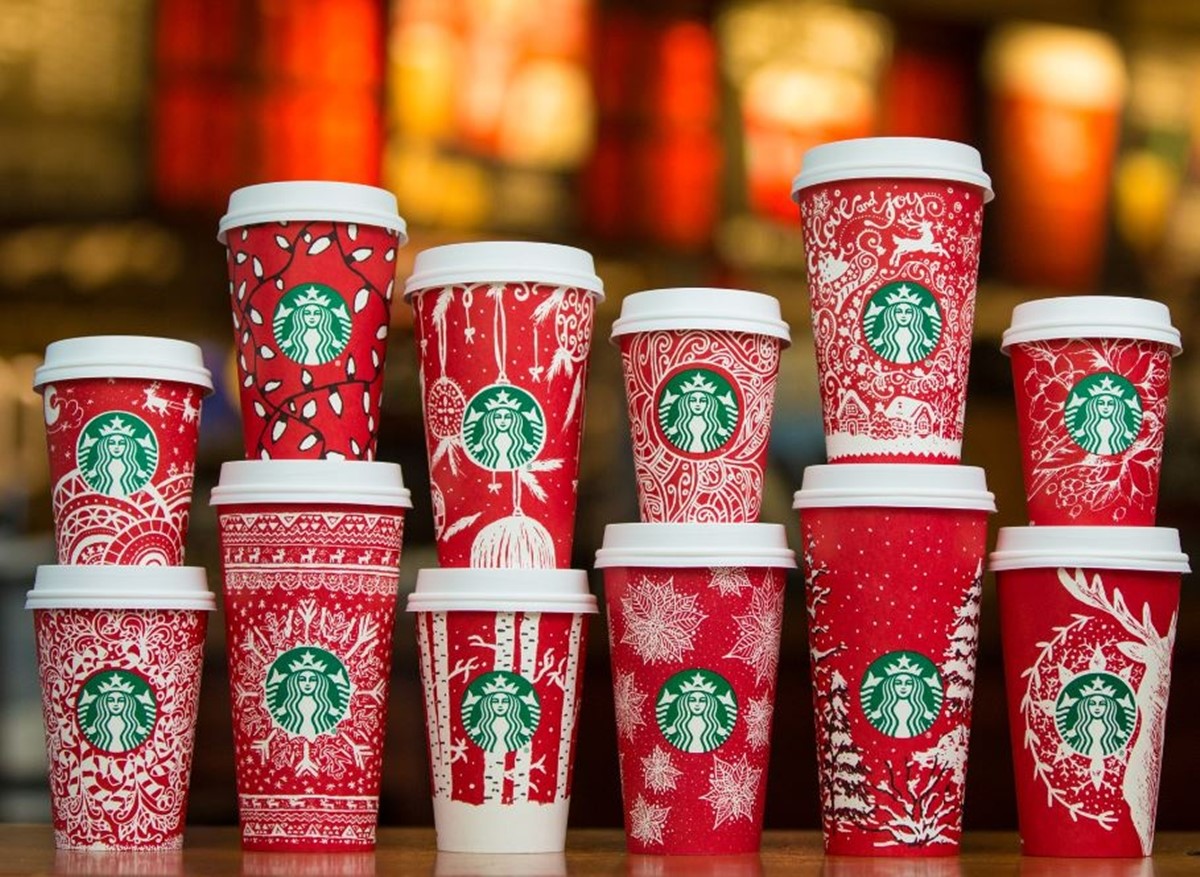 The red cups come out every Christmas. Customers around the world perceive the red cups as a crucial emblem for the start of the holiday season. Starbucks' marketing messages announce the arrival of the red cups as if they were as significant as the Oscars movie picture. And they truly are, as far as the brand is concerned. The red cups mark the start of the most critical revenue-generating season of the year. But what's unique about the company's ads is that it emphasizes red cups as something important and meaningful to consumers.
The consumer is seen to benefit from something as basic as the color of the bottle in which their drink is poured. This is a perfect example of how successful marketing focuses on the customer's attention. Starbucks has a deep dedication to the community, another place where the company creates emotional connection with its customers.
Another area in which Starbucks has built good emotional support is its focus on the environment and other causes. Even if people do not actually agree with the business on all the issues that the brand promotes, they will appreciate the fact that it stands behind its dedication in these fields, unlike many companies who tend to stay impartial in an attempt to avoid upsetting someone.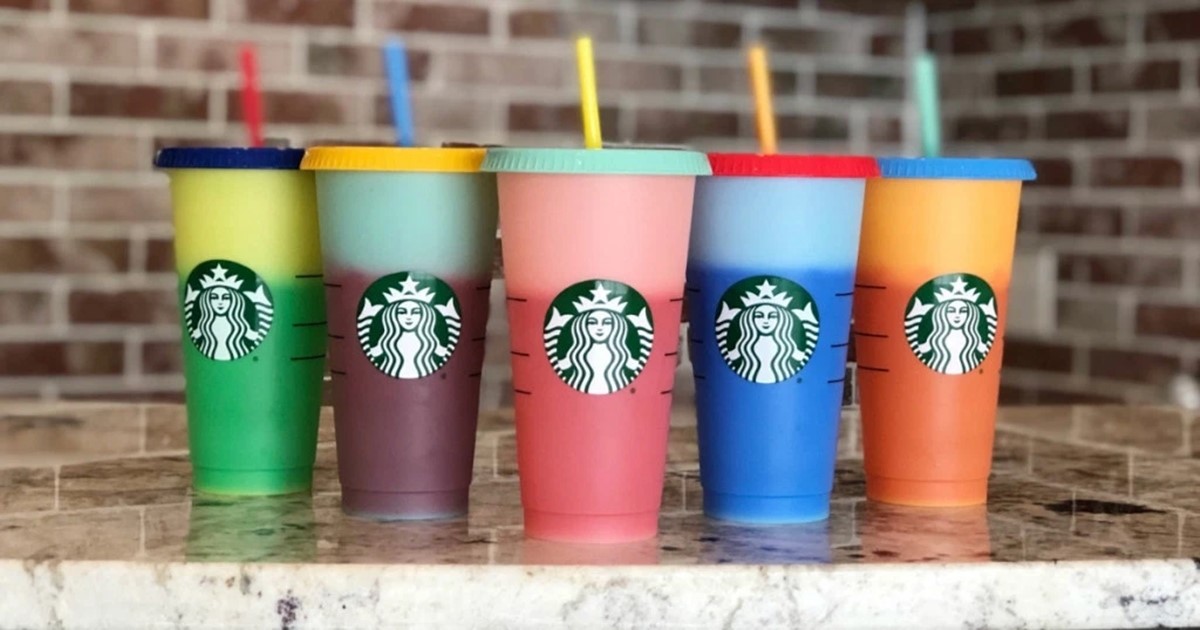 The business has innovated such items as reusable cups that look just like paper cups, and reusable fabric sleeves that help to save trees. The organization gives a discount when you carry a reusable cup, acknowledging that this environmental message is not only an act but a true corporate commitment.
Is your company's product or service a soulless commodity? If you believe so, you should start thinking differently. Evian turns water into a brand. Frank Purdue turns chicken into a brand. There is no such thing as a soulless commodity. You just need to be intentional about identifying the story within your product, and you can make even the most ordinary commodity a distinct memorable brand.
Lesson 4: Consistency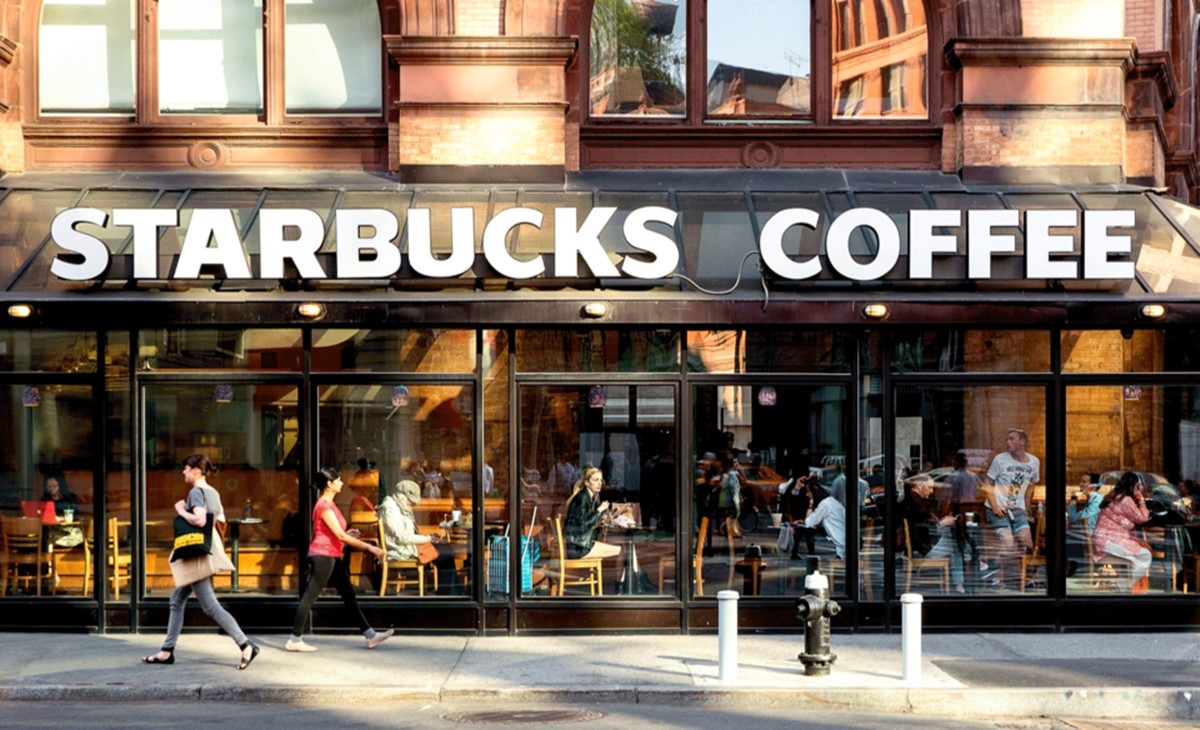 Starbucks may have over 20,000 stores, but it doesn't give in to the simple mass-producing path to save money. Starbucks stores, though distinct in its nature, are consistent with the image and the message of the brand.
Far too many businesses throw away everything they stand for on a daily basis in a misconception that this is what consumers want. It's false. Customers want from a brand the trait of consistency. Just look at how people respond when you change a tiny part of a product or logo. Starbucks gets this, and it keeps it surprisingly simple.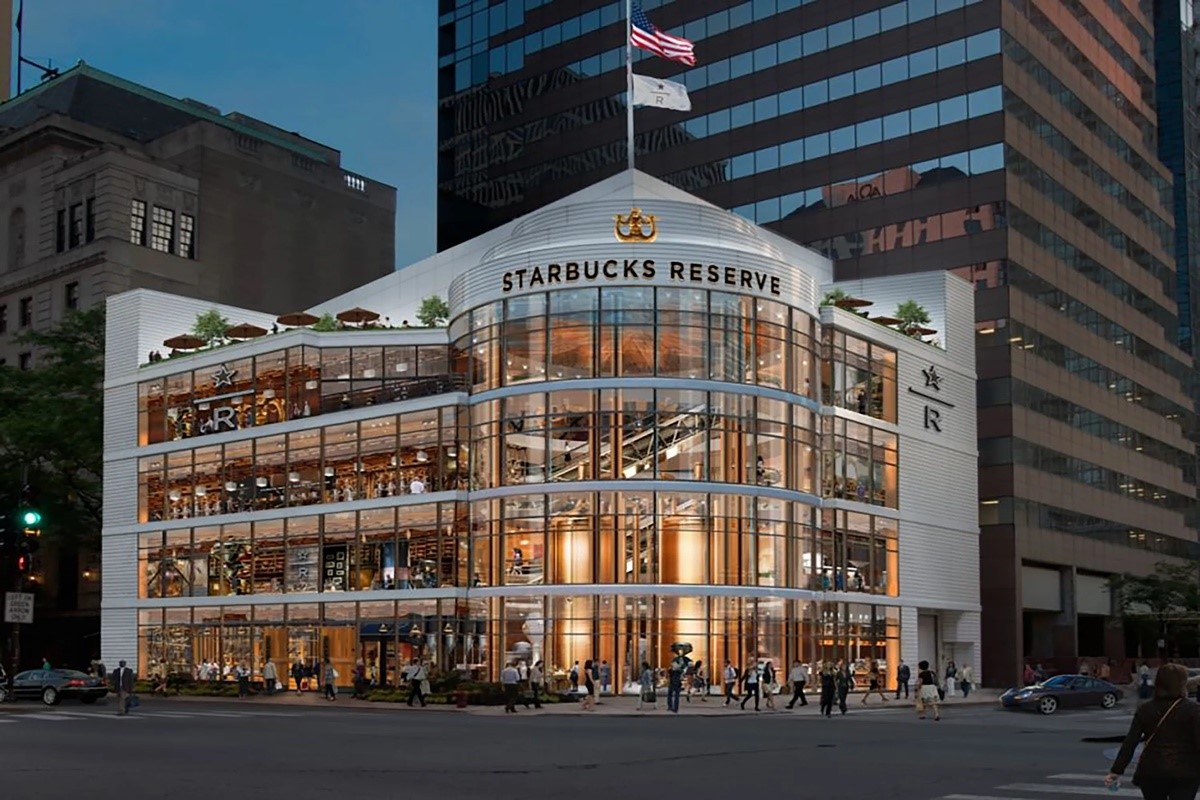 One of the most critical aspects of Starbucks branding is the manner in which every part of the store emphasizes the importance of crafted elements. And though signage is obviously mass-produced (with so many shops, how could it not be), it never looks mass-produced. Signage still looks like somebody made it painstakingly by hand.
Whenever possible, hand-lettering is deliberately done in such a way that there is a profoundly personal presence in the letter. The focus on hand-crafted messages reflects the hand-crafted drinks that the brand offers.
Merchandising displays involve cut-out forms and rough, hand-drawn lettering. Surfaces are never regular, and rarely circular, but they are generally bent and formed in odd ways to emphasize the fact that someone took time to construct it by hand. Photos are also beautiful drawings showing true artistry.
There are also hand-written notes from baristas that celebrate unique beverage creations. Each of these elements reflect a strong emphasis on the company's primary focus on making hand-crafted drinks to serve as the ideal meeting place between home and work. Starbucks has implemented a strong approach of using hand-crafted lettering and photographs to highlight the hand-crafted drinks it produces for customers.
Final Words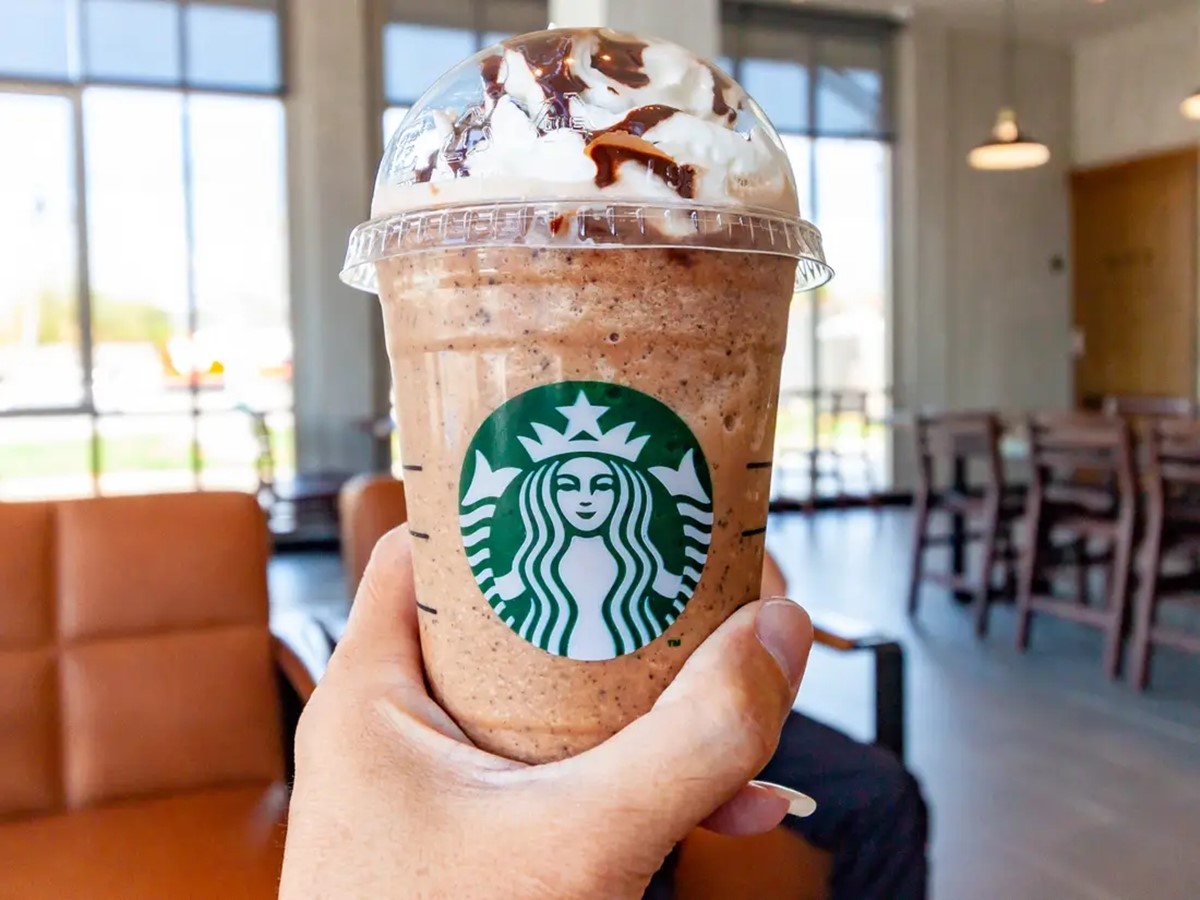 Starbucks is a great brand because it meets all the well-known principles of great branding and services. The organization knows what makes this special. This delivers this message to staff and clients alike, informing all audiences so that they not only appreciate what special attributes are, but also why they matter.
The brand empowers workers to develop customer loyalty. Starbucks establishes an emotional bond between its products and consumers by making customers the center of attention and offering a number of ways in which they can feel motivated by their engagement with the brand.
The business is always innovating, never standing still. Not every invention has to be through. The key point here is to keep trying. Finally, Starbucks demonstrates continuity in brand marketing that applies to all aspects of the business, including the way stores and products are crafted.
I hope this article has provided you with lots of useful insights into the success and popularity of Starbucks. Now take the lesions and apply them to your business!
More Stories Like This:
New Posts
Stay in the know
Get special offers on the latest news from AVADA.