Shopmaster Review 2021 – A Great Tool For Dropshipping Automation
If you're looking to start a dropshipping company and want to know if Shopmaster is the right choice, this review will give you a better understanding of what Shopmaster is, how it operates, and what it's going to cost you. Dropshipping is certainly one of the simplest ways to start an online company, you don't need an inventory, you don't need a warehouse or even make distribution plans, and you could start with less than $100.
However, like any other business model, running a dropshipping store requires tons of work, such as searching for legitimate vendors, contacting them, importing goods into your store through complicated software applications, pricing products, and order fulfillment, and several other activities that can be a little daunting. Luckily, there are many tools that can significantly reduce the time it takes to complete some of these tasks and even automate many of them, and Shopmaster is one of those tools. So, in this article, let's review what Shopmaster can do for you, and then you decide whether it's going to be a good fit for your brand.
Shopmaster Reviews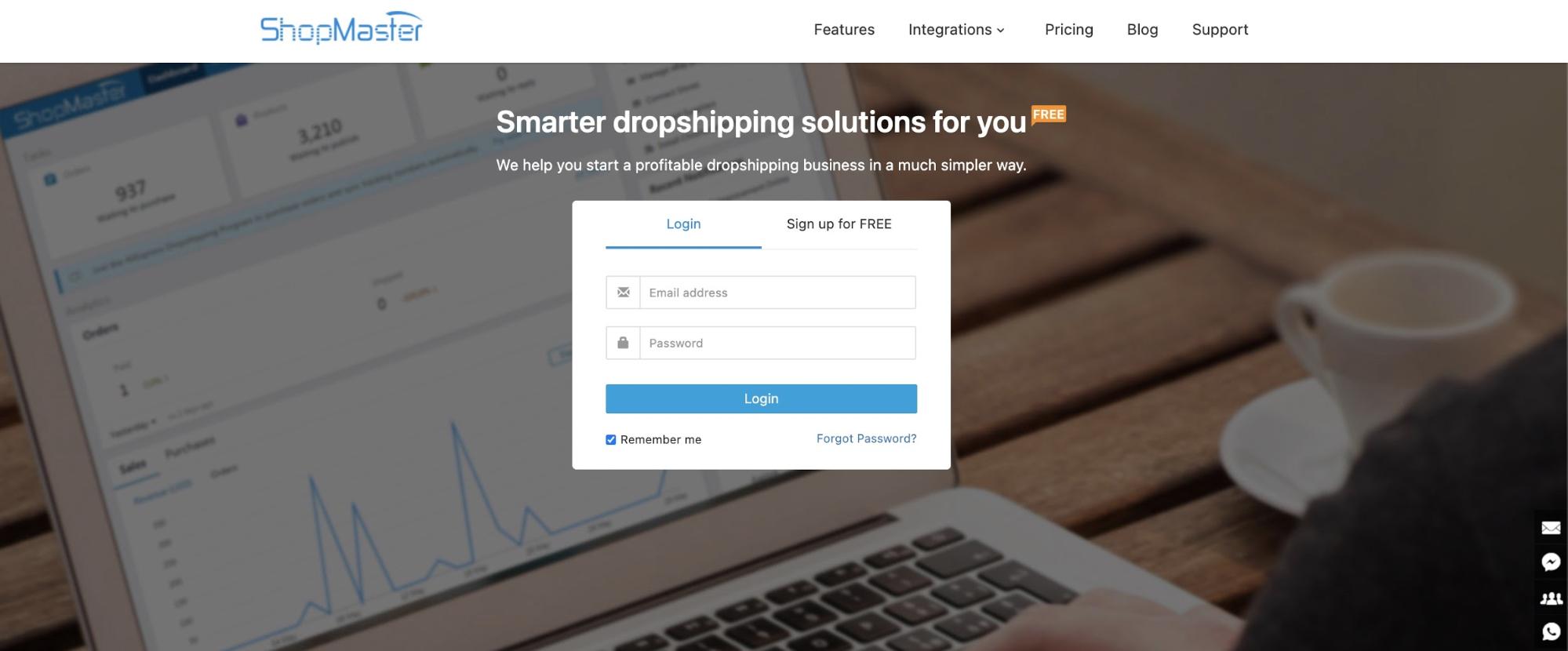 So, what is Shopmaster, exactly? In short, it's a drop-shipping app that lets you automate a lot of the tasks involved in the day-to-day running of a dropshipping company. With Shopmaster, you can conveniently import items from 30 eCommerce marketplace, such as AliExpress, Banggood, Chinabrands, CJ Dropshipping, and Googlemail. You can also import from marketplaces like Amazon, eBay, DHgate, Walmart, GearBest, and a host of others, but the automation features of Shopmaster are only applicable to the first 5 stores I listed.
So, one of the benefits of Shopmaster over some of the other dropshipping automation tools on the market is that there is a free version of the app that you can use before making any monetary commitment. The good thing is that you have access to all the features even in the free edition, so you can test it carefully before you invest any money in the app.
Shopmaster Features
Shopmaster comes with a ton of features that will help you in your store's day-to-day running by semi-automating or automating lots of dropshipping tasks. The tool offers the following features:
Shopmaster Dashboard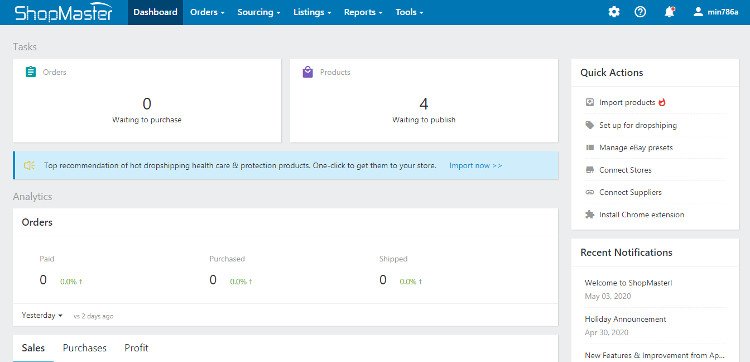 When you become a free user, you'll be taken to the main dashboard, as seen above. If you have one, you will be asked to connect to your shop; otherwise, you can skip this part easily and do it later. Shopmaster can integrate with five web-hosting platforms, which are:
Shopify
WooCommerce
3D Cart
eBay
Wish
So, if you're planning to use Shopmaster for your dropshipping needs, make sure you build your store using one of the platforms I've just listed. There are a few parts in the main dashboard that give you quick access to many of the Shopmaster features. At the top, you can see what orders you need to fulfill and the items that need to be imported into your shop. This is a blue box that leads to a list of items that are performing well, when you click on it, you will be taken to a page as shown below.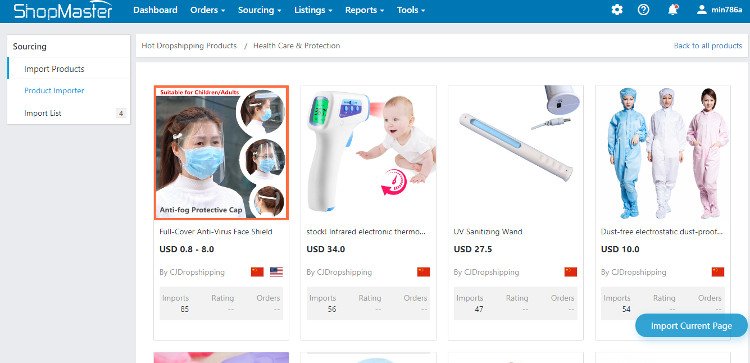 For any product, you can know the following details:
Name of the retailer
Where their warehouses are based
The price of the product
How many times this product has been imported into Shopmaster
Total number of orders overall rating
You can easily import any goods you want by pressing the orange button that says, "Click to import." Back to the home dashboard, you can also view some sales statistics for your stores, such as an overview of the top-selling items for overall profits and items sold. You will see sales and profit reports and any adjustments that can impact your listings, such as price, inventory.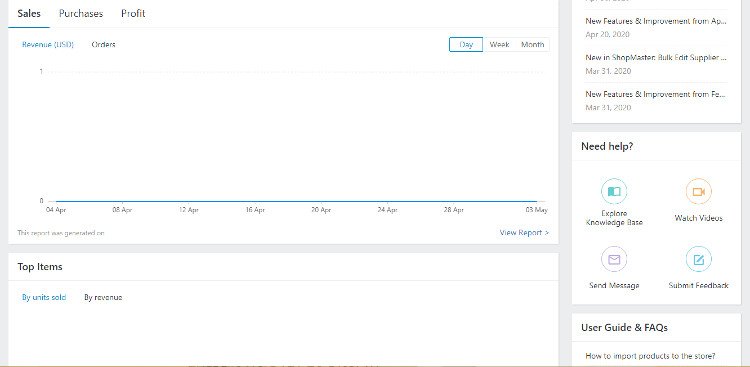 On the right, you have easy access links to the app's key features and valuable guides, video tutorials, and recent updates.
Importing products
You can easily import goods from over 30 manufacturers; there are several ways to do this, including:
Import goods by entering the URL of the product
Import goods by entering their ID
Import goods by entering the product category
With AliExpress, you can use the AliExpress URL of the store.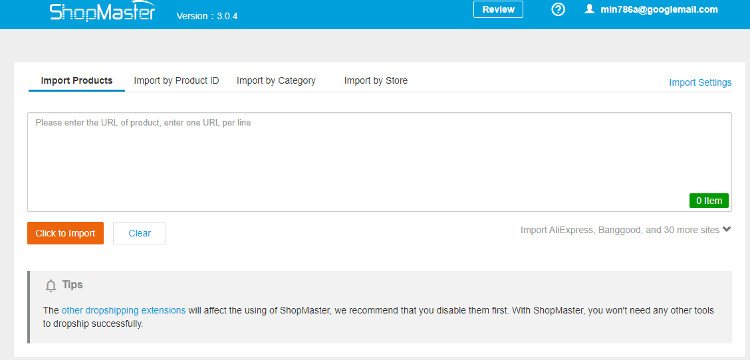 Although there are 30 suppliers from whom you can import goods, I will focus only on those who fully support the Shopmaster automated features. After you have imported products into your store, you can edit the product details, the photos and then import them to your store with a single click. Another thing to remember is that you can import goods in bulk; what you need to do is enter multiple product URLs or product IDs (up to 100 at a time), and the app will import all the data in one go.
Automated Pricing Rules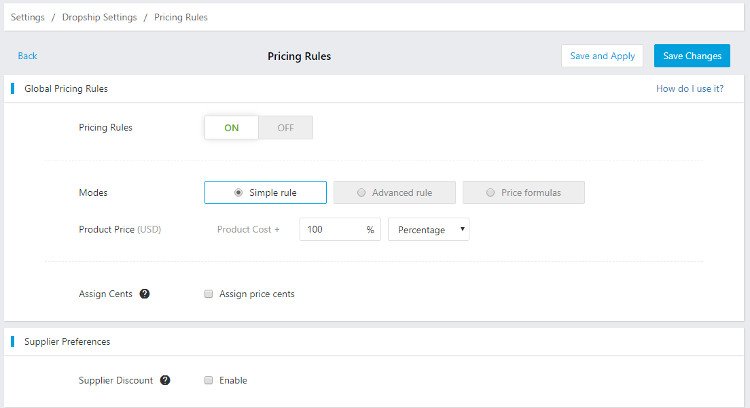 Shopmaster has one of the most sophisticated sets of commodity pricing rules that I have seen in the dropshipping world. There are three ways in which you can price Shopmaster items, which are as follows:
Simple – This is easy to set up for beginners; just raise the price of the commodity by a fixed number, multiple, or fixed amount.
Advanced – If you want a little more flexibility with your pricing, use the advanced pricing rule option. Here you can set prices based on the price range of your supplier.
Formula pricing – Similar to the advanced pricing feature, but here, you can set different pricing rules for goods from different suppliers.
The great thing about this feature is that when the price is adjusted on the supplier side, it will be changed automatically based on your pricing guidelines.
Automated Inventory Updates
If you use AliExpress, Banggood, Chinabrands, CJ Dropshipping, or Gogomail suppliers, any product changes that occur on the supplier side will be updated automatically within Shopmaster. This will save you time and hassle from having to make any adjustments for the inventory on your side.
Quick Order Fulfilment
Fulling several orders a day would take a lot of time if everything were done manually, but with Shopmaster, everything can be accomplished with a few clicks, and the best thing is, when you run a dropshipping store, everything is taken care of by your supplier.
Often, tracking numbers are automatically sent to your customers as soon as the order has been completed, saving you time from having to manually allocate tracking numbers to orders where errors can be made and incorrect tracking data may be sent to customers.
Shopmaster Chrome Extension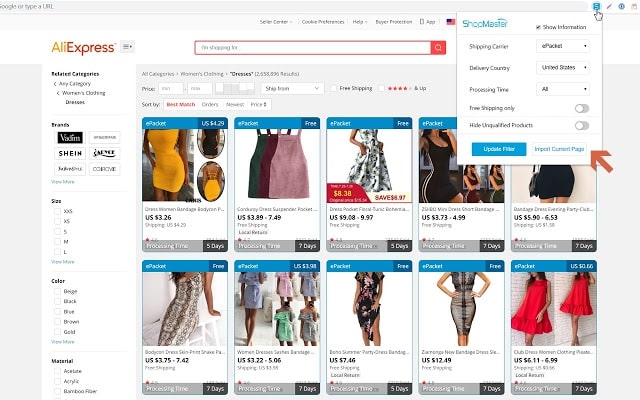 If you're only going to use AliExpress as your sole supplier, you can use Shopmaster's Chrome extension to import any items you want by clicking a button easily.
Other Features
The features I mentioned above are the key ones you'll use when you start to drop with Shopmaster first. However, there are way more features than those I have mentioned; in fact, Shopmaster has more than 100 features that will allow you to do so much more with your dropshipping store. Most of these additional features are designed to help you scale your company and help you run it more efficiently.
Training & Support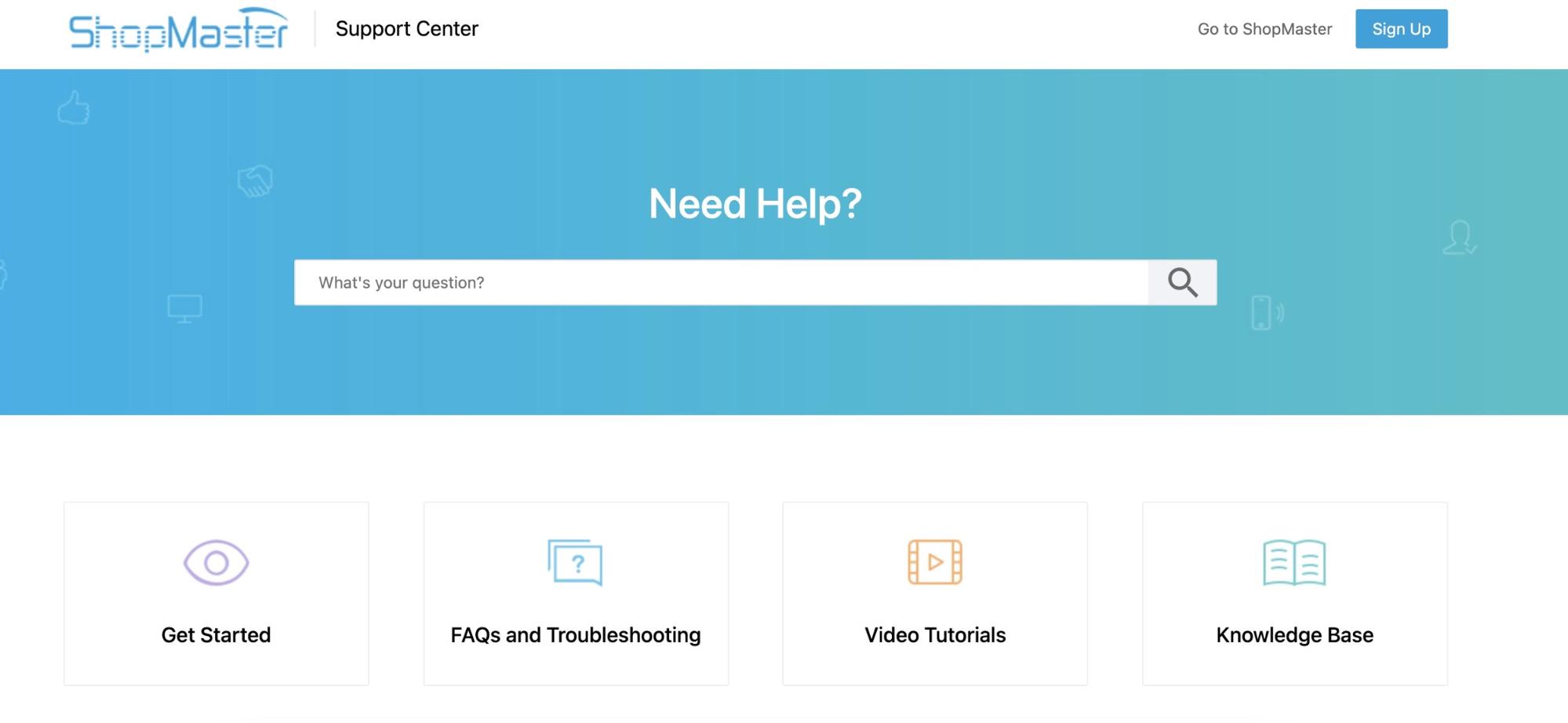 There are some great video guides about how to get started with Shopmaster, it's one of the most advanced dropshipping apps, and without these training videos, it's hard to find out how to better use many of the features that come with this tool. They also have a robust knowledge base and an active Facebook forum where you can ask for advice from other users and members of the Shopmaster team.
From what I've read and seen, their service is first class, they try to address any questions as soon as possible and settle any problems with Shopmaster very quickly. They also update their blog on a regular basis, where you can also find a variety of helpful posts on dropshipping topics.
Shopmaster Pricing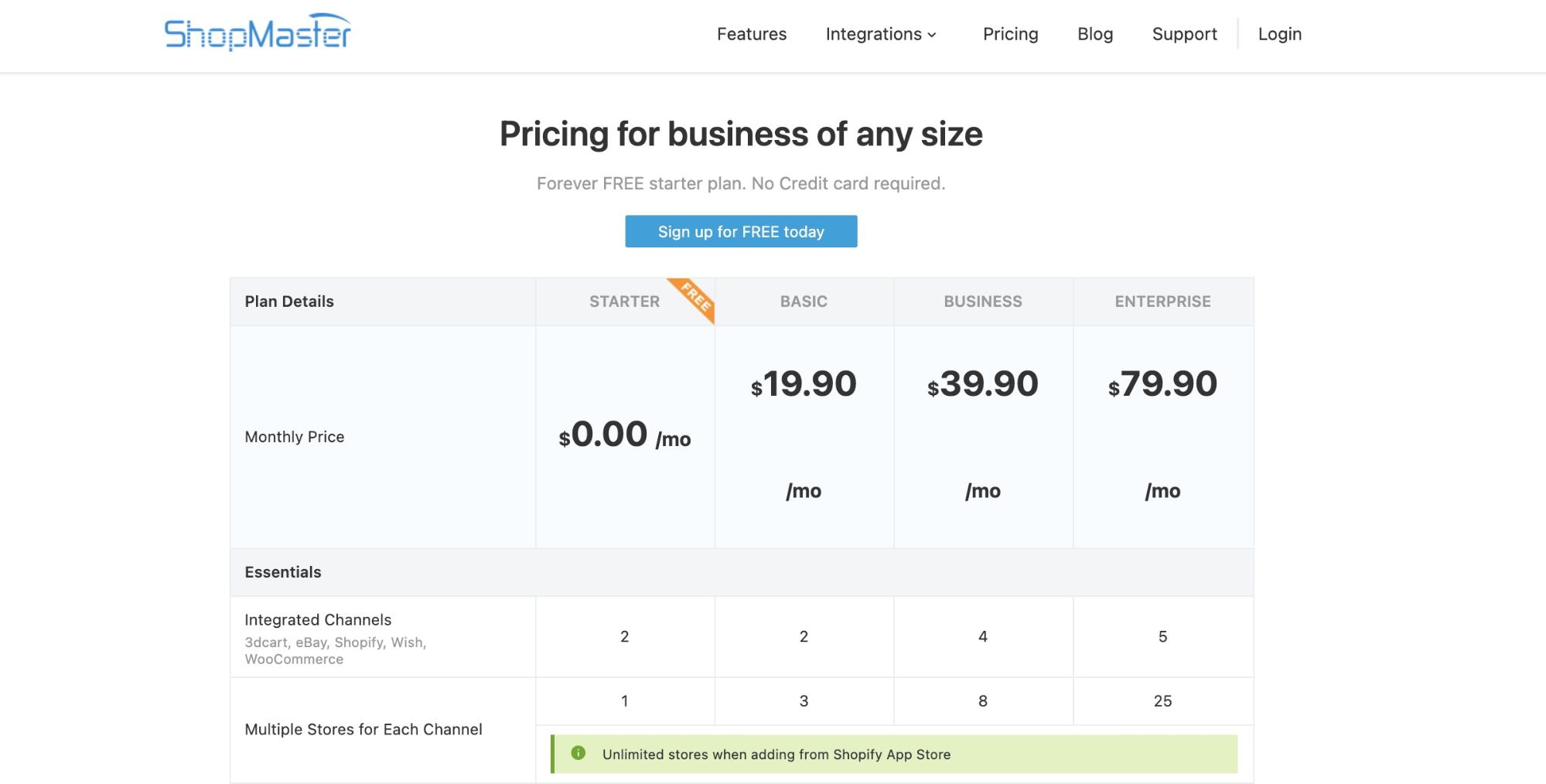 Shopmaster has a free plan that allows you access to all of its features, there are some restrictions on how you use these features, so when you're just starting out, it's a risk-free way to test the app to see if it's right for you.
Final words
I'll be honest with you, when I first learned about Shopmaster, I didn't expect much, it wasn't as well known as some of the other dropship apps, and my initial impression was that it was going to be a basic dropshipping app with minimal functionality. I've been really wrong, it's one of the best dropshipping apps I've tested, and it's the most feature-rich.
Some of the advantages it has over other apps such as Oberlo, Spocket, and Dropified are the number of suppliers you can choose to import goods from and eCommerce sites that can integrate with Shopmaster. It's got fantastic support, an excellent tutorial, and free to use. It's certainly worth checking out if you want to start dropshipping with suppliers from China.
New Posts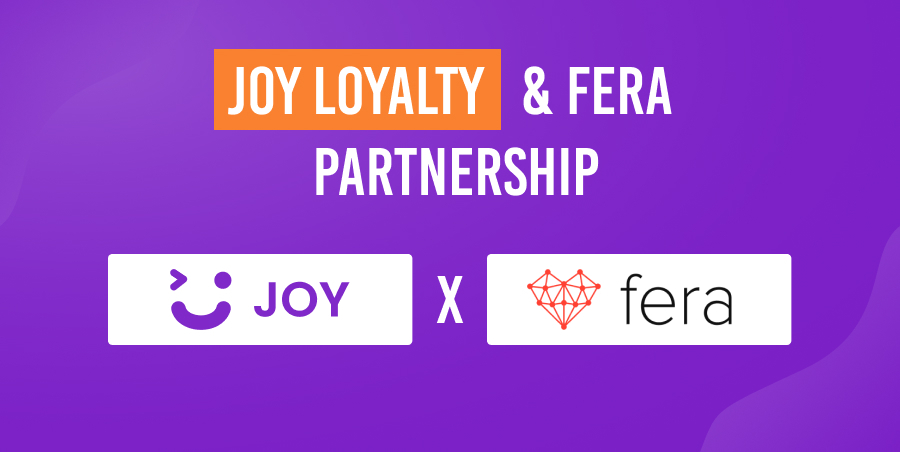 Subscribe
Stay in the know
Get special offers on the latest news from AVADA.
40k
subscribers has been joined!
Earn $10 in reward now!