How to Find Instagram Influencers for Shopify?
If you're considering using Instagram influencer marketing for your company, now is the time to get started. Adding Instagram influencer marketing to your overall Instagram strategy will help increase your brand recognition, increase your follower base, and drive big sales.
Ready to get started with Instagram's marketing influencer for your business? In this guide on how to find Instagram influencers for Shopify, I will discuss everything that you need to know so that you can find the right people to advocate for your brand. Let's jump right into the details.
What are Instagram Influencers?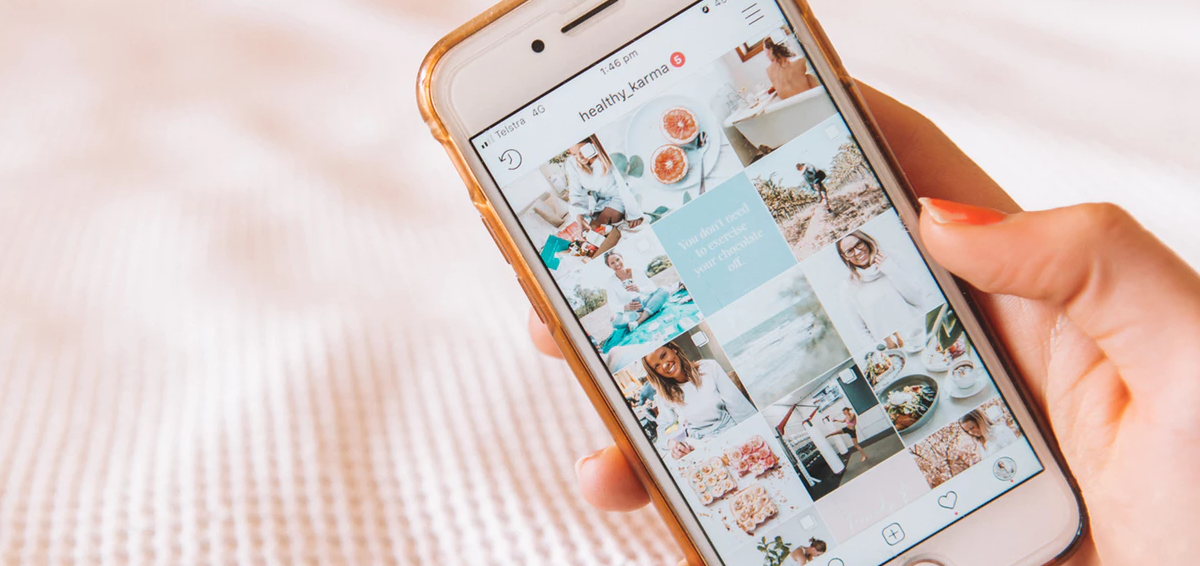 Influencer marketing is all about reaching out to various Instagram influencers to sell your goods to their audience. These influencers already have their followers on the Instagram account, and companies are using different types of influencers for their different business objectives.
Basically, there are three main types of Instagram influencers:
Micro-influencers: 1,000 to 10,000 fans. They will help you tap into small markets. So, if you're trying to turn followers into customers, that's your best bet.
Macro influencers: 10,000 – 1M fans. With micro-influencers, you can partner with hundreds of them. What if, however, you don't want to do it? That said, you may want to give macro-influencers a place in your strategy.
Celebrities: >1M fans. If you need a lot of brand awareness, these people are your best bet. But it's sort of like putting all your eggs in a basket, and Celebrities are the most expensive type of influencers.
Building a follow-up on Instagram is not easy, particularly if you're a business account beginner. If you're selling visual-appealing goods, it definitely helps. But frankly, there's no guarantee that you're going to create a follow-up just by sharing pictures related to your products or brand. If you're just getting started, you might want to try out a course or webinar on that teaches you how to get 1k followers on insta to start out.
If you don't have an audience on Instagram, it's going to be hard to use this platform to develop your business. That's exactly why the Instagram influencers are so useful to eCommerce brands. They've already developed their follow-up on the platform organically. They have thousands of fans, and these followers are truly interested in what the influencer's posts are. In other words, they're "who's going to follow Instagram."
As influencers already have their fanbase, they're going to support you a lot in generating web traffic. Your followers will search for your products, your brand on Google to find your website. Since they are influencers, they allow you to increase social media followers, in this case, Instagram and therefore boost your conversion rate.
How much do Instagram Influencers cost?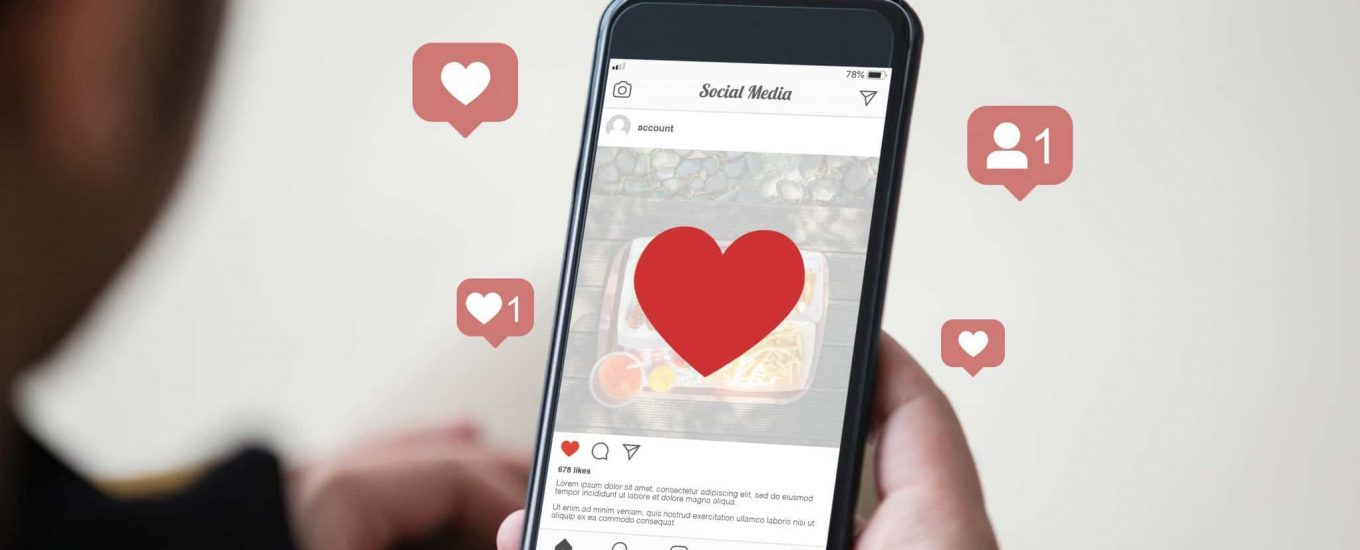 It's one of the most asked questions in the industry, and the answer boils down to who you want to work with and the scale of the project. In the early days of influencer marketing, rising social stars will enter into brand alliances in exchange for free goods.
But for most of them, those days are long gone. While many micro-influencers are still willing to trade free goods for promotion space in their profile, today's largest Instagram influencers are charging big bucks to produce brand posts as their profiles have become their main source of revenue. Currently, some influencers report charging as much as $5,000 to $10,000 per endorsed post.
There is no doubt that social media influencers have become an invaluable tool for brand campaigns, particularly on Instagram. But how can you come up with a fair price when there are so many considerations to consider, such as the size and nature of the relationship or the number of supported posts and stories you need?
If you want to work with the influencers in the 100,000+ range, you might have to pay a lot of money for your endorsement. In reality, the $1,000 rate seemed to be the average price per single Instagram post, while the prices for additional services (such as takeovers, Instagram Stories, blog posts, and more) varied. Micro-influencers, on the other hand, appear to charge around $300 per Instagram post, and nano-influencers charge less.
And while cash is the most acceptable type of payment, in-kind campaigns can also be a meaningful exchange. Collectively, "54 percent of influencers say that they would be more likely to post in kind or in exchange for a free product if they were a true fan of the product or brand."
Sadly, there is no one-size-fits-all response when it comes to how much it can cost for Instagram influencer marketing, and there are a variety of factors involved that go way beyond the Instagram influencer number. The best way to find out is by reaching out to the influencers who you want to work with and ask them for a quote.
Read more: How to Become an Instagram Influencer?
How to find Instagram influencers for Shopify?
Step 1: Figure out your business goals
Do you have any particular goals in mind? Why do you want to partner with Instagram influencers? You should have a clear goal in mind before finding Instagram influencers.
Do you want to raise awareness of the brand?
Are you looking to produce leads or sales?
Or do you need more followers on your Instagram business account?
Your choice of influencers will depend on them. You can need to create contests or quizzes that involve hashtags to increase your Instagram followers. Going for an influencer who can inspire fans to take part in the contest might be the best way to go.
On the other hand, you would need affiliate marketing and discount codes for sales and lead generation. So, be sure to partner with influencers whose audience is likely to purchase your product. Now, after setting the target for your company, ask yourself: do they suit the personality of your brand?
If there is no alignment between the influencer and your brand, the ROI will likely be very low. So, find an influencer that suits your brand. That said, an influencer known for her excellent fashion taste would be a good choice to market a new pair of heels. Looking for music influencers on Instagram may be a waste of time.
Step 2: Look for engagement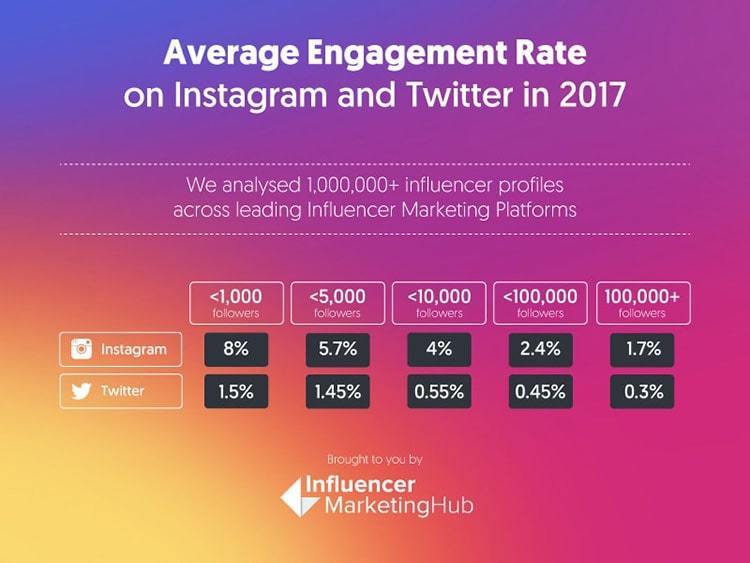 Engagement is one of the crucial indicators that you need to take into account when doing Instagram influencer marketing. The average Instagram engagement rate is around 3%. Of course, each category of influencer has a particular degree of involvement. So, take the time to make certain comparisons in order to make the right decision.
Step 3: Analyze comments
Be cautious of fake influencers! One way to evaluate if the influencer is real or fake is by evaluating the comments in their posts. Such ambiguous comments as "nice pic" or "cool dress" or "looking good" and comments with emojis are more likely to be false and posted by bots. A lot of influencers buy fake followers or engagements to boost their profile's image. Conversational comments are also a sign of real commitment, which takes us to the next point:
Step 4: Search for genuine engagements
Signs to identify true followers:
Ask meaningful questions
Make personal statements
Tag their friends
Check out the following post from Jeanne Damas, an Instagram fashion and beauty influencer. All of her posts receive real replies from her true fans, not bots. Take a look at this one: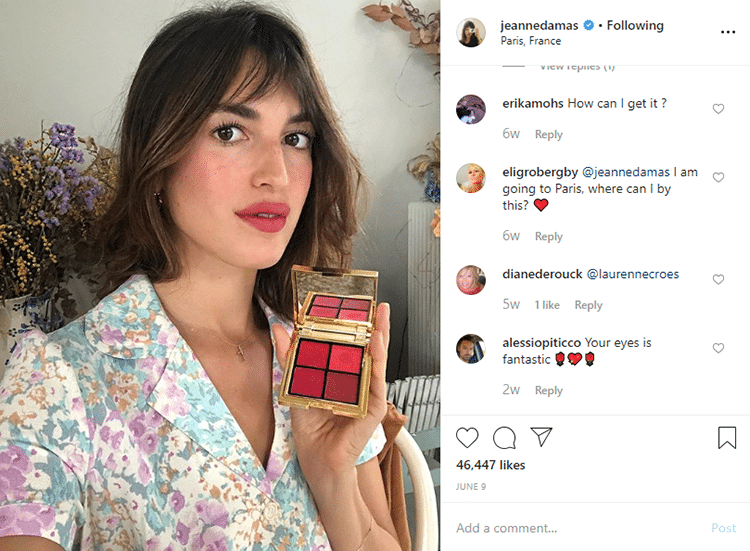 Step 5: Explore hashtags relevant to your brand
It'll be better to find Instagrammers who have already spoken of products or brands similar to yours. They may be a good match for your campaign of influencers. Do some hashtag analysis to do this.
Avoid high-density hashtags.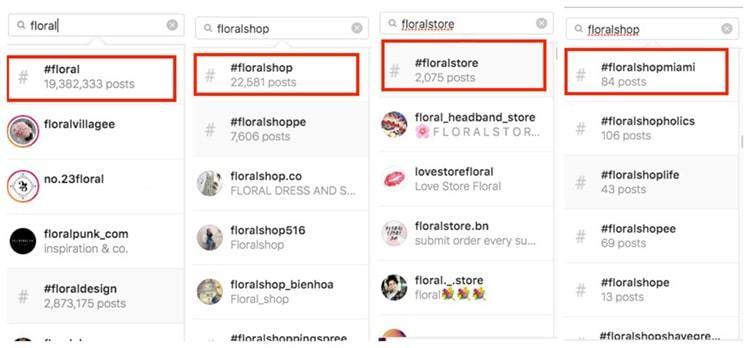 Hashtags are like SEO keywords. High-density hashtags are like seed keywords in SEO, the most widely used hashtags on Instagram. You really don't want to use it for your post. Using these hashtags to look up influencers is wasting time. If you start your search with "floral" you're going to have to see more than 19,000,000 results.
But if you dig deeper into long-tailed hashtags, the number of posts is smaller. In this example, #floralshop has 22,581 posts, #floralstore has 2,75 posts, while #floralshopmiami has 84 posts. I believe that #floralstore would provide you with more precise search results.
Step 6: Use keywords that describe your brand or your target audience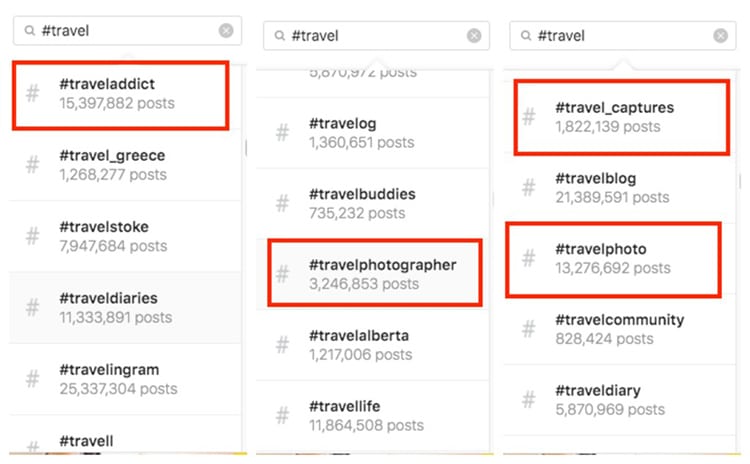 When doing hashtag research, you can start with keywords that also identify your brand or target audience. If you're selling travel gear, try something like #travel, and Instagram will recommend the most trendy and appropriate hashtags. Here you can use hashtags such as #traveladdict, #traveldiary, or #travel captures to check for influencers who cater to a particular niche. By doing this, you might even discover Instagram Top Travel influencers.
Step 7: Search by the #sponsored or #ad hashtags
Instagram allows influencers to position #sponsored or #ad in their posts to differentiate promotional content. You can search for influencers on Instagram with these two hashtags, which will allow you to find posts sponsored by influencers more easily.
Step 8: Browse influencer platforms
Since the above approaches of finding Instagram influencers are useful but a bit time-consuming and manual, you can browse dedicated platforms that connect Instagram influencers to businesses to make things easier. But keep in mind that, when selecting a platform, ask yourself the following questions:
Does the platform have influencers for your niche? How is the quality of the influencers?
What type of content creation, distribution, and tracking tools are provided on the platform?
Does the platform provide real-time analytics and reporting tools?
What are past users saying about that platform?
Here are a few examples of Instagram influencer marketing platforms that you may want to check out:
Influence.co

On influence.co, you can find not only influencers but also their profiles that show how many brands they've collaborated with. This platform also helps you to see how much it costs you to partner with these influencers. This is a very great tool to start investigating and building a list of possible influencers that you want to work with.
Klear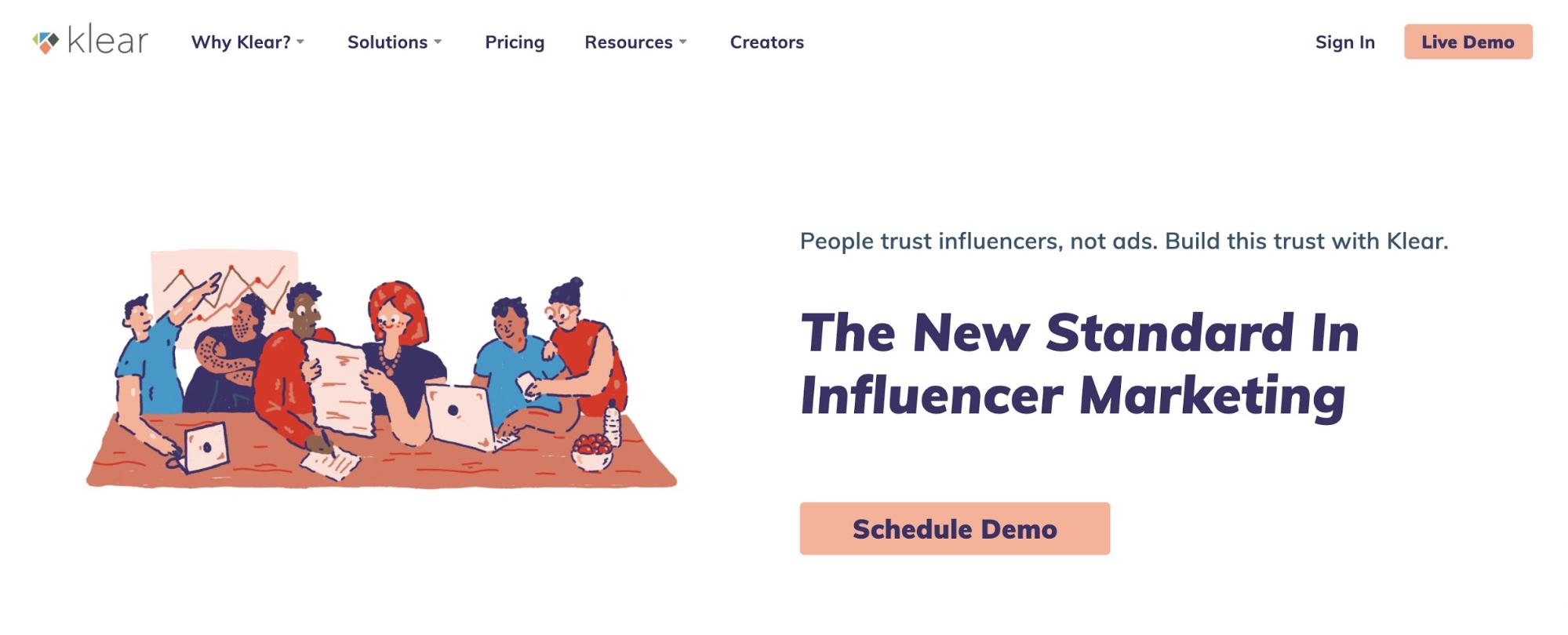 Klear is a free platform specially developed for influencer marketing. Klear is basically an influencer database as it breaks down influencers into 60,000 subject categories and analyzes their profiles and psychographics. So, the search won't take a lot of time. Klear allows users to filter the lists of influencers across the social media network, their audience size, their expertise, place, the keywords they mention. This method also helps you to calculate and evaluate the possible outcomes of your influencer campaigns and find out which one works better.
NinjaOutreach

NinjaOutreach finds Instagram influencers for you from its database. When you select your niche and venue, the platform will show a list of related influencers along with their social media profiles and emails. With NinjaOutreach, you can also see the degree of commitment of each influencer and how best to collaborate with them.
How to contact Instagram influencers for work?
Create a compelling pitch
First and foremost, put yourself in the shoes of the influencer. Your aim is to create content that appeals to their audience, so how do you create an offer that makes them excited? Why would they want to partner with your brand? You may want to come up with collaboration options and provide the influencers with offers they can't refuse.
Now, it's best to keep your pitch short and sweet. Don't give them a 5-point email as it's daunting and our receiver does not want to read it through. So, make sure you're in a position to express interest, personalize it as much as you can. Another thing: yes, you can certainly send direct messages on Instagram. Lots of brands are doing it, and it's pretty useful. But sending them an email is recommended to make yourself look professional.
Create an email sequence
The next thing you should do is send emails in a sequence. Most influencers have lots of emails to respond to, so it will take them 3-5 days to reply. So, what we recommend you do is set up an email series and send them until you get a response. It's pretty easy to set up. Everything you need to do is write personalized emails, but don't expect the influencers to write back to you right away, it could take up to 3 emails to eventually respond to you.
Final words
That's it! I hope this guide has provided you with valuable information about how you can find Instagram influencers for your Shopify brand. It won't be easy to find influencers that suit your brand, yet if you stay patient and stick to the how-tos of this article, you will be able to find the right people to spread your brand. Please feel free to leave comments below for a further discussion on this topic.
New Posts
Stay in the know
Get special offers on the latest news from AVADA.