What is Drop Surfing Ecommerce? Drop Surfing vs. Dropshipping
In the dropshipping world, you may have or have not heard of the term, but for sure, it is emerging as a wave between online business, which is called Drop Surfing.
Is this a new and better way than dropshipping? Can you make a profit out of this? What are the requirements to be a "surfer"? We are going to go through all of those in this article.
So without further ado, put your swimming suit on, and let's find out about Drop Surfing Ecommerce and why it is so popular at making money for Ecommerce.
What is Drop Surfing?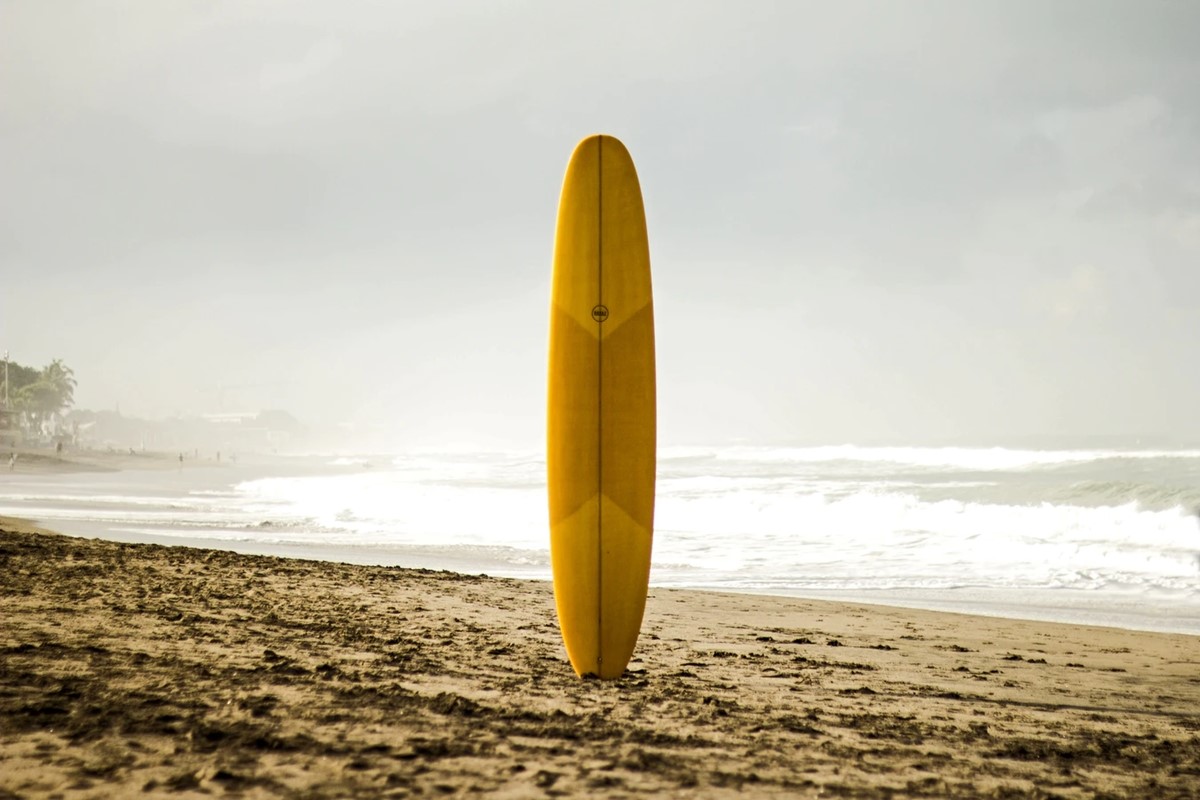 Although there are many similarities, drop surfing comes a bit late after dropshipping. And with people using the method, there are actually two definitions for drop surfing.
So we are going to look at both of the practices to see what they are:
Drop surfing suppliers
With this version, you a reseller that is looking to maximize your profit with many suppliers as possible.
Let's say you are store selling shoes online. While a customer orders a pair of shoes, you will use your system or software to scan the pair on websites like eBay, AliExpress, Amazon to see which supplier has the best price.
Once you find it, you place the customer order of the pair of shoes with that vendor, which allows you to make the maximum money from the sale.
The better you can do this, the more money you can make from the increased margins on each order.
Simple math: If you can find an online supplier that provides the shoes with $20 cheaper than everyone else. If you sell 100 pairs in one month, you would have $2,000 more that month.
Now, let's see what the second definition is:
Drop surfing product trends
This version is actually closer to surfing since you will ride the wave of online products that are trending in order to make a profit from their popularity.
So again, you need a system or software to spot trends early to make this work. You also need to operate many stores to adapt to many niche products, and the ability to find new trends when the old ones are fading.
Simply put, the first version is like finding the biggest wave to ride, while the second is like finding the small but really fast waves of online product trends.
Before we go into detail, let visit the old uncle of drop surfing: Dropshipping.
What is Dropshipping?
I called it an old uncle, cause dropshipping has been around for a long time, maybe since Ecommerce became a little more popular.
It is a fantastic business model that allows people to start selling online with literally zero budget. The process is like this: You open a store, and when someone places an order, you purchase the item from another supplier and ship it to the buyer.
The beauty of this is that you can remove the backend inventory management, which really saves a lot of money compared to the traditional online stores with physical products.
Also, you can focus more on using your budget for marketing, which brings even more orders.
Many have made millions of dollars from doing this, and on many platforms like Amazon FBA, BigCommerce, eBay, etc.
Related Post: How To Find A Profitable Niche For Dropshipping
Drop Surfing vs. Dropshipping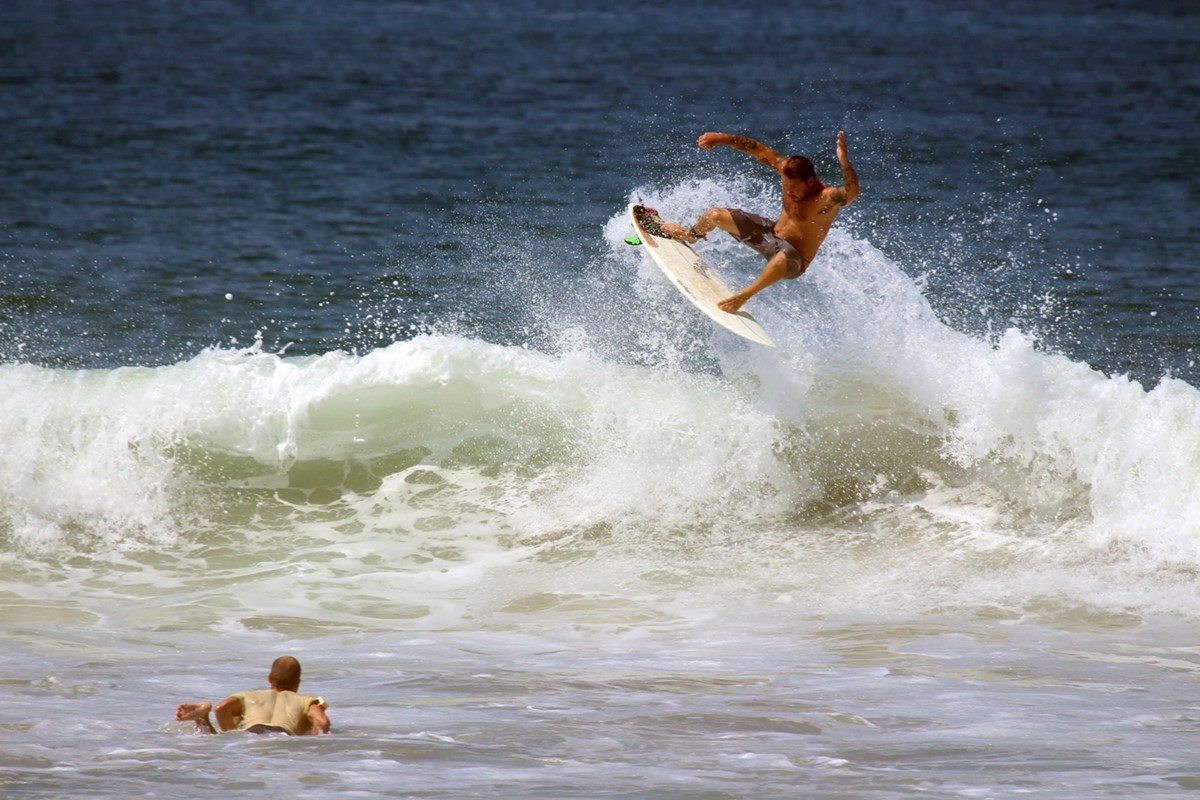 Simply put: Drop Shipping + Checking multiple suppliers for the lowest price = Drop Surfing
Now you've seen the difference, let's see which method is more superior or suitable for what you need. Seeing the science behind it, we can say that drop surfing has a huge potential in maximizing your profit margin - which is what many businesses are chasing after.
But however, there is a drawback to it as well. Which is the time you are putting into the system to make it work.
If you constantly have to check supplier pricing and price changes personally to make sure you are getting the best deal, it is basically another job.
Even if you hire someone to do it for you, money and time are still wasted if you cannot find the software to do the hard work for you. And how many sales can you get from wasting time like that are based on your system.
In a list form for conclusion, all of the advantages and disadvantages of using the drop surfing Ecommerce method (the flexible version of dropshipping) can be concluded as:
1) It has a low start-up cost: The biggest advantage of using a surfing e-commerce method is that you can start an online business on a tight budget. You don't have to spend a lot of money on all inventory, just contact the third-party seller and include the link in your online retail store, which will allow you to sell. Direct products from third-party stocks are the most competitive prices and don't face the pain of maintaining stock (and paying a huge amount as well). You just need to pay the cost of developing an e-commerce website or developing an e-commerce application depending on your plan.
2) Open your retail shop faster: The reason is that you don't have to buy different kinds of products that they wish to sell in their online store. Plus, you are able to keep their operating costs very low by avoiding expenditure on storehouses, packaging those goods, shipping the goods, keeping track of the inventory. Since in drop surfing e-commerce strategy, you don't have to follow any of these steps, you can start your business in a flash.
3) Saving on overheads: The overhead costs are also significantly reduced because you don't have to pay large sums of money to stock your goods, pay workers in your warehouse and package parts.
4) Get a flexible location for shipping of goods: This method allows you the option of using flexible locations to sell your goods. Since you do not store any goods in your warehouse, you only need to connect with any third party anywhere in the world to sell their goods through your store. Therefore, location is not a big deal for you.
5) Provide a wider variety: It allows you to offer a variety of products to your customers. Since you don't invest a large amount of capital to buy inventory, but depending on the third party selling their products to your customers, you have the option to sell a large number through the retail site.
6) Scale-up your business: This method allows you to easily expand your business size by adding new third parties to the list of suppliers whose goods you can sell through your online website or mobile application.
7) You are selling trending goods: In drop surfing, online retailers mainly sell these goods as a trend. Therefore, you have a great demand for your products, ensuring that your business is still viable.
Further Reading:
The certain disadvantages associated by following this drop surfing to do Ecommerce are:
1) Fall in share margin: Because you must share your profits with the third party whose products you are selling through your online store, your margin is still very low (even if you buy from a vendor who is selling the product). Products at the most competitive prices on the market can significantly affect your business's survival.
2) No control over inventories: If you have your own inventory, then you can easily keep a record of them and know that one of them is being well supplied and not available. For example, you display a product available on your website or application, and a customer contacted for it. Then you call the third party provider only to know that a particular product is limited or unavailable; it could have a serious impact on your online business reputation.
3) A complex shipping process: When you contact multiple vendors to sell their product (s) through your store, sometimes it becomes a logistical nightmare when different vendors use delivery options. Then it will be difficult for you to track all the products sold to your store in real-time.
4) Mistakes of the suppliers impacting your reputation: Since you are selling through third-party suppliers, they may likely make mistakes in shipment, product, or cost. Any error from their website will harm your market reputation as good online retail.
With that in mind, let's see what you can do to make Drop Surfing work and make money from it.
How can you start with Drop Surfing?
Have you identified all the problems you can tackle doing Drop Surfing? There are basically three main problems you would have to look out for:
How do you find the right supplier?
Which tools can you use to make the process faster?
How much does it cost to start to drop surfing?
Don't worry. We will go through all of these there sections to give you an excellent start to catch the wave and start Drop Surfing:
Market sites
It doesn't matter which sites you use to find the lowest price, nor the regions will affect. You can drop surf from China, the USA, or any other country.
Some of the easiest sites to drop surf will be:
AliExpress
eBay
Etsy
Walmart
Alibaba
Amazon
It doesn't matter what drop shipping Ecommerce platforms you use as well, because you can do it with almost all of them like:
Shopify
WooCommerce
GrooveKart
Commerce HQ
Tools
As mentioned, product sourcing is one of the hardest parts to keep drop surfing profitable. Which is why you need tools to automate the process and keep your business running smoothly.
uDroppy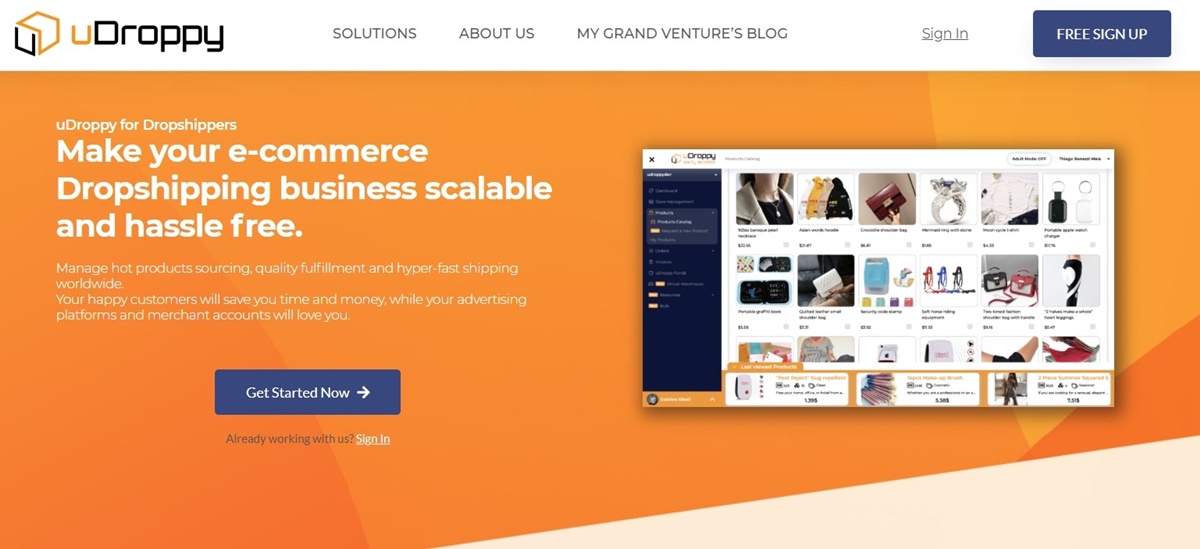 uDroppy is an online tool that you can easily integrate into your store. Its main features allow you to search for the product you want to sell. It has a database and cooperates with thousands of manufacturers and suppliers, and all you need to do is choose which of these products to sell.
Instead of wasting time on product sourcing and product uploads, you can then spend more time on marketing and engaging your customers.
The main features of uDroppy are:
One-Click Fulfillment
On-demand Products
Personal Ecom Manager
White Label
Fast Worldwide Shipping
Bulk Order option
Virtual Funds
Virtual Warehouse
Automatic Invoicing
The steps to use are pretty straightforward since you can learn in under 30 minutes; the user interface is super friendly and helpful to start.
The only downside to uDroppy is probably that it only integrates with Shopify, so you will need to create a Shopify store in the first place. But the tool is totally free.
Dropified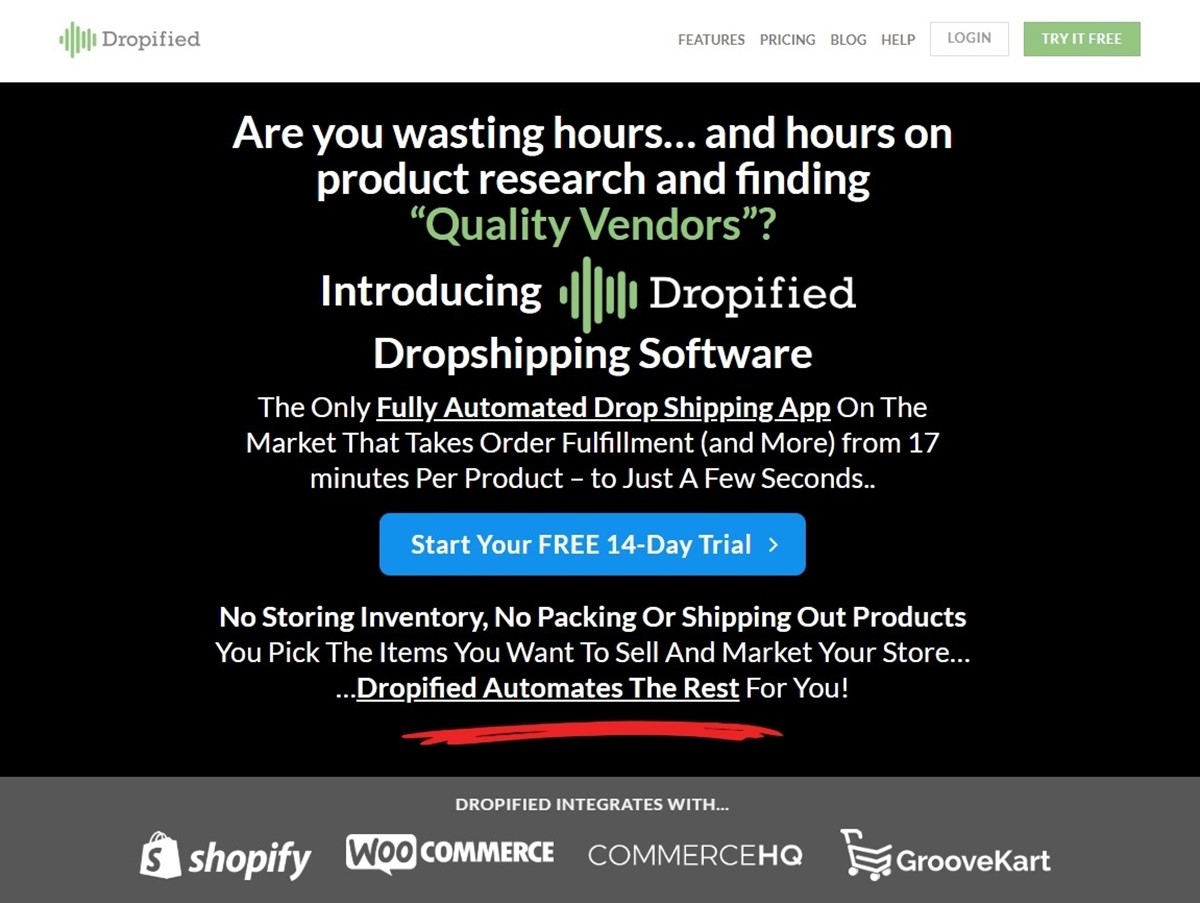 Dropified is a dropshipping platform for shop owners who would like to sell products online and have those items stored, shipped, and packaged by wished suppliers. They provide a ton of products to choose from with excellent integrations.
The main features of Dropified can be listed as: - Zapier Integration - Products from AliExpress - Quick Profit Statistics - ePackets for international shipping
One of the biggest strengths of Dropified is for sure customer support. You can email, live chat, or look at a vast number of support articles and videos on the website.
And it can work with all big Ecommerce sites like Shopify, WooCommerce, CommerceHQ, GrooveKart, AliExpress… so you can expand your store even more.
Here's what you can expect to pay with Dropified (please keep in mind that these monthly prices are applied if you pay for 12 months beforehand):
Builder Plan – For $39 per month, you receive support for one online store, 15,000 items, 1000 orders per month, 50 product boards, five users, and all of the primary features.
Premier Plan – For $97 per month, you get support for five online stores, 50,000 products, 100,000 orders per month, 250 product boards, 25 users, unlimited high-speed Captcha solver, profit dashboard, Zapier integration, and all of the primary Dropified features.
Oberlo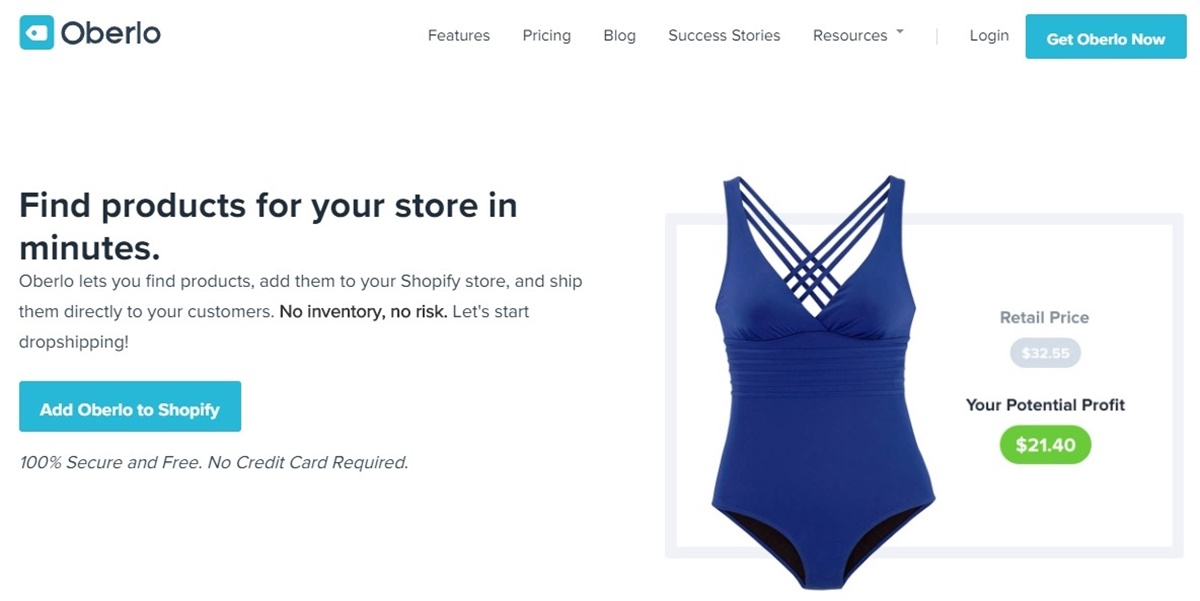 A very famous option for Shopify, Oberlo has many features the same as Dropified. The goal of the tool is to import products quickly, and you can start dropshipping while relaxing with Oberlo packaging and shipping for you.
Through Oberlo, you can sync products from thousands of suppliers with your store and have all content for product pages mostly done for you. You can also easily switch suppliers for the better price displayed.
The main features of Oberlo are:
Importing from suppliers
Products management
Automated order fulfillment
Inventory and Price Auto-updates
Quick supplier changes
Like uDroppy, you can only use Oberlo on Shopify, but there will be some plans with different pricing to choose from:
Starter – For $0 you can set up for 500 products, 50 orders per month, pricing automation, daily product syncing, automatic order fulfillment, sales reporting, a free Chrome extension.
Basic – For $29.90 per month you can set up for 10,000 products, 500 orders per month, options from the previous plan, shipment tracking, order fulfillment monitoring.
Pro – For $79.90 per month you can set up for 30,000 products, unlimited orders per month, options from the previous plan with multiple users.
AliExtractor

As the name suggests, AliExtractor is a tool to source products off of the millions of items on AliExpress website. This is an extension that only works on the Chrome browser.
Unlike Alibaba.com, products found on AliExpress can be purchased in low quantities, or one at a time, which is why it is so good to Drop Surf at the site.
Some of the AliExtractor's features are:
Find the top-selling products in any niche and the amount of revenue being generated.
Learn the amount of cashback given to any product.
Instantly downloads images to your Ecommerce store.
Find over 10,000 products that ship from the US to make shipping to customers faster.
Download all product reviews to your ecommerce store or platform and add them in seconds.
Find Epacket suppliers.
People are all buying from Chinese suppliers nowadays, so this tool is extremely helpful if you want to expand your business using this promising region.
To use AliExtractor, you would have to pay 29$/month for all the features, and of course, you have to sign up for an account first.
Cost
As you can see above, the cost to Drop Surfing Ecommerce will vary depending on which plan you got for your store. But one thing for sure, the starting fee can be very low.
All it takes is a little effort to set up a store and start marketing your business smartly, and the wave is ready for you to take a ride!
Conclusion
Compared to Dropshipping, Drop Surfing certainly has its strengths, but it is far from perfect to be the future. With that said, it is still an excellent system to maximize your profit and focus on building your brand.
So how do you think? Do you want to grow long blond hair and pick up a surfboard? Let us know in the comments, and I hope you catch the most significant waves for your Ecommerce!
---
Sam Nguyen is the CEO and founder of Avada Commerce, an e-commerce solution provider headquartered in Singapore. Sam aims to support more than a million online businesses to grow and develop.
New Posts
Stay in the know
Get special offers on the latest news from AVADA.