11+ Best Online Privacy Policy Generators for Shopify Stores
When you first launch your business website, whether as an individual, agency or enterprise, you will need a privacy policy. You may unintentionally overlook it, but a privacy policy is useful enough to protect you from potential illegal risks, as well as to prove your authenticity in the market. Some countries even require it as a compulsory statement to do business.
The costs for a custom policy written by legal professionals are quite expensive, especially when you have to divide your investments for other issues as well. This is where the privacy policy generators come in handy to help streamline the process with minimized spendings. In this article, we will get you through some core components of a privacy policy and deliver some suggestions on choosing the right privacy policy generator for your business website.
A brief guide to a privacy policy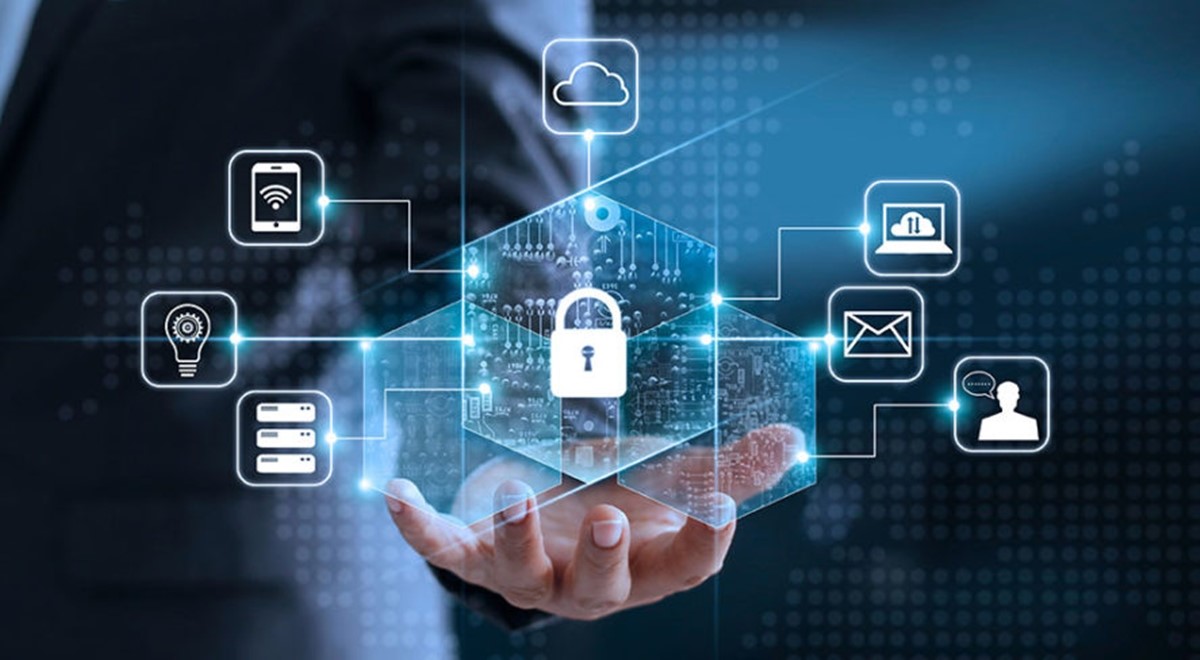 What is a privacy policy?
A privacy policy is a legal statement or document attached on a website to disclose details on how the moderators of the site will collect, use, reveal or manage their clients' or customers' personal data. The personal data includes names, addresses, emails, phone numbers, date of birth, credit card information, IP address or cookies. Your privacy policy should clarify how you will use this data - sharing it in-apps or for marketing and advertising purposes, how the data will meet legal obligations and what compensations you will make when data leaks occur.
The detailed and exact content of a privacy policy varies depending on the objectives and functions of each website, but there are some fundamental elements to be included in every policy:
The exact users' personal information to be collected (as mentioned previously)
How the data will be collected
How the data will be used - for instance, to deliver to a third party
How you will secure the data and protect it from misuse
What compensations you will make if the data is sourced out
If cookies are being used on the site, how they will affect users' experience
Why you need a privacy policy
Once you have gathered your website users' data, you are required to include a privacy policy under any circumstances. The rule is applied to all eCommerce sites, sites using cookies to track users or even companies sending newsletters via gathered emails.
The privacy policy is made compulsory in most countries over the globe. Over 100 countries have imposed a data protection law, with many others progressing to make it legitimate soon. Especially in the EU and US, privacy policies have become official legal standards that every website has to deal with. These are the GDPR, COPPA, and CalOPPA.
GDPR - The GDPR is applied when you collect data from users in the EU. In Europe, countries that are a part of the European Economic Area (EEA) are required to follow 7 principles of data protection. In May 2016, the principles extended above EEA to be standardized as the General Data Protection Regulations (GDPR) across the whole region.
If your company fails to comply with the GDPR guidelines and violate the data privacy laws, you will possibly be fined up to 4% of your total revenue or 20 million euros.
COPPA - COPPA is a popular law in the US. In America, there's no official general or standardized laws to protect users' data, but there are several other laws that cover some specific demographics - one of which is the Children's Online Privacy Act (COPPA).
The law puts restrictions on websites that target children under 13, whether these websites collect data from them or not. Even when the website does not specifically target this group of audiences and unintentionally collects personal data from these children, they will still have to follow the regulations.
CalOPPA - This law is more specifically applied to companies that collect data from people who live in California. The California Online Privacy Protection Act (CalOPPA) aims to take control of how individuals or entities owning a commercial website will use the identifiable information from residing customers in California.
The usage of a privacy policy generator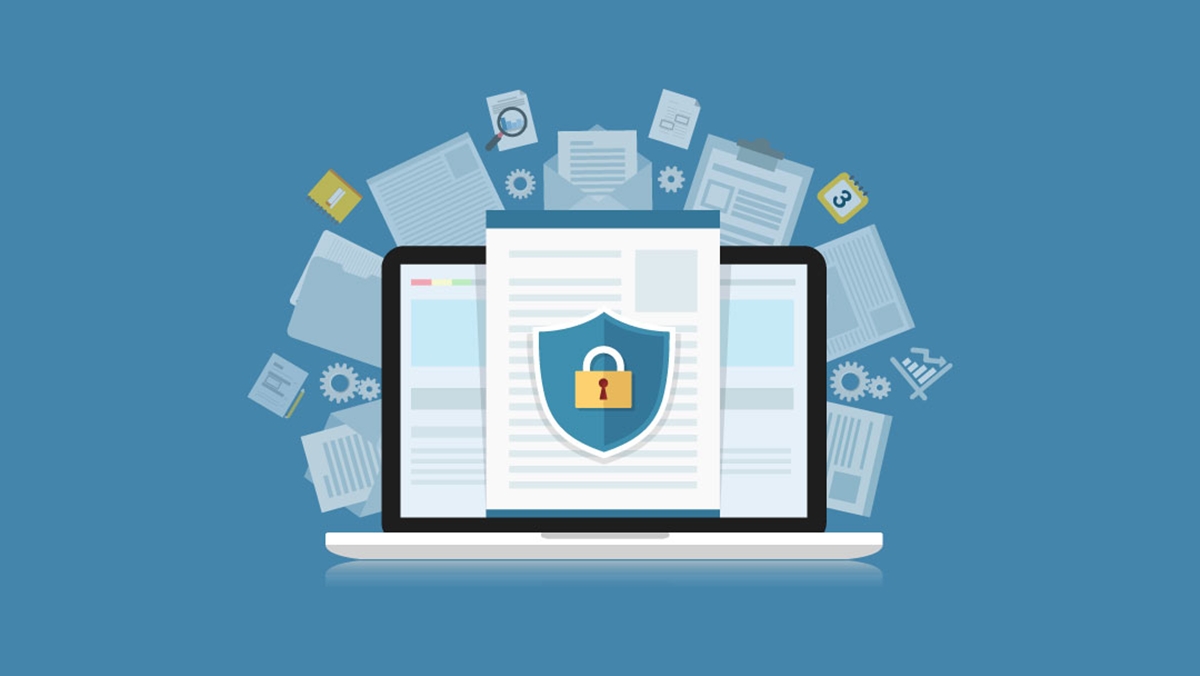 Privacy policy generators are designed to create custom privacy policy documents with automation. Normally, you will only have to fill out some general and business information, select your preferred options, and these generators will create the policy, whether for your mobile apps, blogs or business websites, within a few minutes.
These tools offer both free and paid options - with the paid option guaranteeing a higher level of legal law compliance. Usually, you will have to pay an extra from $30 to $50 to get your policy compliant with the GDPR, CalOPPA or COPPA. But trust me, this small amount of money will bestow you the powerful compliance that makes your policy useful in a court of law.
Online privacy policy generators are highly recommended among small businesses due to their money-saving features. Normally, it would cost a fortune to get personalized privacy policies written by professional counselors. This amount of money could be saved to contribute to the investments of other business operation aspects. And bluntly speaking, not every small enterprise can handle the cost to hire a legal firm to write a custom policy document. In this case, a privacy policy generator would come handy to save your budget, time and effort so that you can spend them on building your business.
There are many privacy policy generating sites offered in the market, but not all of them are qualified enough to be taken into practice. A good privacy policy generator must have certain characteristics to be worth a trial.
First of all, it should be compliant with international data protection laws, which are the GDPR, CalOPPA or COPPA to be specific, to give you permission to collect users' data from the UK and the US.
Moreover, the generated document should be comprehensive and customizable enough to include all the necessary general and business-personalized clauses.
Also, consider the cost that suits your budget. Usually, there are free, one-time paid or recurrently paid privacy policy generators, and the average prices are relatively affordable, so what you need to do is to choose the one that meets your requirements and needs.
Now, let's take a look at our suggestions of 11 best privacy policy generators that can give you the most powerful legality with minimum costs.
List of best privacy policy generators to kickstart
Shopify's Privacy Policy Generator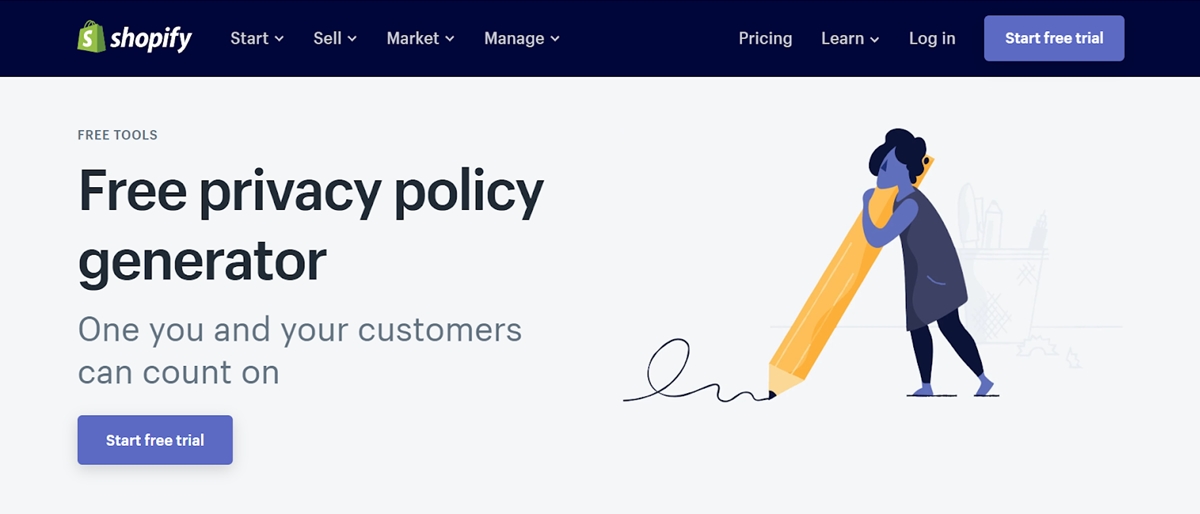 Shopify has always been popular as an e-Commerce marketplace, but apart from being a well-known digital destination for buying and selling, it also provides a privacy policy generating tool to legalize your website. Whether you are running your business as a shop owner or a vendor, Shopify will do its best to support you with a custom privacy policy.
Shopify's privacy policy generator is easy and simple to use, especially for e-commerce sites. All you need to do is to fill in your information including your business name, physical address, email, website URL and verification of cookie usage. The privacy policy template will then be sent to your attached email, and it's ready to be published once you've done your modifications.
One big advantage is that Shopify offers a completely free 14-day trial to help your initial testing. However, to some extent, Shopify might not be the most optimal option since it is not as comprehensive as other tools, and it uses the same template for all users. Also, policies on Shopify are quite complicated and stringent which might make you stand higher chances of violating the laws.
TermsFeed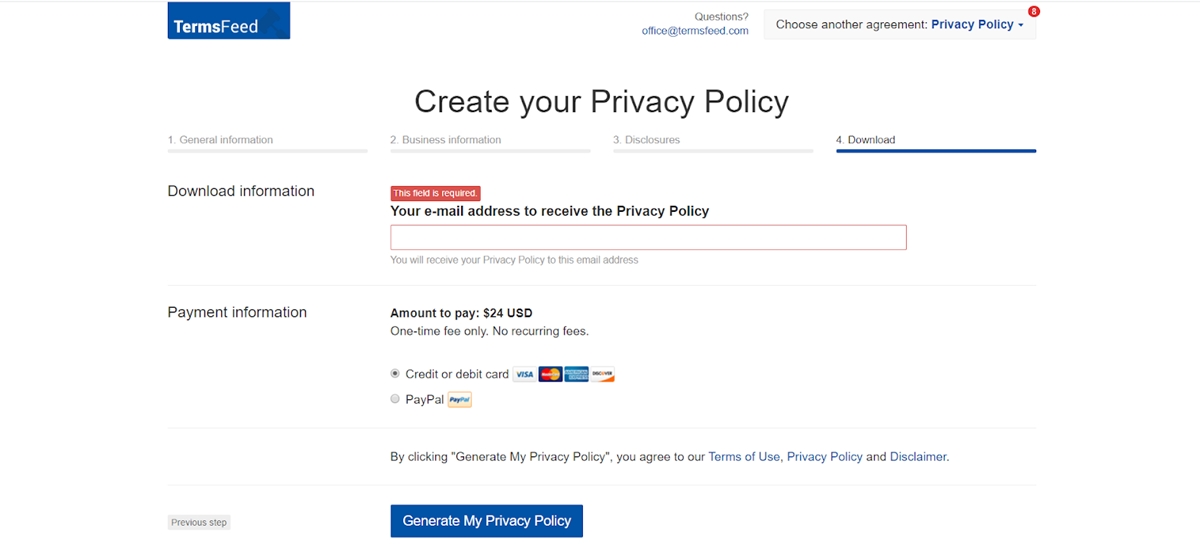 TermsFeed is among the most popular privacy policy generators for its ease of use and cohesive compliance. TermsFeed is available for use in every type of digital business - from e-Commerce sites, mobile apps to blogs - and it offers a diversity of options ranges.
It takes only four steps to generate a privacy policy with TermsFeed. Just fill in the required details, including general information, business information, disclosures of how you collect and use users' data then finally check out to download the template. The outcome of this effortless process is a surprisingly high-quality legal document.
Pricings on TermsFeed are quite affordable, with free or paid documents depending on your choice for your business website. You can save your budget by going for the free offering of a basic policy, but we would recommend you pay some extra money, from $30 to $70, to get full compliance with the international laws - GDPR & CalOPPA - and make your policy lawfully legal. One more advantage is that you can own your policy once you buy it on TermsFeed - that means you can modify it however you want after your purchase.
iubenda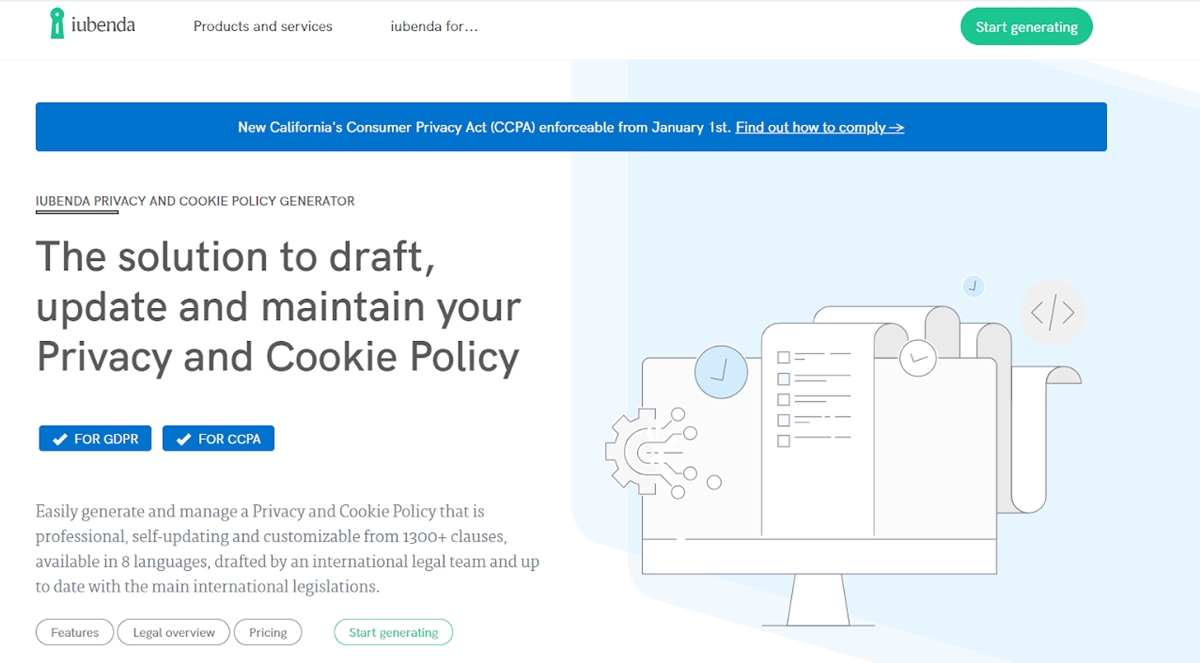 iubenda is one of the most top-rated competitors on the list, with its high-quality policy statements, full customization, and amazing cookies privacy managing and generating services. The tool enables you to add up to 650 clauses which are crafted and custom for your companies' situations and operation by professional experts. If your business is a large entity that is processing several users' data at once, then iubenda is definitely the right choice for you.
You can generate your privacy policy in eight different languages, which is convenient for policy publications across regions. The privacy policies generated with this tool are applicable on many platforms, from business websites to mobile apps. Also, iubenda is popular with its quick cookies policy generating process which allows you to activate your cookies policy within one click only.
iubenda's operating system is relatively similar to TermsFeed, but a bit more complicated. The tool offers a high degree of customization options which will possibly take you some enormous time to finish data filling. And to integrate the policy onto your business website, you will have to opt for a "third-party" method such as through a link, a widget or text.
iubenda offers both free and paid privacy policy generating options. The free option will generate a basic and standard policy, but it's not compliant with the international data protection laws. You should consider going for the yearly subscription of $27 per year to get up-to-date compliance with the GDPR, CCPA or CalOPPA regulations. However, one major drawback is that even after you purchase the premium plan, you still cannot directly copy or paste the policy to your website - in other words, you're not the owner of it.
Free Privacy Policy Generator
No matter how you expect the Free Privacy Policy Generator to turn out, it will exceed your expectations. This privacy policy generator can do a lot more than its simple interface seems. Throughout the years, Free Privacy Policy Generator has generated over 1.1 million policies that are cohesive and quite legally compliant for a very low cost, or even with no fees charged at all.
Generating privacy policies on this platform is quite easy. All you need to do is to fill the inquired information in the questionnaire (although it might be a little bit long), and the tool will automatically take care of other works for you. You can get a brief reference from the default examples and guides as well. There are some free installation and add-on options available, and you will only have to pay for the add-ons you need.
There are both free and premium payment options on the Free Privacy Policy Generator. The free version is mostly law-compliant enough, but it lacks in the addition of international documented laws such as the GDPR, CCPA and CalOPPA sections and some other necessary clauses. You will have to spend some extra money from $50 to fully "supply" your policy.
GetTerms.io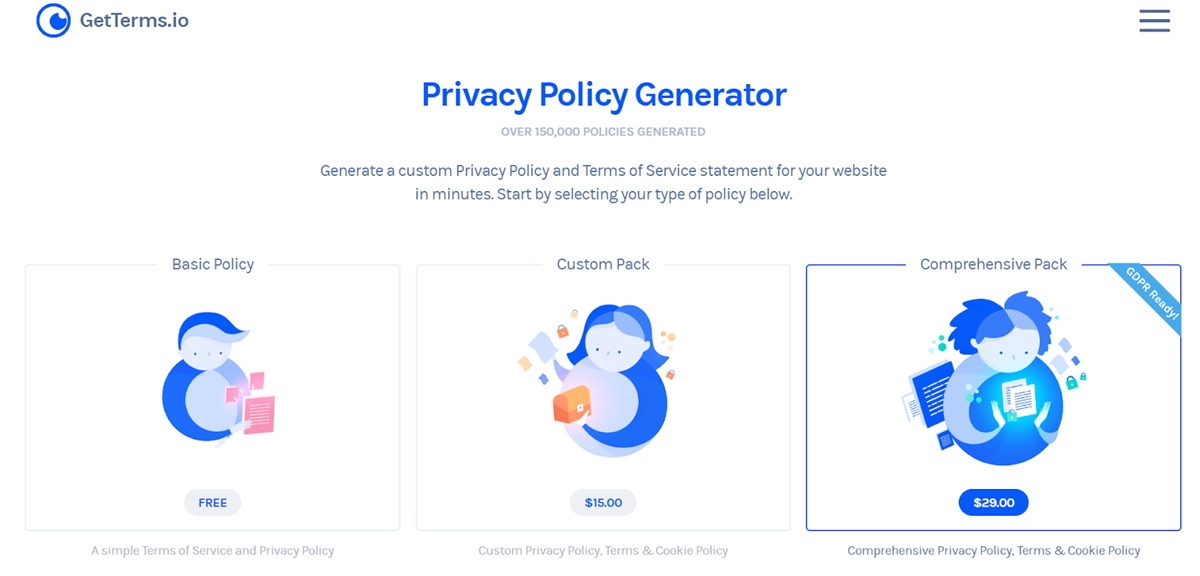 GetTerms is an ideal solution to generate privacy policies on various platforms including blogs, freelance websites, mobile apps, e-commerce sites or SaaS applications.
The tool has a friendly interface that optimizes all information on one page to simplify and accelerate your policy generating process. Just fill in the query fields, select your preferred options and let the tool automate the process for you.
You can choose from the basic, custom or comprehensive pack depending on your needs. The basic policy is free, but it does not include a cookies policy nor meet the international data protection laws' standards. Other paid versions do contain a cookies policy and many advanced features, but only the comprehensive pack, which costs $29, is GDPR-ready.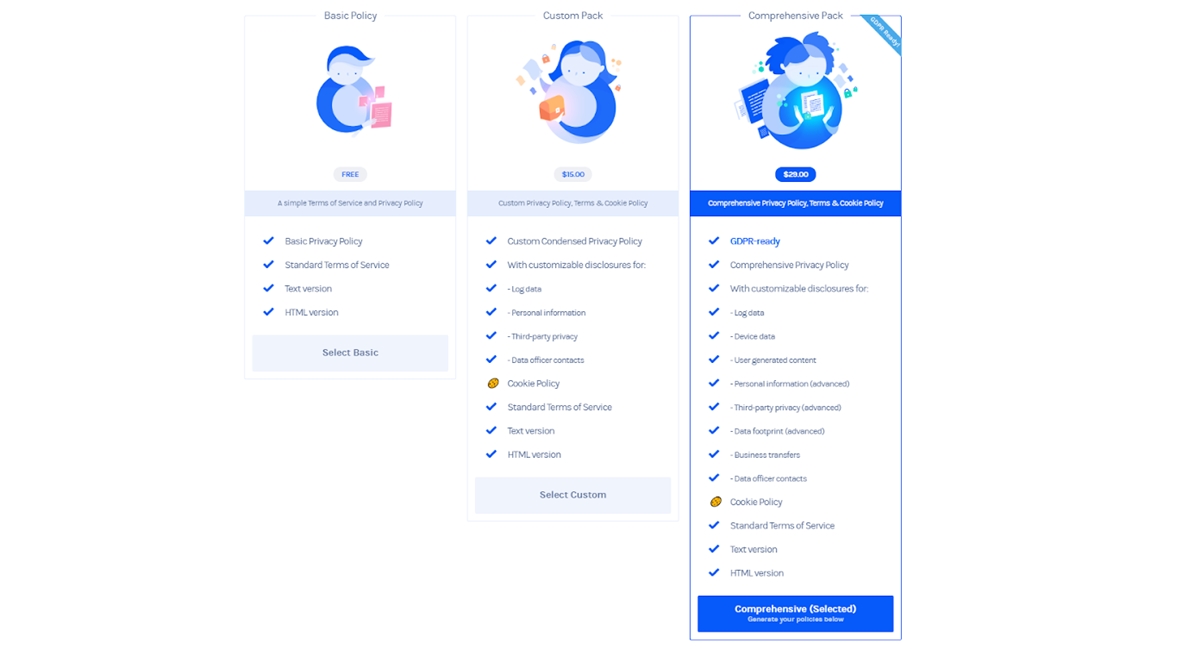 3dcart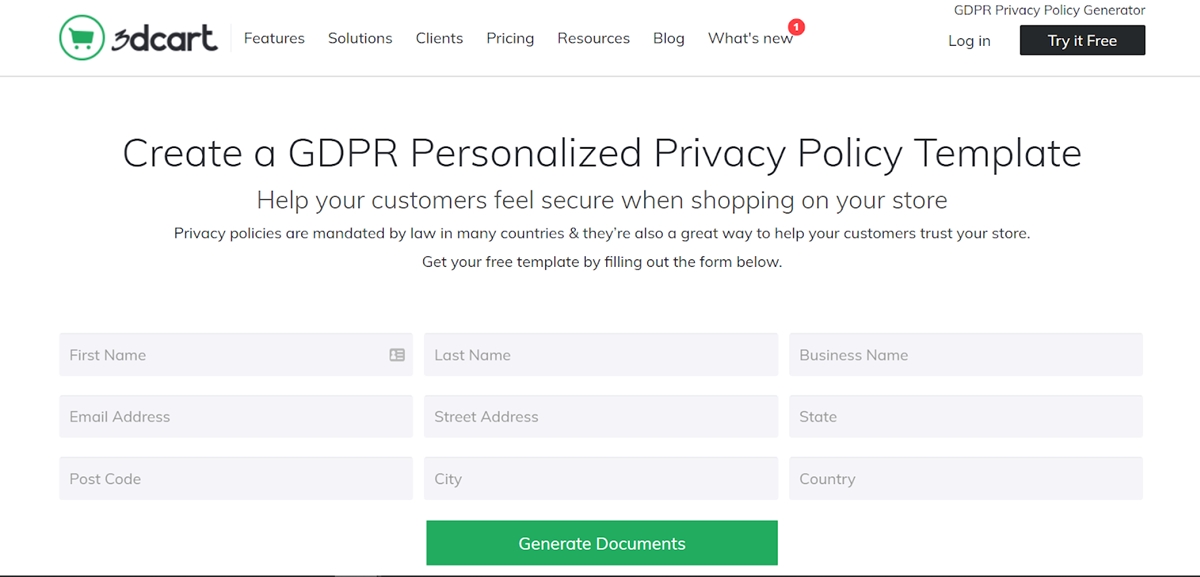 Like Shopify, 3dcartis also an e-commerce platform that offers a privacy policy generating tool. Unlike other platforms where you're required to pay extra money or subscribe to a premium plan to get your policy compliant with the international laws' standards, 3dcart allows you to personalize your policy with a GDPR-ready template with no costs, which makes it easier for your business website to be legalized.
With 3dcart, all the information you need to fill out will be displayed on one page. And once you've finished filling, the tool will automatically generate a privacy policy template that enables you to modify, copy and paste to your website. 3dcart doesn't require an email address to access the policy, but in reality, it's necessary to include one for your users - or potential customers.
Firebase App Generator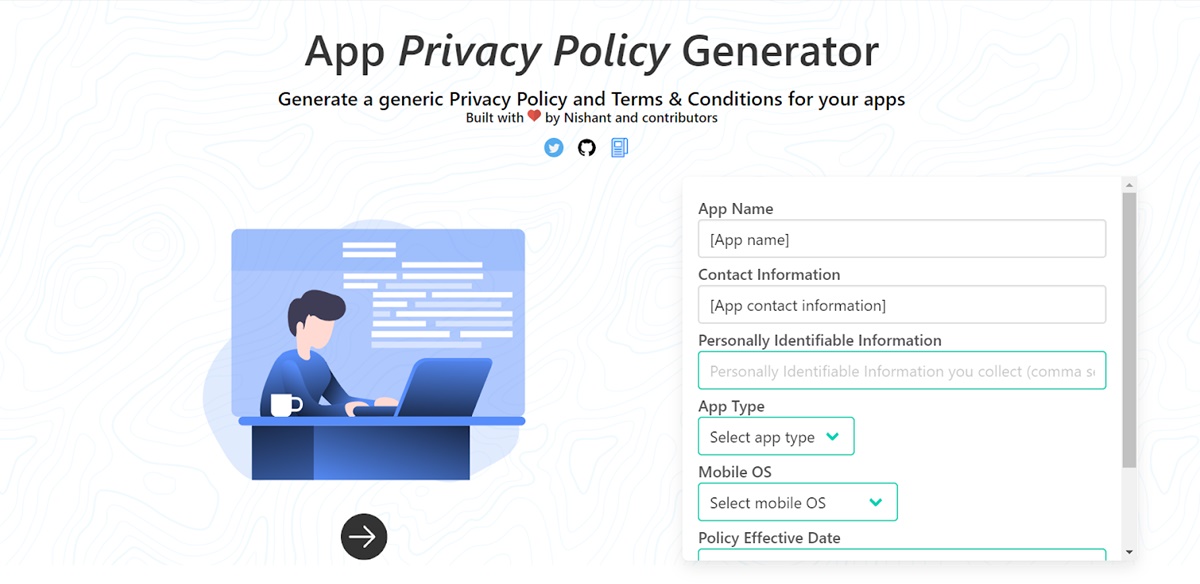 Firebase App Generator is specifically designed with a detailed privacy policy generating tool for the mobile apps you've developed.
This free tool is extremely easy to use in the provision of an intuitive interface that optimizes the whole policy generating process in one place. Set-up and customization on Firebase are streamlined as well. Also, since Firebase itself originates from Google, it is supported with link integrations to several third-party services such as Google Play, Facebook, Admob, Fabric and several others.
However, in some cases, advantages could turn into disadvantages in a blink of an eye. Because Firebase only generates privacy policies for mobile apps, it consequently limits its target users which are web apps or websites in general. And since the tool is free of charge, it cannot ensure you a high level of security.
Termly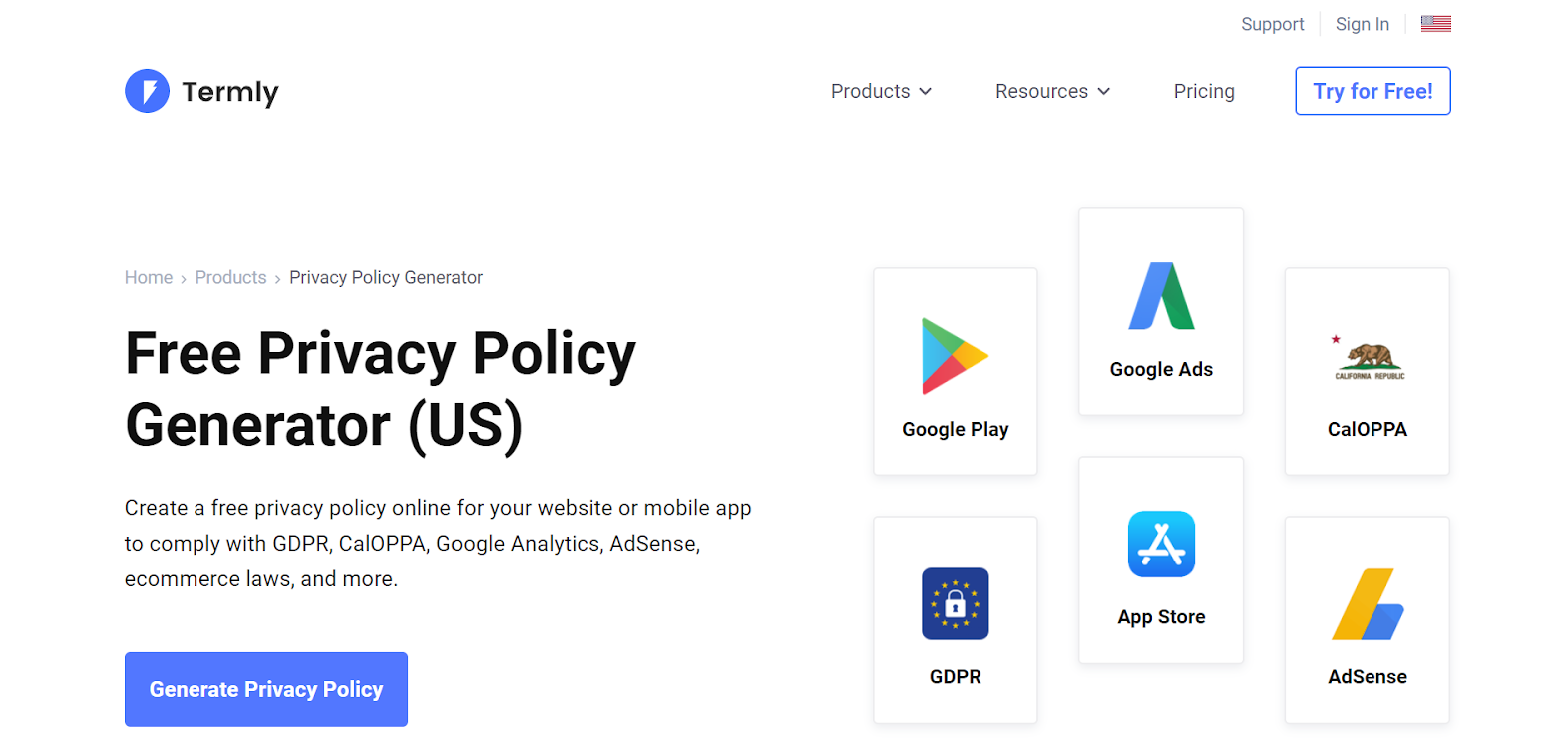 Termly is one of the most comprehensive solutions when it comes to privacy policy generating, whether you demand a basic or fully law-compliant option. The generator is guaranteed to create policy documents for any individuals or businesses, including blogs, e-commerce websites, SaaS applications, Android app, Appstore for ios or even Facebook.
Generating privacy policies on Termly only takes up around 15 minutes to finish. In addition, Termly makes sure to help you create a policy page that meets the requirements for the international data protection laws and third-party platforms including GDPR, COPPA, CalOPPA, as well as Google Ads, Google Analytics and Adsense without any fees charged. Moreover, your policies will also get automatic updates whenever new legislation comes out, so no need to worry about the lack of compliance.
Pricings on Termly are relatively transparent. There are both free and paid options to choose from. The free Basic plan is more recommended for startups in the developing phase, and if you want to add more compliance to your business, the Pro+ plan for $10 per month might be a better choice. You can save up to 50% for an annual subscription.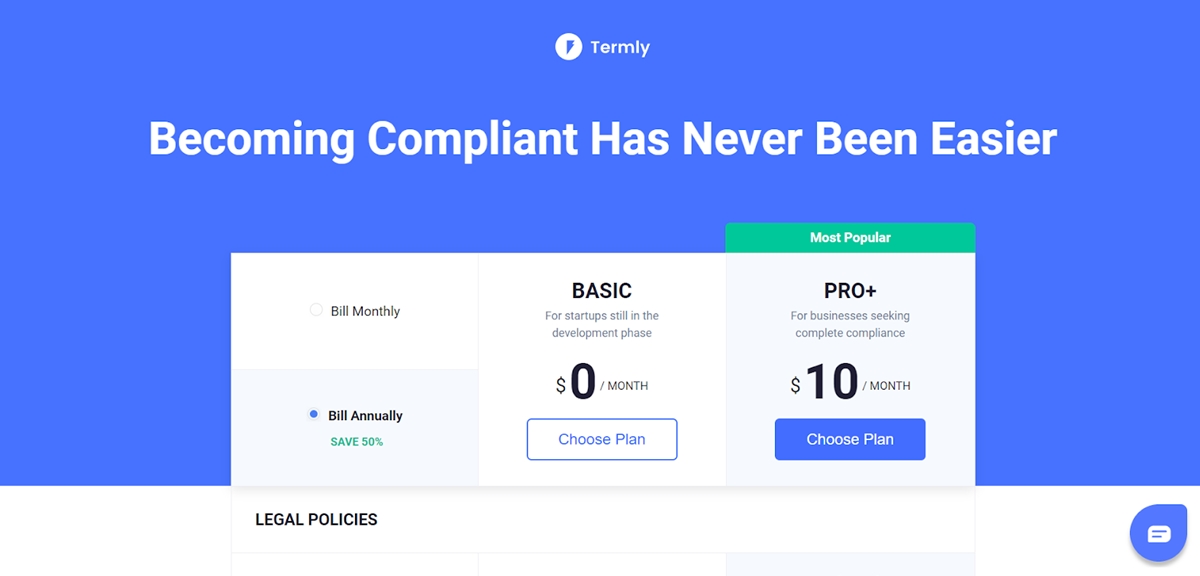 Privacy Policy Generator
Privacy Policy Generator is a free and simple tool to help you generate a privacy policy as soon as possible.
You will need to fill a total of 9 blank spaces which takes only a few minutes to complete then wait for the outcome. You can easily create and download your personalized privacy policy without registering an account. Privacy Policy Generator also offers a preview of how your policy document would look like to give you the initial overview.
The generated privacy policy on Privacy Policy Generator is compliant with international privacy laws such as GDPR, CCPA, CalOPPA, as guaranteed. However, since the tool is free, the stated clauses might not be comprehensive enough, and you may have to add more cohesive details to meet the requirements of GDPR and other relevant business laws as well.
WebsitePolicies.com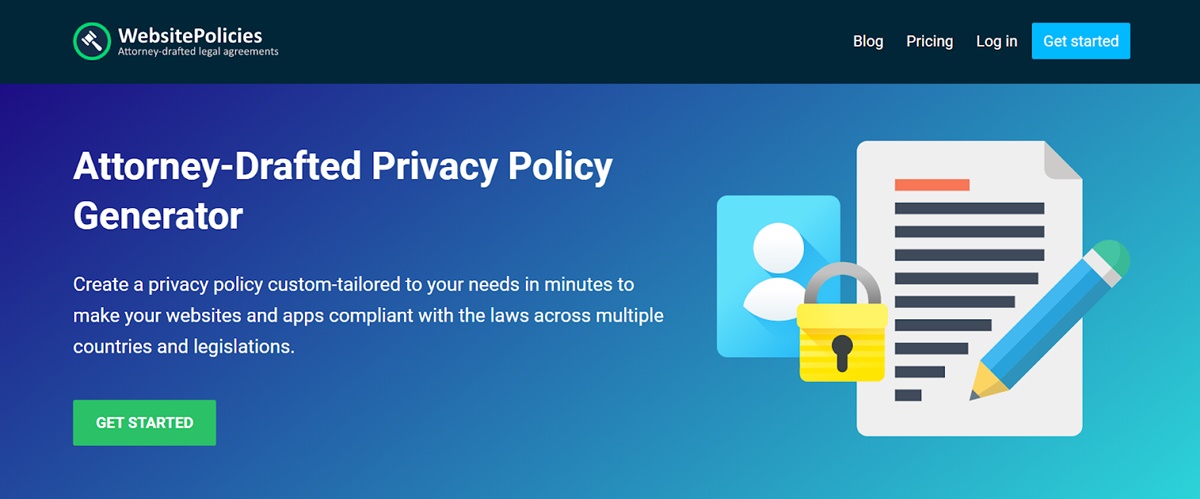 WebsitePolicies holds some competitive advantages over other equivalent tools in the market. The generator is mainly law-focused and does its best to give you the most legally-compliant privacy policies across countries and legislations.
With WebsitePolicies, you can create a comprehensive privacy policy, whether for your mobile apps or websites, in just a few minutes. Just make sure to fill in the required information, and leave the rest of the task for the platform to handle. Besides complying with your policy document to the international standardized laws such as GDPR, COPPA, CCPA or CalOPPA, WebsitePolicies also make sure your document meets the requirements from third parties, such as Amazon Associates, Google Adsense, PayPal or Apple Appstore, when you use their services.
Especially, the generated privacy policies on WebsitePolicies are not defaulted templates, which means they are all unique, and you can add any modifications or customize them as an owner. When you have full control of your policies, you can easily copy and paste them to your sites, or you can choose to let WebsitePolicies host them for you without any costs. Also, you will be notified when there are any changes in the standardized laws and WebsitePolicies will quickly update them to your policies.
WebsitePolicies offers both free and premium plans to let you choose. The free Basic plan is actually cohesive enough, but if you want to add more clauses and provisions to your policies and get access to free lifetime automatic updates, you can consider the paid option for $19.95 with no recurring charges.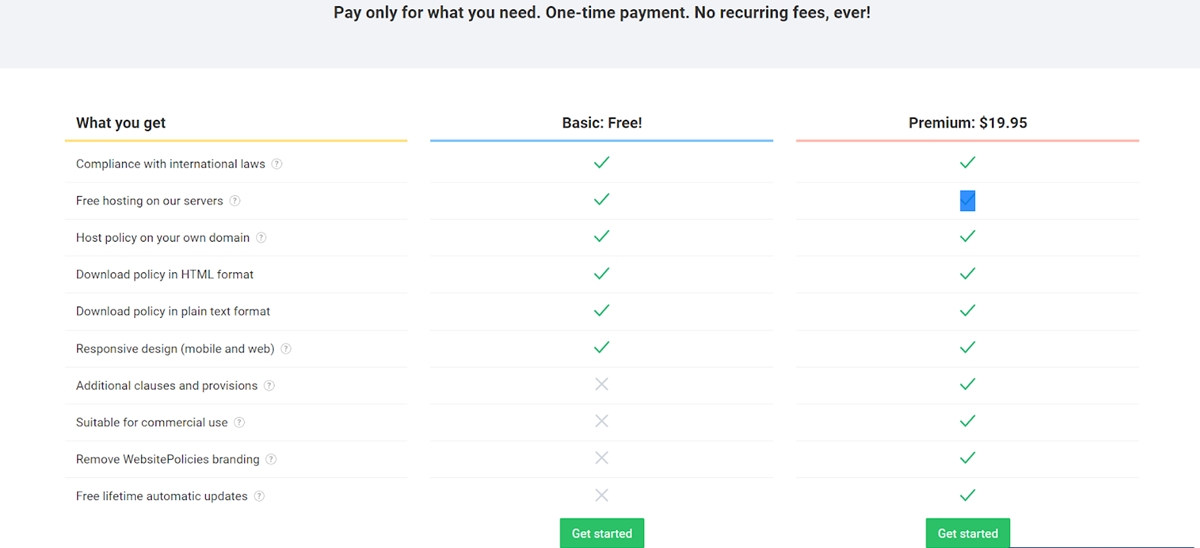 Privacy Policies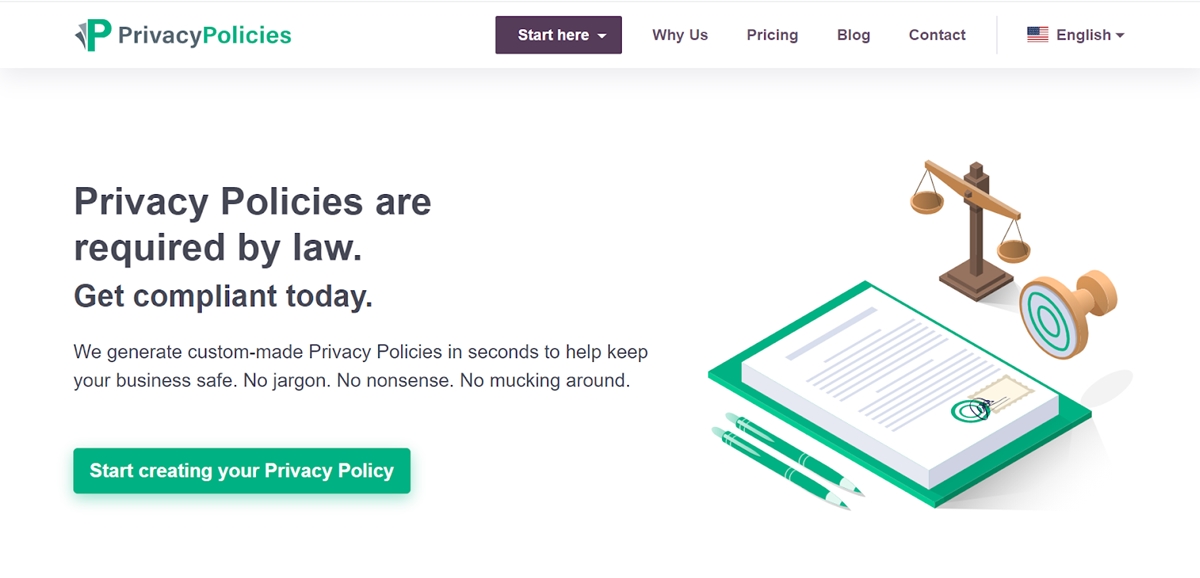 Privacy Policies is another competitive name on the list that provides a comprehensive privacy policy generating feature to support your business. The tool is widely trusted for its ease of use, fast processing, and legality.
Privacy Policies offers tailor-made policies for different platforms, such as mobile apps, e-commerce sites or any general business websites. To generate a privacy policy, you will only need to fill in some required information then leave your email to receive the outcome. The generator itself supports creating documents in multiple languages, and it can be accessed or downloaded across various platforms. Privacy Policies also supports a free sample privacy policy template, but the tool makes sure to personalize your policy statements other than using the existing template.
Pricings on Privacy Policies vary based on your options and number of add-ons. A free privacy policy will include basic elements for a standard privacy policy, but you should consider paying some small extra one-time fee (from $34 to $49) to get your policy full customization with the GDPR or other international data protection laws.
Final words
Overall, there are many sites offering free tools to help you generate a privacy policy document within a few minutes. But above from having a privacy policy created with default automation, it's important to consider what custom details to add to your document that can satisfy your business needs.
Whichever option you choose, you should still seek professional advice to make sure your privacy policy is legally standardized and compliant. And you should also do proper research on the legal requirements of your local areas as well as the specific privacy laws from where you want to target your audience.
New Posts
Stay in the know
Get special offers on the latest news from AVADA.