AVADA Marketing Automation - New Pricing Plans Announcement
Reflecting a journey of AVADA Marketing Automation platform, we really treasure all of the loves and contributions of our customers till now.
AVADA Marketing Automation has grown and improved without a single day off. We are so excited to notify you of new product updates in July, 2021.
And especially, we will release the New Pricing and Plans in August 1st, 2021. You will know the details while keep reading this article.
What is new in our Pricing Plans?
Still, AVADA will calculate the price based on total sendable contacts you import/collect to AVADA. However, we decide to renew our Pricing Plans as following:
Old Pricing Plans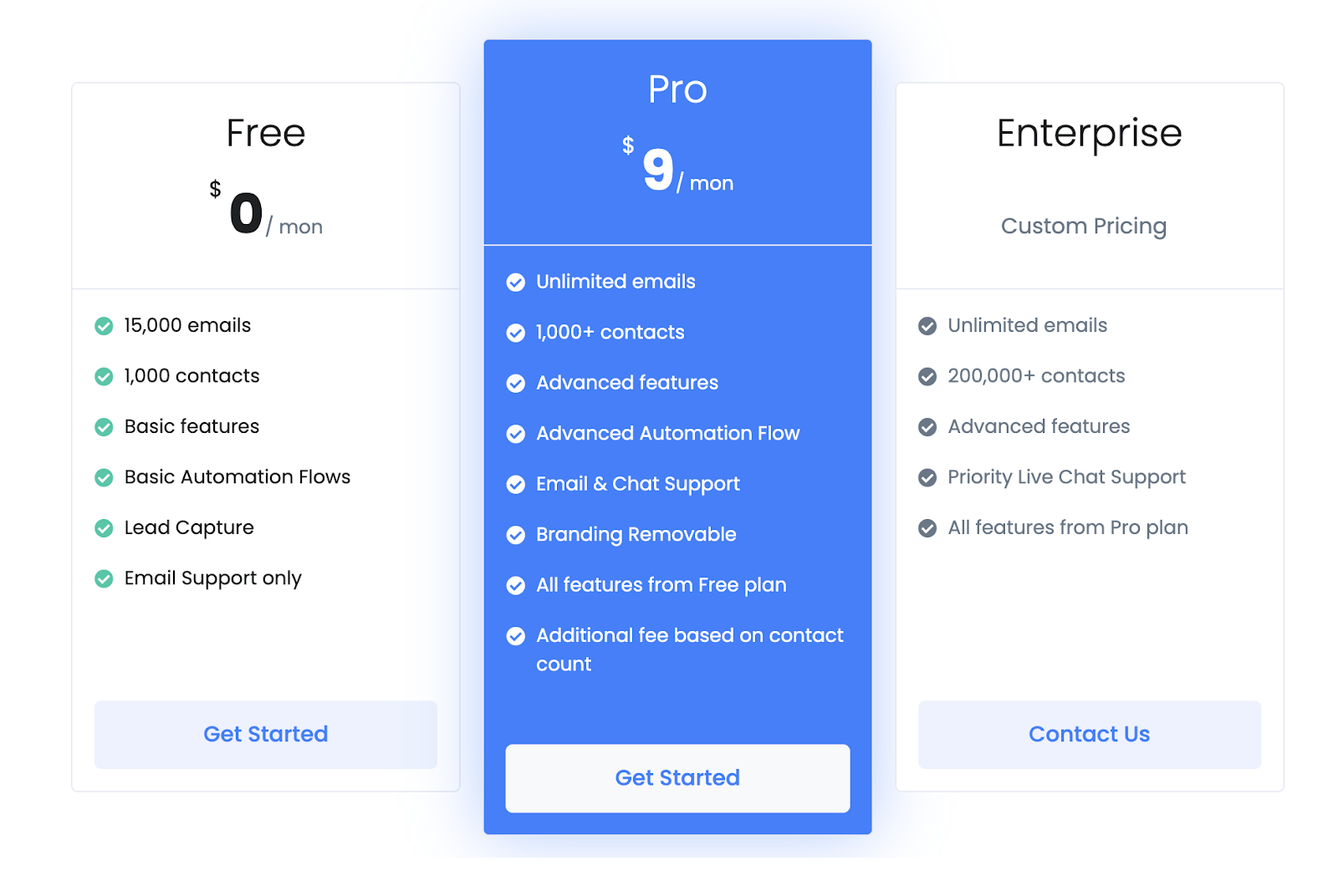 Check more details about current prices here
New Pricing Plans
So basically, we will release one more plan called Advanced for Bigger merchants who want to use omni channels marketing.
And price as well as contact limits in each plan are also changed, please view the table below for details:
Free
Pro
from $9/month
Advanced
from $49/month
Includes:

- 15,000 emails
- 500 contacts
- Basic Automation Workflows
- Basic Campaigns
- Unlimited Lead Captures
- Basic segments
- Performance Reports
- Email Support only
All features in Free plan plus:

- Unlimited emails
- 500+ contacts
- Unlimited Automation Flows
- Unlimited Campaigns
- Unlimited Lead Captures
- Unlimited segments
- Advanced Reports
- Branding Removable
- Email & Chat Support
- Additional fee based on contact count
All features in Pro plan plus:

- Unlimited emails
- 2500+ contacts
- Web Push Notifications (coming soon)
- WhatsApp (coming soon)
- Integrate Google Ads
- Integrate Facebook Ads
- Automation Consultation Service (5000+ contacts)
- Priority Support
- Additional fee based on contact count
When do we apply new Pricing Plans?
It will be implemented from August 1st 2021 for new customers installed AVADA Marketing Automation.
We do not want to bring our current customers the unwanted surprise, so we decided to keep the old pricing unchanged for all customers who subscribed to AVADA Pro plan before August 1st, 2021.
Why do we have new Pricing Plans?
To make sure we continue offering the best service we can, we will be increasing our pricing as above. This small increase will let us hire new talents and bring even more features/tools to help you supercharge your sales and marketing better.
We would like to ensure that the new price is worth it since AVADA is providing you much more value than the starting day when we are born.
Some of outstanding extra values you will get:
More advanced features
AVADA released new features monthly which are meeting more and more demands from merchants. If you notice, we always announce new functions to our customers regularly:
More than that, our development road map does not stop there, you will absolutely own more tools in the near time. Some big features will be Omni Channels: Include Emails, SMS, Webpush, WhatsApp, Facebook and Google Ads Integration.
Stable operation
Compared to the first days, AVADA run much more stably now, which allow eCommerce stores to make full use of our platform for their marketing.
Better Customer Support
Better is not only in Number, but more importantly in Quality. We are trying to cover more time zones to support all of our customers in the shortest time as well as hire the best talent to our team.
In AVADA, Customer Success and Technical Support Team are well trained to understand customers and products to serve them at best. If you browse reviews for us in Shopify App Store, you will see over 90% positive reviews are due to our Support Services.
As said, we believe that new pricing will reflect more exactly what values and benefits that AVADA brings to your business.
New Posts
Stay in the know
Get special offers on the latest news from AVADA.