7 Must-have automatic SMS apps for every business
When's the last time you've read an email that you've received? It's probably in the last 24 hours. How about a text message, huh? Not as common as that. Gartner's survey reports that on average, emails are opened more or less 20% of the time, while SMS messages are read up to 98% of the time. Therefore, if you have a small business and want to feel sure that your customers are reading your promotions, invoices, and special deals you send, using an SMS marketing tool is a good way to do that.
There are a number of SMS marketing applications that make it easy for you to send SMS messages to your customers without manual work. They allow you to send messages directly from the web app, connect them to your scheduling or booking system so that reminders and receipts are sent automatically, build marketing campaigns with special offers, and otherwise automate your SMS outreach. We've checked hundreds of the most popular solutions, and in this article, we're going to present our picks for the six best SMS business apps.
Benefits of automated SMS apps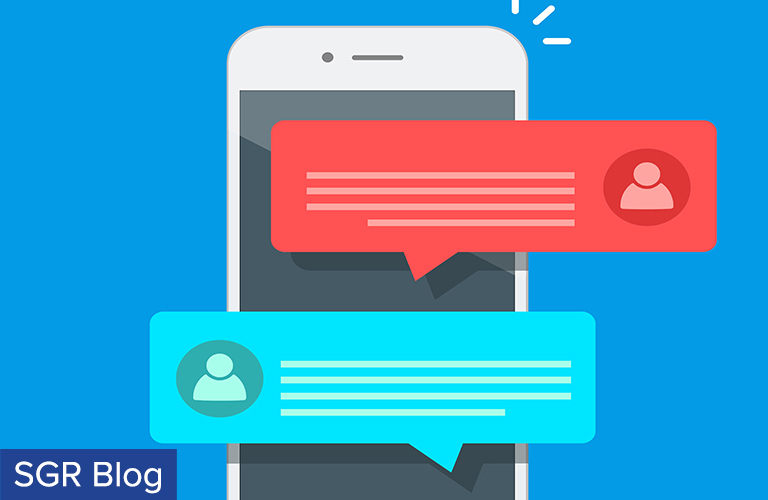 Cost-Effective
SMS marketing costs are significantly smaller than, for example, boosting social media posts or running retargeting campaigns. With a wide scope of more than 5 billion global and foreign SMS users at an all-time low, you are no longer restricted by geography when it comes to sending automated text messages.
Speed
No longer waiting in the mailbox, or worse – the dreaded spam mail. Text messages are sent automatically, and most importantly, they are read almost immediately. This makes SMS campaigns perfect for introducing a sense of exclusivity and urgency that no other marketing medium can equal, and can explain why a full one-third of SMS recipients are responding to SMS CTAs with 47 percent placing an order.
Sky-High Open and Engagement Rates
With 70% of customers claiming that SMS instantly gets their attention, it's no wonder that SMS is ahead of email when it comes to open and engagement rates. This is partially thanks to notifications – text messages are perceived as more personal and are more likely to appear directly on a phone screen than an email.
Simple Set-Up
You don't need a graphic designer for an SMS campaign, it's fast and simple to set up and run – after all, it's just a short text! However, we all know how important photos are to eCommerce firms, which takes us to our final advantage.
Ease of Integration with Other Channels
As a stand-alone platform, SMS marketing has robust advantages but is fully self-contained when combined with other marketing platforms. By combining the urgency and simplicity of SMS with the rich, informative content of email, you can really get the best of both worlds. That's why it's important to recognize a truly multi-channel platform when shopping around for your automation tools.
What makes a great SMS app?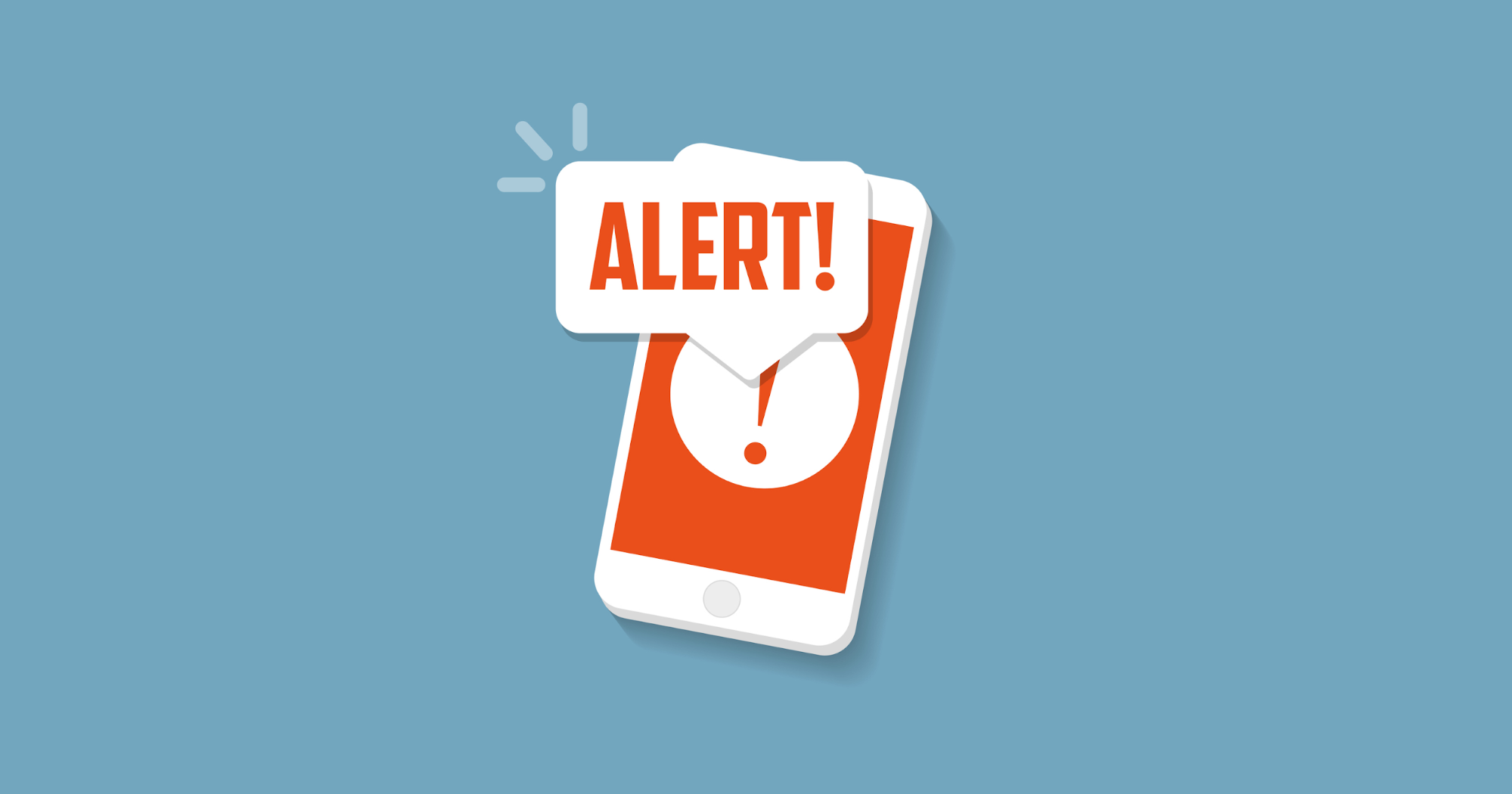 There are hundreds of SMS providers out there for almost every kind of company you can imagine. In the case of small businesses, we noticed four important features that all SMS tools need to have:
It's user friendly
It allows for two-way communication
It can be integrated with other software and services
Affordable to get started and scale up as the company expands.
There are great Sms api services on the market that developers can use to connect to whatever apps they're creating, but most of them fall beyond our easy-to-use criteria. An average person would have struggled to link them to whatever systems they were already using, as they need some coding expertise. In fact, this means that almost all of the applications on our list have a dedicated web interface that you can use to send and receive messages. Many of them even have the ability to send and receive text messages from your email client or mobile apps. In other words, it's very easy to get started.
Similarly, there are some very powerful text messaging services that can send 100,000 text messages by pressing a button. If your company is looking for that kind of marketing scale, these apps can work wonders. For most small companies, though, this kind of one-way mass marketing seems unnecessary—even inappropriate—and could really only be used to spam clients. Instead, we looked at SMS services with true two-way communication: your customers can respond to any message you sent them, and you'll be able to respond directly, rather than relying on automated responses or data collection. Some of the apps that we feature do provide automatic responses and can collect survey data, but they also give you the opportunity to jump in and text your customer in person.
Some SMS services provide appointments and booking functionality, while others can only send and receive messages. This means for a service to make our list, it had to be combined in some capacity with other apps. You can either directly plug into Outlook or Google Calendar via the app.
At the end of the day, SMS services need to be affordable to start but still have the potential to scale your company as it expands. We weren't comfortable recommending something with high monthly fees or high volume criteria. Instead, both services are either pay-as-you-go or have low-volume, low-fee monthly plans that you can upgrade later if you need to. This ensures that you can start using an SMS service when you only have a few clients, and if a business takes off, you won't have to think about changing SMS services down the line. Based on these parameters, here are the six best SMS apps you should consider for your company.
The 5+ best SMS apps for every business
AVADA SMS Marketing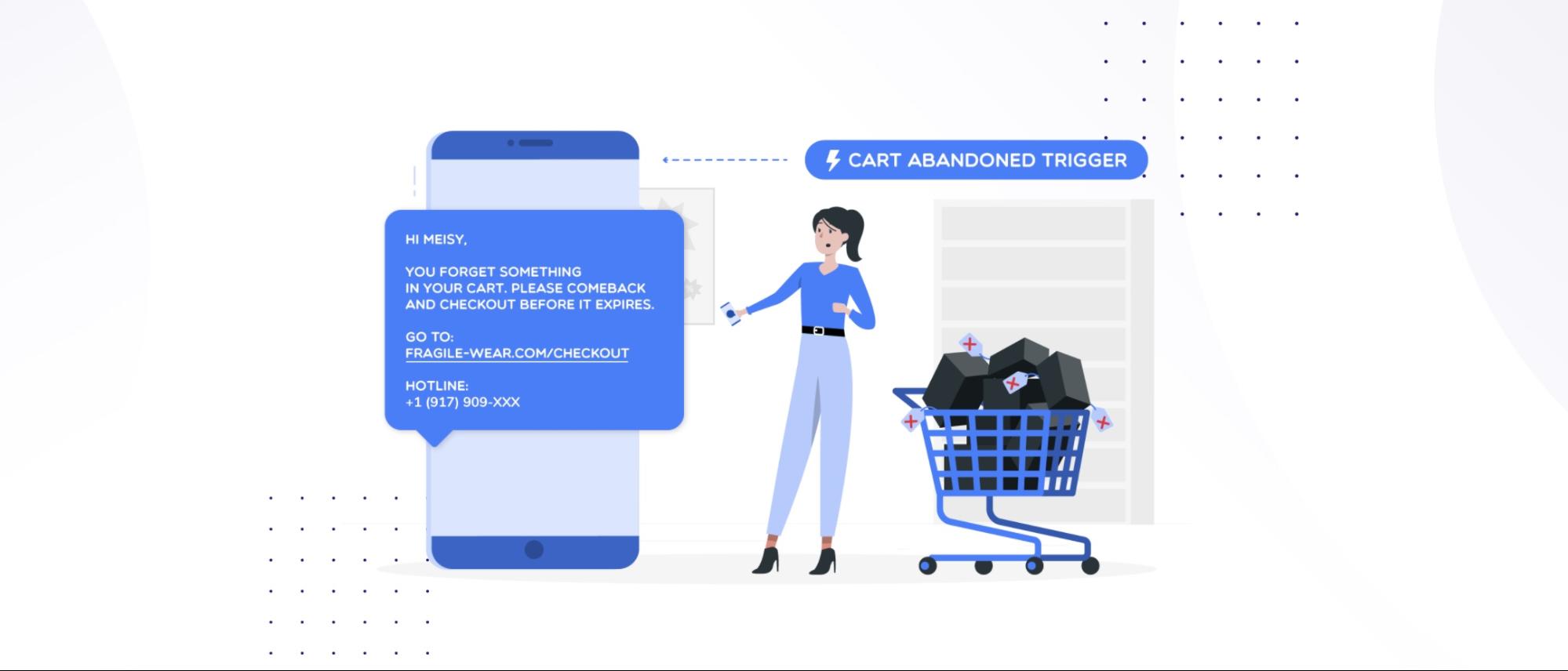 AVADA Email & SMS Marketing is a leading web-based SMS app that offers 1-on-1 customer support and helps you run mass text message campaigns. If you need to recover customer abandoned carts or remind your customers about your new promotion deal, AVADA Email & SMS provides you with the tools you need to deliver your message.
You can send follow-up to your customers with the SMS Automation feature of AVADA Email & SMS Marketing. This feature allows you to send texts to your customers just like what you can do with emails. Text messages can serve many purposes such as abandoned carts, welcome subscribers, order follow-ups, up-sell, cross-sell, etc.
Also, you can run sales campaigns with SMS Newsletters. SMS can return a higher ROI than emails these days because SMS can get an great open rate of 98% and the conversion rate can be up to 45%.
Additionally, SMS can be sent to unlimited countries. AVADA Email & SMS Marketing allows you to send text messages to customers in up to 150 countries. So you can definitely reach your customers wherever your customers are.
And what's more, you are able to collect SMS numbers easily with sign-up forms. You can add a customer number field to your subscription pop-up form on your website to collect phone numbers. The numbers acquired will automatically be matched with the countries they belong to.
Verdict: Best SMS app for small & medium businesses.
Salesmsg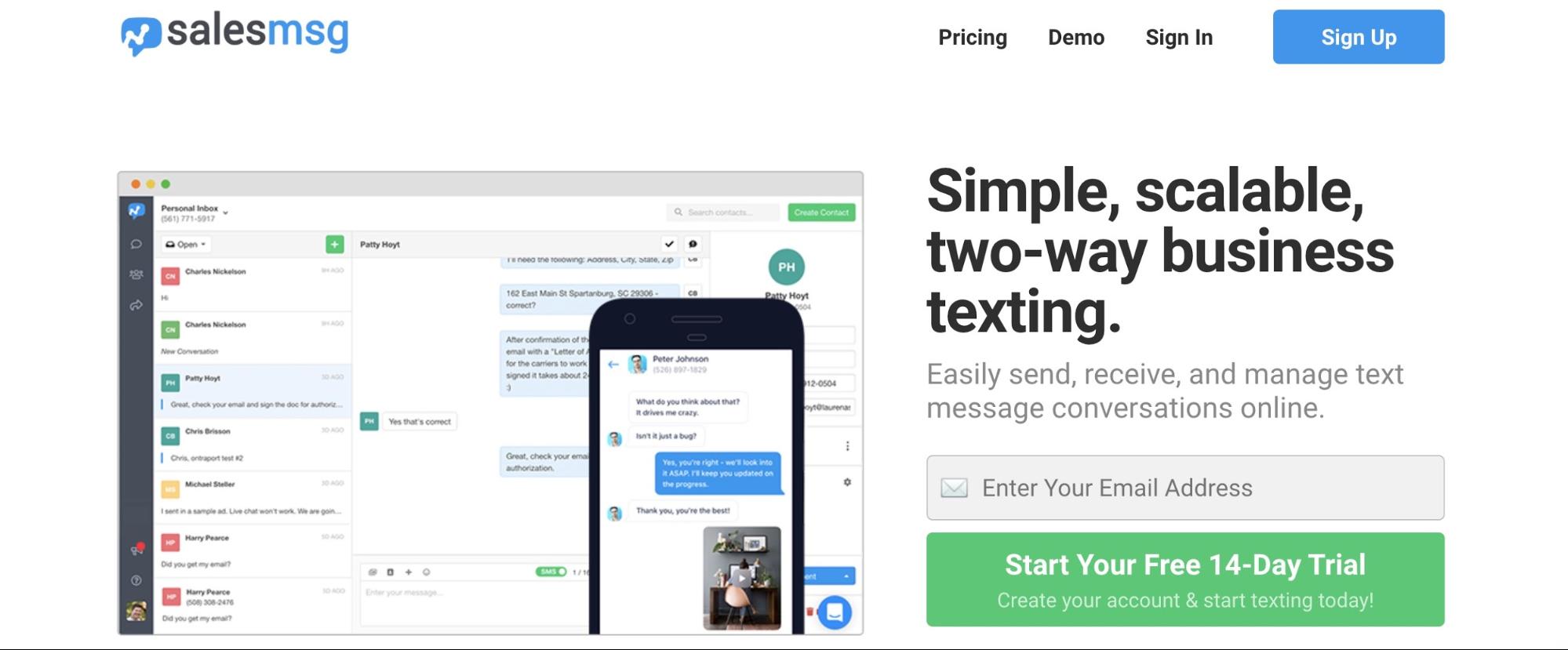 Salesmsg is a fantastic choice for U.S.-based or Canada-based small businesses—unfortunately not available globally. Salesmsg has the most simple web app for any of the services on this list. There are only four tabs in the sidebar: conversations, contacts, broadcasts, and triggers. Most of Salesmsg's strength comes from the way you integrate it with other applications.
You are asked to build a local number as soon as you sign up. This is the number that all of your messages will be sent from, and you can allocate a different number to each team member. You can also allow call forwarding if you like, so if the customer calls your text number, they will be forwarded to your personal or business phone.
Out of the box, Salesmsg combines with Outlook and Google Calendar to make appointments. When a customer makes a text appointment, just press Book Appointment to add it to your calendar of choice. For more efficient customer management, it integrates with CRM systems such as HubSpot, Pipedrive and Zoho, so that you can use your CRM of choice and have Salesmsg handle text messages automatically. You can also use Salesmsg Triggers to create a web page that you can use to submit particular types of messages, such as appointment reminders.
Salesmsg's Price: $35/month for 750 text messages and a dedicated phone number. It then costs $0.025 per any additional message; an additional number will cost another $10 a month. If you need to set up a higher volume, they provide personalized solutions.
Verdict: Best SMS app for small, local businesses.
ClickSend

Marketing campaigns are often executed across several outlets at the same time. ClickSend is the best choice if you want to combine SMS marketing with email, phone, and email campaigns. For example, you can give someone both a text message with a brief description of a free offer and at the same time, an email with full details of how they can get it. Or you can set up an automated workflow so that if anyone sends you a text message, you can reply with an MMS or an email.
Each channel can be monitored separately. Within ClickSend's Dashboard, choose SMS then SMS Campaigns from the sidebar to send a text message campaign; to send an email, it's Email Marketing then Email Campaigns. They're also planning to integrate WhatsApp, Facebook Messenger, and similar channels soon, so you're really going to be able to meet your customers wherever they are and whatever applications they're using. Of course, this kind of outreach is just as useful as your contact list: if you don't have both an email address and a phone number for those you're reaching out to, they'll only get half of your marketing effort.
Since ClickSend provides so much versatility, it's a bit harder to get a hold of than simpler services like TextMagic and SimpleTexting introduced below. The sidebar is filled with menus and submenus: SMS, speech, email marketing, transactional email, fax, letter or postcard, plus account information, integration, automation, and more. They're all logically arranged—just it's that there are so many of them. If you're just trying to text your clients, you don't need 99 percent of what's on that sidebar. Irrespective of that the solid aid documents available under the Support Articles will be your support.
ClickSend's Price: SMS starts at $0.0093 per message for your first 2,000 messages, and the price goes down from there. If you need a rough average monthly cost, it's $3.59/month.
Verdict: Best SMS app for integrating with other marketing channels.
TextMagic
I could already send a text to my cell phone a few moments after I signed up for TextMagic, as the Setup Wizard and the friendly gui make the whole process very quick. All you need to do is enter your phone number, input your message, click Send, and click Bam!, the message will be delivered.
But just because TextMagic makes things simple, it doesn't mean it's not powerful. You can send messages from your TextMagic number so that the answers go to the API, the web app, or your email address, or from your own mobile number so that the answers go directly to your phone. You can create contact lists by importing an Excel spreadsheet or CSV file, by inputting them manually in the Contacts tab of the app, by saving the number of people who text you, or by using the Click to Text form on your website.
In the Scheduled tab, you can plan messages, for example, to send out a text for Friday Specials every week. You can also set templates in the Templates tab to make it easier to submit recurring messages—such as confirmations of appointments—and to automate responses to customer text. And of course, you can give customers text quickly and conveniently from the web or iOS and Android apps. In other words, TextMagic provides almost every feature you would want in an SMS service, is simple to use and with $4.00/month dedicated virtual numbers and text starting at $0.04 with no contract, it's very affordable to get started.
Verdict: Best SMS app for getting started quickly.
SimpleTexting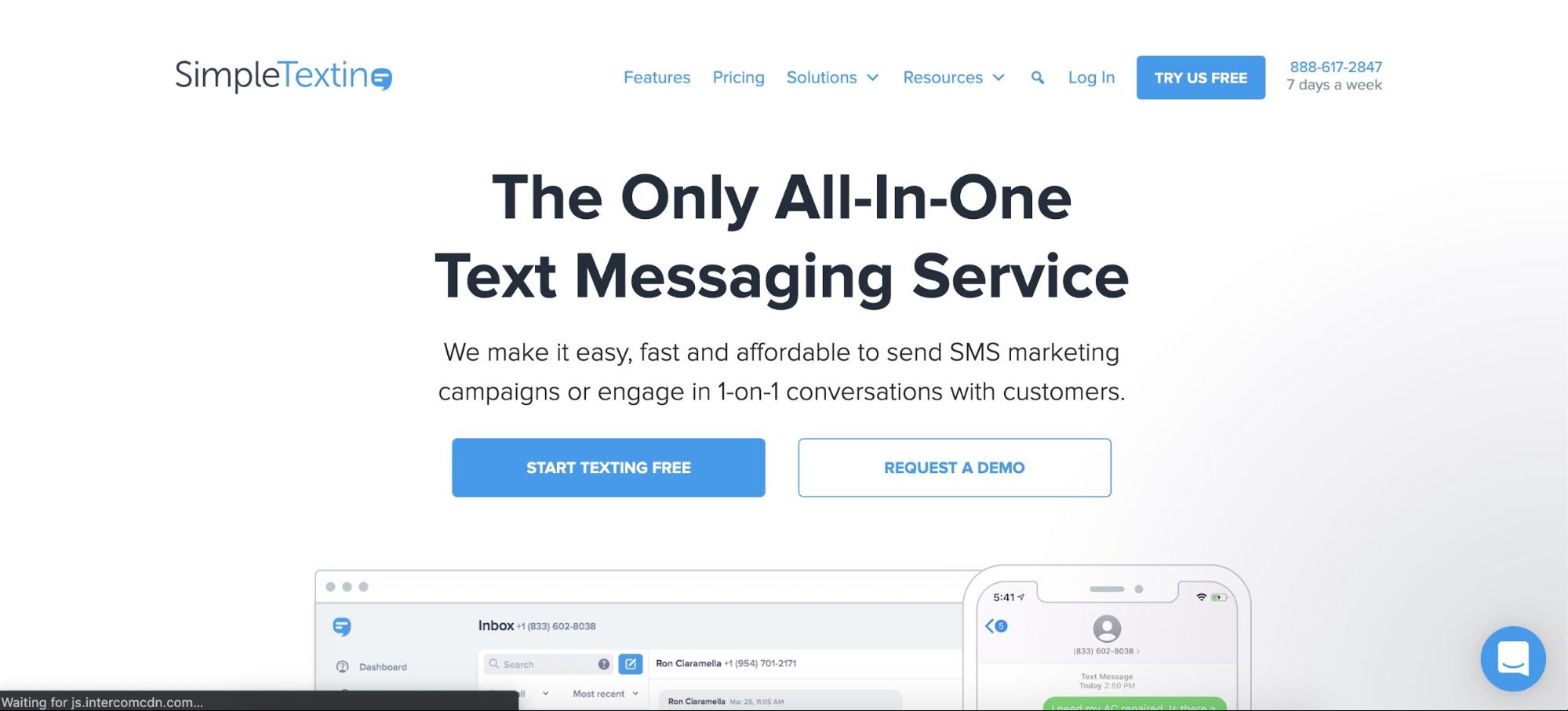 SimpleTexting is the best choice if you want to set up and run marketing campaigns quickly. Similar to TextMagic, the user interface is intuitive with all that can be reached from the main screen — you won't even need to watch any tutorial videos to see how things work. SimpleTexting is more focused on direct-to-customer marketing.
You can contact your customers directly, but SimpleTexting also makes it easy to run marketing campaigns, sending the same marketing message to anyone on the list. Go to the Campaigns tab, select New Campaign, name it and you're ready to start marketing to your customers.
Set up a code in the Keywords tab to get new contacts on your list. For example, prospects can text PIZZA to 555888 and get a list of pizza deals. As soon as they enter, the autoresponder will automatically give them a discount code and ask them if they want more information. If they do, they can reply with a different text. With SimpleTexting's built-in applications available on the Apps page, you can also make more technical marketing campaigns, such as polls, surveys, and sweepstakes.
Of course, you need analytics for every marketing campaign. SimpleTexting's analytics offers comprehensive breakdowns on how the promotions are going with details including the number of new subscribers, what keyword they were using to join, how many autoresponders they've activated, how many people have unsubscribed, and what replies you've been given.
SimpleTexting's Price: From $25 per month to 500 credits (enough for 500 texts). Additional credits cost $0.045 for the entry plan; there are higher volume plans if you need to deliver more texts.
Verdict: Best SMS app for easy-to-run marketing campaigns.
Heymarket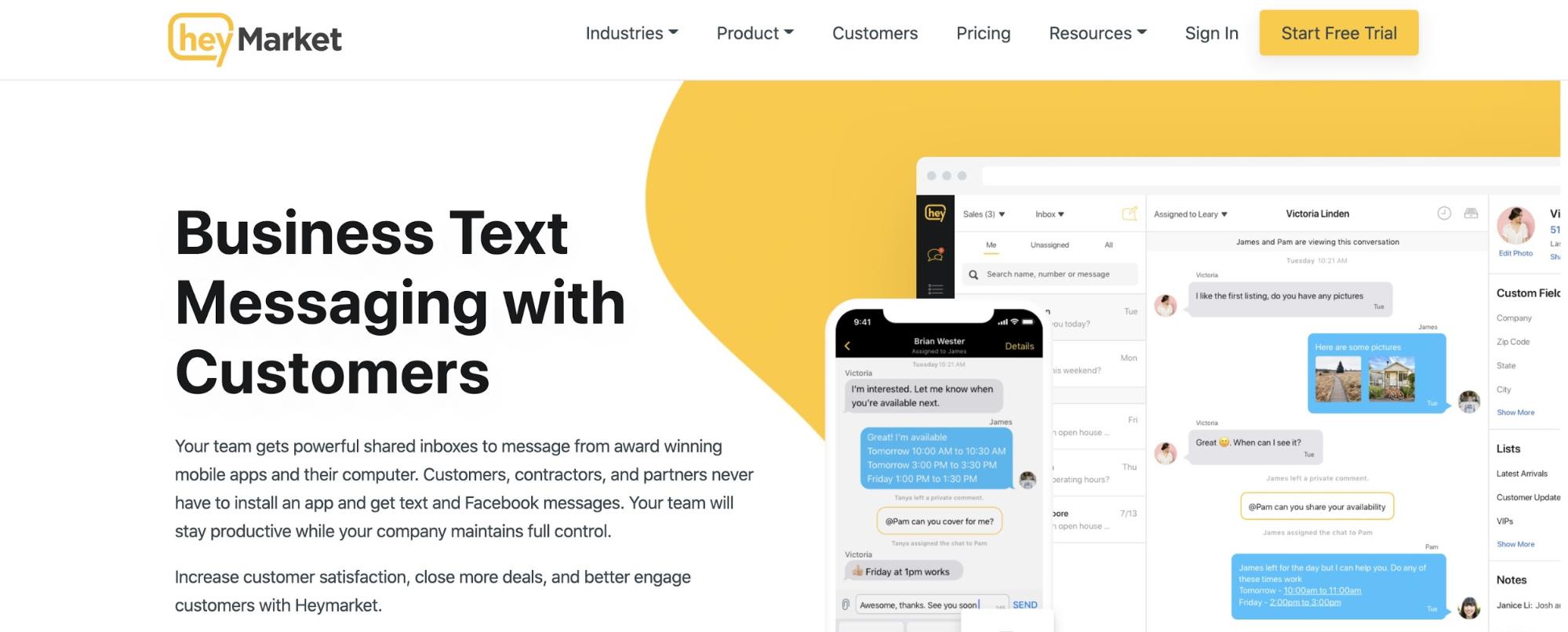 Heymarket is a little different from the other services we've been looking at so far. It is designed for teams to work together, specifically to provide service to the customer. Say your number to the customer asking if a certain commodity is in stock. You'll get the update when you're out and about. You can respond to the customer by saying that you will get a staff member to verify, then in the same conversation, leave a private comment and delegate the job to the person in the shop by typing @[theirname] and then explaining what you need them to do. Your staff member will be informed and will then be able to search the warehouse and get back to the customer. You can also use Heymarket to communicate to your customers using Facebook Messenger.
The web and mobile applications of Heymarket are very easy to use. Seven tabs on the sidebar are Chats, Lists, Templates, Contacts, Campaigns, Automations, and Reports, and each one does exactly what you'd expect. The team features are just as basic, and they're not going to take you more than a few minutes to figure it out. An extra nice little touch is that all of Heymarket's customer support is done on its own platform.
Heymarket's price: at $29/month (billed annually) for 500 text messages and unlimited users, Heymarket is at the most expensive end of the SMS service spectrum. Although it can be used like any of the other marketing and consumer tracking services, if you're not using the team functionality, there are cheaper alternatives like ClickSend or Salesmsg.
Verdict: Best SMS app for teams.
Twilio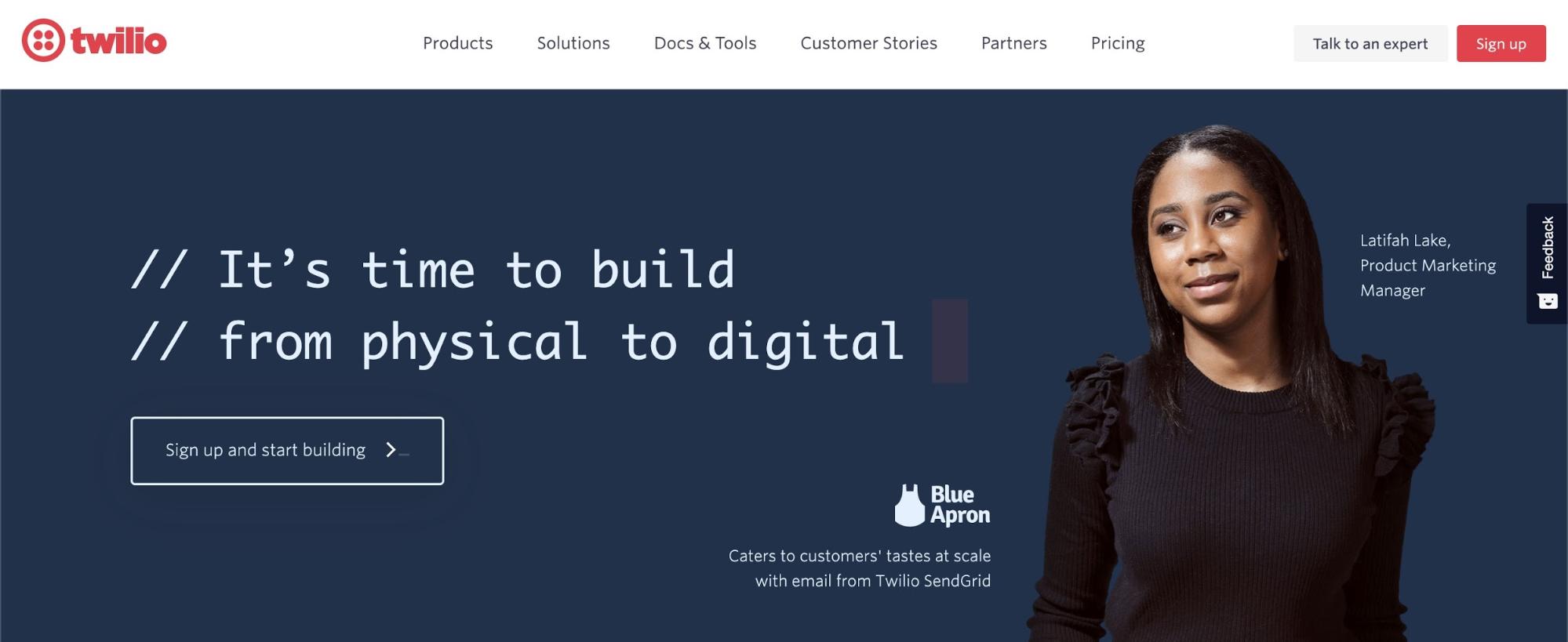 Twilio is one of the biggest names in SMS services, and while it's mostly an API for developers, you don't really need to be a developer to use it. Twilio is simply a blank canvas. Developers can use their API to add SMS functionality to any app or build whatever service they need. However, applications like HubSpot, and Zoho CRM can also directly use the Twilio API without the need for any coding. For instance, by linking your Twili account to your Hubspot account, you will be able to send and receive text messages with your Hubspot account.
Twilio also provides Studio, a drag-and-drop app builder to create SMS surveys and autoresponders. You start with a trigger, such as an incoming message or a calendar event. You can then build response requirements based on what has happened. It's all very intuitive, and the built-in project templates and tutorials make it easy for everyone to get started.
Twilio makes the whole process really simple. When you sign up, you're asked whether you're a developer or not. No matter which choice you select, the interface is tailored to your needs. If you're not a developer, you'll get links to all the details you need to attach Twilio to third-party apps or use Studio to get started quickly. In most cases, Twilio can turn out better than other providers if you're willing to put into the work to get it up and running.
Twilio's Price: Since Twilio is more of a platform than an app, its pricing structure is a little different from the other options on this list. Text start at $0.0075/message sent and received, and there is an additional $0.005/message carrier charge for every message you send. A dedicated phone number starts at $1 per month.
Verdict: Best SMS app for customization.
Final words
That's it! I hope that you can choose a suitable SMS service for your business from this list. Please feel free to leave comments below for further recommendations on this topic.
New Posts
Stay in the know
Get special offers on the latest news from AVADA.