Zen Cart vs WooCommerce: Which is the ideal option?
Zen Cart vs WooCommerce: Which is the ideal option?
So, you've made the decision to open an online business and want to know what your alternatives are. It might be difficult to choose the finest shopping cart software, particularly if you are just getting started. More specifically, you are struggling with choosing between Zen Cart and WooCommerce platform? Fortunately, we have just the exact answer for you!
In our article today, we will be digging deeper into these two applications and answer the question of Zen Cart vs WooCommerce: Which is the ideal option? If you are still looking for the answer, keep reading because it is worth it!
Zen Cart vs WooCommerce: Overview
Zen Cart Overview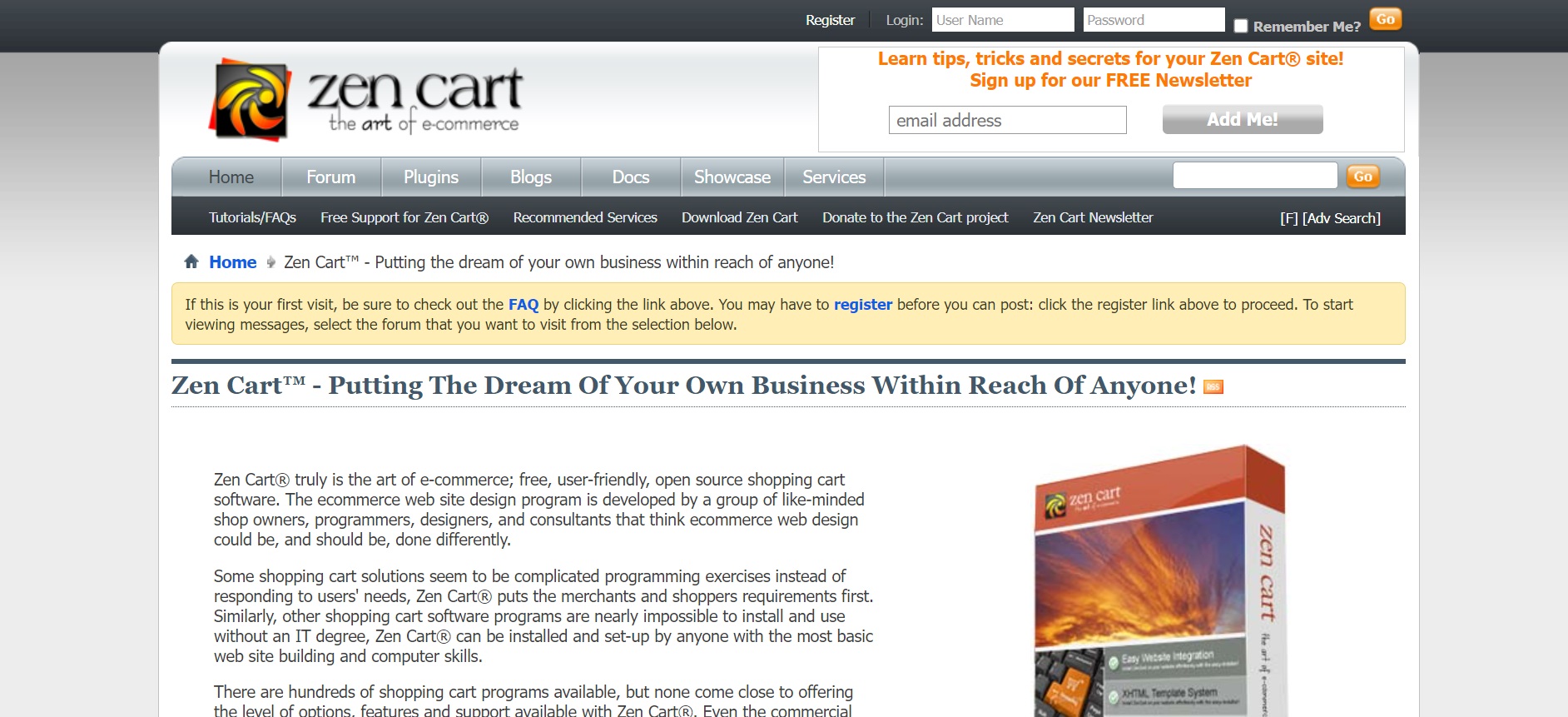 As an open-source system that uses PHP and MySQL, you'll require hosting that supports both of these technologies. The majority of shared and VPS hosting providers will allow you to utilize PHP and MySQL. Because this is an open-source system, it is free to download, making it an excellent solution for anyone on a tight budget. Zen Cart is different from other shopping cart systems in that it is not pricey to use at all.
You may utilize a template system inside the system to alter the appearance and operation of your business. Zen Cart also comes with a variety of free and paid themes, making it simple to customize the appearance of your online business. Zen Cart is the shopping cart system to use if you want to go above and beyond the other open-source options.
WooCommerce Overview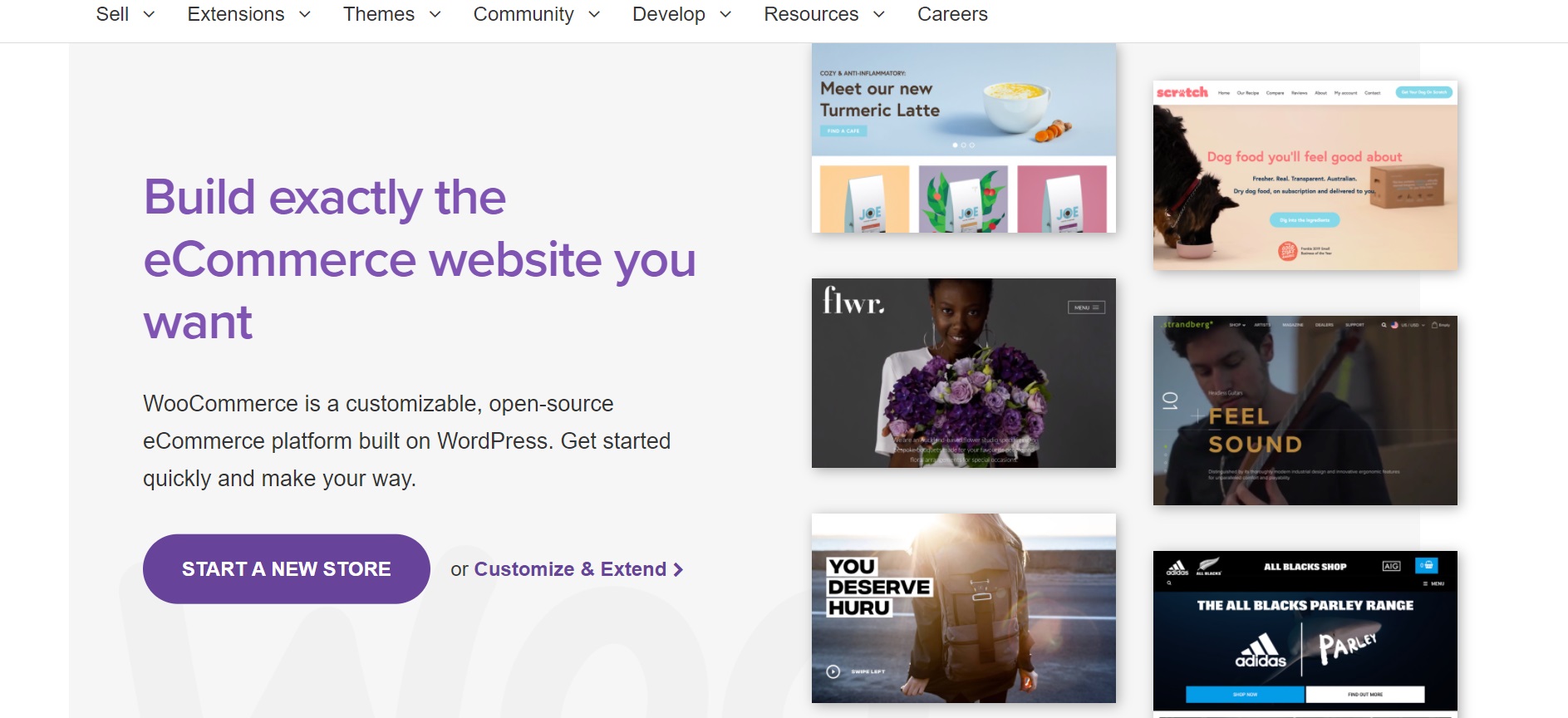 On the other hand, WooCommerce has the advantage of working with any WordPress theme. If you already have a WordPress website, you can simply install the plugin without having to buy a new theme. It's really easy to get about WordPress, and controlling the store's content is also pretty straightforward. The dashboard is simple to use, and adding text and other elements to pages is as simple as typing in a word processor.
Customizing goods also necessitates the use of images and the completion of fields containing product data. Overall, it provides functionality in bite-sized chunks, making it simple to administer for any developer or company owner.
Zen Cart vs WooCommerce: Target Customer
Zen Cart target customer
Beginners and expert users who want to make a little investment would love Zen Cart. This is an excellent option if you wish to handle your shop yourself. Of course, it works with any PHP and MySQL-based website.
Zen Cart is ideal for individuals who need to manage a large catalog of items and enables you to utilize categories, category pictures, and product images. Zen Cart has a lot of benefits, however, WordPress users may choose Woo Commerce instead.
WooCommerce Target Customer
WooCommerce is one of the greatest solutions for your requirements, whether you're a novice or experienced user who prefers WordPress for your website. Of course, you may use another shopping cart, but one of the biggest advantages of WooCommerce for WordPress users is that it was built exclusively for the platform.
For those of you who are WordPress users, you may get the plugin for free, utilize the custom themes, and build the store of their dreams faster than with most other shopping cart options. In this way, your WooCommerce can maximize the functions.
Zen Cart vs WooCommerce: Pros and Cons
 
Zen Cart
WooCommerce
 
Pros
- Sorting products into categories and subcategories is a useful feature.
- Bulk goods may be added.
- Make coupons and unique offers.
- Customizable: You may pay developers to perform the job for you, or you can download accessible modules to benefit from other developers' labor.
- International features: Zen Cart's multi-currency and multilingual capabilities make it ideal for selling globally.
- Strong user community: The Zen Cart community has been active for over a decade and is continually growing. A lively forum and current modules are available to you.
- Wide range of advanced features: WooCommerce plugins provide you with a wide range of templates for your eCommerce site. As a consequence, you may quickly improve its functionality and tailor it to your own company requirements.
- Aesthetic design: WooCommerce is a well-organized platform that has a professional feel to it. It seems legitimate and ready to use because of the way the tools and capabilities are organized.
- Security: WooCommerce provides a secure shopping experience for users. Security is not a problem with WooCommerce since it is constantly updated. The WooCommerce development team is continually on the lookout for flaws and striving to address them.
 
Cons
- Zen Cart's website does not have a visually appealing design. The look is inadequate right out of the box.
- The site's reporting system is fairly simple, and it maintains track of the goods that may be seen, as well as transactions and orders. This function should be enhanced to offer more detailed product sales and profit information.
- Modifications may take a long time and occasionally need a complete rewrite. Any update or add-on that improves the fundamental basis costs money.
- While WooCommerce is free to download and install, certain extensions may demand money in order for your site to function at its full potential. This is its most serious flaw since it gives the impression that there are hidden charges for company owners.
- Because WooCommerce is still a plugin, you can't use it on sites that aren't hosted by WordPress. Such conditions make it difficult for previously established firms to implement WooCommerce since it necessitates a redesign of their website.
 
Zen Cart vs WooCommerce Comparison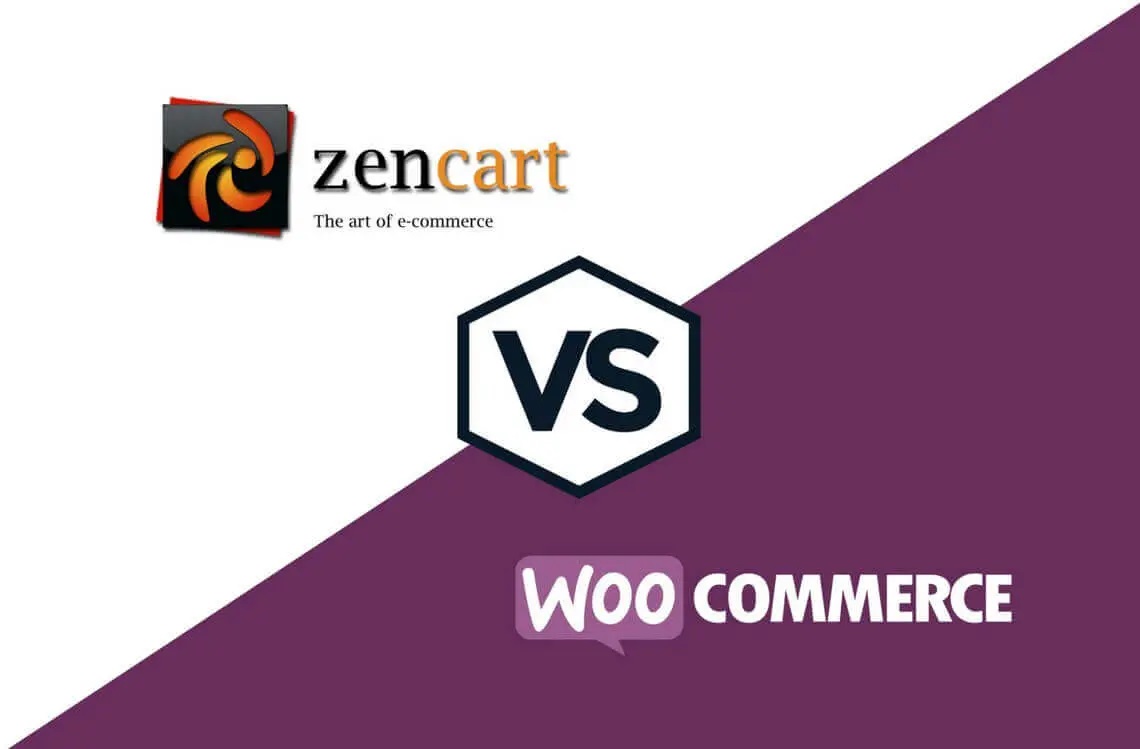 To provide you a clearer comparison between Zen Cart and WooCommerce, we have divided the sections into smaller parts so that you can have a better understanding of each platform and how they differ from each other.
Zen Cart vs WooCommerce: Pricing plans
Zen Cart pricing plans
Zen Cart is absolutely free to download and use since it is open-source software. Zen Cart is released under the GPL2 license, ensuring that the program will always be free and that anybody may alter the source code as they see fit.
Still, there will be times when you'll need to pay for web hosting, a domain name, and an SSL certificate, among other things. If you don't have much expertise with the internet, you may need to pay for a web developer and designer to assist you in tailoring your shop to fit your needs. Add-ons and third-party templates are examples of additional costs. Small businesses should expect to pay $5-10 per month on average.
WooCommerce Pricing plans
WooCommerce is an entirely free platform. Yet, there are still maintenance charges, such as hosting, a domain name, SSL, WooCommerce storefront themes, WooCommerce plugins, and development fees, when it comes to WooCommerce price.
As you can see in the table below, we have provided three ranges of WooCommerce costs based on the business size:
| WooCommerce cost | Basic range | Mid range | Advanced range |
| --- | --- | --- | --- |
| Hosting | $6.95/month | $8.95/month | $12.95/month |
| Domain Name | $15 annually | $15 annually | $15 annually |
| Plugins | Free | $25-100 annually with transaction fees depend on your volume of sales | $100-150 annually plus $100-400 for extra features |
| Security | $10/year | $150/year | $150-450/year |
| Themes | Free | Free | $35-129 for a professional theme |
| Developer fees | Free | Free | $1,000-6,000 |
| Total | $110 | $300+ | $1,500+ |
Zen Cart vs WooCommerce: Ease of Use
Zen Cart ease of use
After buying a domain, you need to download the program, which is simple, but putting it on your server is a hassle and impossible for most individuals. People get overwhelmed when things don't make sense, so you'll definitely need to employ some assistance. When you first download Zen Cart, you'll feel overwhelmed since it's tough to know where to begin and what you're looking at. There is no WYSIWYG editor or drag-and-drop functionality here.
Mastering the user interface and being comfortable with the navigation and various regions involves a learning curve. Straightforward tasks like adding a product will sometimes be simple, but the platforms are not intuitive, so if you want to add attributes to items, you will need to travel to "Attribute controller," which is not available on the product page, to add characteristics to each individual product.
WooCommerce ease of use
WooCommerce is tightly integrated with WordPress, so if you're already comfortable with the platform, you'll have no trouble navigating it. WooCommerce is fantastic since it connects with your WordPress website just like any other plugin. It's as simple as installing and activating it, and you're good to go. After you've activated it, you'll be taken through a fast setup wizard, which only takes a few minutes to complete.
If you're happy with your theme, you can start customizing your shop from there. If you aren't, you may go ahead and get a WordPress theme that better suits your requirements, whether it's free or premium.
Everything may be accessed easily from the WordPress dashboard. In just a few clicks, you can check pending orders, product details, delivery settings, and inventory tracking. If your items come in a variety of sizes, colors, and other characteristics, adding these choices to a product page is a straightforward process. Using plugins, you may smoothly link a blog with your WooCommerce shop as well as social networking.
Zen Cart vs WooCommerce: Outstanding features
Zen Cart features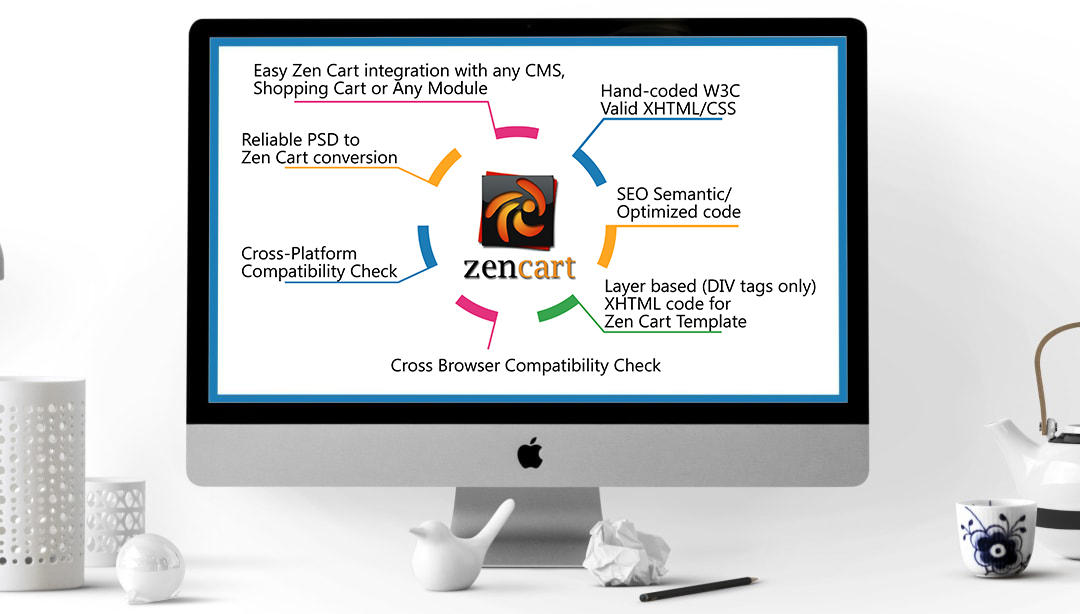 Zen Cart comes with some of the functionality you'll need right out of the box. The shipping tools are their best aspect, and you receive all of the alternatives straight immediately. Additional plugins will be required in other sections, such as payment gateways and the checkout area.
It's easy to add goods, and you may change how they're shown if you want to. Hiring a PHP developer will make managing material, in general, a breeze. Customers may find the shopping cart perplexing; therefore, you'll need extra plugins to make it more useful.
Conversely, not all Zen Cart plugins are compatible with each other. Furthermore, difficulties are known to emerge when Zen Cart makes updates, so you'll have to perform a lot of debugging with your plugins as the upgrades roll out. These are the few things you need to know before installing the app.
WooCommerce features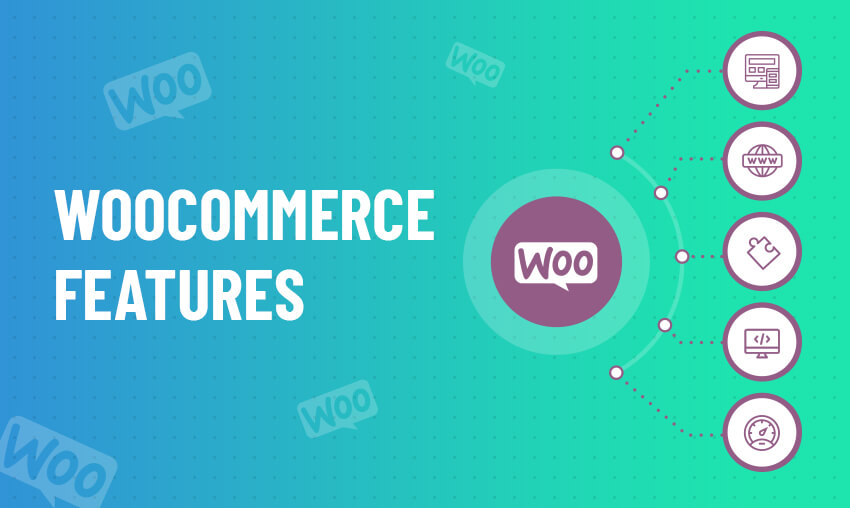 When you install WooCommerce, you'll find that it includes all of the essential tools for getting your online shop up and running, and you can begin selling right away. We still recommend online merchants install extra plugins and extensions if they desire advanced functionality such as social media integration.
You won't need to employ somebody to make your business seem fantastic on mobile devices since your admin dashboard and storefront will be mobile-friendly from the start. One of the best things about WooCommerce is that all extensions work together flawlessly, with no conflicts or issues as with Zen Cart and other systems.
Zen Cart vs WooCommerce: Customization
Zen Cart Customization
Zen Cart isn't known for having a visually beautiful storefront or admin area. You'll receive a default template when you initially install Zen Cart, which absolutely no one will wish to use. For this reason, it is best that you buy their professional theme to get started with unless you have decent technical knowledge. You should be aware that while a variety of developers generates these templates, their quality and stability may vary.
Zen Cart's backend isn't the most user-friendly, and there are a lot of choices to choose from, which might make users even more confused. Again, without sufficient PHP understanding, navigating the shop and managing content would be difficult. This is why most individuals aren't interested in using many of the accessible features. Keep in mind that one big disadvantage of Zen Cart is that establishing a mobile site might be quite tough.
WooCommerce Customization
It's really easy to get about WooCommerce, and controlling the store's content is also pretty straightforward. The dashboard is simple to use, and adding text and other elements to pages is as simple as typing in a word processor.
Compared with Zencart, WooCommerce's functionality is significantly more ergonomic, and its design elements provide more flexibility, which is critical for operating an e-commerce firm. Another advantage of WooCommerce is that it is mobile-ready by default since it is part of WordPress, unlike Zen Cart.
Zen Cart vs WooCommerce: Customer Support
Zen Cart Customer Support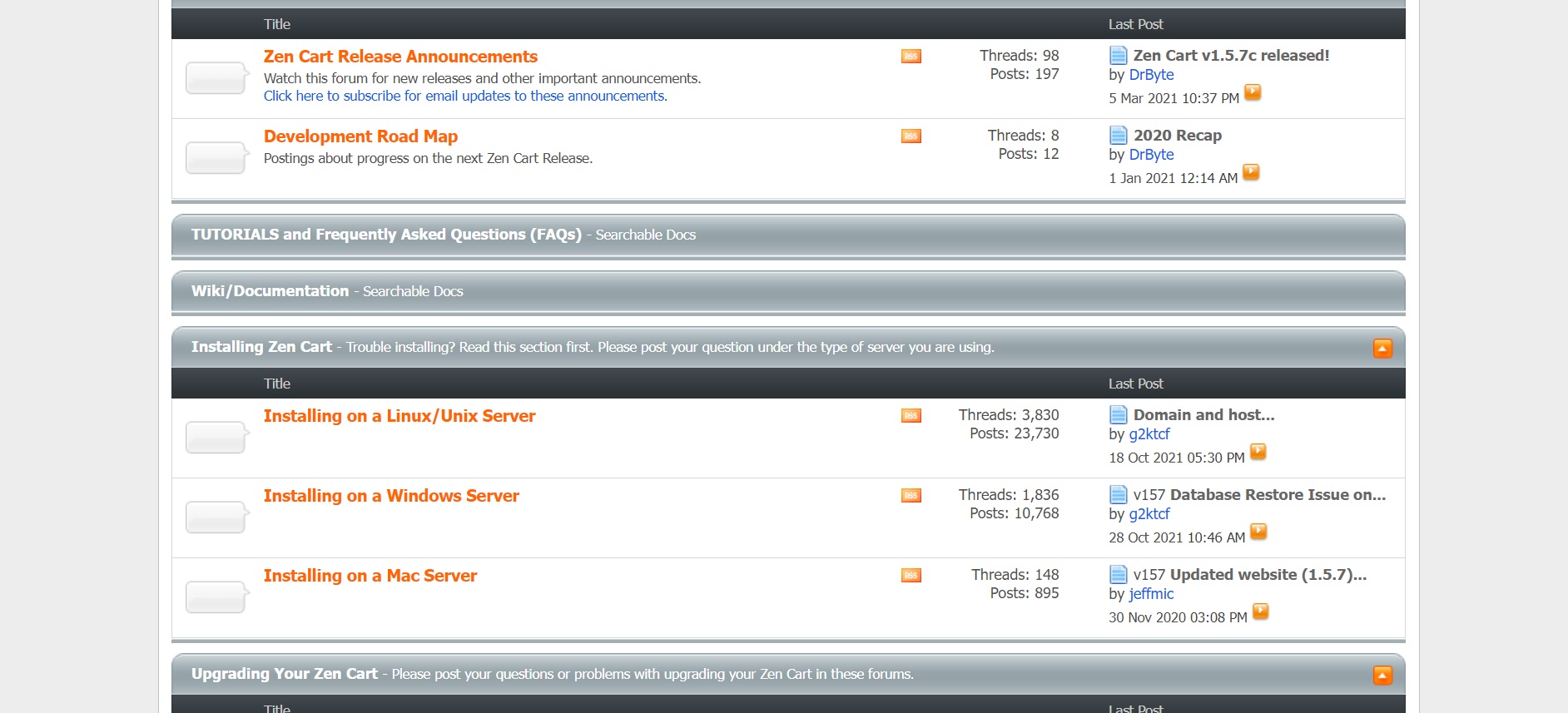 Zen Cart does not contain any technical assistance since it is an open-source platform. This means you won't be able to file a ticket, you won't be able to send them an email, and you won't be able to phone them or use their live chat tool. For this reason, the community forum is your best bet for assistance.
Because Zen Cart has been operating for almost a decade, an active community on their site can assist you. Other resources include a wiki page that may assist you with some basic activities, as well as YouTube videos with a variety of useful instructions. If you want actual help, you'll have to engage a third-party developer to take care of your technical concerns.
WooCommerce Customer Support
WooCommerce, like other open-source systems, will have certain limitations in terms of support. Although they don't provide live chat or phone assistance, you may always go to their website and file a web ticket with your queries. The average turnaround time is 24 to 48 hours.
You may also use self-help resources, such as substantial and well-organized documentation that is nearly certain to answer any of your inquiries. There are also several video tutorials available online that will walk you through the process of resolving your issue step by step.
Zen Cart vs WooCommerce: Available plugins
Zen Cart plugins
After installation, Zen Cart comes with very basic extensions such as pricing tools, shipping and payment, domain hosting and marketing tools. Even Zen Cart informs its customers that add-ons might have a detrimental impact on PCI compliance, therefore you should be cautious about which add-ons you install. Payment processing is completely handled through extensions, and Zen Cart supports PayPal, Authorize.net, Square, and other payment processors.
WooCommerce plugins
With a wealth of free and paid extensions, as well as tens of thousands of free and premium WordPress plugins, WooCommerce thrives in this area. This combination gives you the flexibility to develop whatever kind of shop you want, and no other e-commerce system compares to WooCommerce in this regard. There are several off-the-shelf plugins and extensions available, and WordPress developers may create custom plugins.
Premium WooCommerce plugins and extensions are also available, and if you know what to search for, you may discover high-quality extensions that are less expensive and more effective than the official ones.
Zen Cart vs WooCommerce: Which is the ideal option?
On the basis of our complete comparison of Zen Cart vs WooCommerce, it is witnessed that WooCommerce seems to be more advantageous than Zen Cart. While there are many alternative choices available, WooCommerce is the most user-friendly and cost-effective. Anyone who has worked with WordPress before can quickly set up and administer WooCommerce. Even if you are a complete novice, learning WordPress will be a straightforward alternative accessible to you.
Zen Cart offers great advantages, however, it is not for novices and has certain limits. If you don't know PHP and can't afford to employ a developer, you should hunt for another option. As a result, Zen Cart is aimed at medium to big organizations with a significant budget and skilled developers on staff. Everything, even basic things like accessing the admin dashboard, will take some time to become used to.
New Posts
Subscribe
Stay in the know
Get special offers on the latest news from AVADA.
40k
subscribers has been joined!
Earn $10 in reward now!