WooCommerce vs PrestaShop Review: Which one is the Winner?
WooCommerce vs PrestaShop Review: Which one is the Winner?
The platform you pick for your e-commerce store is the most significant decision you'll make for your business and its growth.
PrestaShop and WooCommerce are two popular names among the various shopping carts available due to their benefits to consumers. However, merchants are frequently puzzled and find it difficult to distinguish between these two platforms, let alone decide which one is better for their e-commerce business.
Therefore, in today's article, we'll provide a detailed comparison of PrestaShop vs WooCommerce based on 12 criteria: popularity, features, pricing, ease of use, support, themes, plugins and extensions, SEO, security, payment gateways, scalability, and inventory management.
Let's get started!
WooCommerce and PrestaShop Overview
WooCommerce Overview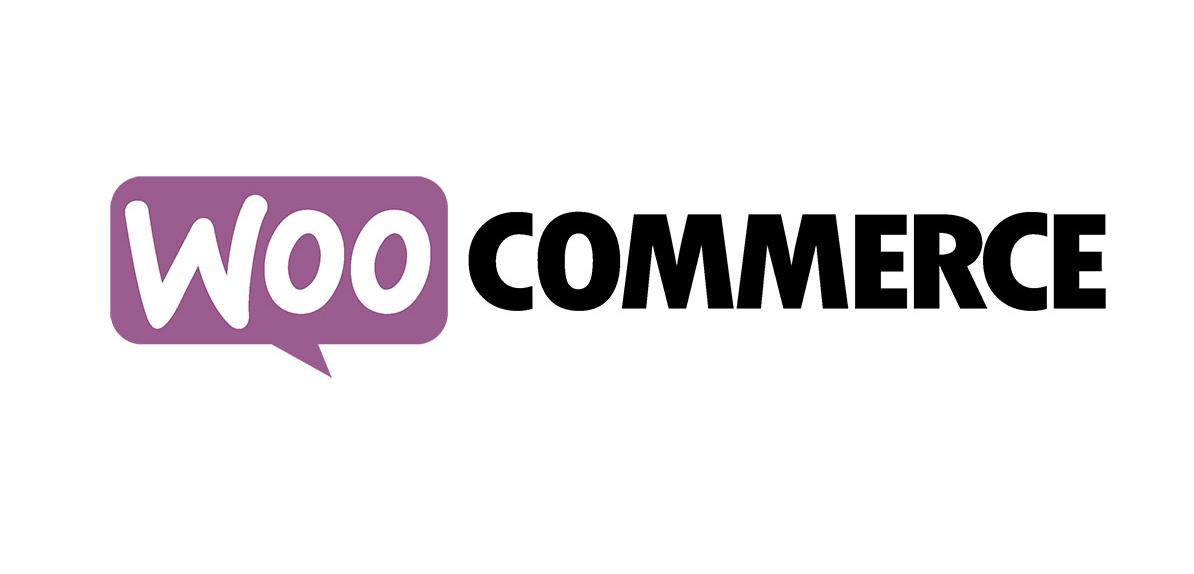 WooCommerce is a versatile, open-source eCommerce plugin based on WordPress. It has soon become the dominant choice for people searching for a platform to manage their online store since its debut in 2011. Because it is open-source, you can easily customize every part of your business and create personalized design and functionality. Being chosen by many online businesses ever since its launching, WooCommerce has been regarded as a very solid and stable solution that can be adopted by small and large businesses and scaled to any level.
PrestaShop Overview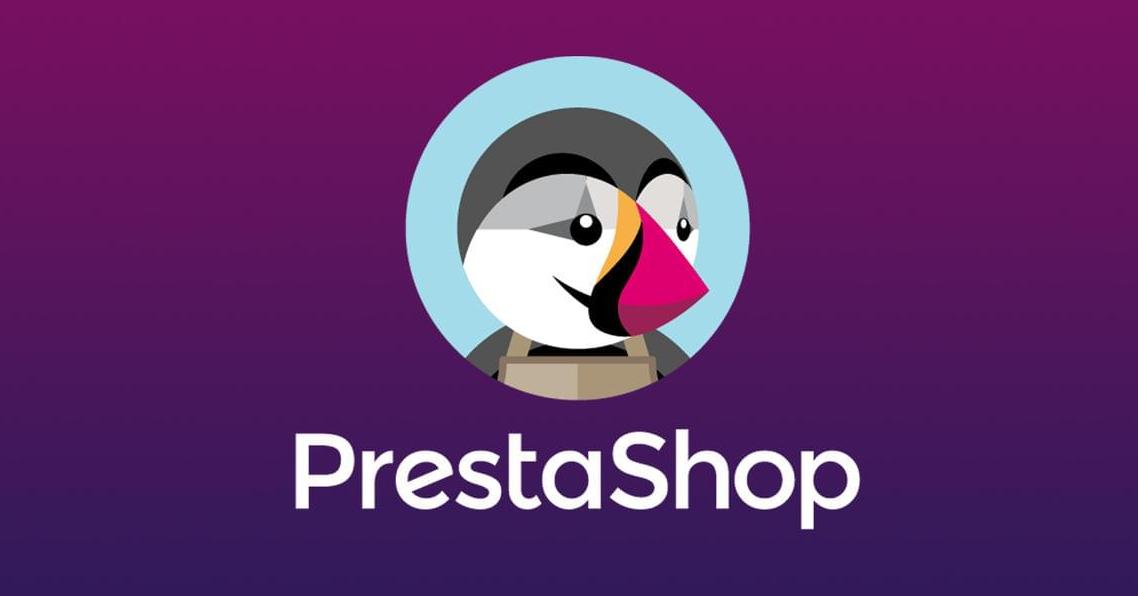 PrestaShop is a feature-rich, open-source e-commerce platform that was launched in 2007. The platform has grown to be among the most prominent e-commerce solutions for online merchants. This platform provides you with useful administrative functions, some design options, and an extremely user-friendly layout. Similar to WooCommerce, PrestaShop is free to download and install. And it can also be substantially scaled and used to generate a wide range of products.
Pros and Cons of WooCommerce vs PrestaShop
WooCommerce Pros and Cons
| Pros | Cons |
| --- | --- |
| Straightforward store management and setup | To function, a WordPress installation is mandatory. |
| Ideal for current WordPress users | Support is entirely up to you. |
| Most things you'll need will be covered by the setup wizards. | You will need to install many different extensions for the majority of features. |
| Both free and premium themes and plugins are easily accessible in WooCommerce. |   |
| Lots of plugins are available to make WooCommerce extremely secure. |   |
| Scalable infinitely |   |
| Multiple payment gateways are supported. |   |
PrestaShop Pros and Cons
| Pros | Cons |
| --- | --- |
| Open source and free | You must create your own database by yourself. |
| Setup is quite simple. | Severe vulnerabilities |
| Modern store dashboard | Some documentation needs to be improved. |
| Intuitive elements facilitate the process of adding and managing products. |   |
| There are numerous payment gateways supported. |   |
| PCI compliant |   |
WooCommerce vs PrestaShop: Detailed Comparison
1. Popularity
WooCommerce
As of the time of writing, approximately 4.4 million active websites were using WooCommerce, giving WooCommerce the biggest market share of 28.14 percent.
Furthermore, WooCommerce is most popular in countries such as the United States, the United Kingdom, and India. PrestaShop Meanwhile, PrestaShop has around 330,000 active websites, which is substantially less than WooCommerce. PrestaShop, therefore, only has a 3.2 percent market share in the e-commerce sector.
PrestaShop's users are primarily from the United States, France, Spain, Italy, and Poland.
2. Features
WooCommerce
WooCommercce is a fundamental platform. It is built as a modular platform, so the plugin contains fundamental functionalities, and you will then have to build up your shop by adding the extensions you need.
WordPress offers certain content and product management tools, whereas WooCommerce adds e-commerce-specific features. Therefore, WordPress and WooCommerce work alongside smoothly and eventually become dominant in the e-commerce marketplace.
This is a highly effective method of building a store, although it does need a bit of extra setup. However, installation is simple, and the WooCommerce Marketplace contains thousands of free and paid plugins.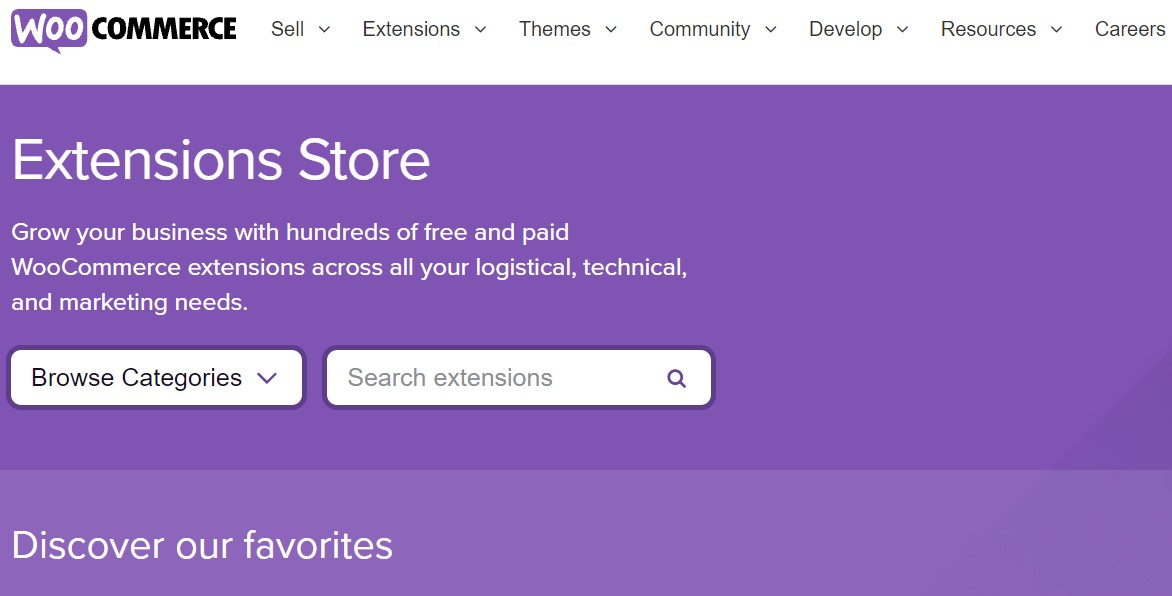 PrestaShop
PrestaShop has several built-in fundamental functionalities, with modules to add more if needed. Basic shop operations, such as adding items, shipping, accepting payments, and monitoring stock, are handled within the platform. In addition, there is a simplified reporting feature.
Everything else is covered by a module from the PrestaShop module store. The store has hundreds of modules that cover every possible store function.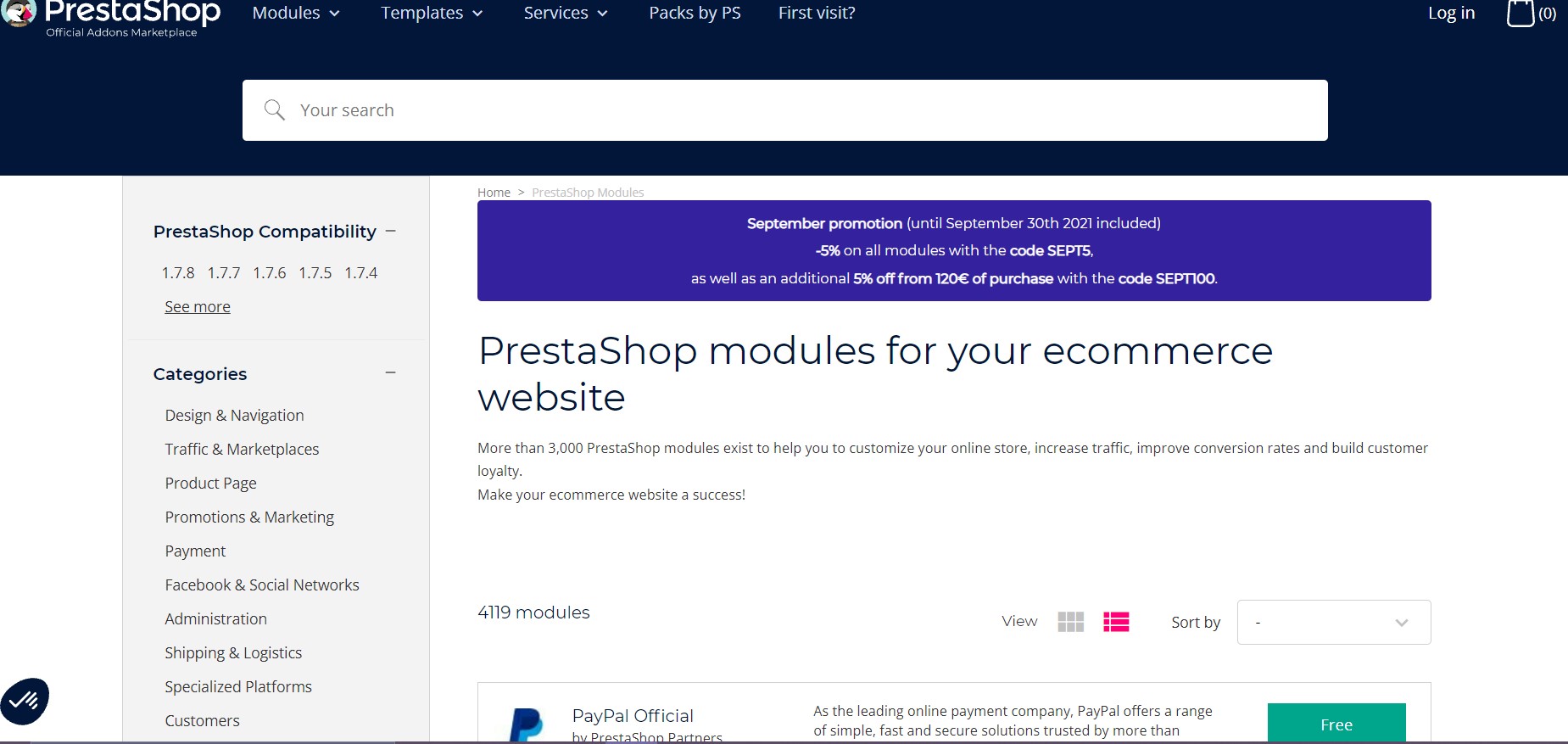 Many modules are free, while some are paid. Prices start at approximately $49 and go all the way up to $200.
The PrestaShop module store also sells themes, some of which are free while others cost between $40 and $120.
3. Pricing
WooCommerce
As we already mentioned, WooCommerce is itself a free WordPress plugin, but it doesn't mean that you do not have to pay for anything to run your online store. There are a number of things you have to consider when building a WooCommerce store. First of all, you have to think about hosting costs. This can be around $4 per month, but it totally depends on your website size and monthly traffic. Secondly, it's the cost of a domain name, which is about $10 per year. Apart from these two essential costs, you also have to consider purchasing extensions for different purposes such as payment gateways, SEO. The expense for this is hard to measure, but it can vary from $49 to $79. However, remember that when using WooCommerce, you can get access to lots of free plugins, so check out those free plugins and you'll save a lot of money. Free plugins are also an advantage you'll get if using WooCommerce since PrestaShop always asks you to pay for plugins and extensions.
PrestaShop
Since PrestaShop is an open-source platform, it is free to download and install PrestaShop.
Every store will have a continuous expenditure that a variety of factors will determine. Because it is quite difficult to install PrestaShop, its modules might conflict, resulting in a glitchy store. Therefore, if you lack the essential technical skills, you will need to hire web developers to resolve issues.
PrestaShop is known for its expensive add-ons and extensions, so it can cost you a lot of money running a smooth online store. So, here is the rundown of the primary costs you'll need to cover:
Web hosting costs between $10 and $100 each month, depending on the size of your shop and the amount of bandwidth necessary.
A decent template will cost between $150 and $300.
Add-ons and modules depend on your needs, however, they are quite pricey.
Hiring a web designer/developer if you don't have any coding knowledge.

4. Ease of Use

WooCommerce

In terms of setup, you can install WooCommerce manually, however, many web providers will install it for you as part of a managed hosting service. In any case, you'll need a fully functional WordPress instance before you can install WooCommerce.
After you've installed WordPress, navigate to Plugins and Add New, search for WooCommerce, then install and activate the WooCommerce plugin.
Once activated, you can get started with the setup wizard from the left menu. This setup wizard will help you complete the configuration process for your store easily. When you're done with the setup wizard, your store will have basic foundations to function, and from that, you might consider installing different themes and extensions and adding products to run your store.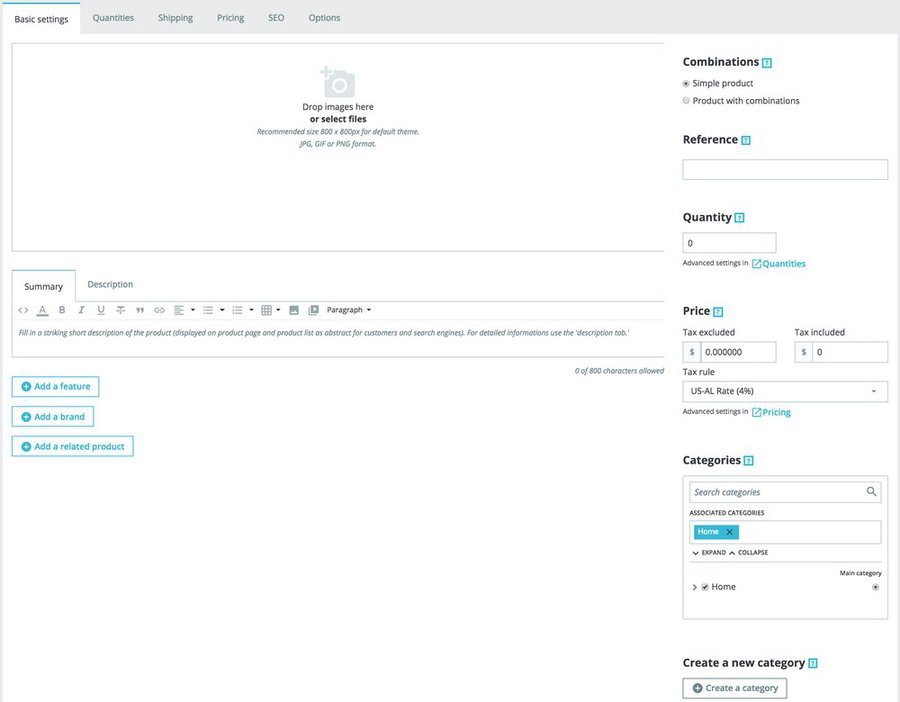 To add products, just choose Products from the left menu and then Add New. Then, go down the page, name the product, add a description, pictures, and a product category, and work your way down the Product Data box.
You click Save Draft or Preview and then Publish when you're finished.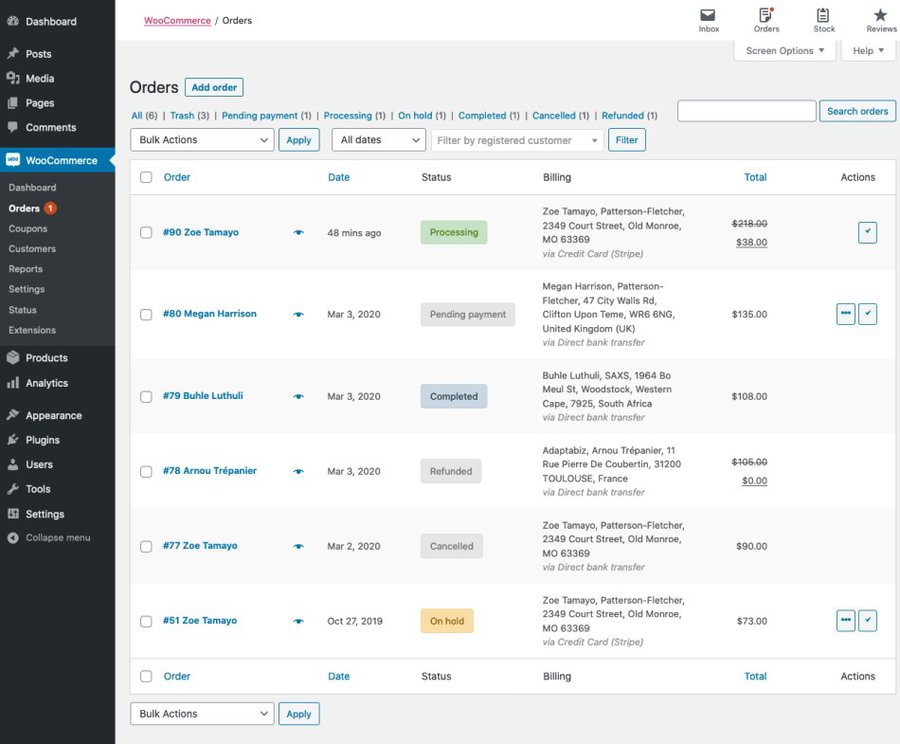 WooCommerce provides an accessible user dashboard for managing the store, however, it does not look as beautiful as PrestaShop. It includes a single user interface with a center pane that provides a fast overview of orders and what's going on. It also features a left menu that covers all aspects of operating the store, such as orders, shipping, and so on.
PrestaShop
In terms of setup, you must install PrestaShop on your web server in order for it to function. It is necessary to be familiar with FTP, but it is quite simple. To establish a MySQL database for your store, you must utilize your cPanel. Then, to begin setup, navigate to the PrestaShop setup URL included with the download. Then just follow the setup tutorial to connect your store to your MySQL database. Following that, you may remove the installation folder and begin customizing your shop.
It is simple to add and manage products in PrestaShop. The Catalog, which is accessible from the main dashboard's left menu, handles all of your merchandise. The Catalog is the only place where you can control all of your items. To add a new product to your PrestaShop store, you just need to go to Catalog > Products > Add New in the top right corner. After that, you can add images, give names to products, add features, SKUs, price, tax, etc. All other aspects, including the module store, reports, customer support tools, and every part of your business, are accessible via the menu on the left.
5. Support
WooCommerce
When problems emerge, WooCommerce does not provide direct assistance to users. In reality, businesses cannot resolve their difficulties via live chat or phone; instead, they can seek assistance from a huge community whose members are eager to assist. Aside from that, various resources, such as FAQs, tutorials, and documentation, are accessible to guide users and assist them in dealing with issues.
Another option for store owners to get assistance is to submit a support ticket on the WooCommerce website. Although the WooCommerce support staff claims to answer inquiries within 24 hours, the real duration will depend on the intricacy of your issues.
PrestaShop
On the other hand, PrestaShop provides two primary support services: PrestaShop Online Assistance and PrestaShop Technical Assistance.
The first choice offers a wealth of free materials for consumers to peruse, including guides, tutorials, FAQs, and training courses (for merchants and developers). If you can't find a solution in these resources, go to the PrestaShop forum and talk to the forum users (the community has over 1.2 million members).
PrestaShop Technical Assistance is the second choice. In comparison to other platforms, this is a unique PrestaShop offering. With the service, online retailers will speak with a PrestaShop specialist over the phone to fix their problem in 15 minutes. The price, however, is relatively high. Depending on the amount of assistance, it ranges from $249 to $1399.
6. Themes
WooCommerce
Because WooCommerce is a WordPress plugin, the number of out-of-the-box themes for it is very limited, approximately 430. In addition, there are over 6000 WordPress themes available, and virtually all of them can be customized for WooCommerce.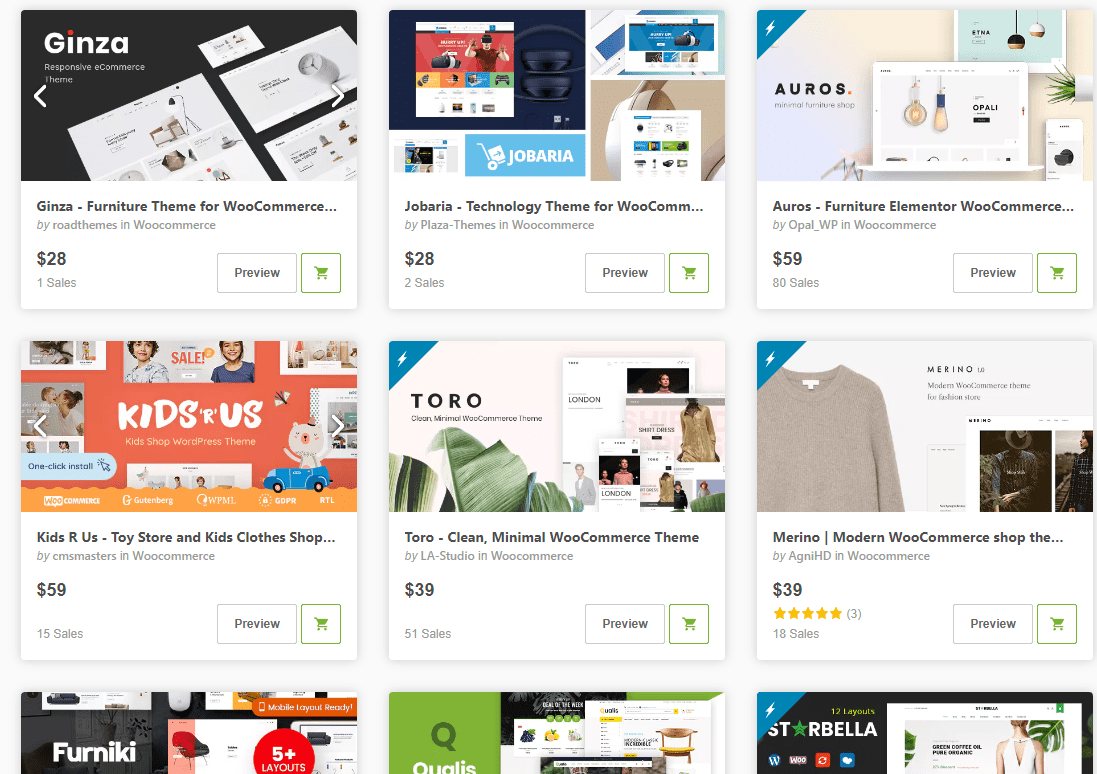 The WooCommerce plugin can be edited from within the theme, overriding the plugin templates. You may even develop your own unique design if you have any technical skills.
When it comes to mobile-friendliness, nearly every WordPress theme is now mobile responsive.
PrestaShop
1300 free and paid themes are available on the official PrestaShop extensions website, and over 390 on ThemeForest and over a thousand on Template Monster. The options are rather diverse, and any business with any degree of the budget will be able to discover an appropriate theme.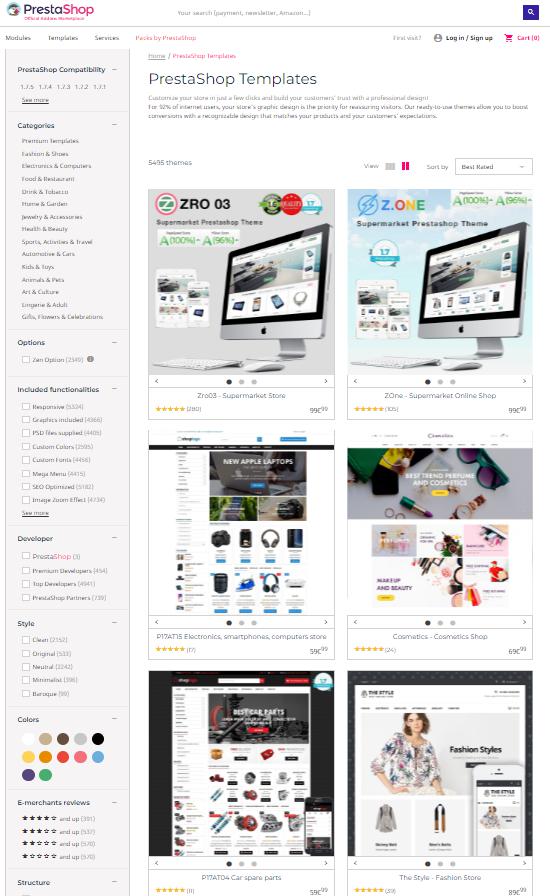 Editing a current theme or creating your own will need a certain degree of technical expertise, specifically HTML and CSS, but this is not an unattainable process.
Another important component of the design is mobile-friendliness, and among the themes available in the official PrestaShop marketplace or on the other websites listed above, there are several that are mobile-responsive or purely mobile. However, keep in mind that the mobile-only themes are not desktop-responsive.
7. Plugins and Extensions
WooCommerce
Because WooCommerce is a plugin, you can choose plugins from WordPress's repository, with over 55,000 extensions, including a large variety of free and premium solutions. WordPress has every plugin you'll ever need for your WooCommerce store.
WooCommerce allows you to integrate many extensions in your store, ranging from analytics to order fulfillment, payment processing, accounting, and many more.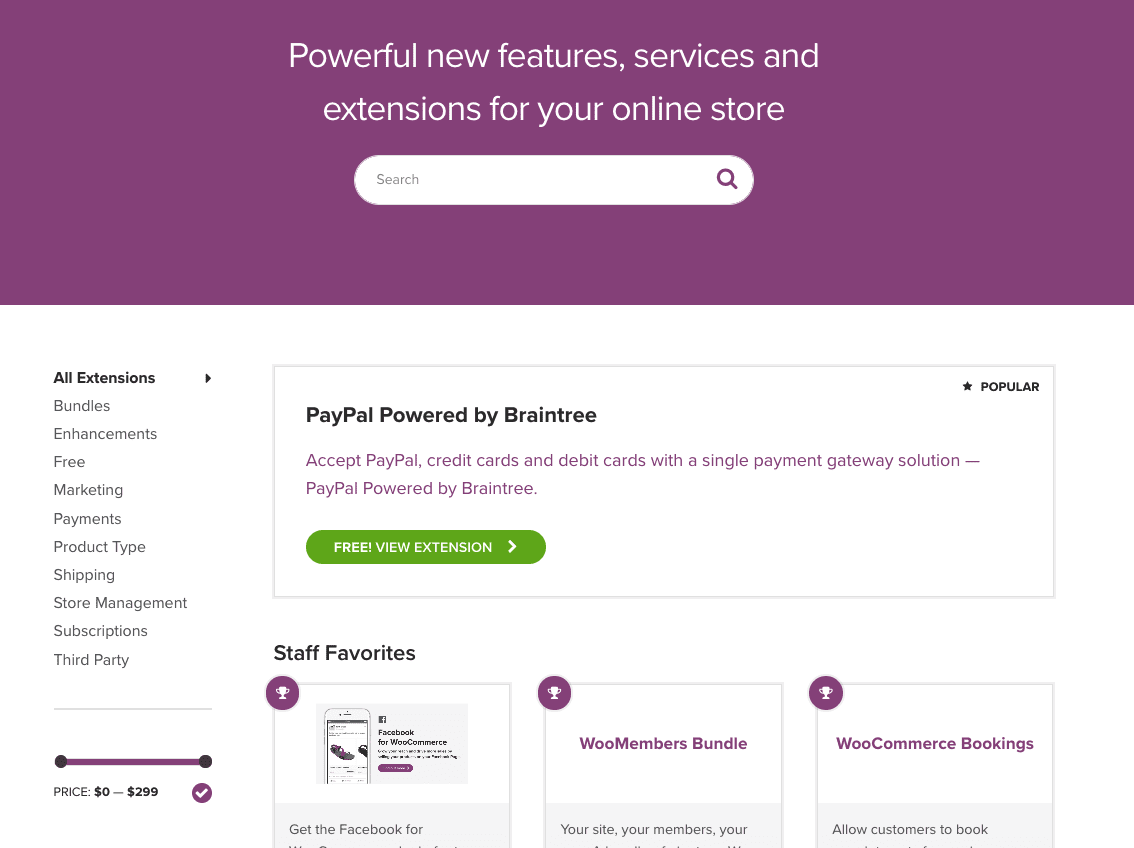 Plugins and extensions from third-party vendors are also available in WooCommerce. Some prominent plugins are PayPal, 2Checkout, and Amazon (payment gateways), Xero and FreshBooks (accounting), and FedEx and UPS (shipping).
PrestaShop
There are a good number of plugins that would meet your needs in PrestaShop via the PrestaShop add-ons marketplace. Here you can find all sorts of extensions helping you with security, advertising, SEO, shipping, accounting, etc. The price of those add-ons would be ranging from $20 to $50 on average. But often, they are charged at far higher costs. For example, if you want to manage your inventory from the PrestaShop dashboard and also sell products on Amazon, you must spend roughly $215 to purchase plugins.
In addition to the high price, third-party add-ons also have a downside: the potential conflicts occurring in PrestaShop when operating them altogether. These plugins were, as you know, created by various developers and thus are not guaranteed to function well together. This leads to your online store reducing efficiency and you might eventually need to ask for help from the PrestaShop support team. Unfortunately, most of the time, PrestaShop would not be willing to assist you with this issue because the plugins were not created by them, but by third-party developers.
8. SEO
WooCommerce
WooCommerce incorporates all of WordPress's SEO features, particularly those related to blogging. Users, in particular, can quickly start a blog straight from the WordPress dashboard.
WooCommerce provides all of the necessary options for optimizing your site's SEO, such as creating SEO-friendly product titles, adding Product SEO descriptions, URL redirection, building the sitemap, canonical tags, and Google analytics.
PrestaShop
Although PrestaShop provides the same SEO capabilities as WooCommerce, such as page titles, meta descriptions, customized URLs, 301 redirects, sitemaps, and canonical tags, PrestaShop customers must install a blog module, which is much more expensive and should be carefully evaluated.
9. Security
WooCommerce
WooCommerce is open source, so it requires you to keep it safe. This includes the use of WordPress security plugins, best practices for WordPress security, and SSL encryption.
The payment gateway will also protect WooCommerce payments, and as long as you utilize SSL, consumers should be quite safe.
WooCommerce allows businesses to set up two-factor authentication by installing plugins like Duo or Two Factors. This functionality will boost consumers' data security. When merchants wish to access the admin site, they must first authenticate the user's identity by sending a code through SMS, email, or phone call.
WooCommerce is also less vulnerable than PrestaShop, which is a big advantage.
PrestaShop
Just like WooCommerce, PrestaShop is open source so it is primarily up to you to safeguard it. PCI compliance is already built into the main platform. You will need to build your own SSL encryption, although decent web hosting will do it for you.
Payments should be protected via the appropriate payment gateway. However, PrestaShop does have a number of open vulnerabilities that you should be aware of.
Because it is a European firm, it advises users to be GDPR (General Data Protection Regulation) compliant for data security concerns. This can be achieved by installing a "Official GDPR compliance" module produced by the PrestaShop team in the Addons marketplace. This module will cost you €99.99 over the course of three months and will support various languages of the shop from version 1.5 to version 1.7. Your clients' personal information will be safeguarded thanks to this compliance.
10. Payment Gateways
WooCommerce
WooCommerce is compatible with over 100 payment gateways. It includes a few built in, primarily Stripe and PayPal, and others can be added via extensions.
Notable payment gateways that WooCommerce supports are PayPal, Amazon Payment, Stripe, Braintree, WooCommerce Payments, Authorize.net, Apple Pay, Square.
Except for PrestaShop Checkout, neither PrestaShop nor WooCommerce charges commissions or transaction fees. Individual payment gateways, on the other hand, will.
The average is the same 2.9 percent + $0.30 per transaction as PrestaShop Checkout, but remember to check each gateway before joining up.
PrestaShop
The PrestaShop module shop contains more than 250 payment gateways. It also has its own payment gateway, PrestaShop Checkout, which accepts credit cards, PayPal, and other payment methods.
PrestaShop Checkout is free, but there is a normal fee of 2.9 percent + $0.30 for every transaction.
11. Scalability
WooCommerce
WooCommerce can be scaled indefinitely. It is dependent on the same frameworks as PrestaShop. It is a database-driven store platform that relies on adequate resources to manage everything.
You can expand your store as much as you like as long as your web provider allows it.
PrestaShop
PrestaShop is also endlessly scalable, as long as your web host allows it. Because it is a database-driven platform, you can scale up as much as you want as long as you have the resources to run the database and deal with clients.
12. Inventory Management
WooCommerce
WooCommerce does not have inventory management features. Stock management is only possible by installing a specialist inventory management plugin. TradeGecko and StitchLabs are two prominent options.
PrestaShop
Meanwhile, PrestaShop has extensive inventory management tools built in to handle the selling and transportation of products between warehouses. Items can be monitored using UPC or EAN13 barcode symbology.
You can also export inventory reports in CSV format from the admin panel to your PC.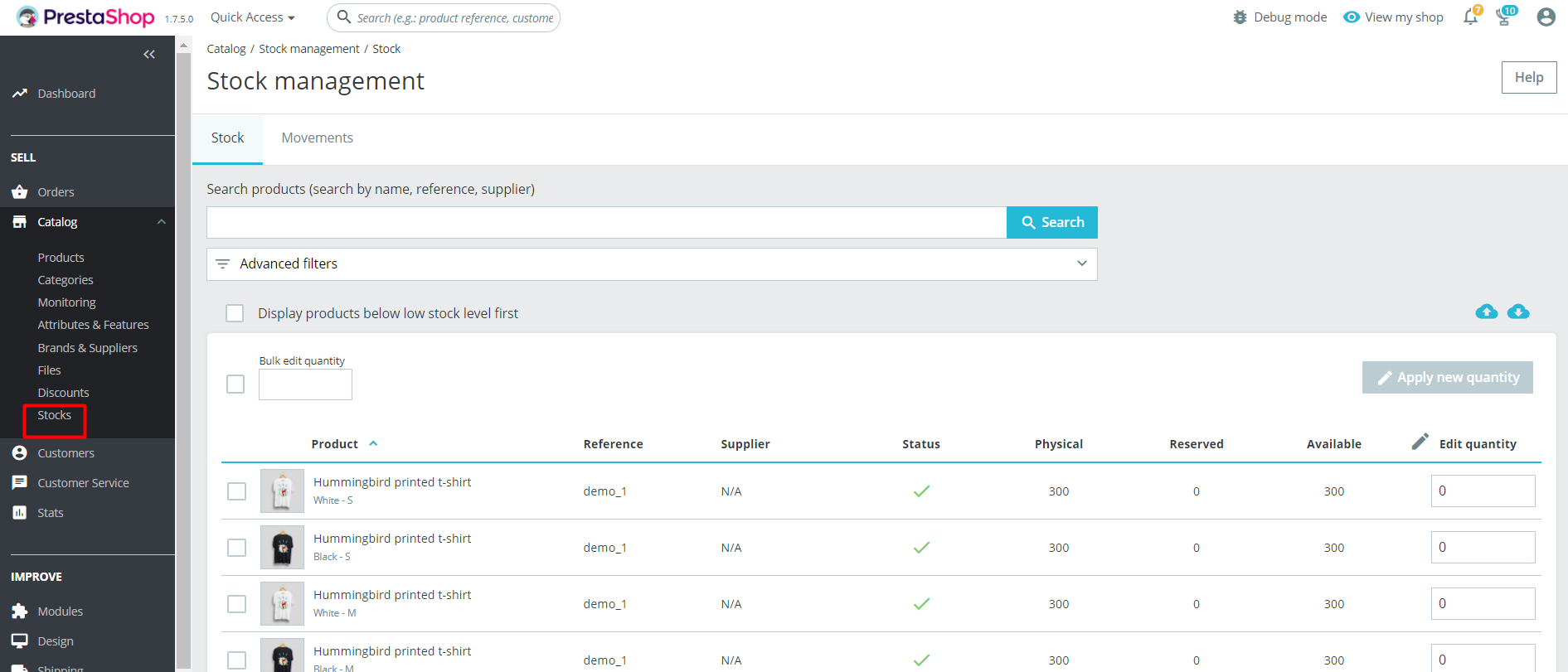 Final Verdict
When comparing WooCommerce and PrestaShopThere are tons of things that you need to consider. We hope that this comprehensive comparison of these two platforms has been of big help to you.
To be honest, you will not be disappointed if you choose PrestaShop or WooCommerce. Both are perfectly viable platforms that make building and running an online business a breeze. However, we believe WooCommerce is the winner, with substantial benefits over PrestaShop.
WooCommerce clearly outperforms PrestaShop in terms of design, price, plugins, and customer support, etc. WooCommerce offers a better design and themes at a lower cost. PrestaShop themes are not only expensive, and you'll also need to hire someone to install them correctly.
The basic cost for both is comparable, but when additional factors and long-term expenses are considered, WooCommerce will be a significantly cheaper alternative.
New Posts
Subscribe
Stay in the know
Get special offers on the latest news from AVADA.
40k
subscribers has been joined!
Earn $10 in reward now!