WooCommerce vs OpenCart: Who is the Winner?
Last updated: December 01, 2023
Businesses have always sought to guarantee that their company solution is suitable as the e-commerce industry evolves. Finding the right shopping cart for your business can be a challenge with so many eCommerce platforms to select.
OpenCart and WooCommerce are two shopping carts that have been the subject of intense disputes for quite some time. Both are well-designed to provide a good shopping cart experience, and both have their own advantages and disadvantages.
With this in mind, today, we will give you a comprehensive comparison of WooCommerce vs OpenCart.
Without further ado, let's get started!
WooCommerce vs OpenCart: Overview
WooCommerce Overview

WooCommerce was founded by WooThemes in 2011 with the aim of rapidly and easily converting an existing WordPress website into an online store.
Despite the fact that WooCommerce was released a few years after OpenCart, it is far ahead in terms of popularity and user base. One of the major reasons for this is its open-source characteristics, enabling everyone to create their plugins and themes and install them on their WooCommerce store without restriction.
In addition, WooCommerce is based on WordPress, so business owners who understand how to use WordPress are already familiar with WooCommerce and can easily get their store up and running.
OpenCart Overview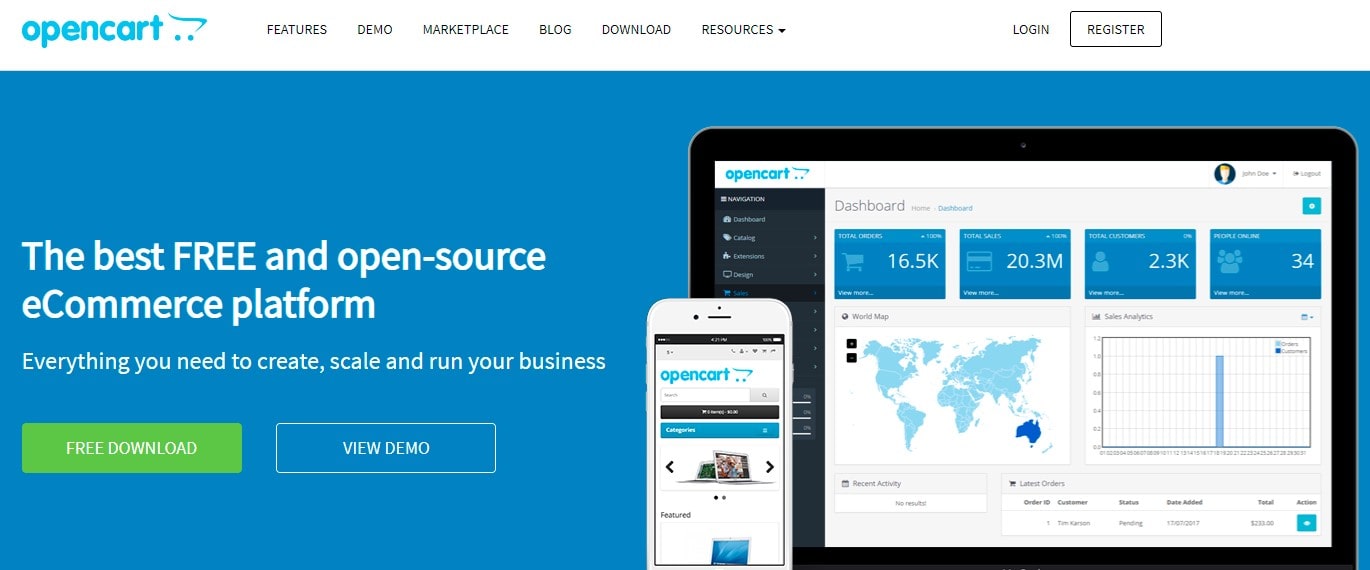 OpenCart was created to make running a store as straightforward as possible for everyone, regardless of the size of their business. OpenCart, like WooCommerce, is an open-source platform with robust store administration, a plethora of extensions and themes, and a support system that will walk you through every step of the process.
On the other hand, OpenCart hasn't had the same e-commerce success as WooCommerce. This can be explained by its lack of plugins and themes, limiting the store's flexibility and functionality.
Nevertheless, OpenCart is quite popular among new store owners who want a rapid free setup since it has enough out-of-the-box capabilities to manage a modest store with a few hundred goods.
WooCommerce vs OpenCart: Pros and Cons
WooCommerce Pros and Cons
| Pros | Cons |
| --- | --- |
| An open-source WordPress e-commerce plugin | A WordPress website is required. |
| WordPress performance and functionality have been improved | There is a steep learning curve. |
| Appropriate for enterprises of all sizes. | Is vulnerable to the same flaws as WordPress is. |
| You can use as many plugins and extensions as you like. |   |
| Easily integrates with third-party plugins. |   |
| More than 100 payment gateways are supported. |   |
| SEO-friendly. |   |
| Simple to install and configure. |   |
| There are a variety of themes and designs to choose from. |   |
| It's completely free. |   |
OpenCart Pros and Cons
| Pros | Cons |
| --- | --- |
| Open-source e-commerce platform. | Fewer plugins and extensions. |
| It's completely free. | Is not up to par in terms of performance. |
| Doesn't need to use a website. | Customization is rigid. |
| Easy to setup. | Setup necessitates the manual establishment of a database. |
| A user-friendly interface. | The learning curve is steeper. |
| Suitable for non-developers and novices. |   |
| Outstanding customer service. |   |
| Suitable for small to medium-sized businesses. |   |
WooCommerce vs OpenCart: Framework
WooCommerce Framework
WooCommerce is a WordPress plugin that allows you to sell your products online. It effortlessly connects with your current WordPress site without requiring any further work. To get started, you can check out its guided installation.
OpenCart Framework
OpenCart is a self-contained solution. It's free and open-source, and it's designed to operate with PHP and MySQL. You may either utilize a one-click installer (such as Softaculous or install it manually for greater control.
WooCommerce vs OpenCart: Pricing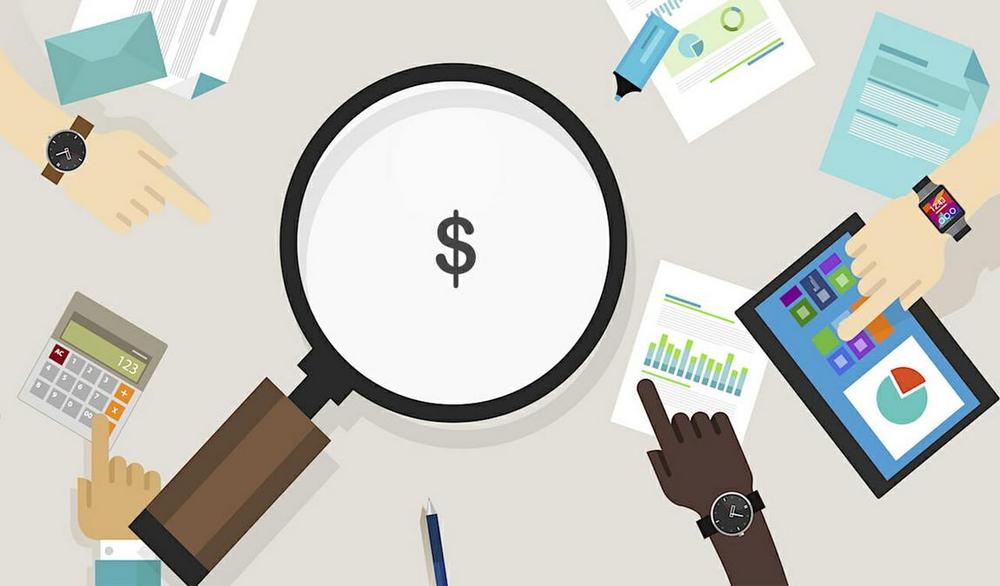 WooCommerce Pricing
WooCommerce is a free WordPress plugin installed and used on any website. Because you'll require a website to run a WooComerce store, there are some additional fees you need to pay. First of all, you must first acquire a domain name for your shop, which will cost around $10 per year. Second, you'll have to pay a monthly fee for web hosting, which will range from $5 to $100 per month, depending on the type of hosting you select. Next, you'll want an SSL certificate.
There are also fees of paying premium themes if you desire to modify the design of your store, along with the fundamental expenditures of maintaining a website. Another expense is plugins and extensions to make your store more functional (SEO, payment gateways, etc).
OpenCart Pricing
Similar to WooCommerce, OpenCart is an open-source platform, therefore, it is technically free. However, OpenCart only comes with basic capabilities out of the box, so you'll have to pay for extra plugins and add-ons to expand your store's ability. Other fees needed to pay to run an OpenCart store include domain names, site hosting, and SSL certificates.
If you don't know how to set up and design your store, you'll also need to recruit a skilled designer or developer, which may be rather costly.
WooCommerce vs OpenCart: Features
| WooCommerce | OpenCart |
| --- | --- |
| Modern and organized interface | Unlimited Product, Categories, and Manufacturers |
| WordPress Content Integration | Support Multi Currency and Multi-Language |
| Many different payment gateways | Product Reviews and Ratings |
| Complete control over the checkout process | Open Source |
| Set Default Currency | Free Documentation |
| Support Geo-location | Template |
| Automatic Taxes Calculation | Automatic Image Resize |
| Shopping Cart Behavior | More than 20 Payment Gateways |
| Reduce Page Loading time | Over 8 Shipping Methods |
| Easily Add/Manage Products |   |
| Product Types and Variables |   |
| Inventory Management |   |
| Shipping Calculations |   |
| Cart Calculation |   |
| Various Shipping Options |   |
| Flexible Shipping Destinations |   |
| Restrict Sales |   |
| Multiple Shipping Methods |   |
| Custom Tax Calculations |   |
| Taxes based on Geography |   |
| Select Customer Address |   |
| Search Engine Optimization |   |
| Simplified Coupon System |   |
| Product Reviews and Ratings |   |
| Owner Verification |   |
| Reporting |   |
WooCommerce vs OpenCart: Ease of Installation
WooCommerce: Ease of Installation
With WooCommerce, you don't need a license key or a monthly recurring fee because WooCommerce is a free and open-source platform of WordPress. You'll be able to sell anything after installation and setup, including physical items, digital products, services, subscriptions, reservations, and so on.
To install WooCommerce, you need to have a WordPress account, and then you need to log into your WordPress Admin Panel. After that, click on Plugins > Add New. In the search box, you type WooCommerce and click Search Plugins.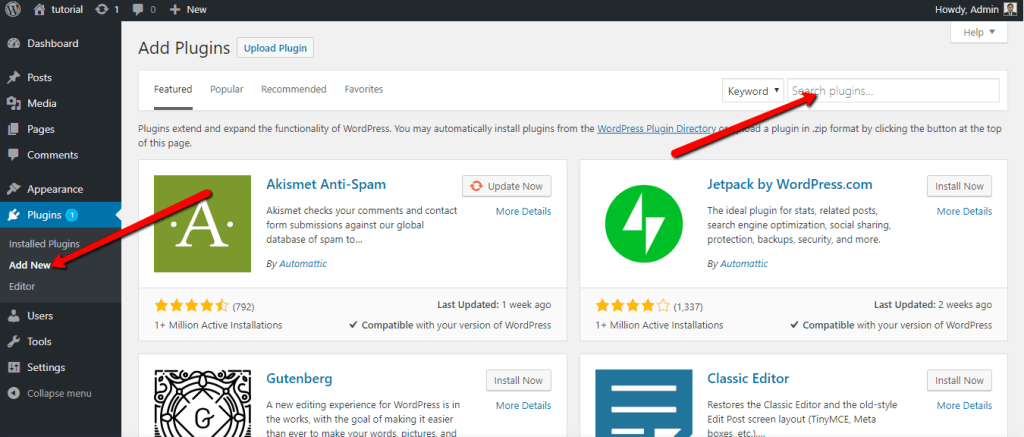 When you see the plugin, just click Install Now to begin the installation process. After activating the plugin, you'll be directed to the setup wizard, which will ask you a few questions about your store's information. Simply complete all of the fields and you will be sent to your online store.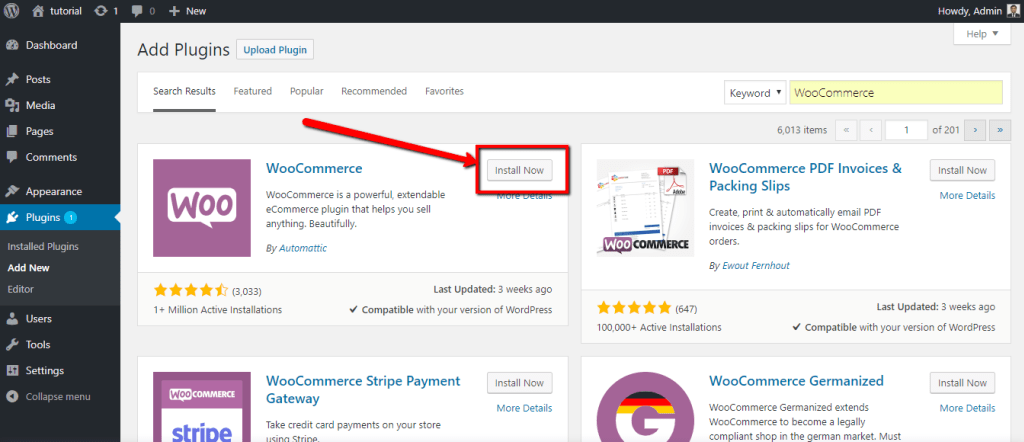 OpenCart: Ease of Installation
OpenCart is a stand-alone e-commerce platform that could be installed in two ways. The first simple setup option is to use a hosting provider's one-click installer, which costs around $3-$15. The second method is to manually set up an OpenCart store.
Unfortunately, the manual process is fairly complicated because you will need some basic technical abilities, such as utilizing FTP to transfer the OpenCart package to your server and then using phpMyAdmin to create a database. For those without technical skills, this might be a big challenge.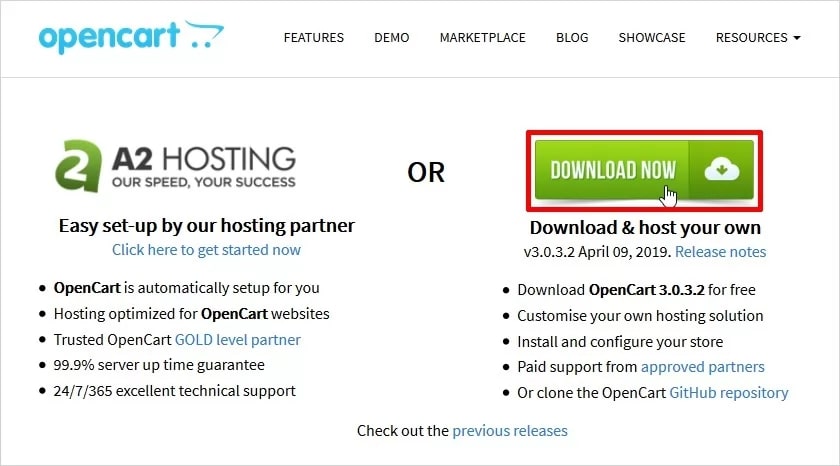 WooCommerce vs OpenCart: Integrations
WooCommerce Integrations

WooCommerce is built upon WordPress's solid foundation, so it benefits from WordPress's great functionality and efficiency. Integration with plugins and extensions is effortless and straightforward in WooCommerce. It's also mobile-friendly and compatible with a variety of devices. You may scale up your online business as much as you like once you've got familiar with WooCommerce extensions.
The WooCommerce extensions store has more than 400 extensions (prices range from free to $300) that have been created by the WooCommerce team or a third party. They're designed to increase your store's functionality as well as its design. Extensions are for numerous fields, including store administration, marketing, payment processing, shipping, subscriptions, etc.
Furthermore, keep in mind that WooCommerce can seamlessly integrate with all WP plugins (56,542 plugins available).
OpenCart Integrations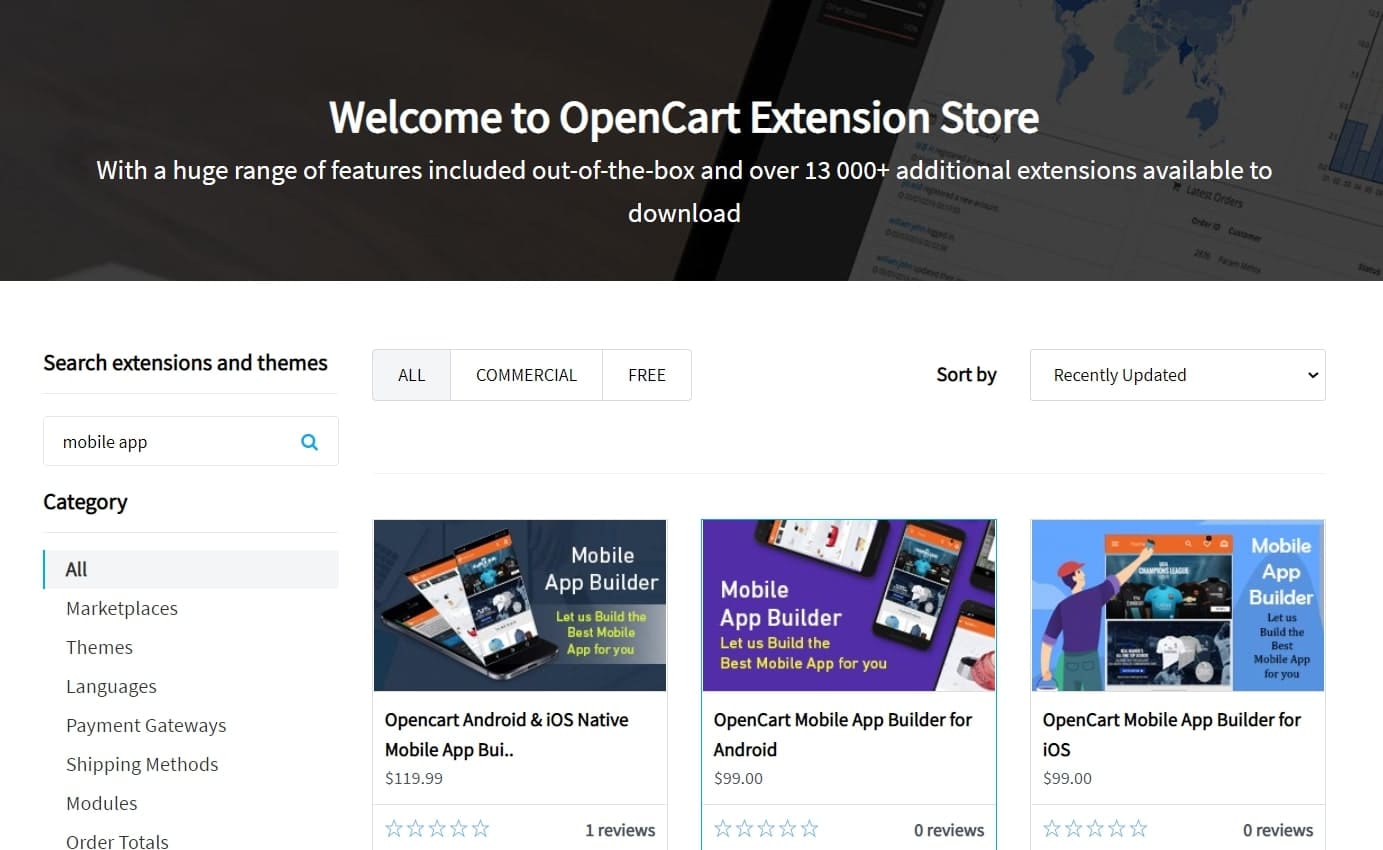 OpenCart is a standalone e-commerce platform that integrates easily with plugins and extensions. It is not, however, mobile-friendly and does not operate on iPhones or iPads.
In OpenCart, there is a large marketplace where you can discover all of the extra features, plugins, modules, and themes you require. Over 13,000 extensions (ranging in price from free to $100) are available to help you personalize your OpenCart store. Admin tools, social media integrations, email integrations, themes, languages, payment options, delivery methods, reports are just a few examples.
WooCommerce vs OpenCart: Themes and Design
WooCommerce Themes and Design
WooCommerce offers more than 2,100 free themes and over 30,000 premium themes. Whether you're looking for magazine themes, SEO-friendly themes, e-commerce themes, or business-specific themes, WooCommerce has them all.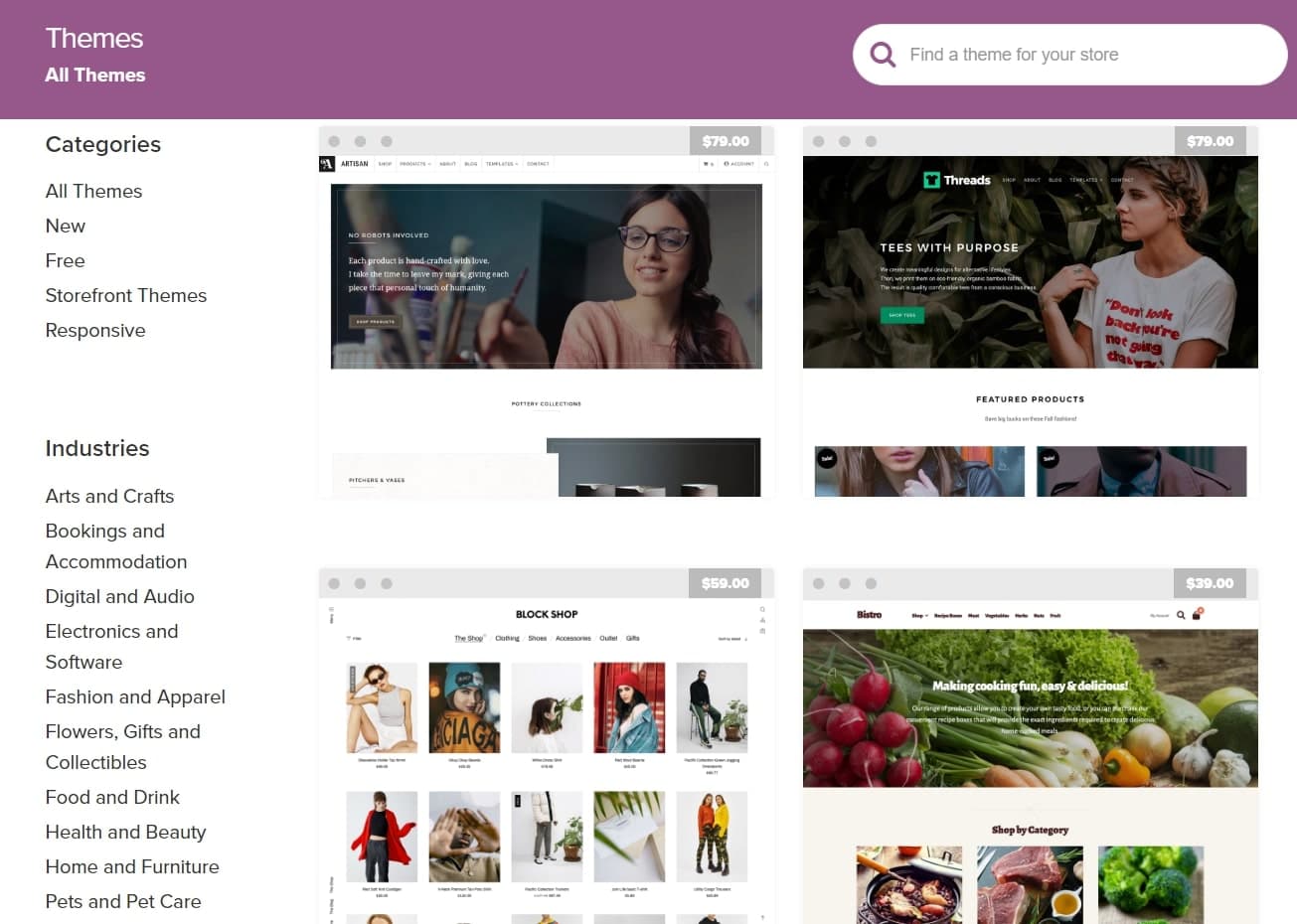 The WooThemes (WooCommerce developers) team understands the importance of design, which is why they have always worked hard to create a platform that works well with the majority of themes available. You may also check out the WooCommerce-optimized themes, which are well-tailored to make your product stand out.
Additionally, Storefront themes are official WooCommerce themes made to the same high standards as WooCommerce, allowing merchants to sell on a store with an e-commerce-oriented appearance. The majority of the themes are charged at $39.
Customizing those themes, on the other hand, might be a hassle. Though the possibilities are almost endless, you may still want assistance when customizing your online store. Page builders like Divi and Brizy can help you with this problem by offering drag-and-drop website building capabilities that allow you to view real-time modifications to your site.
Therefore, no matter how challenging building a WooCommerce store might be, you can still take advantage of numerous tools to make the process go smoothly.
OpenCart Themes and Design
Compared to a large number of WooCommerce themes, OpenCart themes are fairly restricted. There are just 500 free and premium themes available on this marketplace, with prices ranging from $60 to $70.
When it comes to extensive customization, however, working with such themes would either need knowledge of HTML and CSS or a developer to perform the customizations for you.
Unlike WooCommerce, there are no page builders to help with the process, which is a major drawback for novices who wish to make frequent updates to their online businesses.
WooCommerce vs OpenCart: Customization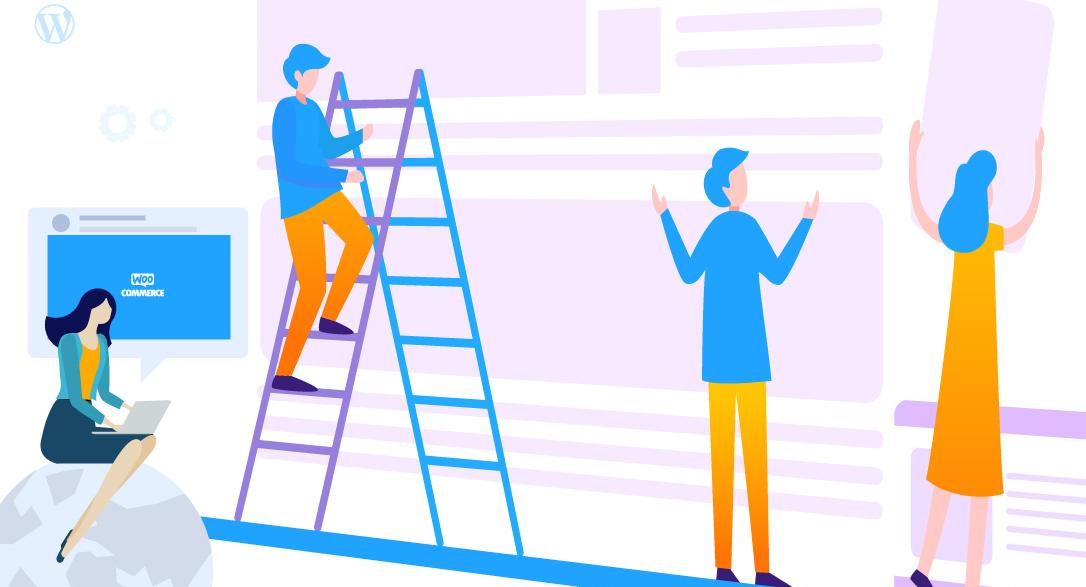 Although both WooCommerce and OpenCart are open-source eCommerce platforms that offer great customization, there are many differences between the two platforms.
WooCommerce Customization
WooCommerce is a highly customizable platform that is also ideal for newcomers. With only a few clicks, you can configure and scale WooCommerce-specific plugins.
Because WooCommerce is a PHP-based WordPress plugin, you'll have direct access to the code through FTP. Those with technology knowledge (or those willing to hire experienced specialists) will have complete control over every aspect of their e-commerce website.
Furthermore, using REST API allows you to add an extra layer of functionality to your website, enabling you to change data formats and incorporate new software. In a nutshell, WooCommerce will enable you to customize anything to meet your own company's needs.
OpenCart Customization
In comparison, OpenCart's customization is a little more restrictive. It is not suitable for beginners, and you may want expert assistance to personalize and expand your online business.
OpenCart is highly customizable if you can make use of the underlying code. You could make holistic modifications to functionality to create a one-of-a-kind e-commerce system aligned with your primary goals. However, you will need some good coding abilities to be able to do so.
For novices, there is a large selection of OpenCart themes to choose from. There are also a number of themes created by the global community of independent developers and designers that have been supporting OpenCart from the beginning. On top of that, you can use extensions to further customize your online business, thanks to a large marketplace with more than 13,000 extensions.
WooCommerce vs OpenCart: SEO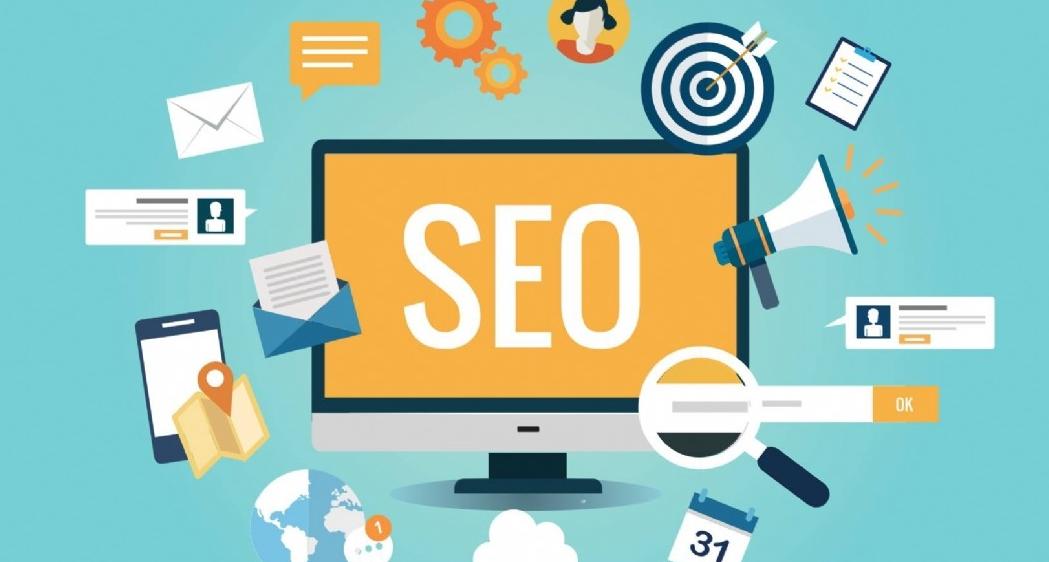 WooCommerce SEO
If you choose WooCommerce as your eCommerce platform, you'll be able to take advantage of WordPress's significant SEO edge over other CMS. WordPress is built on an SEO-friendly PHP code that Google and other search engines especially favor. This means that a WordPress-powered website like your WooCommerce online store will have a leg up on the competition in terms of SEO.
Furthermore, you can install a variety of WooCommerce SEO plugins on your WooCommerce store for additional functionality, such as changing Meta Titles, Meta Descriptions, and Meta Tags, which will help you rank your site higher in search results.
OpenCart SEO
Despite the fact that OpenCart promotes itself as an SEO-friendly platform, its lack of SEO capabilities limits users' ability to make critical SEO changes. While you may be able to edit, change, or update meta titles, keywords, and descriptions, you'll have to fiddle with the code.
Furthermore, 301 redirects and rel canonical might be difficult to implement since they involve PHP coding. This method will be too much of a hassle if you are a beginner or an amateur.
WooCommerce vs OpenCart: Customer Support
WooCommerce Customer Support
Although WooCommerce is free to download and use, direct support is not accessible. However, this does not rule out the possibility of resolving your issues. For example, if you want assistance, you can visit the official WordPress forums. The community is huge, and the people there are eager to help you out.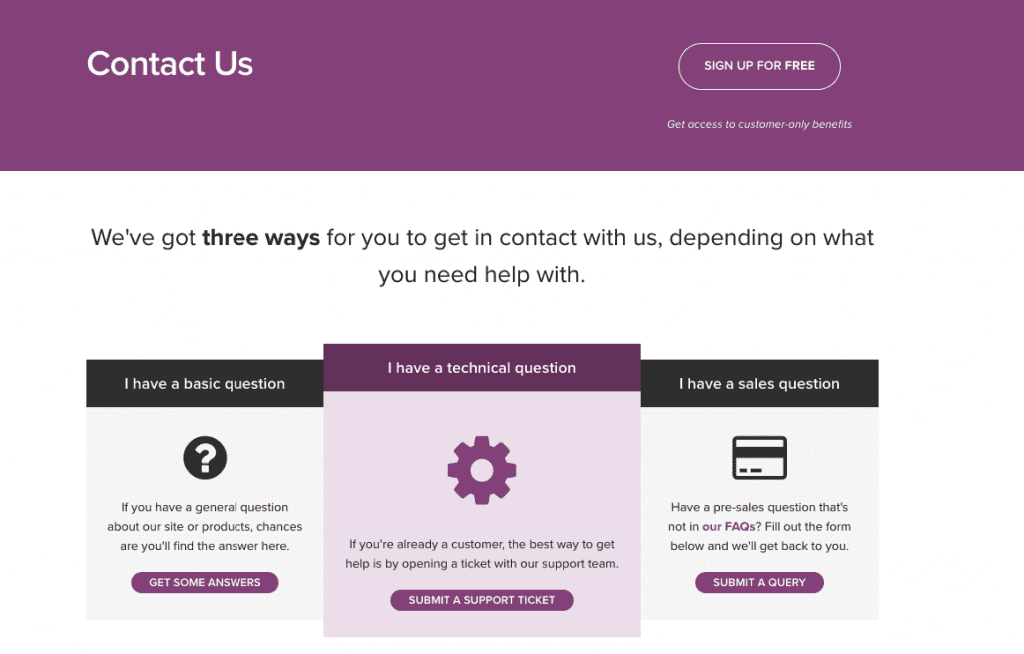 WooCommerce also has a fantastic documentation page and video lessons. You may also obtain help by submitting a support ticket on the WooCommerce website. All inquiries will be answered within 24 hours, however, actual response times can vary depending on the intricacy of your advanced/technical query.
OpenCart Customer Support
OpenCart offers a wealth of documentation, video lessons, a forum, and a blog to help users. You may use the OpenCart forum, which is quite active, to obtain an answer to your issue quickly.
OpenCart just launched two new support plans that you should have a look at. The first choice is one-time assistance, for which price varies and you must first obtain a quote by filling out a form on their website. The second option is to pay $99 per month for a premium assistance package. Premium support can assist you with small difficulties such as installs and bugs, but it is not infinite. Three bug fixes and five installs are included in the monthly price. This does not entail any programming or design work.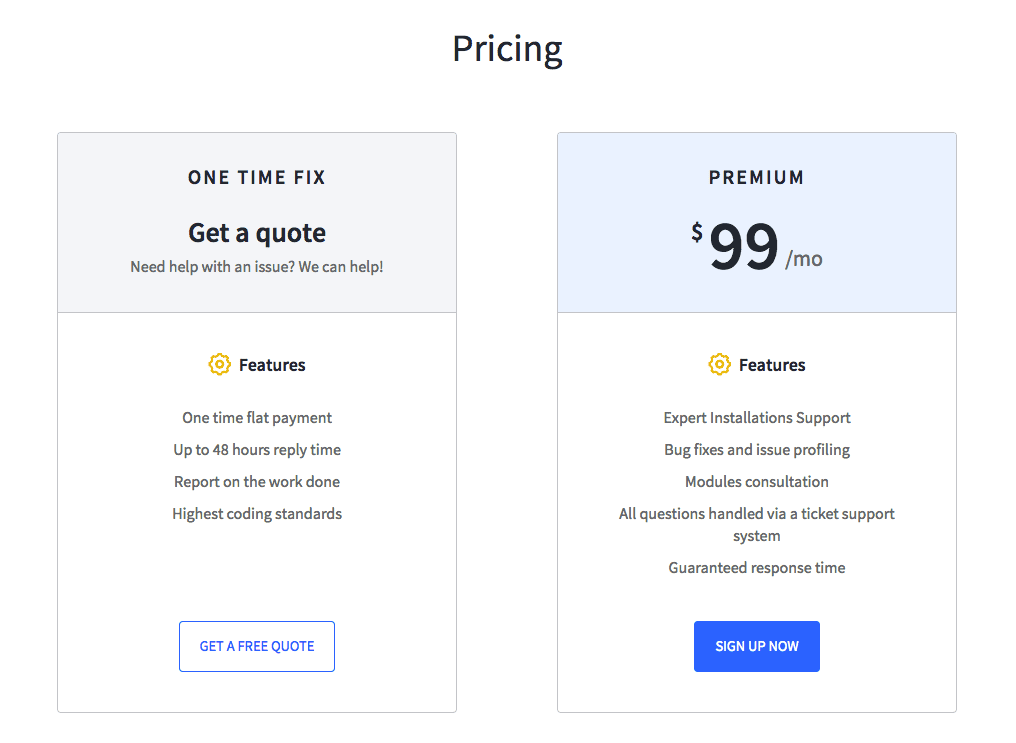 In short, customer service is rather comprehensive if you choose OpenCart. You may get help from the very beginning to the very end of the process of establishing and expanding your store.
WooCommerce vs OpenCart: Scalability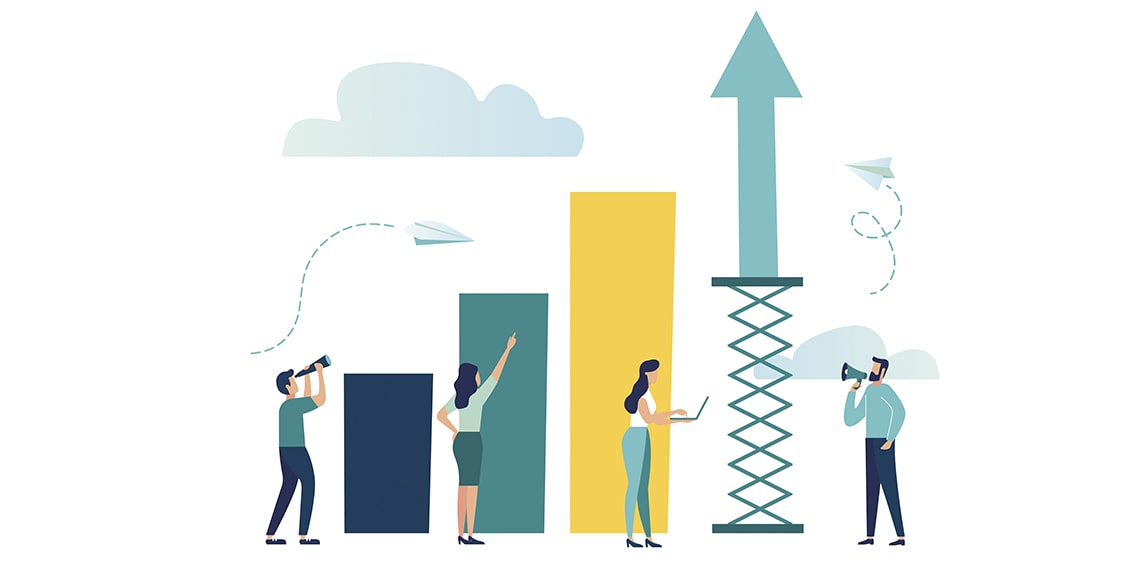 WooCommerce Scalability
Because WooCommerce is a database-driven platform, it is potentially scalable. It lets you add an unlimited number of products, categories, and shop components, depending on your web hosting plan's capacity.
WooCommerce, on the other hand, does not have the capability of running numerous stores from a single dashboard. You can build stores using WordPress Multisite, but you'll need to install WooCommerce on each one separately. This would also necessitate independent management of each store.
OpenCart Scalability
Being a database-driven store platform, OpenCart can also be scalable as long as your hosting plan allows it. You can create as many items and categories as you want.
However, OpenCart has the edge over WooCommerce thanks to the feature of multiple stores management. Multiple OpenCart shops can be managed with a single installation. With only one installation, all the individual stores you've built can be administered from a single dashboard.
WooCommerce vs OpenCart: Security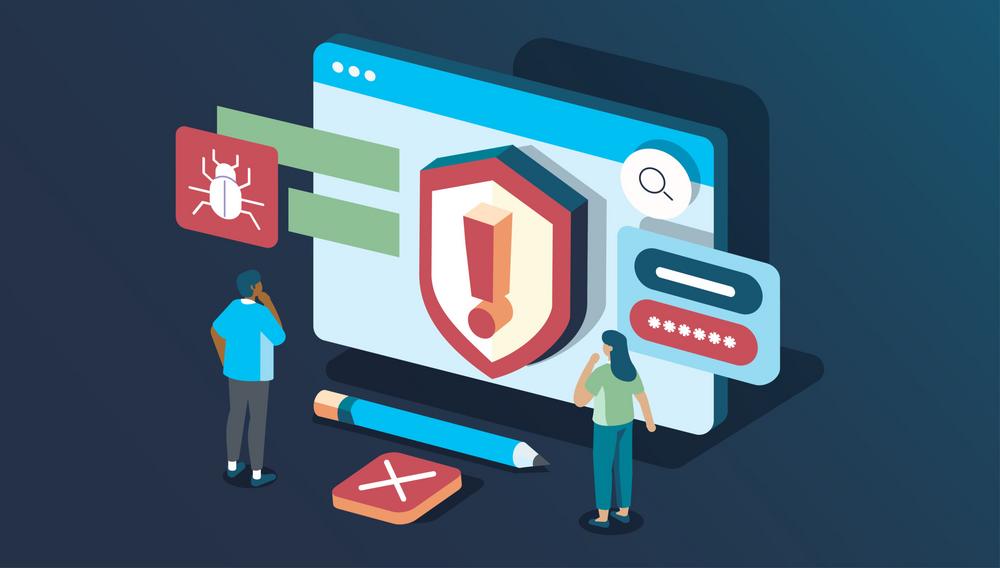 WooCommerce Security
WooCommerce does not have any built-in security features. WordPress is also a popular forum, therefore it attracts a lot of hackers. As a result, WooCommerce incorporates a range of plugins and extensions that can help you with SSL certificates, PCI compliance, login authentication, URL customization, and many other features.
WooCommerce's transaction element is already safe when used with SSL encryption and compliant payment gateways. However, you should take extra measures on the back end. Two-factor authentication, data encryption, and other techniques are examples of this.
OpenCart Security
In terms of security, OpenCart is comparable to WooCommerce, however, it does come with PCI compliance built-in, ensuring that your clients' payment information is secure.
OpenCart comes with a built-in fraud tool that can be accessed from the dashboard and offers some practical approaches to safeguard the platform. Many extensions can be installed to increase security, some of which are free and others need to be charged.
So if you use OpenCart, incorporating SSL encryption, some popular payment gateways, and the developer's precautions will help you run a secure shop that can survive most cyberattacks.
WooCommerce vs OpenCart: Payment Options
WooCommerce Payment Options
WooCommerce allows your store to pay via more than 100 payment gateways, such as PayPal, SagePay, Stripe, Braintree, WooCommerce Payments, PayFast, Amazon Payments.
Many of these payment gateways provide free plugins but you also need to purchase various other premium payment gateways. All of these gateways would charge you an amount of fee for each transaction.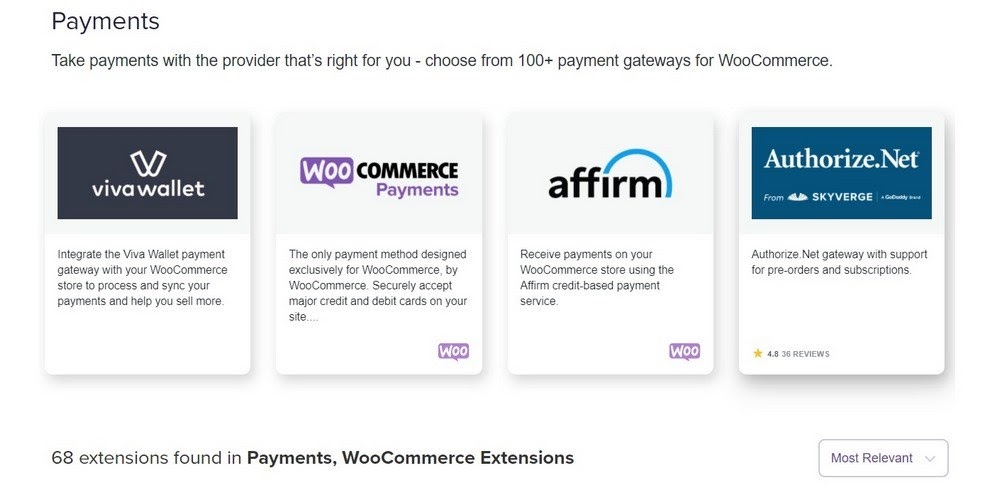 WooCommerce also accepts cash, significant credit and debit cards, bank transfers, and digital credit as payment methods. Your online business can also allow recurring payments and cashback using extensions.
OpenCart Payment Options
OpenCart also accepts a wide range of payment gateways. Authorize.Net, Amazon Payments, First Data, Klarna, LiqPay, Skrill, PayPal, SagePay, and others are among them. In total, 36 payment options are accepted in OpenCart.
Some of these payment options may cost you money to purchase and use, and they will all charge you a fee after each transaction.
Final Verdict
As you can conclude from our thorough comparison of WooCommerce vs OpenCart, the obvious winner is WooCommerce. WooCommerce outperforms OpenCart in the majority of areas, such as features, integrations, customization, themes and design, SEO, support, ease of installation.
However, it is crucial to note that OpenCart is a fantastic choice for your business if you want an autonomous e-commerce platform with little modification.
We hope that this article has given you a better understanding of the two platforms and cleared up any confusion regarding who the winner is.
Thank you for reading and we'll see you in the next post.
---
Sam Nguyen is the CEO and founder of Avada Commerce, an e-commerce solution provider headquartered in Singapore. Sam aims to support more than a million online businesses to grow and develop.