WooCommerce vs BigCommerce comparison
WooCommerce vs BigCommerce comparison: Which one should you choose?
As an online retailer, building up a professional website is one of the important steps to define as well as grow your business in the future. Thus, finding out your ideal website builder platform is a basement to start an online store.
But your options have been extended in 2021 on a bigger scale. Among many platforms, which one you want to cooperate within the long term is not an easy question to answer. Apparently, you need to have a thorough review of each platform based on comparing each aspect with your store's requirements. In this article, we will review and compare two of the best solutions on the market: BigCommerce versus WooCommerce, covering several features of each platform such as ease of use, pricing plan, payment method, and others.
Hope that WooCommerce vs BigCommerce comparison helps you have an overview of these two platforms in order to make a final decision of which is more suitable with your store to purchase.
Without further ado, let's start right now!
WooCommerce and BigCommerce overview
Before jumping into the most essential session of our share relating to the platform comparison, beginners should get fundamental knowledge about WooCommerce and BigCommerce. Let's start with WooCommerce first!
An overview of WooCommerce
WooCommerce is made by WordPress, taking charge of being a website builder for online businesses. Basically, it is a self-hosted plugin for WordPress - an open-source management system. With the free open-source for users, they are able to personalize as much as customization of the platform without needing to pay a fee per month.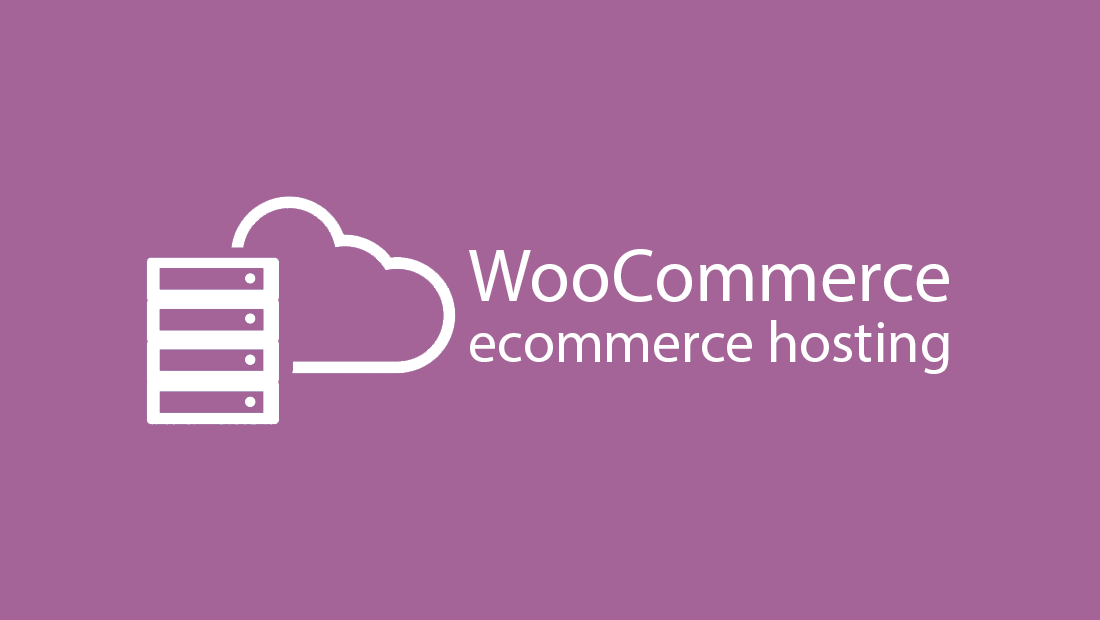 It gives you a neat, friendly-looking theme, adding many beneficial features necessary for your online business. The process of customization is straightforward to keep track of following their guide on the screen.
An overview of BigCommerce
Unlike WooCommerce, BigCommerce is an independent platform that fully manages and controls its system. This platform provides themes and templates which are for all-sized businesses. Moreover, it provides optimal features, namely product inventory and orders, payment methods, abandoned cart, third-party integration, etc.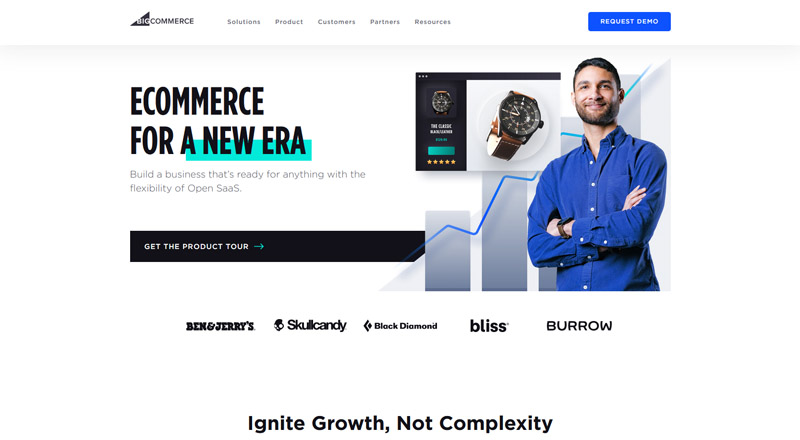 BigCommerce platform gives you the power of running your business for all your online needs, allowing you to just focus on your day-to-day operations. They will take care of how the website looks on behalf of you as well as the order inventory.
BigCommerce vs WooCommerce: Comparison
Moving on to the most desirable part of this article - comparison. As you are a newbie in the eCommerce market, a solution that is user-friendly and scalable makes the most sense for your impression. Actually, these platforms we give you have their own benefits which deserve to be chosen by you.
An eCommerce builder platform helps you to start your online business faster. Thus, our comparison will clarify which one will take your heart easily. Don't worry if the review is too long to remember because we will summarize for you to follow in the last section easily!
Pricing plan
BigCommerce Plans
Before deciding to use BigCommerce, they give you a 15-day free trial to experience the usage of creating your own store on this platform, along with some typical permitted features. It is literally the best way to pretest if it's the right fit for your business or not.
One plus for BigCommerce is that with its pricing plan, it does not contain transaction fees. Moreover, you can manage your store with infinite bandwidth and staff accounts. Other basic information on a website such as hosting, a web domain and even an SSL security certificate is included for free.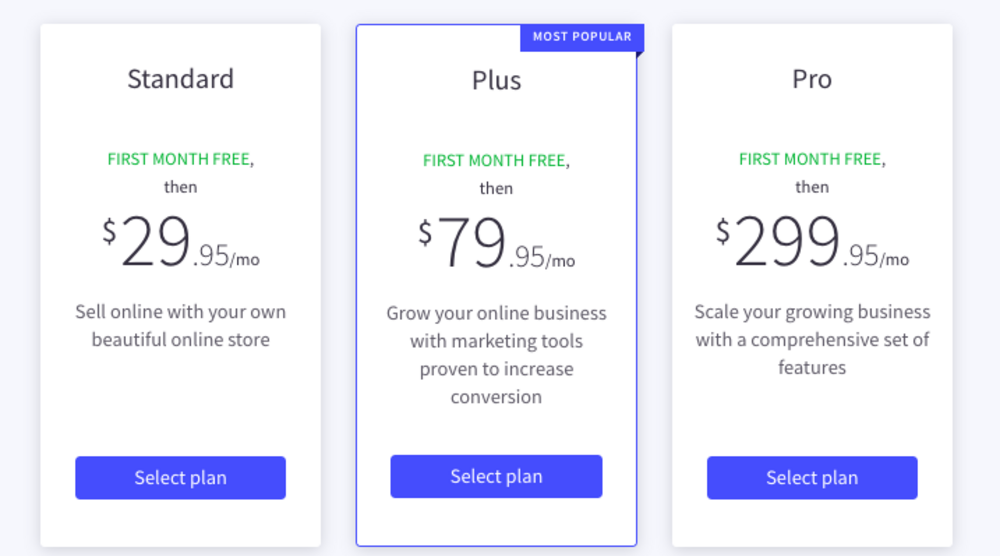 There are 3 main pricing plans with various levels respectively that you can choose depending on your business scope:
Standard: $29.95 per month (with no abandoned cart saving tool)

Plus: $79.95 per month

Pro: $299.95 per month

Enterprise: for large businesses generating over 1 million dollars
WooCommerce plans
Since WooCommerce is a free WordPress plugin, you do not need to pay money for installing it. However, if you want to use some extra or advanced features in WooCommerce platform, you definitely need to purchase it. We will give you some suggestions of which feature you should buy to customize and enhance your site:
Purchase paid themes: roughly $40 or more

SSL security certificate: $69.99 per year

Web hosting: $10 per year

Domain name: $14.99 per year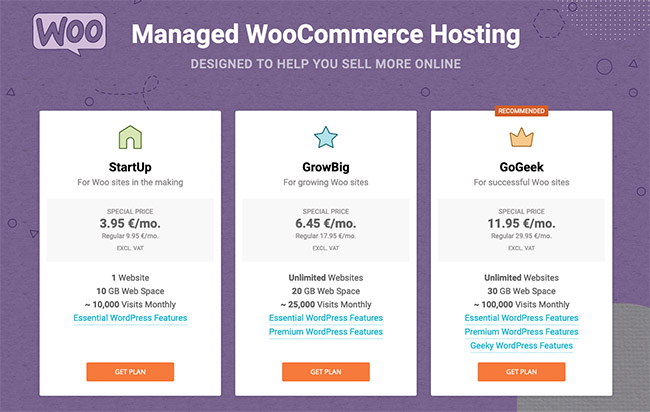 As you can see, these additional features make your budget not stable per month because sometimes you need to spend money implementing in your store - especially at the first stage of building up your website professionally. Thus, you have to plan out what you pay in a month, adding the budget for unexpected purchases.
Don't be sad too much. With the freedom to select your own hosting, domain or theme, the money you have to expense is less than what you pay with BigCommerce each month.
Design
Let's have a look at the themes or templates of both WooCommerce and BigCommerce design ability. Let you know that these two platforms grant you all mobile responsiveness.
BigCommerce
BigCommerce offers 12 free templates and most of the rest is approximately 130 premium themes. These paid options cost a fee ranging from $145 to $300; sometimes you can find the paid themes costing $99 or a little bit lower than that price.
Each template has several variants which you can choose from. Furthermore, they are customized personally much easier despite different levels of customization. After getting the theme, you are able to design the front page on your own such as text size, fonts, page layouts, banners or navigation, without adding any code.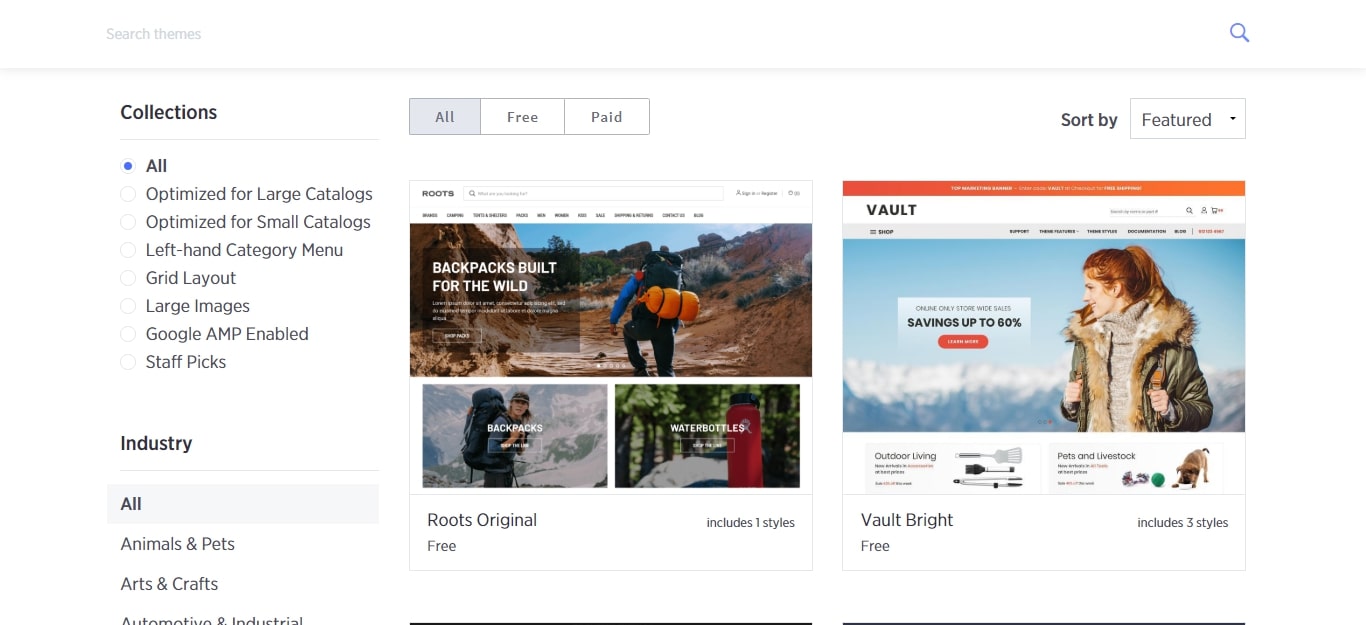 You can customize back and forth and review simultaneously until you are 100% satisfied to launch it live. In addition, you find it easy to preview what your site looks like on both site and mobile versions after editing. Although the free and paid themes are designed professional-looking, many users reported that a few of them look extremely the same to each other.
WooCommerce
If you want to have cheaper paid templates, then WooCommerce is a better place for your choice. We are pleased to say that the features of WooCommerce themes are provided similar to BigCommerce ones. About 14 storefront templates have a one-off cost of $39.
As we mentioned, the themes from the WooCommerce platform are customizable, even more, when compared to BigCommerce features. Therefore, WooCommerce has one point over BigCommerce in terms of design.
Payment method
Multiple payment options for customers are a great way to increase the number of shoppers coming to buy your products. Both BigCommerce and WooCommerce accept credit and debit cards to pay the bill, cooperating with some of the biggest payment gateways. Thus, you can make sure that they will not disappoint you in terms of this section.
BigCommerce offers several payment gateways that you can configure. Your site integrates natively with the best payment platforms in the eCommerce industry: PayPal, Square, Stripe, Authorize.net, CyberSource. The processing fee for debit and credit cards is counted by 2.9% plus $0.30 per transaction, depending on each location. Moreover, the fee will decrease by the time your store grows.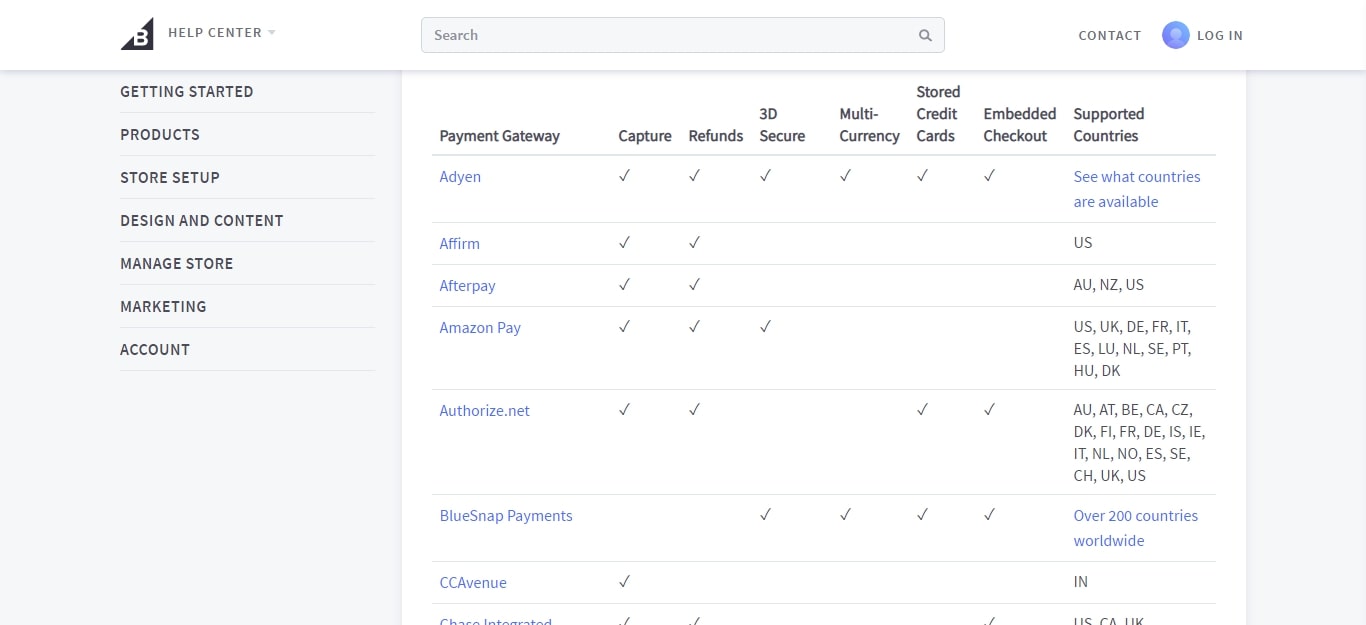 As for WooCommerce, it also does not enforce its transaction fee. Only an extra fee comes from using a payment gateway or card companies directly. Unlike its rival, they do not have plenty of options for you to pick up. Two selections for you are PayPal and Stripe payments by default. In addition, you may find and install other payment gateways for diverse options easily because WooCommerce is an open-source platform.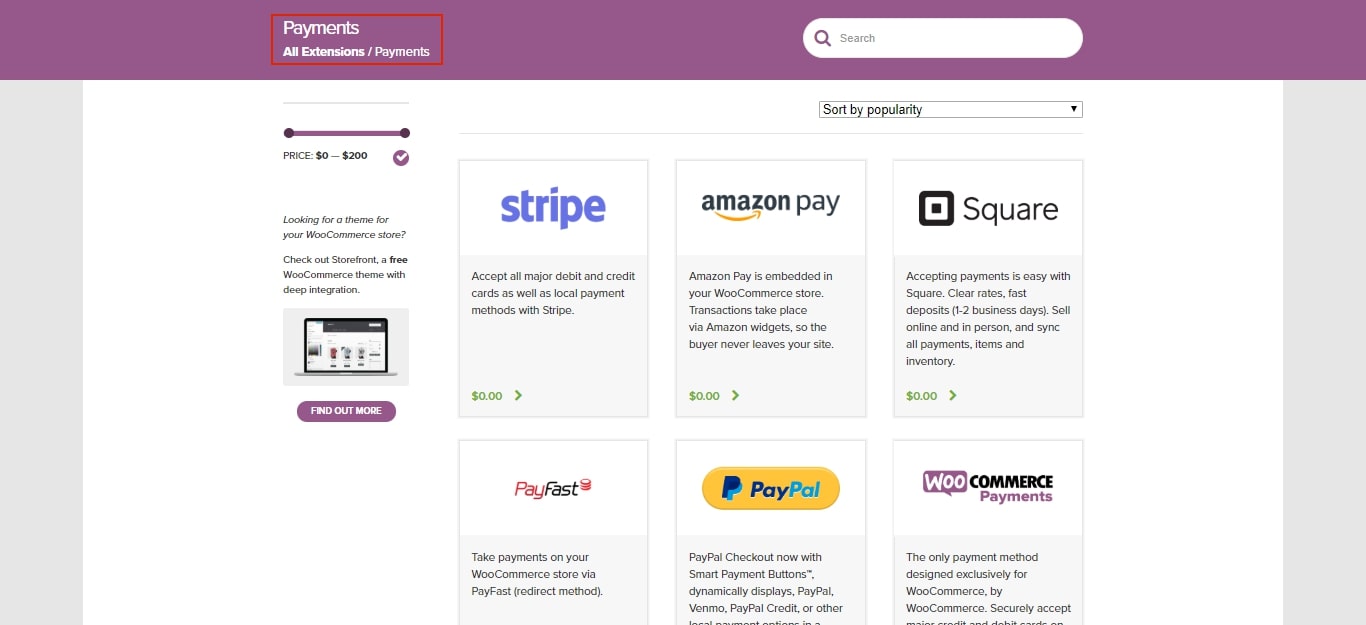 Ease of use
As for BigCommerce, it is easy to use when you start creating your own business following their guide. You don't need to worry that during setup, you are required to do something technical. BigCommerce will take charge of supporting that technical aspect; you just customize with a few clicks.
BigCommerce will help you set up your domain registration, store security, themes, inventory settings, and others you may need. Some owners using this platform would think BigCommerce is very simple to use as they offer lots of customization plugins and options to accustom.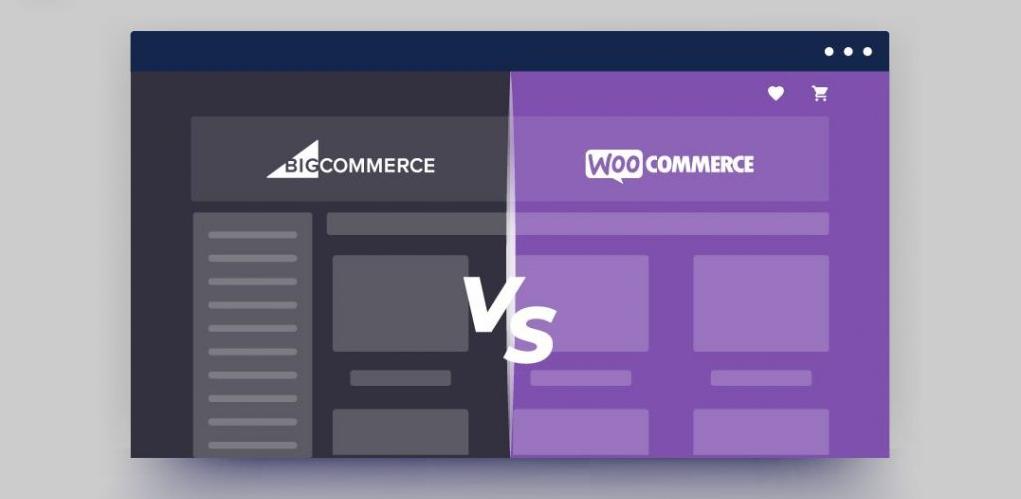 At the same time, WooCommerce is a powerful rival, which deserves to be included in your consideration. When establishing the website, the convenient process of building it up is what you are interested in. Then, WooCommerce will meet all your needs with the great features and plugins that a site offers.
However, you need to buy a domain name and hosting account as well as manage security, backups or caching yourself - while BigCommerce can manage for you. So we have a plus for the BigCommerce platform to this point.
In case you do not have a clear understanding while installing any plugins or customize your WooCommerce setting, they provide a helpful page with tutorials and an asking forum. You can probably find the answers you want on that page.
Support service
Coming to the support service, BigCommerce can be very confident in their excellent support center to help the users out immediately. There are many contact methods for you to get support from them - including phone calls, email, community support, support forums, etc. Whenever you encounter a problem, please choose one of these mentioned ways to contact them because BigCommerce support is 24/7 available.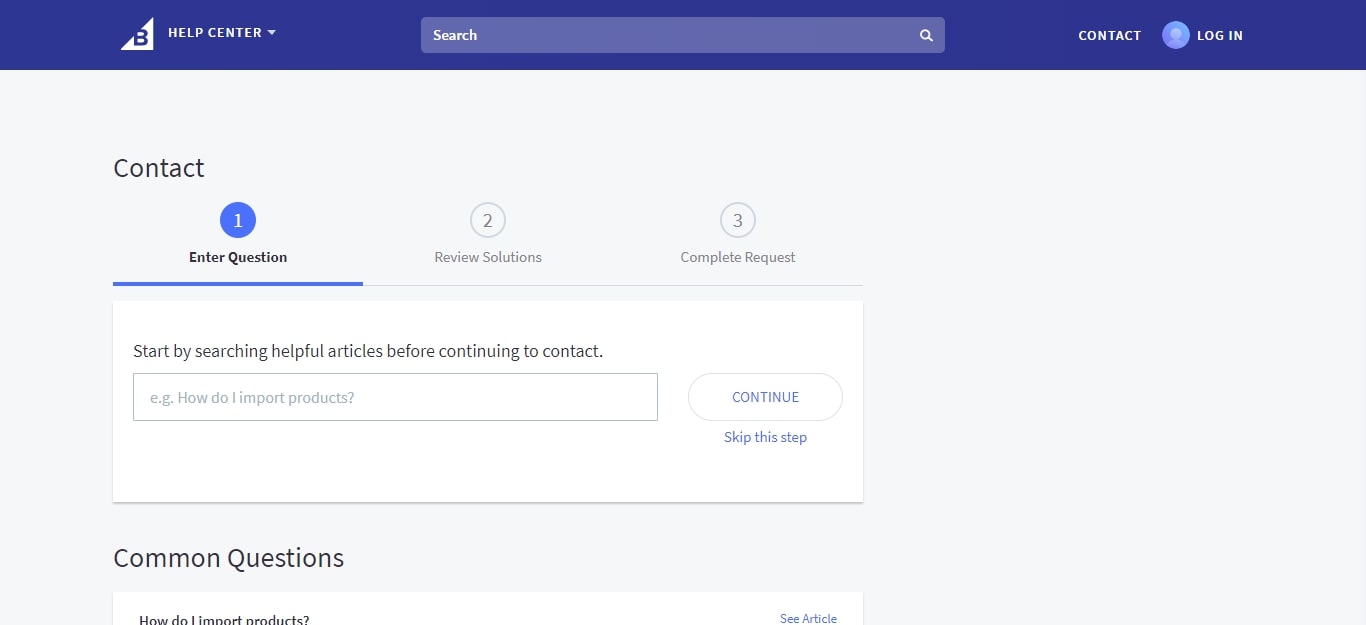 About WooCommerce - a self-hosted platform, you can get support from various platforms created by WooCommerce supporters. The most common place you can get help is from WooCommerce Docs, which summarizes all the documentaries replying to the users' questions about WooCommerce issues. Other options for you are a support forum on the WordPress site, official pages on Facebook, Reddit and Quora, etc.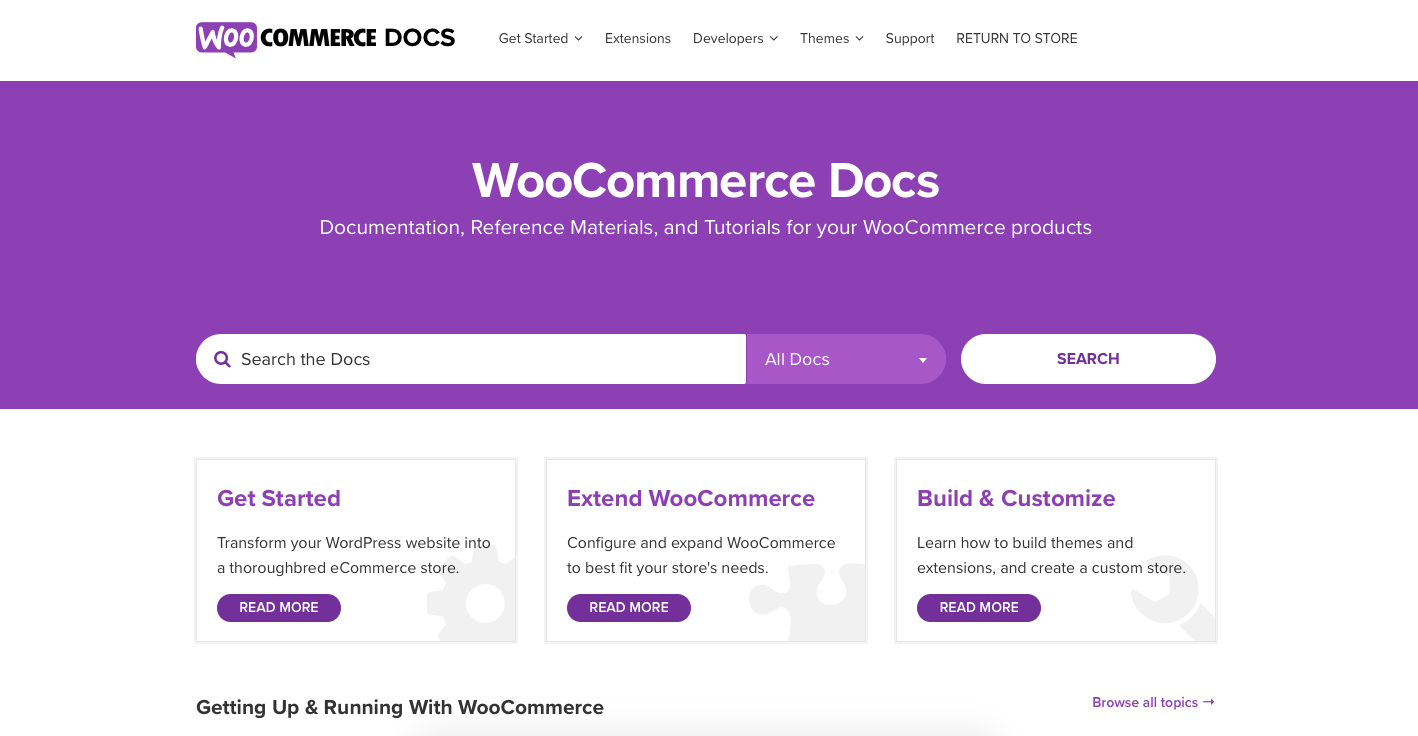 If you have complicated issues relating to themes or extensions, whether you are using WooCommerce or BigCommerce, they give you the support to hire their professional developers. You can discuss with them one-to-one to solve the problem directly.
Security
Security is always one of the top priorities you should implement while setting up the website. Thus, you need to consider security service between the two platforms to have a panoramic sight.
When talking about BigCommerce security, it seems preferable by most of the users. At some points of view, it is correct. As a fully hosted platform, they manage security as a part of your monthly subscription, including an SSL certificate with all pricing plans. Additionally, this platform offers some plugins to prevent fraud purchases as well as enhance your security.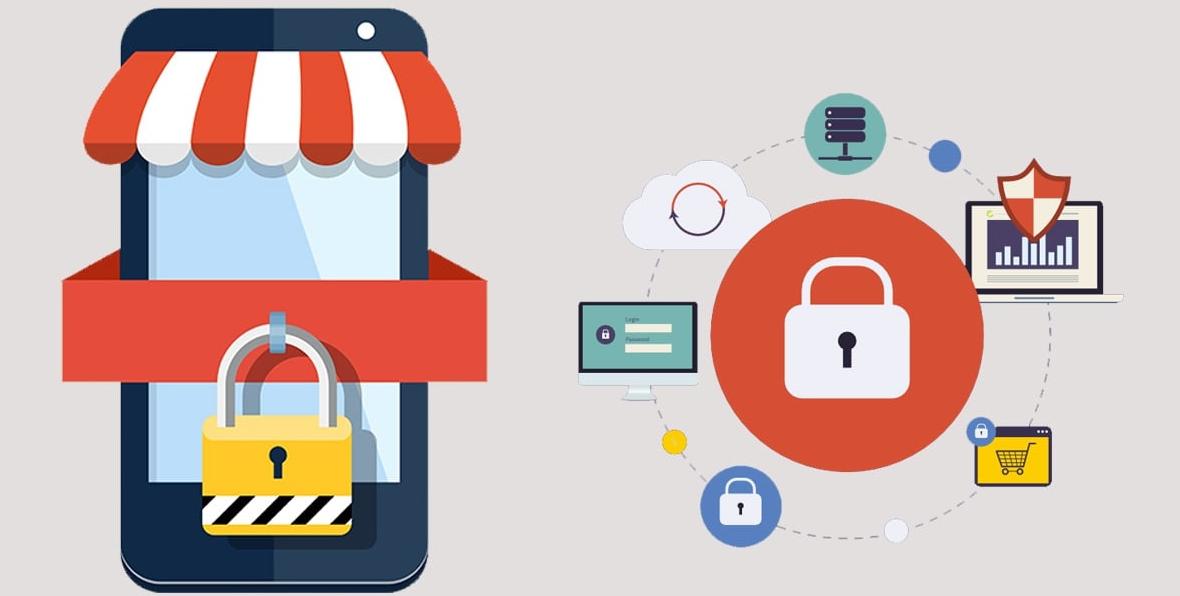 On the other hand, you yourself need to keep your eyes on security work, including PCI compliance in a WooCommerce store. Thus, you always have to update the news to get security patches. But keep in mind that before upgrading your security service, you must back up your store and read the directions from WooCommerce suggestions carefully.
Fortunately, BigCommerce does not offer one thing: you can create TFA (two-factor authentication) in the WooCommerce platform. Of course, you have to pay for an SSL certificate provider to get that functionality.
Features
Inventory management BigCommerce provides you with a powerful order management system that you do not need third-party integration to support. The inventory management consists of tracking your stock by SKU, order history, setting order notification and the order statuses.
If you choose WooCommerce to set up, it helps you manage basic tasks such as inventory reports and changes of products. But because you should monitor it frequently since it is for your store and management, it requires much time and effort. In particular, as your store develops quickly, you will handle an extensive database. So our suggestion for you is to add plugins for better managing inventory.
SEO tools Search Engine Optimization is a vital factor for the performance of any business when they run online. It will specify which level your store is ranked on the search engines. From that evaluation, the higher your site is ranked, the better your store approaches more targeted customers.
To compare these platforms for this aspect, it is a close distance. BigCommerce provides the ability to improve your SEO, like the characteristics listed below: Edit meta titles and descriptions Custom URL slugs Attach text to an image Get keyword support Similar to BigCommerce, WooCommerce also offers these functionalities and SSL security additionally as an extra payment. After all, it is a tie to assess this perspective since they both do all their best.
Marketing strategy
Besides the SEO tool, it is necessary to do a marketing strategy for your site on different social networks. They are vital to invite and keep customers staying on your site longer. That leads to a higher possibility of purchasing product rates than usual.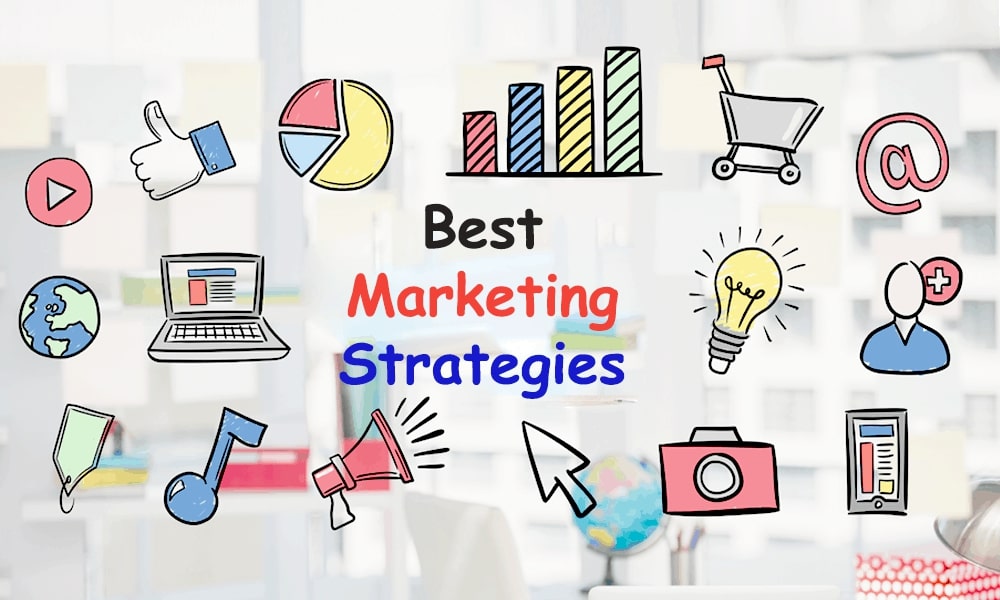 As for BigCommerce, they include key marketing features for supporting you like:
Blogging tools

Coupons, discounts, gift cards

Facebook, Instagram platform

eBay and Amazon

Product reviews
WooCommerce has its own marketing devices to support your site, but it does not provide as much as BigCommerce does. It gives you customization control and creates extra work such as extensions to send emails and follow-up messages. Most social network integrations for WooCommerce costs $79, only Facebook connection is free for your store.
Scalability
Scalability ensures the ability to evaluate everything in order to meet your requirements as your business develops. Now, we come with BigCommerce first. It makes sure to handle the technical tasks, namely storage, backups, updates or security stuff. Thus, when you have a need to upgrade your pricing plan, BigCommerce will take care of them for you.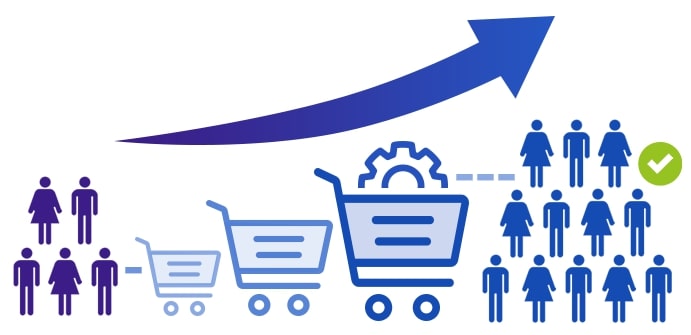 As said, WooCommerce is a self-hosted platform that asks you to take over managing backups, updates, resources, and even security. Apparently, as a beginner, you may not handle all of them because of schedule time.
In short, BigCommerce is a hassle-free solution, so it clearly wins over the WooCommerce platform. BigCommerce is a better solution for you to go.
Which is better?
After going through all the aspects to compare these two platforms, now we are going to summarize all the features by listing out the pros and cons of each. If you want a clear decision, please keep reading our share below.
BigCommerce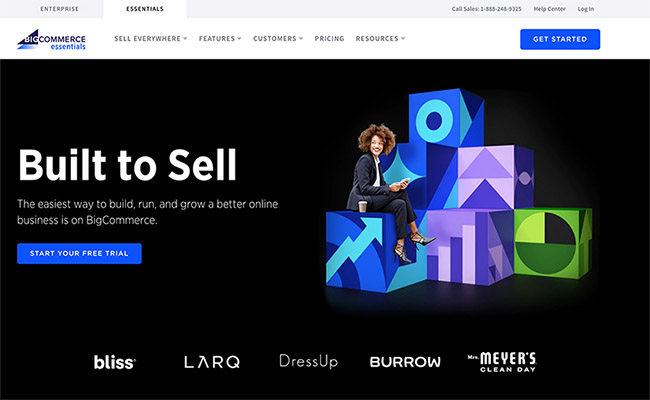 | Pros | Cons |
| --- | --- |
| Have the most built-in features of any eCommerce builders | Do not offer a mobile app |
| Marketing on several channels like Facebook, Amazon, Instagram, and others | Hard to navigate while editing interface |
| Excellent loading speeds | Limited app marketplace |
| Handle the management of security and compliance measures | Not easy to switch your site to another platform |
| Fantastic, elegant and professional-looking templates |   |
WooCommerce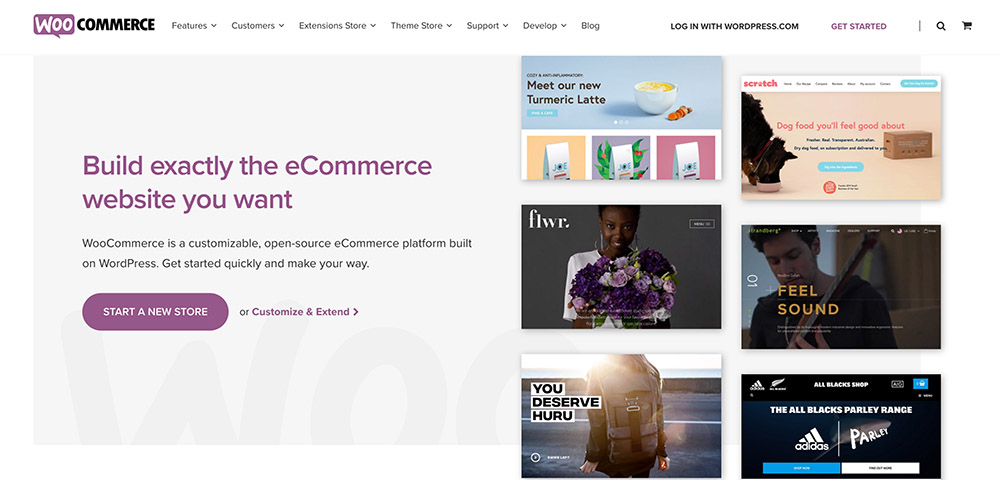 | Pros | Cons |
| --- | --- |
| Unlimited customization | Responsible for managing tasks in terms of security, updates and resources on website |
| Affordable price for extra features | Provide inadequate user support, requiring you to find the answer on your own |
| Powerful SEO tools | To get fully extensions, boast advanced technical knowledge like coding |
| Add infinite product lists in various categories | Be tricky to establish a multi-currency site |
| Accept any types of payment method |   |
Wrapping up
In all, picking up an ultimate platform for your eCommerce business is a must-have in the initial stage. Considering two platforms, they do all have their own strengths and weaknesses, which we have shown you above. Thus, this WooCommerce vs BigCommerce comparison is not to find out a winner, just helping you to clarify which one is more suitable for your business needs. Please weigh the pros and cons of this website builder software before settling down.
We hope that this article is helpful for you and you can come to the most appropriate decision for the sake of your business.
New Posts
Subscribe
Stay in the know
Get special offers on the latest news from AVADA.
40k
subscribers has been joined!
Earn $10 in reward now!