Terms and Conditions Template for WooCommerce Stores
Terms and Conditions Template for WooCommerce Stores
To make things run smoothly, rules are indispensable elements in any organization or company. By setting rules, people will be aware of what they can do and what cannot so that they can collaborate with each other more effectively.
In eCommerce stores, these rules are the terms and conditions. With two main parties: customers and online stores, the terms and conditions are the bridges connecting you with your customers, letting them know what they can gain and what you can do after they accept the document.
So, what can we acquire from the terms and conditions? Where to display them, and what should be included in this type of document? All will be clarified in this post. More than that, we suggest several professional templates for creating terms and conditions for your WooCommerce store.
Let's go into details to see what they exactly are!
Benefits of terms and conditions in WooCommerce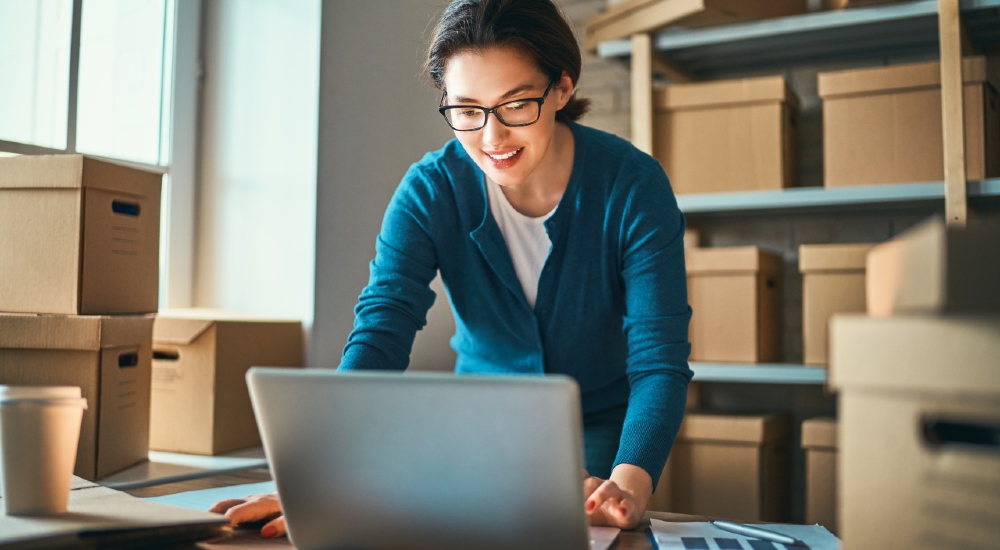 Set rules for your store: Everything needs to have rules, as with it, all parties are aware of their responsibilities and rights. So, by offering the terms and conditions for your WooCommerce store, you can help people understand more about your store and how to work with your store.
Help customers understand clearly: As mentioned above, terms and conditions will help merchants set rules for their store. When reading it, customers will clearly understand what they and the store can do after agreeing to the terms and conditions. Also, from them, they will also know what to do if there are any problems with their account, or order.
Avoid legal issues: When a customer agrees with the terms and conditions of your store, it means that they agree with everything written inside. Hence, in case a problem occurs between you and the customer, these terms and conditions will be important evidence to protect you in legal issues.
Where to display terms and conditions for WooCommerce stores?
In general, there are four main cases that merchants are advised to provide the terms and conditions. These ensure that your customers acknowledge what you can do with their account, orders, or even devices to offer them a great shopping experience in your WooCommerce store.
Place an order: When an order is placed, there will be many things that need to be clear with customers, so displaying the terms and conditions is a good way for them. You can require customers to tick on the box or place the announcement of the terms and conditions agreement right below the purchase button.
Submit contact details: When a person sends their contact details to an enterprise, they obviously will use them for some specific purpose. This requires them to inform the customer how you use their data and it is the mission of terms and conditions. So put it below your contact details form to let them know about it.
On your website: Your website is also a suitable place to display the terms and conditions. You can put it in the footer of your page, so visitors can both see the content they want and see your store's terms and conditions.
On mobile app: To let people know what they will do with their data in the mobile phone, terms and conditions are very crucial. They can be placed in the "Settings" or "About" section of your app.
What should WooCommerce terms and conditions be about?
Contact details: contact details will help customers know how to contact your company if there are any problems with them in your store.
Acceptance: Not just announcing to customers about your terms and conditions, your terms and conditions have to state clearly that when they use your services, it means they accept all the statements in the document. Besides, it is an important source to protect you against customers with problems related to law.
Links to other legal documents: Your terms and conditions can be attached with other legal documents like privacy policy, GDPR, cookies policy, return policy or terms of use, so they can accept all the documents at once.
Change to your terms: By adding this, you can change the rules set when they are no longer suitable. However, don't forget to notify your customers about that 14 days in advance.
Price and availability: This will be useful when your advertised products are out of stock or the price changes.
Payments and billing: Your terms and conditions should include information about the payment methods, the payment schedule and what will happen if they don't complete the payment.
Shipping: Including all the necessary information about shipment in your store like delivery cost, delivery area, guidance to time scales, conditions of free delivery, etc., so that your store will be more reliable in customer's eyes.
Refunds: Refund is also a problem that many people are concerned about, so provide them detailedly about your refund policy.
Delays: Goods are not always shipped on time, so make sure that your customer can see this from your terms and conditions document.
Account Suspension and Termination: In stores that require customers to create an account to purchase, merchants can add a rule related to accounting suspension and termination. So, you will have measurements to deal with unexpected situations like a scam, etc.
Disclaimer of Warranties: It is a pretty complicated aspect that requires store owners to understand the consumer law in their region before providing anything related to this.
Limitation of Liability: Limitations of liability are created to help stores limit the amount of money they use to compensate for customers when someone suffers a loss due to the store's fault. The compensation also varies among businesses which can be a specific figure or a portion of a product or service's value.
Copyright Notice: It helps make sure people know that all the content, copy, image on your site is your store's intellectual properties.
Governing Jurisdiction: Adding the governing jurisdiction will bring you more advantages when there is a court between you and one of your customers.
3 Best Templates for WooCommerce Terms and Conditions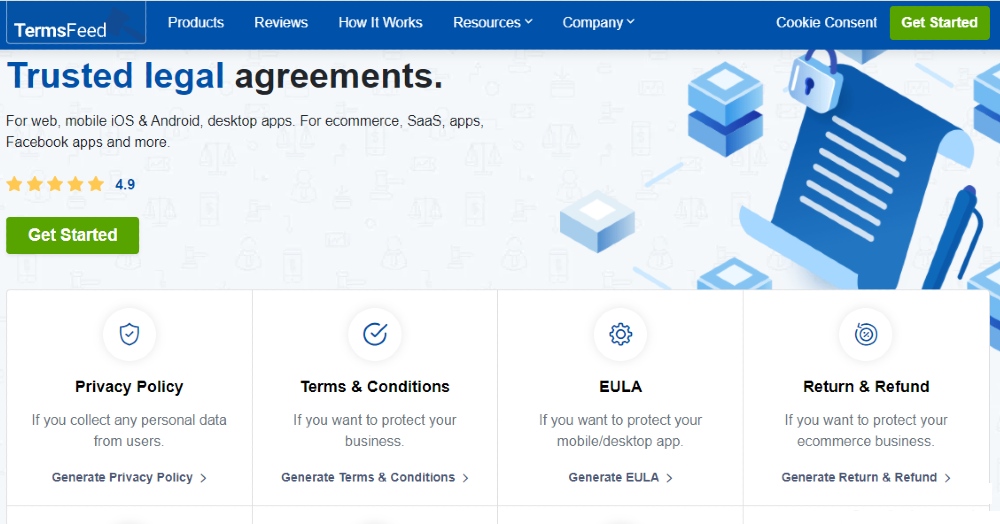 Rated 4.9 out of 5 in their store, Termsfeed is one of the best options for WooCommerce merchants to generate their own terms and conditions. This platform possesses multiple professional templates that are similar to handwriting documents done by a team of lawyers. More than that, users can create many other documents like privacy policy, EULA, return and refund policy, and so on.
Price: Free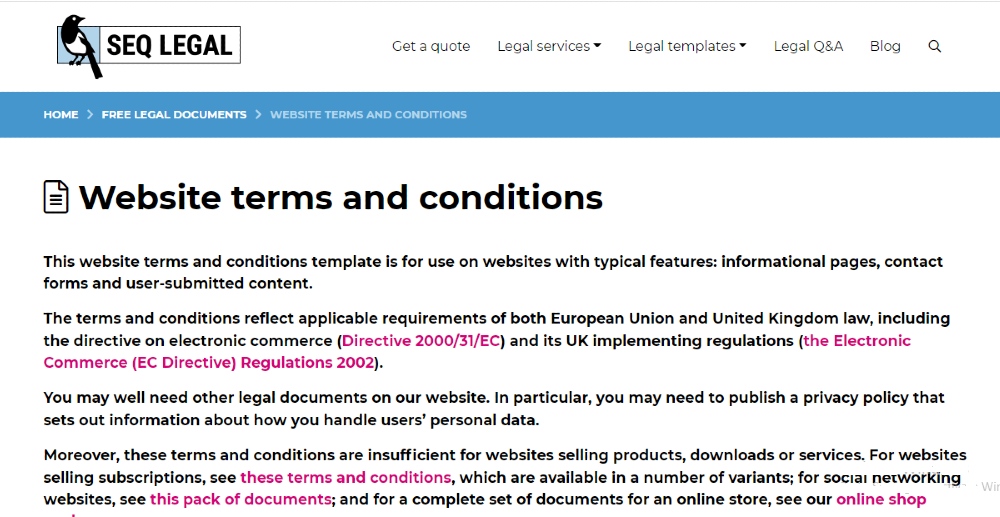 Another generator for terms and conditions for WooCommerce stores is SEQ Legal. Besides, terms and conditions templates, this platform offers people plenty of templates for other documents like a legal disclaimer, privacy policy, cookies policy, and more. By downloading the word file from the website, WooCommerce store owners can modify it to create their own terms and conditions. If you want to remove the credit included in the template, you can purchase the license, which costs at least £20.00.
Price: Free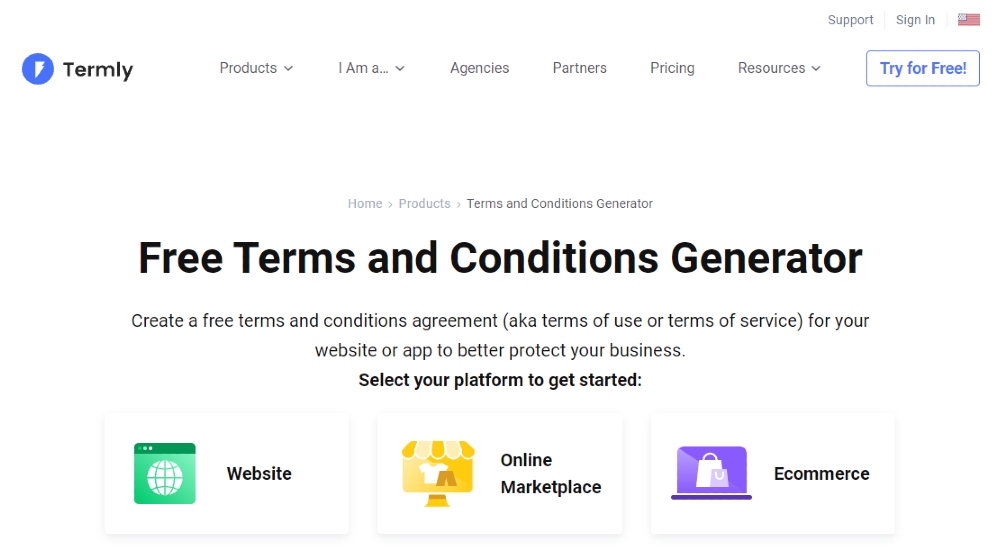 The last one in this list is Termly which is considered an ideal choice for website and app versions. People only need to select the platforms they want and enter the necessary information to start using them. There are six types of platforms for users: website, app, online marketplace, eCommerce, SaaS/ subscription, mobile app (IOS), and others. In addition, the terms and conditions in Termly will be displayed in a single page rather than a word document which is often regarded as boring.
Price: Free
Final thoughts
In conclusion, it can be said that terms and conditions are an essential part of any WooCommerce store. It plays a vital role in ensuring that your customers will be aware of all the critical information when making transactions in your store. Also, it is not difficult to generate a terms and conditions document for your store. There are a variety of templates available for users like Termsfeed, SEQ Legal, and Termly.
New Posts
Subscribe
Stay in the know
Get special offers on the latest news from AVADA.
40k
subscribers has been joined!
Earn $10 in reward now!