7+ Best Terms and Conditions Generators for WooCommerce
7+ Best Terms and Conditions Generators for WooCommerce Stores
As an owner of the online business, you will wonder whether you should create your own terms and conditions agreement for your business. Then our answer is "You have to do that". So, in this article, we will show you a basic knowledge about the terms and conditions of business policies.
When running an eCommerce business in WooCommerce platform or in any website builder in general, you should require a clear and robust rule with a set of terms and conditions. It helps you control your relationships with your customers as well as save time and money in the long term.
Moreover, to clarify you about terms and conditions agreement, we will provide the needed elements you should add as well as the best 7 terms and conditions generators for WooCommerce stores that you can trust configuring. Just take a few steps to install the generator, but it can protect your site and your customers from the possible problems relating to privacy in the future.
Why you should use terms and conditions generators
Basically, terms and conditions agreement makes a contract between your store and your customers. It sets out the rights and responsibilities of both you and shoppers and states what happens if one of the parties breach the policy. Although it is not a legal requirement to force you to create that agreement, it is a very crucial part of protecting your business - as mentioned above.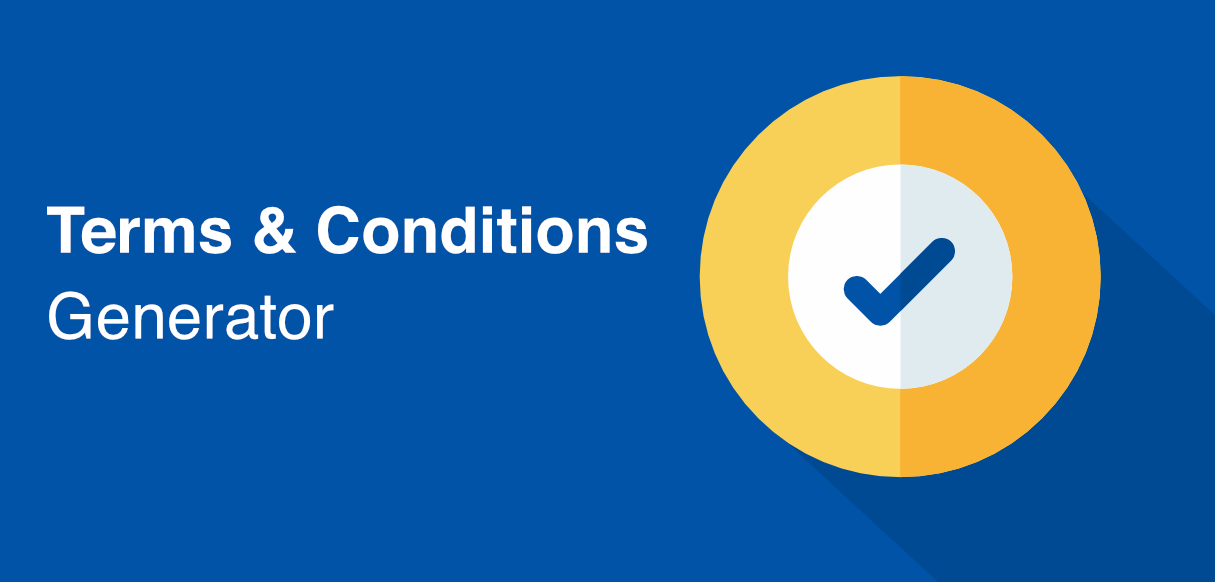 Let us tell you the main reason why you have to use terms and conditions generators for your business. Without the policy, you may be sued for liabilities at any time - especially when your business is at risk. Still, you do not possess any legal documents to prove your trustworthy clues. Since when being on trial, a competent lawyer can bring out negative arguments towards you if you do not prepare well. It leads to extreme damage not only to your credibility but your customer confidence as well.
Therefore, creating a legal terms and conditions document is a must-have in the initial process of building your own business. As a beginner, it is a useful recommendation for you to implement as soon as possible - for the safety of your store. The situation we gave you earlier is to point out that it can be a helpful weapon to attack against in the worst case.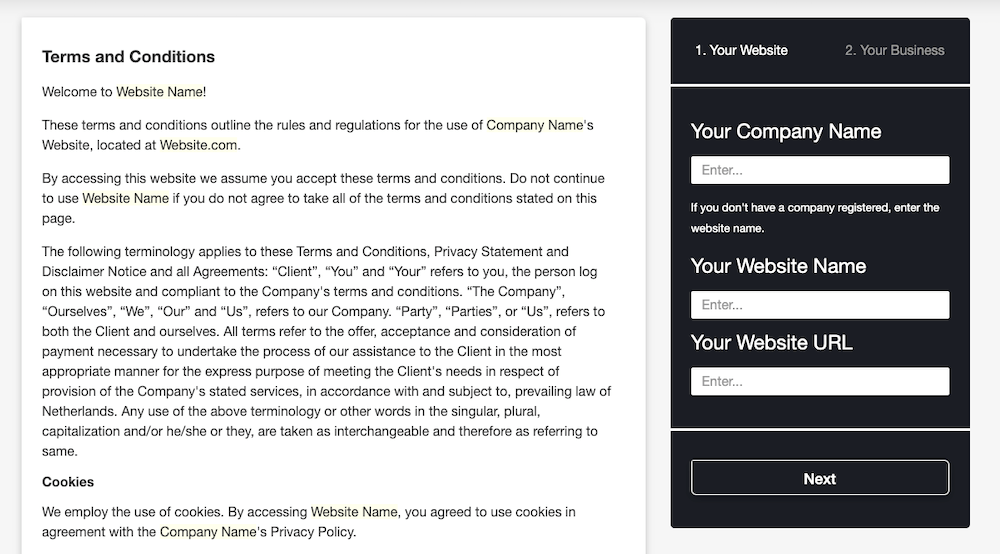 In addition, if you are a new owner, of course, you cannot afford to hire a professional lawyer to protect your business. Thus, you have one more reasonable reason to use the terms and conditions agreement. Apparently, when your store grows up bigger than this time, you totally have a right to hire your own lawyer, but it is still necessary to have the agreement. Since having 2 of these will empower you better, right?
Which factors you should include in WooCommerce
As for which elements you should include in the terms and condition agreement, there are 3 fundamental clauses you need to focus on. Moreover, you can add more clauses as you want, but these 3 factors are crucial:
A user guidelines - the acceptable use of your site

A government law clarifies which states that each party need to comply with

A classified state of an abused site and the consequences of breaching abusive activities
To be much more detailed, there are common terms and conditions elements that most of the businesses add in their agreement. Let us list for you to the below section:
Contact details

Acceptance: the use of your site constitutes acceptance of your terms

Links to other legal documents: privacy policy, GDPR, cookies policy, return policy or terms of use

Changes to your terms: the right to make changes in the agreement

Prices and availability: advertised products, offered subject to availability, price changes

Payments and Billing: payment methods, payment schedules, billing practices

Shipping: delivery cost and area, guidance to time scales, free delivery, etc.

Refunds and delays: refund delivery and make punctual and reliable deliveries

Account suspension and termination

Disclaimer of warranties

Copyright notice and governing jurisdiction
7 best terms and conditions for WooCommerce stores
1. TermsFeed
This generator is highly suggested and praised by many legal companies because of its trusted terms and conditions agreement for many eCommerce stores. Thus, it is not surprising that on the market TermsFeed is seen as an amazing tool for small businesses, providing with many updated themes from time to time.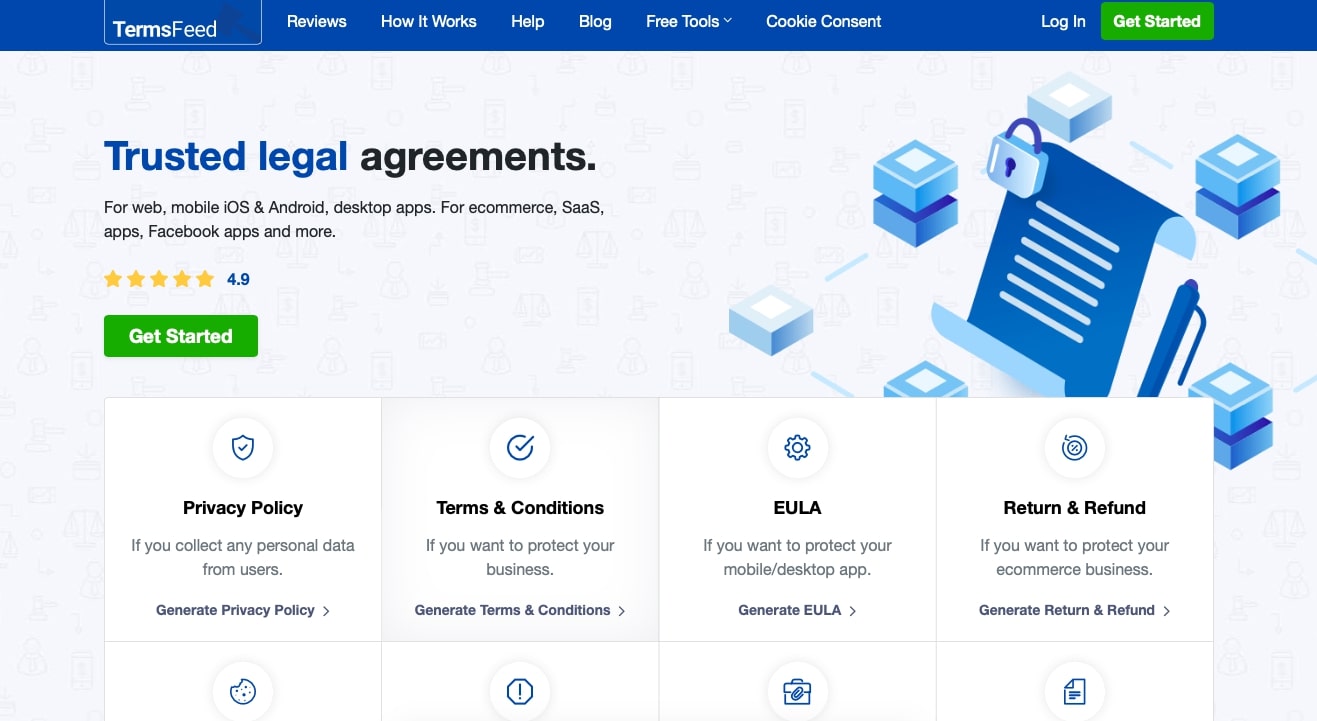 For small or medium-sized businesses, TermsFeed is a fantastic option to integrate. Its template is similar to a handwriting document established by a team of lawyers. So, you don't need to worry because your business is very secure. The generator can create all essential clauses that a common documentary covers in an agreement with fully functional and legally compliant terms.
Coming to this tool, you can create:
Privacy policy

Terms and conditions

EULA (mobile/app protection)

Return and Refund policy

Cookies policy
Price: $20 - $30
2. Termly
If your business is running both on the website and app version, then Termly generator is an excellent option for you to have a try. The tool will generate professional terms and conditions, which will be displayed on a single page instead of a word file covering lots of boring information. On that page, your customers are able to read, browse and contact directly if necessary. As a result, your store leaves a good impression on the user experience because of a thoughtful setting for your customers.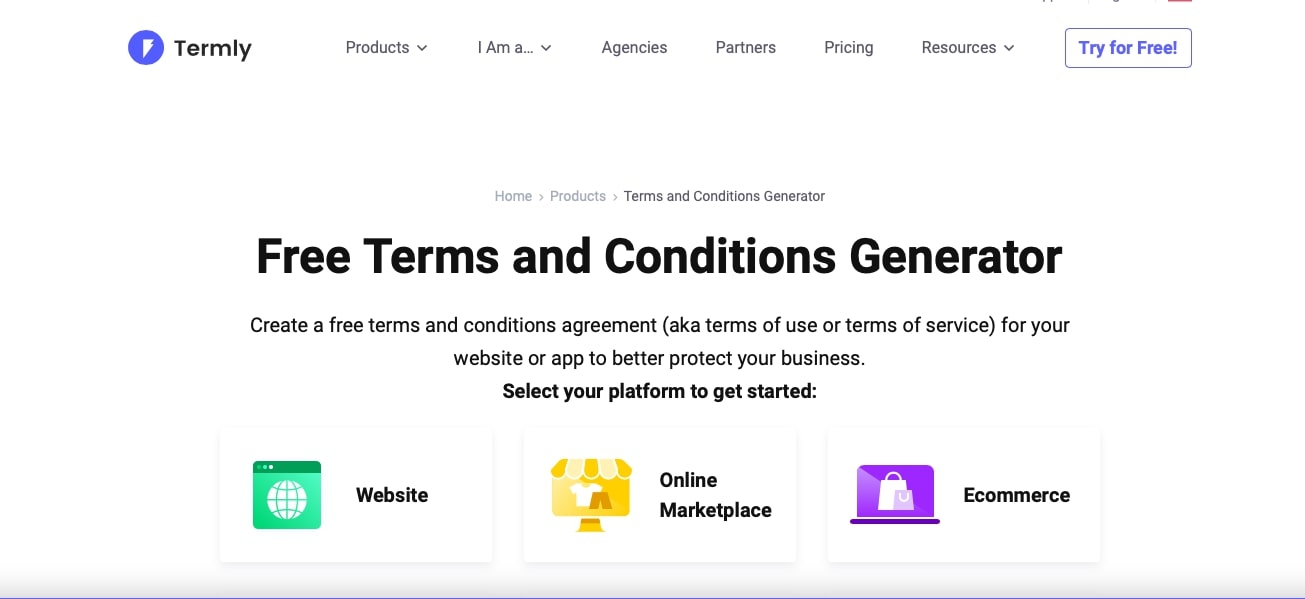 However, there are some shortcomings you should consider before using it. First, the agreement cannot be embedded on your site and be labeled Termly logo at the corner of the page. Moreover, the terms and conditions will not be fully customized unless you buy the Termly pro version.
Price: a free version ($10 per month for Pro version)
3. Privacy Terms
For a beginner, the Privacy Term generator is another potential participant that you can take into consideration. At an affordable price, it provides you with creating generic policies that are used for most websites. One outstanding feature you can find in this tool is that you can try free document hosting and get a 30-day money-back guarantee before really downloading it. But notice that the free document allows a limited number of users to use monthly - from 10,000 to 500,000 users. Moreover, it has no support when you face a problem, so keep that in mind.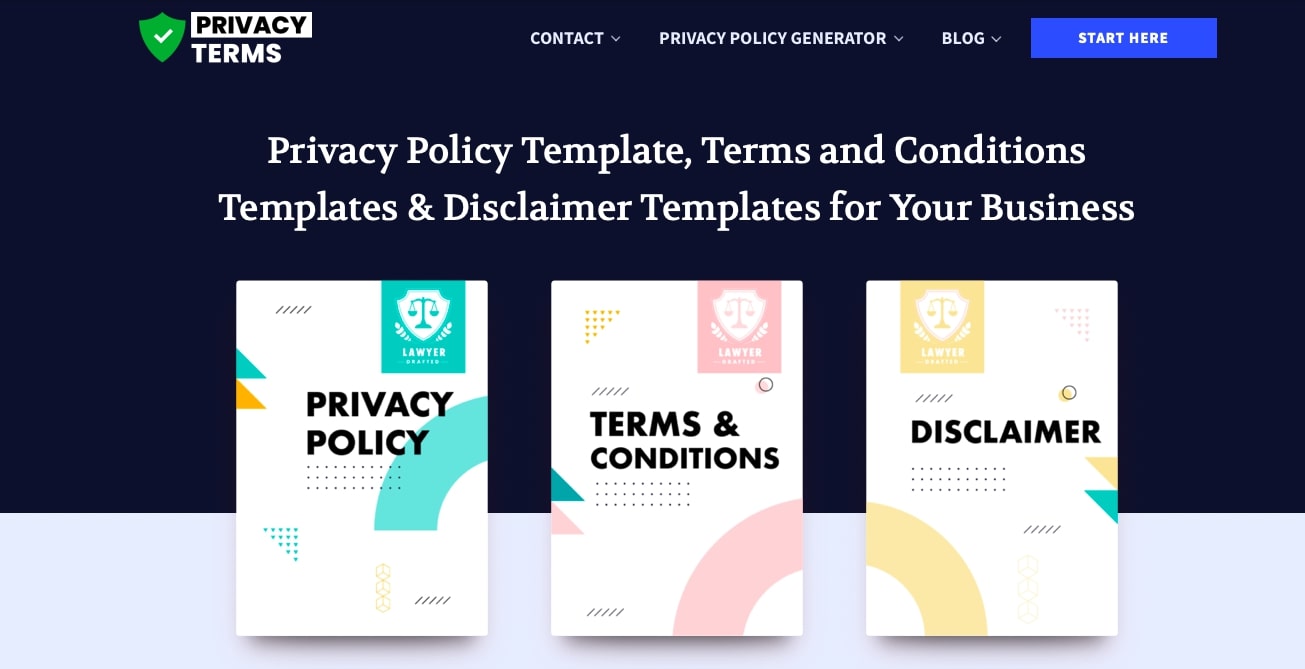 Furthermore, you can add extra clauses as you want when upgrading an advanced version with an additional fee. Basically, the free generator includes 4 main clauses:
Privacy policy

Terms and conditions

Website disclaimer

Terms of service
Price:
Starter version: free

Standard price: $30 - $45 for both the Privacy Policy and Terms & Conditions

Developer pack: $160 for buying 5 license websites
4. GetTerms
If you want to find the most affordable terms and conditions generator, then GetTerms is a wonderful option. Similar to other typical tools, with a low price, it still facilitates standard terms of service and basic privacy policy clauses for your business. Moreover, you are able to fill out and create your own fields on your website - of course, free of charge.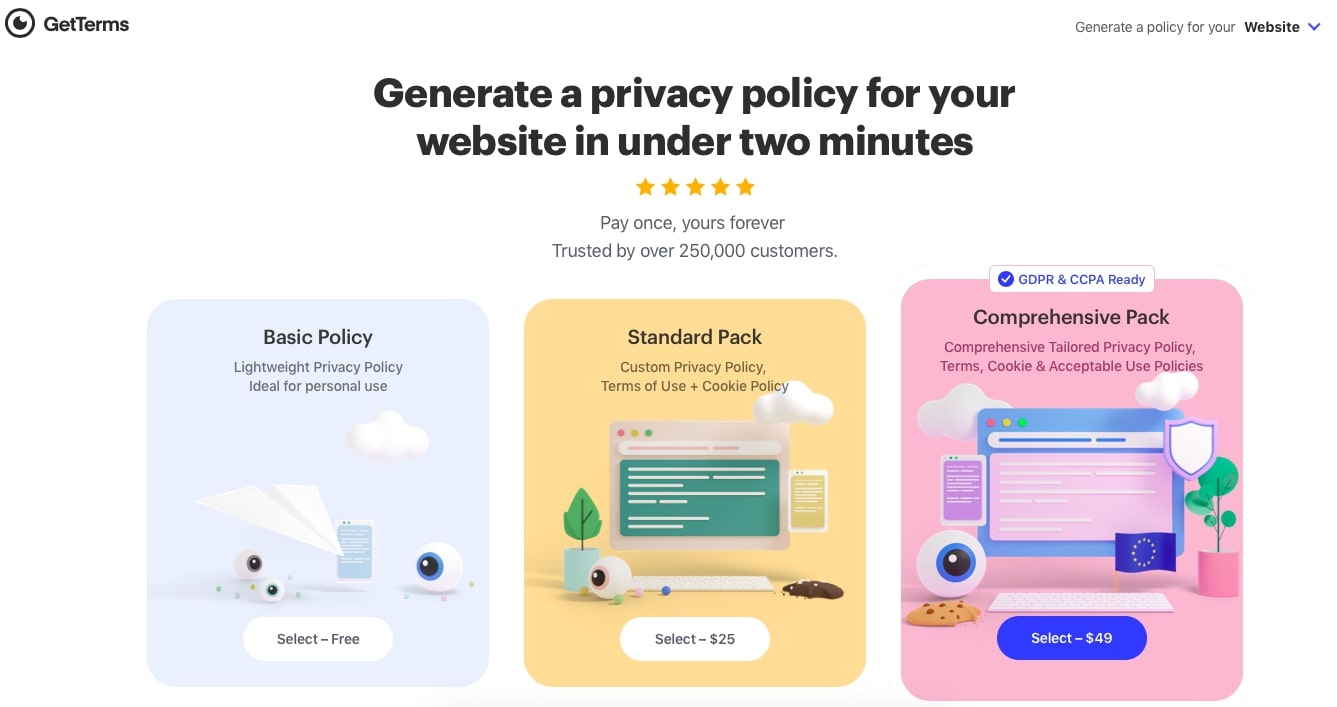 When you download this tool into your computer, the privacy policy and terms of service are put into the free pack displayed via both text and HTML form. For more policy, you need to take one of these 2 options at a one-time charge: Custom pack (log data, third-party privacy, personal information, data officer and cookie policy) and Comprehensive pack (all options of the Custom pack and GDPR feature).
Price: free version
Updated version with the Custom pack plan: $15

Updated version with the Comprehensive pack: $29
5. Privacy Policy
Privacy Policy is the fabulous generator for anyone who tends to expand the scope of their business internationally and flexibly. Supporting this statement, it does not apply a generic template and helps you build the agreement policy for both sites and apps version.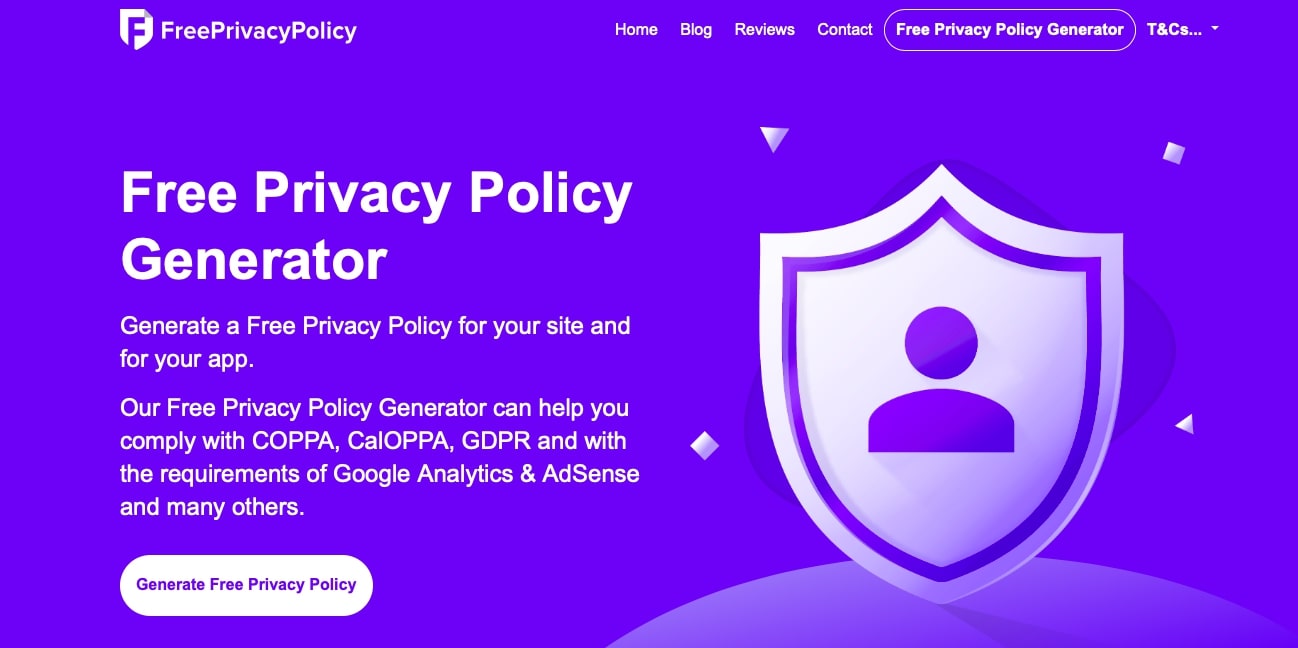 Once done creating the policy, you may either host the policy page on their website or on your own website. The policy includes basic clauses such as refund policy, terms and conditions and disclaimer for your business security. Don't worry that your agreement is left behind at the time; Privacy Policy will usually update the latest regulations for you to implement timely.
You should notice that it does not have a fast-track procedure to create a policy page. In addition, the interface takes up lots of time, even making a basic policy page for blogs only.
Price:
Basic version: free version

Premium version: $19.95
6. Iubenda
Being trusted and used by many top businesses such as Honda, MIT, Martini or OvenGov, iubenda creates a very detailed document offering legally compliant Terms and Conditions. These are Privacy Policies, Cookies Policy and Terms & Conditions. Indeed, this tool is assessed as the best terms and condition generator ever. Apparently, there must be a reason for this praise from many users when they use iubenda.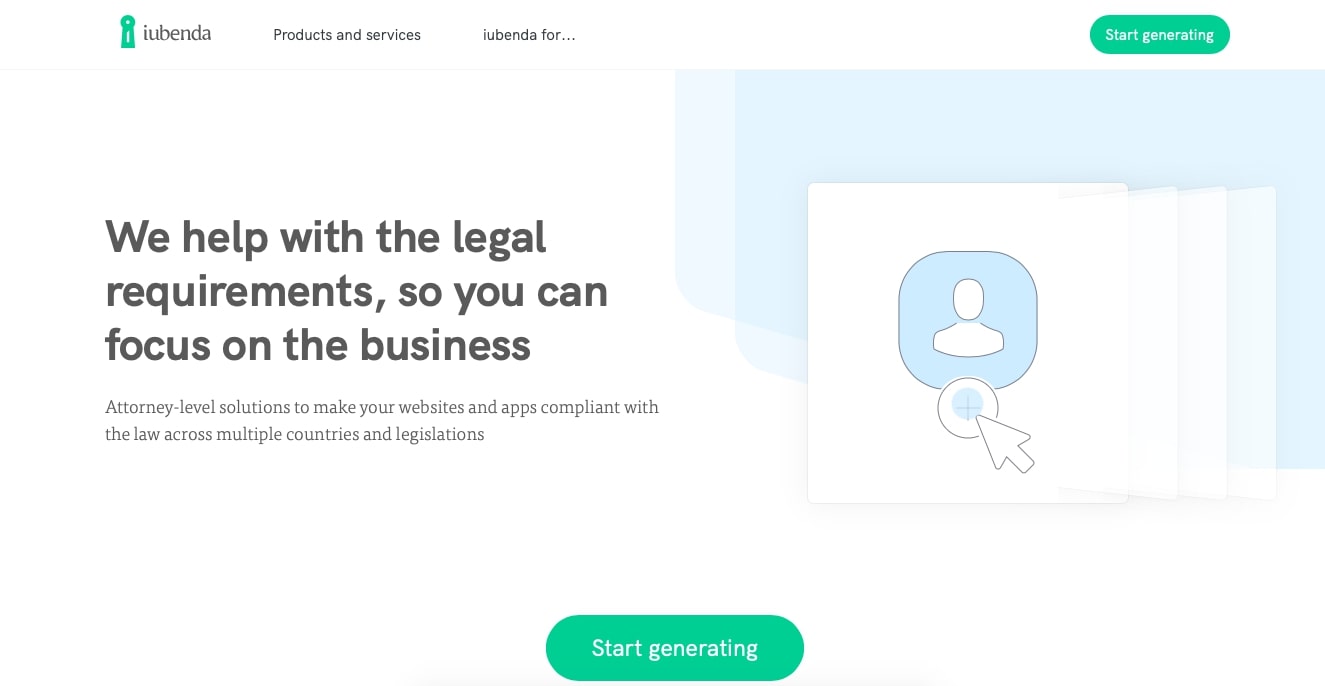 Besides being well known for a comprehensive cookie solution, it also provides policies in 10 languages with more than 600 services for policy documents. On the other hand, this generator explains why and how you should create policies for specific services, namely Google Ads, Facebook or Mailing lists.
In terms of support, iubenda builds up a support forum, helping you make personalized policies with a need from their suggestion.
Price: Free plan includes one limited policy only, ranging from $29 to $129 per year
7. SEQ Legal
Last but not least, we come to the final generator which is SEQ Legal. It is a specialist-compliant consultancy service to clients in the UK. One thing special about this tool that makes you surprised, it is not an actual generator. Instead, all documents are prepared and very meticulous - are published a free and premium legal template on its website. Moreover, you can download a professional privacy policy template in the text documents.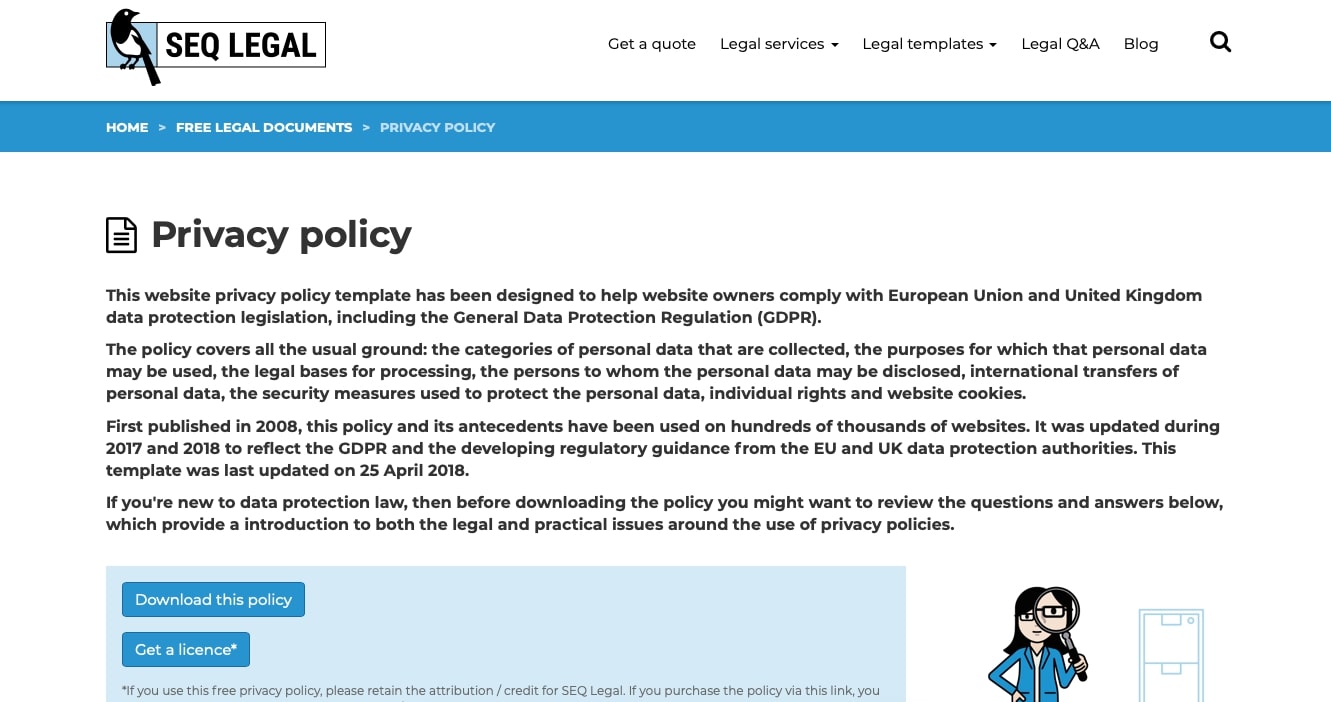 In more detail, their documents consist of 9 types of packages below:
Online shop pack

SaaS pack

GDPR pack

Software developer pack

Business pack

Commission and referrals pack

Consultancy pack

Digital marketing pack

Web design and development pack
Since SEQ Legal is not a basic terms and conditions generator that offers all documents in their form, sadly, it has no hosting and updates existing at all.
Price: free version for a prepare
Purchase other licenses in pack form: ranging from $86 to $259
Wrapping up
We have gone through all the aspects relating to the Terms and Conditions agreement as well as 7 best terms and conditions generators for you to create a policy based on our recommendations. Hope that you find this article interesting and helpful.
With the installation of one of these generators, your business definitely goes up to another level of professionalism. So, give it a try after reading our article as a reference; you will not be disappointed!
New Posts
Subscribe
Stay in the know
Get special offers on the latest news from AVADA.
40k
subscribers has been joined!
Earn $10 in reward now!