12 Best Simplify Commerce Plugins in WooCommerce for Your Inspiration
12 Best Simplify Commerce Plugins in WooCommerce for Your Inspiration
It is exhilarating to establish your own eCommerce business. You have generated and sourced your products, constructed an attractive website, and now it is ready to get paid, which is among the most critical phases.
Understanding how eCommerce payment processing works is an essential element of setting up a business online. But, let's admit it, if you are not a financial expert or extremely tech-savvy, you could find the entire concept of online credit card processing confusing and difficult to manage. That's the reason why we have put the article 12 Best Simplify Commerce Plugins in WooCommerce for Your Inspiration to help you figure it out.
In this article, you will have an in-depth understanding of the importance of Simplify Commerce Plugins, and we will share several best plugins you can use when establishing your online store.
Why Should You Use a Simplify Commerce Plugin in Your WooCommerce Store?
Simplify is a cloud-based payments technology that is exceptionally adaptable, secure, and straightforward to use. You can effortlessly integrate online purchases from most major card brands with Simplify Commerce and start selling straight away. In addition, features like tailored e-invoices, recurring payments, and a comprehensive dashboard with a connected mobile app make it simple to tailor Simplify to your exact needs right now.
The Simplify Plugin involves taking payments using the Simplify Commerce by MasterCard gateway from your WordPress site. This plugin also enables you to sell your items or services. On the Simplify Commerce payment gateway, users will be able to purchase with their credit cards. The plugin adds a Simplify orders menu to your dashboard, where you can see the specifics of each transaction you have received.
So, now from all the information mentioned above, you probably already know why you should use a simplify commerce plugins in WooCommerce:
Apply tools like e-invoicing and regular payments that are appropriate for your expanding company
A comprehensive payments dashboard and accompanying application to aid in the management of your business transactions
Support transactions from MasterCard, Visa, American Express, Discover, JCB, and Diners Club
Simplify Commerce manages all sensitive information, so you can take comfort in the fact your transactions are safe
12 Best Simplify Commerce Plugins in WooCommerce
You now have an overall understanding of the simplify commerce plugins in WooCommerce and their significance in eCommerce. It's time to delve into the best plugins we highly recommend below. We hope that all of the plugins that we highly recommend below can help eCommerce owners find the best direction for their own business. Let's dive in!
1. Rapyd Payment for WooCommerce
Rapyd Payment for WooCommerce makes it simpler for your consumers to pay with their chosen local ways. In 50+ countries, reliably accept all major credit cards and numerous local payment options such as cards, bank transfers, e-wallets, and even cash to increase your shopping cart conversions. Alipay, iDeal, SEPA Direct Debit, SoFort, PayNow, and GrabPay are just a few of the payment methods that may be easily added to your checkout.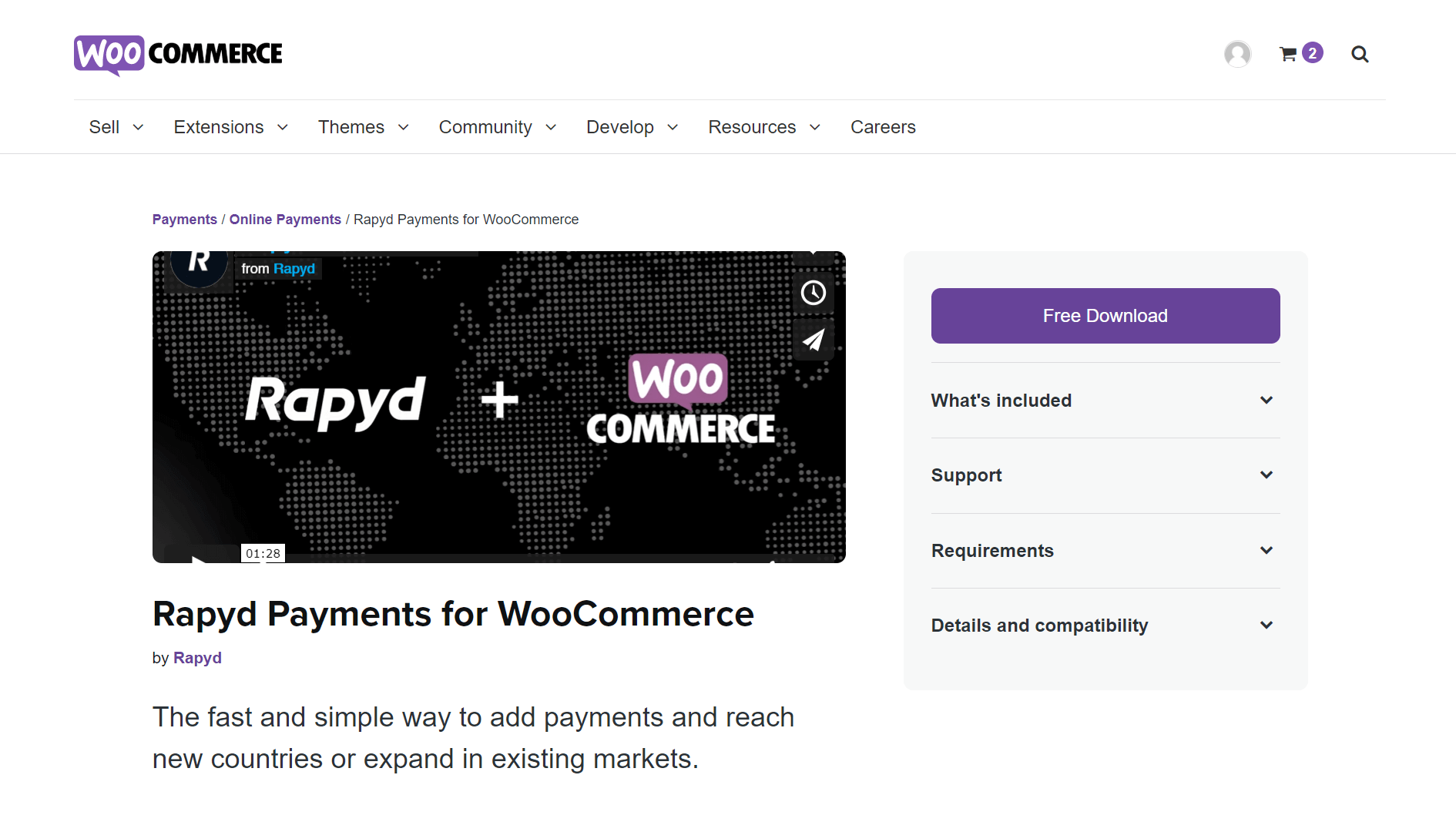 Highlight features:
Straightforward Account Management and Reporting
Accept cash, the world's most common payment option, with ease
Rapyd Protect simplifies worldwide compliance and risk management
Accepting cards, as well as the world's fastest-growing payment methods
Payment methods are automatically populated in your checkout based on your customer's native country
Price: You can get the Rapyd for WooCommerce plugin at no cost and start accepting payments immediately
2. Stripe
Stripe is a straightforward way for businesses in more than 40 countries to take payments online. The Stripe WooCommerce plugin helps you to take payment immediately on your website and mobile devices. Consumers that use Stripe remain on your site during checkout rather than being routed to an externally hosted checkout page, which has been shown to increase conversion rates.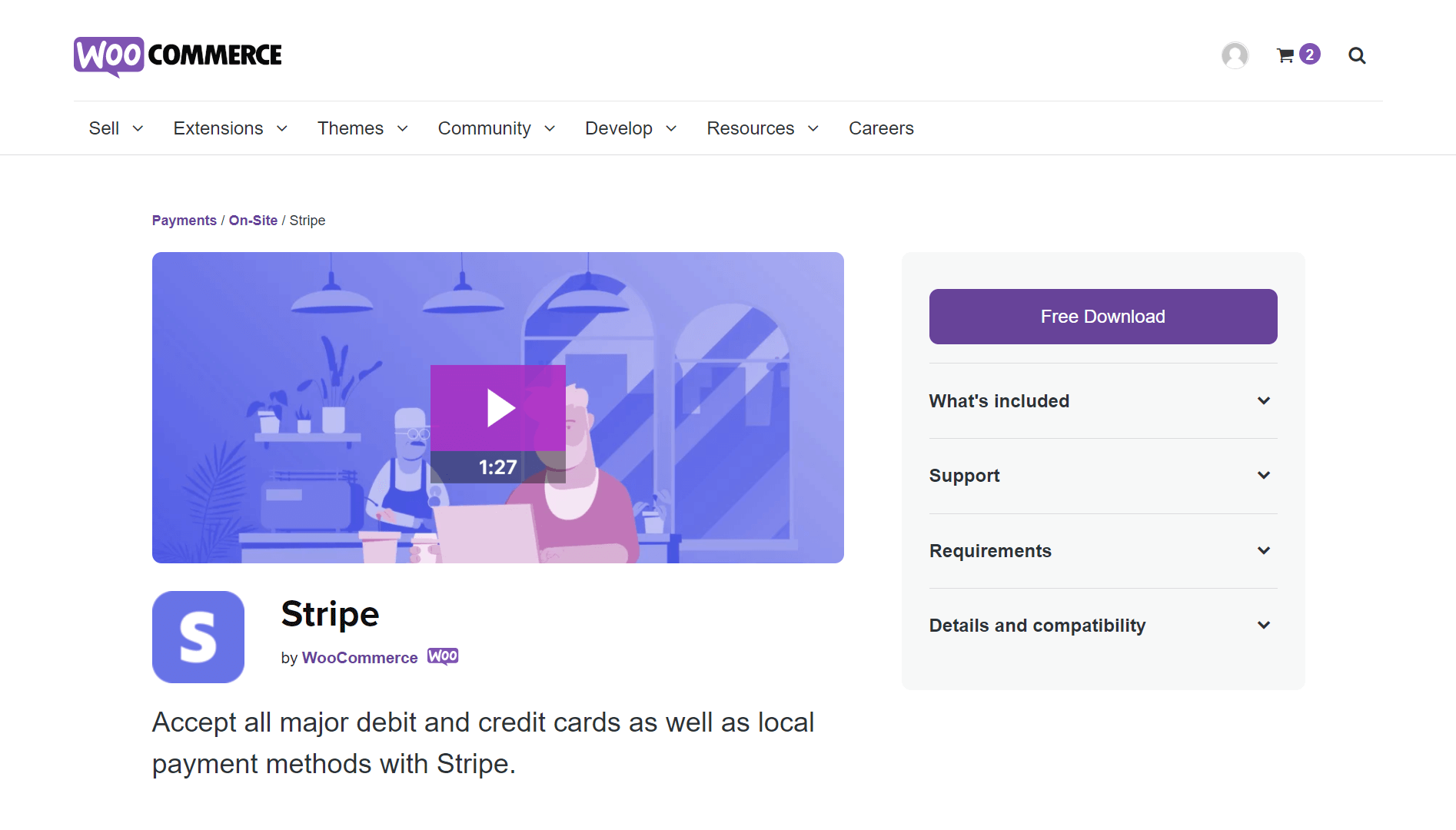 Highlight features:
A conversion-optimized PCI-compliant checkout flow
Regional payment methods are used to engage buyers all over the world
Assist for desktop and mobile devices checkout options faster
Improved fraud protection and 3D Secure support
Monitoring and reporting are simple
Price: This Stripe plugin offers no setup fees, no monthly fee, and no hidden costs
3. Worldplay Online Payment
You can handle all major payment options through the Worldplay Online Payment, including Mastercard, Visa, and even Paypal. A customer submits card information on your secure integrated payments page or is sent to your Worldpay managed payments page to do so. The purchase is received through the Worldpay gateway, which then sends permission to your website.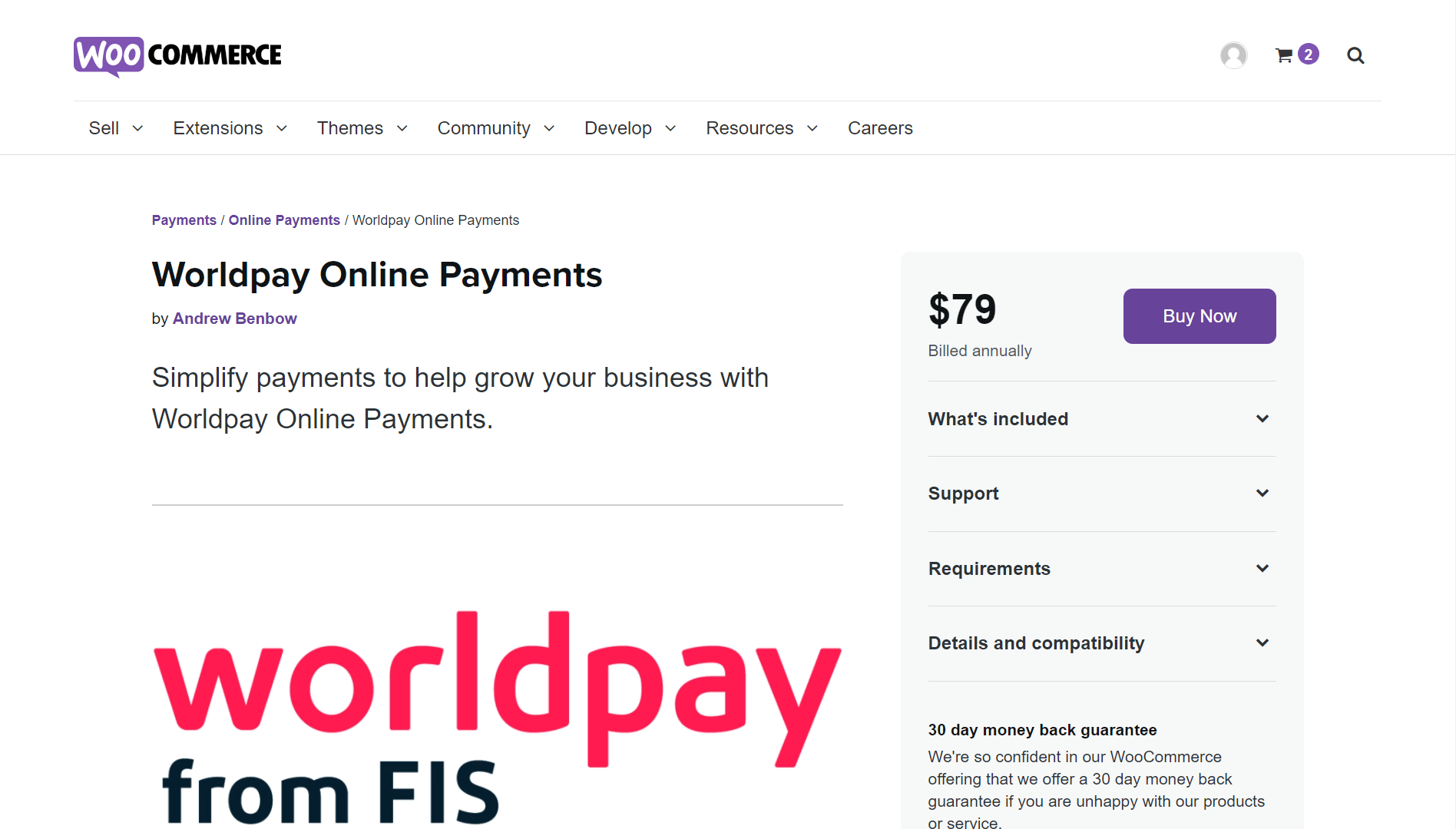 Highlight features:
Keep your data safe by not storing customer credit card information
Allow trading around the world with 120 currencies accepted and all major debit and credit cards supported
High-capacity systems will keep you available for business 24/7
The process of becoming PCI compliant has been simplified
There are no additional or hidden fees in our price
Price: This Worldplay Online Payment plugin costs $79, including 1-year extension updates, 1-year support, and a 30-day money-back guarantee
4. Square for WooCommerce
You can effortlessly synchronize sales, inventories, and customer details with Square for WooCommerce, control all of your channels from a single unified platform and use a single payment method across the whole of them. In just a few minutes, you can begin with Square. There are no long-term contracts, no hidden costs, and no unpleasant surprises. You only charge when you make a sale using Square for the WooCommerce plugin.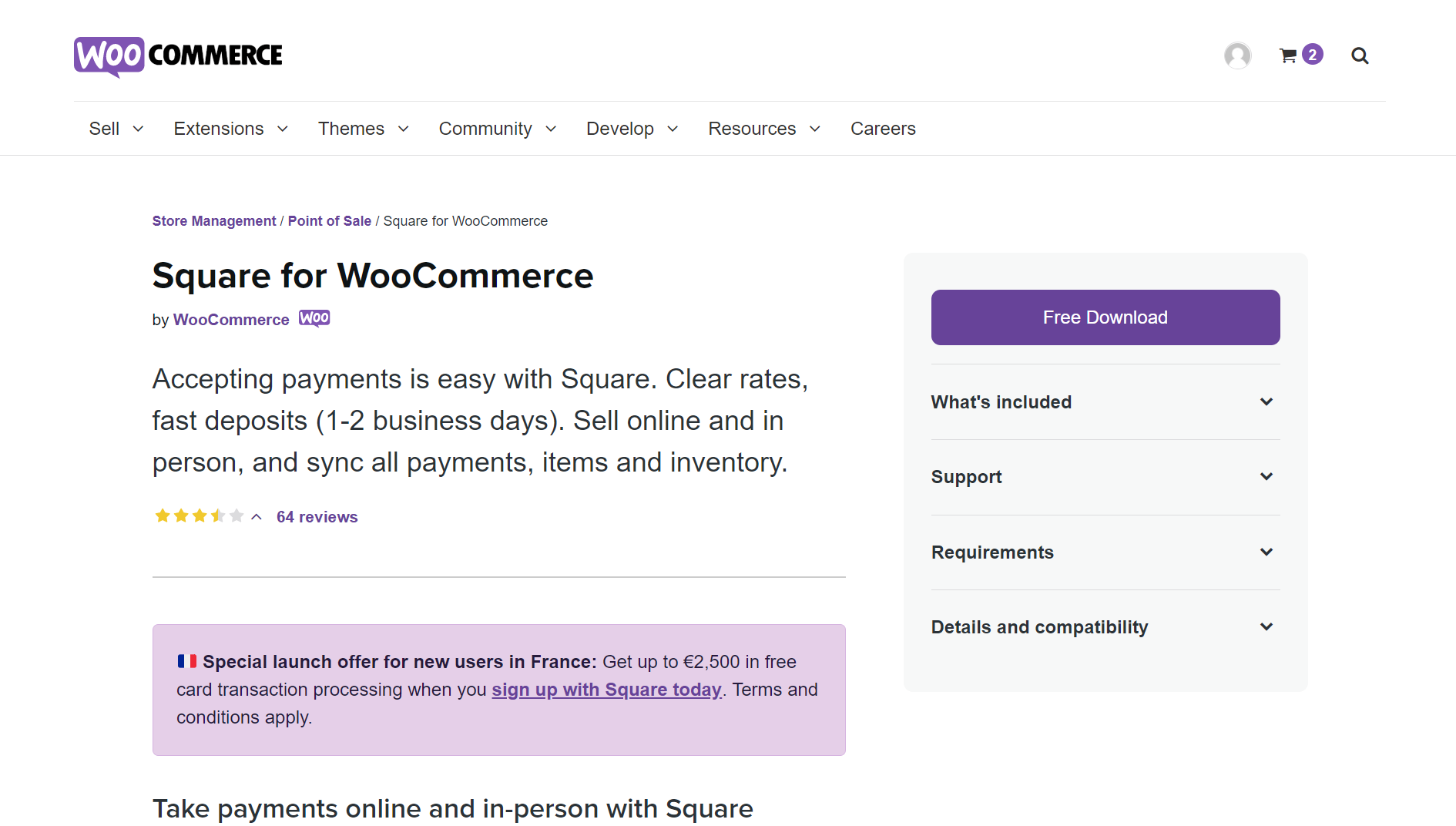 Highlight features:
Accept payments at any time and from any location
WooCommerce Subscriptions and WooCommerce Pre-Orders are now supported
Enable digital wallets that are mobile-friendly and quick to use
Assist to get itemized transaction data for better reporting
Among one to two business days, your cash will be deposited
Price: You can get the Square for WooCommerce extension at no cost and start accepting payments immediately
5. WooCommerce Deposits
Consumers can put down a deposit or use a payment plan for products you define with WooCommerce Deposits. You can construct bespoke payment plans with various percentages and intervals using this versatile tool. With easy-to-follow images, customers are directed through the procedure of paying for things while they explore and checkout.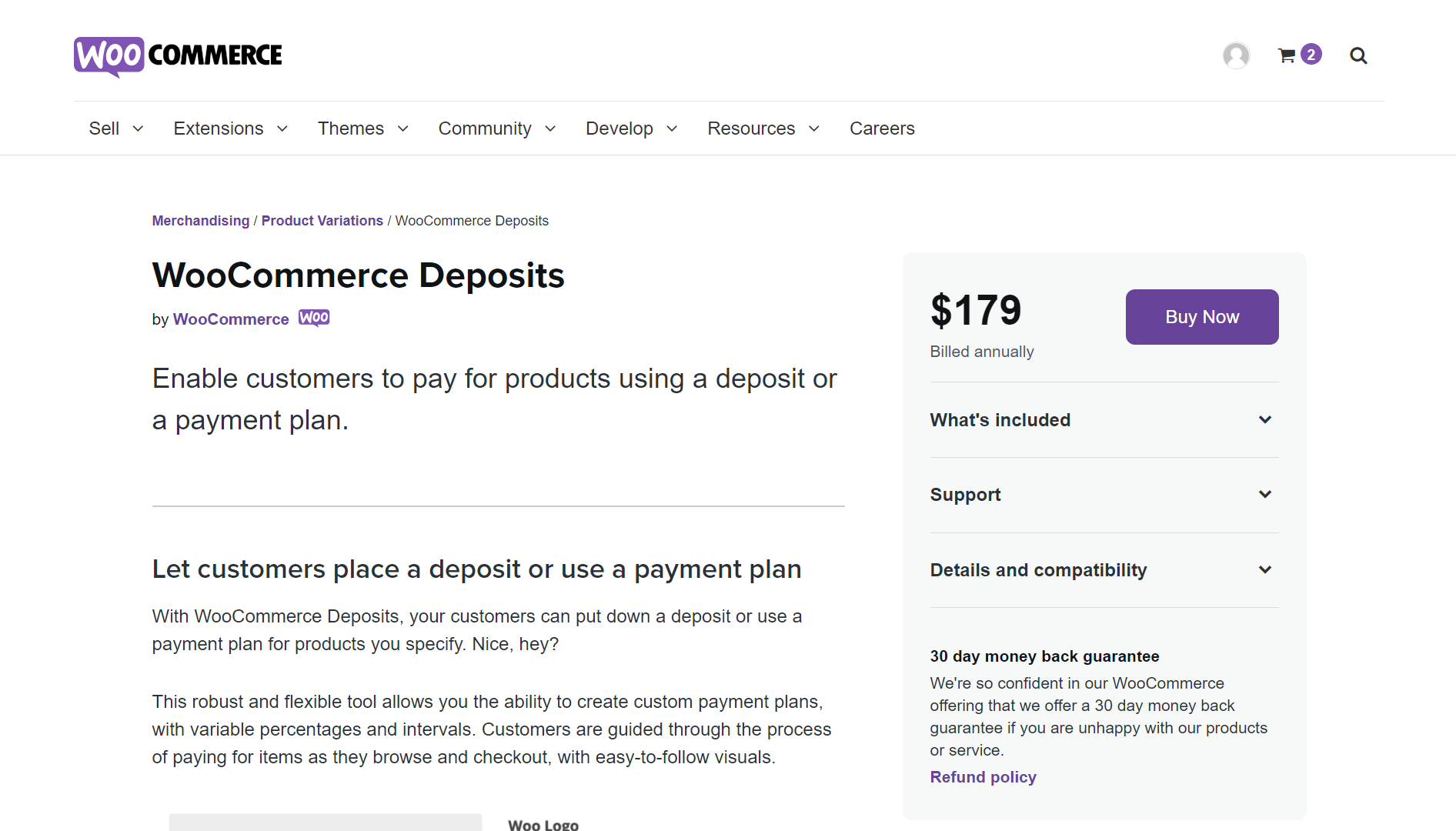 Highlight features:
Payment schedules can be created using days, weeks, or months
Acceptance of payments in the form of deposits, layaway plans, or any other payment methods
Customers can use an intuitive checkout flow that explains the payment plan in simple images
The customer has the option of paying in whole or making a deposit
Price: This WooCommerce Deposits plugin costs $179, including 1-year extension updates, 1-year support, and a 30-day money-back guarantee
6. WooCommerce In-Person Payment
The powerful BBPOS Chipper, created just for WooCommerce In-Person Payment, takes debit cards, credit cards, tap, swipe, and even digital wallets like Apple Pay. The BBPOS Chipper is a completely integrated and secure system for taking in-person payments for items placed online, with end-to-end point encryption and rapid transaction rates. Orders can be managed straight from your store's dashboard, reimbursements can be processed, and receipts can be sent or printed without ever leaving WooCommerce.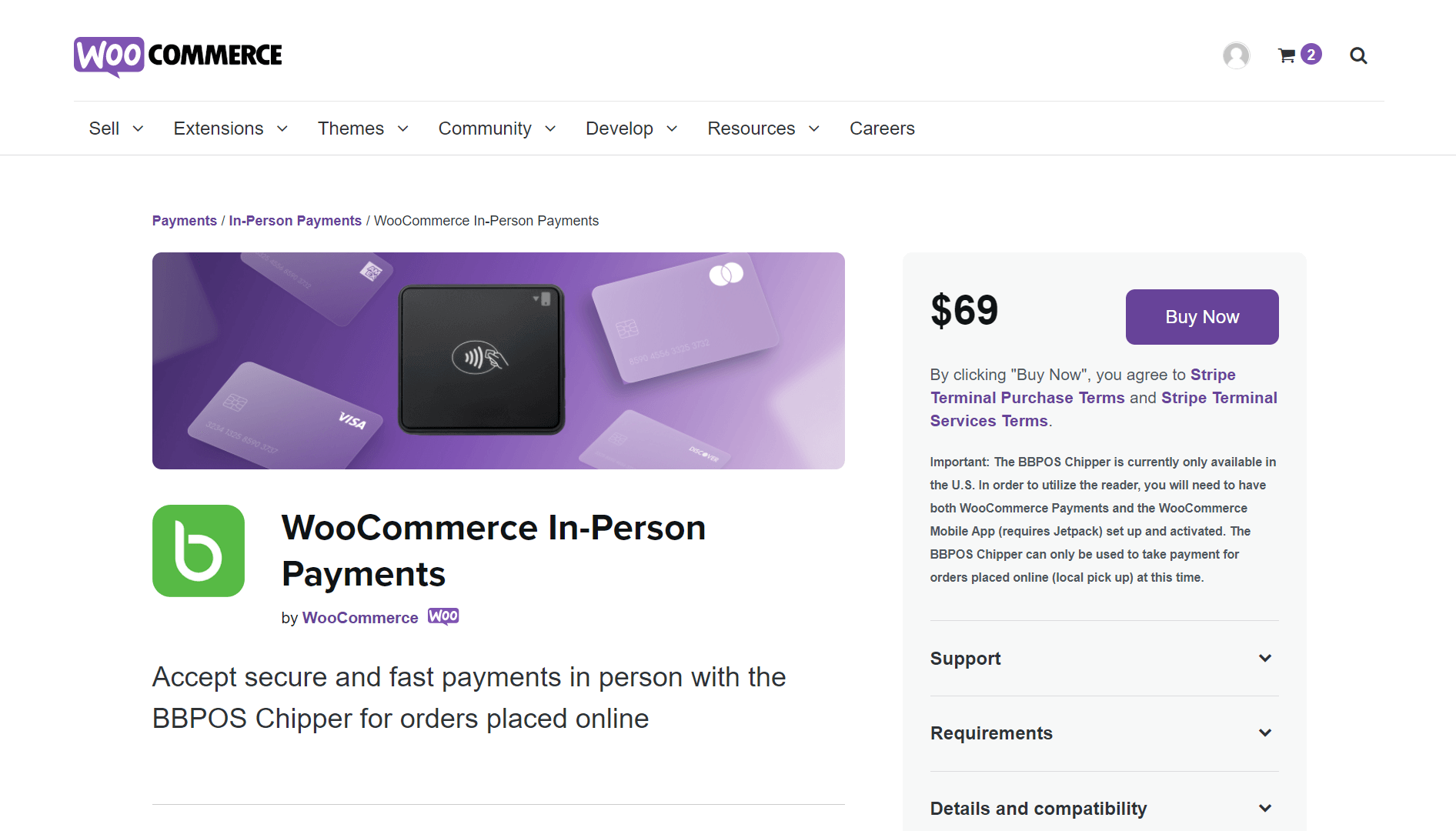 Highlight features:
Allow to keep track of your transactions more easily
Orders and stock are kept in sync with the fully integrated solution
Collect payments for internet orders wherever your business takes you
More options and flexibility for you and your customers
No need to manage multiple systems
Price: The WooCommerce In-Person Payment plugin costs $69
7. Braintree for WooCommerce
Braintree for WooCommerce is a payment gateway that allows you to accept credit cards and PayPal payments on your WooCommerce store. For convenient and simple checkout, users can keep their payment card information or link their PayPal account to their WooCommerce user account. Thanks to Hosted Fields, you can safely sell your products online with this gateway, which enables you to meet security procedures without compromising versatility or a unified checkout procedure.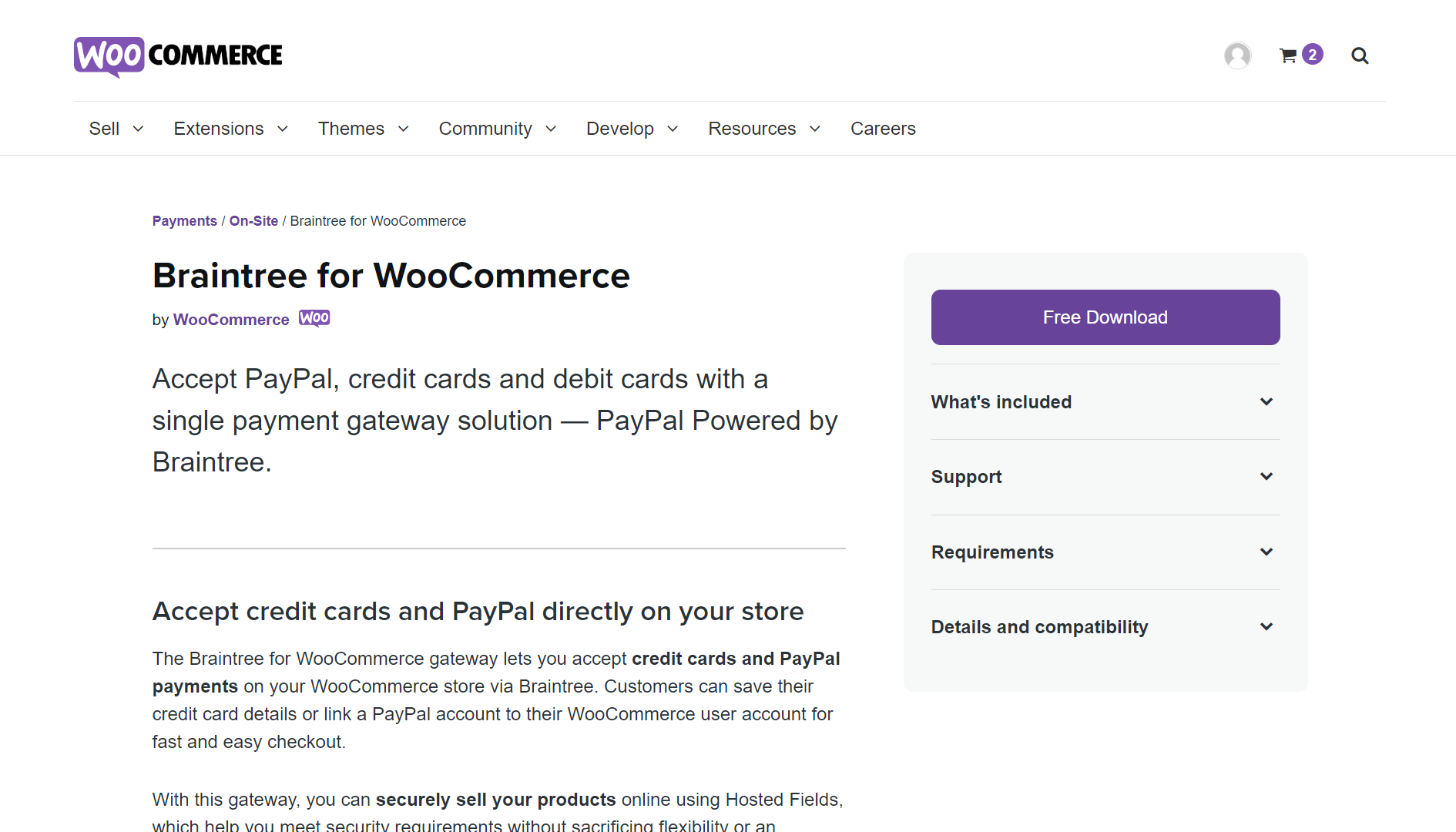 Highlight features:
A comprehensive and safe payment solution
Save payment methods for a more efficient checkout process.
PayPal buttons on the product, cart, and checkout pages allow for a speedier checkout.
Security and fraud protection options
Orders can be managed directly with WooCommerce.
Price: The Braintree for WooCommerce plugin offers no setup fees, and start accepting payments immediately
8. Xero
Xero is a great piece of software that manages everything from bank reconciliation to financial statements to inventory tracking and payroll for your business. Xero for WooCommerce allows the user to create automatic invoice generating in Xero for online sales.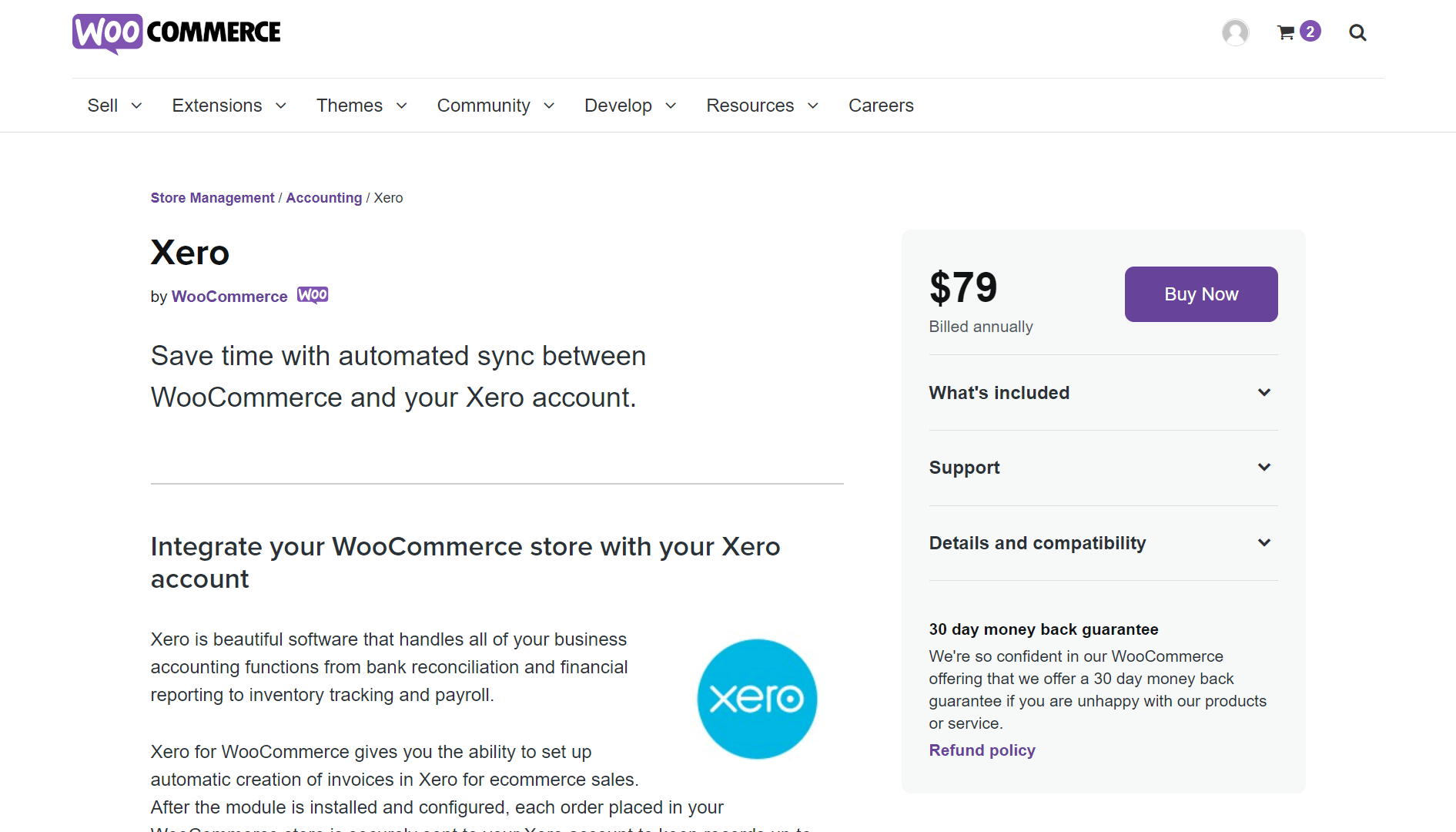 Highlight features:
Each order placed will be sent to your Xero account in a safe manner
Ensure that your records are up to date.
Xero receives all product, shipping, discount, and tax information
Payments are allocated to the relevant invoice to maintain everything in order
Price: This Xero plugin costs $79, including 1-year extension updates, 1-year support, and a 30-day money-back guarantee
9. Eway
The Eway WooCommerce plugin allows you to handle credit card payments directly from your store, rather than diverting your clients to a third-party site. Everything takes place on your website, and the customer never leaves. Tokenization is supported by Eway for WooCommerce, allowing users to save credit cards for future purchases. WooCommerce Subscriptions, WooCommerce Refunds API, WooCommerce Memberships, and WooCommerce Bookings are all supported by the gateway.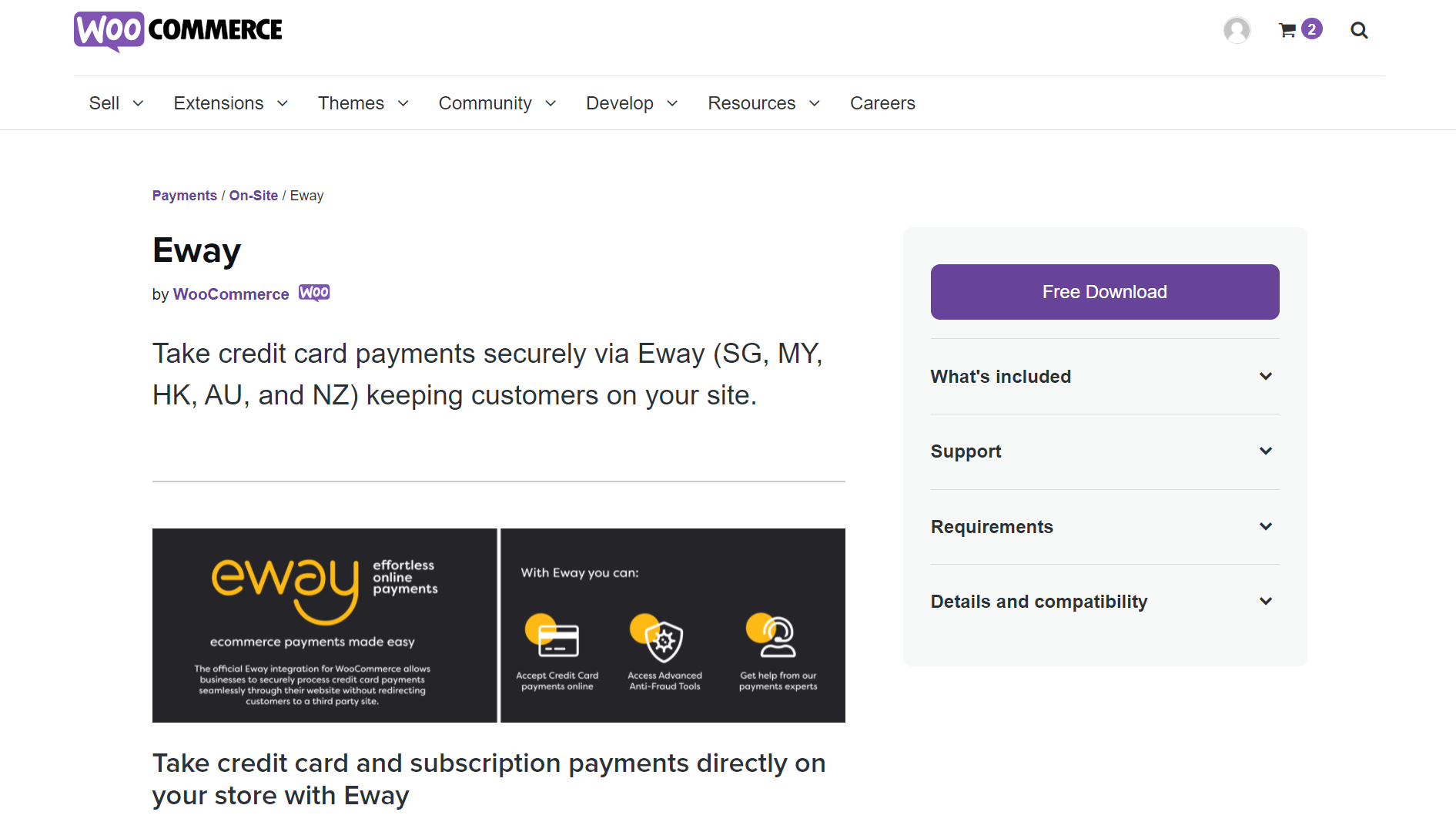 Highlight features:
Detect and block fraud with Eway's built-in sophisticated fraud protection toolkit
Versions 1 and 2 of 3D Secure are supported.
Ability to host real-time promotional flash sales
To assist with special promotions, create discount coupons for your clients.
Customer feedback on your products
Price: This Eway plugin offers no setup fees, and start accepting payments immediately
10. Paysafe Gateway
Paysafe Gateway is an online payment gateway provider in Europe, the United States, and Canada. Paysafe offers a safe payment form that relieves retailers of the stress of PCI compliance. It enables merchants to accept payments from customers using credit and debit cards, direct debit, and other alternative payment options. Paysafe is a completely integrated payment solution that can start handling credit and debit card payments within hours when used in conjunction with WooCommerce.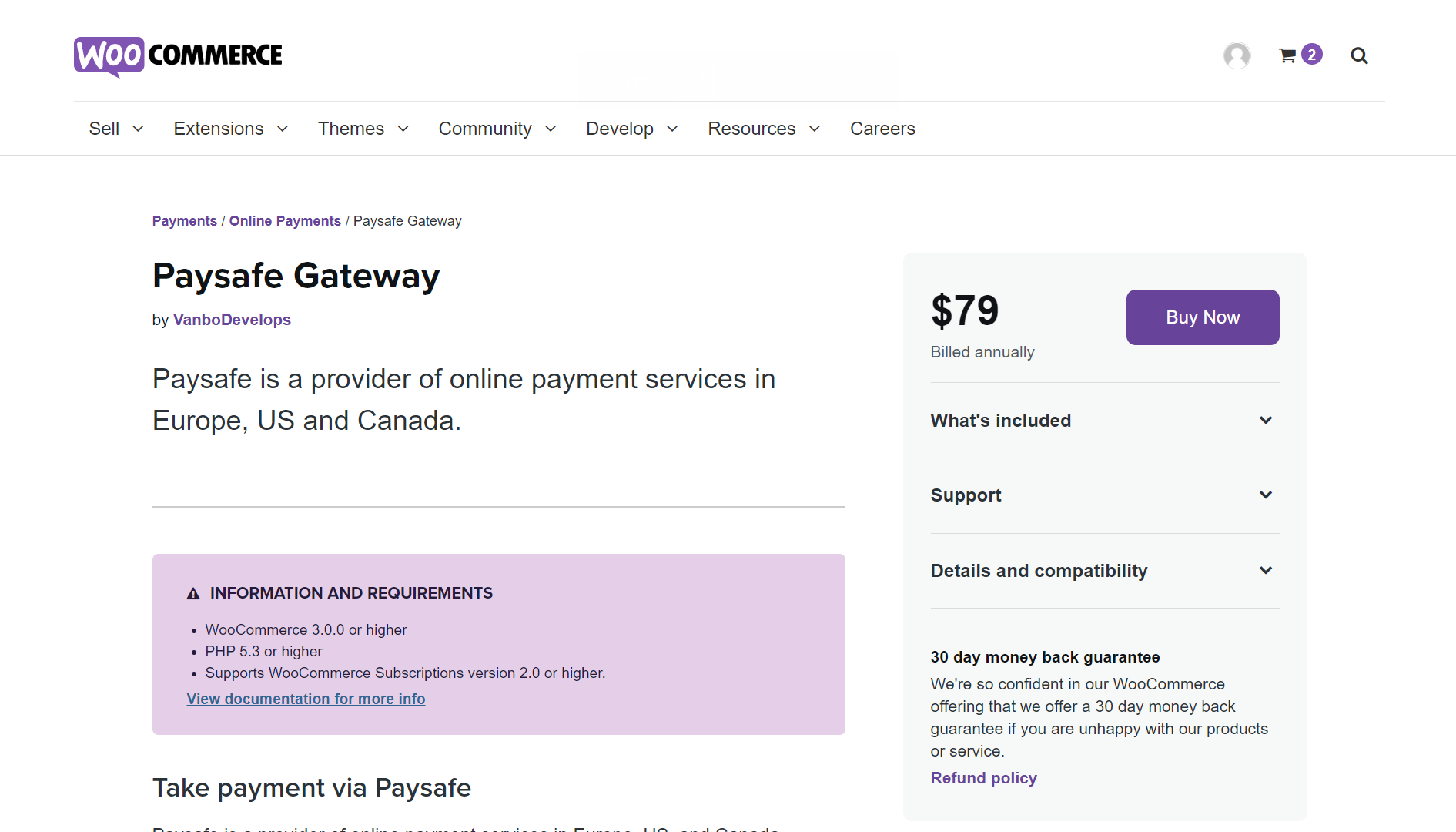 Highlight features:
Payments can be taken directly from the admin panel.
Customers pay using their saved credit cards.
Paysafe Checkout JS API and Paysafe Hosted Payments API are supported.
Payments can be refunded through the admin dashboard.
Accept payments via direct debit.
Price: This payment gateway plugin costs $79, including 1-year extension updates, 1-year support, and a 30-day money-back guarantee
11. WooCommerce Payments
Without having to connect to a third-party platform, you can accept payments, track cash flow, resolve disputes, and control recurring revenue straight from your store's dashboard with WooCommerce Payments. WooCommerce Payments streamlines the financial transactions for both you and your customers, giving you more time to concentrate on your business's growth. This completely integrated solution is WooCommerce's only payment mechanism created just for WooCommerce.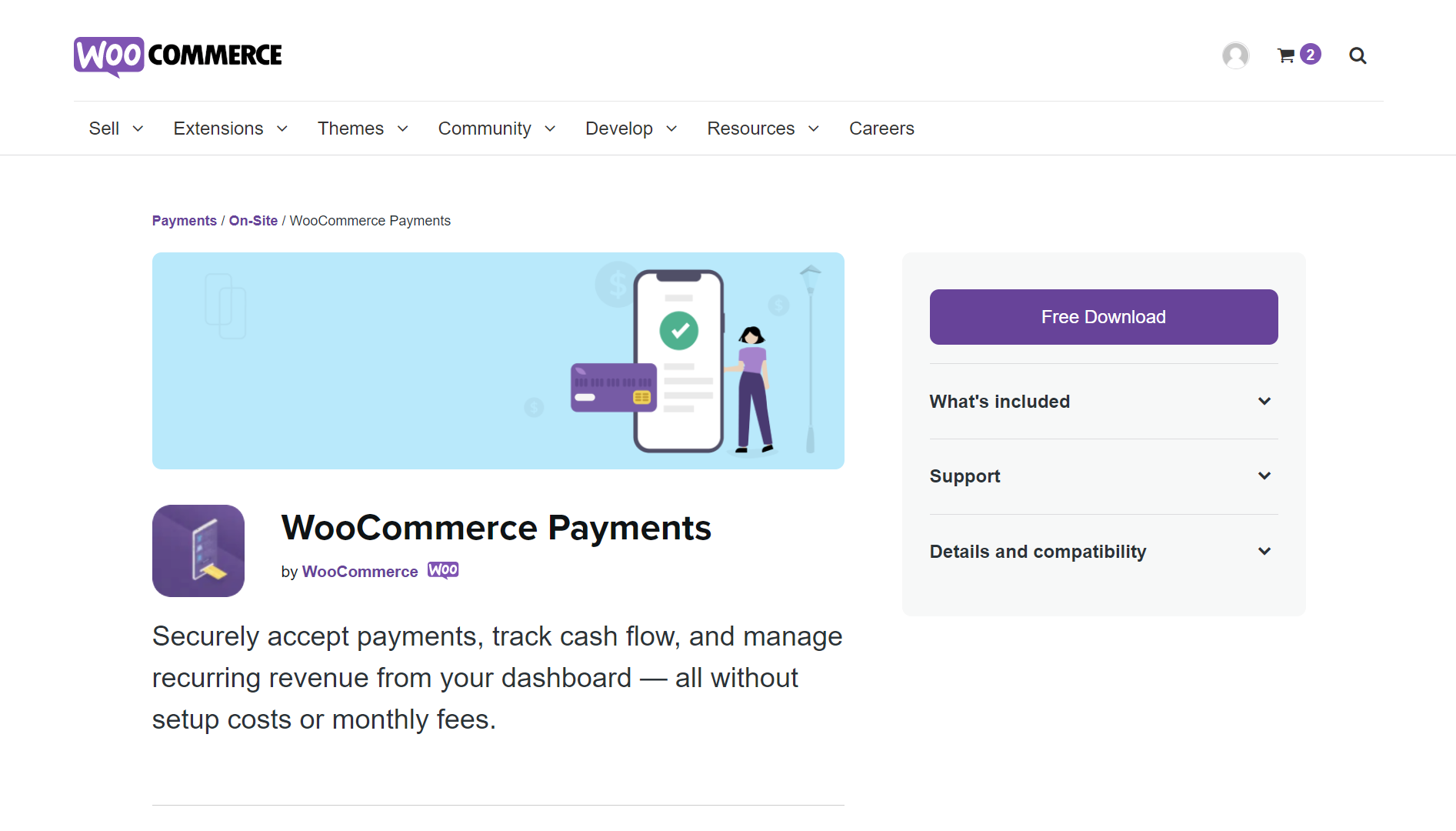 Highlight features:
WooCommerce Payments allows you to accept payments in over 135 different currencies.
No more logging into websites run by third-party payment processors
Everything may be managed from the convenience of your store's dashboard
Reduce basket abandonment by streamlining the checkout process
Instant access to your funds when you are in need
Price: This WooCommerce Payments plugin offers no setup fees, and start accepting payments immediately
12. ClearPay
With ClearPay, you can offer your consumers the opportunity to buy now and pay later. At the checkout, the plugin gives you the option of using Clearpay as a payment method. Furthermore, Clearpay is the preferable method to pay because there are no credit checks, no interest, and no fees if you pay on time.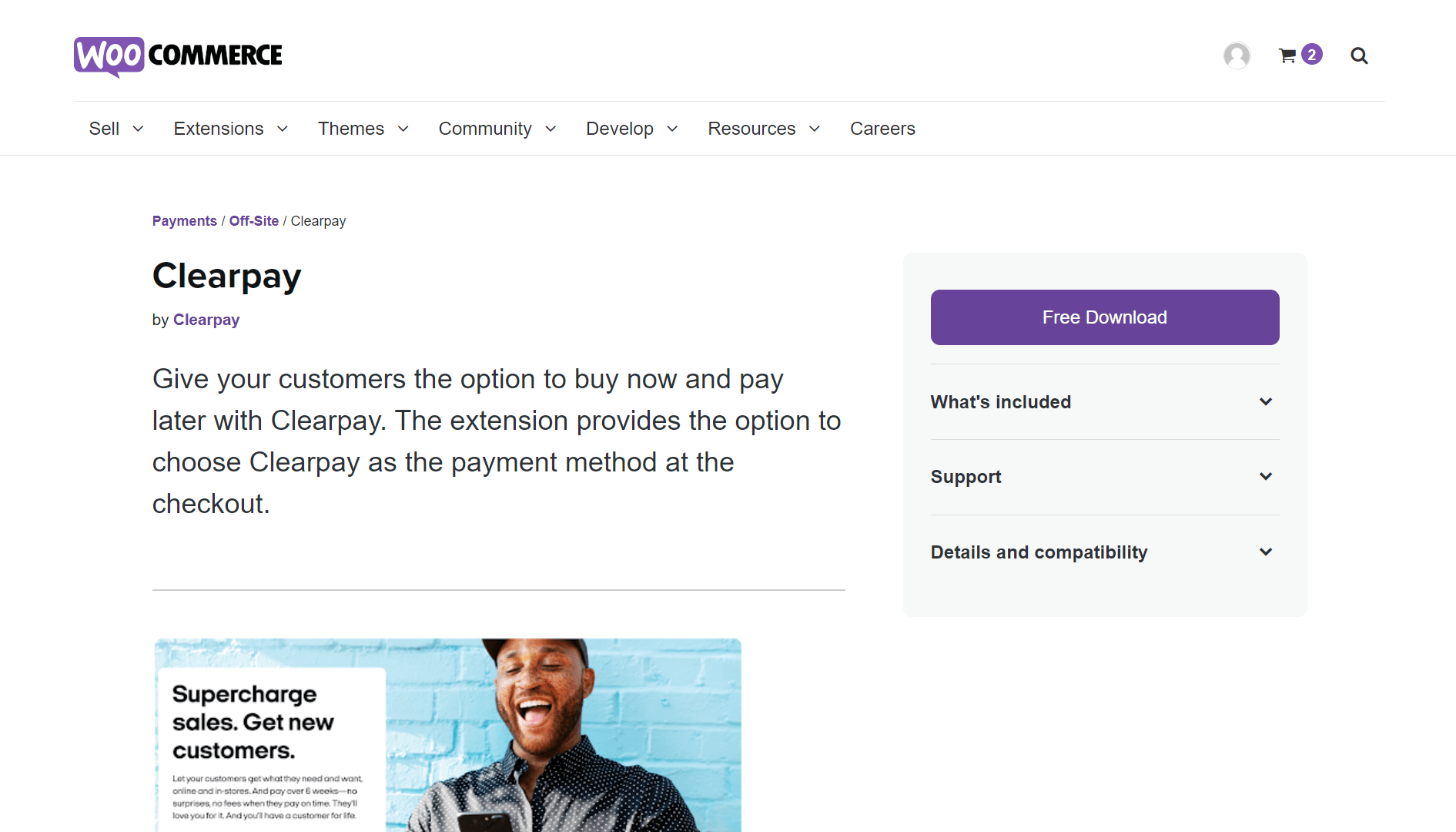 Highlight features:
Express Checkout is a feature that speeds the checkout process to give merchant partners more value and satisfy customers
Trade across borders is simple
All merchants have access to a site with detailed information
Clearpay is backed by one of the industry's most sophisticated risk models
Clearpay assumes all fraud risks, allowing you to feel safe
Price: This Clearpay plugin offers no setup fees, and start accepting payments immediately
Final words
In short, running an online business is difficult, and ensuring that it runs smoothly and effectively is a different story entirely. As a result, we aim to guide you through the process of making the online business marketplace easier for you. We also provide an in-depth understanding of how crucial a simplify commerce plugin is, as well as a large choice of WooCommerce simplify commerce plugins for you to use in the process of setting up your online store.
In addition, we are also aware that finding the right approach can become a lengthy process. Therefore, we deeply hope that we have somewhat supported your online business through the article 12 Best Simplify Commerce Plugins in WooCommerce. Moreover, we hope that you can find the right way for yourself as quickly as possible.
We also aspire to assist you in making your business run more smoothly and profitably. Please remember, your experiences and feedback are some of our valuable motivations. So don't hesitate and let us know how you feel.
Give it a go and comment below your results!
New Posts
Subscribe
Stay in the know
Get special offers on the latest news from AVADA.
40k
subscribers has been joined!
Earn $10 in reward now!