ShippingEasy Plugin For WooCommerce: Review & Guide
ShippingEasy Plugin For WooCommerce: Review & Guide
You've been looking forward to the day when all of your hard work pays off, and your company thrives. Now that your items are selling, you may be hurrying to expedite order fulfillment while keeping consumers informed of order timelines and tracking. Even if you attempt, executing this work manually day after day is not the solution. Fortunately, there are several automated shipping software alternatives available. ShippingEasy is a top choice for optimizing your shipment, inventory management, and offering a professional shipping experience.
That is why today's article will show you the detailed review and guide of the ShippingEasy plugin for WooCommerce. We will guide you through the advantages and disadvantages, features, and alternatives of ShippingEasy so you can make an informed decision depending on your company's existing shipping needs, quality of customer service, and budget. This ShippingEasy review will show all the necessary information that you need to know about this platform. So, perhaps, by the conclusion of this article, you'll have a clearer understanding of whether this solution fulfills your online store's demands.
An overview of ShippingEasy plugin for Woocommerce
ShippingEasy is an online shipping service for eCommerce enterprises. It offers the most user-friendly online shipping tool for online sellers, owing to a cloud-based shipping system that delivers the lowest USPS postage rates and the flexibility to integrate existing UPS/FedEx accounts.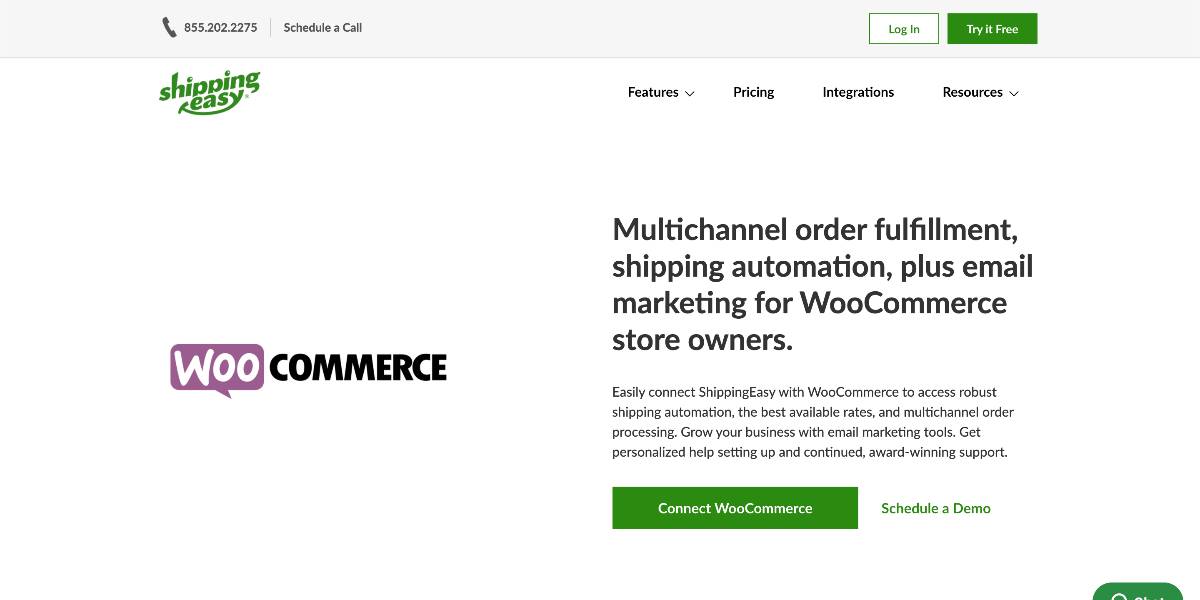 ShippingEasy connects with various marketplaces, shopping carts, and eCommerce platforms to provide real-time order fulfillment and tracking data across all systems. It makes it simple to process orders, automate tracking, and print labels. At the same time, it helps to decrease postal mistakes to save time and money on shipment.
Detailed Review of ShippingEasy
Pros and Cons
The pros of ShippingEasy for WooCommerce:
ShippingEasy has excellent client service. According to several evaluations, ShippingEasy's customer service staff are professional, courteous, and respond quickly.
To use ShippingEasy's platform, all you need is a web browser and an internet connection.
ShippingEasy's automation capabilities are simple to use, saving you time, reducing the possibility of human mistakes, and speeding up the entire shipping process.
The ability to use Commercial Plus rates with USPS is a significant benefit!
ShippingEasy has impressive reporting capabilities.
ShippingEasy also includes various native connections, making it simple to connect with a wide range of online marketplaces, shopping carts, shipping carriers, and so on.
ShippingEasy also includes an API, allowing you to create bespoke connections with any other software you need to manage your business.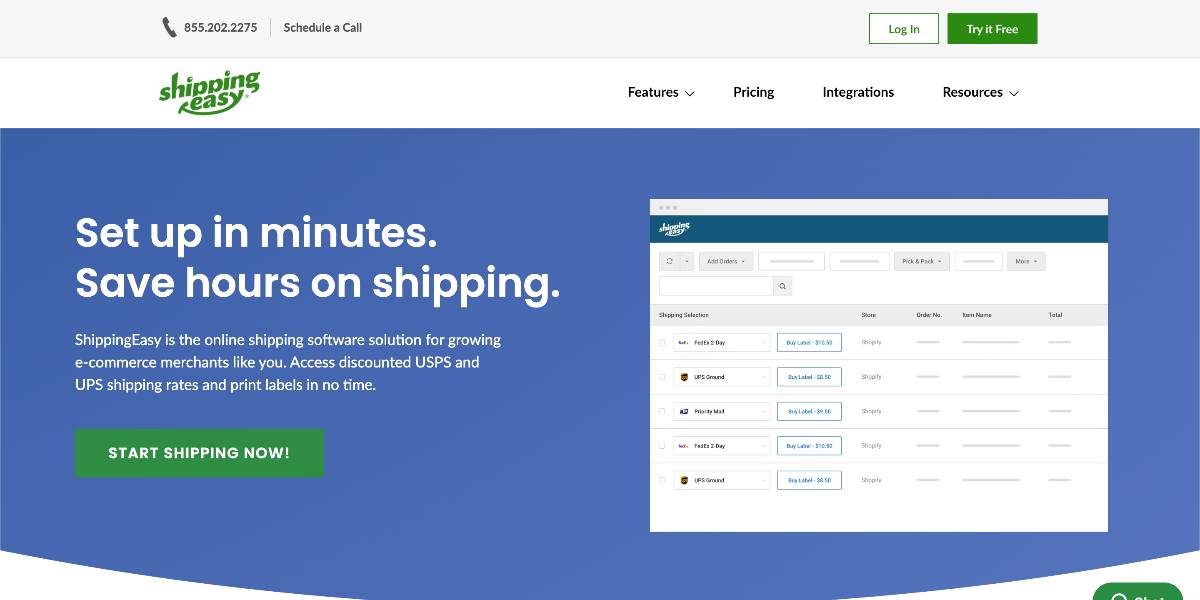 The cons of ShippingEasy for WooCommerce:
The UI of ShippingEasy does not adjust to the size of all browser windows.
There have been a few complaints of charging upon cancellation: Even after canceling their ShippingEasy subscription, some consumers were continuously invoiced every month.
Some consumers believe that a handful of ShippingEasy's features should be improved. Specifically, they could increase the personalization of their packing slips and speed up the data entering the process.
Only USPS is included in the free plan and the UPS tracking has the potential to grow better.
The responsiveness of the website could be enhanced.
Partial shipments might cause problems, and CSV files can be difficult to upload.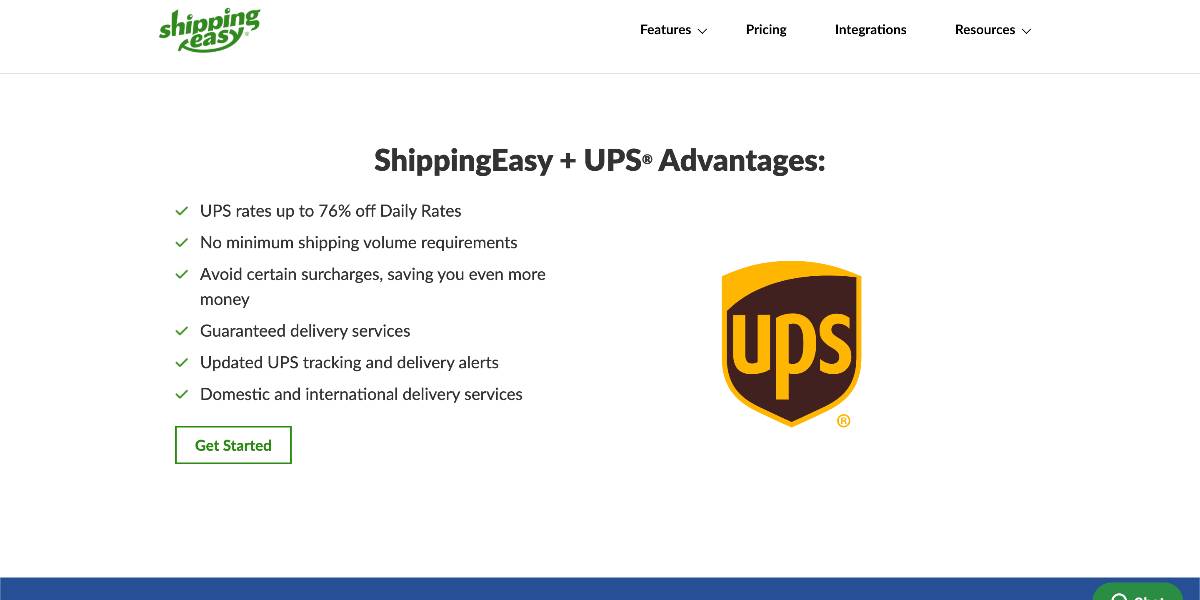 Ease of Use
ShippingEasy's platform, like the majority of its practical components, is simple to use and does not necessitate significant technical knowledge. The UI is uncluttered and enables simple navigation. When you are unsure about the following action to take, helpful pop-ups will guide you. You can connect your eCommerce orders directly to your ShippingEasy dashboard using popular plugins such as WooCommerce. Paid plans will be able to compare carriers to find the best deal. You may, however, only view prices for one carrier at a time. It would be convenient if multi-carrier support could be displayed on a single screen. ShippingEasy is explicitly designed for WooCommerce shops. It connects with WooCommerce and allows you to manage your orders and business from just one location.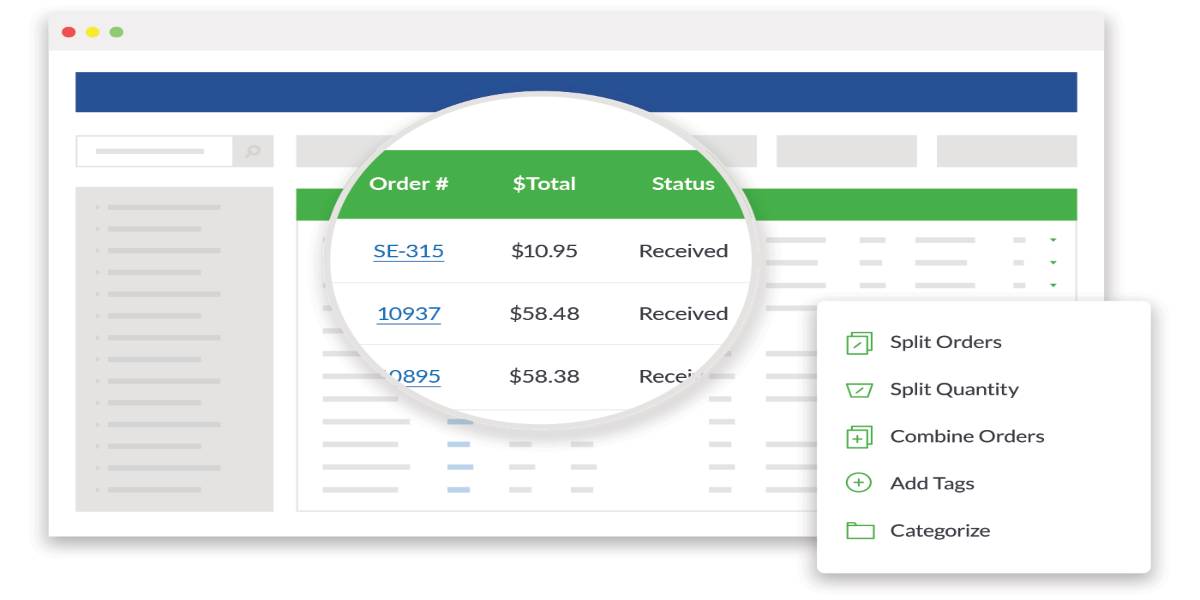 The dashboard will display when you link your store to ShippingEasy. The interface is quite intuitive and straightforward to use. Orders are quickly synchronized and appear in the store within 1-4 hours. Choose the charges for which you wish to create a Shipment and then click Create Shipment. When you click, you will be brought to a screen where you may adjust the shipping specifications, such as the weight, carrier, and location. Finally, you must pay for the shipment and obtain the printing label. You will be sent to a page where you may print the labels, packing slips, and other markers. Set up automatic shipping criteria for comparable items and leave the printing to the printers. You may also find shipping charges by visiting the shipping calculator. It is located in the lower left-hand area of the dashboard. Overall, ShippingEasy is quite simple and offers the most user-friendly interface with obvious navigation to several functions.
Add-ons and Integrations
ShippingEasy provides over 60 integrations in various areas, including accounting, API, carriers, eCommerce, inventory, marketplaces, and others. Additional add-ons include "Customer Marketing," an email marketing tool that sends customized messages based on big data from your purchases and customer information. Pricing starts at $14 per month for 5,000 emails and goes up to $1,199 per month for 3,000,000 emails.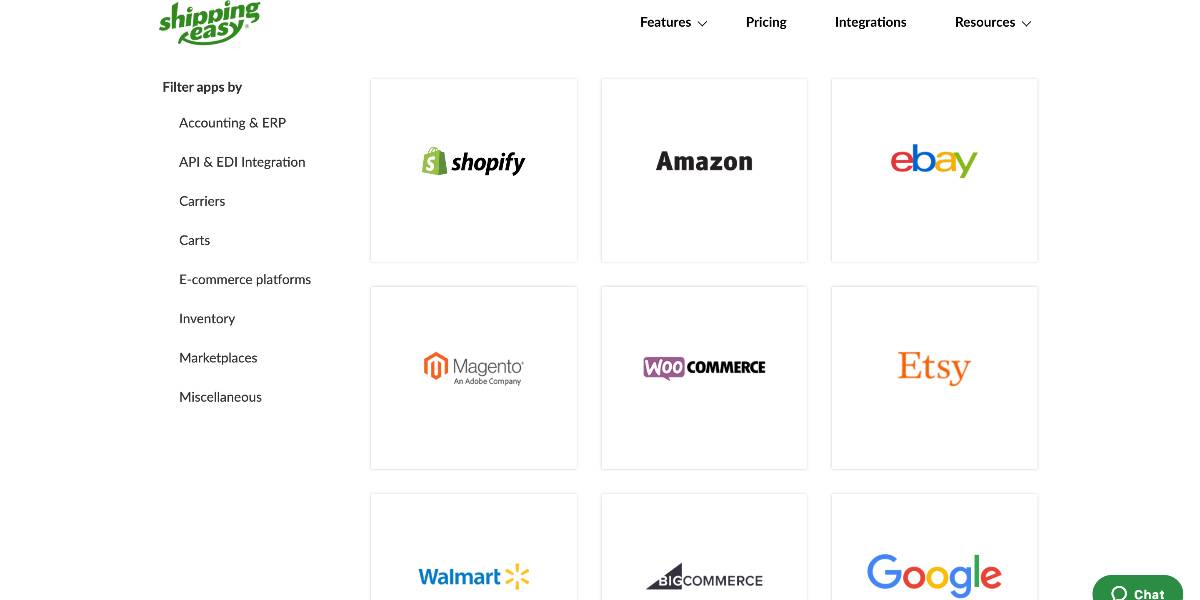 Pricing Plans
This is most likely the section of the ShippingEasy Review that you are most interested in. As a result, you'll be pleased to hear that ShippingEasy offers exceptional value for money. They charge based on the number of shipments you send each month. So, in general, the more you ship, the more you pay. Here's a more in-depth look at all of their price options:
The Free plan: You may send 50 shipments every month for free. However, you are only entitled to the self-help knowledge base and the community forum; you are not further training or customer assistance. You cannot also personalize the shipping labels.
The Basic plan: This is what you'll receive for $29 each month:

500 shipping processes per month.
Live chat, email, and phone help are available, as is access to their knowledge base.
Unique setup and training.
You can ship using any of their carriers.
USPS rates are reduced.
Customizable shipping labels

The Plus plan: For $49 per month, you receive everything in the Basic plan, plus:

1,500 shipments per month.
Discounted USPS cubic savings for advanced and committed training.

The Select plan: For $69 per month, you'll get everything in the previous two bundles, as well as:

3,000 packages per month.
A dedicated customer success representative

The Premium and Enterprise plans: Last but not least, for $99 a month, you not only receive everything described above, but you also get 6,000 shipments every month. It's also worth mentioning that there's an Enterprise plan available. This is intended for companies that need to distribute more than 6,000 packages each month. This will cost you $149 a month and allow you to ship an infinite number of orders.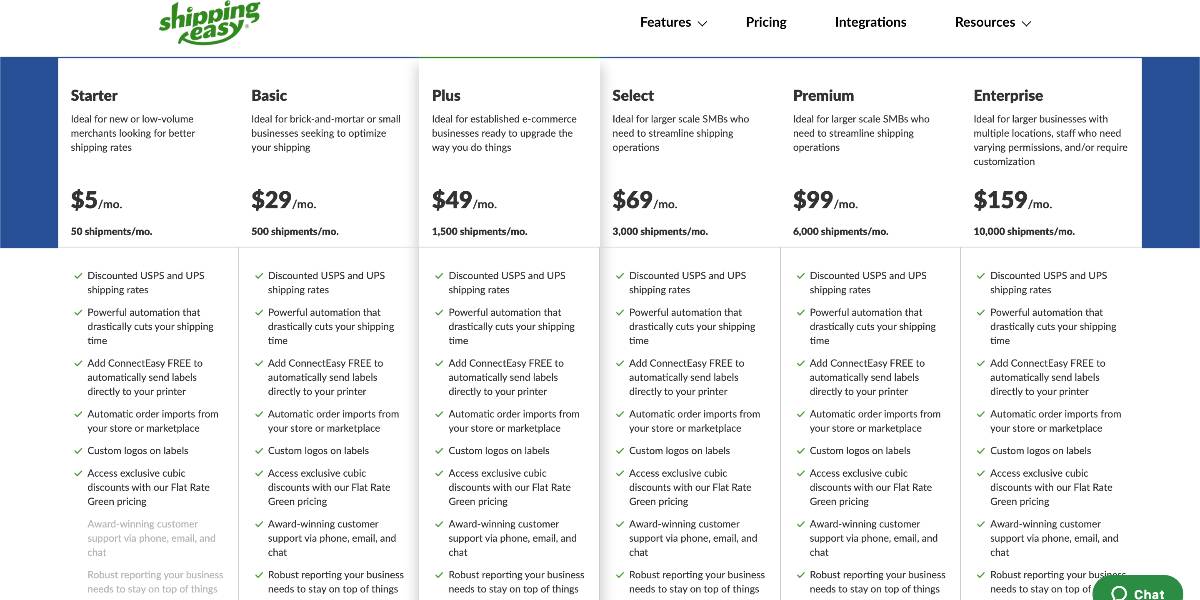 Outstanding Features
Inventory Management
The inventory management option is an extra cost, but it is a massive benefit for the E-Commerce enterprise. It handles duties including order fulfillment, eliminating out-of-stock goods, and other tasks to promote customer happiness.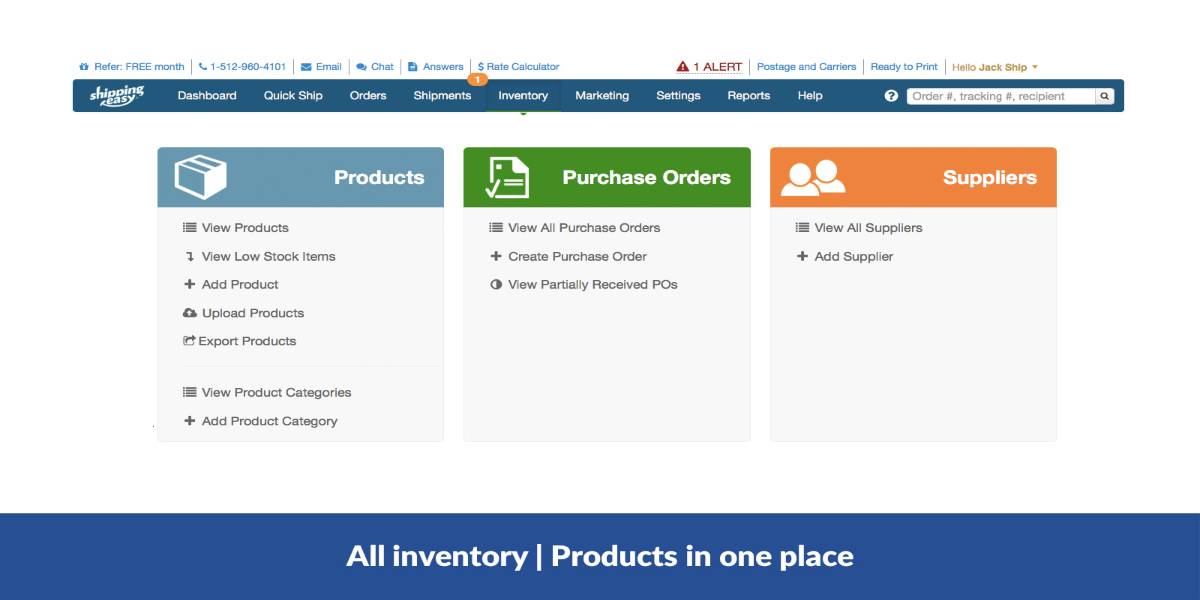 You may manage inventory across all sales channels with automated inventory management and construct a supplier database to remember where to reorder things. Merchandise may be synced with products and suppliers. Set low stock notifications to warn consumers as well.
Order Management
You can manage all of your orders from the dashboard. It works with all of the main markets, including Shopify, Amazon, and WooCommerce. Similarly, you may integrate with your preferred shopping carts. Your orders are downloaded and instantly reported in real-time once they have been placed. You may also download the orders' CSV file later. You may split your orders and generate split quality for them. You can configure the automated workflow's shipping rules. Set up the filters and sort your orders fast if you wish to sort them. Categorize your orders and create a split quality, or merge and rearrange them based on the criteria.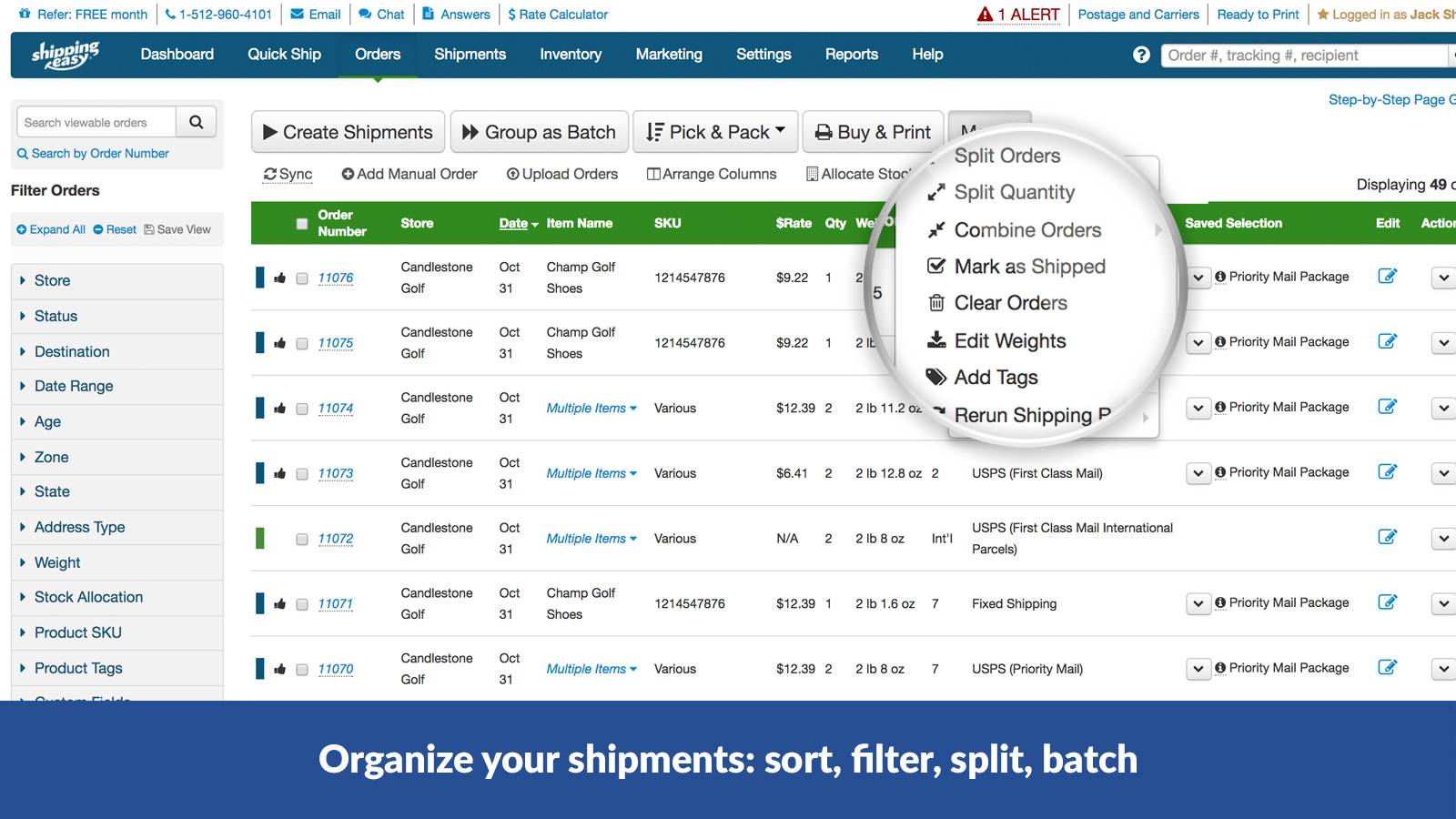 Upload the CSV files to the dashboard to easily construct automation and manage your orders. On your dashboard, you may also get a complete summary of sales and orders. The sophisticated reporting filters the products based on the shipping location and date range. Make reports that are tailored to your specific requirements. Create the shipment segments or the shipping services. You may also export the data based on your needs, such as customer orders, unshipped orders, etc.
Multichannel Sync
It is critical to selling on many sales channels to run a successful eCommerce business. Having a significant internet presence is essential for business survival because you never know when a platform will be bought or perhaps eliminated. Selling across several channels may help you expand your consumer base while also keeping current customers interested. You can handle orders from all of your sales channels in one spot with ShippingEasy.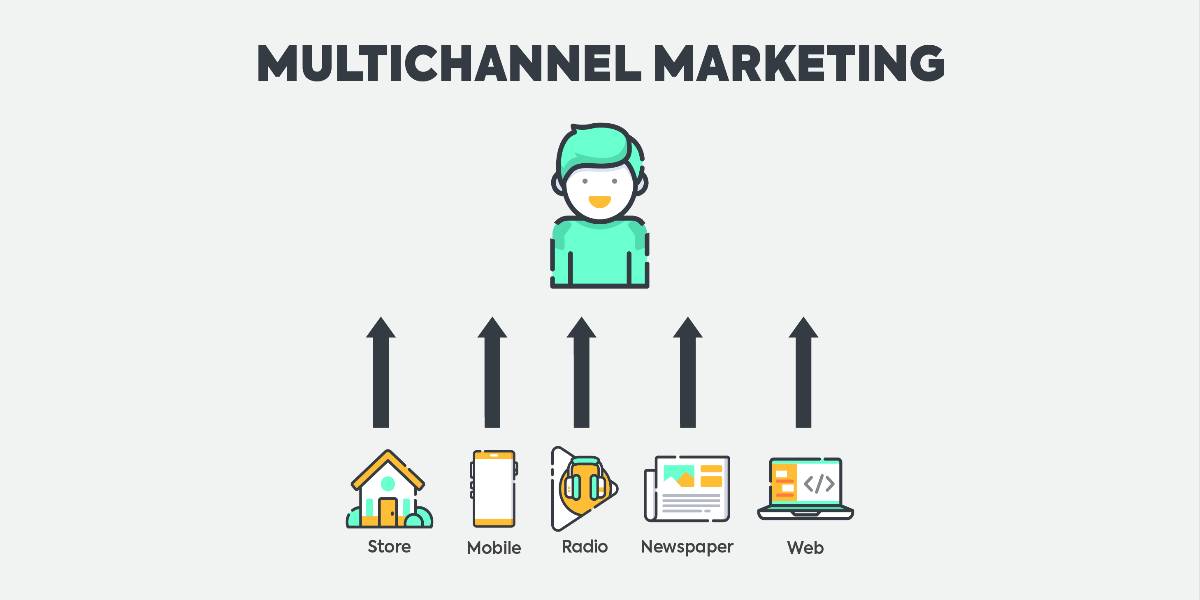 Moreover, you do not require any additional email marketing software to create the email campaigns. With automated email campaigns, you may send emails to your consumers and increase revenue. Send them emails with offers and discount coupons, if available. You may also develop upsells for these goods to re-engage consumers based on previous orders.
Customer Service
In the section of the positive of our review, we noted customer service. ShippingEasy's customer service is second to none - there's a lot to discuss here, so we've separated it into its area. The quality of assistance you're entitled to vary, as you'll see when we talk about price. This is dependent on the paid-for plan you've chosen. The free application gives you access to the knowledge base and the community forum. As a result, you cannot obtain any personal assistance (Email, live chat, etc.) But don't worry, the number and quality of their online material are astonishing. Most of the time, you won't need to call assistance after consulting with this resource. However, if you do and have a paid membership, consumers report ShippingEasy gives prompt and courteous replies.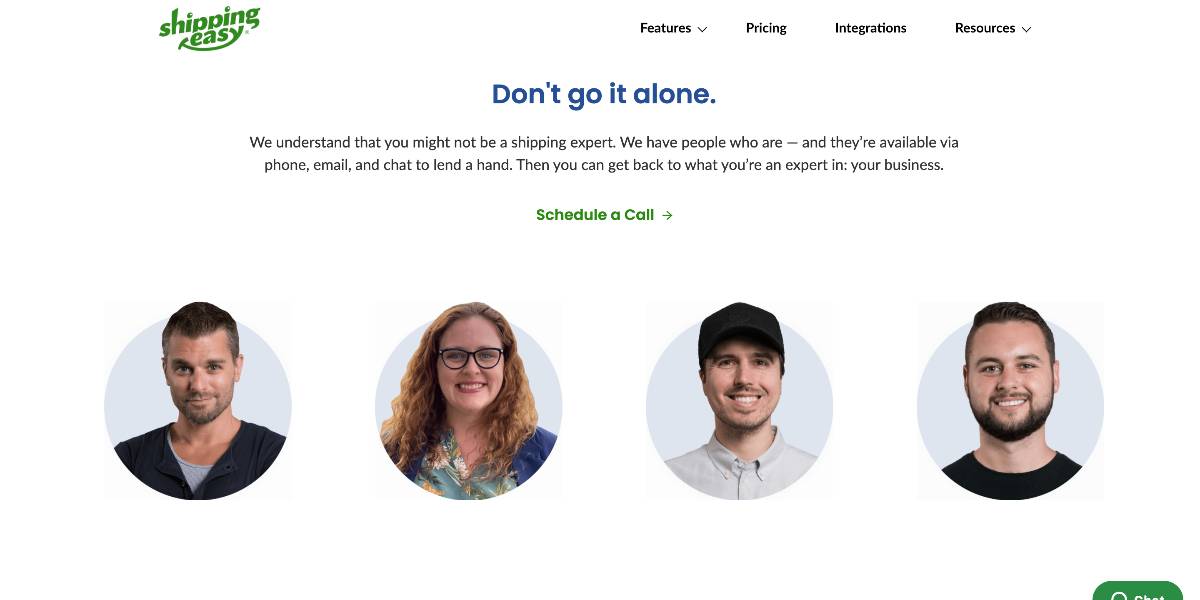 Aside from ShippingEasy's help center, the following are their additional customer support channels:
Resources for Shipping: This product does exactly what it says on the tin. You'll find all the information you need here concerning shipping rate adjustments, tables, international shipping, and so on.
Discussion in the Community: You may post your problems here or browse through issues that other people have previously posed and solved.
Giving feedback: To report a bug or suggest a feature, use this link.
Blog: This is where ShippingEasy announces product changes. There are also several articles with helpful hints on how to execute efficient and cost-effective shipping.
Contact a customer service representative: You may reach their customer service representatives via phone, email, or live chat Monday through Friday, from 8 a.m. to 6 p.m. CST.
The benefits of using ShippingEasy in WooCommerce
ShippingEasy is the perfect WooCommerce shipping tool for small and large merchants alike. It provides the best service in the market by assisting you in getting set up, printing labels, and saving money. Here are some benefits of using ShippingEasy in WooCommerce
Save Time Fulfilling Orders
Savings with ShippingEasy rapidly add up. Among the ways to save are:
Commercial Plus Pricing (a negotiated pricing rate generally reserved for enterprises with over 50,000 yearly shipments) is available to all Paid plans, with savings of up to 46 percent.
Exclusive Flat Rate Green Cubic shipping prices can, in some situations, outperform Commercial Plus rates.
You may connect your UPS/FedEx accounts to ShippingEasy if you have negotiated pricing with them.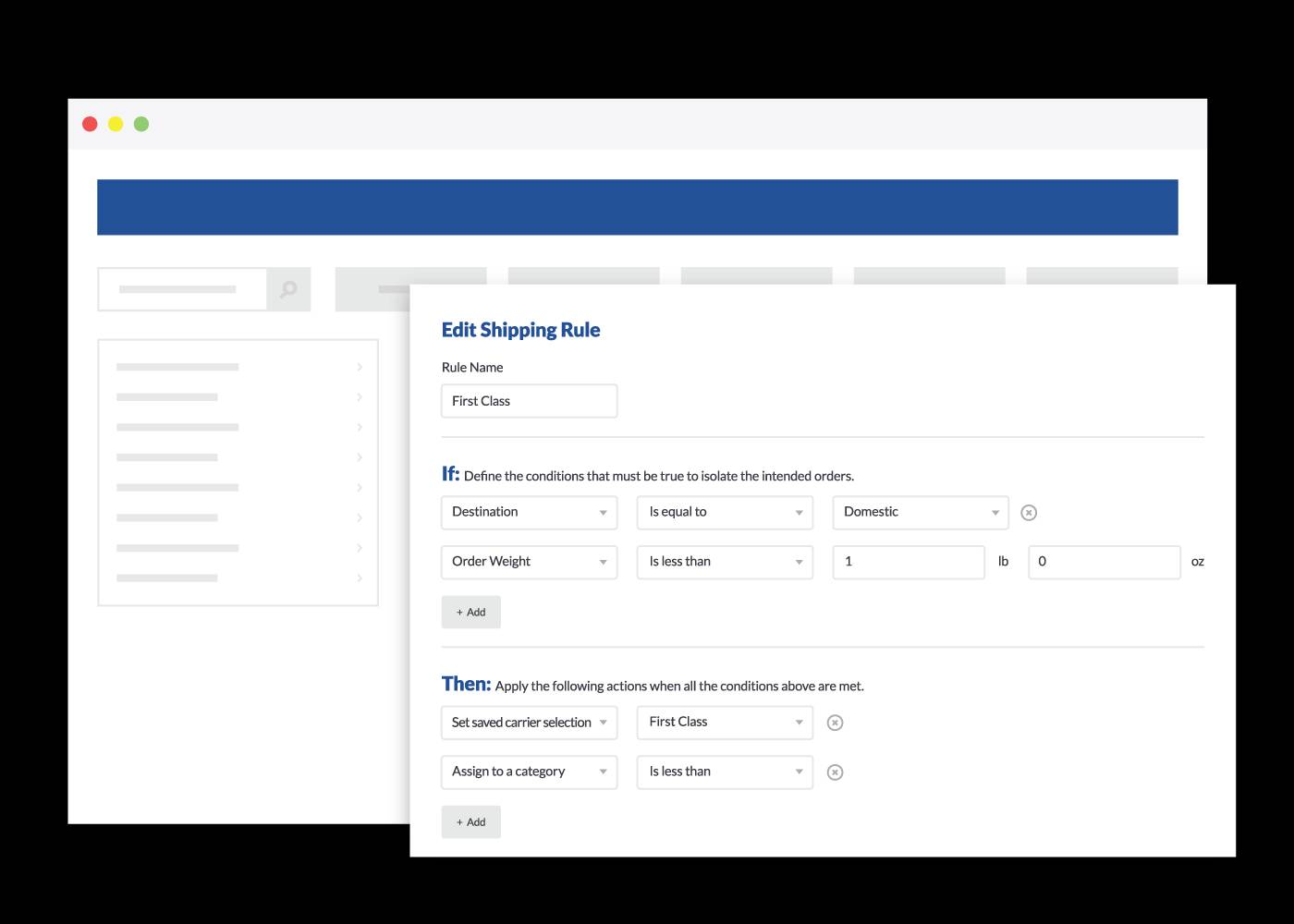 Save Money on Every Order Shipped
Simplify and accelerate the time it takes to dispatch orders by:
Reduce the time it takes to ship orders by providing phone, email, and chat assistance from 7 a.m. to 7 p.m. every business day.
Syncing, managing, processing, and printing shipping labels for WooCommerce orders and whatever else you sell online in one location.
Orders may be processed via WooCommerce, Amazon, Etsy, eBay, and various other selling channels using the ShippingEasy app.
It is permanently removing the requirement for address and order details copy/paste.
Order status is automatically updated in WooCommerce and any of your other selling platforms.
Customs paperwork may be auto-populated, making international shipping easier.
It can help you print labels in batches or one by one supporting at a time.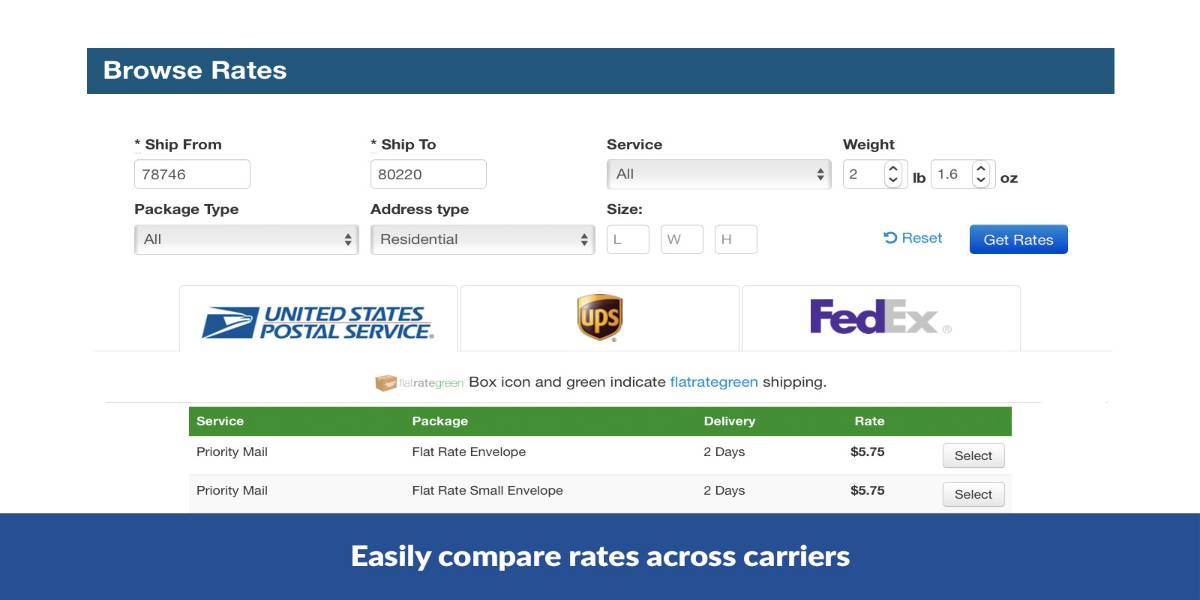 Boost Your Customers Shopping Experience
Customers have additional alternatives because of robust delivery features, which include:
Send a tracking number to your consumers in real-time.
With the Customer Marketing add-on, you can send automated emails and pre-built email marketing templates to win reviews and repeat business.
All of the customer information and purchase history are in one location.
Print packing slips on 4′′x6′′ shipping labels for beautiful personalized packing slips that are branded and in color.
Optimize your business operations by utilizing superior shipping options.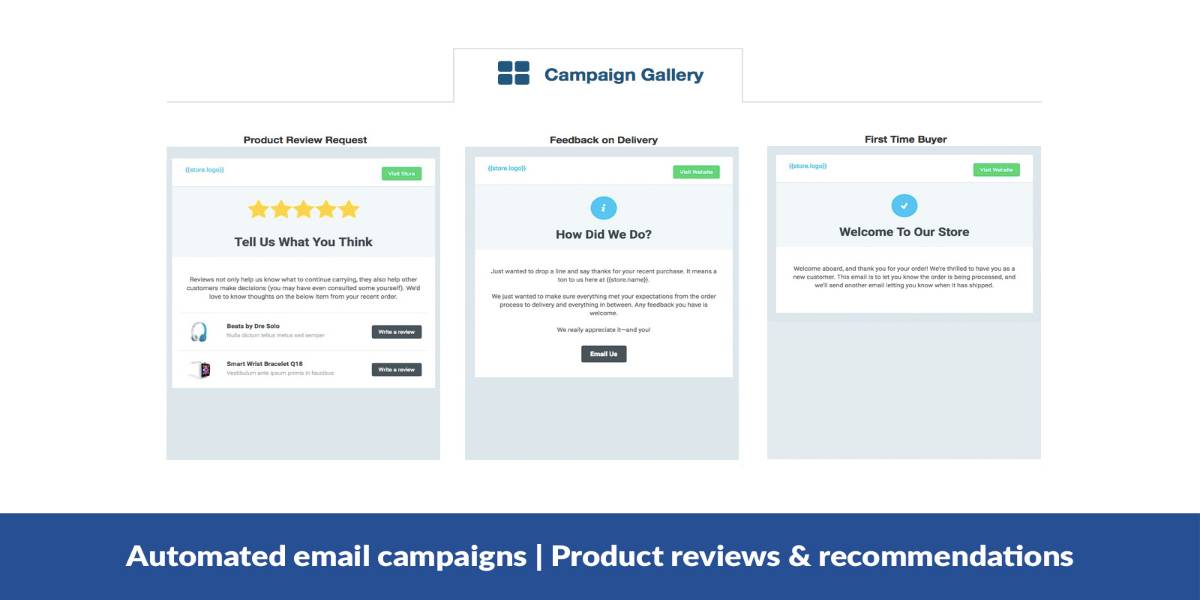 Conclusion
ShippingEasy, like every software-as-a-service platform, has drawbacks. However, none of the ones we've come across and included in this study appear to be serious red flags. Not to add, the ShippingEasy team is constantly trying to enhance the program, so we anticipate only greater and better things from ShippingEasy in the future.
After conducting our research and weighing all of the factors in this ShippingEasy plugin for WooCommerce review and guide, it looks that ShippingEasy is a tremendous all-around app. At the time of writing, this answer is just getting stronger. Users like how simple the UI is to use, how smoothly the program runs, and how excellent the customer assistance is.
New Posts
Subscribe
Stay in the know
Get special offers on the latest news from AVADA.
40k
subscribers has been joined!
Earn $10 in reward now!