How to Set up International Shipping in WooCommerce
How to Set up International Shipping in WooCommerce
The process of sending packages from one country to another is known as international shipping. Many online business owners have begun to offer cross-border delivery to expand their consumer base and enhance sales. Your WooCommerce store may scale faster and use the entire world as a potential consumer base by tapping into other markets, making it truly global in scope.
That is why today's tutorial will show you How to set up international shipping in WooCommerce. There will be a complete guide and some essential extensions that will help you enhance the shipping experience.
Benefits of shipping internationally
An online business that ships internationally has the potential to grow at an exponential rate. The following are some of the primary benefits of international shipping in WooCommerce:
Enter potential overseas markets: When you allow your WooCommerce store to ship outside of your country, you can gain access to new international markets, leading to a significant increase in sales.
Avoid seasonal fluctuations: This is particularly advantageous for online retailers who sell seasonal merchandise. For example, if you offer winter coats and boots, selling internationally allows you to move your attention from one location to the next based on when their winter is. You may be able to continue year-round sales with the correct international express shipping solution.
Expand and develop a wide range of products: When you enter new international markets, you might expect their needs to differ from your own. This means that your company can expand its product line and improve revenues depending on the market you offer in.
Reach a more extensive customer base: When you use international shipping to sell your items globally, you're opening up a whole new world of potential customers. As a result, your online store will have more prospective buyers from several markets.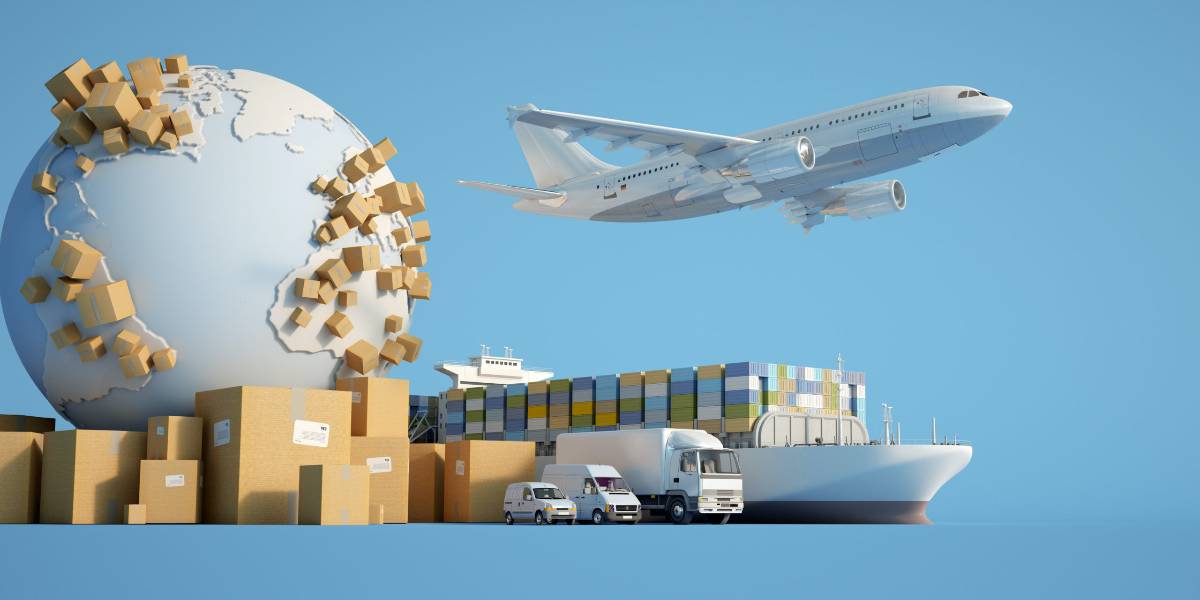 How to Set up International Shipping in WooCommerce
Step 1: Install and activate WooCommerce
The first step to set up international shipping in WooCommerce is to install and activate your WooCommerce store. For those of you who are new to this plugin, here are the simple examples of creating your account:
Step 1: Select hosting for your website.
Step 2: Instal WordPress from the Internet.
Step 3: Go to WooCommerce.com and create your account.
Step 4: Download and activate WooCommerce on your WordPress dashboard.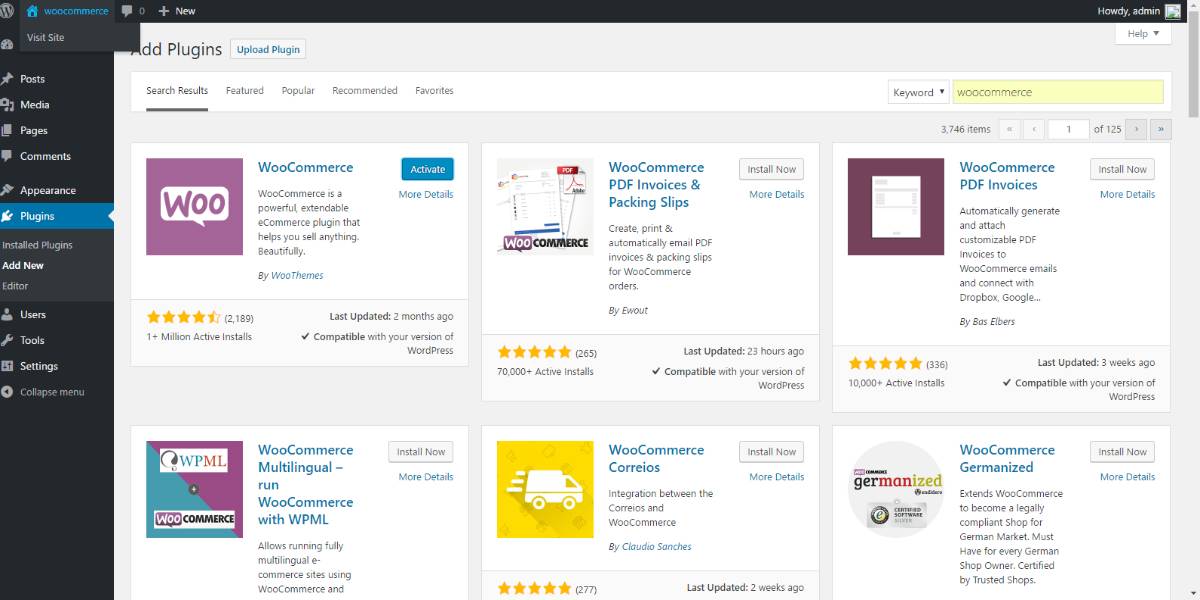 Step 2: Customize shipping methods in the activation process of WooCommerce
After installing and activating WooCommerce, you will need to fill out a few pieces of information in the starting setting. Shipping is one of such pages. Later on, you can alter things and add extensions, but you will just set up primary shipping zones and product weight and size requirements for now.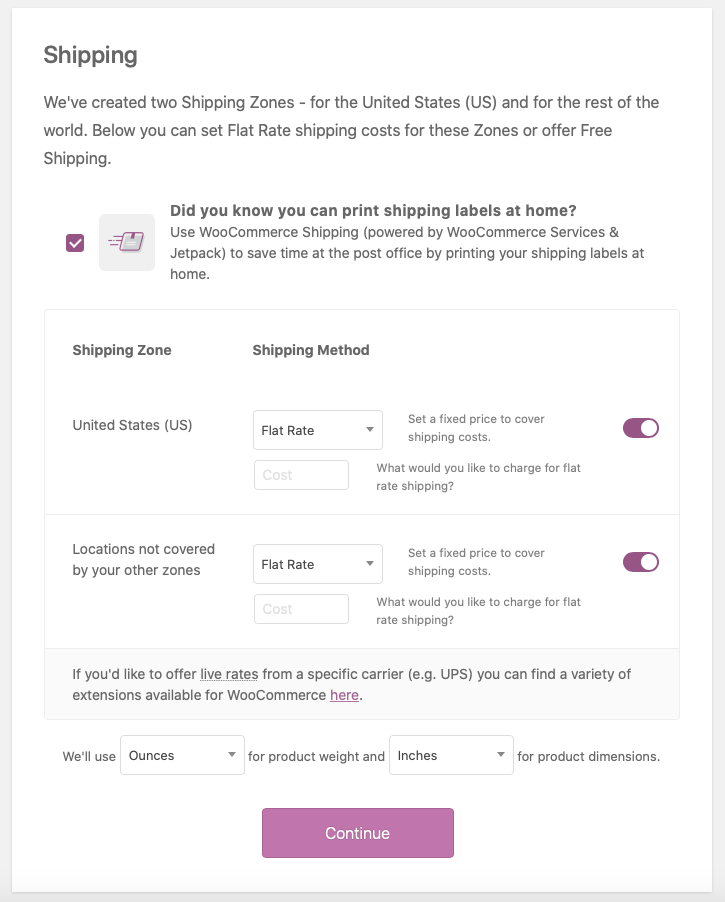 There will be two zones established automatically: the United States and the rest of the world. You can choose flat rates, fill in the amount under the United States and "Locations not covered by your other zones" sections, or choose free delivery. The "Set a fixed price to cover shipping costs" button, on the other hand, can be disabled.
Step 3: Add and manage shipping zone
When you create a new WooCommerce store, the plugin only offers two shipping zones: US and non-US. Therefore, you will need to create multiple shipping zones to ship your products internationally.
To customize shipping zones, on your WordPress dashboard, navigate to the WooCommerce section. Select the Settings tab, then choose the Shipping option. If there is no shipping option available, go back to the WooCommerce homepage and open the General page. Scroll down to the Shipping location(s) box and enable shipping settings there!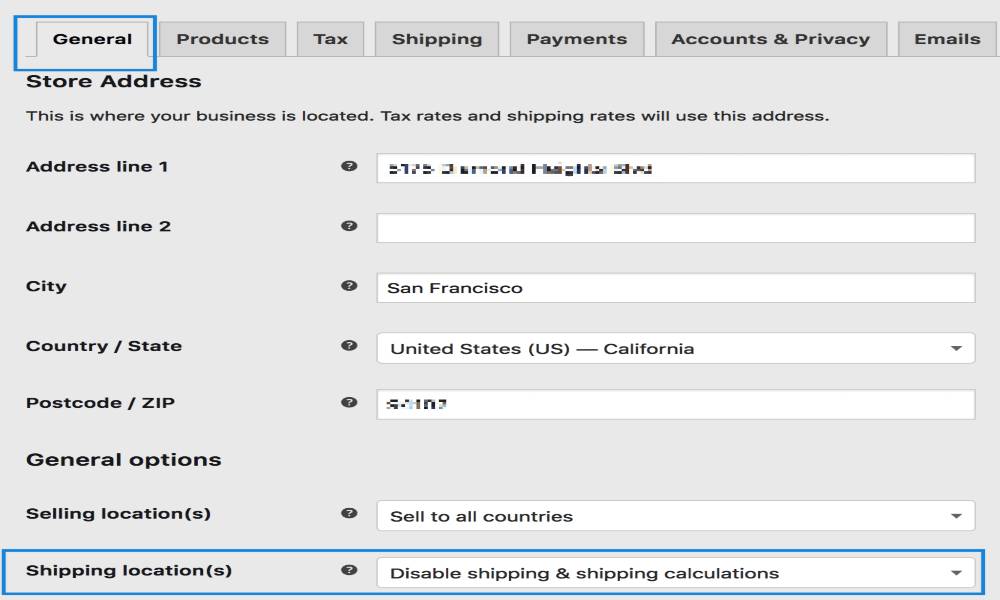 If this is the first time you set up WooCommerce shipping, there will be a prompt to add default and new zones. You will also see the "Locations not covered by your other zones" option. It is the specific zone for customers who do not match any of the shipping zones you add. You can tick on the box "completely optional" to customize that option depending on each situation.
If this is the first time you set up WooCommerce shipping, there will be a prompt to add default and new zones. You will also see the "Locations not covered by your other zones" option. It is the specific zone for customers who do not match any of the shipping zones you add. You can tick on the box "completely optional" to customize that option depending on each situation.
Step 4: Create a new shipping zone
Now, we are going to add a new zone for international shipping. Depending on the variety of products and your target markets, you can create as many zones as needed to optimize your shipping process.
To add a new zone to your WordPress dashboard: Open the WooCommerce homepage. Look for the Settings page and open it. Navigate to the Shipping tab, then click on the Shipping Zones option. On the top of the setting window, select Add shipping zone.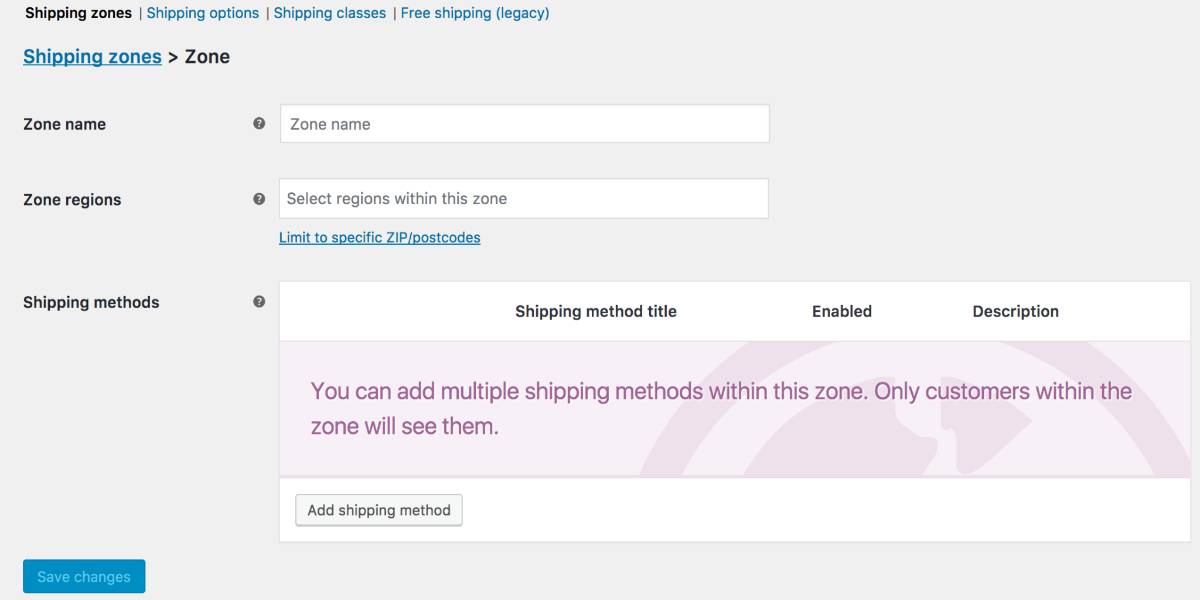 The zone default setting will appear on your screen. Fill in all the information related to your new shipping zone, including zone name and regions. You can make it an individual shipping option by selecting the "Limit to specific zip/postcodes" link. Next, add the shipping method for the zone and click on the Save changes button to finish the process.
Step 5: Setup international shipping
Once creating multiple shipping zones, you will need to activate the international delivery to complete the setup. On your WordPress panel, go to WooCommerce and select the Setting options. Navigate to the Shipping section and select the International Delivery option. All you have to do now is configure various options shown in the image.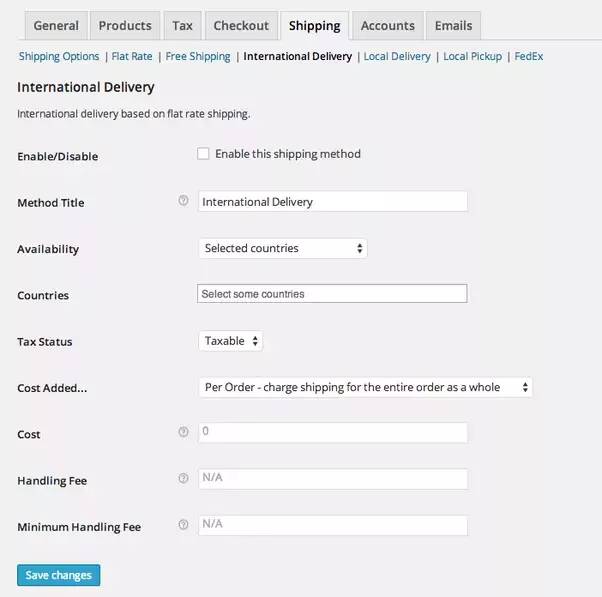 Enable/Disable: Check it to enable International Delivery
Method Title: This is what your Customers/Clients will see when selecting a shipping method.
Availability: Define whether you want to Include or Exclude Countries mentioned below
Countries: Mention the names of Countries
Tax Status: Define whether tax is applied to the shipping amount or not.
Cost Added: Define how shipping costs will be calculated. Will it be for 'Per order', 'Per item' or 'Per class'.
Cost: (Optional Field) Enter amount as per your need.
Handling: (Optional Field) Enter amount as per your need.
Minimum Handling: (Optional Field) Enter amount as per your need.
Finally, click on the Save Changes button to complete the international shipping process.
4 Best plugins to increase the international shipping
WooCommerce Shipping
WooCommerce Shipping is a free shipping plugin of WooCommerce. You only have to pay the shipping fee for each delivery. Within your WooCommerce dashboard, it is the simplest method to manage shipping tasks and print labels. WooCommerce shipping uses the United States Postal Service, a cost-effective and handy option for many merchants. You can compare rates, buy postage, and print labels for all postal methods, including first-class, priority, and express mail, as well as services like international mail.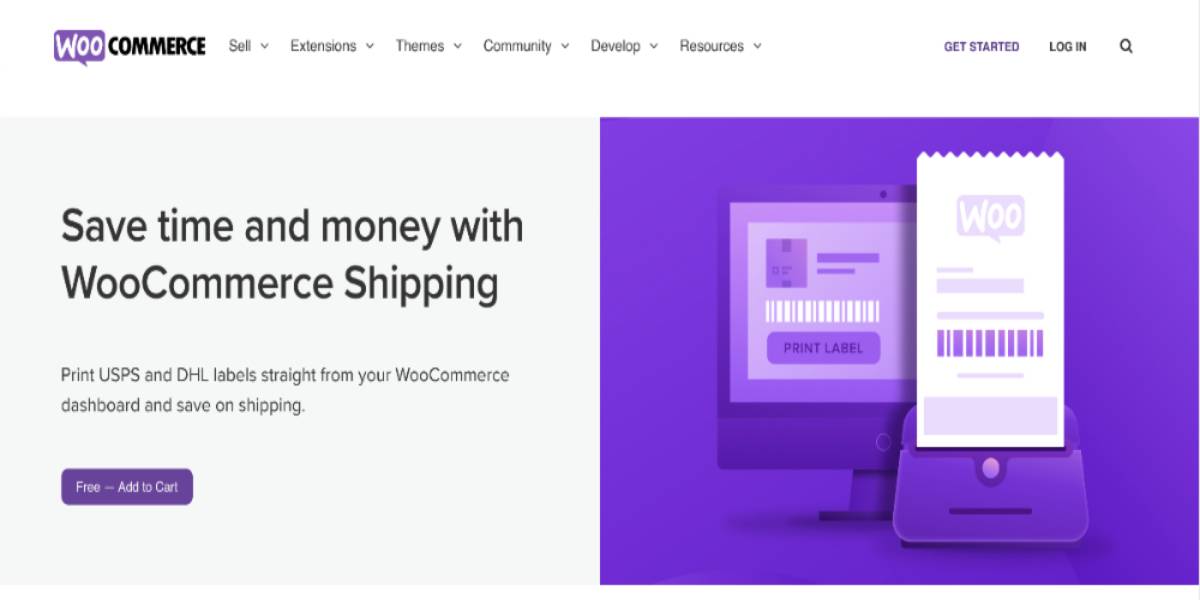 Outstanding features:
Provides the accessibility right on the WooCommerce dashboard.
Prepare, print, and save your shipping documents effectively by printing your own DHL and USPS labels.
Offer deep discounts on postage purchases at the number of 60% to 90%.
Schedule pick-ups and deliveries automatically to avoid the hassle of going to the post office.
Set up a range of shipping options and rates for each type of customer.
Price: This plugin is built for WooCommerce, so it is 100% free to install and activate. You have to pay the shipping charge of the post office.
Shippo
Shippo is a multi-carrier shipping pricing comparison tool that works perfectly with WooCommerce. It securely syncs order data from WooCommerce, updates tracking information, and sends customer alerts as orders ship once it's connected. It also allows you to compare shipping rates across multiple carriers and methods in a matter of seconds. It is a top-rated WooCommerce multi-carrier shipping extension for two reasons. First, it connects you to almost every major and minor carrier globally; for another, most merchants get better prices through Shippo than through individual shipper accounts.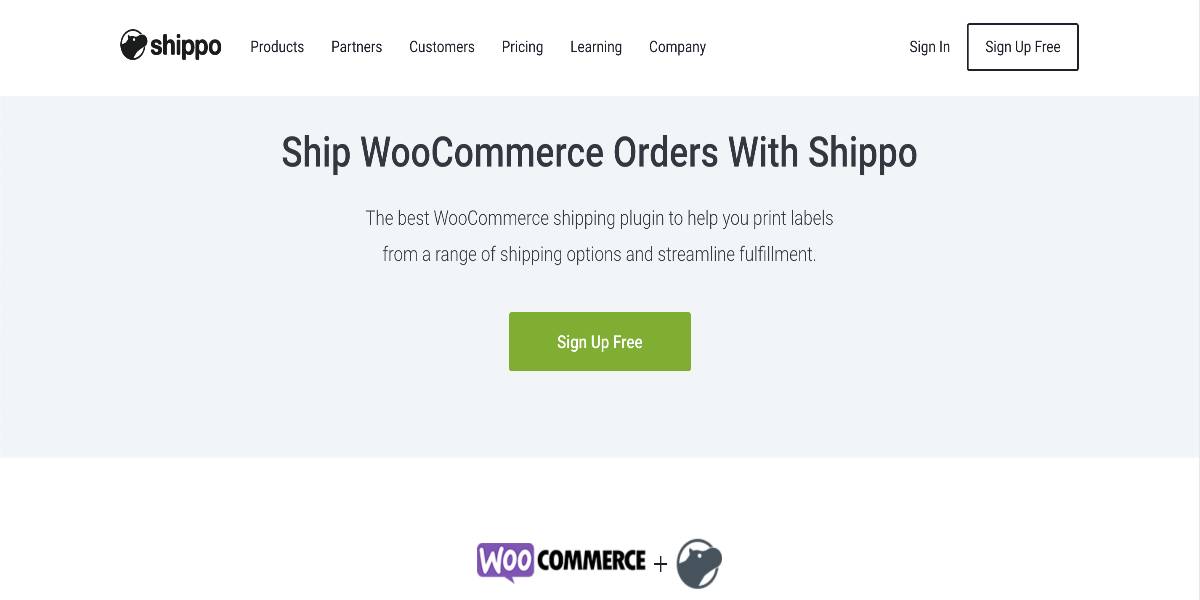 Outstanding features:
Provide a master account with USPS, DHL, and multiple popular carriers.
Offer deeper discounts for the overall volume.
Offer significant shipping rate discounts for other carriers up to 55% off retail rates for UPS and up to 30% off retail rates for FedEx.
Orders import and export automatically from your WooCommerce database.
Provide the scheduled carrier pick-ups and track information to customers.
Price: Shippo is also incredibly cost-effective for entrepreneurs. Its pay-as-you-go strategy has no monthly subscription; instead, each label costs ten cents, and the amount of labels you may print is unlimited. Accounts in the higher tiers start at $10 per month and include more features, endless tags, and no per-label fees.
WooCommerce ShipStation Gateway
In many aspects, WooCommerce ShipStation Gateway is comparable to Shippo. You may use it to compare shipping rates amongst carriers, print shipping labels, update order tracking, and send customers alerts about items that have been dispatched. ShipStation provides considerable USPS discounts as well as access to discounted FedEx and UPS accounts. Although ShipStation has a monthly fee, volume sellers can take advantage of its deep carrier discounts, automation capabilities, and extensive network of carrier and platform partners.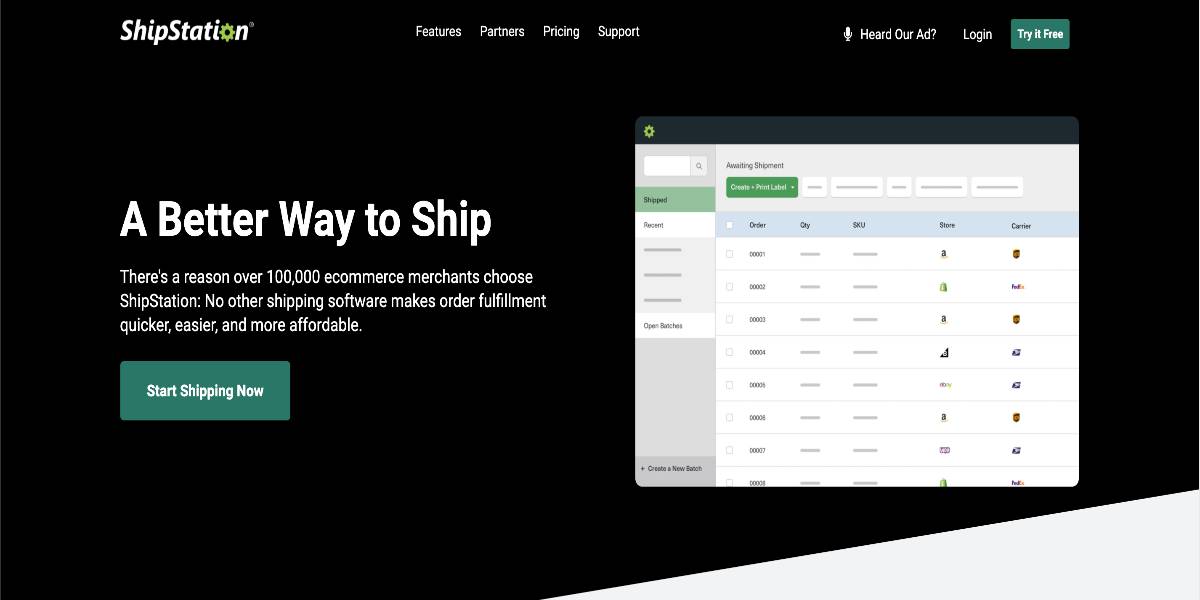 Outstanding features:
Manage your inventory effectively from the warehouse or a remote location.
Find the most suitable rate, print a label, or create bulk orders for quick multi-label printing using ShipStation.
With branded delivery, provide an excellent post-purchase experience.
Create shipping labels for whatever you send and import orders from anywhere you sell.
Integrate with nearly all online platforms, which is more than most other shipping solutions, and can connect an infinite number of sales channels with no additional expenses.
Price: Its most basic package is $9 per month and includes 50 shipments. If you want to send more orders every month, you will need to upgrade your plan, which might be costly compared to alternative shipping options.
Advanced Flat Rate Shipping Method for WooCommerce
Advanced Flat Rate Shipping Method for WooCommerce is a plugin that handles all of your flat-rate shipping requirements. It helps to create multiple shipment methods and shipping regulations. The plugin provides a variety of flat-rate shipping options and an infinite number of conditional shipping restrictions. Moreover, it also offers free delivery for many regions, products, baskets, or user-specific conditions – or several circumstances. You may use this plugin to apply rules to your methods that are linked to the nation, state, postal code, zone, product, category, tag, SKU, product variation, user, quantity, user role, cart subtotal before discount, coupon, weight, cart subtotal after value, shipping class, and so on.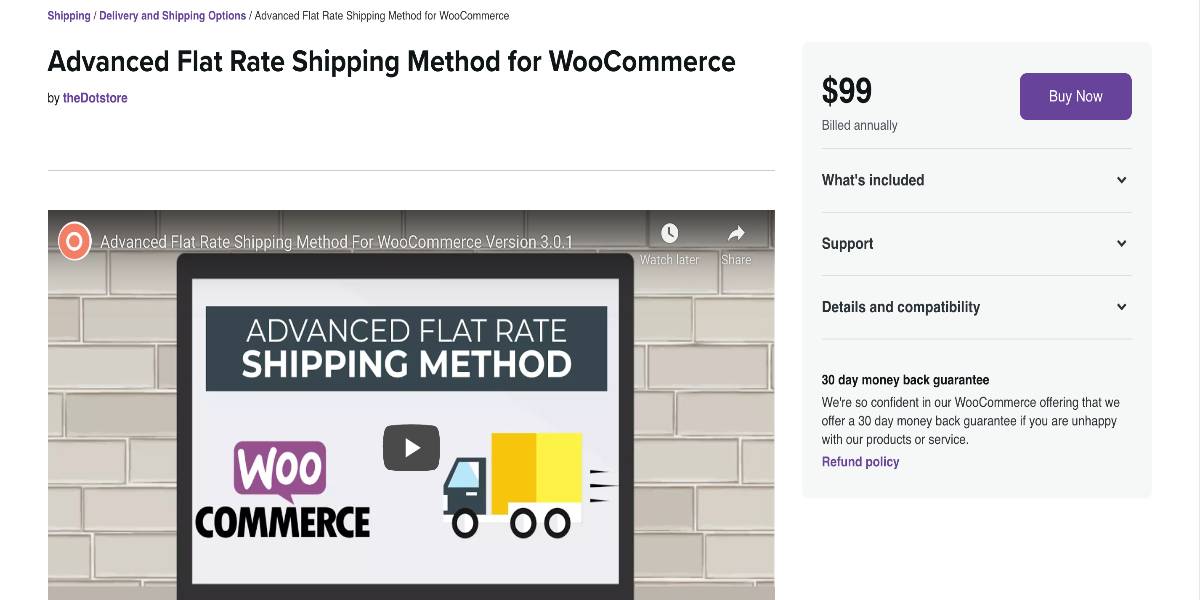 Outstanding features:
Allow free delivery in your shop or under certain circumstances.
Set up shipping zones for frequently visited sites.
Develop shipping systems for specific geographic areas.
Create delivery methods for particular product characteristics such as product name, weight, SKU, etc.
Create shipping methods for users with specific names and roles.
Price: Advanced Flat Rate Shipping Method for WooCommerce has a starter plan at the cost of $99 for the activation only. Like other shipping methods, you will have to pay the extra charge per delivery. It also provides support and updates in one year with a 30-day money-back guarantee policy.
Conclusion
International shipping might be the primary key to increase your online sales in WooCommerce. In addition, using those plugins can help you earn more profits and improve user experiences. They will be great plugins for your online store to expand and interest more potential customers in other countries.
We hope this article will clarify your mind on How to set up international shipping in WooCommerce and any other extensions you may need to reach more sales!
New Posts
Subscribe
Stay in the know
Get special offers on the latest news from AVADA.
40k
subscribers has been joined!
Earn $10 in reward now!