Top 12 WooCommerce Paid Listings Plugins for Boosting Sales Effectively
Top 12 WooCommerce Paid Listings Plugins for Boosting Sales Effectively
Do you want to drive your sales with the finest WooCommerce plugins? So, you have just launched a fantastic eCommerce store. You have chosen popular things, created an amazing website design, and are ready for the sales to start pouring in. However, your results thus far have been disappointing.
Setting up an eCommerce store is only the first step in creating a successful online business; now you must develop a long-term strategy to boost eCommerce sales.WooCommerce makes selling from your WordPress site simple. However, it lacks many of the characteristics required to run a successful online store. WooCommerce plugins help with this.
It is not as challenging as you might believe in increasing eCommerce sales. It does not necessitate you to exhaust yourself in the process. Most of the time, it is a collection of tiny tactics working in tandem to help you meet your revenue targets. Therefore, we have put the article Top 12 WooCommerce Paid Listings Plugins for Boosting Sales Effectively to help you out.
Why are Paid Listings Important in the eCommerce Business?
Establishing a thriving business requires a self-contained retail business. You have made a good start as an online marketplace by creating your own website. It functions as a focal point for all of your branding and marketing initiatives (including your paid search and social advertising). However, your effort isn't made after your website is up and operating.
A slew of other collective shopping platforms makes it simple to promote your product and services on their sites. Even well-known websites that do not enable you to self-list your products are open to collaborations. You gain multiple key advantages by listing your products with all these types of other sources.
Increase the Traffic and the Number of Sales You Make
Build Brand Loyalty and Positive Brand Image with Your Customers
Use Comparison Shopping to Your Advantage
Obtain New Consumers
Expand Your New Markets
Top 12 WooCommerce Paid Listings Plugins for Boosting Your Store's Sale
You now have an overall understanding of the paid listings in WooCommerce and their significance in eCommerce. It's time to delve into the best plugins we highly recommend below. We hope that all of the plugins that we highly recommend below can help eCommerce owners find the best direction for their own business. Let's dive in!
1. OptinMonster
Because this plugin is both comprehensive and simple to use, OptinMonster is the finest lead-generating solution for WooCommerce. This enables you to develop eye-catching opt-in campaigns that include popups, floating bars, full-screen welcome mats, and much more. Using these tools, you can create highly focused offers, send discounts, communicate shipping alternatives, and much more. Its drag-and-drop builder makes it simple to construct eye-catching WooCommerce popups that increase email signups and sales.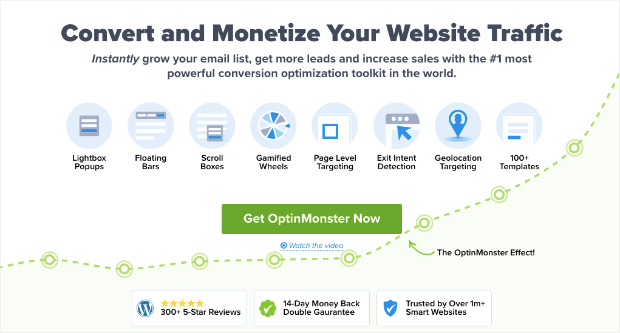 Outstanding features:
Personalization possibilities and limitless campaign customizations
Functions for onsite retargeting to target segmented populations
All of your articles and pages will have sidebar widgets
You may use Coupon Wheel options to rapidly improve sales and conversions by 40% or more
Make your site dynamic with gamified wheels and countdown timers
Price: The OptinMonster plugin offers a wide range of prices. This plugin offers $9 per month for a basic package, $19 per month for a plus package, $29 per month for a pro package, and $49 for a growth package.
2. PushEngage
PushEngage is the greatest program for delivering push notifications everywhere on the planet. These are short notifications that remain on your subscribers' browsers even if they are not actively browsing your site. You can also set up "drip" campaigns with PushEngage. You will send these automatic communications to your new or existing subscribers. To customize your offers and increase sales, you might divide your contact details into "segments." Another benefit is that you will not have to ask for any private details from your subscribers (like name, email address, or phone number).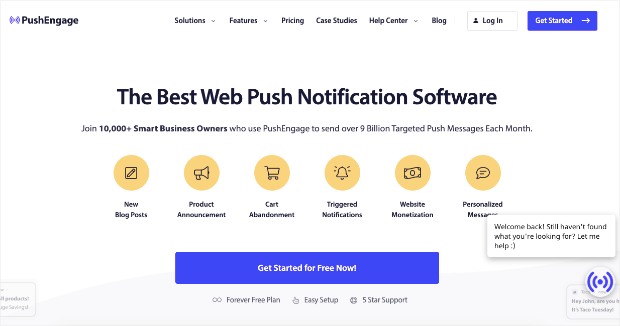 Outstanding features:
The setup is simple
A/B evaluation
UTMs are unique identifiers that can be used to track the progress of a project
Segmentation of the audience
Dashboard for analytics
Price: The PushEngage plugin offers a free version; $9 per month for a business package, and the best deal premium package costs $29 per month
3. Beeketing
BeeKeting is a marketing automation tool that helps businesses improve conversion rates, raise average order value, reduce cart abandonment, and enhance internet sales. Beeketing is a marketing automation platform with a lot of functionality. It is especially effective in increasing sales and cross-selling. Beeketing is a good option if you are seeking the best WooCommerce upsell plugin.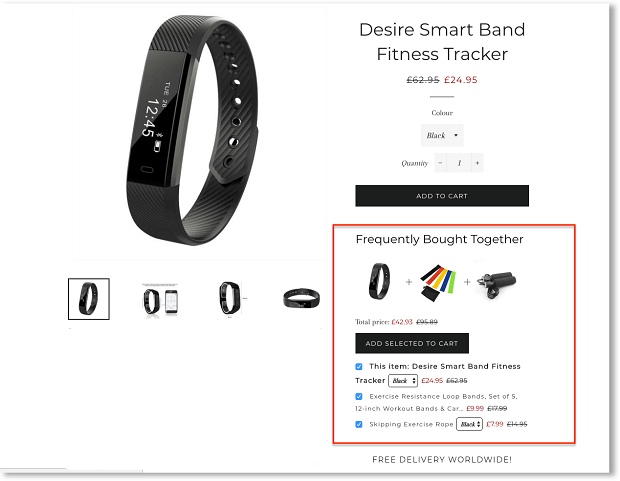 Outstanding features:
Cross-sell and upsell
Make bundles of products.
Without leaving the business, chat with WooCommerce customers using Facebook Messenger.
Follow each customer around your store to make sure they are serious about making a purchase.
Keep track of all of their actions to figure out what they are interested in and what they require.
Price: The Beeketing plugin offers a free version
4. MonsterInsights
MonsterInsights plugin will keep track of all the important eCommerce information you need at a glance, including conversion rate, transactions, revenue, average order value, and much more. Data not only shows you where you have been, but it also assists you in determining where you would like to go and how to get it. You will have all the details you need with the MonsterInsights plugin to ensure that your eCommerce site is working exactly as intended.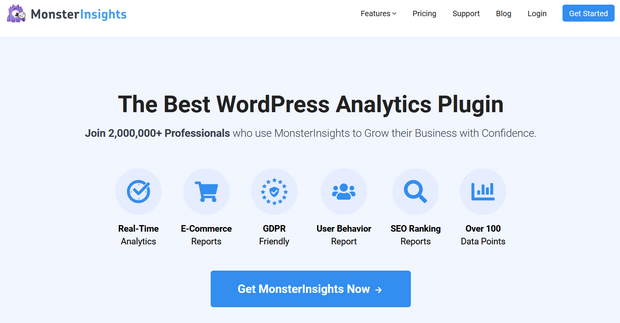 Outstanding features:
Analytics in real-time
Tracking of related items
Customer tracking on an individual basis
Set up universal website tracking throughout devices and campaigns without any code
Bloggers and affiliate marketers may easily track their affiliate links with affiliate link tracking.
Enable file download event tracking.
Price: The MonsterInsights offers $799 per year for an agency package; $399 per year for a pro package and $199 per year for a plus package
5. WooCommerce Splash Popup
You can use the WooCommerce Splash Popup plugin to add popups to your website. It's an excellent approach to inform visitors about current promotions, persuade them to sign up for newsletters, or simply provide crucial information. This plugin can also notify users about new deals, encourage them to sign up for newsletters, or just send crucial information to your visitors through a popup.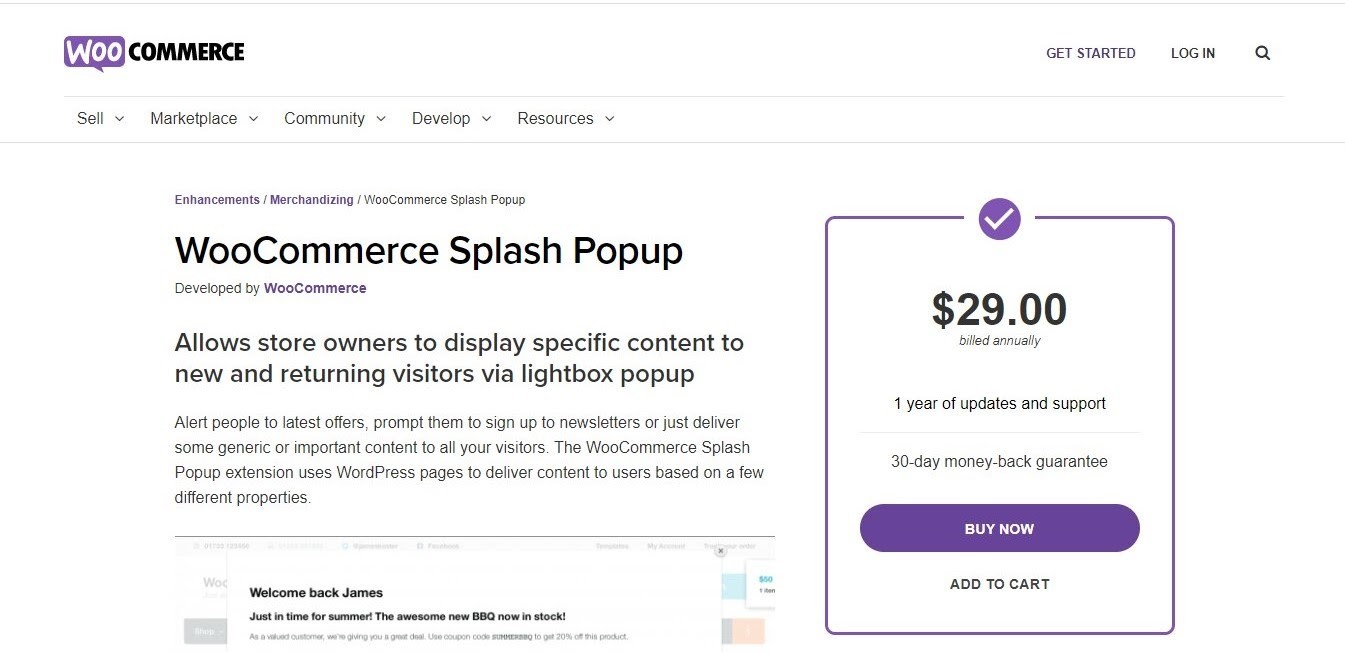 Outstanding features:
You can show many types of content to:
Users who have logged out
Users who have logged in
Customers who have logged in
Deliver content to users based on a few different properties
Price: The WooCommerce Splash Popup offers $29 billed annually, including 1-year extension updates, 1-year support, and a 30-day money-back guarantee
6. Adoric
Adoric is a WordPress plugin that can be used to improve the look and feel of your WooCommerce store. Popups allow you to provide a customized purchasing experience to your visitors. You can customize product recommendations, prevent cart abandonment, and grow your mailing list using Adoric. It also has a solid support crew that is ready to assist you with any problems you may encounter.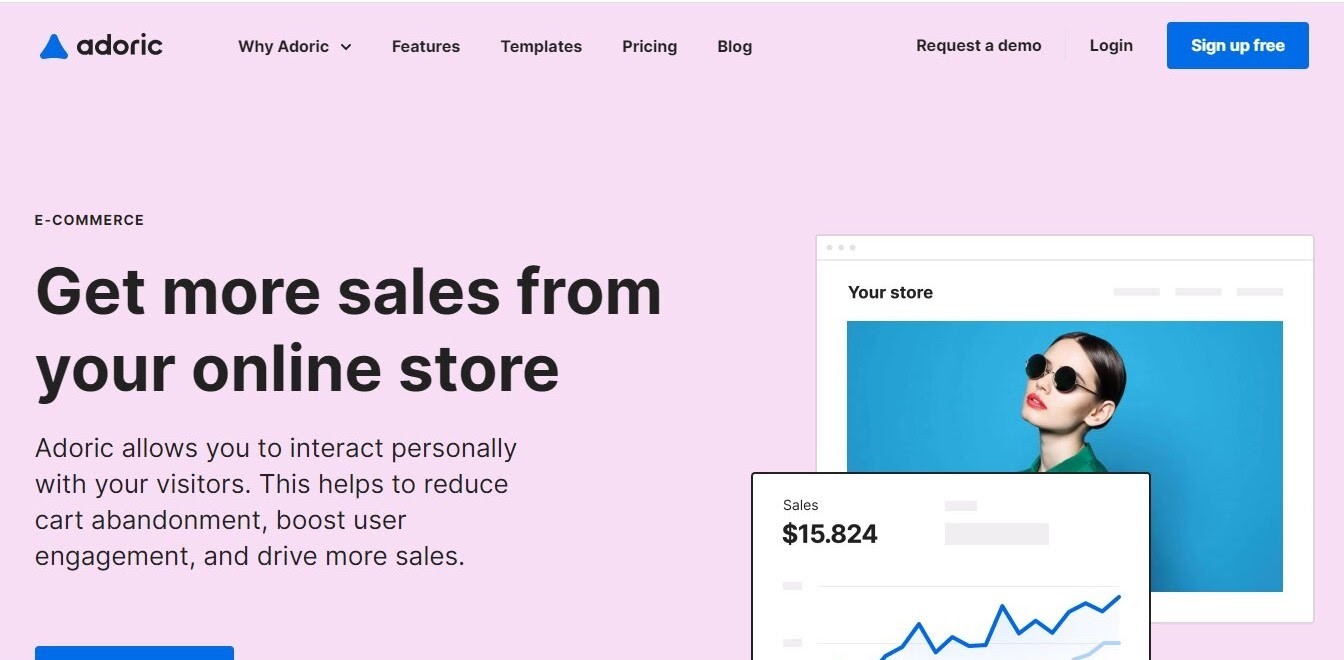 Outstanding features:
Provide an inexhaustible library of images, icons, and shapes
Your campaign pieces will be preserved so that you can reuse them in future campaigns
Create several tablet and mobile variants
This FOMO tool is intended to encourage your users to participate
Make a little teaser and then follow it up with a larger pop-up
Price: The Adoric plugin offers a free version; $29 per month for an essentials package; $79 per month for a standard package and $199 per month for a pro package
7. SendinBlue
SendiBlue is an email marketing plugin that enables you to send emails automatically. It is a simple platform that allows you to communicate with your consumers through email and SMS. You can also manage and segment your mailing list effortlessly and automatically using SendinBlue. SendinBlue is a useful plugin for your WooCommerce store.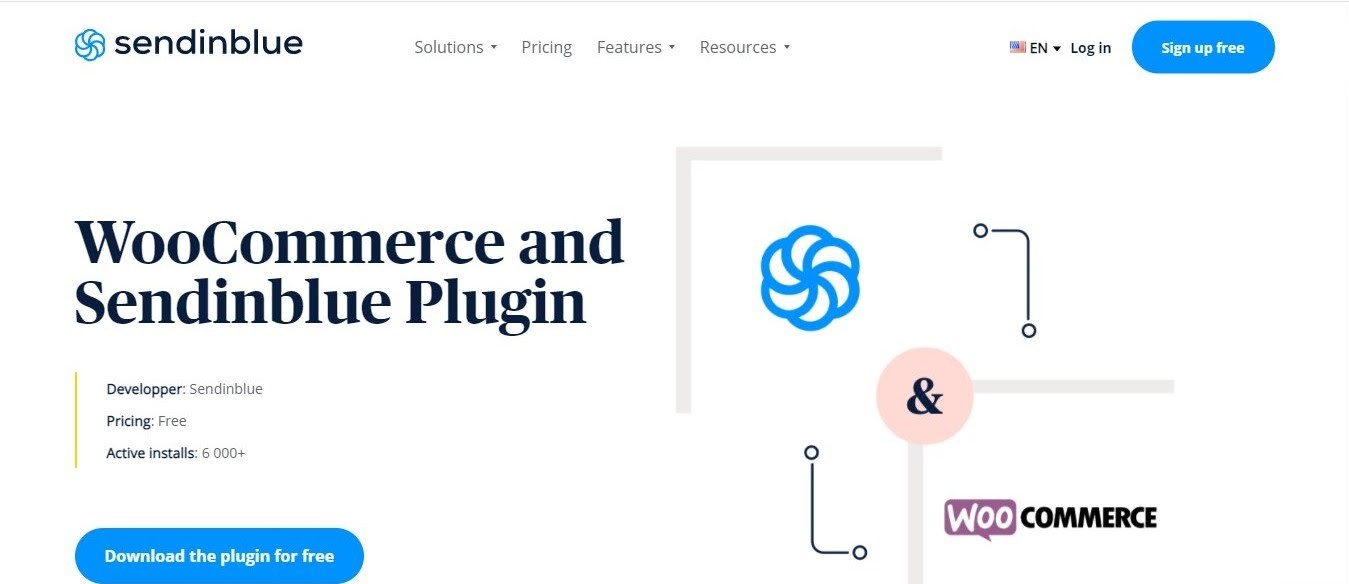 Outstanding features:
Create interesting landing pages
An automatic sign-up form that allows new visitors to engage with you
Visitors to your website can be retargeted on other websites
Create Facebook ad campaigns, define parameters, and track performance
Price: The SendinBlue plugin offers a free version; $25 per month for a lite package; $65 per month for a premium package (popular)
8. RafflePress
The greatest giveaway plugin for WordPress is RafflePress. Running competitions and giveaways is one of the most effective campaigns to enhance brand interaction and develop your email database. This plugin makes competitions and giveaways for your eCommerce website, blog, and social networking channels incredibly simple.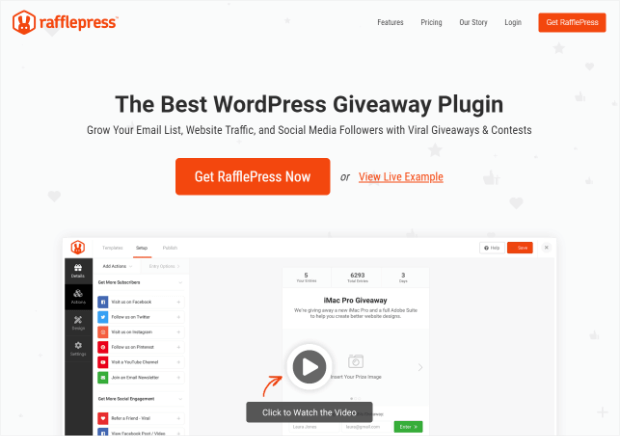 Outstanding features:
Create distinct entry options for each of the major social media platforms.
Builder for giveaways that you can drag and drop
Integrations between marketing and CRM
Retargeting and success tracking
Anti-fraud measures
Price: The RafflePress plugin offers $449 for an ultimate package (one-time payment); $199 per year for a growth package; $99 per year for a pro package and $49 per year for a plus package
9. All-in-One SEO (AIOSEO)
All-in-One SEO (AIOSEO) is without a doubt the most effective plugin for optimizing your SEO approach. That is the only tool you'll ever need to increase the number of people who find your WooCommerce store through search engines like Google. You can be confident that your site will be easy for search engines to comprehend and rank using AIOSEO. This enables you to develop better content that improves your user experience (UX) while also increasing sales.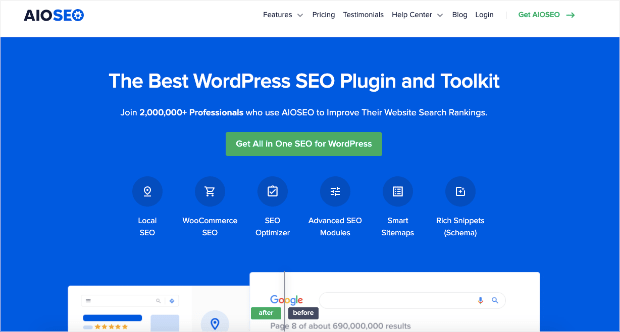 Outstanding features:
Page-by-page analysis
Local Search Engine Optimization
SEO for WooCommerce
The Setup Wizard is straightforward to use.
Sitemaps in XML that are savvy
Price: The All-in-One SEO (AIOSEO) plugin offers $599 per year for an elite package; $399 per year for a pro package (the best deal); $199 per year for a plus package and $99 per year for a basic package
10. Constant Contact for WooCommerce
Constant Contact for WooCommerce is the email marketing provider we constantly recommend because it's a great all-around solution with excellent customer care. It's simple to launch targeted ads, follow this up with consumers after a transaction, propose goods, and recover cart abandonment using its WooCommerce addon. You can also track and categorize clients based on their purchase history and frequency of purchases.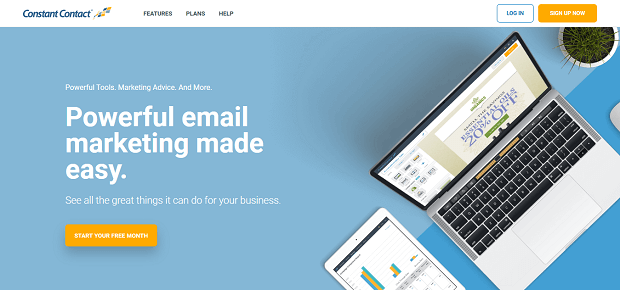 Outstanding features:
Grouping and segmentation
Marketing automation
Recovering abandoned carts
Re-send emails to people who have not opened them the first time.
List-building tools that are really effective
Price: This Constant Contact for WooCommerce offers a free-month version
11. TrustPulse
TrustPulse is a WordPress social proof plugin that helps you develop trust with your visitors. It works by displaying a brief notification about real-time activity on your website by other customers.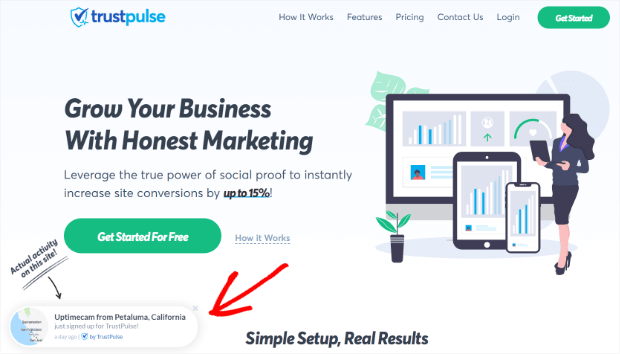 Outstanding features:
Purchases, demo registrations, email signups, and other events may all be tracked in real-time
Using extensive targeting rules and temporal constraints, smart focusing to increase conversions
Drop-down menus, text input, and color wheels are simple to customize
Notifications "on fire" show that how many people are taking action in a certain time frame
Get the facts you need to increase conversions with actionable insights
Price: The TrustPulse plugin offers $9 per month for a basic package; $17 per month for a plus package; $34 per month for a pro package (the best deal) and $50 per month for a growth package
12. Optinly
Optinly is a WooCommerce extension that uses popups to aid you to capture your audience's attention. Optinly has a large number of popup designs to choose from. All you have to do now is decide on the popup's goal or purpose, select and create an appropriate popup template, and activate your campaign. You can use this module to promote special offers, reduce cart abandonment, conduct surveys, and provide real-time social proof. You can also use Optinly to create opt-in forms to grow your email database.

Outstanding features:
Call-to-Action Buttons Can Be Customized
Allow you to swap out images from the popup templates
Select whether or not to show popups with smooth motion effects
Have a look at how your popup theme will look on different devices
Demonstrate to your web audience that you are GDPR compliant
Price: The Optinly plugin offers a free trial plan and also a paid plan which starts at $25 per month
Final words
In short, running an online business is challenging, and ensuring that it works smoothly and effectively is a completely different issue. As a result, we hope to assist you in making the internet business marketplace more accessible to you. We also give you an in-depth overview of why paid listings are of paramount importance in the eCommerce business, as well as a huge selection of WooCommerce Paid Listings plugins to employ in the process of setting up your online store.
Furthermore, we recognize that determining the best technique might be time-consuming. As a result, hope that the post Top 12 WooCommerce Paid Listings Plugins for Boosting Sales Effectively has aided your online business in some way.
We also want to support you manage your business more efficiently and profitably. Please keep in mind that your experiences and feedback are some of our most important motivators. So don't be shy; tell us how you're feeling.
Give it a shot, and let us know how it goes in the comments section below!
New Posts
Subscribe
Stay in the know
Get special offers on the latest news from AVADA.
40k
subscribers has been joined!
Earn $10 in reward now!