Top 16 WooCommerce Order Management Plugins For Your Store
Top 16 WooCommerce Order Management Plugins For Your Store
It is critical for an eCommerce store owner to manage each order in a methodical manner in order to provide the greatest possible client experience. You must ensure that every stage of the fulfillment process is properly addressed from the moment you receive an order. This will be difficult if you have a huge quantity of orders. It's a good idea to invest in certain tools that will help you handle your orders properly. We'll go through a few effective WooCommerce order management plugins in this article.
This article will share with you Top 16 WooCommerce order management plugins for your store to upgrade your online store.
Reasons to use WooCommerce order management plugins
- Error-Prone: Manually managing store inventory may go horribly wrong, with a single blunder quickly turning into a calamity. You might have to recreate the tally from scratch, which will take a lot of time and work.
- Time-saving: This is especially true if you manage a large store with thousands of items. Manual inventory management would entail visiting all product pages and manually changing inventory numbers.
- Nerve-wracking: Running an eCommerce company and maintaining consistent sales is hard enough; you don't need to add to that stress by keeping track of the hundreds of products available on your site. Not only does it reduce productivity, but it will also divert your attention away from earning more sales.
- Editing Stock Items in Bulk: While manually editing stock products will take hours, doing it using a WooCommerce inventory management plugin will just take minutes. With some clicks, you can alter pricing, add discounts, and even add variant prices to thousands of products all at once.
- Calculations on the Go: You will not have to compute pricing adjustments or stock levels for your products if you use inventory management plugins. The computations are done in the background automatically, saving you hours of time.
- Add a Massive Amount of Products: The plugins also allow you to add a large number of products to your store quickly. All you have to do is input the data into a spreadsheet, and the plugin will handle the rest. There's no need to upload a product and then repeat the process for a hundred more.
- Data to be exported: Product data is exported by the inventory management plugins for you to study. You can make modifications to it and then re-upload it to your website.
15 Best WooCommerce order management plugins for your store
1. WooCommerce After The Order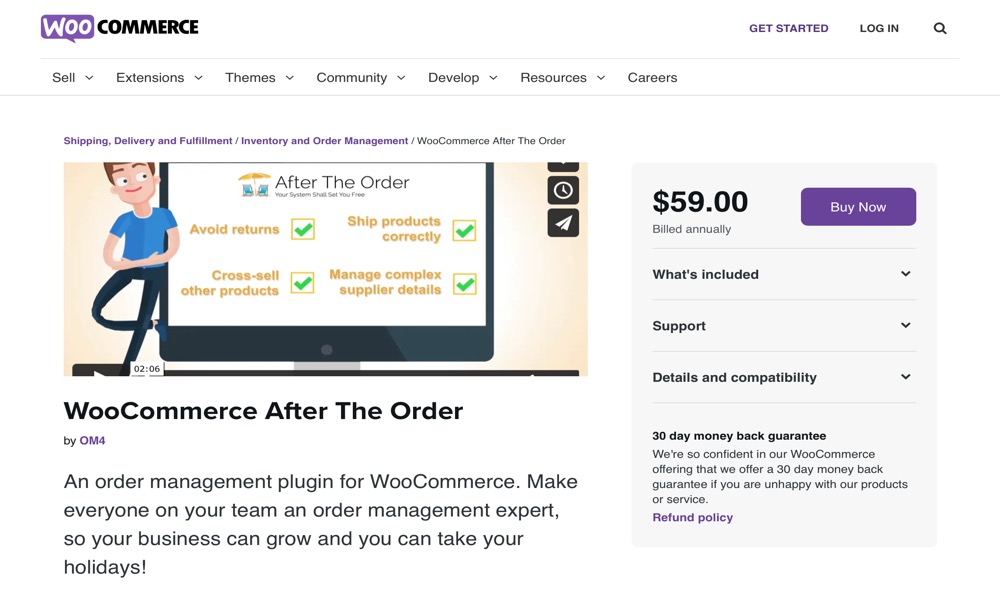 WooCommerce After The Order is a fantastic plugin that will greatly aid your purchase processing. It will assist you in keeping track of important notes for the efficient processing of an order. You'll be able to add order notes at various levels, which will be forwarded to the store manager. This could include store-wide announcements or notifications indicating the presence of a certain product in an order. These order remarks will be included in the order notification emails and the dashboard view by default. Overall, the plugin has the potential to significantly reduce errors, hence enhancing customer satisfaction and sales metrics.
Features:
Keep track of order processing notes for specific products or all orders.
Order processing notes should be integrated with the order notification email.
When the order is examined on the dashboard, shop and product notes are displayed.
By avoiding overlooking crucial details, you can reduce errors and increase order fulfillment accuracy.
Price: $49
2. Order Coupon Subscription Export Import for WooCommerce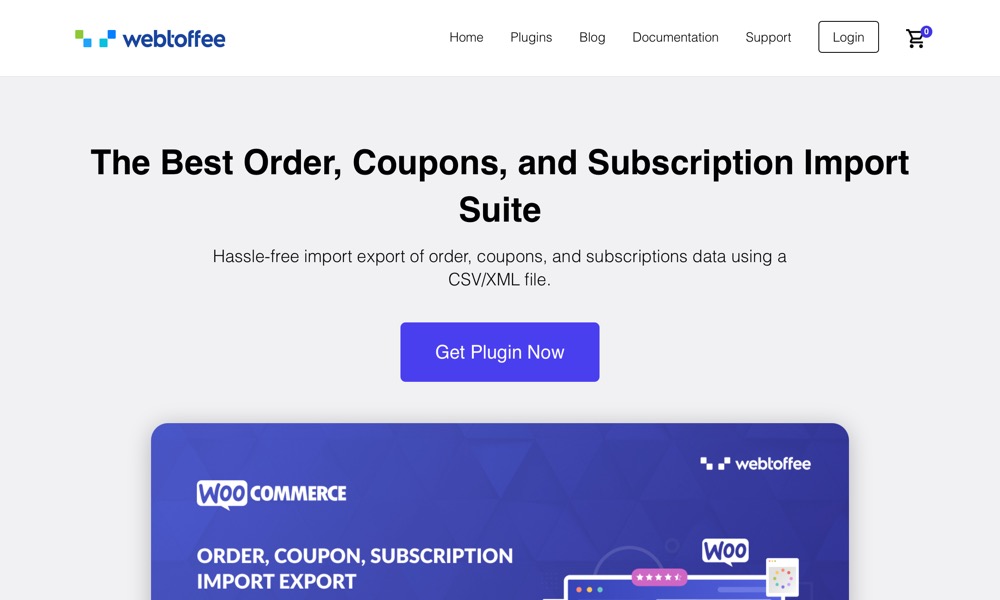 You might wish to export order details from your WooCommerce store so that external apps and services can handle them. Order Coupon Subscription Export Import for WooCommerce plugin allows you to export order information to CSV and XML files. For easy integration, it supports the formats of numerous shipping companies. Furthermore, the plugin allows you to use cron jobs to schedule exports at specific intervals. The plugin can also be used to control order imports into your WooCommerce store. It can even be used to update current order details in bulk. The plugin also works with other WooCommerce plugins like WooCommerce Subscriptions and Bookings.
Features:
Order, discount, and subscription information may be exported and imported from and to your WooCommerce store.
CSV and XML files are supported.
Cron jobs can be used to schedule imports and exports.
Ajax-enabled user interface with a smooth feel.
Filtering possibilities abound for customizing data import and export.
Subscriptions are compatible with a number of plugins.
Price: $69
3. Advanced Orders Export For WooCommerce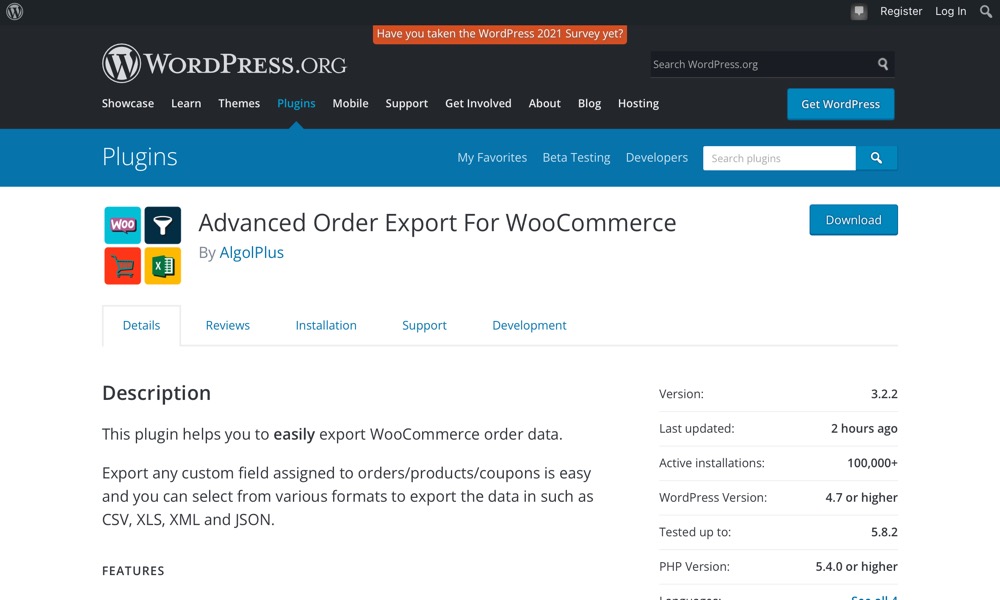 Advanced Orders Export For WooCommerce is yet another plugin that allows you to selectively export order information from your WooCommerce store. You can also create rules that cause individual orders to be exported when their status changes. You can use the plugin to plan imports in both simple intervals and more sophisticated daily schedules. Moreover, the plugin enables you to send the export data to many destinations, like email, FTP, sFTP, URL, and so on.
Features:
Select orders from your WooCommerce store can be exported.
Exports can be scheduled at predetermined intervals or at a specific time each day.
Individual order data exports can be scheduled based on order status changes.
Email, FTP, SFTP, or a URL can all be used to send the export file.
Price: $25
4. WooCommerce Order Status Manager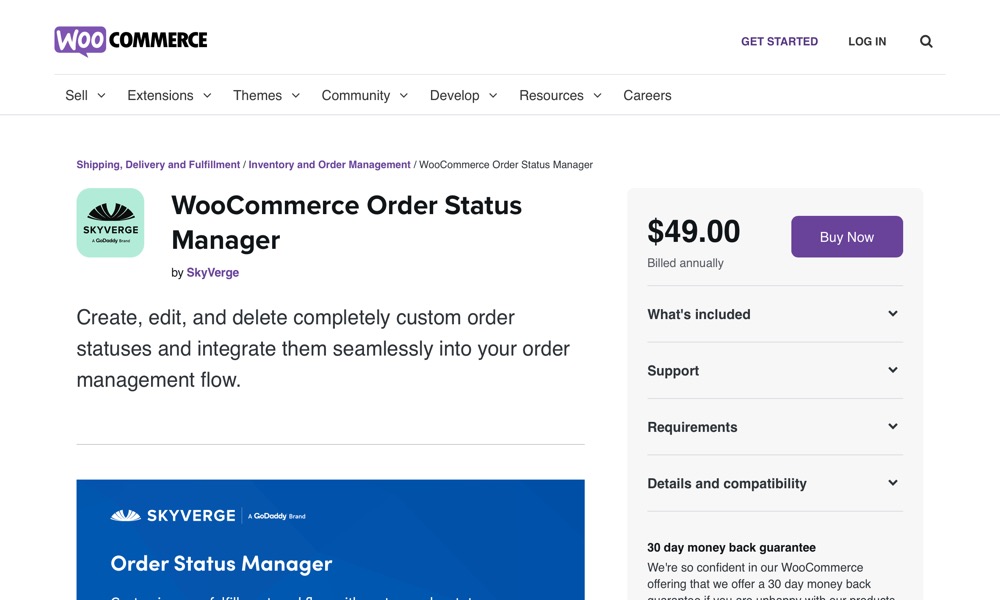 With the help of WooCommerce Order Status Manager plugin, you will be able to add new order statuses to your order management process. You can also update and delete order statuses based on your store's specific requirements. Order actions and bulk activities can now incorporate the newly introduced order statuses. You'll be able to keep your customers better informed about your order management process by adding custom order statuses, and they'll be happier as a consequence.
Features:
New order statuses and icons can be created.
To assist clients, provide a description of custom order statuses.
Editing WooCommerce's default order statuses is an option.
Order actions and bulk actions provide access to new statuses.
Order statuses can be set to "Requires Payment."
Trigger new order emails based on custom order statuses.
Price: $49
5. YITH WooCommerce Custom Order Status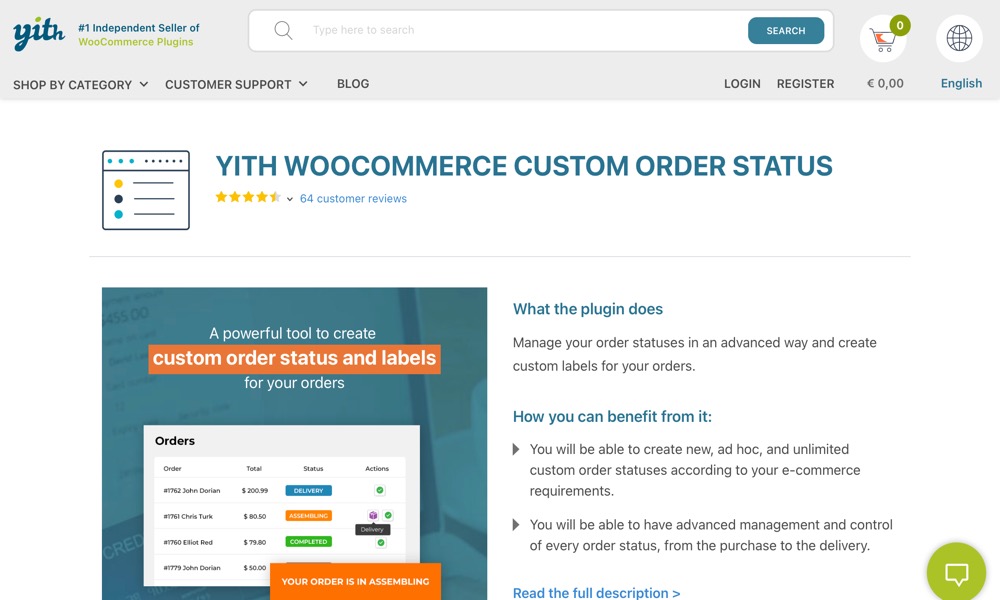 YITH WooCommerce Custom Order Status plugin allows you to manage order statuses and labels on your store with comprehensive capabilities. On our store, you can build advanced order statuses based on various parameters. Additionally, you may personalize statuses with color, text, and icons to make them more visible to customers. Additionally, you will be able to overwrite the default order statuses on your WooCommerce store. In addition, reports will be able to include orders with all statuses.
Features:
WooCommerce allows you to create custom order statuses.
To make it easier to distinguish states, utilize icons and labels.
Send emails when the status of a custom order changes.
Customers should be able to cancel or pay for orders as well as download things.
Compatible with WPML (WordPress Multilingual Library).
Price: $69.99
6. WooCommerce Order Status & Actions Manager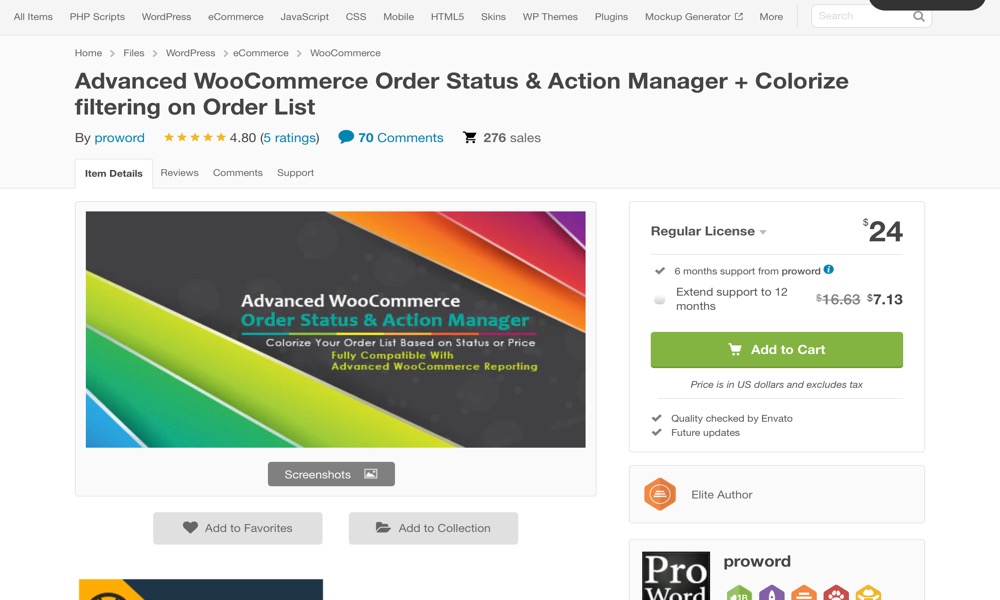 Using WooCommerce Order Status & Actions Manager plugin, you may process numerous orders at the same time by establishing specific statuses. It also has a dashboard widget that gives you a better view of many orders with various statuses. You can also make different emails for different statuses and choose whether or not to send them to store managers or customers. Furthermore, the plugin provides a vast number of icon options. To distinguish order statuses, you can use different colors and styles. This plugin also allows you to establish triggers for automatic status changes.
Features:
Custom order statuses can help you improve your order management process.
Customize order statuses with your own colors, fonts, and icons.
For a better overview of orders, use the dashboard widget.
Encourage store managers to leave order notes as they handle orders.
Define the timeframe for product reviews to be submitted.
After a set amount of time, trigger automatic status updates.
Price: $40
7. Sequential Order Numbers Pro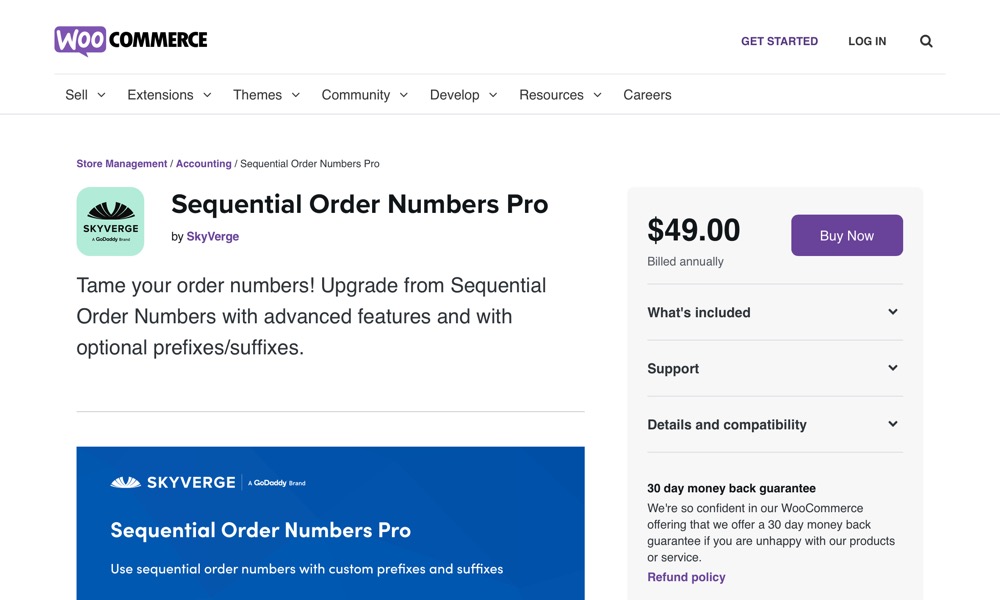 Order management is dependent on how well you organize your orders. Sequential Order Numbers Pro plugin will assist you in assigning consecutive order numbers to your store. It also allows you to personalize the order number by adding prefixes and suffixes, as well as choosing a starting number. The length of the order number can also be specified. You can aplly this plugin to follow the existing pattern if your store is already accepting orders.
Features:
On your WooCommerce store, create consecutive order numbers.
Stick to your store's existing numbering scheme.
To order numbers, add suffixes and prefixes.
As a prefix or suffix, include time or date information.
Set the order number's length.
Orders with solely free products are not counted.
Price: $49
8. Store Manager for WooCommerce - WooCommerce Order Management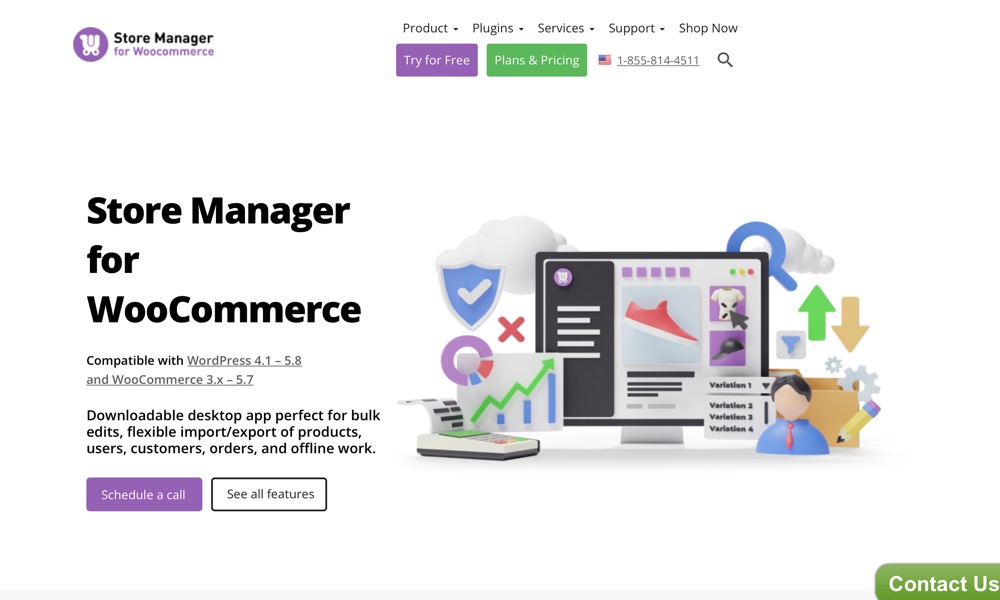 When you are selling through many retail channels, Store Manager for WooCommerce - WooCommerce Order Management plugin will make order administration a lot easier. It has the ability to process 1000 orders in a single click. You may also easily delete any orders that are incorrect or that you created to test. It also allows you to simply add or change data of order even while it is being fulfilled. This plugin can also be used to import order data and customer information from your store to any third-party system. It also has advanced analytics features that will assist you in taking proactive steps to boost your business chances.
Features:
Orders from various retail outlets may be easily managed.
Order status can be updated in bulk.
Edit and change the order's details.
Order data can be exported and imported.
Delete any orders that are wrong or duplicated.
There are a lot of analytics features.
Price: $199
9. ATUM Inventory Management for WooCommerce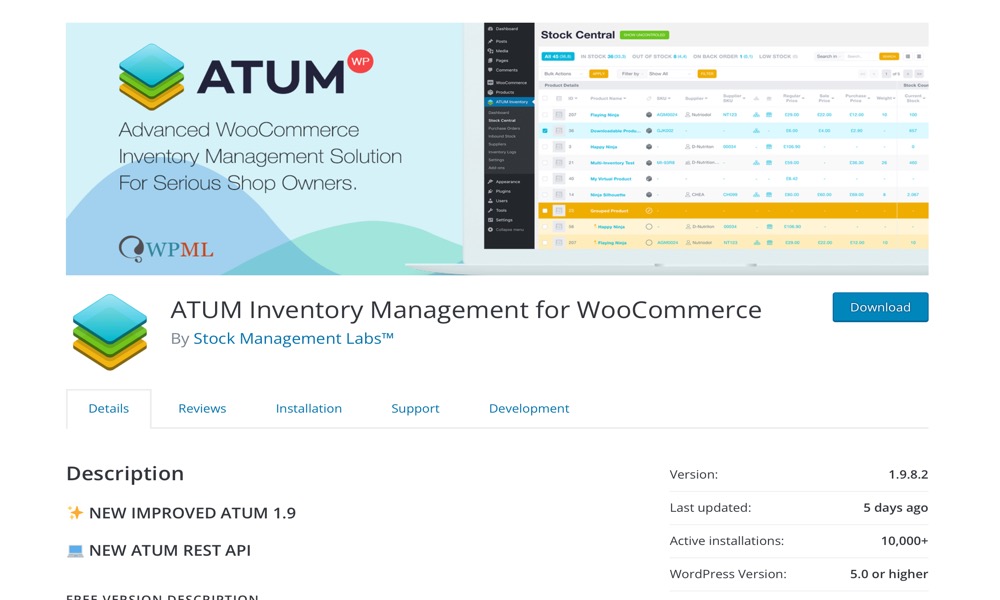 ATUM Inventory Management for WooCommerce is a free inventory management plugin that maintains track of changes in your business involving a variety of items, prices, and more. With over 10,000 active installs and a 5-star user rating, the plugin is one of the best inventory management plugins available. The plugin includes a dashboard that displays all of the vital information you'll need to keep your store running successfully.
Features:
Compatible with WPML
Auto-fill function in advanced search
WooCommerce varied product support
Product actions in bulk
Exporting inventory to PDF
Price: Free
10. Z Inventory Manager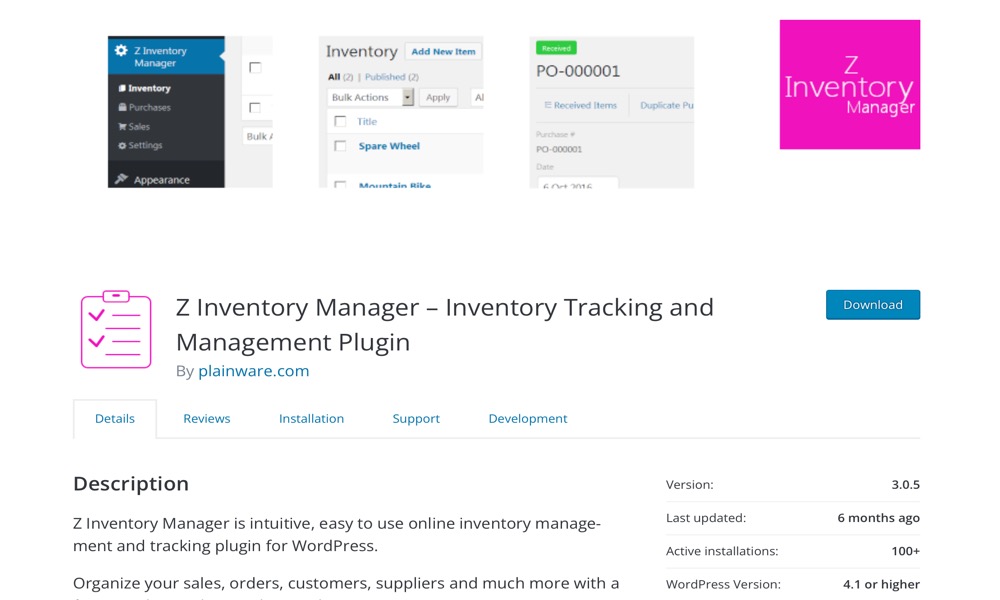 Another free WooCommerce inventory management plugin on our list is Z Inventory Manager. It is a lightweight and easy-to-use tool for automating stock inventory and enhancing efficiency. You can easily and swiftly organize your sales, purchase orders, and shipments using this plugin. A pro version of the plugin is also available, which contains additional functionality such as copy sales and purchases, as well as inventory stats and history. You will also get 12 months of free support and updates.
Features:
Sales are sent and tracked.
Keep an eye on the stock.
Lightweight
Inventory management in real time
Price: $39
11. Smart Manager for WooCommerce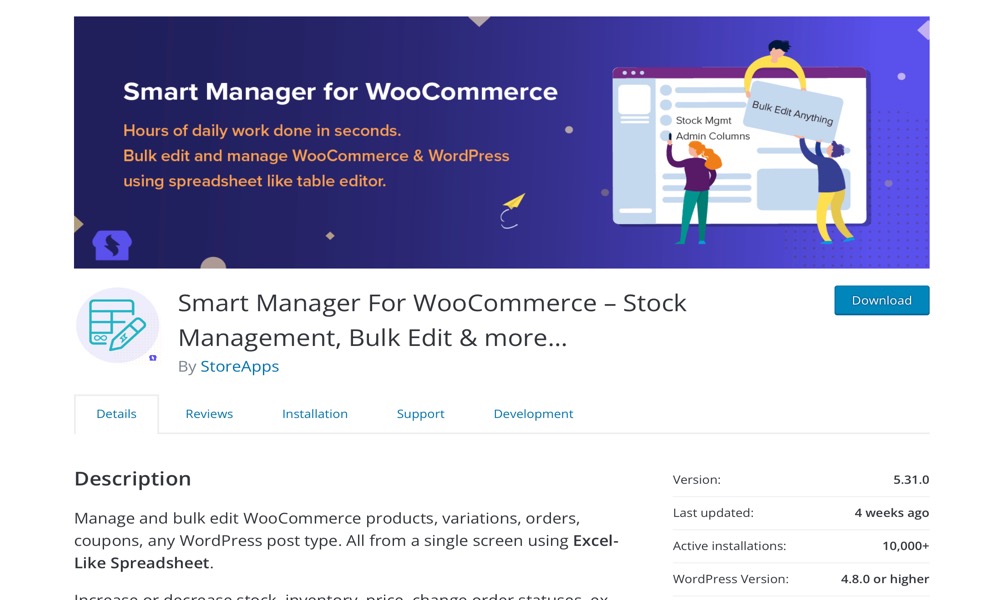 This inventory management plugin allows you to manage and bulk change WooCommerce products, variations, orders, and coupons with a single click of a button. Smart Manager for WooCommerce helps you monitor the stock levels in your store using an Excel-like spreadsheet, which not only saves you time but also makes the process easier. A pro edition of the plugin is also available, which contains capabilities such as batch updates, inline editing of many entries in a single click, duplicate records, and more.
Features:
Scrolling indefinitely
Advanced lookup
For easy data administration, use a sticky header.
A sneak peek at the image
CSV export is available for all post types.
Price: $149
12. WP Inventory Manager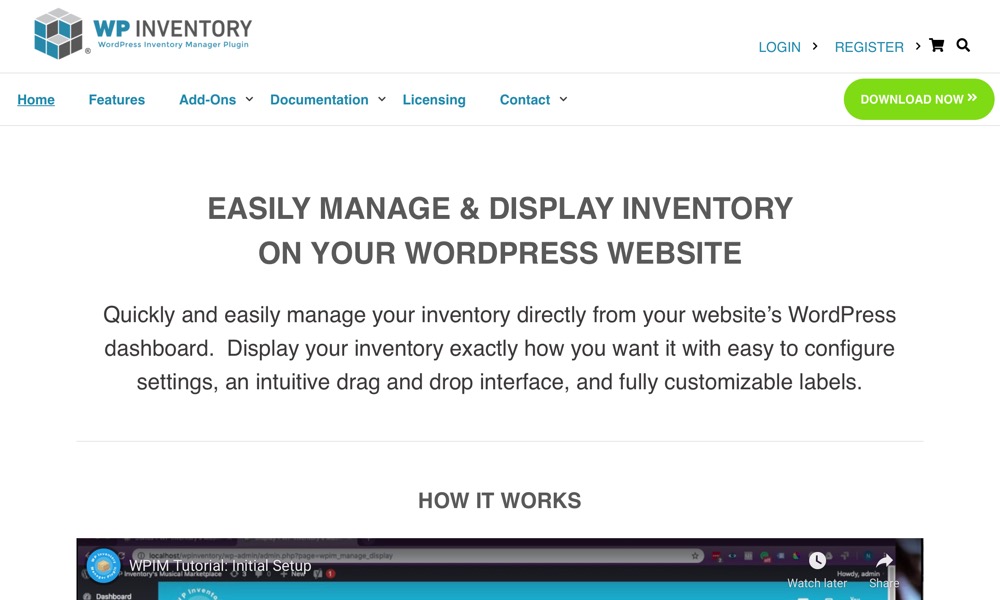 WP Inventory Manager is a relatively new inventory management plugin in the WordPress repository, there are barely a few thousand active installations. That isn't to say it isn't as effective as the other plugins on this list. With this plugin, you can manage bulk products on your store with a single click, altering stock levels, price, and adding variation pricing. The pro edition includes extra features, including support and the ability to use premium addons. The plugin will help car sellers, art lovers, and dealers.
Features:
Inventory manager with advanced features
Advanced lookup
Manager of bulk items
Cart is reserved.
Price: $49
13. WooCommerce POS Inventory Count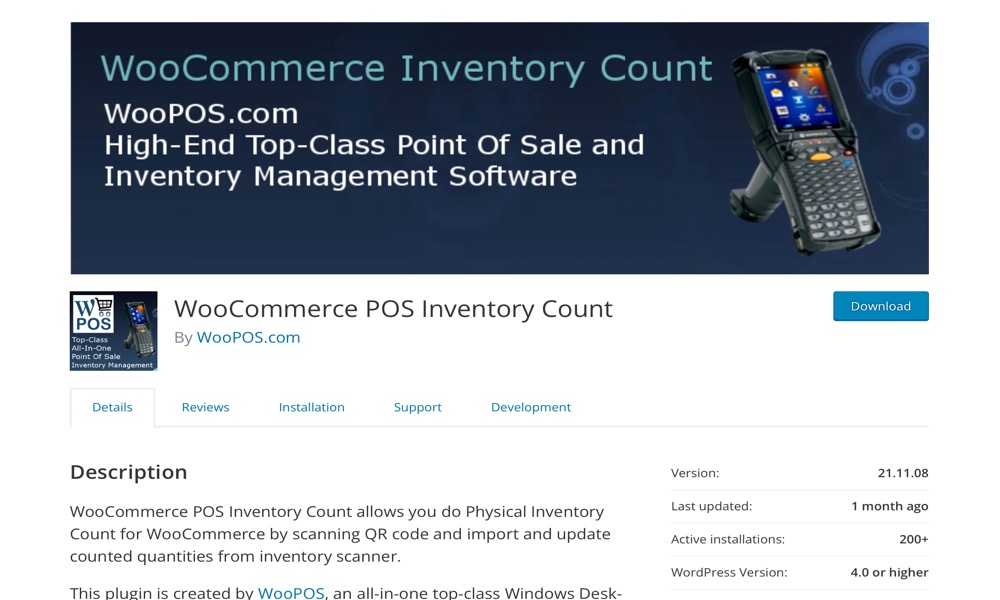 Another amazing inventory management plugin is WooCommerce POS Inventory Count, which allows you to make a physical inventory count for all of your products using a QR code scanner and update stock numbers using the inventory scanner. A prominent POS, WooPOS and inventory management solution allowing store owners to manage stock levels, process sales, maintain staff data, and more, developed the plugin.
Features:
Stock control for WooCommerce
Frontend administrator for WooCommerce
Orders to be fulfilled
Coupons and discounts should be organized.
Points that can be managed
Price:c Free
14. WooCommerce Schedule Stock Manager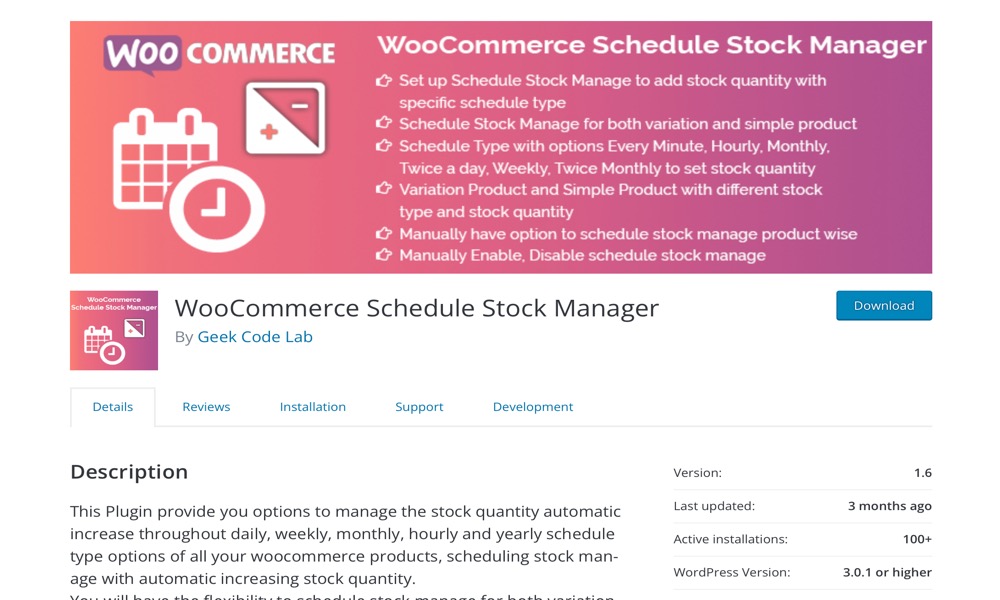 WooCommerce Schedule Stock Manager is another amazing option for managing your store's inventory from StoreApps, a famous WooCommerce plugin developer. With over 20,000 active installs on the repository, the plugin is one of the best WooCommerce inventory management plugins available. From a single screen, you can manage your product stock counts and variables. It not only makes stock management easier, but also makes it more efficient and speedier.
Features:
Check out the product's stock history.
Data from the store can be imported and exported.
Sort items by SKU.
By SKU, you may find goods.
Products can be filtered by category or stock status.
Price: Free
15. WooCommerce Out of Stock Manager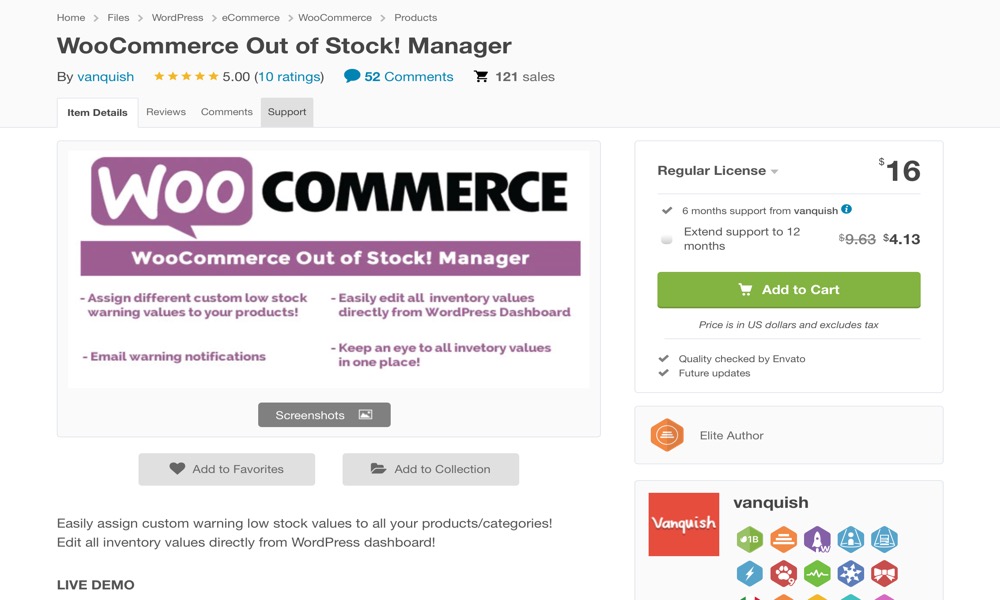 Vanquish, the creators of remarkable WooCommerce plugins like WooCommerce Aftership, WooCommerce shipment tracking, and WooCommerce customer manager, has released Out of Stock Manager, a wonderful inventory management solution for WooCommerce store owners. You can use WooCommerce Out of Stock Manager plugin to establish stock-level threshold criteria for your goods, as well as personalized warnings that will alert you if the stock drops below a certain level.
Features:
Low stock levels are alerted through email.
Compatible with WPML
Customize the page wording for out-of-stock items.
Better management with a dashboard widget
Price: $16
Conclusion
That concludes my roundup of the best WooCommerce inventory management plugins for your online store. While it is critical to work hard to make your store a success, it is also critical to work intelligently to stay focused on crucial tasks such as boosting sales and revenue. These plugins help you achieve just that by taking care of the time-consuming chore of inventory management.
We hope you will find this topic about Top 16 WooCommerce order management plugins for your store essential!
New Posts
Subscribe
Stay in the know
Get special offers on the latest news from AVADA.
40k
subscribers has been joined!
Earn $10 in reward now!