How to Migrate from OpenCart to WooCommerce
Last updated: September 01, 2023
With online sales increasing in importance by the day, it's unsurprising that businesses want their eCommerce platform to be up to snuff. With shopping cart functionality, user-friendly design, and great performance at the top of everyone's priority list, it's an excellent idea to do some comparison shopping every few years. Each year, new businesses emerge that offer functionality that rivals that of some of the eCommerce industry's veterans.
OpenCart is a prudent choice when it comes to selecting an open-source eCommerce platform on which to develop your online business. It is more suited to small to medium-sized businesses and is a fantastic option for merchants interested in multi-channel selling.
In this article, we will provide you a throughout instruction on How to migrate from OpenCart to WooCommerce in order to increase your store's performance.
What is OpenCart?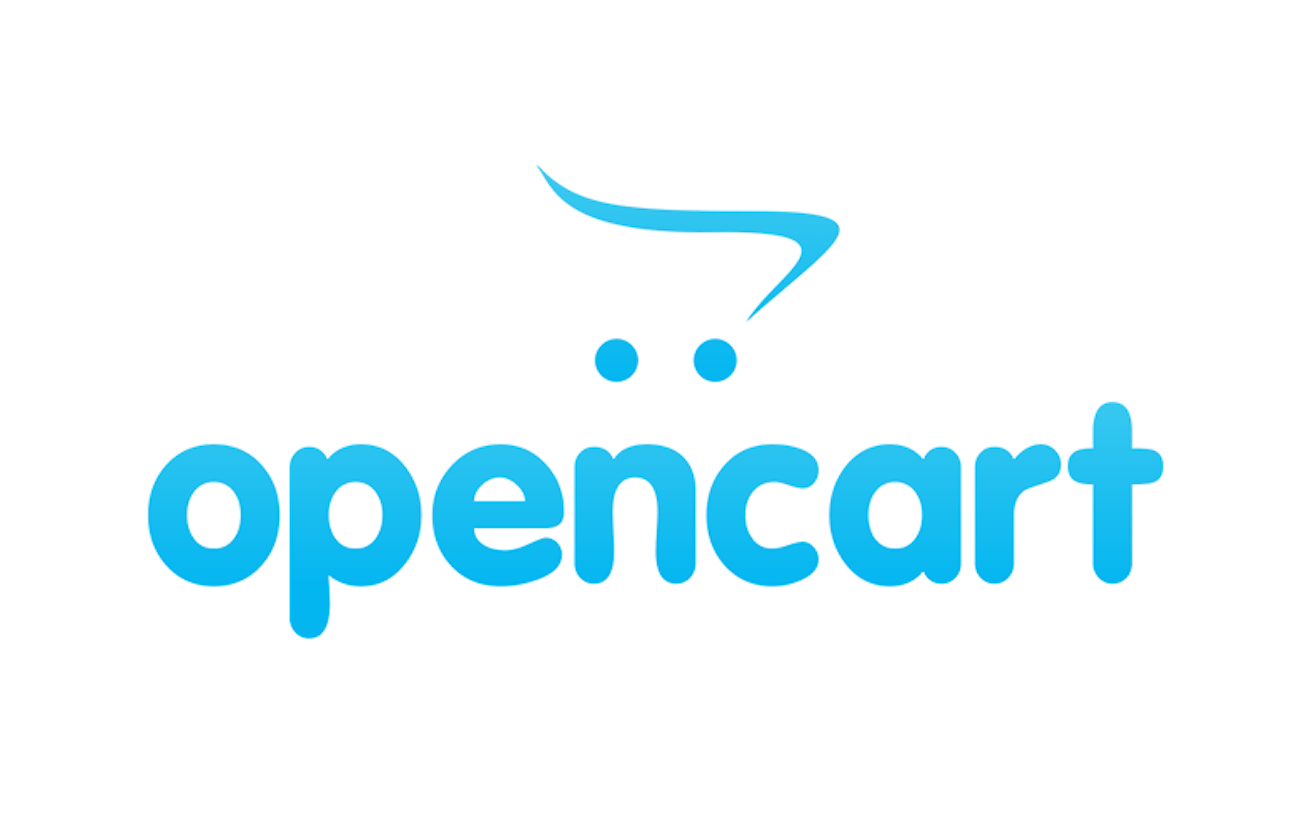 OpenCart has long been a go-to solution for small to medium-sized businesses, as it is ready to use and filled with built-in capabilities. Since 2008, the open-source eCommerce solution has aimed to ease store management.
OpenCart offers a plethora of eCommerce features. It has a comprehensive set of store administration capabilities, integrated SEO, a plethora of marketing tools, and multi-store flexibility. The ability to sell and redeem gift vouchers and coupons, award customers with incentive points, and set up recurring payments are all included in OpenCart's core platform.
OpenCart is compatible with a variety of popular payment gateways, including PayPal, Klarna, Sagepay, Worldpay, and Square. In addition, the platform has the opportunity to customize meta titles and descriptions.
Why you might want to migrate OpenCart to WooCommerce?
OpenCart is geared toward small and medium-sized enterprises. It is renowned for its simplicity and ease of use. However, one of OpenCart's primary disadvantages is its lack of customization. Users appear to have had to give up some flexibility in order to get greater simplicity of use. OpenCart provides merchants with only 500 premium and free themes, but WooCommerce offers over 2000 free and paid themes.
How to migrate from OpenCart to WooCommerce
LitExtension Connector files are used to establish a link between your shopping carts and facilitate data transfer. It is a unique access gateway that LitExtension provides. Follow these steps below to successfully integrate OpenCart to your WooCommerce store with the help of this platform.
Step 1: Make a backup of the database
Even though the program will not modify your database, it is always prudent to back up your database to avoid data loss. To export data from OpenCart (if you already have one), follow these procedures:
Navigate to the Dashboard section of your OpenCart store.
Access System > Maintenance > Backup/Restore.
Select the file formats to download. Selecting all options allows you to export the whole contents of your OpenCart store.
Select Export. The data you export is a zip file including all the data tables in MySQL database available for download.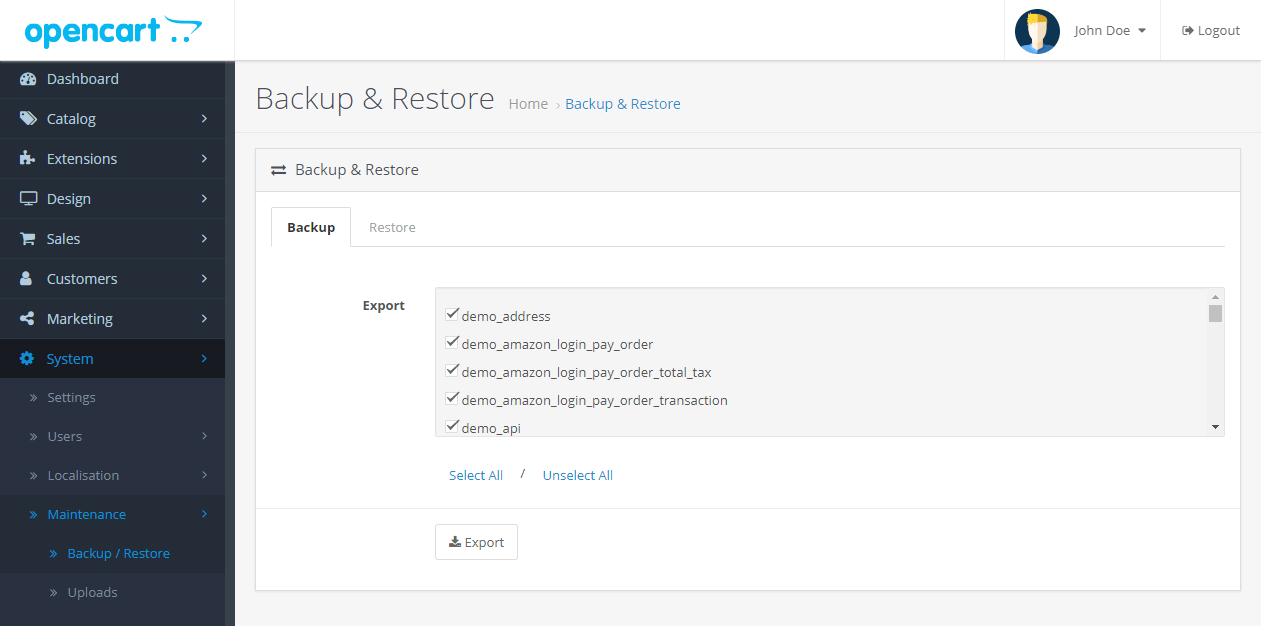 Step 2: Register/Login to the Litextension
Begin your migration journey by registering for a LitExtension account or logging in if you already have one. Additionally, you can log in using your Facebook or Google account.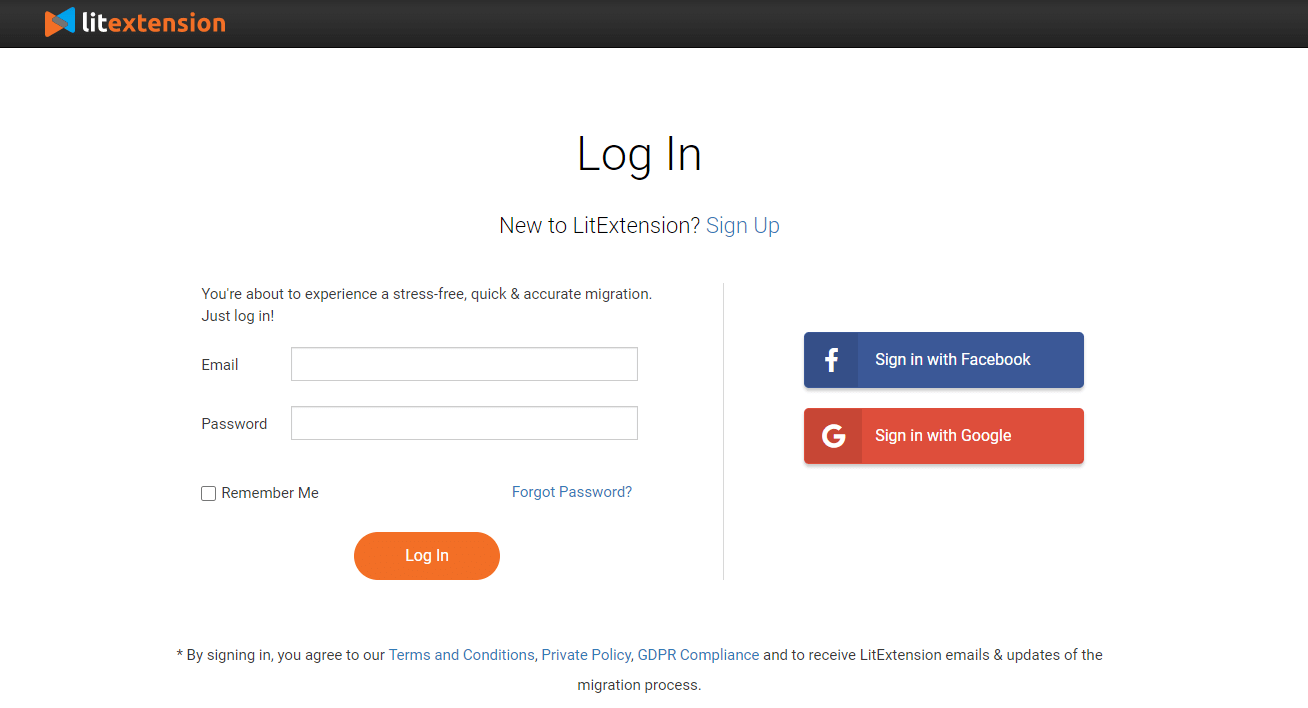 After that, you'll be taken to the My Migration page. To proceed, simply click the Create New Migration button.

Step 3: Provide information about the Source Cart and Target Cart
Following that, you'll see the cart setup page, where you may enter details about your store. To begin, choose OpenCart as the Source Cart Type and enter the store URL.

Then, download the LitExtension connector, extract it, and upload it to the root folder of your Source Store.
The LitExtension connector connects LitExtension to your Source and Target Stores. Repeat the previous steps to configure WooCommerce as your Target Cart.

Following that, click on Next to continue configuring your migration.
Step 4: Customize your Migration Settings
This phase requires you to pick the entities you wish to migrate to your new store. You can migrate specific entities by checking one or more checkboxes or by clicking Select all.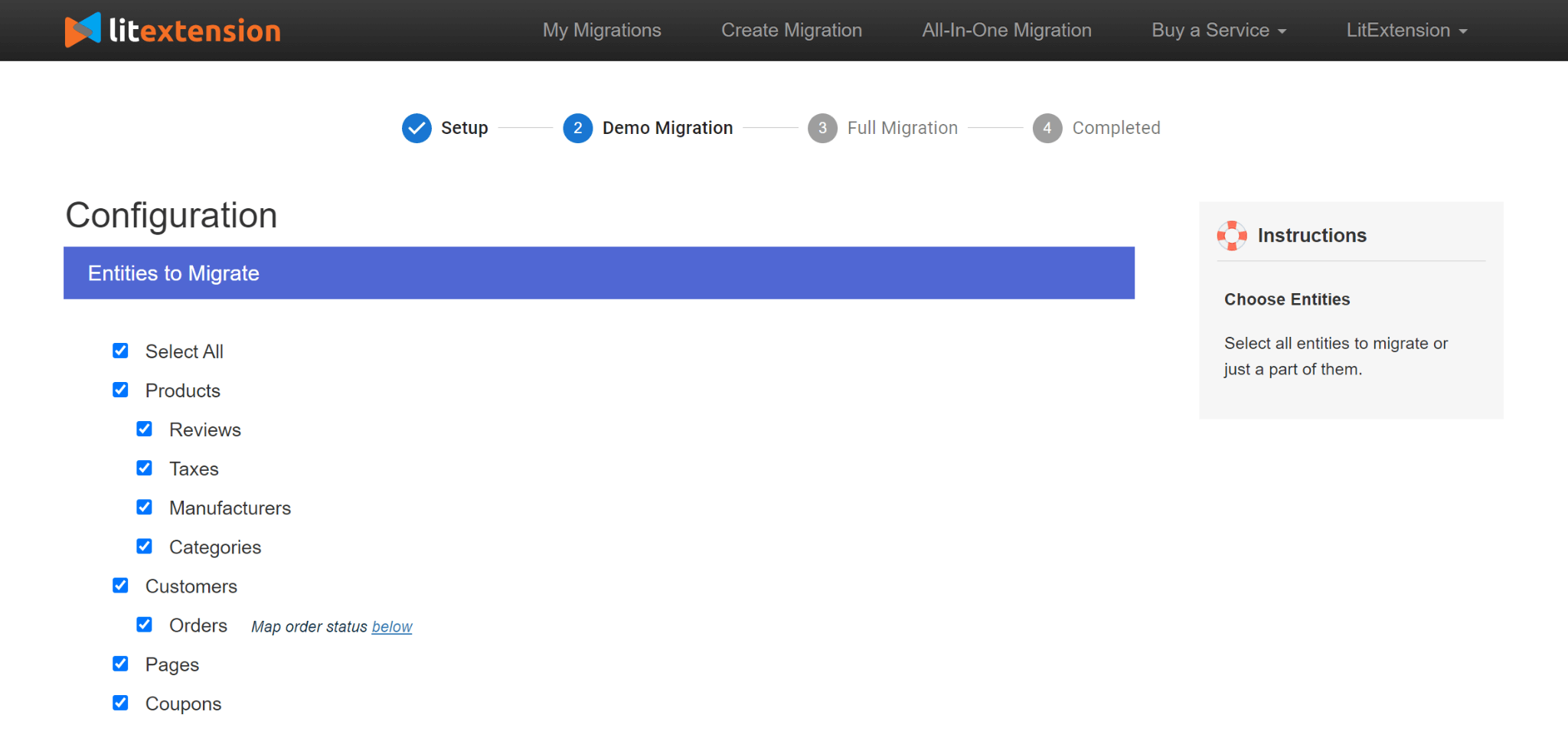 More importantly, LitExtension includes more than ten additional migration options. For instance, you can Preserve Products, Customers, and Order IDs on your Target Store, migrate Customer Passwords, or create 301 Redirects on your Target Store,…

Additionally, you can map the language and order status of your new store to ensure that they are presented appropriately. This is particularly advantageous for individuals who operate a multilingual source store.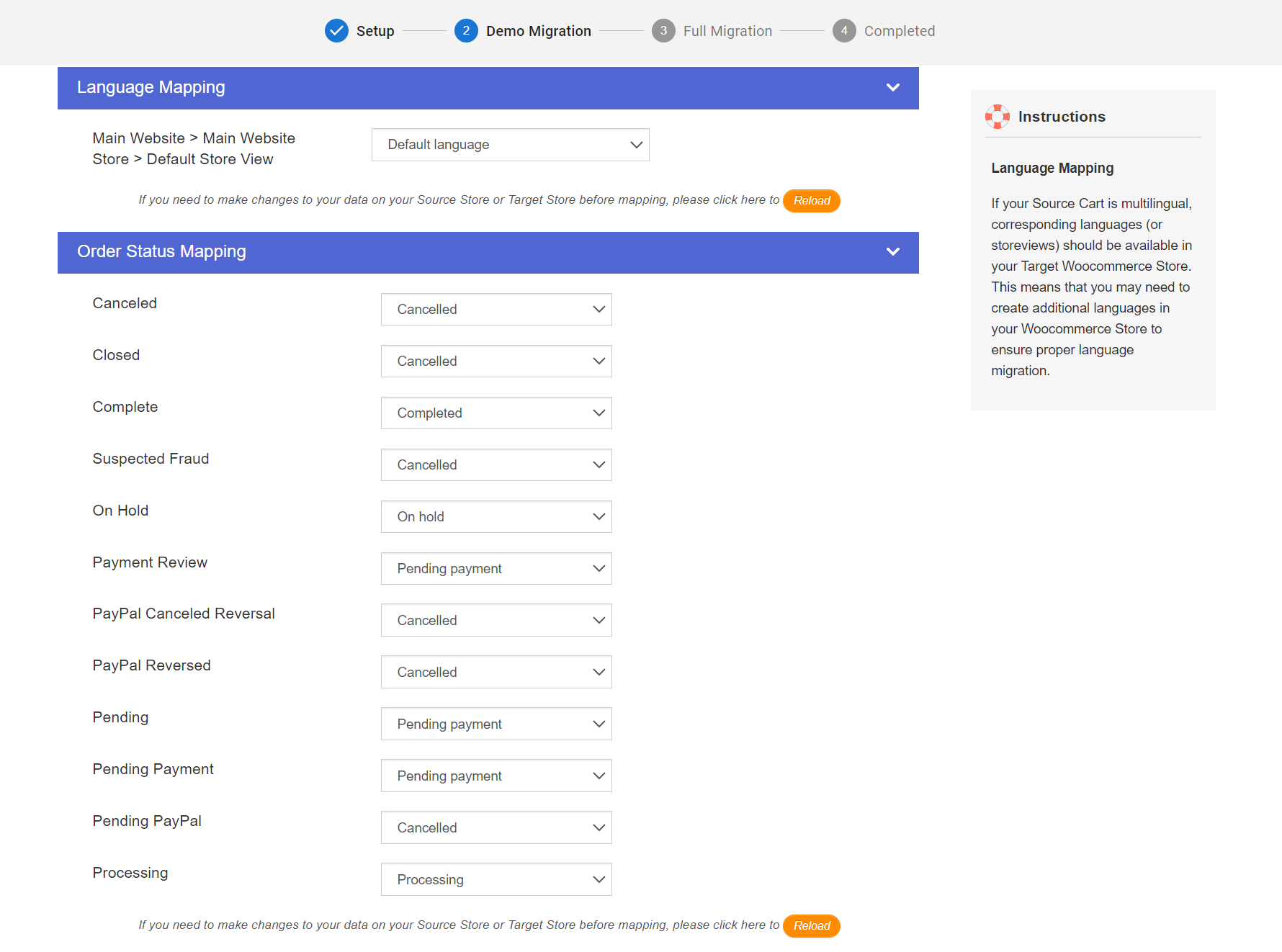 Step 5: Execute the Migration Process
You can pick the Start Demo Migration button at the bottom of the Configuration page to see how this tool moves and stores your data at the Target Cart. At no additional charge, 20 entities will be moved to your new store.
Alternatively, select the Skip Demo Migration check box to initiate the Full Migration process. Because this is a cloud-based operation, you do not need to have your browser window or PC on while data is being sent.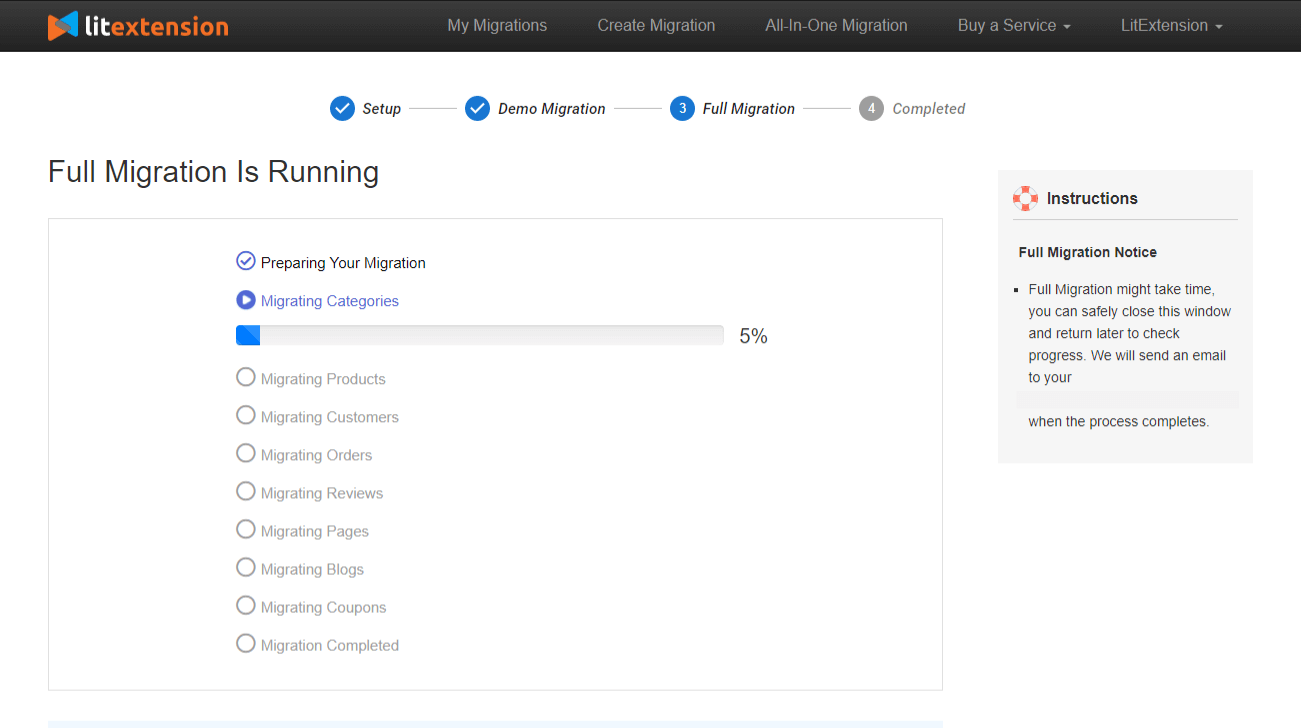 Once the procedure is complete, LitExtension will send you an email confirming the successful completion of your migrating project.
Step 6: Examine the Outcome of Your Migration
Do not forget to click the Check Result option to ensure that everything was transferred correctly to your new business. Bear in mind that you should do checks on both the frontend and backend of your WooCommerce store.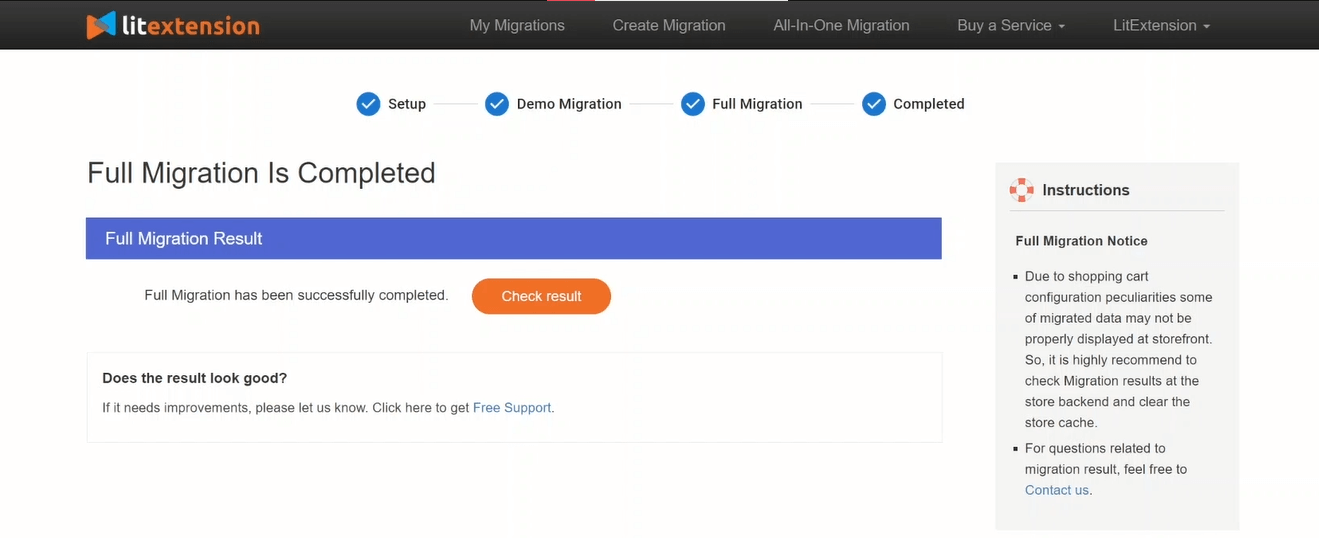 Final thoughts
That concludes our comprehensive guide to migrating from OpenCart to WooCommerce. The transfer process is a significant transformation for your store. Additionally, it takes a great deal of time and effort to correctly move all of your data. However, there is no need to be concerned; it will be a piece of cake if you choose the correct path. I hope you find what you're looking for in this guide and that you have an easy time migrating your store.
---
Roger has over 4 years of experience in SEO. While in college, he started learning about SEO and showed a passion for the field. Right after graduation, he embarked on SEO projects and achieved great success. After years of working, he has learned deeply about SEO. Currently, he is the SEO team leader at avada.io