Is SiteGround the Best Option for the WooCommerce Store?
Is SiteGround the Best Option for the WooCommerce Store?
As one of the most prestigious website hosting providers of all time, SiteGround has stood out from the others with its own unique features. While it offers cloud hosting, shared hosting, domain registration, email hosting, and enterprise solutions, SiteGround also wins users' hearts thanks to the provision of the free SSL certificate as well as pre-installed WooCommerce. So, if you are owning a WooCommerce store and wondering whether SiteGround is the best option for a WooCommerce store or not, this piece of article is born to help you find the answer.
Keeping your WooCommerce site live, secure, and fast, we believe that SiteGround will be the best site host for your WooCommerce store to start scaling and fast with your online business. Now, it is time to read out to see if SiteGround makes the best for your store and why we will recommend it to WooCommerce store owners.
General knowledge about SiteGround
Powered by the world-known Google Cloud, SiteGround is famous for offering distributed storage that runs on SSD disks. Therefore, this lets them deliver a high-level redundancy, along with optimal speeds. More than that, Google even perfectly matches the energy that is consumed by the operations coming with renewable energy.
The WooCommerce managed to host plans has made it much easier for users to get their WooCommerce stores up and running very quickly. After signing up with this hosting provider, you could be able to achieve one bare-bones store set up on your WordPress. Then, it is possible for you to install the WooCommerce theme, plugins, as well as add the products.
Is SiteGround the best option for the WooCommerce store?
There is no denying that SiteGround is the most popular and can be considered the best option for the WooCommerce store. With unique and built-in features, it has been enjoyed by a great deal of WooCommerce store owners. Check out the below reasons to see why it makes the best option for your online business.
1. Provide free installation of SSL
Every SiteGround hosting plan offers the free Wildcard SSL as well as Standard certificates from the renowned Let's Encrypt. This is to say, it is user-friendly for getting started. What is more, the certificate Standard SSL will also be pre-installed on the WooCommerce store. Hence, you could enjoy the free installation of SSL.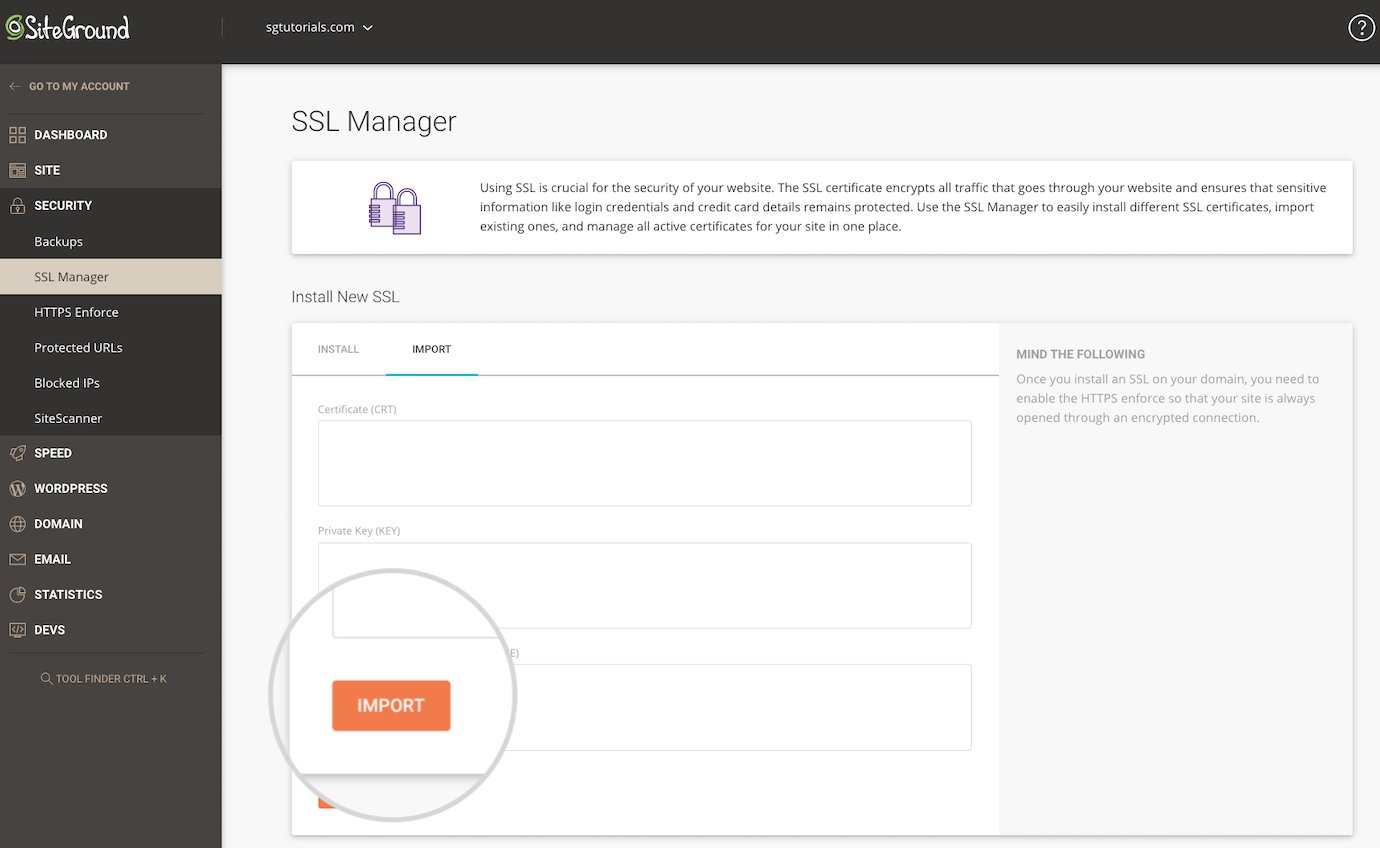 2. Use intellectual caching
There is nothing quite like having out-of-the-box caching when it comes to improving the performance of your WooCommerce store. When your WooStore is hosted on the servers of SiteGround, you could make use of the unique technology SuperCacher of this website hosting provider. To be more specific, the dynamic cache, coupled with the NGINX-based static is enabled within your WooStore by default. Then, you are capable of enabling Memcached. You should not neglect this issue if you want to rest assured that your WooCommerce store could load fast and will be fully optimized for better performance.
3. Have Cloudflare CDN
When it comes to CDN, known as the content delivery network, SiteGround partners with Cloudflare in order to provide customers with free CDN service. The CDN has a reputation for speeding up pages' loading time on your WooCommerce store, so users could feel convenient when surfing on your online shop.
This functions by caching pages' contents, exploiting RailGun, and minifying images for speeding up the dynamic uncacheable content. As estimated, the network of CDN has up to 152 locations all over the world.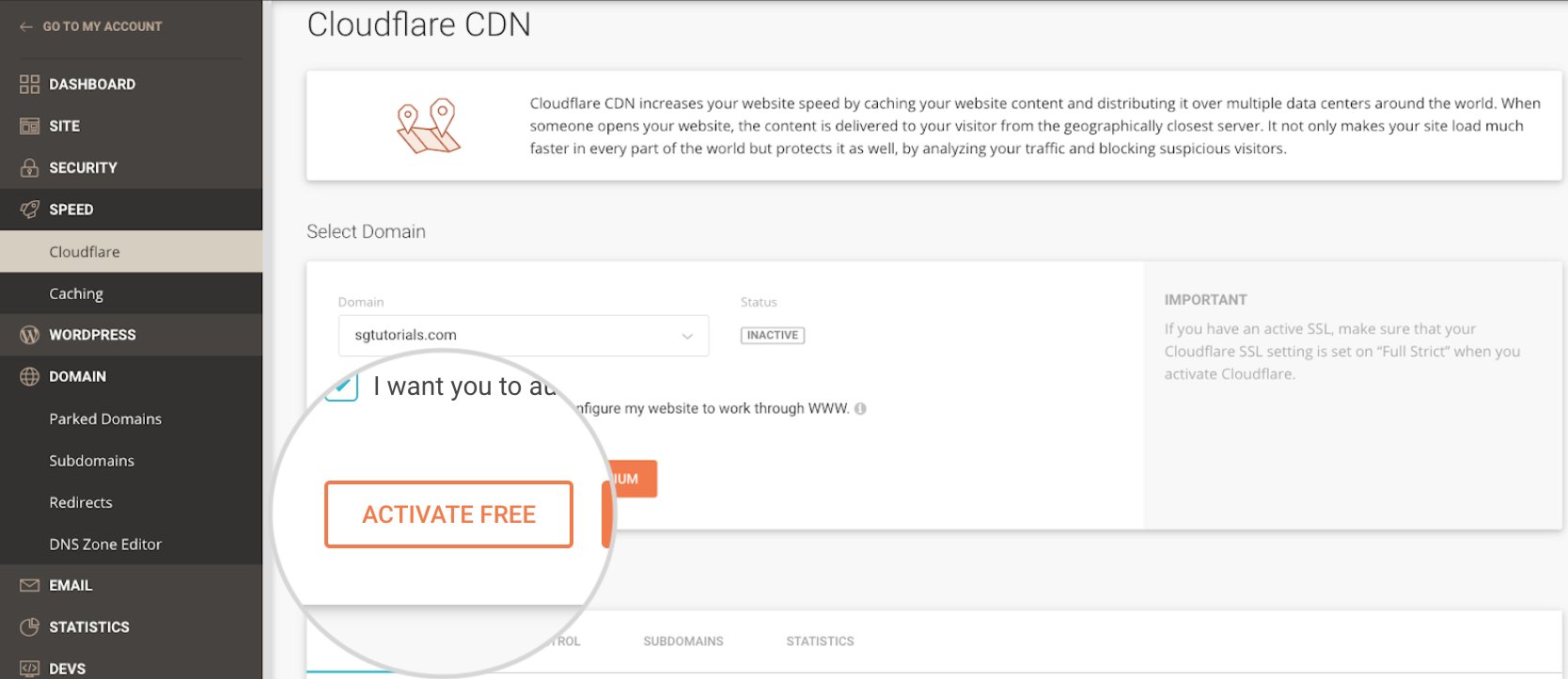 Moreover, SiteGround also comes with the WAF, a website application firewall. This will work effectively for preventing XSS attacks, injections, and exploits by making the analysis of requests that come to your server and blocking malicious requests. As a result, vulnerabilities within your WooCommerce store could be eliminated.
The wonderful thing is that you could be able to use the staging tool offered by SiteGround for creating one copy of the online store, then make modifications to it prior to launching them on your WooCommerce live site. This has been proved to be very helpful for any WooCommerce store that prefers to install the new plugins while remaining assured that everything will work without any unexpected problems. Furthermore, it is also a vital step that could help your site avoid breaking.
4. Allow collaboration tools
SiteGround has been enjoying an increasing reputation for allowing customers to add a collaborator to the site. And collaborators tend to get their SiteGround accounts, thereby making it easier for the owners of WooCommerce stores to implement outsourcing site upkeep and maintenance after their WooCommerce stores take off. Then, you can notice the pages on your WooCommerce store loading faster when being hosted on the servers of SiteGround.
5. Come with good performance
When it comes to the performance of any online store, it will mostly decide the success of that store. In this situation, we will make clear how SiteGround could offer good performance for your WooCommerce business. To recap, the GoGeek plan of SiteGround will be used. It comes with a storage space of up to 40 GB with the unmetered transfer of data. Therefore, it works great for 100,000 visitors monthly or thereabouts.
Let us take a real-world example for you, rather than test the bare-bones installation for WooCommerce with zero sales pages, widgets, or products, you could pick up a realistic environment for testing. This way, you could acquire better knowledge about how a typical store on WooCommerce performs on the web hosting SiteGround. Therefore, if you want to set up a realistic environment, it means that you add the product to the WooCommerce store.
In case you set up your WordPress site that comes with the plugin WooCommerce installed. You could be able to install the Shoptimizer theme with the demo content. For example, your WooCommerce store has 10 products. Each of them has a high-quality image of the product, prices, as well as descriptions. Moreover, you can also apply the speed tips of Shoptimizer to your online store. So, you can test the page speed of your shop page, homepage, and product page.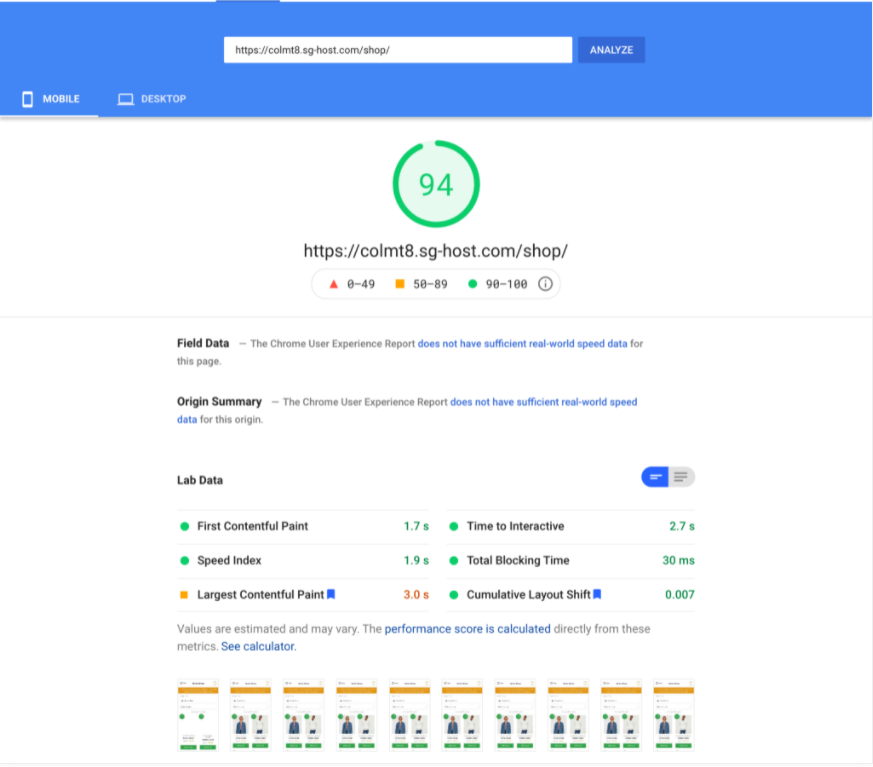 When visitors go to your WooCommerce store, they will go through your homepage. And the Shoptimizer homepages come with banners, CTA buttons, the latest items or products, the hero image, popular products, testimonials, and more.
Why do we recommend SiteGround?
In the above section, we have figured out if SiteGround is the best option for your WooCommerce store or not. Keep following us in this part to see why we recommend SiteGround for any WooCommerce store owners. Here are some of the world-best features that SiteGround will offer to help online stores grow better.
1. Offer technologies of speed optimization
One of the greatest things to make this web hosting outstanding the competitors is thanks to its SuperCacher. With this kind of tool, users could be able to make use of multiple technologies related to speed optimization, including Memcached and Varnish Cache. To be more specific, the technical team from SiteGround had been the very 1st company in executing Memcached in the shared environment of the server.
Besides this SuperCacher, every SiteGround site is stored on a drive called Solid State with the provision of up to increased 1000x in output or input operations in comparison with the regular drives. There is no denying that speed plays a key role in any eCommerce stores and shops where buy-ready consumers are often impatient as well as wish to find products or items as quickly as possible. Then, this has become a bigger challenge because multiple display elements, features, and images could hurt the performance of the site.
What is more, the dedicated, along with caching servers of SiteGround are also helpful in solving those problems as well as delivering quick results. With the use of Pingdom, the hosting service offered by SiteGround without the enablement of the SuperCacher would be put under the speed test in comparison with other well-known companies.
As soon as the SuperCacher of this SiteGround is enabled, you could be able to notice a noteworthy escalation in speed. This can overtake other dominant hosting companies in order to win the first-place position. Furthermore, SiteGround's SuperCacher does come standard on every hosting plan. However, it needs to be enabled manually. Especially, SiteGround offers various resources and tools for enabling your site to be more reliable and faster.
2. Provide affordable pricing
Pricing should not be a big factor when it comes to selecting a hosting provider. Nevertheless, if you choose SiteGround, you could enjoy a very affordable price by paying only $3.95 per month for first-time consumers. Each site has such features as unmetered transfer of data, free and unlimited email accounts, Softaculous and cPanel access, and so on. But each different plan will offer users several different slight resources that will be customized to their needs and expectations.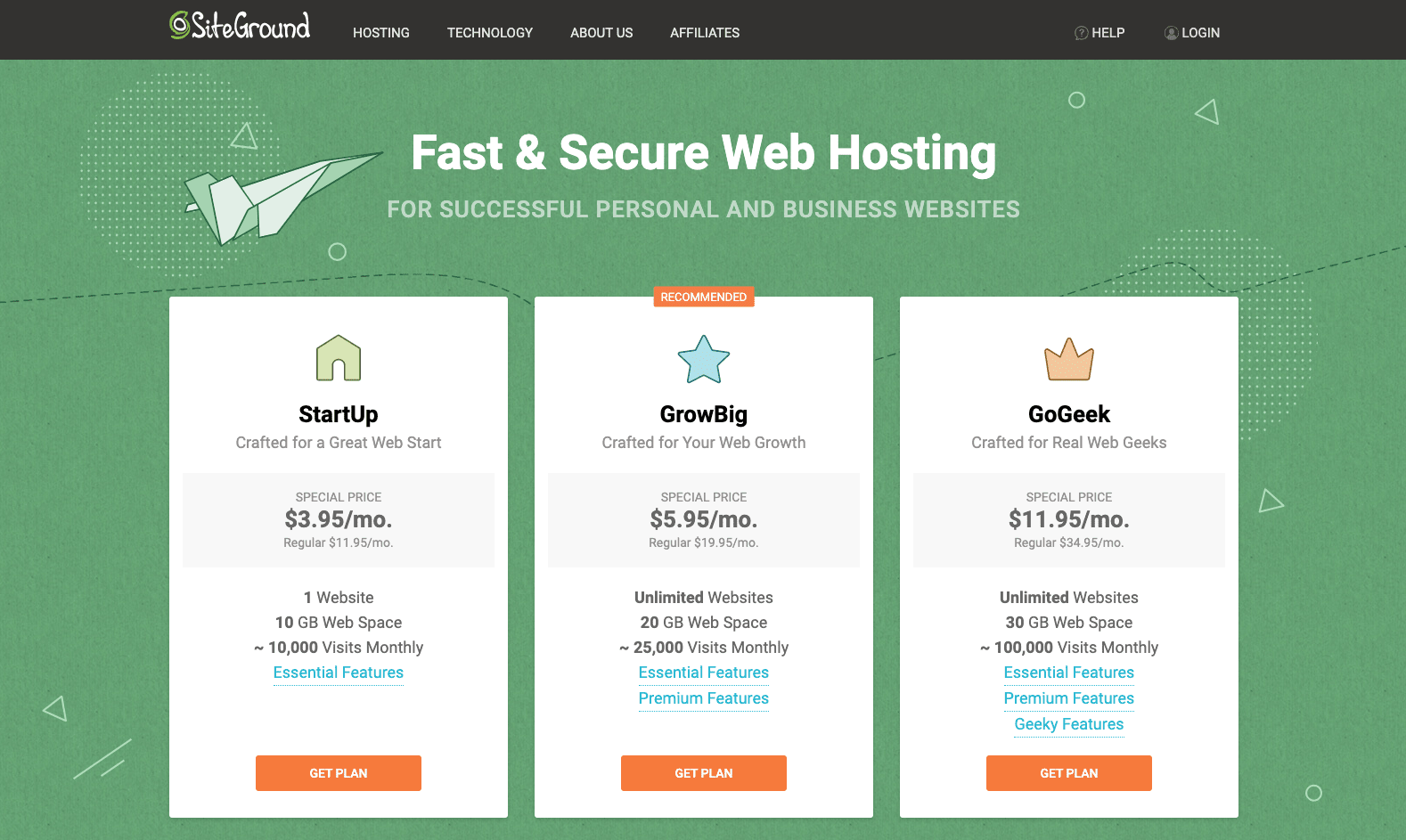 To be more specific, the plan Startup is ideal for those who have just gotten acquainted with building sites. The hosting of the site could suit the sites that have around 10,000 visits each month. And this plan will give you an opportunity to construct a site via its SSD of 10GB.
On the other hand, the plan GrowBig is suitable for building various websites such as website developers and entrepreneurs. With this kind of plan, you are capable of building unlimited sites, then you could get your backups with saving for around 30 days related to its restoration in case of need. Moreover, you can also receive quick priority support, along with a year of using free SSL in case you must run the credit card. Especially, this plan makes it perfect for 25,000 visits each month through all sites that you construct on the 20GB SSD.
The last plan is the GoGeek one. This is perfect for big websites with over 100,000 visits each month. GoGeek has brought about fewer accounts and dedicated servers on these servers that will provide you with more resources to improve the speed of your website and enable it to hold out against traffic spikes, making your website suffer from heavy stress. With this plan, you can get fancy adds-on with the 30GB SSD.
Moreover, SiteGround also comes with the guarantee of money back up to 30 days. Then, you could have quite a lot of time to try it out. If you do not keen on it after trying, you could return and get back your money.
3. Provide 24/7 support
One more reason we recommend this hosting provider to store owners is the provision of 24/7 support from SiteGround. In case of technical problems that happen to your site, or it is down, then you want to find a fast solution from the hosting provider. Any downtime in eCommerce sites results in lost revenue. However, this will not happen to your store if you choose SiteGround as your hosting provider for your WooCommerce store. They provide instant phone as well as chat support to offer store owners an estimation of the response time related to the support tickets.

To be more specific, this hosting provider does a good job because its resolution time is only five minutes on average. When you compare it with other competitors, it is really impressive.
4. Improve security features
There is nothing quite like selecting a hosting provider that offers high-security features. It is undeniable that SiteGround's security team is so successful that they always list and look carefully. What is more, they are creative when they need to resolve problems. To be more particular, its team will also monitor various information sources with a view to keeping up to date the newest vulnerabilities that can exert a threat on customers' servers.
In case there is any unexpected issue arises, extensive expertise will be utilized for giving out original solutions for solving the problems instead of looking for a 3rd-party or any security firm for troubleshooting as well as fixing the issues for them.
5. Be a reliable hosting
SiteGround is such a reliable hosting solution that it takes pride in its uptime of up to 99.99%. It is advertised on the homepage. Moreover, one entire page is dedicated to uptime as well. And they also credit for the high-security solutions with having a solid uptime. One more outstanding feature that you find this hosting provider transparent and useful is the status checker for real-time uptime. There is no need to guess if you have any server issues or a problem with the ISP. What you need to do is just to enter the domain, then find it out instantly.
6. Have free and fast backups
SiteGround has outstood the others thanks to the creation of its backup system itself. They did this in 2005 as no 3rd-parties or backup solutions are living up to their standard. To be more particular, they pay attention to their resources spent on two principal backup components. One is to create backups without using many resources, and the other is to create a dynamic for allowing fast restorations for urgent needs. With constructing this new restore or backup
Conclusion
In the industry of millions of eCommerce websites that are plagued with lackluster support, frequent downtimes, sedate loading times, and so on, SiteGround has outstood the competitors and met the needs and expectations of any marketing hype. This is to say, this hosting provider won the hearts of millions of users in every corner of the world. If you are seeking first-rate hosting for WordPress and WooCommerce that is reliable, speedy, and supportive with a competitive price, SiteGround is undoubtedly your champion.
Do not hesitate anymore to pick up SiteGround as your ideal hosting plan. All advanced built-in features will make it a high-quality host and satisfy what you are looking for. Hope you can find this piece of article helpful. Stay tuned and follow us on the upcoming great tips and tricks.
New Posts
Subscribe
Stay in the know
Get special offers on the latest news from AVADA.
40k
subscribers has been joined!
Earn $10 in reward now!