How to Import Orders in WooCommerce
How to Import Orders in WooCommerce
While online businesses bloom on eCommerce platforms, you need digital tools to help with time-consuming tasks like importing WooCommerce orders. This allows you to be highly adaptive to the eCommerce pace.
When it comes to migrating orders to and fro WooCommerce, Order, Coupon, Subscriptions Import Export Plugin for WooCommerce may be a good choice to start with.
In today's blog post, you will be taken through simple but detailed and visualized steps to own an importing tool, which helps you import orders effectively.
After the process, we provide you with the 3 best orders import plugins that you may be looking for.
Why wait? Let's dive in and see how it changes your business.
Why should you import orders for WooCommerce stores
Now you see the importance of importing or exporting orders that benefits the development of your business and human resources. But everything seems to be in vain when it comes to the specific reasons why you should choose a digital import assistant for your WooCommerce stores, the below 3 motivations will reinforce your decision.
It takes you a lot of time and efforts for manual order importing

Your business requires frequent updating for continuous growth

Your WooCommerce store has diverse data types to manage
How to import WooCommerce orders
Order, Coupon, Subscriptions Import Export Plugin for WooCommerce is designed in a way that is user-friendly and perfectly matches with this eCommerce platform. However, you as a newbie may get lost in a brand new software with unfamiliar features. Don't worry! Just follow our step-by-step instructions and you'll successfully import your WooCommerce orders.
Step 1: Which post type do you want to import?
Order, Coupon, Subscriptions Import Export Plugin supports any type of post that you wish to import or export. In this case, you will choose Order in the dropdown menu.

Step 2: In which way do you want to import?
With the help of this multifunctional plugin, you're able to import WooCommerce orders in 3 different ways
Quick option
Pre-saved option
Advanced option
To take the most suitable option that aligns with your purpose, let's take a look at each alternative.
Quick Option
Choosing Quick Option, you can import fundamental details of the orders. Anyway, it's more preferable to migrate the input file from the same plugin. This option supports 3 file resources: Local device, URL and FTP.
If this option is right for you, let's move on to Step 3 after clicking the Import button at the lower right corner of the window.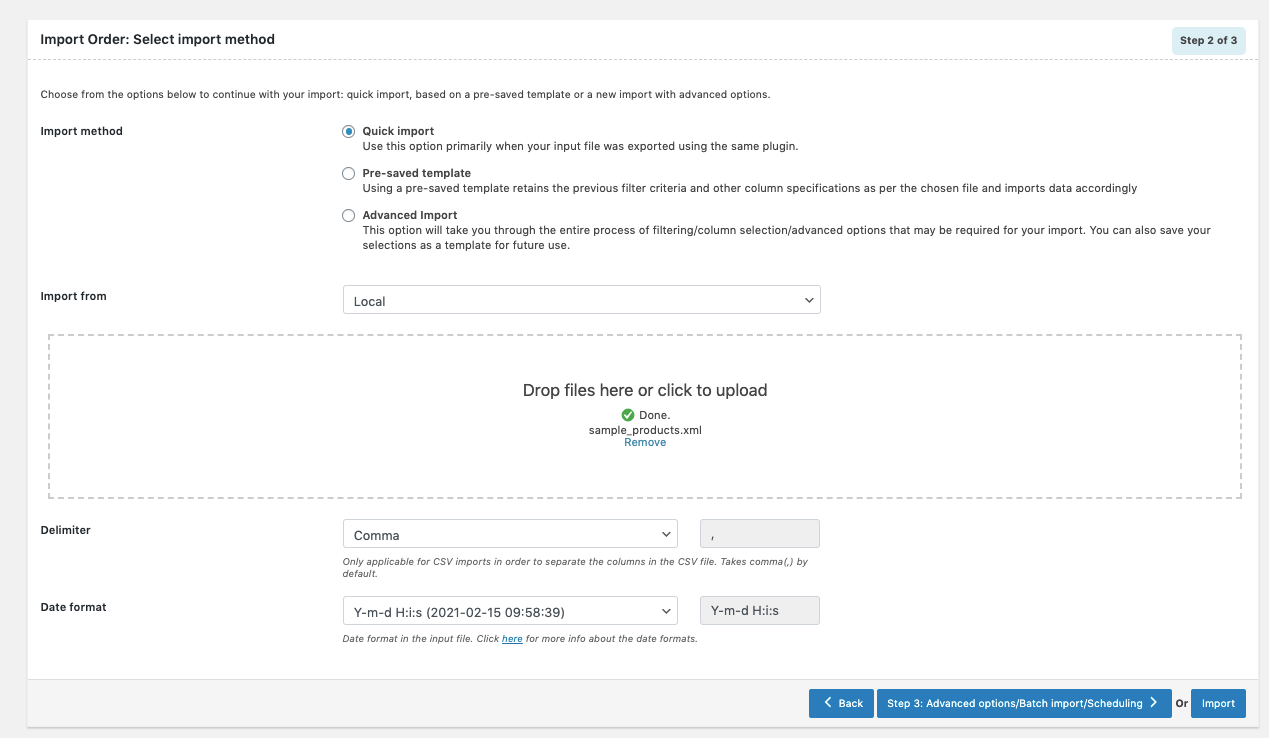 Pre-saved option
You can set up a filter criteria template for the according usage by adopting this method. Before clicking the Import button, make sure to select a suitable template in the Import template field.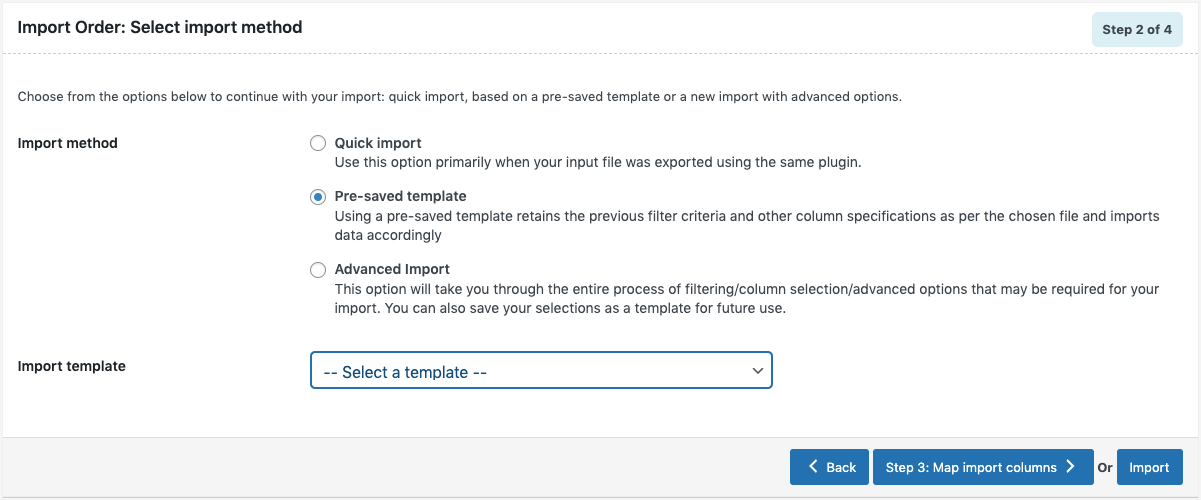 Advanced option
It seems like you haven't made up your mind yet with the previous suggestions, so this final option must be for you. The last choice allows you to customize your final result after a detailed process of filtering, column picking, and other advanced import options. The good news is that you can save the file after your customization and use it as a template in the future.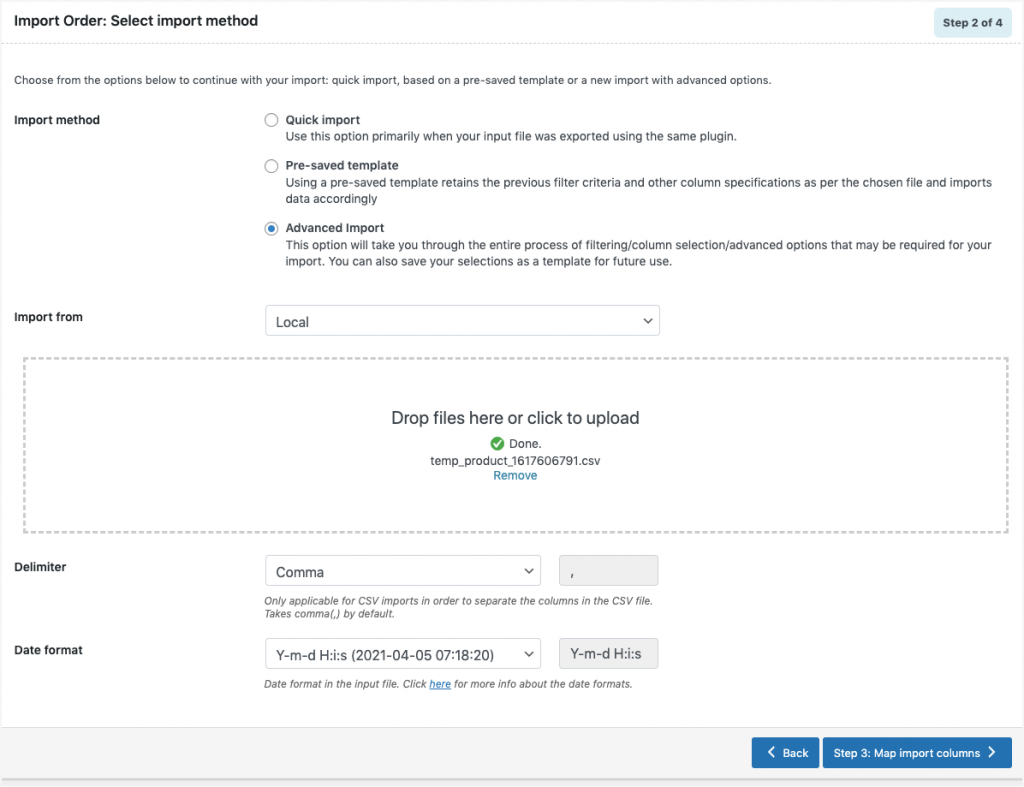 Step 3: Which fields would you choose?
In this step, you can map the import columns under 3 fields:
Default fields: If necessary, the mapped column names in this section can be changed. If necessary, the mapped column names in this section can be changed. When you select a pre-saved template, you may see the last-saved preferred names and options.
Meta (fields that are unique)
Metadata that has been hidden

Use the evaluate field to attach a value/expression to an existing object during import. It essentially chooses any column from the input data, considers the values using expressions, and outputs the results.
Expression: To alter the value, use any of the expressions +*/-()&@ or string constants in conjunction with the attributes.
Input: Choose the column that needs to be changed.
Output: A sample value will be generated based on the first record from the input data.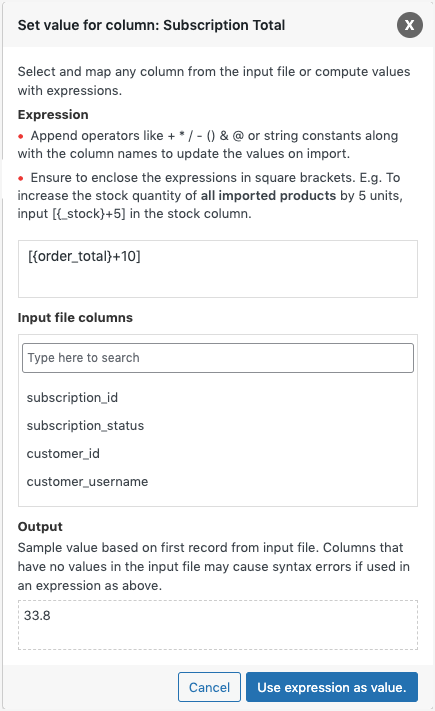 Step 4: Take a look at some advanced options before finishing
After step 3, the plugin shows you several options in the form of windows that may help enhance the final result. In this stage, we will take you through those stuff before you can have your WooCommerce orders imported.
The first windows interface includes: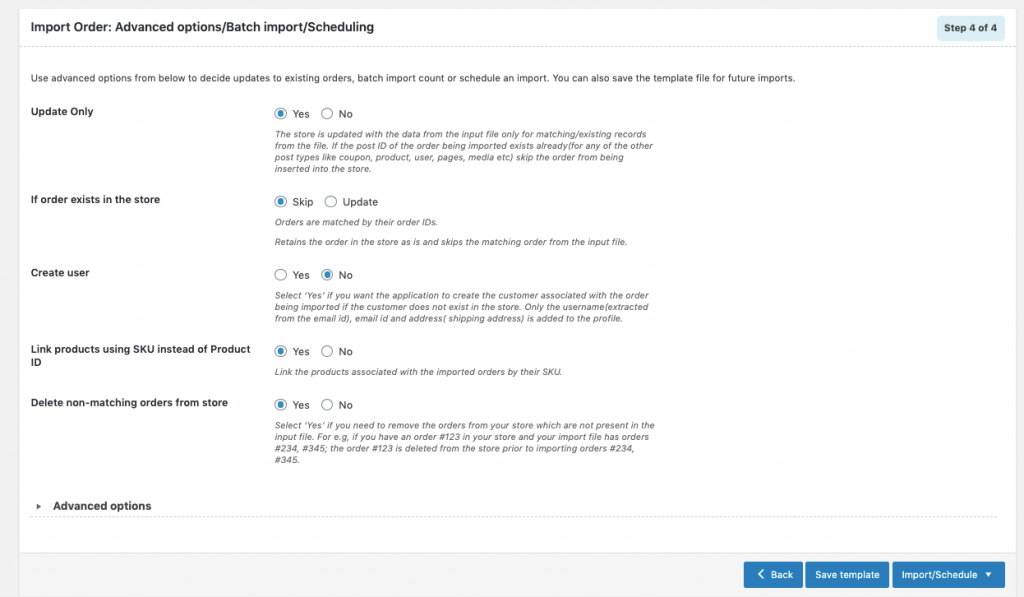 Update only: Selecting "Yes" will only update the data in the store for present entries from the input. Depending on the circumstances, selecting "No" processes the full data from the input file for an update or insert.
If order exists in the store: You can choose between Skip and Update
Create User: A customer can be generated and informed if necessary.
Link products using SKU instead of Product ID
Delete non-matching orders from store
You can also save the file as a template for future use.
After that, you'll be brought back to the first window and make the last decision about the orders: be imported straight into your WooCommerce store or scheduled via FTP
If you choose to migrate the data straight away, you just need to select Import. Otherwise, as soon as you opt for Schedule, the schedule window will pop up.
Order, Coupon, Subscriptions Import Export Plugin offers you 2 methods to schedule your import:
WordPress Cron: When a visitor comes to your site, WordPress Cron checks to see whether the time/date is later than the planned event/s, and if it is, those events will be fired.
Server Cron: Depending on the amount of data to be analyzed, you may need to trigger the URL every minute.
You may also choose the time when the import will take place.
When the import is finished, a pop-up window will appear with the import status, including the number of successful and unsuccessful imports (if any).
Top 3 plugins for importing orders in WooCommerce
Order, Coupon, Subscriptions Import Export Plugin for WooCommerce is a user-friendly importing tool beneficial for WooCommerce users because of its easy-to-operate interface and the free version for newbies and small businesses. But, if you want other plugins that are more supportive for your stores to import complicated purchases data, especially when WooCommerce is not the only eCommerce platform you use, here are some of our recommendations for you.
Let's check out what they can do and whether they're compatible with your budget.
Another highly recommended plugin for WooCommerce orders import must be WooCommerce Customer/Order/Coupon CSV Import Suite. This plugin acts as a resourceful assistant in importing orders with its ability to adapt to multiple eCommerce platforms. Though certain filled minimum fields are required, most of them are thoroughly supported.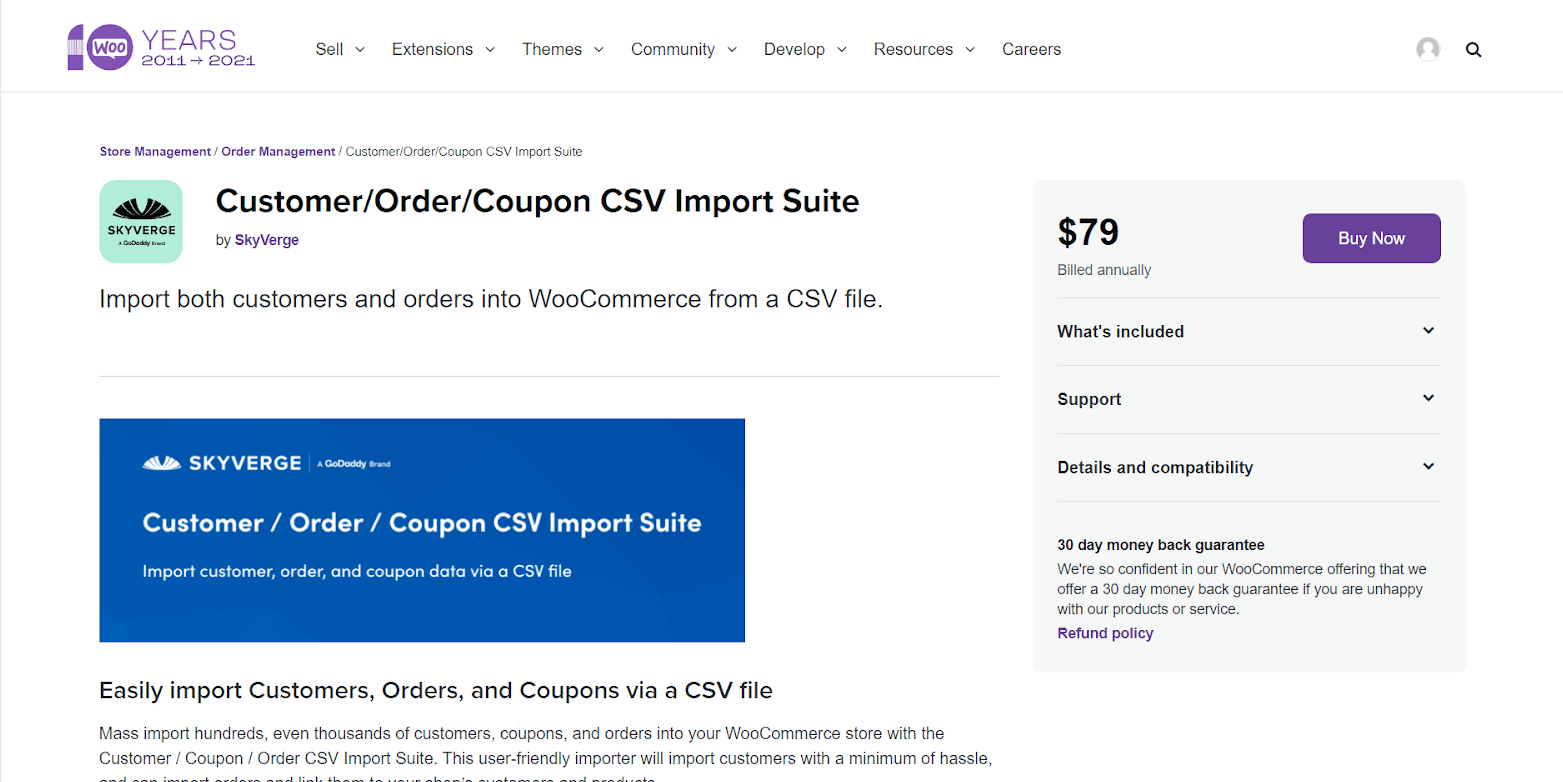 Key features:
Enable migrating data from another eCommerce platform to WooCommerce
Allow maintaining customer account and order history
Provide easy column mapping
Work well with a variety of data sources
Price:
$79 including:
1-year extension updates
1-year support
30-day money-back guarantee
WOOEXIM really comes in handy whenever you want to Export and Import products, categories, customers, coupons. Thanks to this plugin, you can both export data to CSV or either you can import data from CSV file. WOOEXIM also equips you with optimal exporting functions.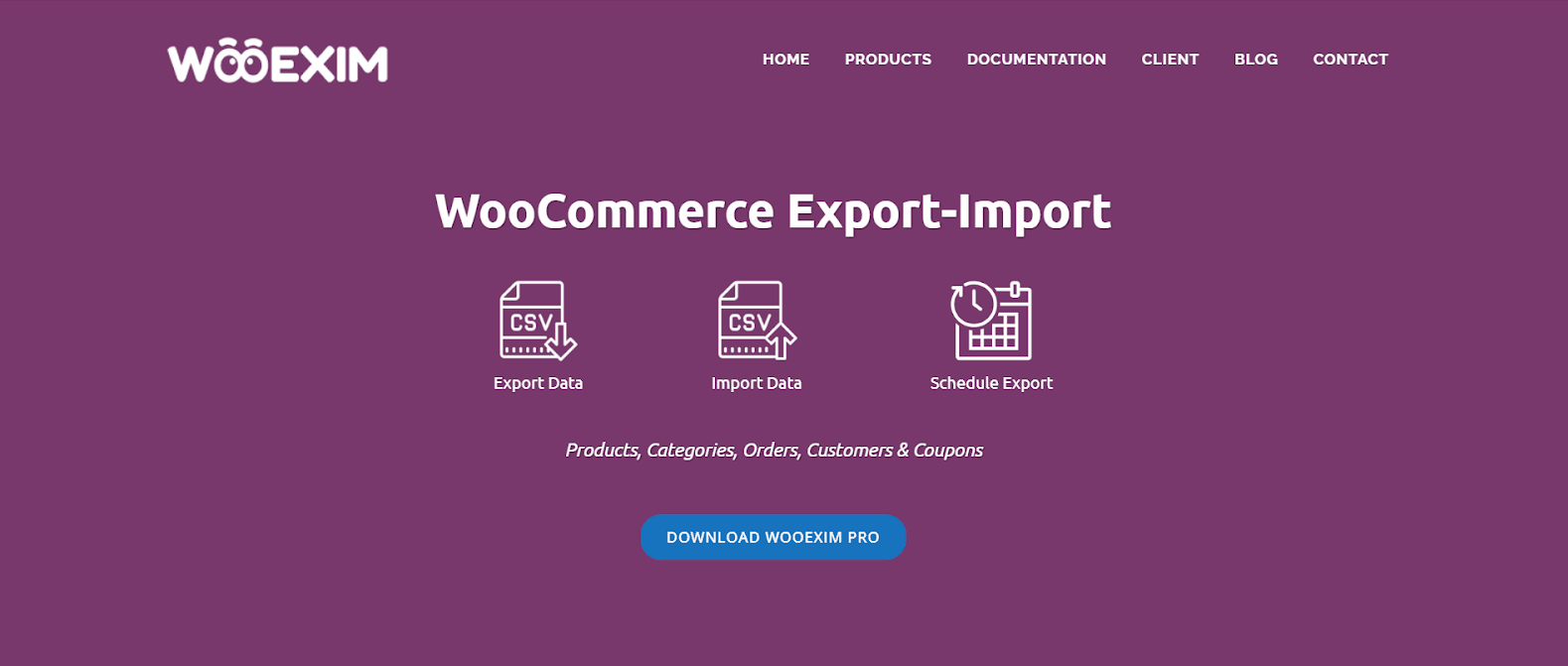 Key features:
Include ajax import system
Support all types of product
Allow import and export preview
Import with both CSV file and remote file URL
Price:
Single site: $39
Unlimited site: $159
WP All Import is a plugin developed by Soflyy, a company devoted to producing amazing solutions that are simple, beautiful, and address many of the difficulties that users have in their daily usage of WordPress.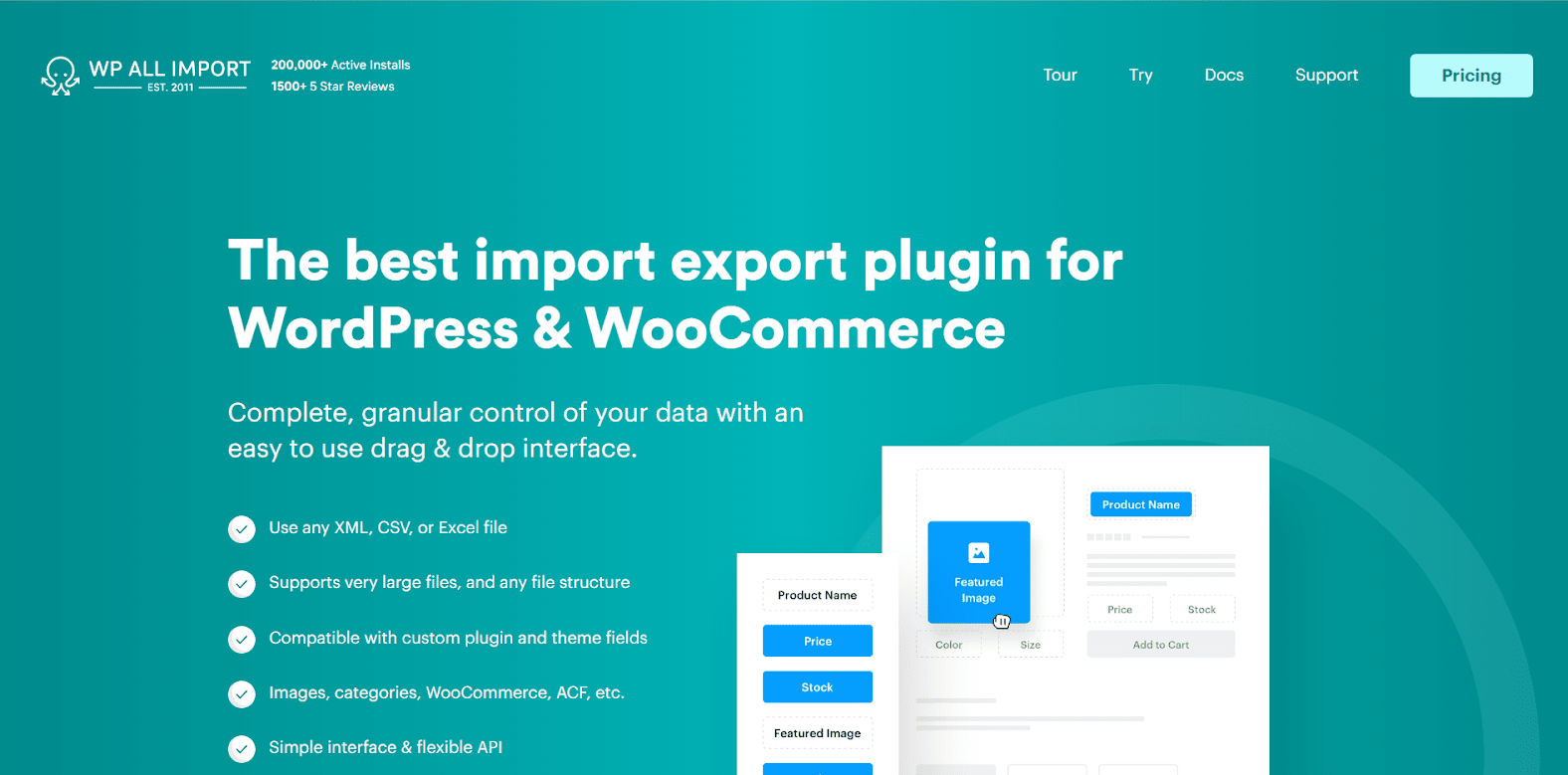 Key features:
Support multiple import objectives - anything in your WordPress site
Simplify data mapping with drag and drop interface
Update new data in existing content
Price:
Import Pro Package - $249
Import + Export Pro Package - $299
WooCommerce Import Package - $149
Wrapping up
Manually importing WooCommerce orders now seems to be a waste of time and effort, which may hold back the growth of your business from the blooming of the online market. An orders importing plugin must be the best choice for a wise purchases management process. Those are easy to operate with a user-friendly interface and suitable for your business budget. It's worthwhile to own a WooCommerce orders import plugin that perfectly fits your company!
New Posts
Subscribe
Stay in the know
Get special offers on the latest news from AVADA.
40k
subscribers has been joined!
Earn $10 in reward now!