How to Import Customers in WooCommerce Store
How to Import Customers in WooCommerce Store
If you're looking for a means to import customers into your WooCommerce business, you've come to the correct place. The customer database is one of the most significant factors in the digital era that leads to a company's success. The business owner may simply manage their resources and make decisions by categorizing the data into logical groups. This activity is also crucial in the case of eCommerce stores. As a result, this article will provide a solution to assist businesses with the first step in managing customer database: Importing customers into WooCommerce store. We'll show you the 3 best plugins for importing customers into your WooCommerce store.
Why import and export WooCommerce customers?
You may need to import and export your WooCommerce customer list in a variety of situations. One example is when you need to move your content, customers, and users to a new website. You may also need to integrate your customer and user lists if you're running two or more online stores at the same time.
Importing and exporting your customer list, on the other hand, is a sensible choice if you want to create a specialized email list for your WooCommerce customers or set up a CRM list to better respond to user inquiries.
While accessing your WooCommerce and WordPress databases to import your customer list is doable, it necessitates coding and web development knowledge. As a result, using a plugin is a great and effective solution that will make things easier. There are a number of tools available to assist you in importing and exporting your WooCommerce customers. This article will concentrate on a couple of the greatest importing plugins for WooCommerce store.
How to import customers in WooCommerce Store
Let's go through the process of importing customers in WooCommerce Store:
Step 1: Choose the post type as 'User/Customer'
To import users into WordPress, select user as the post type.

Step 2: Choose an import method and then upload the file.
There are three options available: quick, pre-saved template, and advanced.
Then you can upload CSV containing user data to import wordpress users by dropping files or clicking the box below.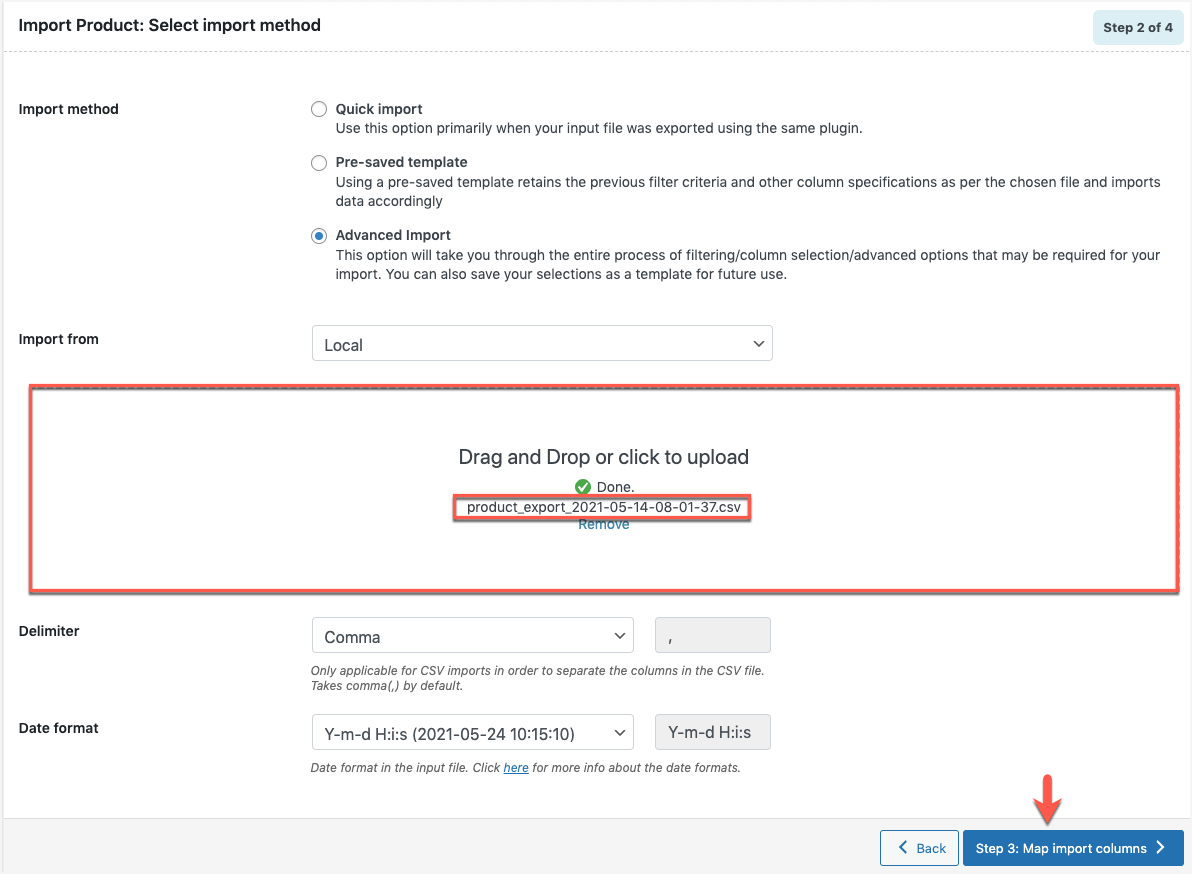 Step 3: Mapping
You must map the column headings of the CSV to the WooCommerce user data fields to ensure that the correct data is imported. This is very helpful when migrating from another platform, such as Magento or Shopify.

Step 4: Importing Customers in WooCommerce store
This is the last stage in the import process. You can choose to update the user details in the CSV file with the existing data, keep the existing user passwords, configure import batch count (to avoid import failure due to server time-out), and so on.
After you've set up the choices, click the import button to begin importing user data.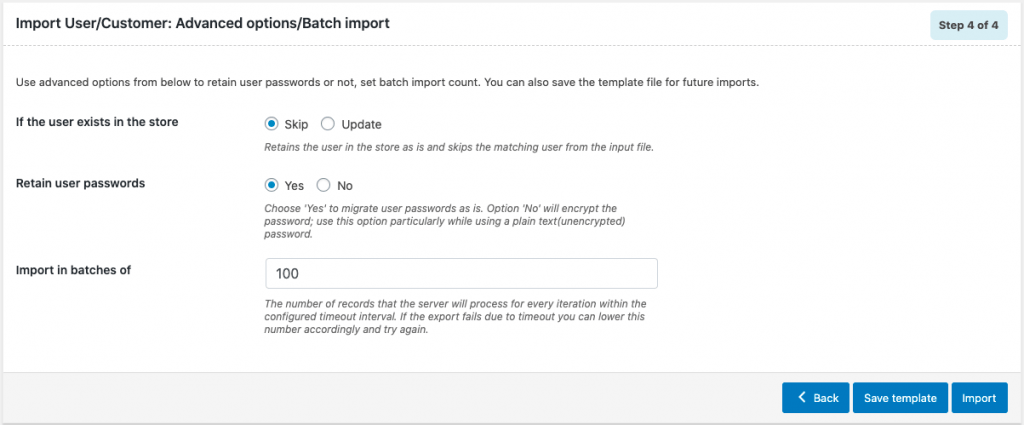 The CSV file's users will now be imported into your WooCommerce store.
Note: The imported users will appear on the Users page of WordPress.

Top 3 WooCommerce plugins to Import Customers
WooCommerce customer import plugin

Import and export users and customers plugin

WP Ultimate CSV Importer plugin
WebToffee's WordPress User Import Export plugin is the quickest way to mass add or update information about your users and maintain their accounts, saving you the time and effort of manually entering user information. The WordPress User Import Export plugin makes it simple to import and export WordPress users and WooCommerce customers. When migrating WordPress / WooCommerce sites, user export and import are essential functionalities.
Key features:
Supports CSV/XML

Scheduled Import/Export using multiple FTP/URL

Existing/Custom Password Migration

Import/Export of Custom Meta Data

Filter by User Role, Email, Date etc.

Bulk Update Existing Users
Price:
Single Site: $69.00/Year

Upto 5 Sites: $99.00/Year

Upto 25 sites: $199.00/year
This Codection-created Import and Export Users and Customers plugin is a very user-friendly way to import and export WooCommerce and WordPress users utilizing CSV files. You can effortlessly export all of your customer and user data, as well as meta-data, to a CSV file, which you can then integrate into any WordPress website to quickly move your data. Furthermore, It also provides user-friendly features like updating users and customers, assigning roles during import, and more.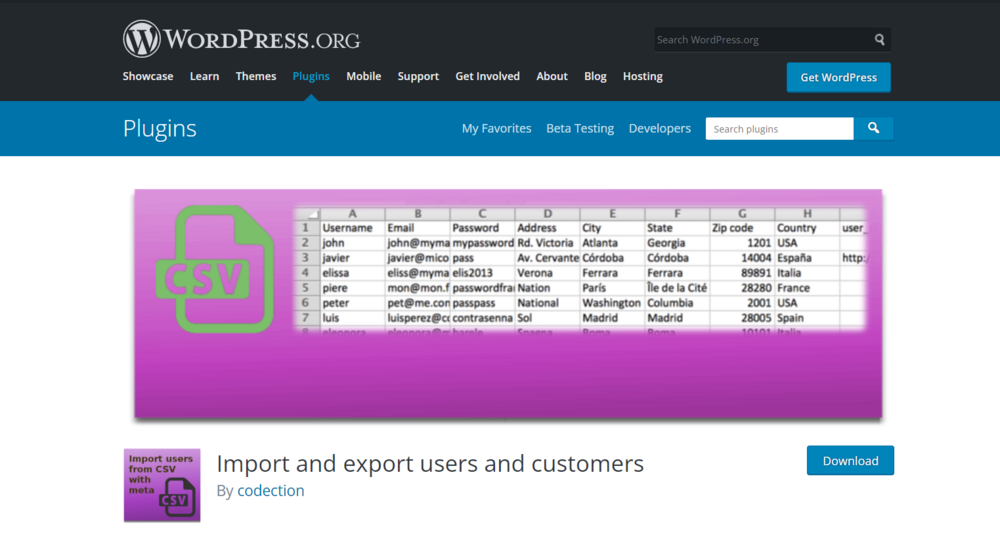 Key features:
Easy to use and beginner-friendly.

Great tool for both importing and exporting users.

Assign roles while importing.

WooCommerce Subscriptions, Memberships, BuddyPress, and other WooCommerce extensions are all compatible.
Price: Free ($0)
This plugin lets you import not only users, but also a variety of custom post kinds and custom fields, such as orders, posts, products, and anything else you have. You can import an endless amount of data into WordPress as a CSV, XML, txt, or zip file.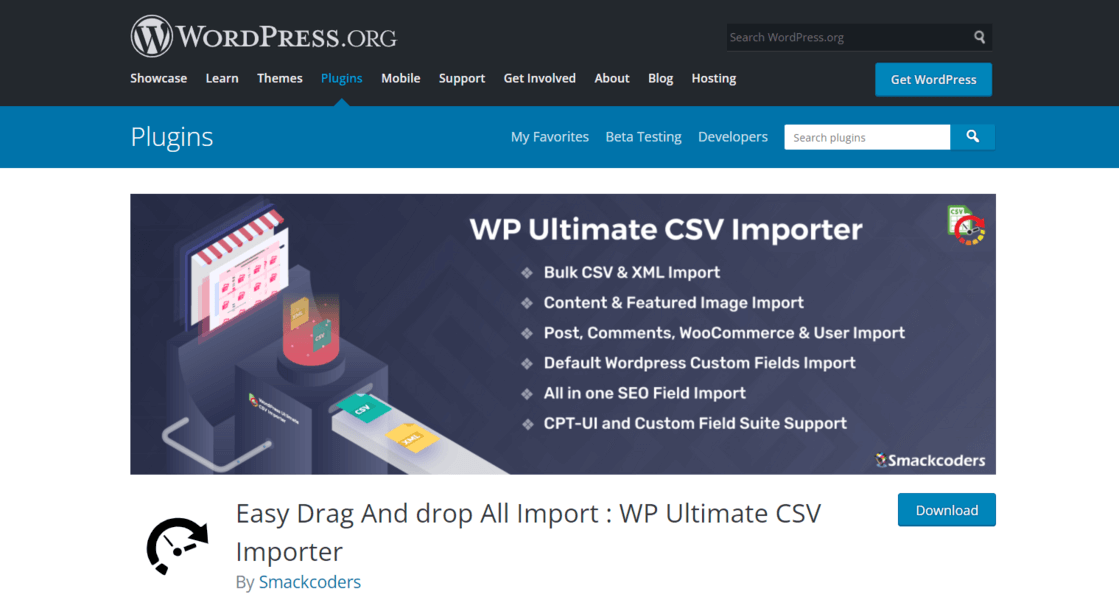 Key features:
WordPress Posts, Pages, and Custom Posts, as well as categories, tags, photos, and default WordPress Custom Fields, can all be imported.

While importing data at the backend, upload multiple file types such as.csv,.xml,.txt, and.zip files and alert your visitors as maintenance mode.

File upload types supported include: upload from a local computer, upload from a URL, and upload from an FTP server.

Widgets and Navigation Menus can be imported.

Import/export data from WordPress users.
Price:: Free ($0)
Conclusion
We learned how to import customers in WooCommerce Store as well as addresses, companies, and other custom information presently. We also learned how to use the same technique to import orders, items, and other custom post kinds using the same technique.
You should be able to arrange your export and import processes at the end of the day. You should be able to smoothly migrate users and orders, as well as do other comparable activities.
If you want to know more about WooCommerce or find other fantastic plugins, AVADA will be an exciting and informative website.
New Posts
Subscribe
Stay in the know
Get special offers on the latest news from AVADA.
40k
subscribers has been joined!
Earn $10 in reward now!