How to Import AliExpress Products to WooCommerce
How to Import AliExpress Products to WooCommerce
When it comes to expanding your business to reach global users, importing AliExpress products to WooCommerce is sure to bring about uninterrupted success. Only with a few easy clicks, you can now be able to sell products and items to your shoppers quickly and effortlessly. And this is what most WooCommerce store owners are looking for. Therefore, this article is born to help you have an in-depth into growing your online business further.
As you might be confused in finding how to import your products, we are here to assist you in understanding simple and detailed steps to know how to import AliExpress products to WooCommerce. Then, you can add products to the store, set up a price, receive the order, and pay the cost. Then, there is no need to worry about how you could deliver the products to customers. AliExpress sellers will do it for you. Now, let's get started to help your online store reach globally.
Why should we import ALIEXPRESS products to WooCommerce?
Earn more spend less: Dropshipping with the seller AliExpress is completely free. Hence, you do not need to pay an upfront fee or cost. As a result, you can get an opportunity to test your products with no requirement of a financial commitment.

Reach out to customers quickly: Shipment is one of the most important factors to decide the success of a business. And AliExpress will offer premium shipping options. To be more specific, it only takes 7 to 14 days to deliver products and items to customers in multiple countries.

Keep ahead of other competitors: By selling trending products, you could make your business reach global quickly and effectively. The reason is that trending products tend to appear on AliExpress overnight.
How to import AliExpress products to WooCommerce?
Now, it is time for you to learn how you could import your AliExpress products to WooCommerce. Keep scrolling down to figure out how to accomplish this task with our meticulous guidance. Then, you could know how to import your products to WooCommerce from AliExpress as well as make them compatible with your chrome extension. Let's thrive in!
Step 1: Add AliExpress's Chrome Extension
In order to import AliExpress products, it is necessary for the API to be compatible with your store. The reason is that it will require the joining of the program AliExpress Workbench with your associated buyer account on AliExpress. So, you need to apply for the program DropShipping Workbench first. On the other hand, you can approach it from the section "Login ApliEXpress". Next, you could navigate to the setting AliExpress Account. Here, you could encounter the DropShipping center that lies in a similar section.
The next thing to do is to get the chrome extension to be added to your existing browser that as indicated in the following screen.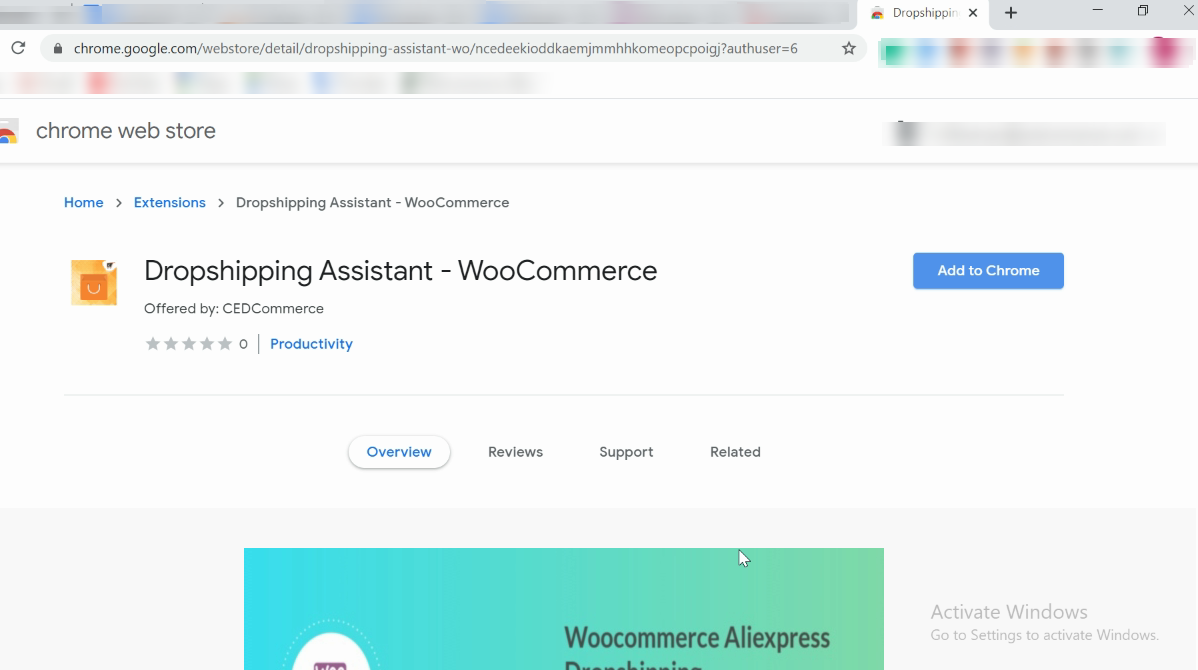 When you finish adding this chrome extension, your next task is to hit on the button "Enter Shop URL". Check out the below screen to have a deeper understanding of what you are going to do.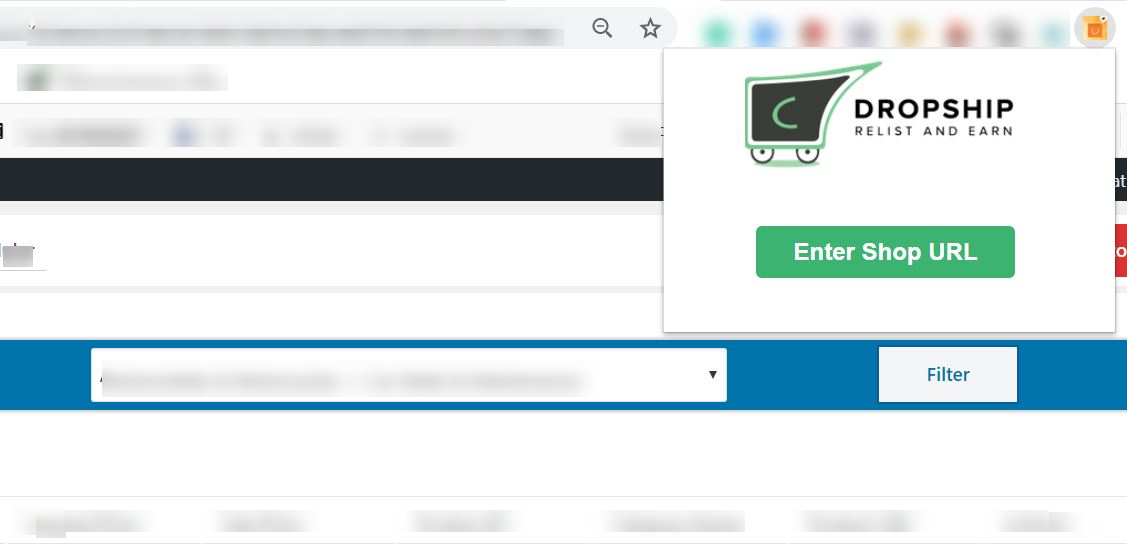 Enter the domain as well as Shop URL before clicking on the button "Save" for saving what you have made changes.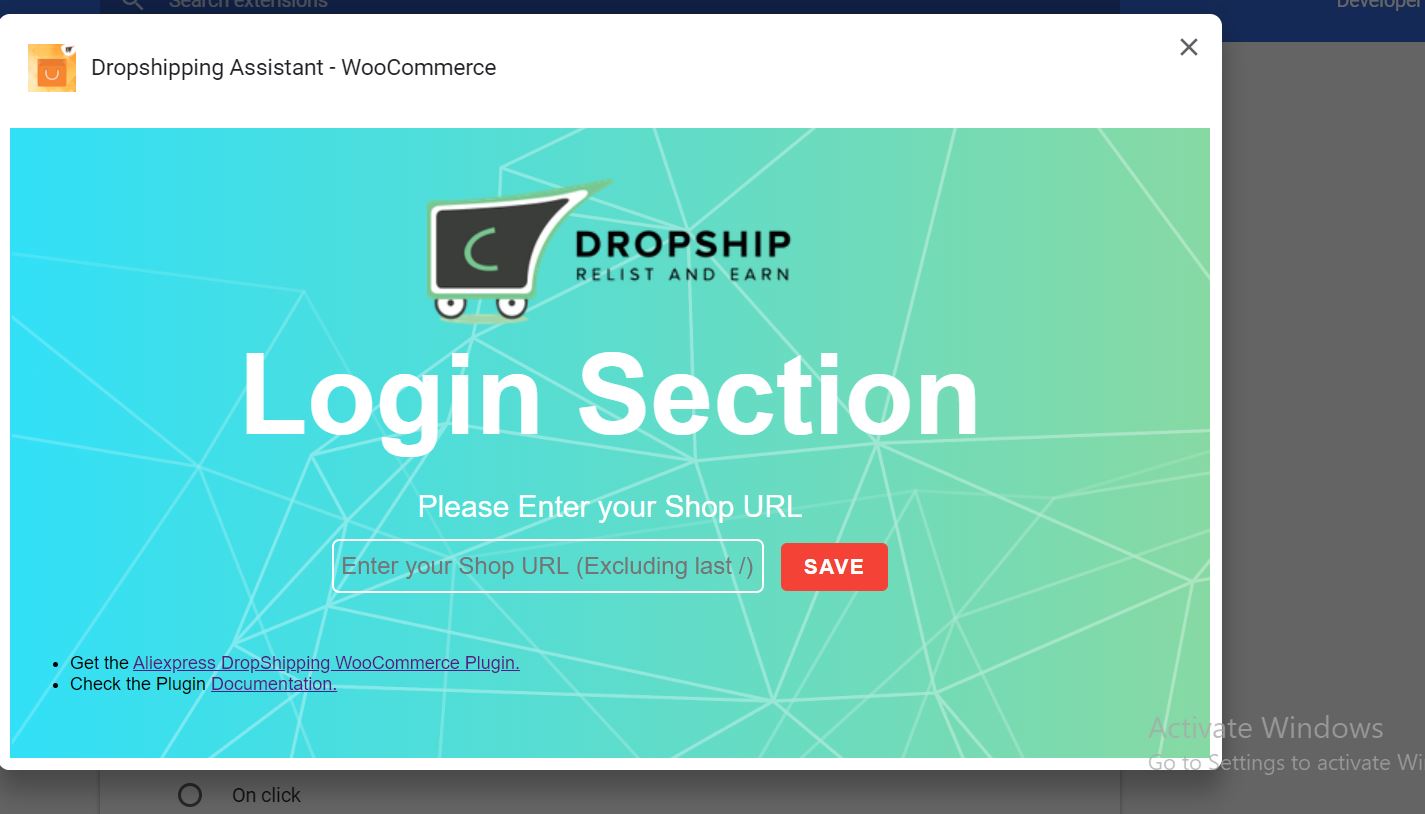 When you are done connecting your store successfully, you will then be redirected to your previous page. Here, you could open your chrome extension. Be noted that it is vital to enter your keyword, coupled with choosing the delivery method. Proceed to hit on "Search" for looking for the products or items on AliExpress. It will be displayed as the following screenshot.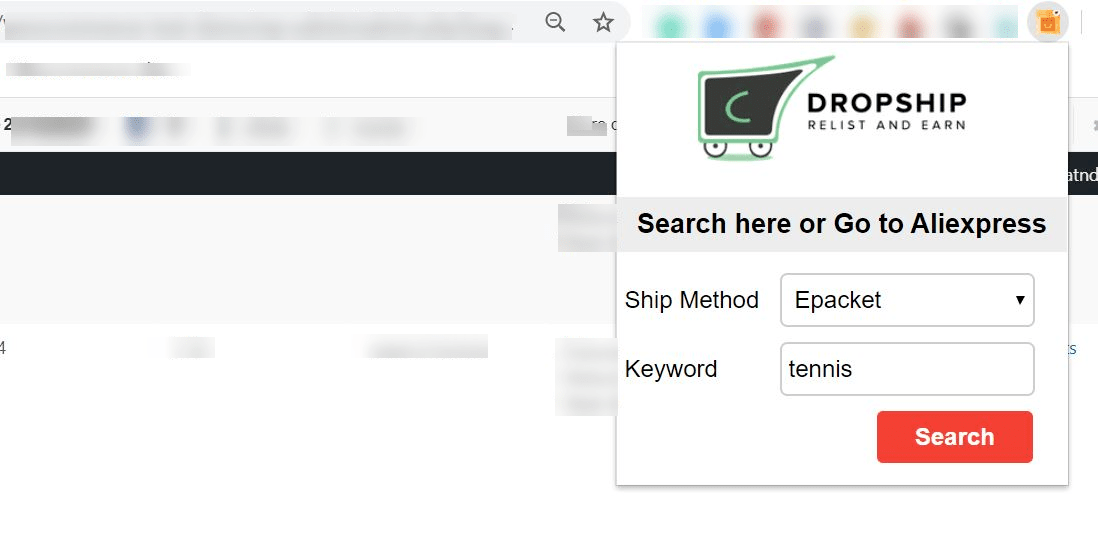 When you enter the keyword in order to search the wanted products, you can be taken to AliExpress in which the products or items that are relevant to keywords would be displayed. After that, it is possible to add your wanted products to your store list that use the icon (+).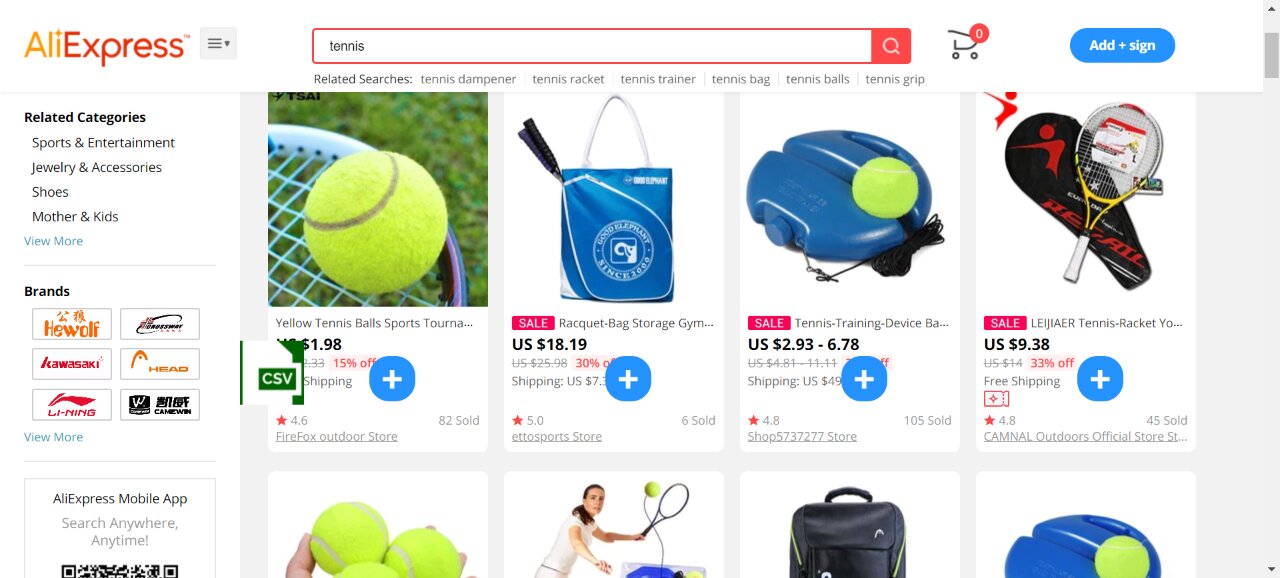 When you are here, you can encounter one successful notification related to your product addition to arrive in case it will be added to your WooCommerce store successfully. You can view the products that are added to the WooCommerce store by going to the section "WooCommerce" and "Products".

Step 2: Import AliExpress products to WooCommerce
When you have finished the above settings, you can work with some configurations and import products to WooCommerce from AliExpress. You could implement the configuration of your WooStore with AliExpress just by adhering to several easy steps as below. And what you need to do here is to head to the admin panel of your WooCommerce and pick up the menu CedCommerce from your left sidebar. You could now hit on "AliExpress" to access the plugin AliExpress.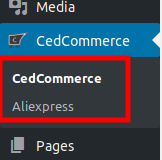 The next minor step is to pick up the option "Connect to store". This is known as a step of one-click authorization to connect your WooCommerce business with AliExpress.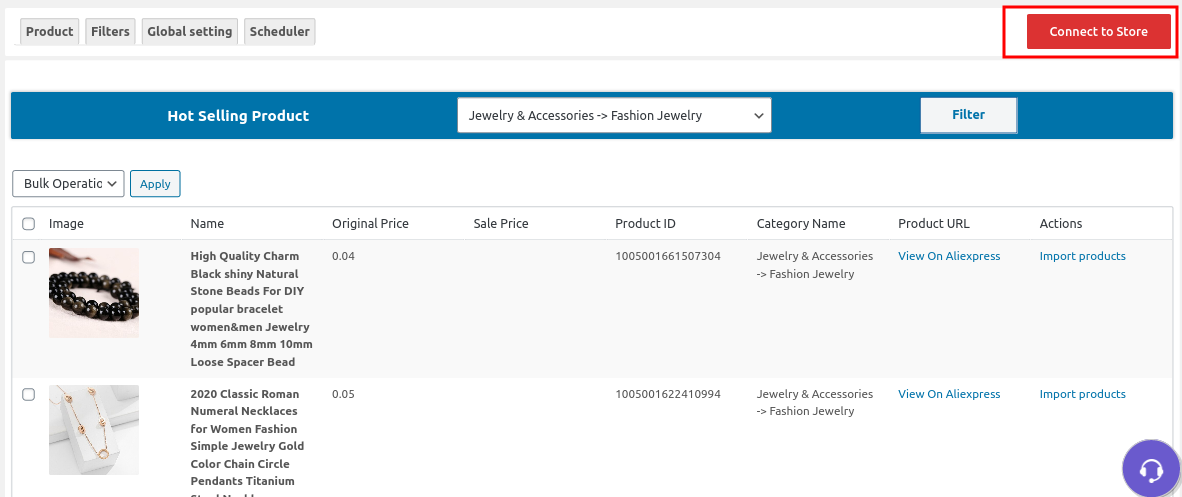 After hitting on the option "Connect to stores", you will be taken to a page where you are required to sign in with the use of some details of AliExpress login.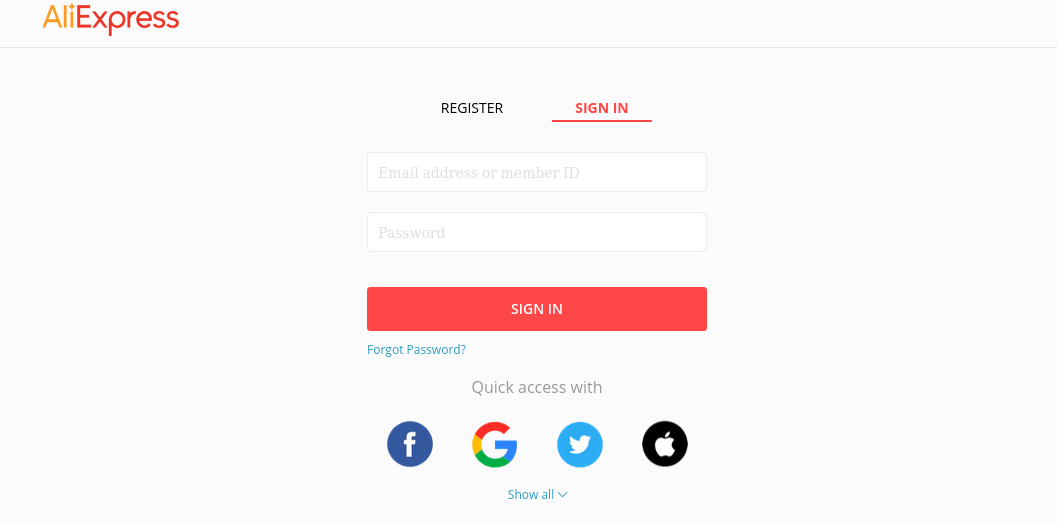 As soon as you are done with these steps successfully, you will encounter a page that comes with the button "Connected to stores successfully". Check out the below screen, so you can know exactly the location of this button to proceed quicker.

The great thing is that you could view trending products and items on your AliExpress in your certain category that can be seen from the AliExpress categories' dropdown box. Your task now is to hit on the filter. See the following screenshot to understand better.

As soon as the display of products from your AliExpress is effective, you can now view them on AliExpress, instantly import a product, and implement the bulk import of products. In order to follow these activities carefully, do not hesitate to scroll down and read each of them.
View products on AliExpress
In this section, you can see the list "Product" appearing, as indicated in the below screen.

When you notice the products being displayed, it is time for you to view them on your AliExpress. And your products can be viewed as the following screenshot.

In case you are keen on importing a specific product right away, you need to hit on the section "Import products" that are on your right hand.

When you are done importing products to your store on WooCommerce, you could encounter the notice for product imported successfully.

If you prefer to implement the bulk operation, it is possible for you to accomplish the task. In doing so, you will need to hit on your dropdown that is near the field "Bulk operation". When you are here, it is time to pick up the Bulk operation before pressing on the button "Apply".

What is more, you can even choose to sort out your AliExpress products determined by keywords and categories on your WooStore. With this great feature, you can find any product easier, thereby saving time and making your WooCommerce store more professional and functional. The advanced markup pricing formula is here to assist you in doing so. Here, you will apply different rules for your products. To be more particular, you could be able to add a filter, edit filter, and delete a filter.
With adding a filter, you could also see the page "Filter" appearing, as indicated in the below screen:

After that, you need to proceed to hit on the button "Add filter". Check out the following screen.

Then you will be taken to another page in which you are required to fill in several needed details. In the section "name", it is necessary to fill in your product name. Next, do not forget to enter your "keyword name" in order to help the searching process much easier and quicker. Moreover, you also have to choose your product's "price range". More than that, you will proceed to choose the most proper category, coupled with your "vendor ratings" for your products.
Check out the section "price markup setting" for setting up your markup rules in order to boost your profit margin by improving it in both percentages as well as the fixed amount.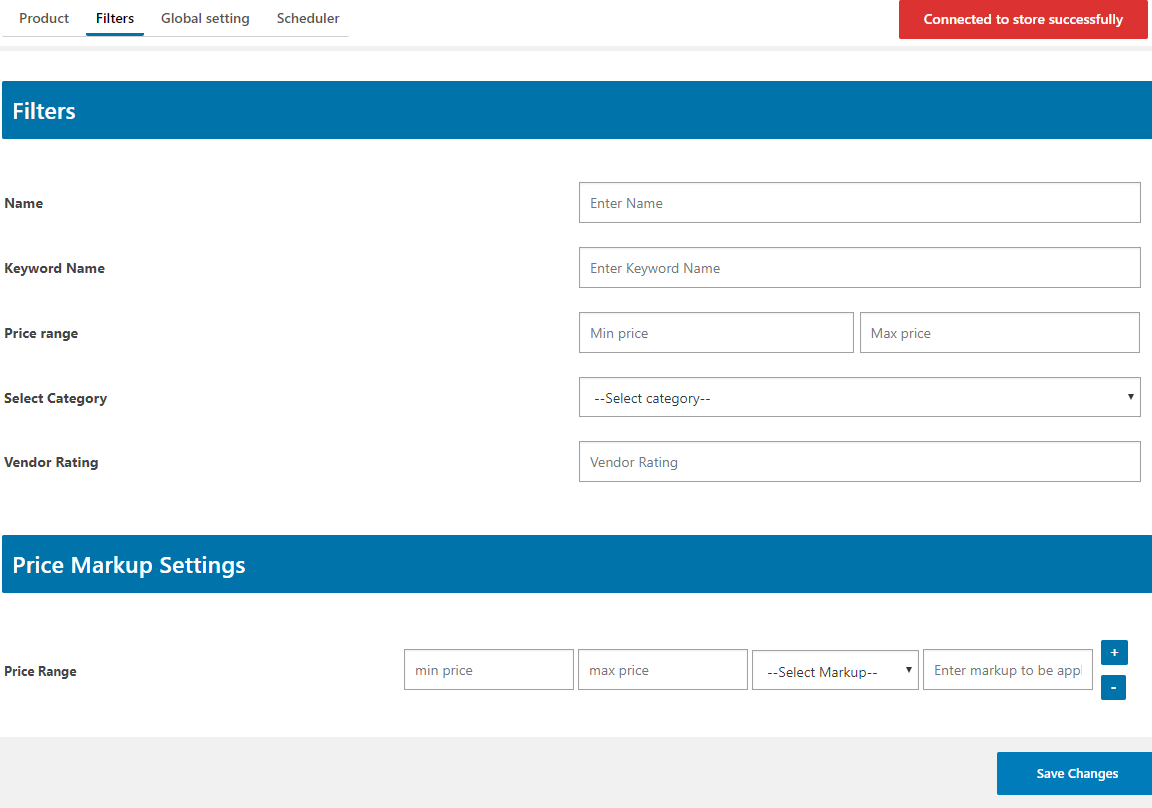 In this section, it would be possible for you if you want to view your products of a certain filter by choosing the field "View products" that is below your tab action.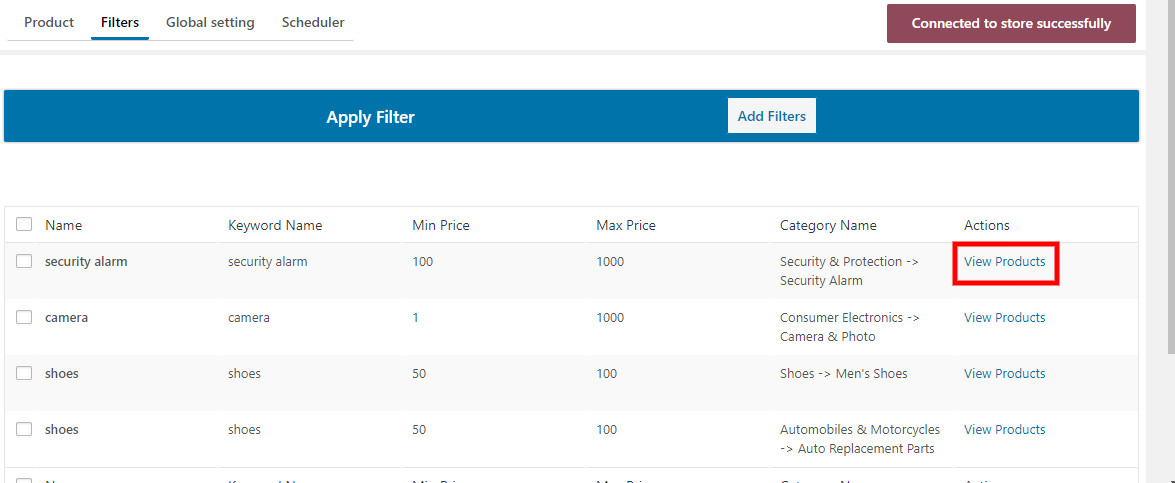 By selecting the field "view products", means that the admin will be allowed to view products or items of a specific filter as listed in the following screen.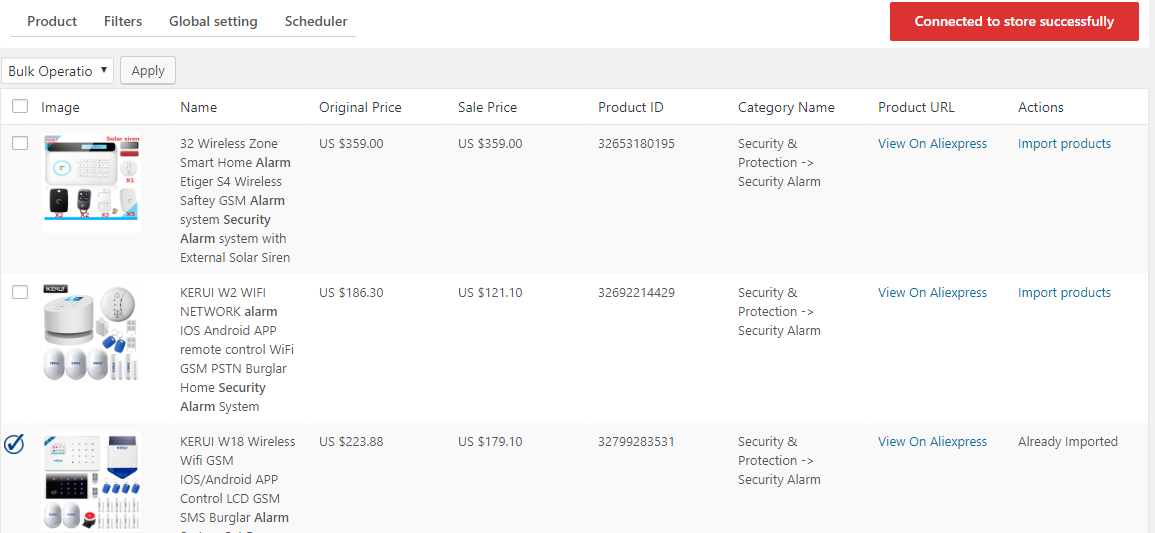 In the editing filter, you could hit on the tab "Edit" in order to modify or enhance the details that are added in your filters.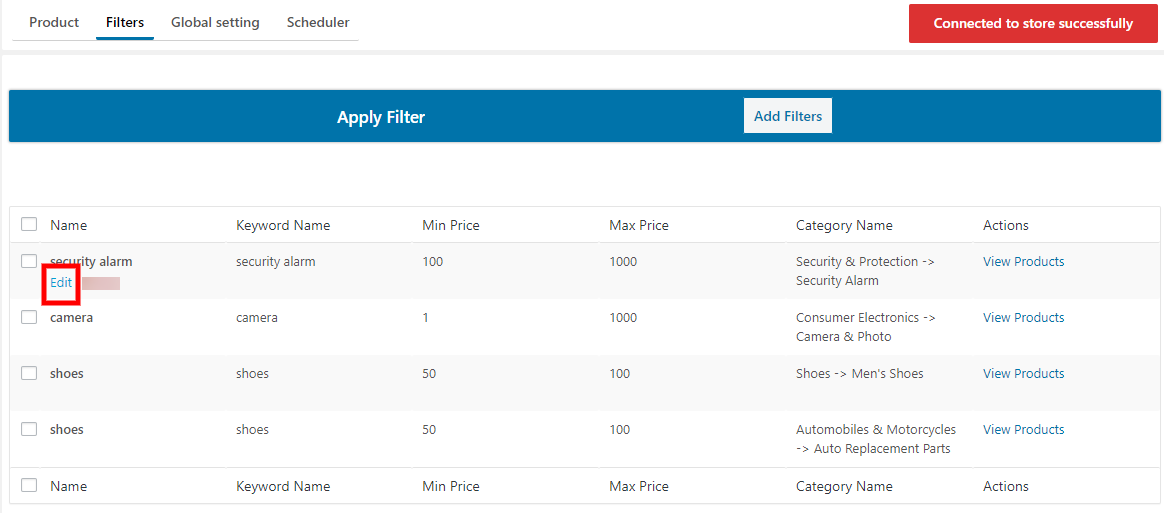 Do you know that you could also delete the filter by hitting on "delete" for removing any product? Moreover, this also results in deleting the filter for that product in your WooCommerce store.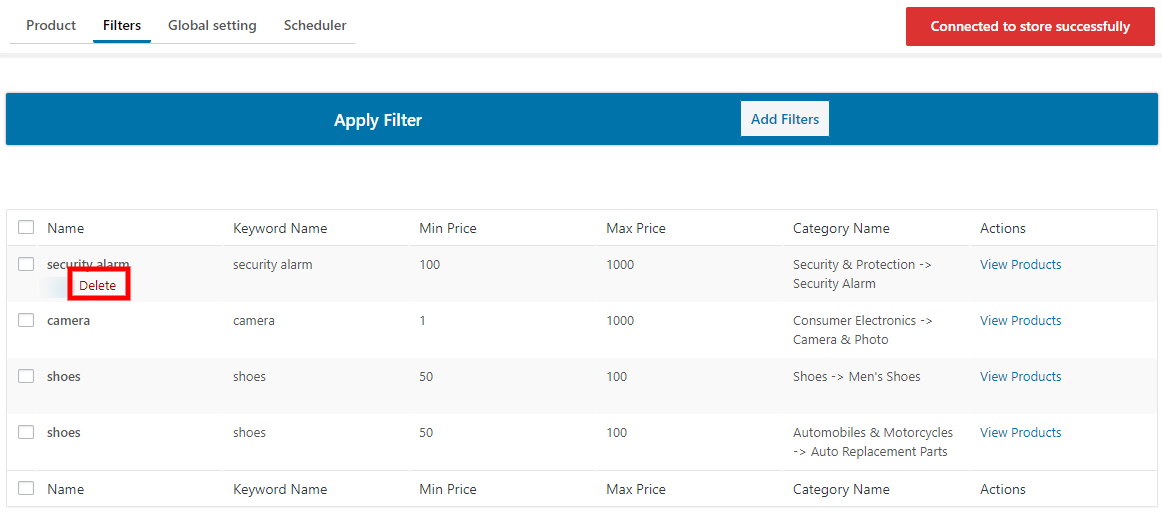 You can access further configuration with the global options settings. With this part, you can choose the status for creating a product or item in your online store regardless of wanting to create your products in draft or publish state. What is more, the setting of price markup will also be available. This has become a default setting for the price of products that aren't available in the feature of your filter markup. With this kind of feature, you could choose post status, along with settings of price markup.
The global page settings will appear as below.

Under the option "Global settings", you could set your "Select Post Statuses" as well as "Price markup settings".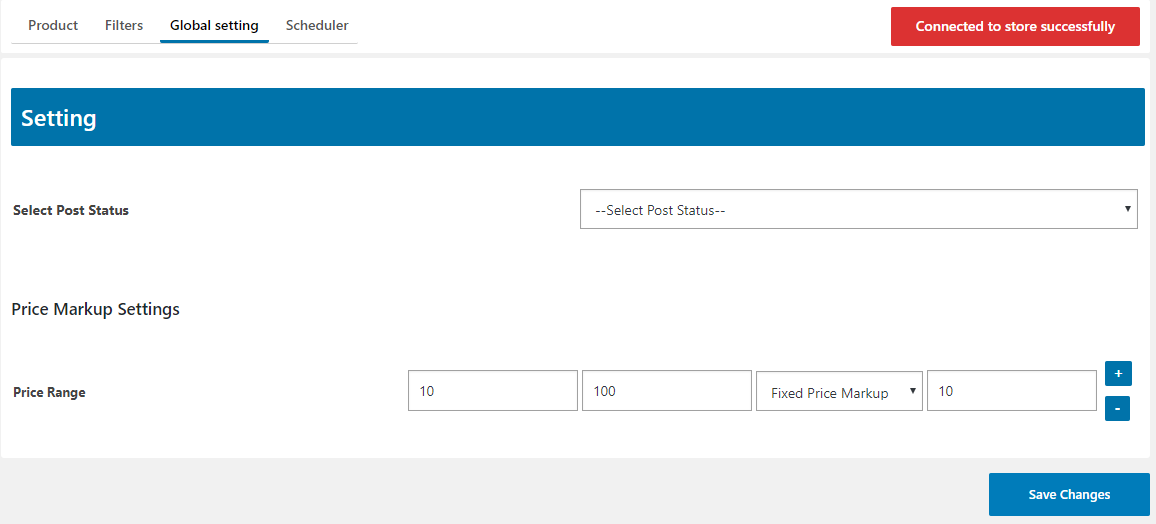 After clicking on the dropdown "Select Post statuses", you can then choose the option to publish for creating published products. Or you could also select a draft for creating draft products in your WooCommerce store.

Top 3 plugins to import AliExpress products to WooCommerce
Compared to some other dropshipping suppliers, AliExpress has become the hub for various products. So, if you dream of opening an online business, make no hesitation for approaching dropshipping sites to make your store more ideal. While you need to import your AliExpress to WooCommerce, there exist myriad plugins to help you implement this task successfully. So, follow us right now to seek the best plugins that any WooCommerce store owner will love when it comes to importing products.
1. AliDropship Woo Plugin
One of the great plugins of all time to help you import products to WooCommerce from AliExpress is AliDropship Woo Plugin. It has a reputation for being a website for dropshipping AliExpress products only. It will feature two plugins, AliDropship Woo and AlDripsip plugin. They are used for WooCommerce and AliExpress dropshipping. With its use, you could be able to make use of its one-click import when browsing the website of AliExpress. Especially, the functionality of auto-updating will rest assured that prices, as well as product description, will perfectly match the one on your AliExpress website.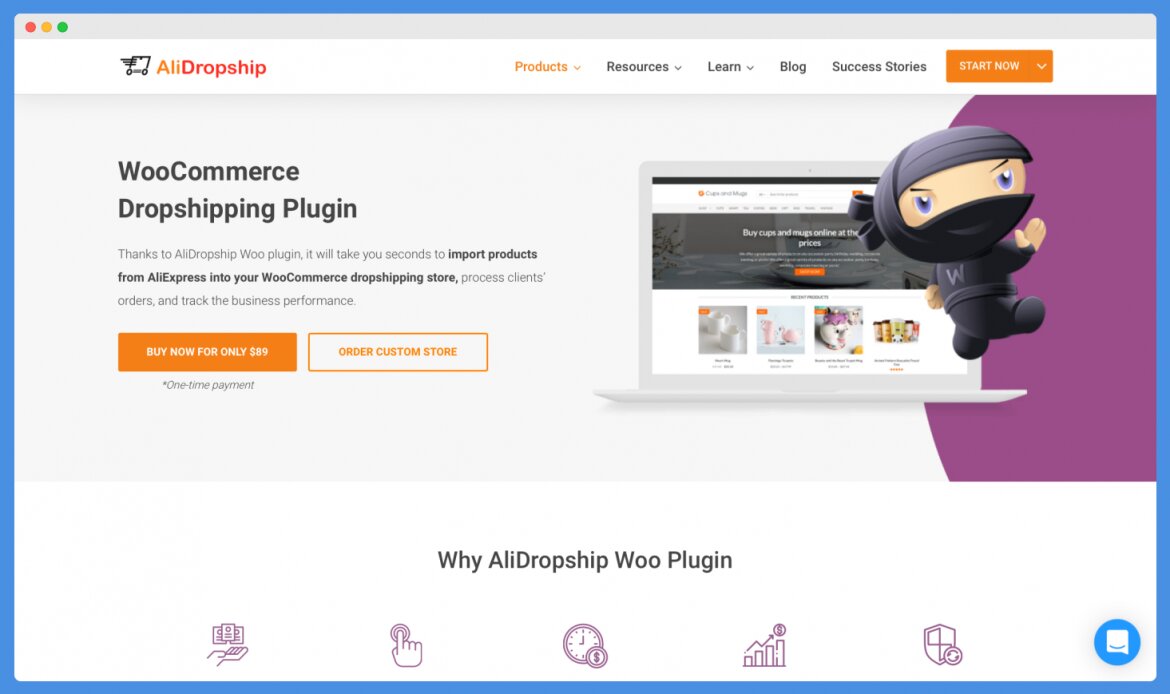 Main features
Help store owners select from multiple ranges of items or products

Be useful in sending orders to suppliers of AliExpress with only one single click

Increase your income while saving your time

Be able to get the benefits from the one-time payment provided by this plugin

Make use of the free lifelong guidance and updates

Come with the advanced image editor to modify product images when importing products
Pricing: $89
2. DropshipMe
Another not-to-be-missed plugin to help you import AliExpress products to WooCommerce is DropshipMe. As its name indicates, the plugin aims to connect AliExpress with your WooCommerce store to dropshipping the best-selling products. Nevertheless, this connection is through the platform AliDropship. With the feature of being user-friendly, store owners could access what is hot on the AliExpress site. Then, it only takes a single click to import those hot products and items. As a result, it helps you save much time and reduce the stress of executing product research.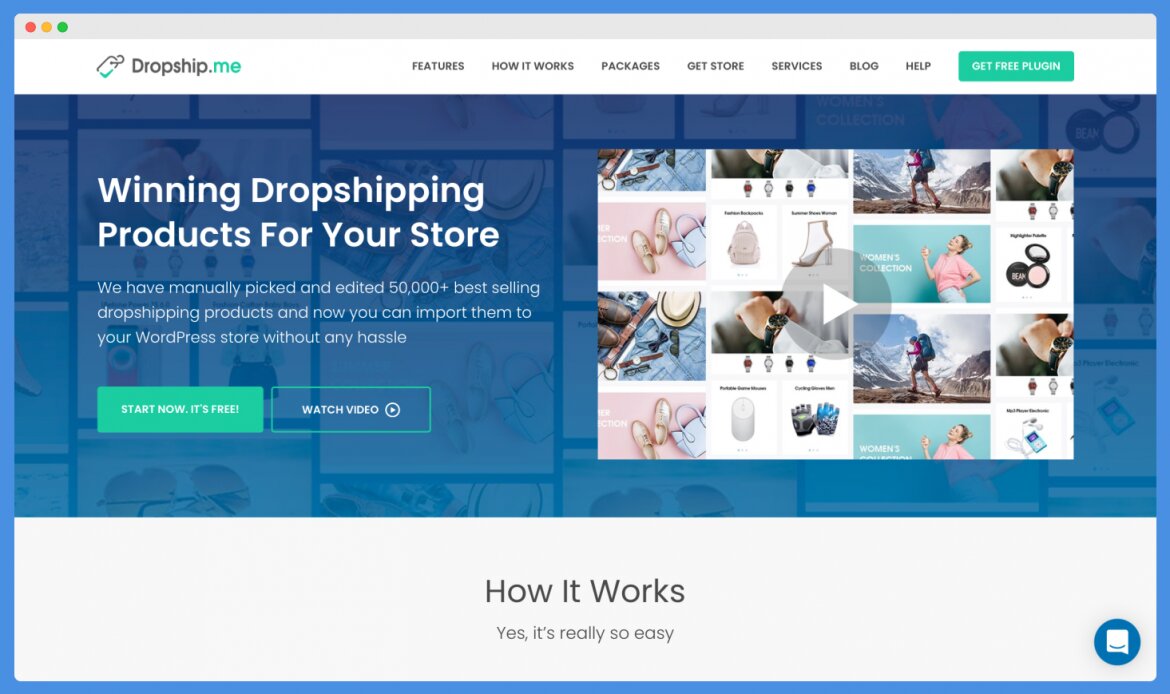 Main features
Do not require product research

Help to edit product titles professionally

Come with one-click import, along with quick and easy product search

Provide the availability of a free plan without charging monthly

Come with the built-in tool for pricing markup for determining the perfect amount of selling products
Pricing: Free
3. Wooshark
The last great plugin to appear in this list is Wooshark. Wooshark is here to assist you in searching as well as importing products and items. To be more specific, it will support bulk import only by setting the preference for import global. Apart from products, such things as categories, ratings, reviews, images, and descriptions will also be imported. Then, you could customize all of them effortlessly to your need and requirement. After you configure your settings, customers are able to purchase from AliExpress directly, thus giving a greater shopping experience. Thanks to this feature, customers can click on the item they want to purchase, and they will be taken to the checkout page on AliExpress. As a result, it helps you to save time and reduce the stress of forwarding the orders after the payment.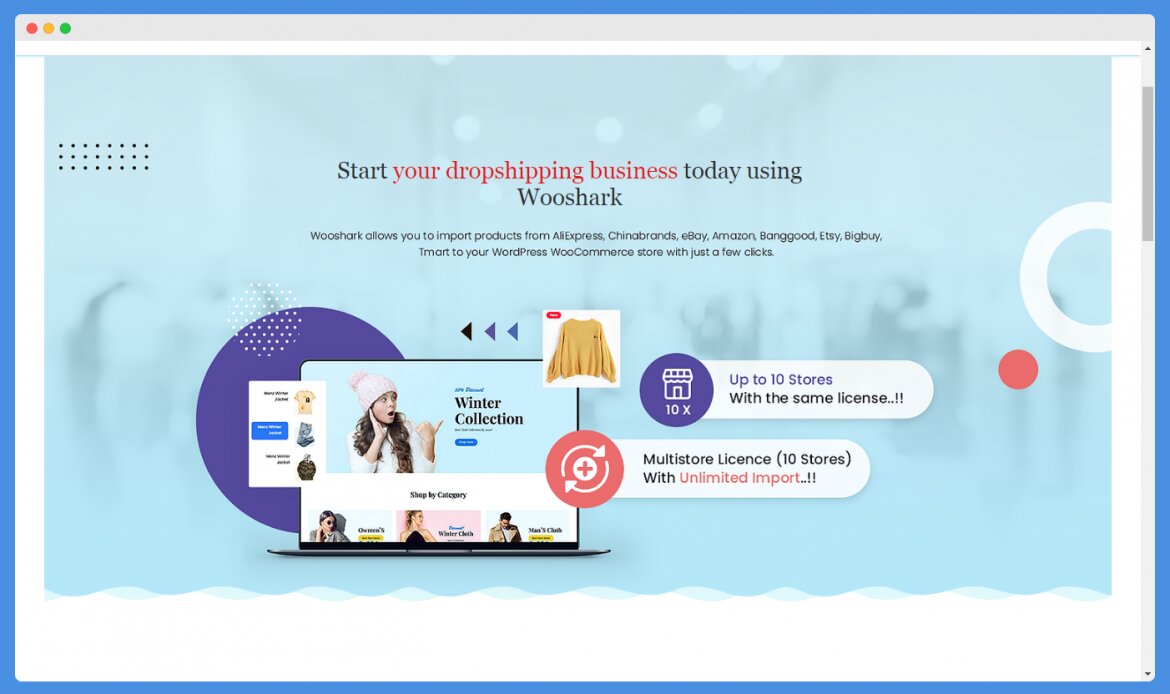 Main features
Come with the unlimited product and item import

Set the preference of global import for implementing the bulk import to WooCommerce from AliExpress

Be able to customize images of products with the use of a built-in image editor

Assist store owners to choose multiple categories that their products could be imported

Let store owners add shipment cost and shipping method

Come with the automatic formula for price markup
Pricing: Start from $25.99
Conclusion
In order to reach globally with millions of customers and users, AliExpress dropshipping will be here to help you expand your business. By connecting to your WooCommerce store then importing products from AliExpress, you could approach the most trusted wholesale suppliers. So, you should learn how to import products from AliExpress to WooCommerce as soon as possible to get roaring success on the way of selling globally.
And this piece of article is born to help you do that, only by following our above-mentioned simple steps, you could be able to improve your store's performance and come with a perfect way to sell and manage your products on the store.
New Posts
Subscribe
Stay in the know
Get special offers on the latest news from AVADA.
40k
subscribers has been joined!
Earn $10 in reward now!