Hostgator hosting for WooCommerce review
Hostgator hosting for WooCommerce review: An intelligent option
New web hosting providers and plans appear regularly, and the larger companies tend to lose some of their personal touches as they grow. If you had asked us about this webserver a while ago, we would not have given you a positive response. Our HostGator WordPress hosting review reveals that they've turned things around after examining their latest cloud hosting offerings.
In today's topic, we will provide you with abundant information about Hostgator hosting for WooCommerce review: An intelligent option to widen your own hosting choice.
Who is HostGator Best For?
Simply said, HostGator is the ideal choice for entry-level newcomers looking for a low-cost hosting plan. HostGator is a terrific place to start if you're searching for one of the easiest and most economical website hosts to help you get your site up and operating.
HostGator Overview
HostGator is one of the top 10 web hosting providers globally and a well-known and reasonably priced web hosting service.
They have hosted over 8 million domains and employ over 850 people to provide round-the-clock customer service. If support is a top priority for you, HostGator could be the company for you. Their shared plans offer 24/7/365 access to their support staff — via live chat, email, and phone — so if support is a top priority for you, HostGator could be the company for you.
HostGator, on the other hand, is not for everyone. For starters, they, like many other hosts, including Bluehost, are now controlled by the occasionally contentious Endurance International Group (EIG). As a result, HostGator may not be the best option if you're searching for a small boutique or independently owned web host.
On the other hand, when it comes to value for money, HostGator is challenging to beat, at least on paper. So, with that in mind, let's have a look at how much HostGator's shared hosting options cost.
Pros and Cons
| Pros | Cons |
| --- | --- |
| Affordable prices and nicely scalable plans for hosting 1-3 websites | You have to commit to three years upfront to get the lowest prices |
| A free domain name in one year | Currently, HostGator offers data center locations only in Utah and Texas |
| Free email hosting |   |
| Free SSL |   |
| Free integrations with CodeGuard and SiteLock |   |
| 24/7 customer support |   |
Hosting plans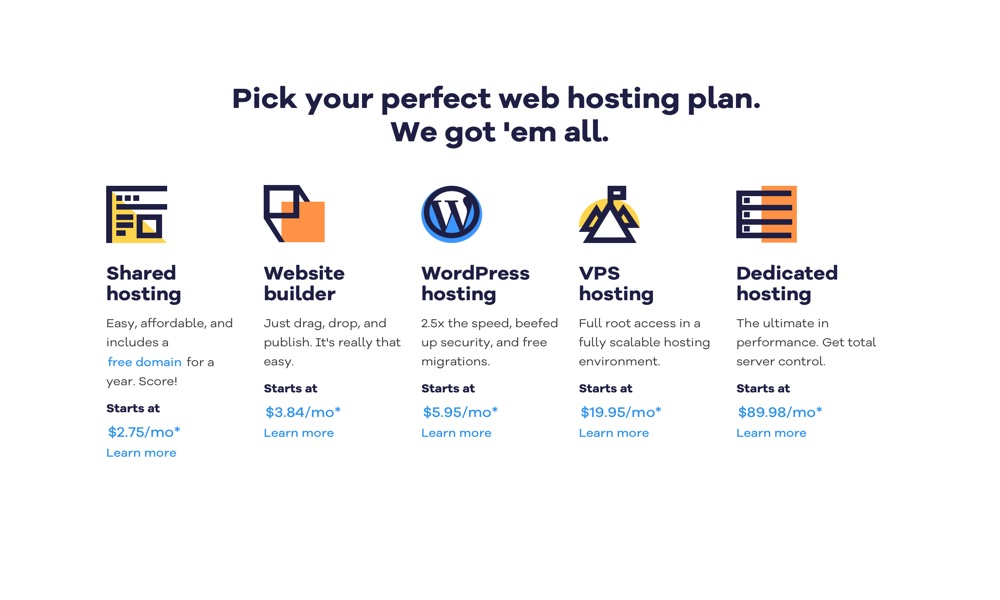 1. Shared and Cloud Hosting
With these options, HostGator offers you the typical package that you can find with any reputable hosting service. Unlimited storage and unmetered bandwidth are what set them apart in this camp.
Keep in mind that all of this comes with a guarantee of uptime. With HostGator's entry-level costs for shared hosting, it is a strong competitor to other providers like Bluehost.
The distinction between shared and cloud hosting is clear. When you share a server with several other websites, all of the clients share the available bandwidth. When your website is hosted on numerous shared servers rather than just one, it is referred to as cloud hosting.
2. WordPress Hosting
As you might think, their WordPress hosting package includes a free domain, WordPress pre-installed so you can start posting on your site right away, and a simple control panel. Site backups and malware protection are among the many security features offered by HostGator.
The WordPress hosting option does exactly what it says on the tin: it hosts WordPress sites exclusively.
3. VPS Hosting
When a virtual private server is partitioned into dedicated hosting spaces for each client, it is referred to as VPS hosting.
Suppose you want top-tier site hosting tools like the ability to host unlimited domains, establish unlimited email addresses, databases, and FTP accounts. In that case, HostGator's VPS hosting is the way to go. It also comes with a weekly off-site courtesy backup.
4. Dedicated Hosting
If you want the best hosting, HostGator offers dedicated hosting with a variety of useful web hosting features. With a dedicated server solely for your site, you'll have plenty of customization options to maximize its efficiency.
They promise that your site will stay up and running, and you can choose to administer it yourself or have their team take care of it entirely. HostGator will also assist any technical or custom software installations.
Features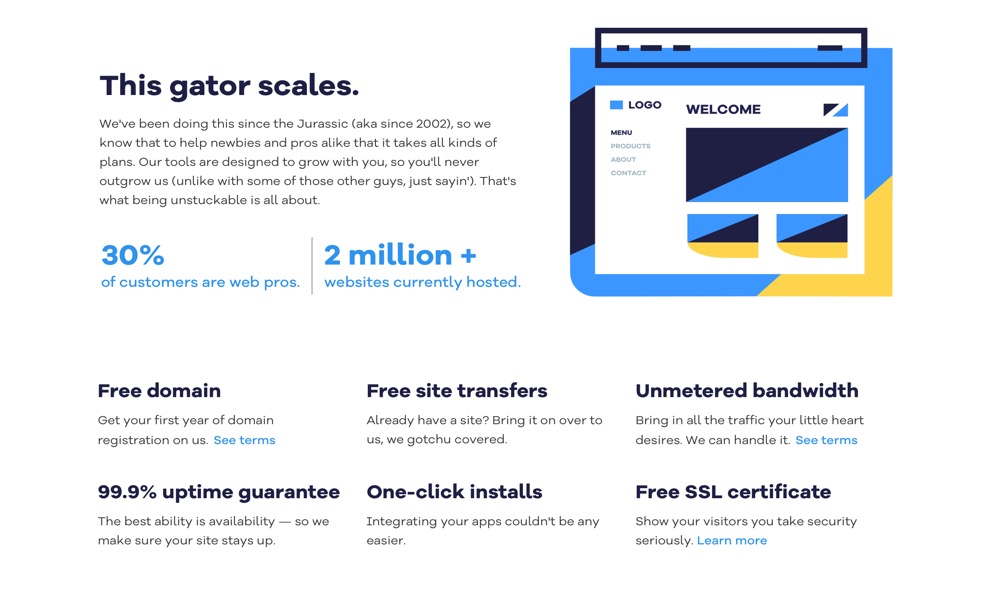 -Website Caching: Endurance Cache, an in-house solution with three degrees of caching. An in-house plugin manages site caching from your WordPress dashboard.
-Content Delivery Network (CDN): Use your own CDN or purchase the SiteLock add-on for your plan to use a CDN of your choosing.
-PHP: cPanel allows you to switch between PHP versions 7.0, 7.1, 7.2, 7.3, and 7.4.
-HTTP/2.0: The HostGator shared plan does not support HTTP/2.0.
-SSL: Use the free Let's Encrypt SSL certificate, import your own certificate, or buy a new certificate from HostGator.
-SFTP: Ability to create numerous Secure FTP accounts to upload and edit files on your webspace.
-Server file manager: A web-based file manager that may be accessed through cPanel.
-Database access: Using phpMyAdmin in a browser, you can access the WordPress database.
-Email service: All HostGator shared hosting plans provide email service, including webmail, POP3, and SMTP.
-WordPress website management: Automated WordPress software, theme, and plugin updates are available as an option.
-Plugin restrictions: Unlike some managed WordPress sites, there is no list of plugins that are not allowed.
-Security measure: SiteLock, a premium add-on for shared plans that includes daily malware scans, automatic malware removal, and other security features, is available at a discounted rate.
-Post-hack clean-up services: For $37.50, HostGator will undertake a root cause study on your account if it has been hacked. SiteLock is a paid add-on that includes post-hack cleanup services for sites that have been hacked or have been infected with malware.
-Data center locations: Websites on shared plans are hosted in HostGator data centers in Texas, South Central United States, or Utah, Western United States.
-Staging sites: The HostGator shared plans lack a staging tool or capability.
-WordPress website migration: One WordPress website or cPanel account is free to migrate to HostGator with the shared plans.
-Uptime assurance and checks: HostGator monitors their servers for downtime but does not check the condition of the websites they host. 99.9% server uptime is guaranteed by HostGator (which allows for around 8h 45m of downtime per year). If your account's uptime goes below 99.9%, you may be eligible for a one-month credit.
-Support channels: The support desk is manned 24 hours a day, 7 days a week, and all plans include live chat, phone, and ticketing.
Performance
Thanks to low-density servers and proprietary Content Delivery Networks (CDN) technologies, HostGator claims that their WordPress cloud hosting can deliver up to 2.5x faster speeds than the competition. They also give their consumers the ability to expand their cloud settings with a single click in order to deal with unforeseen traffic spikes.
1. Pingdom page speed test results
For this test, we used three distinct Pingdom servers and a new WordPress installation with no frills. Here's what we discovered:
1.72 seconds in Melbourne. 0.75 seconds in New York. 1.39 seconds in Stockholm.
The test results show that load times vary greatly depending on the geographic location from which the site is browsed - something that could be attributable to HostGator's data center locations. Let's see if that idea can withstand a more rigorous examination.
2. Basic load testing with Load Impact
Load Impact tests websites by simulating up to 25 or even 50 simultaneous connections over a five-minute period, allowing us to see how they perform under stress. We utilized the same basic site that we used for the Pingdom test for this test. Here's what we discovered:
Load generator: Ashburn, US. Test server: Ashburn, US. Minimum response time: 0.46 seconds. Maximum response time: 0.71 seconds.
These are some of the fastest load times we've ever observed from any web host, and they were from a stress test (albeit a modest one). So, our hypothesis is correct. The differences in load time are attributable to location rather than poor server performance.
Customer support
The next section of our HostGator WordPress hosting review is about support. You may contact HostGator's team of experts by live chat, phone, direct mail, and even fax (though we're not sure whether anyone has actually used that option).
Their customer service team is available 24 hours a day, seven days a week, as we discovered when we phoned them late on both a Thursday and a Saturday. We waited for around six minutes the first time, and ten minutes the second time. We found their support personnel to be a little hesitant with their replies when it came to WordPress both times, but they did put us in the proper direction to address our fictitious concerns.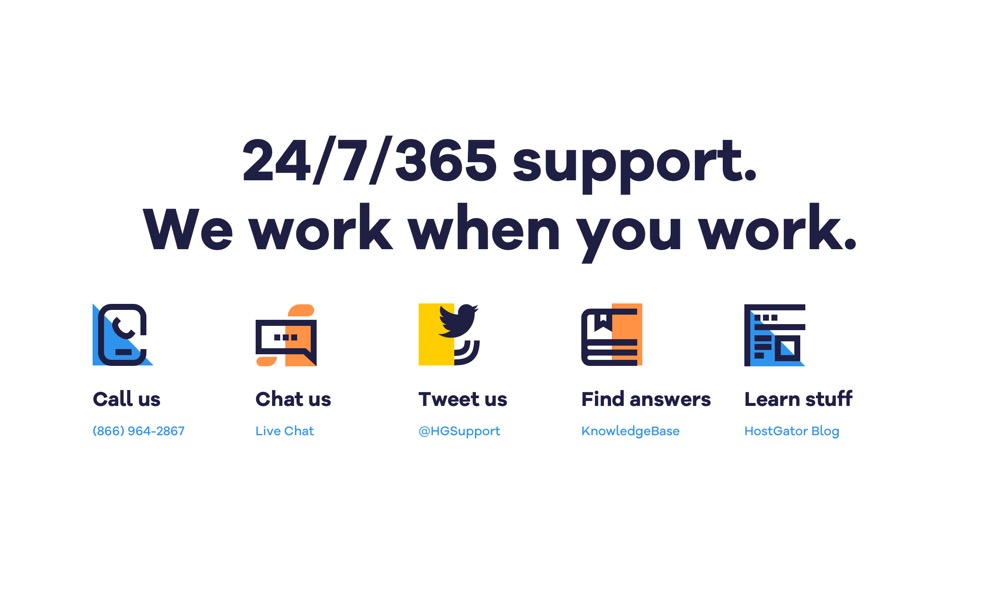 Pricing
As previously stated, HostGator is one of the most affordable managed WordPress hosting solutions. There are three options on the table:
Starter ($5.95 per month): This entry-level plan allows you to host one website with up to 25,000 monthly visitors. It's ideal for personal blogs and small business websites.
Standard ($7.95 per month): This plan allows you to host one or two websites and receive up to 200,000 monthly visits. It should be sufficient for handling small service sites and e-commerce platforms.
Business ($9.95 per month): This plan is designed for well-established businesses and large e-commerce sites. It can host up to three websites at once and can handle up to 500,000 monthly visits.
-Web Hosting:
Hatchling Plan – $2.75 a month Baby Plan – $3.95 a month Business Plan – $5.95 a month
All three web hosting plans include one-click installs and unlimited email. You'll get a private SSL certificate, a dedicated IP address, and free VoIP phone service if you go with it. The Business Plan contains a little more information.
The Hatchling plan is the most basic option in this category, and it only allows you to host one domain. This is why HostGator is an excellent entry-level hosting company if you only need to get one site up and running quickly.
-Cloud Hosting:
Hatchling Cloud – $4.95 a month Baby Cloud – $6.57 a month Business Cloud – $9.95 a month
With three various alternatives to pick from, HostGator stands out as a dependable cloud hosting company. You must first determine how much RAM you will require. Their Hatchling plan, which comes with 2 GB of data, is a good place to start.
-WordPress Hosting:
Starter Plan – $5.95 a month Standard Plan – $7.95 a month Business Plan – $9.95 a month
The Starter plan is appropriate for sites with up to 100k monthly visitors, while the Standard plan can handle up to 200k. If you have a popular site with 500k or more monthly visitors, it's best to go with their Business plan.
-VPS Hosting:
Snappy 2000 – $19.95 a month Snappy 4000 – $29.95 a month Snappy 8000 – $39.95 a month
You will get fewer service constraints and a wealth of extra features with HostGator's VPS Hosting package. To meet your site's growth, you may quickly add more RAM, CPU, or disk space. A dedicated virtual server for your site gives you more control over your site's hosting environment while keeping costs low.
Conclusion
HostGator has some of the most economical shared hosting plans on the market, especially if you can lock in the promotional pricing for the whole three years.
In comparison to other shared hosts in the same price range, the performance is also rather good. However, suppose you plan to utilize a huge multipurpose WordPress theme, such as Avada and one of its feature-rich demos. In that case, you may want to consider switching to more expensive hosting, such as a managed WordPress service, to maintain your loading times in a more acceptable range, as our test results indicated.
We hope you will find this topic about Hostgator hosting for WooCommerce review: An intelligent option fundamental!
New Posts
Subscribe
Stay in the know
Get special offers on the latest news from AVADA.
40k
subscribers has been joined!
Earn $10 in reward now!