How to Hide Products in WooCommerce Catalog Visibility Options
How to Hide Products in WooCommerce Catalog Visibility Options
There are numerous ways to Hide Products in WooCommerce, one of which is through WooCommerce Catalog Visibility Options.
There are several options included in WooCommerce that allow you to limit the visibility of WooCommerce Catalogs and Products without using a plugin or custom code. The method you use to disable, hide, or make a Product Page Private in WooCommerce will be determined by the reason you want to hide the product's visibility.
Suppose you want to make a WooCommerce product page private so that only administrators can see it, add products to cart, and test the WooCommerce site. In that case, you'll need to use a different method from if you only want to conceal a Product Page while you're creating it or adding content. You'll use a different technique if your goal is to make the WooCommerce Product Visibility Private and only viewable to chosen members, not necessarily webmasters or WordPress users.
That being said, in today's blog post, we'll take you through instruction on How to Hide Products in WooCommerce Catalog Visibility Options - one of the 2 types of Product Page Visibility Options you can easily find on each WooCommerce Product Page editor.
Why wait? Let's find out!
When should you Hide Products in WooCommerce?
Before digging deeper into the tutorial, to ensure that you choose the proper option for your individual needs, you should be clear on why you want to conceal WooCommerce Products.
Below are the 3 most witnessed cases in which WooCommerce users often want to hide their products:
If items are exclusively available to select clients, they must be kept hidden from the general public.
If a product is no longer available but maybe resold in the future.
If you sell service-based items, you must manually add them to a sales representative quote.
How to Hide Products in WooCommerce Catalog Visibility Options
As we've mentioned, WooCommerce "Catalog Visibility" Option is one of the 2 built-in methods you can use to conceal your products on the WooCommerce product page, besides WordPress "Visibility" Option. Although both of them offer you 2 Products hiding modes as below ("Private and" "Password Protected"), there's 1 difference between them: Making the Catalog Visibility Hidden on a WooCommerce Product Page maintains the page "Indexed" with Google because of the following reason.
When using WooCommerce Catalog Visibility Options, the WooCommerce Product Page WILL NOT show on Shop, Category, or Archive Pages, but anybody with the Product Page URL will be able to view it (the product page link). Customers would still be able to view these WooCommerce Product Pages if, for example, you send out automated emails with links to these "hidden" items. You're essentially restricting the visibility of these goods in the CATALOG. The products would not display anywhere on the page where WooCommerce templates would automatically load them.
Now as you probably know your purposes on Hide Products in WooCommerce and the difference between 2 methods, you may be ready to find out How to Hide Products in WooCommerce Catalog Visibility Options.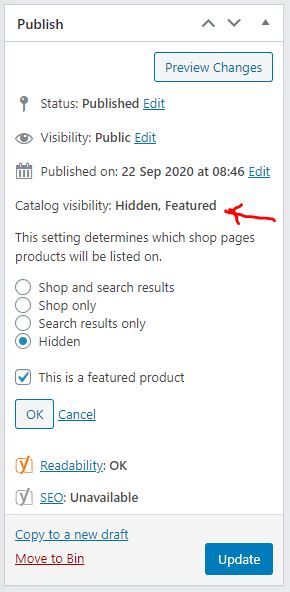 "Private" Mode
When you set the WooCommerce Product page to "Private", it becomes unavailable to anybody except individuals with editing privileges on your WooCommerce site.
The product will not display in the Shop, Category, or other archive pages, even for WordPress users with editing access.
When you make a Product Page "Private", it can only be accessed from the WordPress admin.
You may browse the Private Product Page from here and add the product to your basket to test checkout as an admin with the product.
This comes in handy when creating a WooCommerce test product page.
"Password Protected" Mode
By setting the WooCommerce Product page to "Password Protected", both site admins and site visitors who provide a password when requested may view the product page.
Anyone who visits your WooCommerce store can see the product in the Shop, Category, and other Archive pages.
If someone visits your Shop, Category, or Archive pages and clicks on a product link, they'll be asked to provide a password to access the WooCommerce Product Page.
Customers are likely to be puzzled if they're forced to provide a password to view a product, therefore this is significantly less useful than other techniques of hiding a WooCommerce Product page.
Conclusion
To sum up, Hiding Products in WooCommerce Catalog Visibility Options is not a challenge or lengthy practice. What's really important is your choice and purpose. By knowing precisely what you want to get after doing so as well as the differences between methods (both with or without plugins), you can determine whether this blog post is for you.
We hope that our tutorial can help you out in some ways.
New Posts
Subscribe
Stay in the know
Get special offers on the latest news from AVADA.
40k
subscribers has been joined!
Earn $10 in reward now!