How to Add and Use WooCommerce Extra Product Options
How to Add and Use WooCommerce Extra Product Options
You may have wanted the ability to add new options if you utilize WooCommerce for your online store. This feature allows customers to customize their items to their exact specifications, whether they want to add their favorite pizza topping or purchase a laptop with more RAM. You can improve the customer experience on your website by providing those options.
In this article, we will show you How to add and use WooCommerce extra product options to upgrade your online store.
What are WooCommerce Extra Product Options?
The majority of e-commerce stores sell traditional tangible goods. WooCommerce and other e-commerce systems are well-suited for them. Stores, on the other hand, occasionally require more.
You might want to make your store more customer-friendly, for example. You want a customer to be able to order gift wrapping. Customers would appreciate having this option during holidays, Valentine's Day, and other special occasions. A checkbox for such a feature would be the best solution. Because it is not built into WooCommerce, it is a product add-on.
A diet box store is another example. You want to provide clients the option of picking a start date for their diet or specifying which ingredients they want or don't want to be included. You'll need a WooCommerce plugin to add more product choices in order to implement such functionalities.
How to add WooCommerce Extra Product Options
1. Basic plugin usage
A WooCommerce product can be added or edited.
Check to see if your product is a Simple, Variable, Composite, Bookable, or Subscription product.
In the product info panel, look for the subsection Extra Product Options and click it. The plugin interface should now be displayed to you. The Builder mode will appear if you haven't already developed extra choices for that product.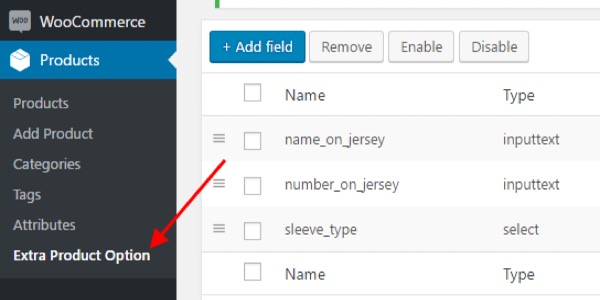 2. Advanced plugin usage
Select Products > Global Extra Product Options from the WordPress dashboard.
At the top of the screen, click the Add Global Form button.
Add a title and description for your own reference only to tell which forms are which.
Choose the Product Categories to which your form will be applied. Select no categories to apply the form to all products (including those that don't fit into any of the categories). When the Disable categories checkbox is selected, the plugin will ignore the selected categories. By checking the Products meta box, you can assign specific products to the form.
Use the Form Fields Builder to create your fields. The section Global Extra Product Options contains information on form settings. See the Form Fields Builder section for instructions on how to create a field.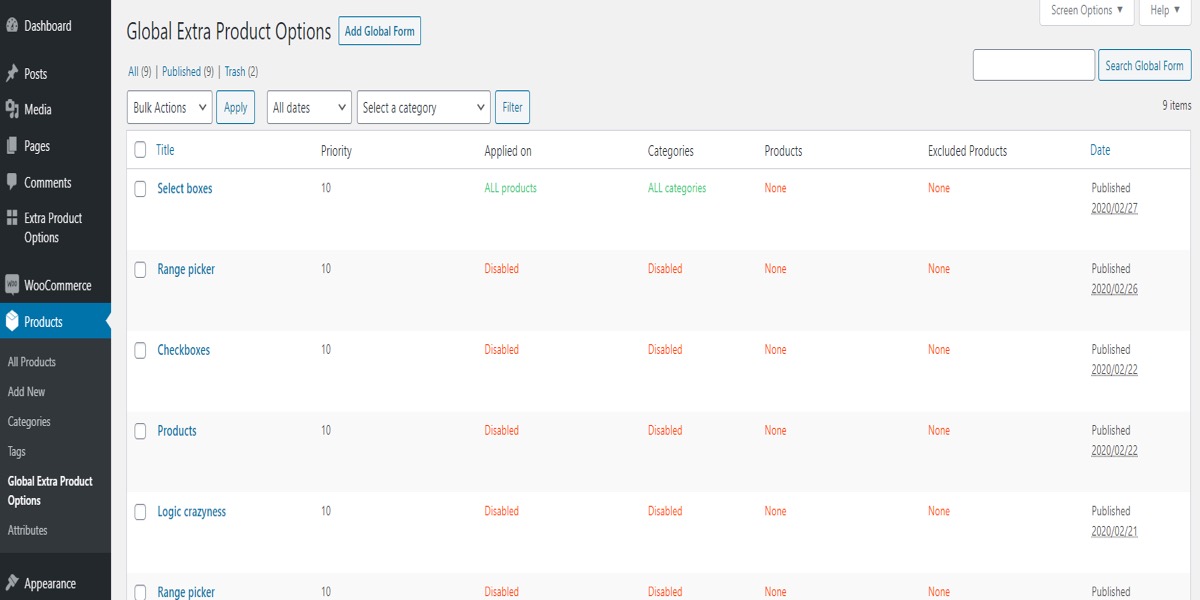 How to use WooCommerce Extra Product Options
Step 1: Create the fields
By clicking the add field option, you may create several fields.
You can select a field type, and each field type has its own set of properties.
You can add options to radios, select, and multi-select field types by clicking the add option button.
Customers and consumers will see the Option Label on the front end.
The value of the option is for admin use, and he can use it for logical criteria. Option price, on the other hand, is the price that will be added to that option/field.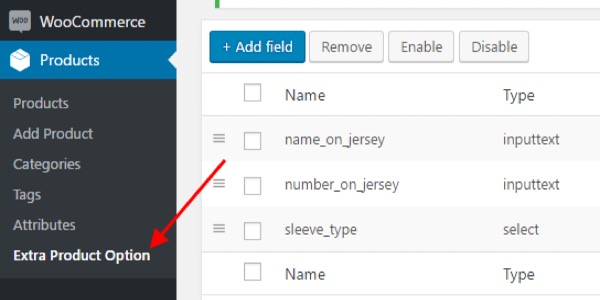 Step 2: Create field name
There must be no spaces or special characters in the field name. Start field names with alphabets for easier use.
In one regulation, the field name shall not be repeated. It should be distinct for each field; else, your fields may not function correctly.
Simply click the "Is Required?" checkbox to make any field mandatory.
Simply tick the "Is Conceal?" checkbox if you want to hide a field. By applying specific conditions to a hidden field, you can make it visible.
The latest inserted field will be created on top of the product fields form by default, but you can change the order using the sorting option.
5 Best WooCommerce Extra Product Options Plugins
1. YayExtra – WooCommerce Extra Product Options
YayExtra - WooCommerce Extra Product Options is an ultimate choice for WooCommerce stores that sell made-to-order products, like print on demand t-shirts, custom stickers, gift items, and other personalized products.
With YayExtra's conditional logic, you now have the ability to create multiple rules to display the product fields when the customer has selected a previous option. For example, when the customer chooses "Special Requests" checkbox, a text field will appear to allow them to enter their own requirements.
Features:
Field types: Add checkbox, radio button, color swatch, image swatches, file upload, etc.
Date/Time: Insert date picker and time picker in bespoke calendar format.
Powerful settings: Set default values, placeholder, description text for each option.
Image swatch: Allow changing product images used in YayExtra's custom image swatches.
Fees: Add extra fees for custom product options in percentage or fixed amount.
Rules: Add a one-time fee/discount or multiple fees based on customer selections.
Drag and drop: Quickly change the position of the custom product options.
Compatible: Works with popular WooCommerce themes, product page builders, and checkout plugins.
Price:
Single Site - Yearly – $59.00
3 Sites - Yearly – $129.00
Unlimited Sites - Yearly – $199.00
2. Flexible Product Add-Ons Free WooCommerce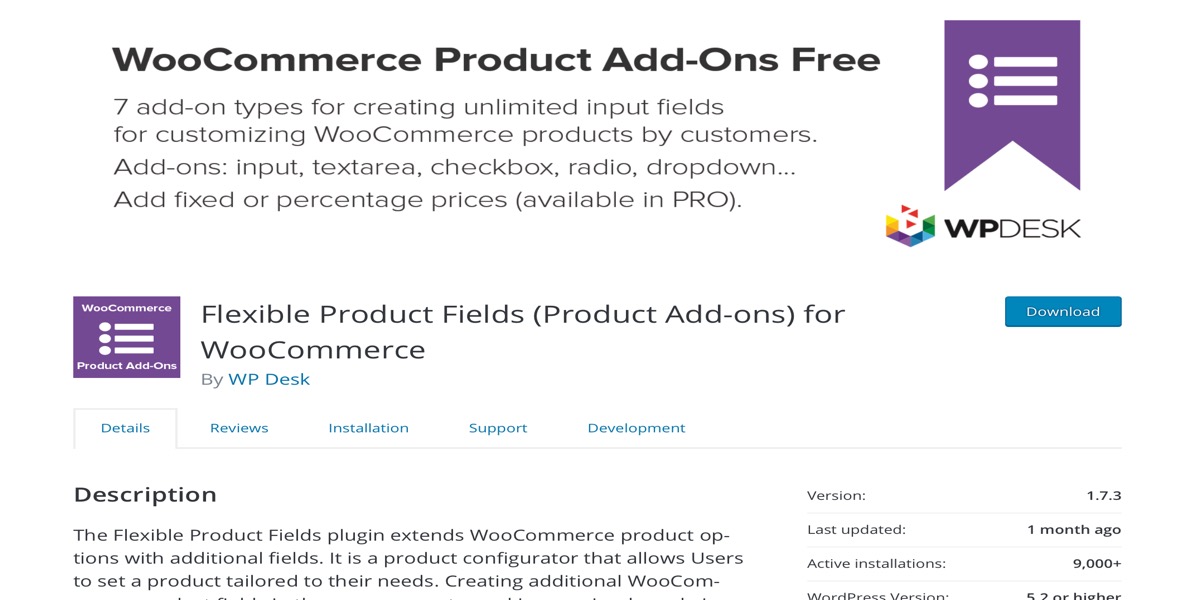 Flexible Product Add-Ons Free WooCommerce is a plugin that is available for download for free. You can personalize and add other options for the items using this plugin, such as text fields, checkboxes, radio buttons, dropdowns, and more.
Features:
It features seven add-on kinds that allow you to construct an endless number of input fields.
You can add add-on groups before or after the add to cart button.
Additional fields might be made mandatory or optional.
You can make add-ons visible in the cart, checkout, and admin sections.
Add-on groups that are duplicates
Field groups can be saved as drafts.
Price: Free
3. Extra Product Options (Product Addons) for WooCommerce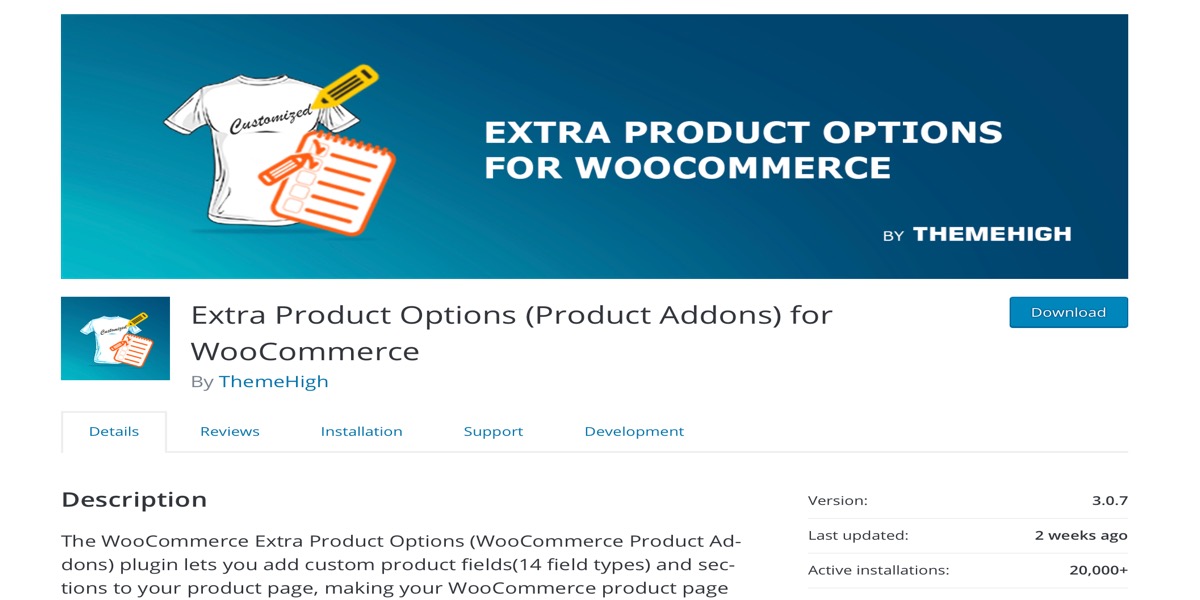 Extra Product Options (Product Addons) for WooCommerce is a free plugin. It enables you to add extra custom product fields to your WooCommerce product pages, such as text fields, radio buttons, checkboxes, textarea fields, hidden fields, and so on. On the WooCommerce product page, you can also add, update, and delete the extra product fields.
Features:
Using Additional Product Choices You can customize your product page by adding new fields.
The WooCommerce additional product can be edited, removed, enabled, or disabled.
Custom product add-ons can have their display order changed.
With a simple click, you can undo all of the changes made to the product add-ons.
Price: Free
4. Woocommerce Product Addons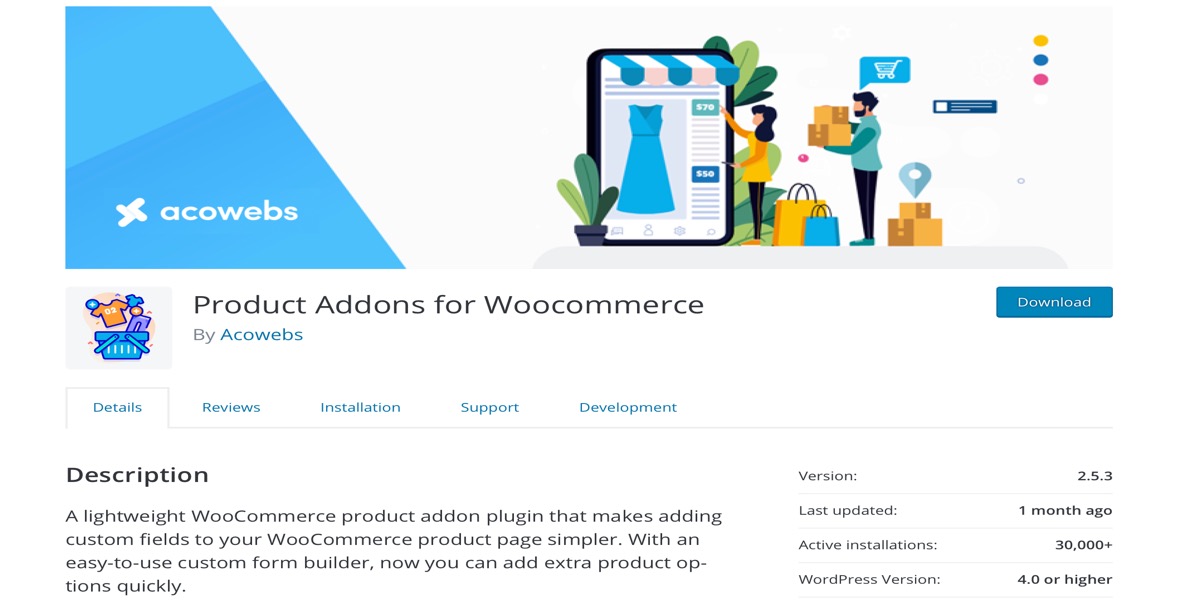 Woocommerce Product Addons plugin is available for free. Using extra product choices, you may add custom fields to your WooCommerce product page. Custom product choices and custom data can be added to the WooCommerce product ordering page.
Features:
Custom fields, such as text fields, number fields, and radio fields, are supported by the plugin.
You can move the custom fields around by dragging and dropping them.
It allows you to set the paragraph and header in the product page using HTML tags.
Price: Free
5. WooCommerce Extra Product Options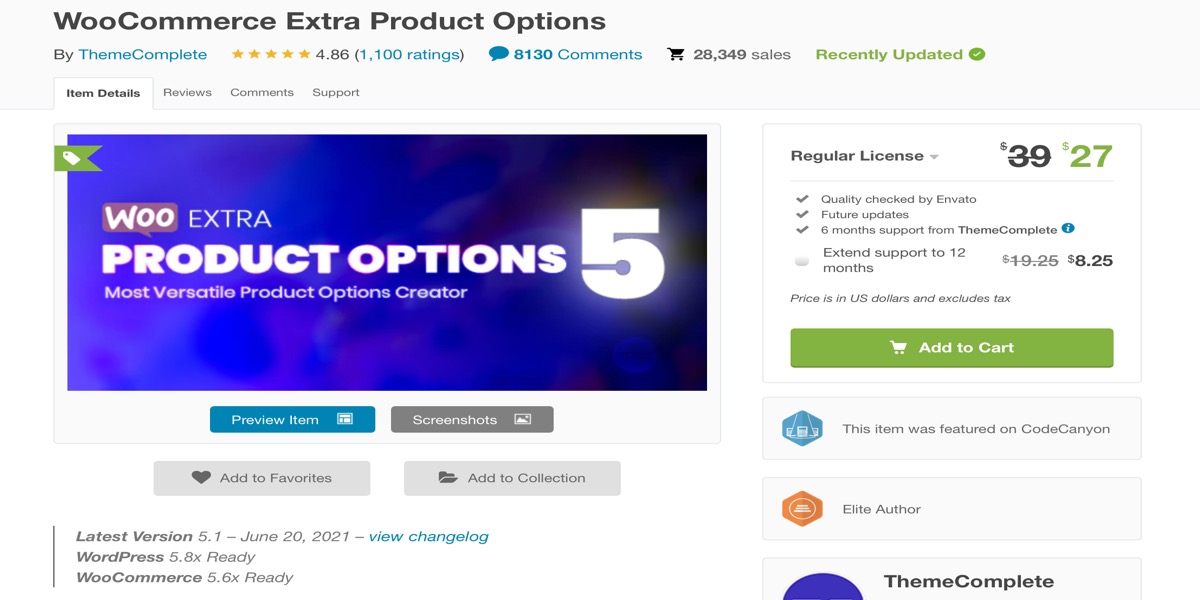 WooCommerce Extra Product Options is a premium plugin. You can use this plugin to generate priced product choices and add-ons, conditional logic, forms, style and validate features, and convert variation attribute dropdowns to radio buttons, among other things. You may also use the Form Builder to adjust the positioning of your new fields.
Features:
Checkboxes, radio buttons, choose boxes, text-areas, input boxes, upload, and more are all fully supported.
You can customize the pricing based on product selections and variants.
It has global options enabled.
It comes with a Form Fields Builder that lets you hide or disclose prices.
For radio buttons and check-boxes, you can alter the product image.
Price: $27
Conclusion
Extra Product Options enables you to add extra fields to your WooCommerce products either locally or globally on the edit product page. Checkboxes, radio buttons, choose boxes, textareas, input boxes, upload, date, range picker, and color picker are all supported in the current version. The choices you make appear above the add-to-cart form.
I hope you find this topic about How to add and use WooCommerce extra product options fundamental!
New Posts
Subscribe
Stay in the know
Get special offers on the latest news from AVADA.
40k
subscribers has been joined!
Earn $10 in reward now!