How to Enable Search by SKU in WooCommerce
How to Enable Search by SKU in WooCommerce
Adding SKU to WooCommerce product search is a clever method to accomplish two sales tasks: stock management and improving user experience. However, if you solely use WooCommerce's default search functionality, you'll have some trouble accomplishing the latter.
In this article, I will show you How to enable search by SKU in WooCommerce to upgrade your online store ultimately.
What is WooCommerce Search by SKU?
SKU stands for stock-keeping unit, and it is a code made up of letters, numbers, symbols, or any combination of these that uniquely identifies a product or service. For instance, suppose you're offering T-shirts in a variety of sizes, colors, patterns, sleeves, and so on. As a result, each product variant (size, color, pattern, and sleeve) combination would have its unique inventory and so SKU.
As a result, the SKU code stores all of this information about an item and elevates it in your WooCommerce store. It aids your company in maintaining inventory accuracy for each item.
Reasons to enable Search by SKU in WooCommerce
SKUs make it easier to keep track of inventory - how much has moved, how much is left, and whether it's out of stock.
Assist with the easy movement of merchandise and replace stock as needed.
Because each product has a unique identifier, make product identification quick and clear for everyone to grasp.
Ideal for entrepreneurs who sell through multiple channels.
Vendors can also check on the status of stock at manufacturers.
How to enable search by SKU in WooCommerce
Step 1: Install Advanced Woo Search
The first step is to download and install the Advanced Woo Search plugin from the WordPress.org plugin repository.
Another way to install this plugin is to go to your Plugins->Add new panel and search for Advanced Woo Search. At the time of writing, it is ranked number one:
The plugin's menu will display on the left after you've installed and activated it: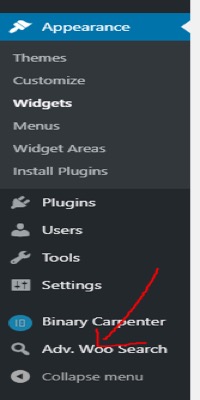 Step 2: Configure Advanced Woo Search's options
We'll come to the main configuration screen if we click that: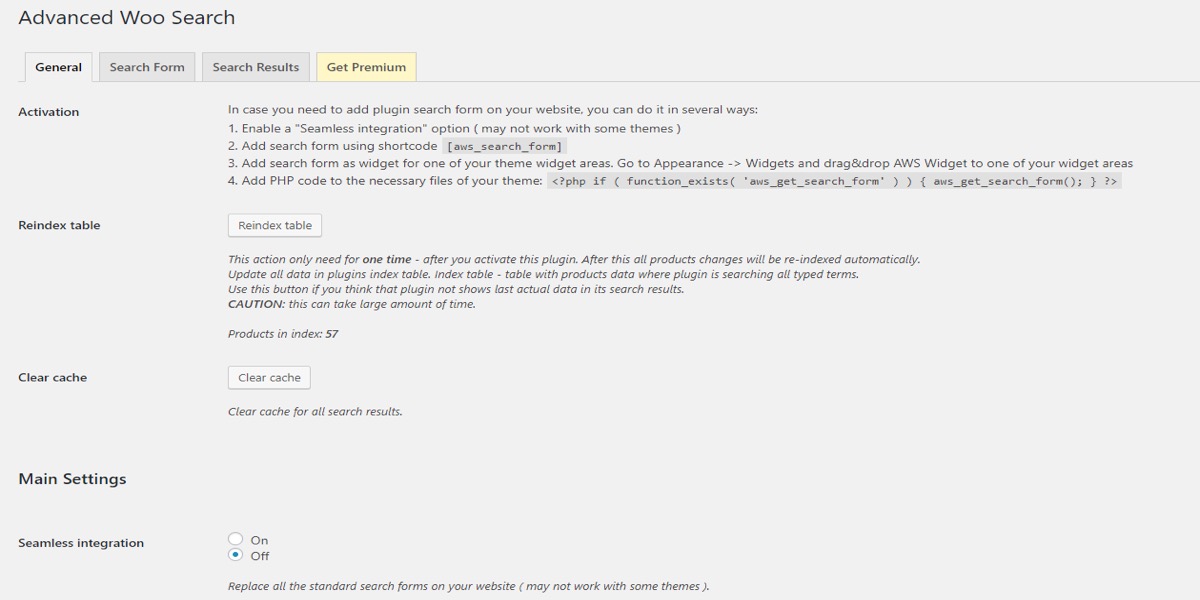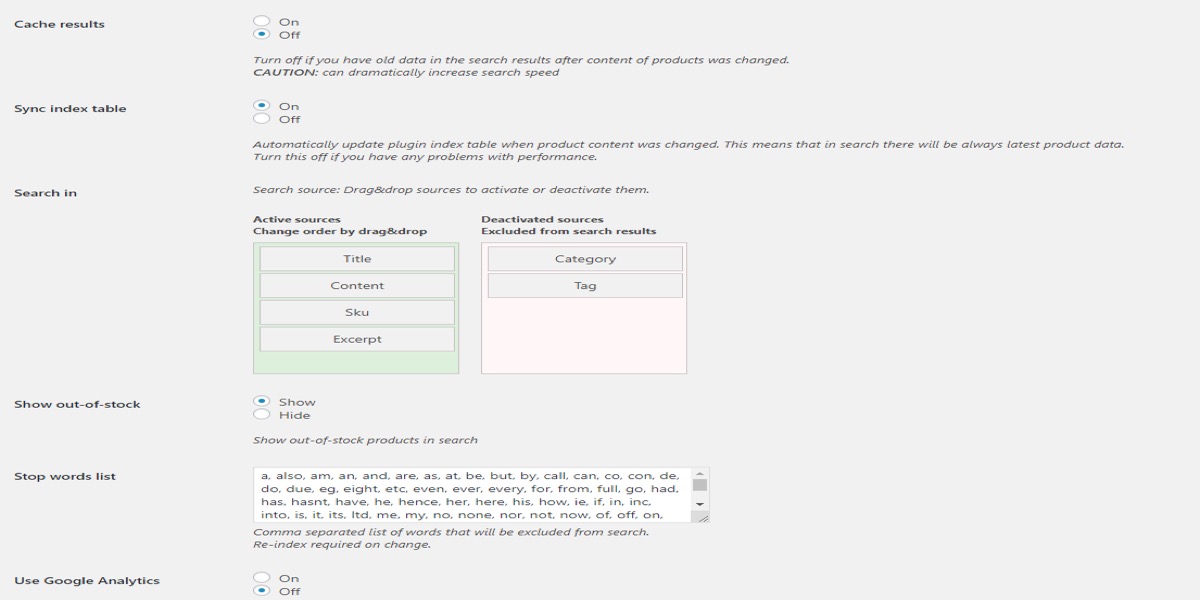 The following are the most critical parameters to pay attention to:
Re-index table: You must click on this and wait for the procedure to finish.

Clear cache: When you initially start using the plugin, this button isn't really useful. It will, however, come in handy later.

Seamless integration: This option should be set to On since it will enable the search features for the existing WooCommerce search box. However, some themes may incorporate their own search methods, therefore this may not work with all themes.

Cache results: If the same term is searched often, caching will speed up the search.

Sync index table: If you select this option, the index will be updated whenever your products are updated. This will aid in the production of new results. However, if you observe a decline in site performance, you should turn this off.

Search in: This is the plugin's most significant function. It allows you to search by SKU, category, and tags (fields that WooCommerce's basic search function does not provide). If you like, you can even exclude title, content, and excerpt from the search field. However, I don't think it's a good idea:

Indicate that the item is out of stock: This is self-explanatory. Do you want to see items that are currently out of stock? If you answered yes, choose show.

Stop words are terms that have little to no meaning and should be excluded from search results. This list can be modified by adding or removing words. After updating the text in this field, make sure to re-index (1.).

Do you wish to track searches using Google Analytics? If you answered yes, turn on the light. If you choose On for this option, you must first set up your Analytics account.
You can now go ahead and use your site's search tool. You can see the result straight away if you choose seamless integration.
Step 3: Add the Advanced Woo Search widget
I don't think you'll have any trouble adding widgets to the website's sidebar if you've been using WordPress for a few weeks. Let's go to Appearance > Widgets in case you didn't know:

Simply drag the AWS widget to the sidebar location where you want the search box to appear, then click Save. You now have a far more powerful search box than WooCommerce's default.
4 Best WooCommerce Search by SKU Plugins
1. Ajax WooCommerce Search
The Woostify team offers an innovative add-on called Ajax WooCommerce Search, which acts as a responsive live search engine to improve user experience.
The WooCommerce search by SKU add-on is a user-friendly Ajax-powered search form that gives customers live search suggestions and a variety of smart filters. Your customers can search for products based on their SKU and title. They'll obtain the results they're looking for in a flash. Additionally, your consumers will have access to the term autocomplete feature.
Features:
Create a search based on the product title and SKU.
Personalize your search results
Support a wide range of products
In live search results, display product photos and prices.
Increase search performance with Woostify v1.5.0's index-based search engine.
Price: $49
2. YITH WooCommerce Ajax Search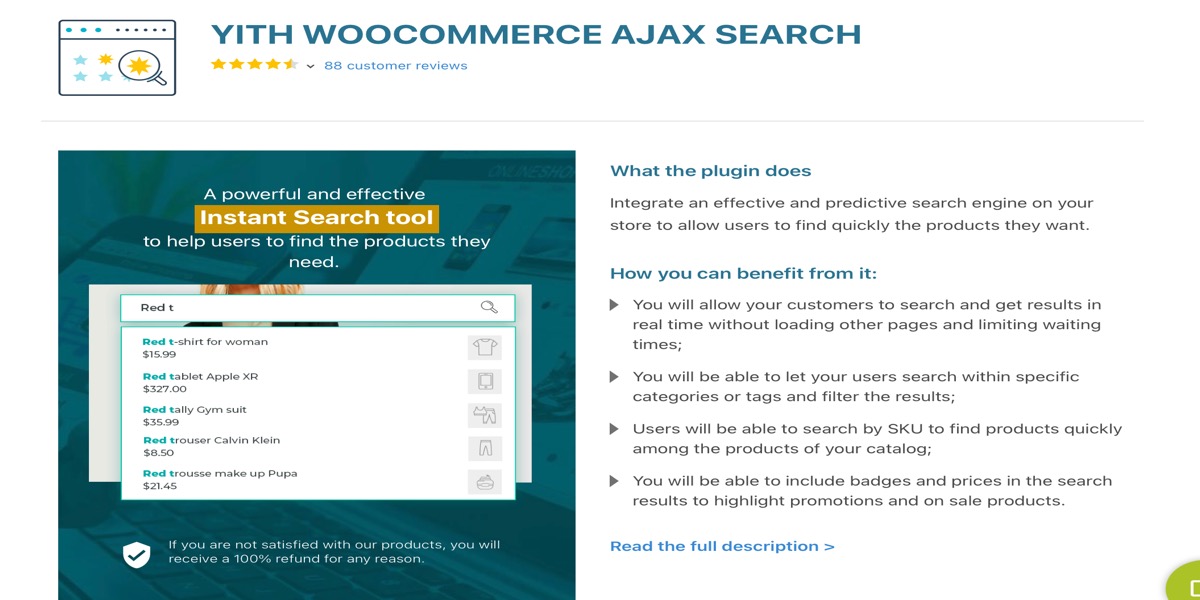 If you're seeking for a product search engine that can help you increase sales, YITH WooCommerce Ajax Search is the way to go.
Customers can discover their products using categories or tags along with some filters, in addition to seeing product suggestions instantly based on simple keystrokes. Customers can also save time by using the WooCommerce search by SKU function to find their favorite product among hundreds or thousands of options. This product search plugin can be used as a useful marketing tool by displaying product details such as prices, photos, descriptions, and sales badges.
Features:
To display a search form anywhere you want, use shortcodes and widgets.
Allow for different search filters and a search feature in categories, tags, and product content.
Out-of-stock items will be removed from the search results.
Display thumbnails, product pricing, badges, and product extracts.
Price: Free
3. WOOF – Products Filter for WooCommerce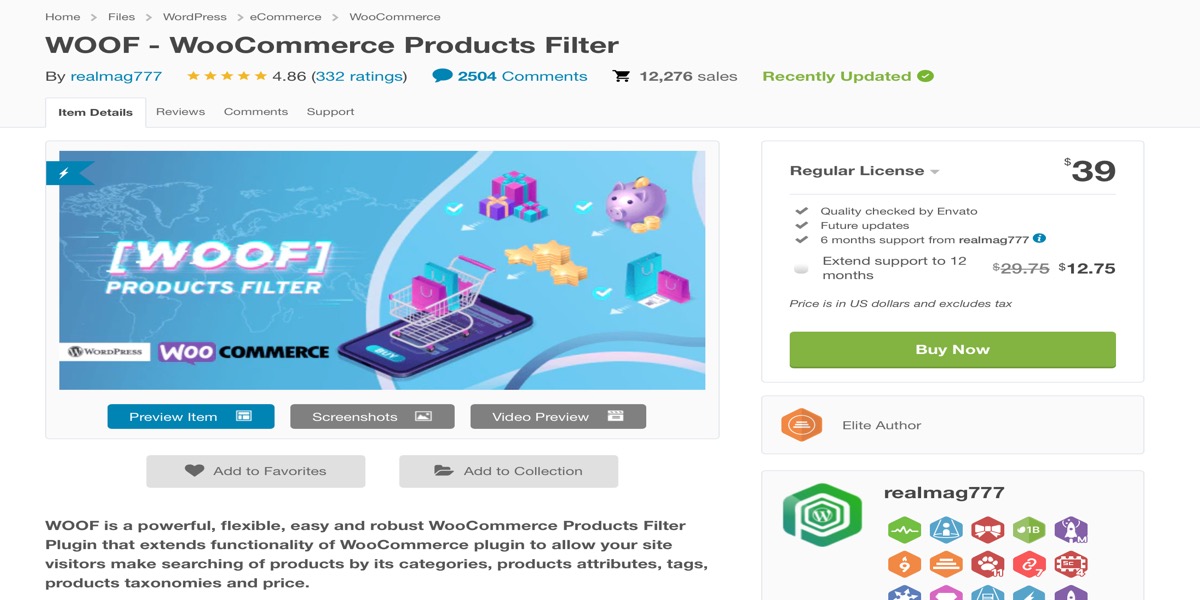 With WOOF – Products Filter for WooCommerce, you'll discover a plethora of useful capabilities for customizing product search choices in your business.
Visitors to your store may simply search for items using SKUs, pricing, categories, attributes, tags, and taxonomies, with taxonomies displayed in a variety of formats such as dropdown, radio, and checkbox. The plugin also aids in the storage of all search terms entered into the search box by customers. It makes their next access and your insight analysis much easier.
Features:
To be able to be used as a shortcode and widget to add product filters to WooCommerce sites.
Allow products to be searched by SKU, price, categories, product tags, characteristics, and taxonomies.
Provides a variety of taxonomy display options, such as radio, checkbox, and dropdown menus.
Customers' search requests are saved in a database.
Make any HTML-items you'd like for the search form.
Price: $39
4. Advanced Woo Search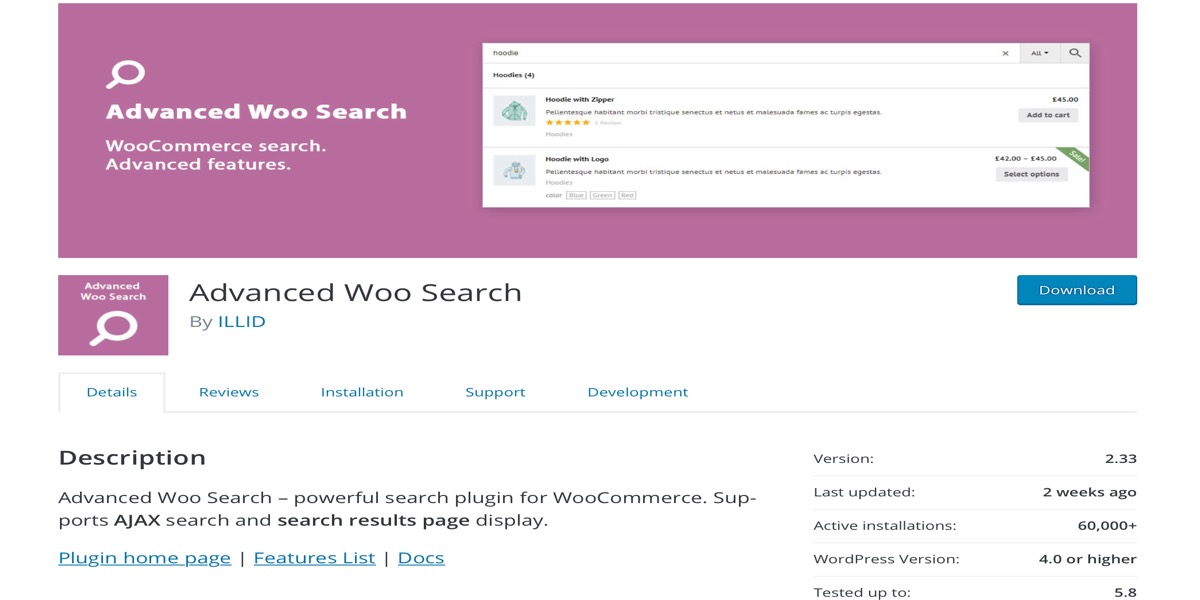 Advanced Woo Search is one of the most powerful product search plugins for WooCommerce, and it comes with a slew of impressive capabilities.
You may search in a variety of places with this plugin, including title, content, SKU, excerpt, category, tag, attributes, taxonomies, and custom fields. The plugin also allows you to customize search results by selecting which information to display for each product. Title, description, image, price, categories, tags, SKU, and stock status are all important factors to consider. You can choose to see all of them or just a few of them.
Features:
Choose from product titles, content, excerpts, categories, tags, IDs, and SKUs to find what you're looking for.
Personalize your search results
Show search results based on the source's priority.
To search anywhere on the site, use the shortcode and widget.
Show a variety of products
Choose from a variety of layouts and add or exclude specific products.
Price: Free
Conclusion
The WooCommerce search by SKU is one of the most significant aspects of the WooCommerce product search. Not only for customers, but also for store owners, shop managers, and vendors (backend work) who need to quickly manage stock and inventory by searching for products by SKU among thousands of products and orders.
I hope you will find this topic about How to enable search by SKU in WooCommerce fundamental!
New Posts
Subscribe
Stay in the know
Get special offers on the latest news from AVADA.
40k
subscribers has been joined!
Earn $10 in reward now!