Ecwid vs WooCommerce: Which is Better for Business?
Ecwid vs WooCommerce: Which is Better for Business?
When it comes to e-commerce platforms, WooCommerce is a great suggestion for numerous merchants looking to launch an online store on WordPress. Ecwid, on the other hand, is an e-commerce platform that not only competes with WooCommerce but also offers unique functionality that WooCommerce might lack.
With this in mind, in today's article, we will give you an in-depth comparison between Ecwid and WooCommerce, in terms of ten different areas: pros and cons, pricing, features, themes and design, interface and ease of use, customer support, integrations, customization, SEO, and performance.
Ecwid vs WooCommerce: Overview
Ecwid Overview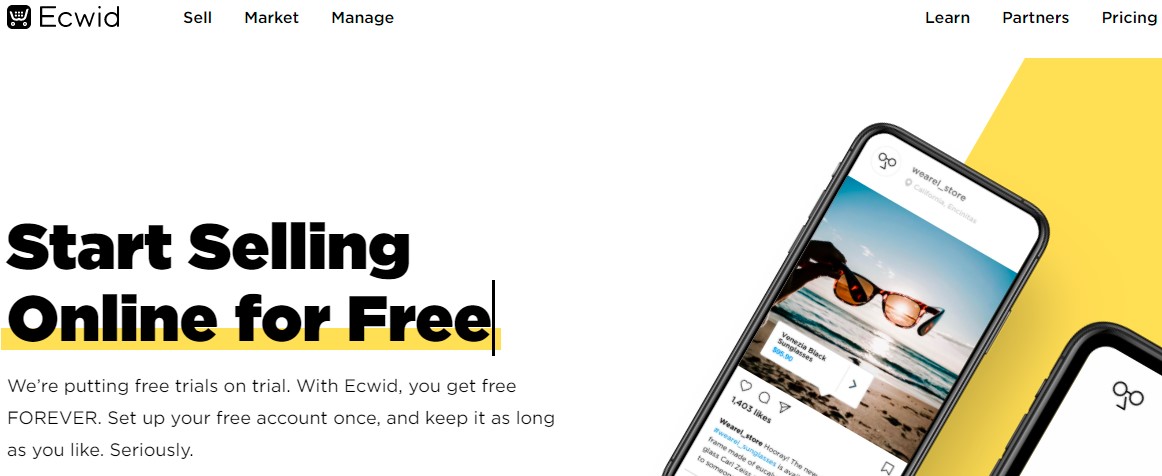 Ecwid is a free closed-source e-commerce platform that allows you to sell anywhere, from your WordPress site to Facebook, Amazon, and even a POS system. It's excellent for burgeoning enterprises that want to sell on various channels along with their WordPress sites, such as Facebook and Amazon. Ecwid is compatible with a variety of site builders, not only WordPress.
WooCommerce Overview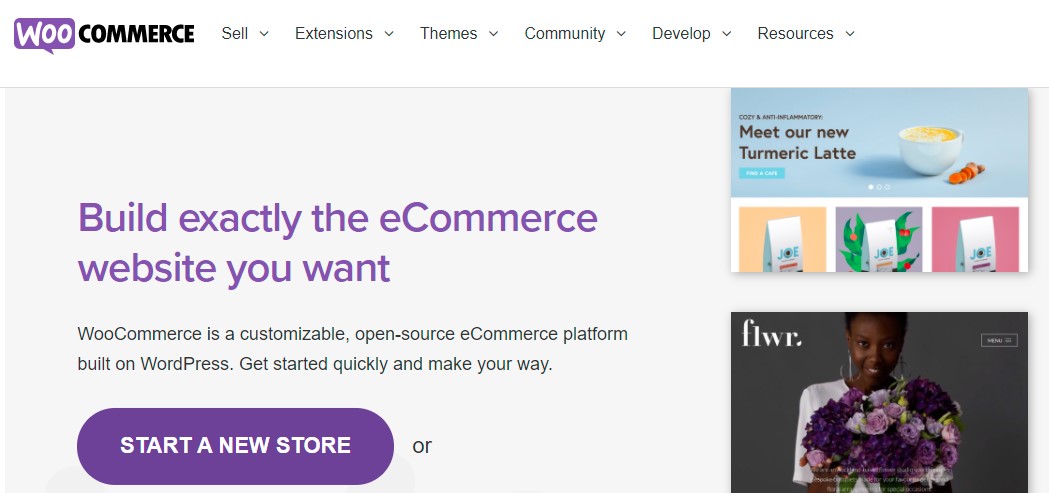 WooCommerce is a free open-source e-commerce plugin for WordPress that transforms any website into a fully functional online store. It's best for growing businesses that already have a WordPress site but want to add an online store. WooCommerce is only compatible with WordPress.
Ecwid vs WooCommerce: Pros and Cons
Ecwid Pros and Cons
| PROS | CONS | |————————————————————————————————————————————————————-|————————————————————————————————————————-| | You don't have to establish an online store from scratch when using Ecwid since it's simple and easy to convert your existing website into an online store. | Ecwid's limited design options don't allow you a lot of creative freedom. | | Ecwid's multichannel selling allows you to quickly extend your client base by selling across different stores. | Ecwid's small-scale sales tools can't sustain a lot of growth, therefore it's not ideal for fast-growing businesses. | | Ecwid makes it simple and quick to add e-commerce features to your website without requiring any coding knowledge, making it ideal for beginners. | Ecwid's basic free plan has a lot of limitations, including no access to the app store and no chat or phone assistance. |
WooCommerce Pros and Cons
| PROS | CONS |
| --- | --- |
| WooCommerce's remarkable flexibility helps businesses of all sizes to run their stores efficiently. | Because WooCommerce is WordPress-specific, users can't use it on sites that aren't hosted by WordPress. |
| WooCommerce has a multitude of customization options and does not require a high level of technical knowledge. | While WooCommerce is free to download and install, you will need to pay for a variety of extra costs to set your online store up and running at full capacity, which may be rather costly. |
| WooCommerce's secure gateways and security plugins ensure optimum security for users. | WordPress's regular updates may have an impact on your WooCommerce store, as well as other difficulties with your current browsers. |
| Because of its vast user base, WoocCommerce has a very active and supportive community. |   |
Ecwid vs WooCommerce: Pricing
Ecwid Pricing
Ecwid charges a monthly membership fee. Ecwid is now available in four different packages.

Free: $0 forever, with access to a simple online store that you can use with WordPress or any other website builder. You can also use social advertising, gift cards, and other services. This plan covers a total of ten products.
Venture: $15 per month for professional features and the capacity to create a store on social media platforms such as Instagram and Facebook. A mobile point of sale, mobile apps, discount coupons, and inventory tracking are the other features. A total of 100 products are supported by this package.
Business: $35 per month featuring automated email marketing, abandoned cart emails, and product filters, as well as selling on Amazon and eBay. A total of 2,500 products are supported by this plan.
Unlimited: $99 a month with additional features such as your own customized app, priority support, and more. This package allows you to add an infinite number of products to your account.
It's worth noting that subscribing to a yearly plan can help you save money in the long run.
When utilizing Ecwid, there are various extra fees to consider, such as possible hosting, domain name, website theme, apps, and credit card fees.
You should also consider Ecwid's billing currency. Ecwid accepts a wide range of currencies from across the world, including USD, GBP, Euro, AUD, and many others. This means you can be charged in your home currency and save currency conversion fees on your payment card (if applicable).
WooCommerce Pricing
WooCommerce is available for free download. There are no plans to consider, and you still get support for an infinite number of products.
The free plugin has all of the fundamental online store features, but it's likely that you have to pay for extensions, which generally cost $50-$200 each.
Furthermore, because WooCommerce is built on WordPress, you must pay for hosting, possible themes, and a domain name. Payment gateways will also cost you transaction fees.
Ecwid vs WooCommerce: Interface and ease of use
Ecwid Interface and ease of use
Ecwid is an e-commerce platform that can be integrated with WordPress and other website platforms. The Ecwid platform is simpler and easier to use than WooCommerce, but it has the disadvantage of requiring the management of two dashboards.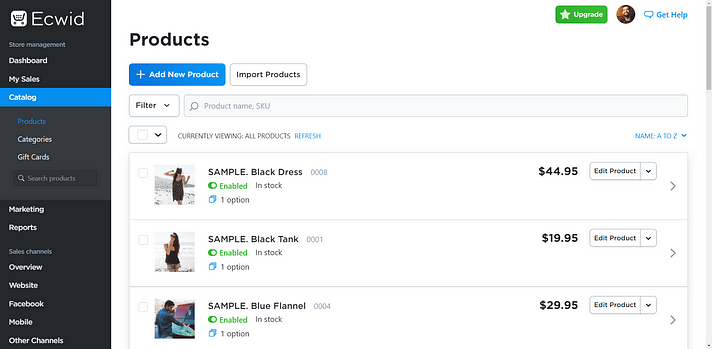 Ecwid has been developed with a basic and straightforward user interface that is easy to understand. Right from the start, the signup process walks you through the process of setting up your store, and you can operate in minutes without knowing any code.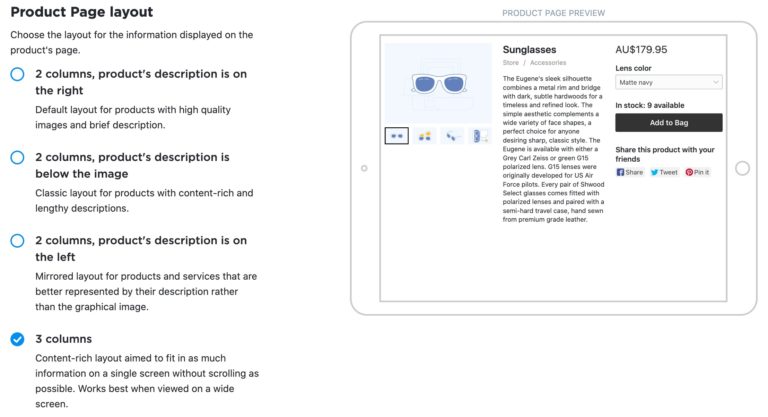 Ecwid is designed to be utilized without the use of any code. The design customizer is also entirely visual. It is possible for people who are acquainted with coding to customize the design code, however, this is rarely necessary, thanks to the visual editor.
Connecting shipping calculators and various payment processors is so simple that you can start taking PayPal payments to your email address before opening a PayPal account (if you don't already have one).
WooCommerce Interface and ease of use
WooCommerce is frequently targeted toward developers.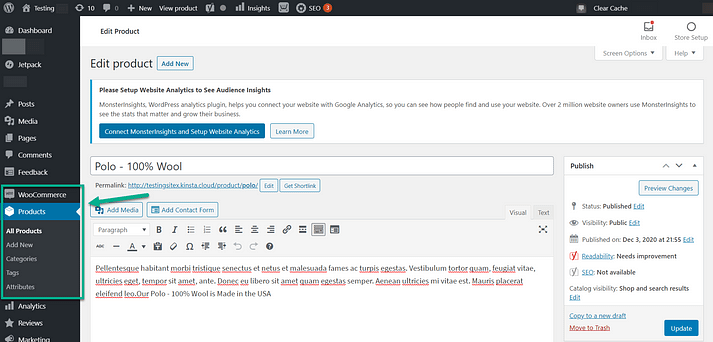 The system's major interface benefit is that it is hosted on WordPress, allowing for only one dashboard.
WooCommerce, which is built on WordPress, is an open-source platform that offers you complete control over your business. You can add almost any feature or function you can think of by selecting from thousands of free and premium plugins. You can totally customize the site's appearance by creating your own completely custom theme (code required), customizing an existing theme (some coding required), or utilizing site builders like Elementor (a little coding may be required). In general, you can run your WooCommerce business without knowing how to code, but understanding how HTML and CSS work may be quite beneficial.
WooCommerce is not very easy to use due to its extensive features. If you're acquainted with the WordPress interface, you'll be up and running in no time, but if you're not, it's going to take you a while. In recent years, both WordPress and WooCommerce have made significant advances toward simplicity. The new block editor in WordPress and the new guided installation in WooCommerce are major improvements, but there is still more work to be done.
One of the biggest issues, however, is that no matter how simple WordPress and WooCommerce get, so many functions rely on third-party plugins. It is up to the plugin developers to keep them easy and to be honest, many plugins are complicated to use, with some even having their own independent interfaces. It's common for a WooCommerce-powered e-commerce site to have a variety of plugins. The majority of basic WooCommerce businesses still have about 20 plugins installed. Some of the more complicated ones have nearly 70 plugins to handle all aspects of their e-commerce business. Plugins hinder not just the use of the system, but also its maintenance.
Ecwid vs WooCommerce: Features
| Ecwid Features | WooCommerce Features |
| --- | --- |
| E-commerce tools: One Tap Checkout (with Apple Pay); Schedule Order Pickup; Sell Digital Products; Discount Coupons; Gift Cards; Secure Checkout | E-commerce tools: Sell Physical & Digital Products; Discount Coupons |
| Marketing and SEO: Sell on Facebook; Sell on Instagram; Custom Meta Data; SEO Friendly URL's | Marketing and SEO: Blog (WordPress); SEO Friendly URL's |
| Reporting: Number of Visitors; Revenue; Conversion Rate; Orders | Reporting: Sales by date, product, category; Registered vs Guest Customers |
| Payment gateways: PayPal; Stripe; Worldpay; Square; Apple Pay (via Stripe); Authorize.net; 2Checkout | Payment gateways: PayPal; Stripe; Klarna; Amazon Pay |
| These are just a few of the features included with the Venture package, but you also get abandoned cart recovery, product filters, product filters, and a multilingual storefront on the business, and unlimited packages. While Ecwid comes with a strong set of functionality, there are certain gaps that need to be addressed, which is where the App Market comes in. Because all of the apps on the market are created by third-party developers, many of them do require extra cost. | This doesn't seem good for WooCommerce, but that's where the WordPress plugin library comes in. Searching WooCommerce gives a list of over 7,000 plugins that can be used, with functions ranging from marketing and SEO to payment gateways and e-commerce tools. Apart from the free WordPress plugin library, there are thousands of paid WooCommerce plugins available that provide even more premium features. |
Ecwid vs WooCommerce: Themes and design
Ecwid Themes and design
Ecwid has great integration with the new Gutenberg editor as the Ecwid widgets can be installed as blocks.
Because of the integration with Gutenberg, it is extremely simple to create a personalized homepage for your website or shop section by combining various widgets.
There is a store homepage widget, and you can change which products are displayed by updating them in the storefront category under the product management area, or you can choose to display only a certain category.
You can also modify the layout of the category, product list, and individual product pages to have the store designed the way you want. You can also customize the color of the buttons, text, price, and links.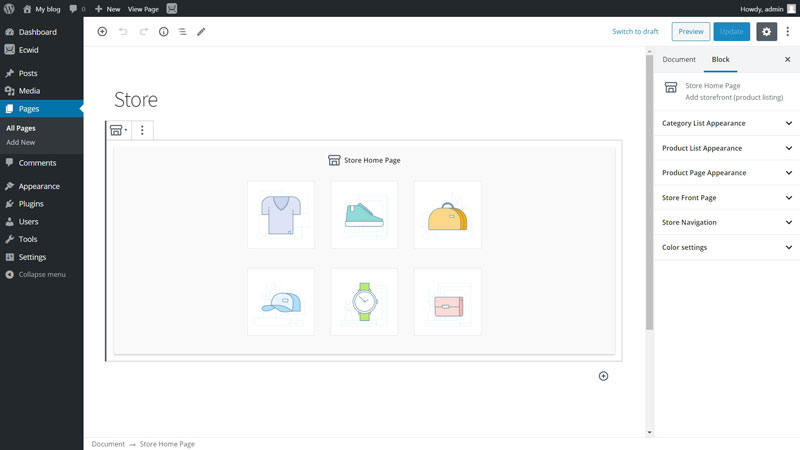 WooCommerce Themes and design
In the WordPress theme library, WooCommerce offers over 1000 themes to select from. These are largely created by third-party developers. On Themeforest, you can get over 8,500 premium themes starting from only a few dollars.
The amount of customization you can perform with WooCommerce is heavily dependent on the theme you use; some themes allow extensive customization, while others are fairly limited.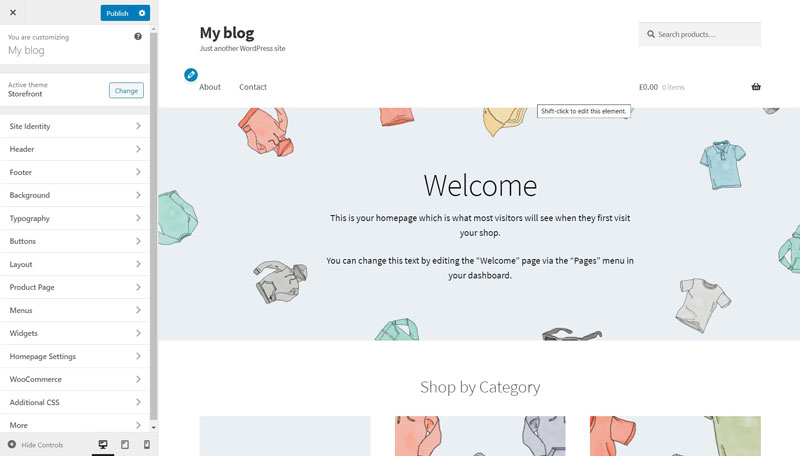 One useful feature of the Gutenberg editor is the ability to add WooCommerce widgets to other pages on your site. Therefore, you can totally create a custom homepage or add WooCommerce elements to blog articles or other sites.
This greatly expands the plugin's capabilities and converts visitors to buyers via blog articles in a much easier way.
Ecwid vs WooCommerce: Customer support
Ecwid Customer support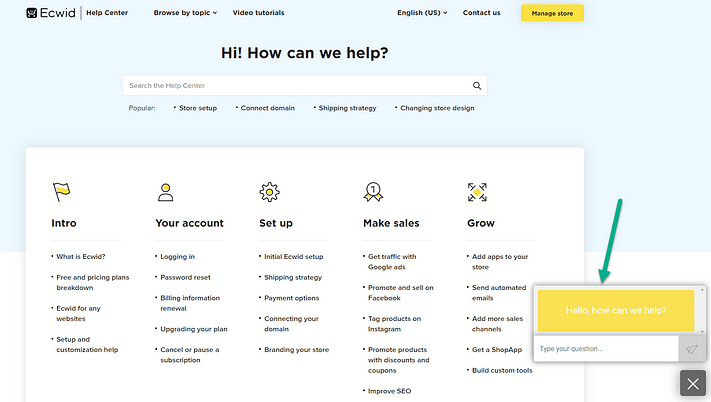 Ecwid is extremely easy to use, but if you do get stuck, support is available on all subscriptions with one-on-one support available on all paid subscriptions. This support can be accessed from within your Ecwid dashboard.
Free plan: Email support (helpdesk)
Venture plan: Email and chat support
Business plan: Email, chat, and phone support plus 2 hours of free customization services.
Unlimited plan: Priority email, chat, and phone support plus 12 hours of free customization services.
Ecwid is incredibly simple to use, but if you need help, assistance is offered on all subscriptions, including one-on-one support on all paid subscriptions. This help is available right within your Ecwid dashboard.
Apart from the above support, all Ecwid plans have access to the enormous Ecwid knowledgebase, which is jam-packed with useful articles, tutorials, and videos on how to handle common problems and perform a variety of things with Ecwid. If you prefer self-help, the Ecwid blog and community are expanding with a range of options and extra instructions to assist you.
WooCommerce Customer support
WooCommerce does not provide support for the base platform, however, there is a large knowledge base full of tutorials for new business owners. When it comes to supporting the base platform, you have a number of alternatives. To get support for WooCommerce, you must either seek community-based assistance from the WordPress community or pay for an independent support service. This may be your web developer or a third-party service. In any situation, the WooCommerce developers do not provide customer assistance.
Then there are WooCommerce plugins. Free plugins rely nearly entirely on community support, which might be sluggish. Premium plugins, especially those offered by WooCommerce, generally offer support. WooCommerce provides support for all of its premium plugins. This assistance is only available through the helpdesk. Other paid plugins are largely supported by the plugin's developers.
The open-source structure that supports WordPress and WooCommerce allows tremendous flexibility, but it also results in a fragmented support system with distinct support channels for the base system and each plugin. Paying a third-party support provider is the only way to get a basic support system in place that covers everything in one place. This service is provided by the majority of web developers. This is a wonderful approach to simplify a complex support system, but it does add an extra fee to the whole cost of running a WooCommerce store.
Ecwid vs WooCommerce: Integrations
Ecwid Integrations
Ecwid's platform integrates with any website builder as well as several social networks.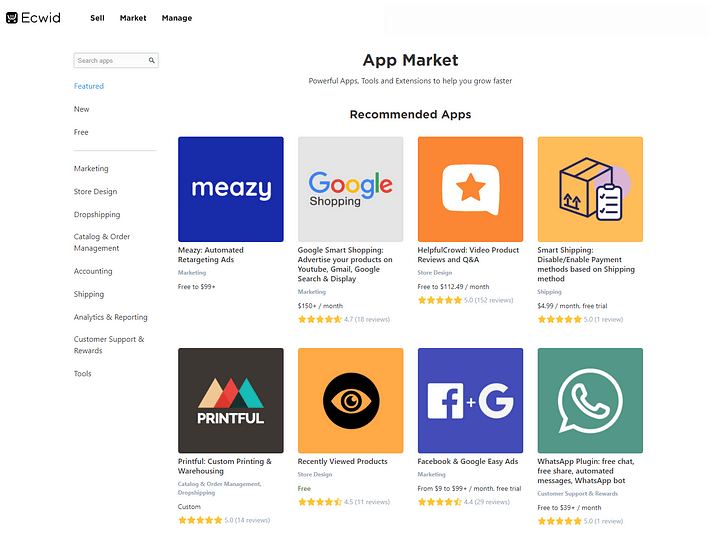 It also has an App Market where you can get extensions for things like advertising, accounting, and marketing. The selection, however, is not as broad as that of WordPress and WooCommerce. Themes should not be an issue, however, there aren't as many Ecwid themes as there are WooCommerce themes.
Furthermore, Ecwid provides API access.
Some prominent services and apps that can be integrated with Ecwid are as follows:
Zapier
Live Agent
LiveChat
Stripe
Tumblr
Blogger
Adobe Muse
Joomla
SquareSpace
Weebly
Wix
Facebook
WordPress
FreshBooks
MailChimp
WooCommerce Integrations
WooCommerce has thousands of themes, extensions, and plugins.
Many of the plugins and extensions enhance accounting, marketing, and social media integration.
Not to mention that the WooCommerce API is accessible and well-documented.
Some of the popular services and apps that can be integrated with WooCommerce by default are:
UPS
USPS
FedEx
Amazon Payments
PayPal
Stripe
UserVoice
Ambassador
Help Scout
Mad Mini
Veeqo
TradeGecko
Jigoshop
Stamps.com
ShipStation
FreshBooks
Xero
Taxamo
Zapier
Ecwid vs WooCommerce: Customization
Ecwid Customization
Ecwid is a closed source SaaS and only offers limited customization via its API. You can only customize your shop based on the basic choices included with the package and the services available in its app market.
You can, however, choose your own theme. Ecwid works with almost all WordPress themes.
Best of all, if you already have a blog and link it to your Ecwid store, it will use the same colors, navigation, and font as your blog! This is useful for maintaining consistency in your branding! If you know CSS, you can also make small changes to the appearance of your e-commerce store.
WooCommerce Customization
WooCommerce, on the other hand, is an open-source system that allows for virtually limitless customization. If you know how to code, you can personalize your shop as much or as little as you like.
You can also select from thousands of WooCommerce themes. On WooThemes and Themeforest.com, you can browse hundreds of stunning designs; there are lots of budget-friendly options, and some of them are even free.
Ecwid vs WooCommerce: SEO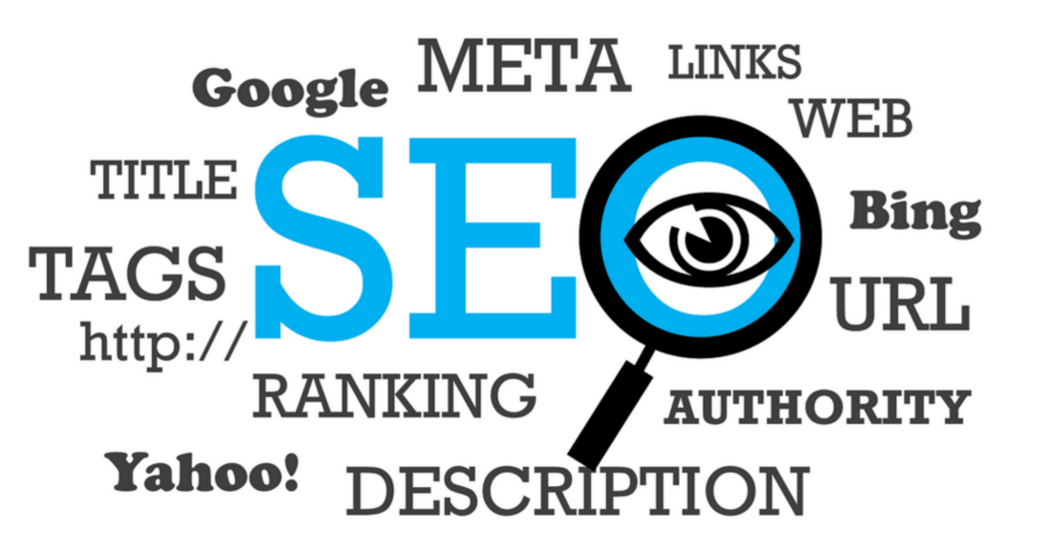 Ecwid SEO
Ecwid's SEO is rather excellent; they utilize Google's AJAX indexing specification. This standard is supported by all major search engines, including Google, Yahoo, Bing, and Yandex.
As a result, each of your product pages is appropriately organized using Google's SEO-friendly format (also known as microdata), allowing search engines to generate rich snippets (these are pieces of a copy showing up in search results which encourage readers to click through to your site).
WooCommerce SEO
WooCommerce, like WordPress, is great at SEO. You can utilize their more advanced SEO tools, such as Yoast, in addition to their standard SEO functions. Simply download these applications from WordPress' extensive collection of useful integrations.
Ecwid vs WooCommerce: Performance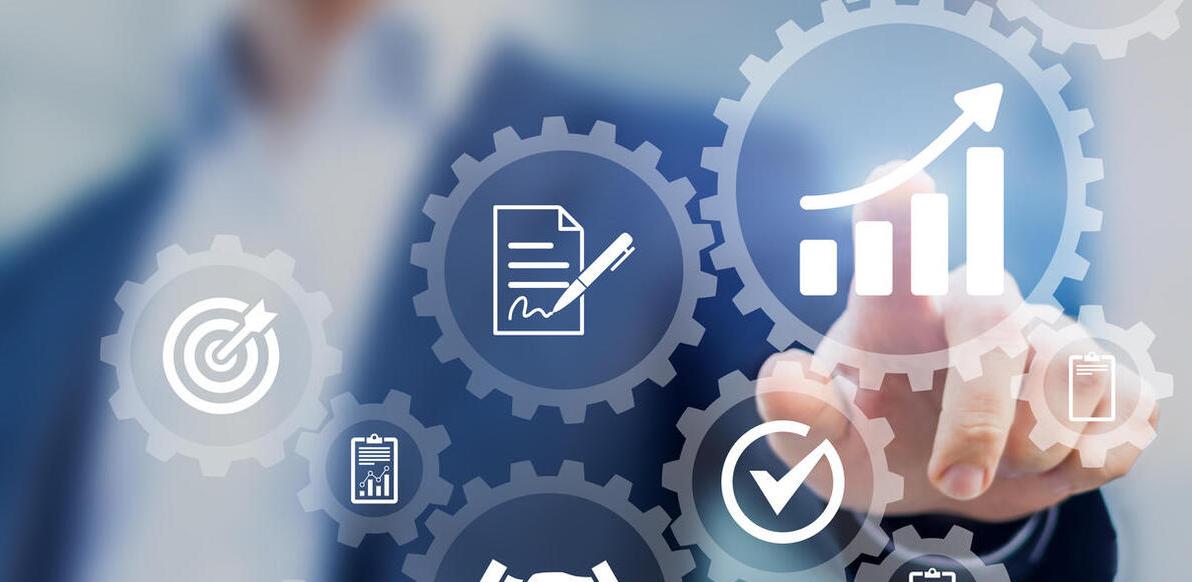 Ecwid Performance
Ecwid developers put in a lot of effort to ensure that Ecwid loads quickly and grows with your traffic increase. This entails a significant amount of work behind the scenes to optimize and simplify the code while also updating and enhancing the hardware. Ecwid is built on the Amazon Web Services platform, which has built-in redundancy, and the Cloudfront CDN is provided with all premium subscriptions to enhance speed.
Furthermore, the constantly evolving technology and platform result in a robust Ecwid website that can expand with you, won't crash during a traffic spike, and loads quickly all over the world.
WooCommerce Performance
Performance is only as quick as you make it, much like other aspects of WooCommerce. The WooCommerce team continually develops, optimized, and changed the code to reduce server load or enhance loading speed. However, at the end of the day, WooCommerce is only as quick as the server on which it is hosted.
It is up to you to optimize your WooCommerce installation and web host. A competent web host, like security, may help you improve your performance. You may select a premium, optimized host, such as Kinsta, in a geographically close region to the majority of the website's audience, in combination with a strong CDN. However, there is a lot you have to do to improve WooCommerce performance.
Final verdict
Ecwid and WooCommerce are both very competent e-commerce platforms for selling online that can expand with your company.
However, there are several factors that influence which one is best for you. Here's a rundown of which one wins on which factor:
Pricing: Ecwid
Interface and ease of use: Ecwid
Features: Ecwid
Themes and design:
Customer support: Ecwid
Integrations: WooCommerce
Customization: WooCommerce
SEO: equal
Performance: Ecwid
In conclusion, if you already have a WordPress site and have coding knowledge, WooCommerce is typically the better option, but Ecwid is usually the favored alternative for entrepreneurs who want to build their store quickly and have no web development experience.
Hopefully, our comprehensive comparison between Ecwid and WooCommerce helps you choose the best e-commerce platform for your business to meet your specific needs and goals.
If you have any questions, please feel free to reach out to us via the comments section below. Thank you for reading and we'll see you in the next article.
New Posts
Subscribe
Stay in the know
Get special offers on the latest news from AVADA.
40k
subscribers has been joined!
Earn $10 in reward now!