How to Display Products Categories in WooCommerce
How to Display Products Categories in WooCommerce
Displaying WooCommerce Products by Category is an important approach to improve your store's navigation. When it comes to eCommerce, clear browsing is crucial because it allows your clients to locate what they're looking for and make purchases swiftly. Keeping your products nicely arranged can thus make a major difference in your clients' experience and satisfaction.
In this article, I will show you How to display Products Categories in WooCommerce to upgrade your online store!
WooCommerce product categories overview
WordPress includes categories as a standard feature. Posts, pages, and custom post kinds (such as products) with comparable content are grouped together. Visitors can search a specific category to locate specialized material under a bigger topic or extra details linked to content they've already visited, which helps to enhance site navigation.
Improving navigation, especially for online retailers, can considerably improve sales. According to studies, customers will most likely quit your store without purchasing if they can't discover what they're looking for. As a result, categorizing your offers into distinct product categories is critical to the success of your e-commerce site.
Customers will be able to swiftly navigate through your items to locate what they want if you include search, sort, and filter features in your tables. They can find the thing they're looking for in seconds rather than searching your entire site or scrolling through a long category page.
How to Display Products Categories in WooCommerce
1. Display product categories on Shop page
You can display only categories, categories with goods, or just products on the shop page. Follow these steps to show product categories instead of just products on your Shop page:
Select Appearance > Customize from the drop-down menu. Then navigate to WooCommerce > Product Catalog to see what's available. From the Shop Page Display menu, select "Show categories." Click on Save Changes
2. Display product categories on any page
The following WooCommerce shortcodes can be used to display product categories on any page.
[product category] - Show all products in a specific category. [product categories] – Show all of the product categories
Let's look at how to make WooCommerce product categories visible on a page.
Select any page from Dashboard -> Pages. To display all categories, use the shortcode [product categories]. You can adjust what you want to display using the settings below if you want more control. [product categories parent="0"] as an example After you've made your changes, click Publish.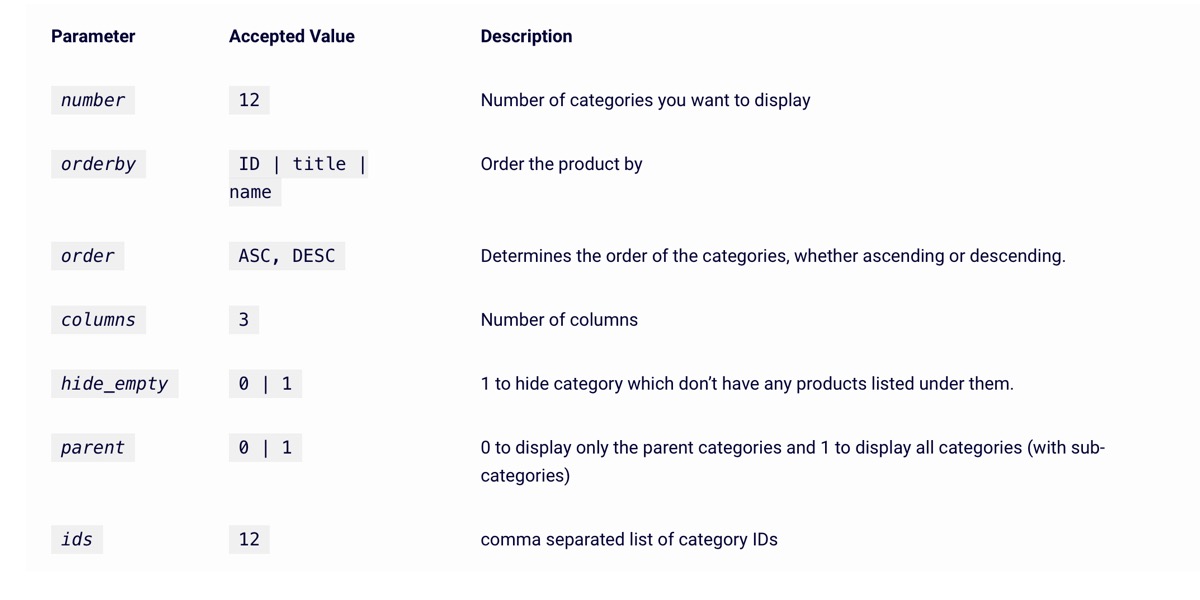 3. Display product categories on sidebar
Follow these steps to display WooCommerce product categories on the page sidebar:
Widgets may be found under Appearance > Widgets. Look for the "WooCommerce Product Categories" widget. Drag to the sidebar you want.
4. Display product categories in a menu
Select Appearance -> Menus from the drop-down menu. Check Product Categories under Screen Options in the top left corner. A Product Categories tab will now appear on the left pane. To expand the Product Categories tab, click it and then select the categories you want to see. Select Save from the drop-down menu.**
5 Best Plugins to Display Products Categories for WooCommerce
1. Ultimate Product catalog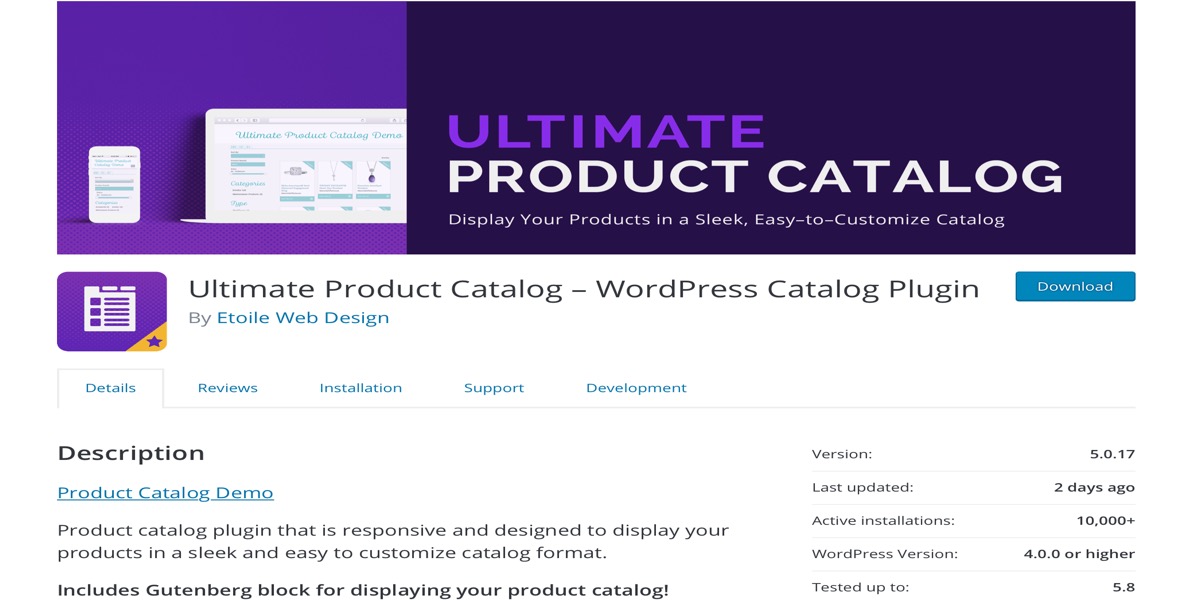 Ultimate Product catalog is well-known for its simple product catalog design and several SEO-friendly settings. Minimalism is the hottest trend in web design right now in terms of appearance. This plugin is designed to let you present your products in a clean, easy-to-customize product catalog.
Features:
There are three different product catalog layouts to choose from, all of which are entirely customizable.
Set product sale prices and toggle sale prices on and off for the entire catalog or particular products with ease.
Widgets for showcasing new and featured products on the homepage
With a few clicks, you may import products directly from a spreadsheet into your product catalog.
Rating: 4.5/5
2. ELEX WooCommerce Request a Quote Plugin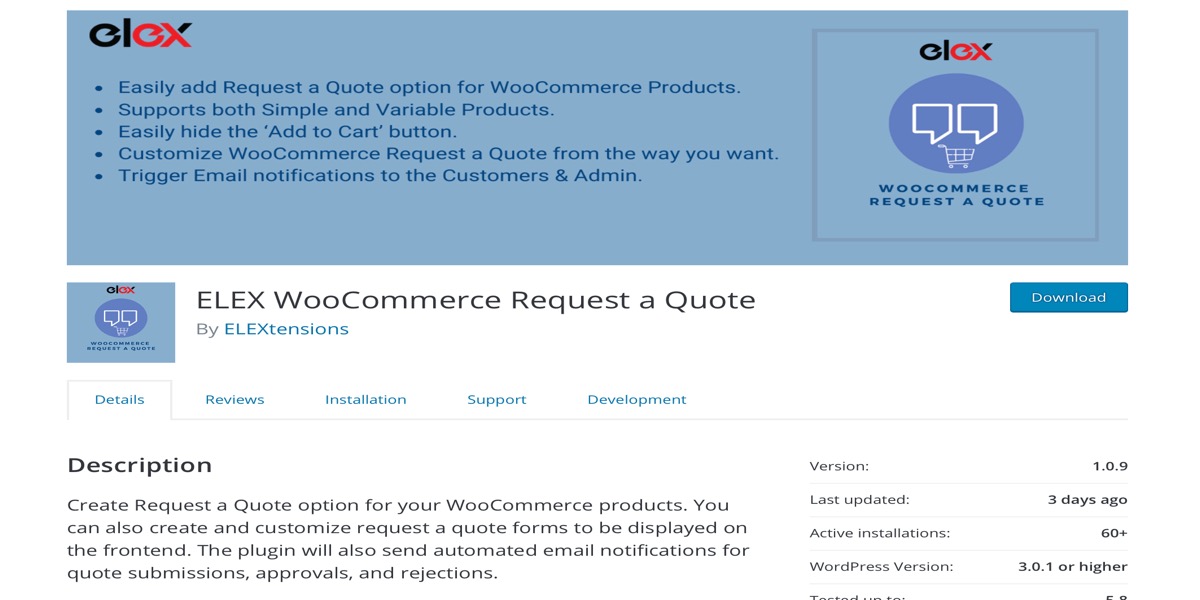 With a 'Add to Cart' and a 'Request a Quote' option, this comprehensive ELEX WooCommerce Request a Quote Plugin plugin provides a single shopping platform for customers, retailers, or wholesalers. Customers may quickly select products and quantities and then fill out a form to receive a quote with their information.
Features:
On both product and shop pages, add a 'Request a Quote' button.
At the same time, it handles both "Request a Quote" and "Add to Cart."
Customers can request a quote using this customizable form.
Customers' requests for orders must be approved or rejected. When a quote request is submitted, it sends notifications to the admin by email, Google Chat, and SMS.
Customers are notified when their orders are being processed.
Rating: 4.8/5
3. WooCommerce Customizer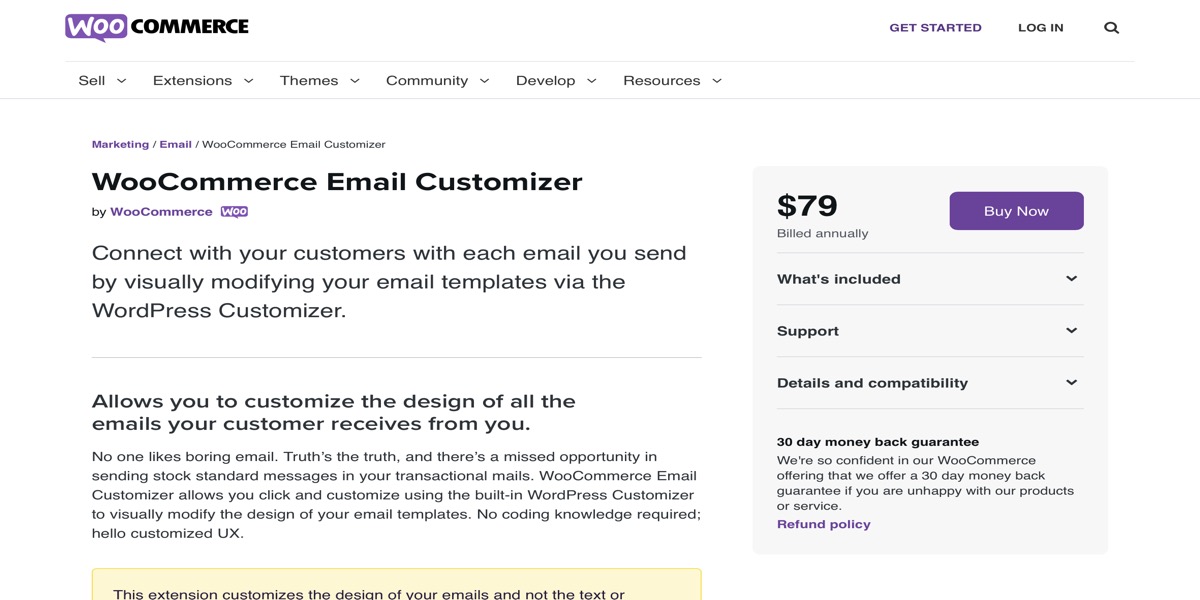 You're probably aware that WooCommerce has a plethora of options for customizing button text, labels, tags, and more, but using them requires writing PHP code. WooCommerce Customizer plugin has a settings page where you can alter and save your customizations without writing a single line of code. This is very useful for beginners or those who wish to conduct rapid A/B tests.
Features:
Text for add-to-cart buttons for various product types
Arrange the number of products displayed on each page in the order you want them to appear.
The "Product Description" and "Additional Information" tabs' heading text
Coupon code on checkout page / login text
Check the "Create Account" checkbox on the checkout page by default.
Rating: 4.5/5
4. WooCommerce Product Filter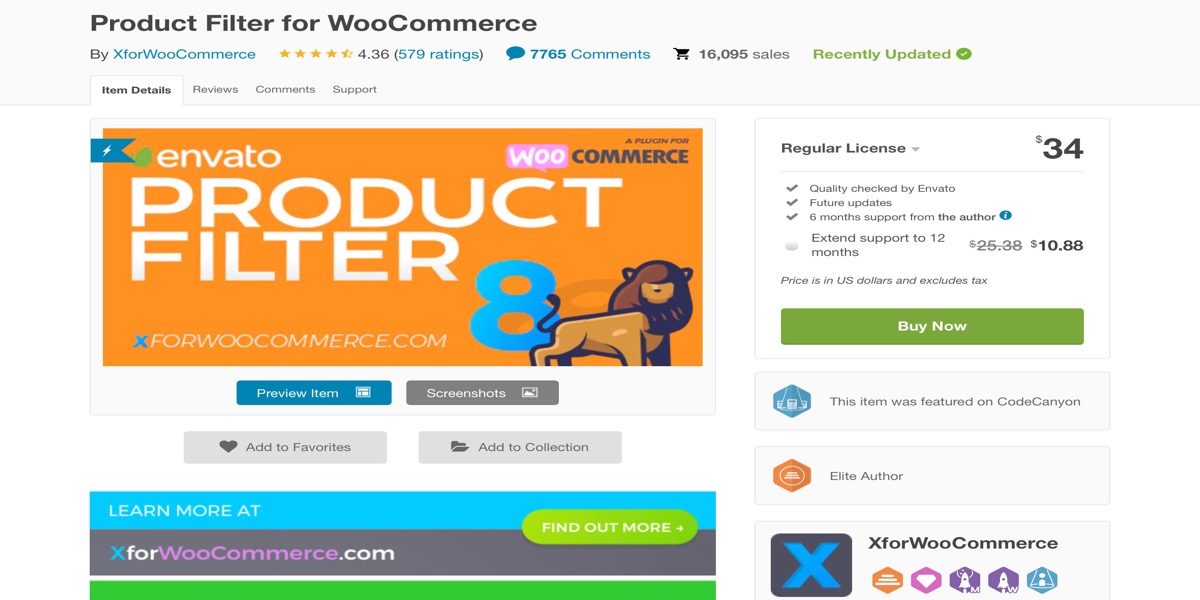 WooCommerce Product Filter plugin allows you to build up product filter options on your WooCommerce site in a very customizable way. Once you've installed WOOF, your customers will be able to filter products in your store by categories, subcategories, tags, colors, and pricing, among other things. Using the WOOF extension API, you can easily adjust the filters to meet your needs. However, such high-level adaptations necessitate extensive coding expertise. Don't worry if you're not a PHP coder; the default choices will be enough for most customizing needs.
Features:
The plugin author provides a shortcode for products that you may insert on any page.
AJAX product search for WooCommerce
Recounts of dynamic goods
Taxonomies can be displayed in the search form as radio buttons, checkboxes, drop-downs, multi-drop-downs, and radio buttons in drop-downs.
In the plugin options, many skins for radio and checkboxes are available.
Rating: 4.5/5
5. WooCommerce Product Feed Pro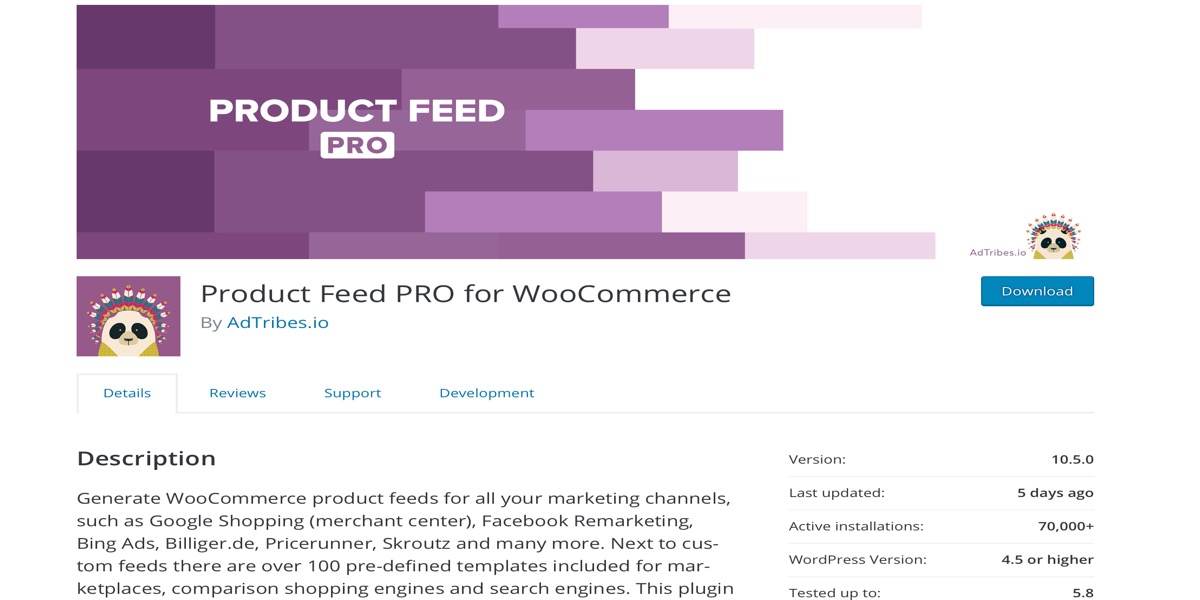 WooCommerce Product Feed Pro is a fantastic plugin that helps online merchants save time and effort when it comes to fundamental marketing activities. This plugin creates a product stream that your merchant center can use to sync your products with Google Shopping, Amazon Product Ads, Google Dynamic Remarketing, Facebook Remarketing, Bing Ads, and other platforms. You may easily add all of your products (no limits) from your WooCommerce store to connected dealer shops without making any additional effort.
Features:
There are over 100 different merchant sites to choose from, and you can easily select which ones you want to display your products on.
For merchant sites, pre-built templates are provided.
You have the option of manually or automatically posting your products.
XML, TXT, and CSV are among the file formats that are supported.
Text for marketing and promotions, product codes, descriptions, and prices are all simple to add.
Rating: 4.9/5
Conclusion
With your conversion rate on the rise, it's critical to design clear and easy navigation for your eCommerce store. Categories are a tried-and-true method of improving website navigation, and displaying products in customized tables by category ensures that your customers can quickly navigate your store.
I hope you find this topic about How to display Products Categories in WooCommerce fundamental!
New Posts
Subscribe
Stay in the know
Get special offers on the latest news from AVADA.
40k
subscribers has been joined!
Earn $10 in reward now!