How to Customize Emails in WooCommerce
How to Customize Emails in WooCommerce
WooCommerce has a number of unique features that allow you to design your store completely. You may add items, promotions, and discounts, among other things. There are also other plugins available to enhance WooCommerce's functionality. WooCommerce payment gateways, WooCommerce email marketing, WooCommerce currency switcher, and so on are examples of WooCommerce extensions. However, when it comes to email, we can't discover any designs in WooCommerce, and the available ones are mostly basic and just have conventional capabilities.
In this article, I will show you How to customize emails in WooCommerce to upgrade your online store ultimately!
Reasons to customize emails in WooCommerce
When it comes to designing WooCommerce emails, the main reason that comes to mind is simply because of branding and cause branding. Put yourself in your customer's shoes: after purchasing a product on a website, you expect to receive an email from the company detailing the goods you purchased in a professional manner that reflects the firm's brand and professionalism.
You will feel special and the bond between you and the website will be strengthened if they have prepared a well-crafted email. Consider how you'd feel if you received an email that contained only a logo and plain text. Based on that email, you will undoubtedly pass judgment on the website.
Let's look at some of the benefits of having personalized emails:
It contributes to the professional appearance of your company.
If you need to, you can make emails interactive.
Beautifully designed emails can boost conversions and engagement.
WooCommerce emails that have been customized are remarkable and visually appealing.
How to customize emails in WooCommerce
1. WooCommerce's default settings
WooCommerce can accomplish this out of the box if you simply want to make minor modifications to your email templates and don't need comprehensive control over each type of communication's styling (colors, fonts, etc.).
Step 1: Emails configuration
The emails can be customized under wp-admin > WooCommerce > Settings > Emails. You may configure all of WooCommerce's emails, both to you as a store admin and to your customers, under this section.
You will also find basic customization options for colors, a header image, and footer text if you scroll down the page.
Step 2: Emails improvement
If you want to improve your email copy while you're at it, you may do so by clicking on the Manage tab on the email template you wish to change.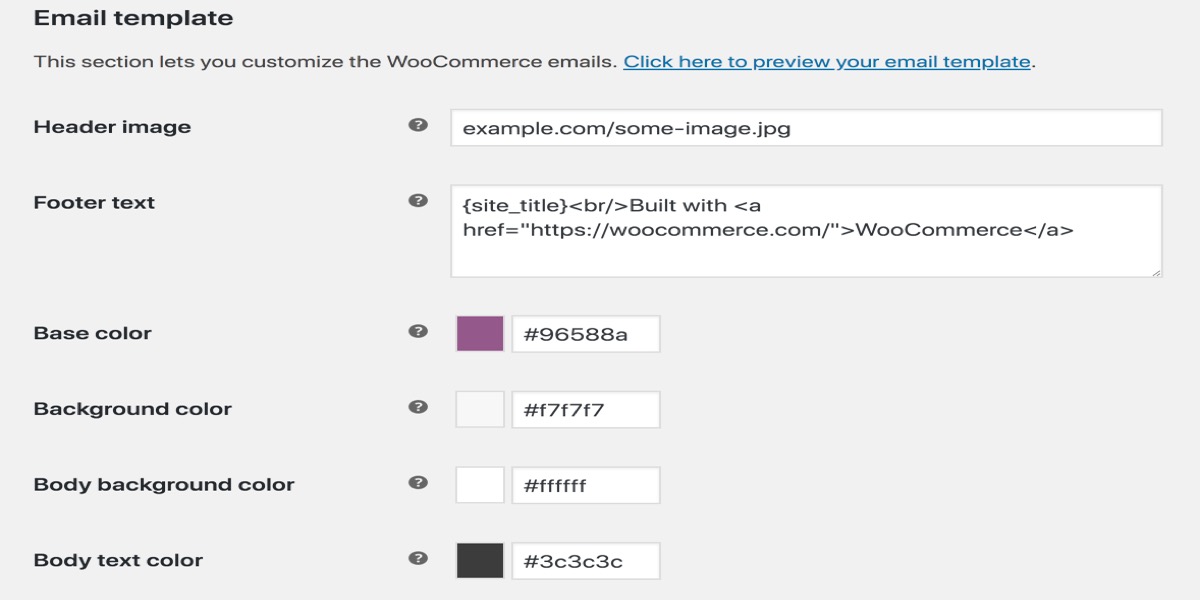 The text of the email can then be changed using WooCommerce's built-in placeholders. As well as enabling or disabling that particular email.

While these settings are not as advanced as those provided by many WooCommerce email customizer plugins, if you donot want to install another plugin, it is a quick and painless way to get started.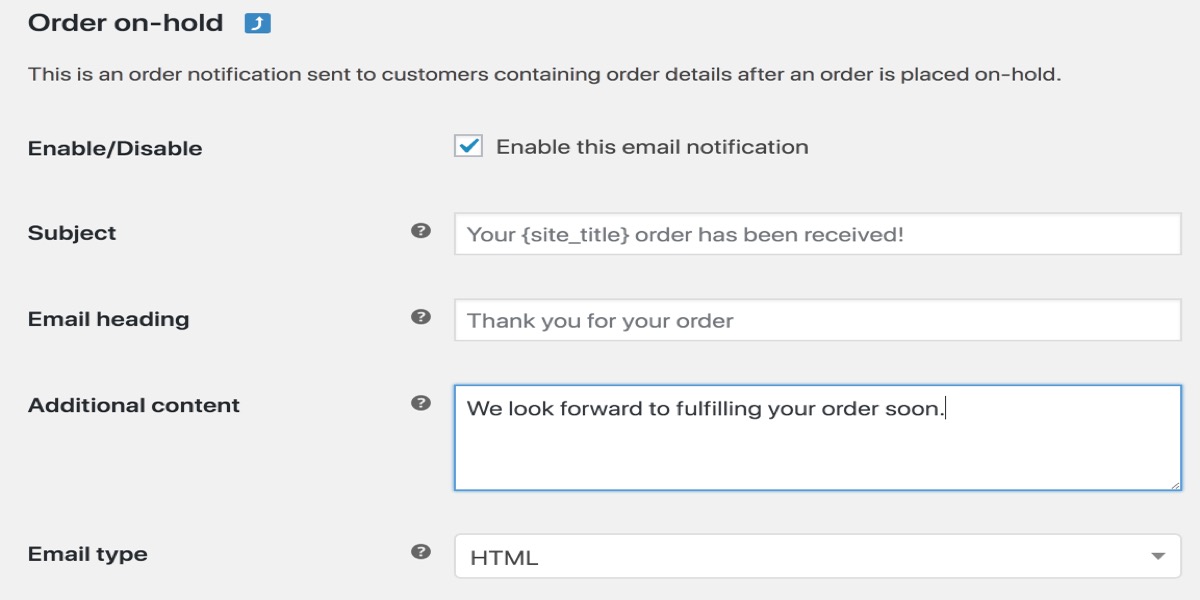 2. Using your child theme and code
Another option for customizing WooCommerce email templates is to copy the template to your theme and make changes there.
If you don't feel comfortable altering child themes, you should use a WooCommerce email customizer plugin instead.
Step 1: Set up child theme
WooCommerce email templates may be found at wp-content/plugins/woocommerce/templates/emails. But don't change the templates here! Copy the file location to your child theme instead.
You may copy the files from WooCommerce to your child theme and make your adjustments now that you know the path for your WooCommerce email templates.
Step 2: Set up emails template
You will see that each email has its own template, as well as an email-styles.php template that governs the overall styles. Color CSS and variables can be found here. If you want to update and unify styling across all of your WooCommerce emails, copy this file to your child theme.
It's vital to keep in mind that updating WooCommerce emails isn't something that the average store owner can do. Developers will be in charge of this instead. We still advocate using a WooCommerce customizer plugin if you aren't a developer.
4 Best Email Customizer Plugins for WooCommerce
1. WooCommerce Email Customizer With Drag And Drop Email Builder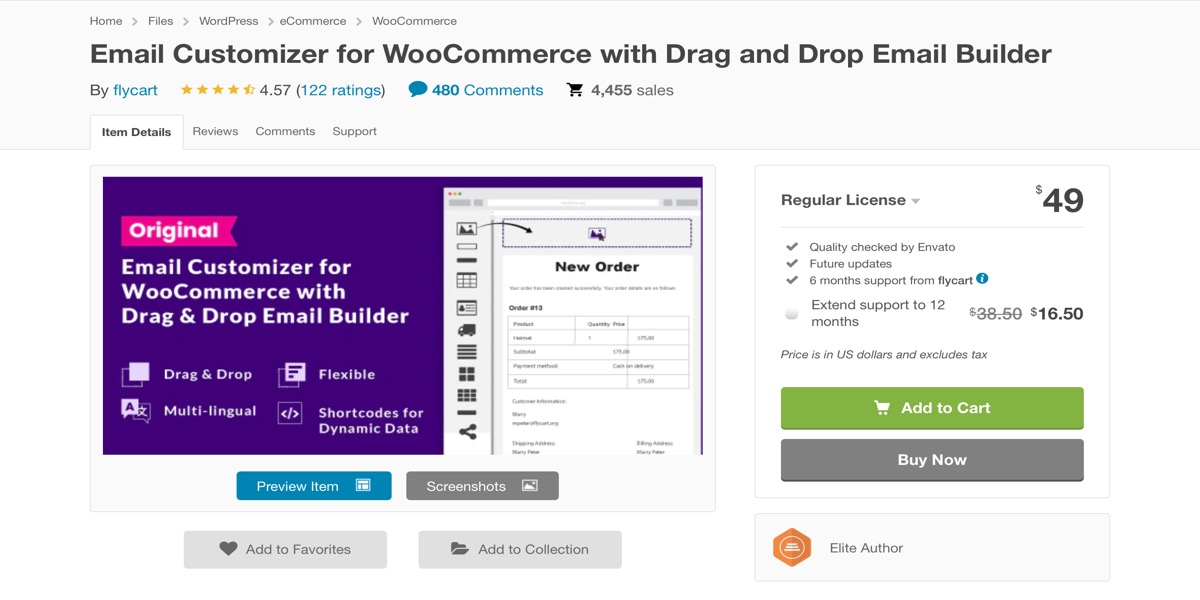 Unlike other plugins, WooCommerce Email Customizer has a drag-and-drop builder. This is a simple plugin WooCommerce Email Customizer With Drag And Drop Email Builder that allows you to personalize WooCommerce emails with a drag-and-drop designer.
Features:
Ability to add a logo, header, footer, body text, custom paragraph texts, social icons, images

Create professional, beautiful transactional emails for your WooCommerce Online store.
Price: $49
2. Email Customizer WooCommerce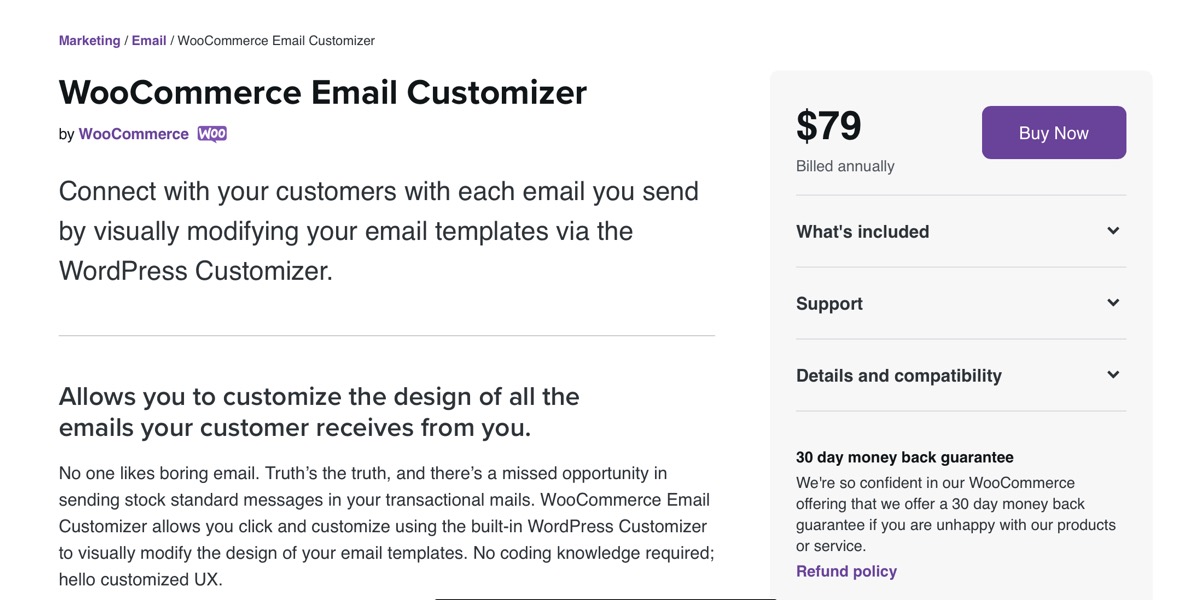 Email Personalizer Customers can receive Customized Emails based on their WooCommerce order status, thanks to Email Customizer WooCommerce. For all / specific products, you can create your own template for each WooCommerce Order state.
Features:
Send emails based on products and categories.
In each WooCommerce order email, include a digital signature.
All WordPress emails, such as password reset emails, should be redesigned.
Make up your own topic lines if you want to be more creative.
The default and custom status 'Product Delivery' templates can both be customized in terms of layout.
Price: $79
3. Email Customizer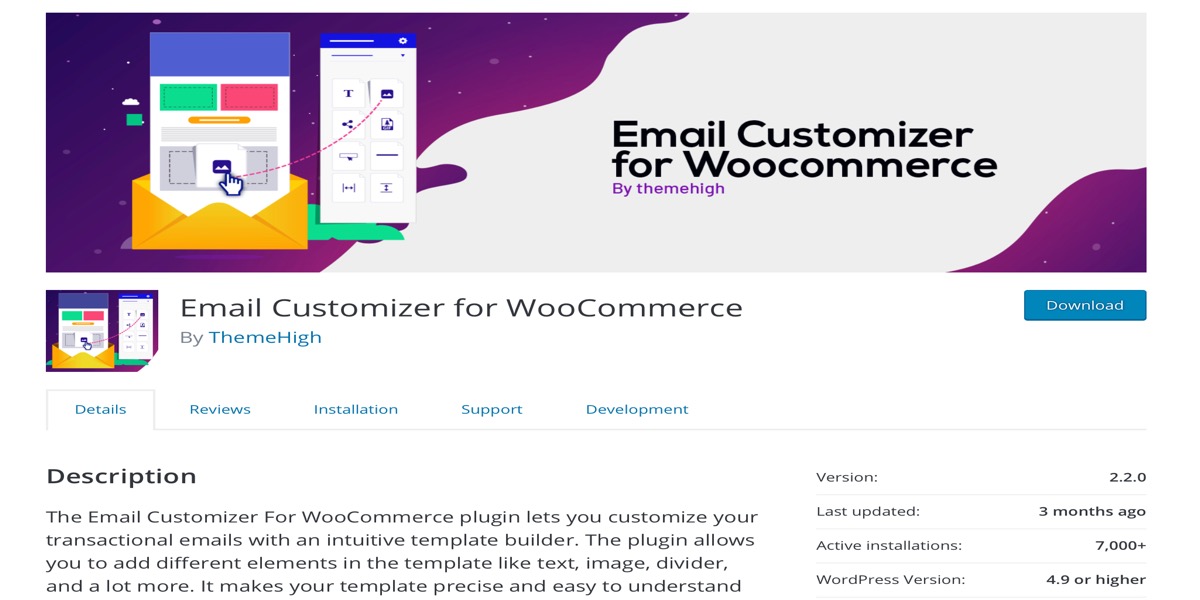 Email Customizer is a WooCommerce-developed plugin. To use this plugin Email Customizer, you do not need to know how to code. While its simplicity is a plus, the cost may be a disadvantage. This Email Customizer, on the other hand, will let you stay to the native WooCommerce style customization.
Features:
Customize the look (not the content) of all emails.
Visual alterations
No need to know how to code.
Use the built-in WordPress Customizer, click, drag, and drop to make changes.
Price: $79
4. Email Template Customizer For WooCommerce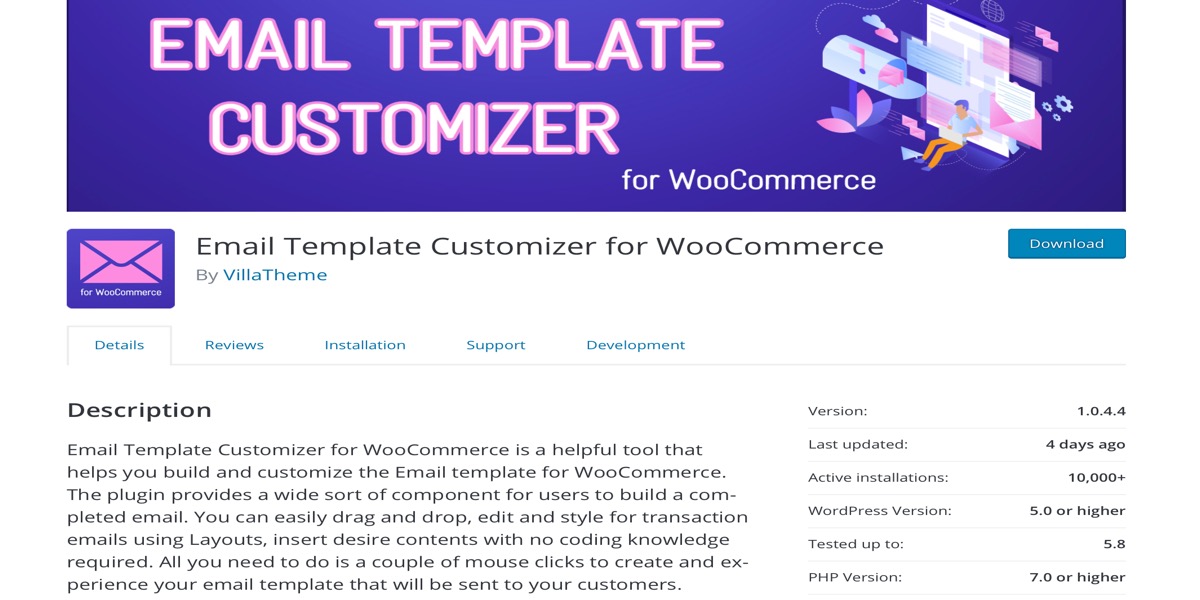 The Email Template Customizer For WooCommerce does exactly what it says on the tin. Many times, you don't want your native WooCommerce email to have a lot of personalization. With the exception of a bespoke text, that is. This plugin is designed to meet a certain need in a quick and effective manner.
Features:
View a live preview of your personalized emails.
Emails that are fully responsive to the device
Send test emails to check how they will appear on the customer's end and make any necessary changes.
Compatible with the Smart Coupons extension, WordPress, and all WooCommerce-compatible WordPress themes.
Price: $79
Conclusion
In this article, we looked at two simple but effective plugins for customizing WooCommerce emails. Having a nice WooCommerce email template is a terrific approach to communicate with your consumers and develop your relationship.
Furthermore, many buyers anticipate receiving a professional email in their inbox after making a purchase on your website. Having a plain email with only text will turn them off and force them to purchase from other websites whenever possible.
I hope you will find this topic about How to customize emails in WooCommerce fundamental!
New Posts
Subscribe
Stay in the know
Get special offers on the latest news from AVADA.
40k
subscribers has been joined!
Earn $10 in reward now!