How to Create a Restaurant Food Ordering System in WooCommerce?
How to Create a Restaurant Food Ordering System in WooCommerce?
Have you ever ordered food online?
Of course, the majority of us will say YES. Ordering food online now is not a strange term to people. With the advantages of convenience, popularity, online restaurants are predicted to be fertile ground for entrepreneurs.
However, is it expensive to create a food ordering system? What should we do first when starting to build an online restaurant? What should we do and shouldn't? Is there any tool to support us in creating the online food ordering system?
All will be solved in this post! Let's explore it!
Benefits of food ordering online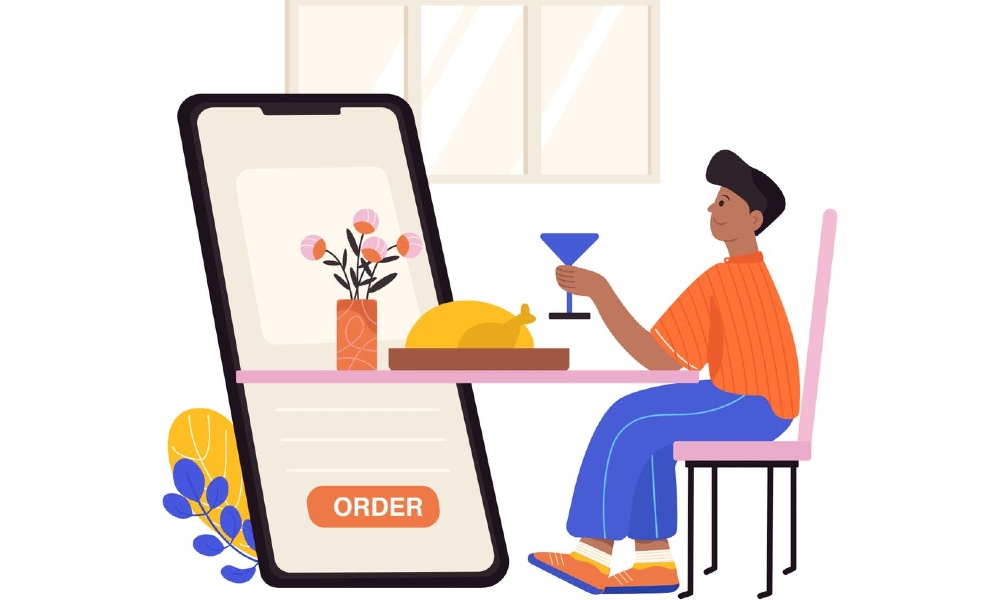 Simplify the ordering process: Instead of calling the restaurant and booking an order to the home, which sometimes takes lots of time as traditional, food ordering online will help both customers and store owners simplify their ordering process. To order the food, customers only need to go to the online restaurant, surf for their favorite dish, and then complete the order with several clicks. After that, the system will automatically send details to restaurants to start making food for their customers.
Manage customers and order detail effectively: When using the online system, the restaurant will be equipped with the end-to-end Customer Relationship Management (CRM) system, which empowers them to get all the necessary data of their customers. Based on their order history and personal details, your restaurant can offer personalized deals that increase sales and strengthen the relationship between your restaurant and customers. Moreover, customers will also be updated with the status of their order via email or SMS as well as the shipment via the GPS system.
Keep track of store's finance in real time: In the online food ordering system, the data will be updated in real time so that merchants can keep track of their money flow easily. This helps them acknowledge whether their restaurant is working well or not, which will be an important source for them to generate the upcoming strategy for their store's development.
Save money for marketing: Instead of paying a huge amount of money for traditional methods like media marketing and billboards, online restaurant owners can use this money to enhance their food and service. Since being present on the Internet 24/7 is the best way of marketing, letting them know that you are always available. More than that, you can create active accounts on popular social platforms like Facebook and Instagram to increase customers' engagement.
Catch up with the global trends: Nowadays, mobile phones have become a crucial part of human life and people tend to complete more and more daily tasks via their phones. Hence, exploiting this will help you stay ahead of the competition. With an online restaurant ordering system, merchants can offer their customers the opportunity to place their favourite dish without making any phone calls which sometimes disturbs them.
Expand the market: In traditional form of business, your restaurant capacity will be limited a lot due to the seats. However, online restaurants will help you clear this obstacle away so that you can serve more customers. Customers don't need to go to your restaurant to enjoy your food which means that there is no need for seats for them. Consequently, you can concentrate on your food and sell food for more customers.
Why should we use WooCommerce to Create a Restaurant Food Ordering System?
In the market, there are plenty of platforms that empower merchants to create an online restaurant, such as Uber Eats, Grubhub, Just Eat, Deliveroo, etc.
However, they are sometimes not a good option due to financial problems. The cost spent on running the food ordering system on these services accounts for a large proportion of your store revenue, like in Just Eats it is around 14%. The second obstacle in these platforms is that store owners are not provided with full control of their virtual restaurant, making it hard to customize the store or add special features for customers.
These things make WooCommerce stand out as an ideal option for entrepreneurs. Similar to normal WooCommerce stores, all the elements in WooCommerce online restaurants can be customized easily so that store owners can design their restaurant based on their desire.
More than that, the costs for running an online restaurant in WooCommerce are fixed. After establishing your food ordering system, there will be no extra fees, and you only have to pay money when upgrading your plans or installing other plugins for your restaurant.
How to Create a Restaurant Food Ordering System in WooCommerce?
Step 1: Add food category to your WooCommerce store
The very first step when creating a restaurant food ordering system in WooCommerce is to add food categories.
Similar to adding normal product categories, log in to your WordPress account and go to the dashboard. There,choose Products and click on Categories.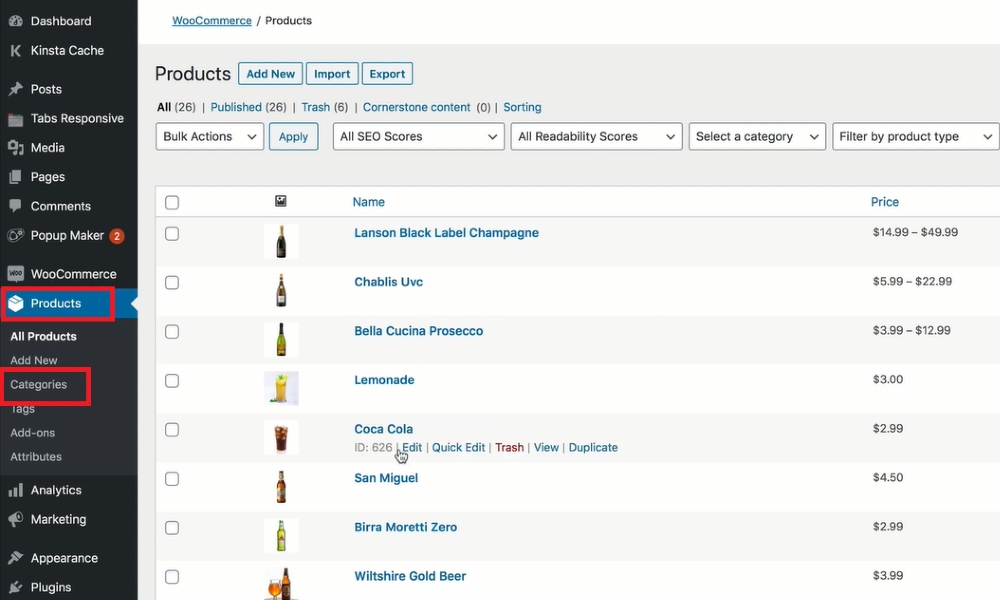 Now, you can add food categories by entering the name, slug, parents, description, display types, and thumbnails for your food category.
Click on Add to New Product Category to create this category for your WooCommerce store when it is done.
Step 2: Create food as product
There are two ways to create food as products in WooCommerce. In the Product section, you can open Add New and import the product you want. Otherwise, you can open All Products and click on Add New button at the top of the screen.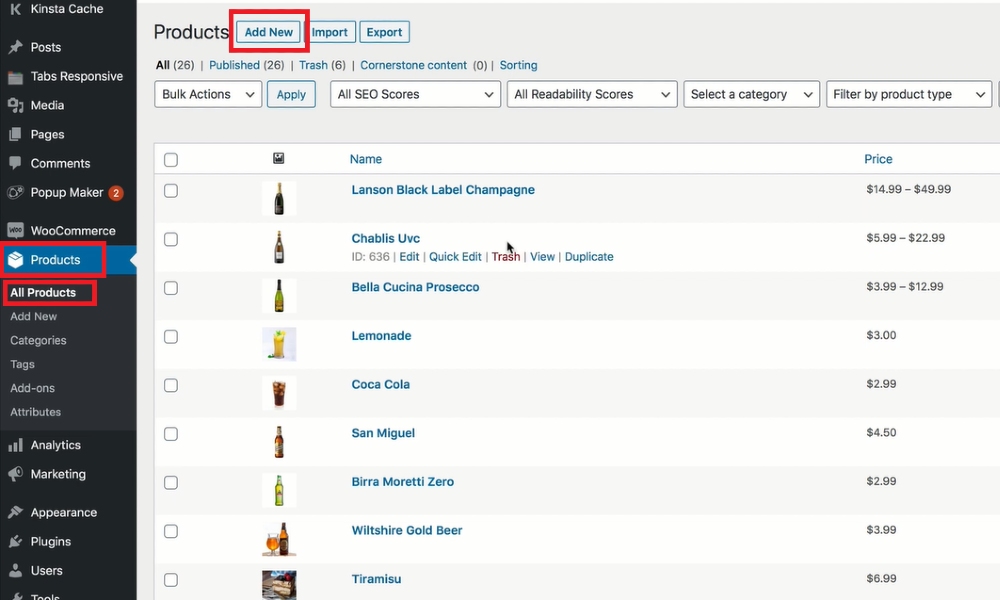 The process of adding food as products is pretty similar to adding the normal ones. You also need to fill in such fields as title, description, media, product data, category, etc.
Publish and move to the next step.
Step 3: Install the plugin
Now, you have food and food categories, it's time to convert our traditional WooCommerce store into a restaurant food ordering system.
Download the plugin "WooCommerce Restaurant Ordering** to your devices.
Then, move to your WordPress dashboard and navigate to Plugins. In Plugins, click on Add New to upload the plugin you have just downloaded.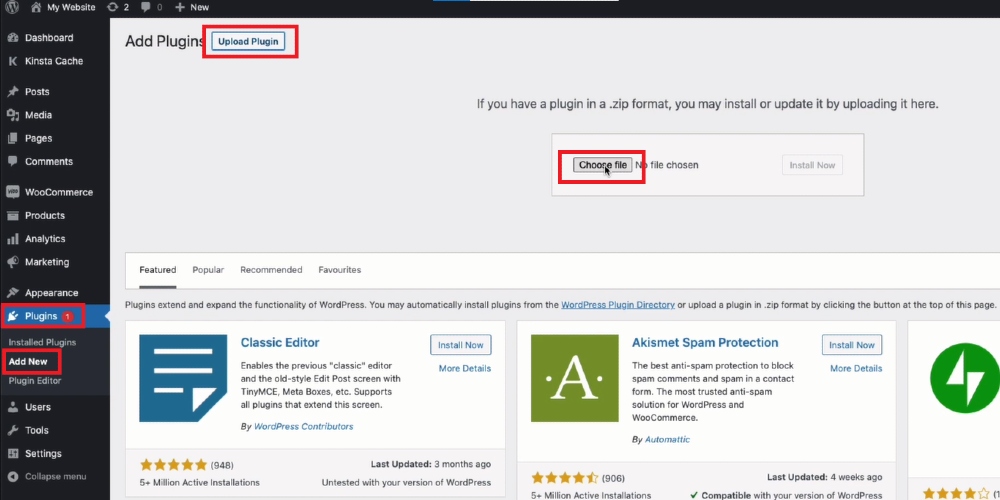 When the installation process is complete, the Activate plugin button will be generated, click on it.
Come back to WooCommerce and open Settings. There, you will see a bar of multiple sections, click on Restaurant.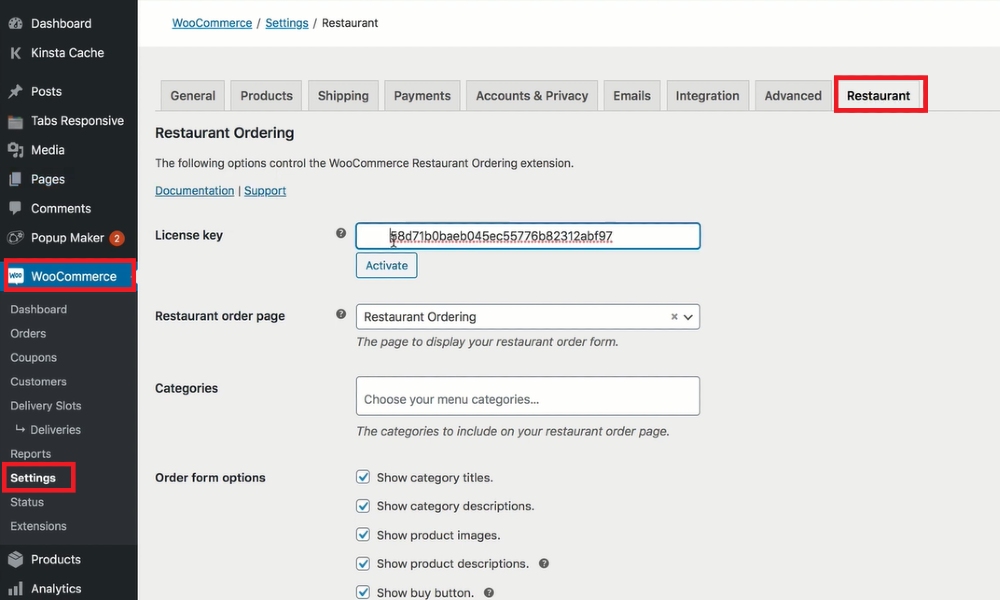 Enter all the necessary information to the window like License Key (license key can be got from the confirmation mail. Next, Save changes.
Step 4: Add food options
With a view to offering customers more options when ordering food, select the product you want to edit, scroll down to Product Data and choose Variable Product.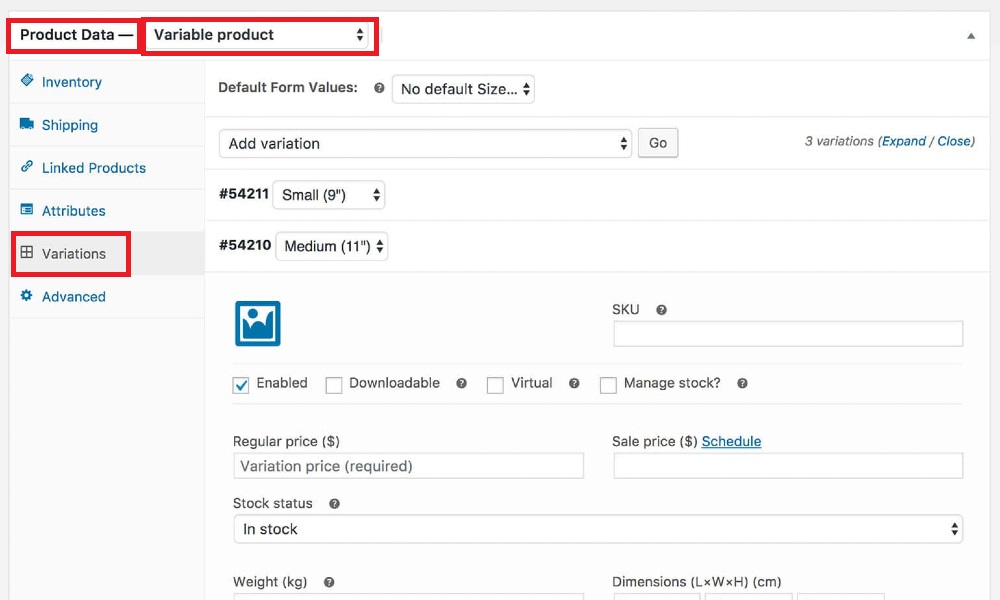 Click on Attributes and add the option you want for your food. Afterwards, tick on the box of use for variations and go to the tab of Variations.
You can create the dropdown of the attribute by one out of these two methods: Select ** Create variations from all attributes** Add variations one by one
Click on Go and Save changes to use this food option.
Step 5: Set up delivery and collection options
In WordPress dashboard, navigate to WooCommerce and select Settings. Then, you will see a list of the section on top of the screen, click on Shiping to set the shipping zones and shipping options for your store.
Also, you can set up the delivery slot and opening hours by using other extensions which can improve your customer shopping experience.
4 Tips for your WooCommerce Restaurant Ordering System
Sell bundle products: By adding another dish to the main course, you can suggest to customers which kind of food will taste better when eating together. This will provide customers with tasty meals, which increases the likelihood of repurchasing from them.
Set time-bound for promotion: With the time limit set for promotions or discounts, customers will be more likely to place an order. The reason for it is that this deal only lasts for a certain period, so if they don't purchase it now, they will miss it. More than that, setting time bounds can help you identify the time sales will be boosted and prepare for it carefully. Launch mobile app: More than 7 billion mobile phones are used globally, which means that it now become an integral part of people's daily lives. Hence, launching a mobile app for ordering food can allow customers to easily get the food they want.
Support multiple payment methods: Besides COD, consumers nowadays are offered a variety of payment options like credit cards, PayPal, Stripe, and more. So, supporting these payment methods will give them more options to complete the order and enjoy the meals.
3 Best plugins to Create a Restaurant Food Ordering System in WooCommerce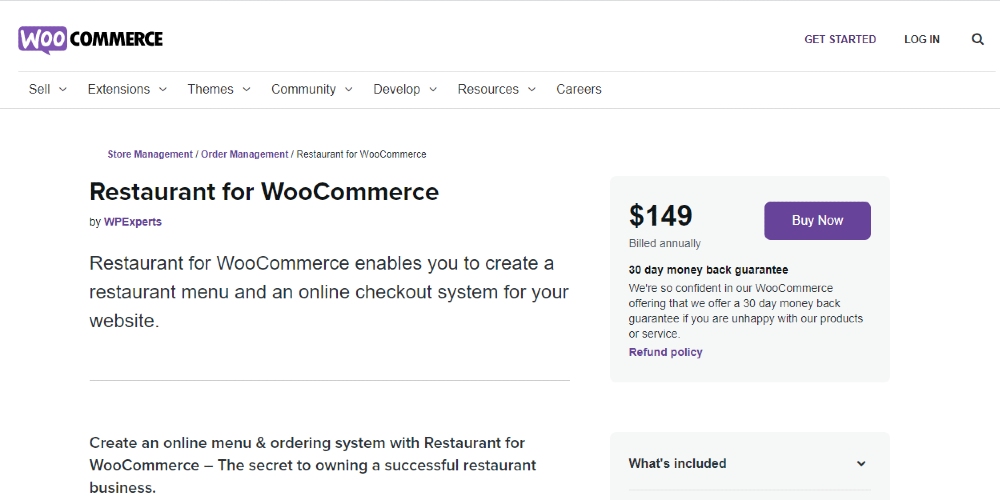 The first plugin for merchants to create an online restaurant is Restaurant for WooCommerce. Via it, users are able to create the menu and online checkout system for their WooCommerce store. More than that, this extension offers users multiple features, such as the ability to show the restaurant's information like name, description, and logo; convert the shop page of WooCommerce into a restaurant page, etc.
Key features:
Show the restaurant's information in the front-end menu
Create add-ons for categories and products
Convert WooCommerce shop pages into restaurant pages
Set and show the minimum order total amount
Change the overall page direction
Price: $49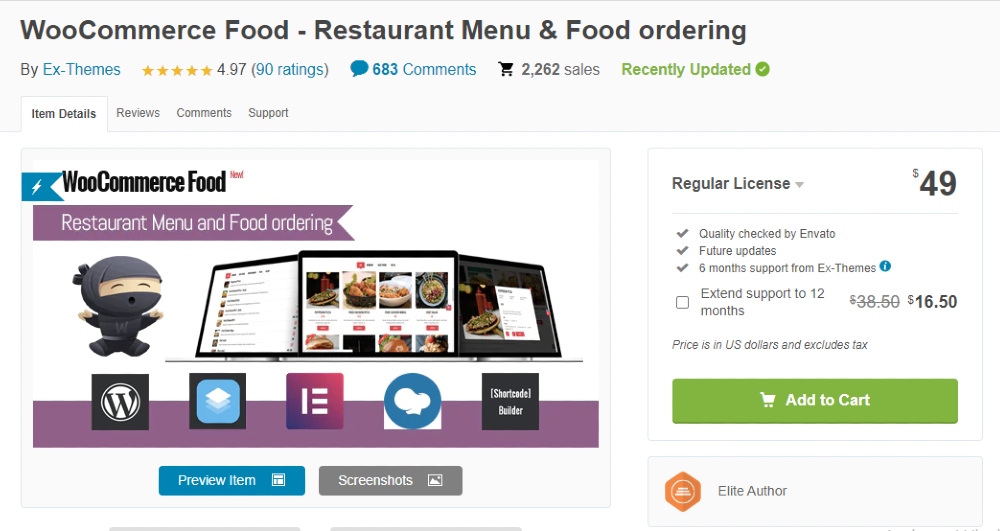 As the name suggests, WooCommerce Food - Restaurant menu for food ordering is a helpful tool for merchants to create an online food ordering system in WooCommerce. Equipped with various features, people can easily create rules and manage their store effectively. It provides people with more than 10 food styles, so they will rapidly find out the suitable and modify it to match their store style.
Key features:
Offer over 10 food styles
Set minimum and maximum options for checkbox field
Generate options by variation
Display food men with 4 styles Offer 3 order methods: delivery, pickup, and dine-in
Price: $46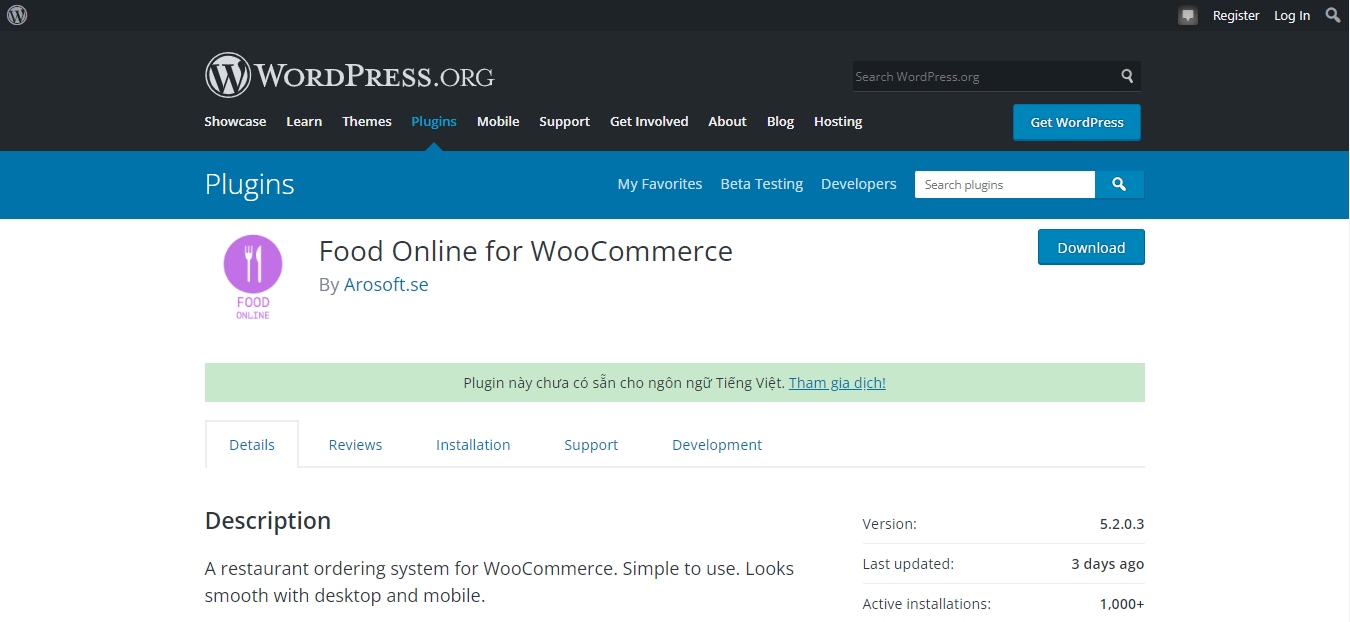 Another tool for WooCommerce store owners to create online restaurants is Food Online for WooCommerce. It empowers users to edit the menu layout as well as its colors, icons, and borders. Hence, you can modify their store design to match your store style and stand out in the market. In addition, product attributes can be added with a click via this extension, you can select one among many options like size, protein, and so on.
Key features:
Customize the menu layout
Edit the menu's colors, icons, and size
Add product attributes
Create an online restaurant from the WooCommerce store
Price: Free
Final thoughts
In conclusion, with the development of the world, online restaurants will continue to be the global trend. So, if you have plans to create your own food ordering system, don't hesitate, let's start researching the market and build your own virtual restaurant by WooCommerce.
New Posts
Subscribe
Stay in the know
Get special offers on the latest news from AVADA.
40k
subscribers has been joined!
Earn $10 in reward now!