How to Create Packing Slips in WooCommerce
How to Create Packing Slips in WooCommerce
WooCommerce PDF Invoices and packing slips are essential elements that make your WooCommerce store professional and reduce the margin of error.
However, creating and printing invoices are undoubtedly challenging with just basic functionalities of the default WooCommerce. You need to make use of dedicated plugins.
Therefore, in this article, we will show you how to create packing slips in WooCommerce step by step.
What Are Packing Slips in WooCommerce?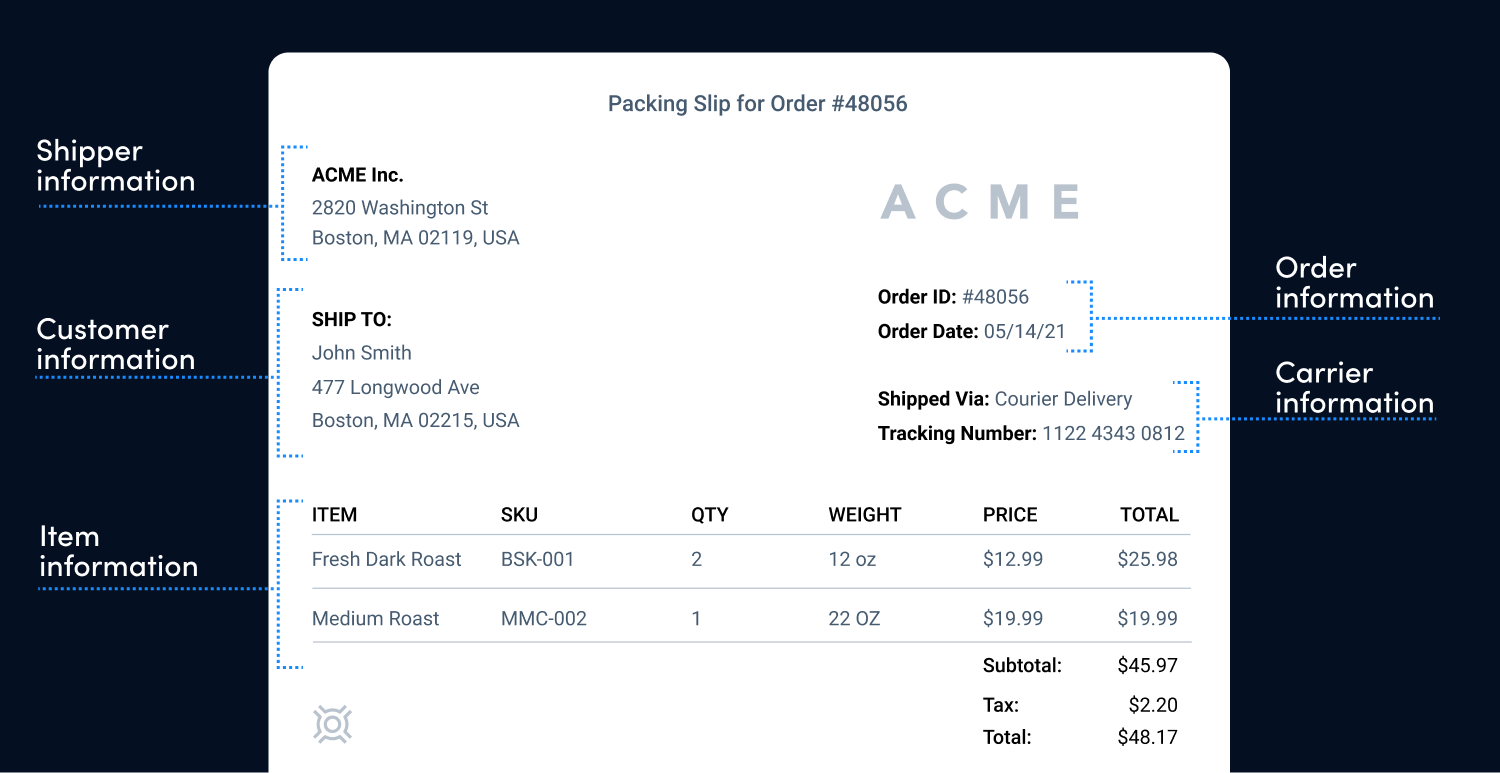 A packing slip is a printed sales document that details all of the products in an order.
Packing slips provide product information such as SKU numbers, weight, measurements, and internal order IDs to assist warehouse personnel in locating the correct goods for each order.
It is important to note that packing slips are not the same as PDF invoices. A packing slip is used to indicate the actual items being received, whereas an invoice represents the order's financial paperwork. As a result, no packing slip is needed for digital items.
Why Do You Need Packing Slips in WooCommerce?
Keep records: You'll be able to trace who made the order and how much it was worth, making it simple to go back through past orders and resolve any disagreements.

Quick delivery and clarity: With packing slips, shipping is simple, and all processes involved in the transactions go smoothly.

Brand building: With plugins, you can personalize packing slips by adding logos, colors, etc. to help build your clients' trust.
How to Create Packing Slips in WooCommerce?
In this tutorial, we will use the free plugin Challan to create WooCommerce packing slips.
It is one of the best WooCommerce plugins for creating PDF invoices and packing slips. It has a variety of customizable options to make creating PDF invoices and packing slips a breeze.
Step 1: Install the plugin
First things first, you need to download the plugin from this link and get it installed in your WooCommerce store.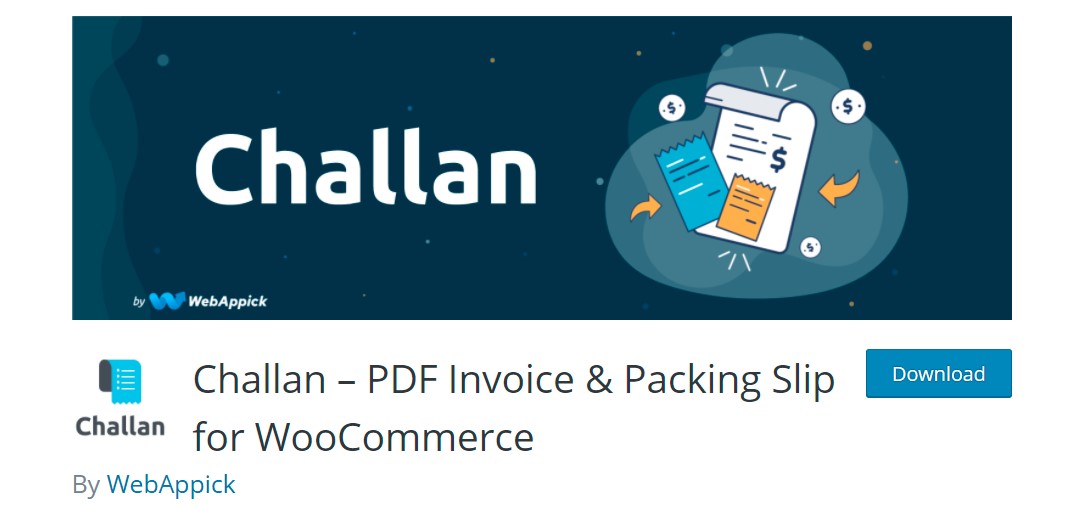 Step 2: Configure the plugin's settings and options
After successfully installing Challan, you would notice a new menu item on your dashboard called Challan. Clicking on this new menu item will take you to the settings. Here you will find all the customization options to configure your PDF invoice and packing slips properly.
Switch on the option Enable Invoicing to automatically create PDF invoices and packing slips for your WooCommerce store.

Set up your paper size, next invoice number, invoice number prefix, invoice number suffix, product title limit, display ID/SKU, display shipping total,…
Once you enable invoicing, you will be given a number of settings that are directly related to PDF invoices and packing slips.
There are three sizes to pick from: A4, A5, and Letter. You can also change the number for your next invoice, add a prefix to your invoice number, and add a suffix to your invoice number.

Following that, you'll be able to control the product titles in your WooCommerce PDF invoices and packing slips. If you don't want to limit the product title, leave this field blank.
Alternatively, enter a number here, and Challan will limit the product titles in the PDF invoice and packing slip to those that match your input. In addition, you have the option of displaying your product ID or SKU in the invoice.
There's also the option to show none of them. Furthermore, it gives you the option of displaying the shipping total with or without tax.

You may also change the date format of your PDF invoice and packing slip. You will also be able to enable or disable the inclusion of the currency code, payment method, and order note on your packing slips.
Finally, there is an option to enable debug mode. This will assist you in identifying a problem if you enable it. If you don't have an issue, you may disable this option.

When you've completed all of the plugin's configurations, remember to click Save changes to make your changes permanent.
Step 3: Configure settings in other tabs
Now, navigate to the Seller and Buyer tab. There is an option to upload a logo here. This logo will appear on your WooCommerce PDF invoices and packing slips.
You can also change the size of the logo from this page. You can include the seller's title, company name, company details, and two different footers.
You can enable or disable Phone numbers and Email Addresses for the buyer block's PDF invoices and packing slips.
Don't forget to save your modifications after you're finished.
You should also look through the plugin's other tabs.

For example, you can download your store's packing slips in bulk using the Bulk download tab. Select packing slip from the dropdown menu. You must choose two distinct dates in order to get all of the packing slips between those dates.
Then click Download to start downloading.
And that's how you can create custom packing slips for your WooCommerce store. Challan will automatically create a packing slip for all orders in your store from your next order.
Recommended Plugins to Create WooCommerce Packing Slips
In this part, we will introduce you to the four most recommended plugins when it comes to WooCommerce packing slips.
1. WooCommerce PDF Invoices and Packing Slips Professional

WooCommerce PDF Invoices & Packing Slips Professional plugin is probably the most popular plugin nowadays, with over 300,000 active installs and over 1170 five-star ratings.
Key Features
Attach invoice PDFs to WooCommerce emails of your choice
Download the PDF invoice/packing slip from the order admin page
Generate PDF invoices/packing slips in mass
CSS/HTML packing slip templates that are completely customizable
Add a custom header picture or logo to the invoices and packing slips.
Change the store data, footer, disclaimer, etc.
Above are features of the plugin's free version on WordPress.org.
You must purchase their premium version in order to produce/send PDF proforma invoices, credit notes (for refunds), email packing slips, automated Dropbox upload,…
Pricing There is a free version of this plugin on WordPress.org. The Paid versions with 1 site license, 3 sites license, and 25 sites license cost you €59.00, €119.00, €249.00 respectively.
2. WooCommerce Print Invoices and Packing lists by SkyVerge

WooCommerce Print Invoices & Packing Lists by SkyVerge is the ideal solution for managing invoices, packing lists, and pick lists. This plugin enables you to print papers for orders directly from the Orders page (individually and in bulk), and allows customers to see invoices from the "My Account" page.
Key Features
Enable clients to view invoices via the "My Account" page.
Using the WordPress Customizer, you can customize the design and content of the document with a live preview.
Sort packing list items by category to expedite order fulfillment.
For new orders, automatically email packing lists to shop administrators.
Create pick lists for numerous orders to aid with bulk order fulfillment.
Pricing: $79 per year
3. WooCommerce PDF Invoices, Packing Slips, Delivery Notes, and Shipping Labels by WebToffee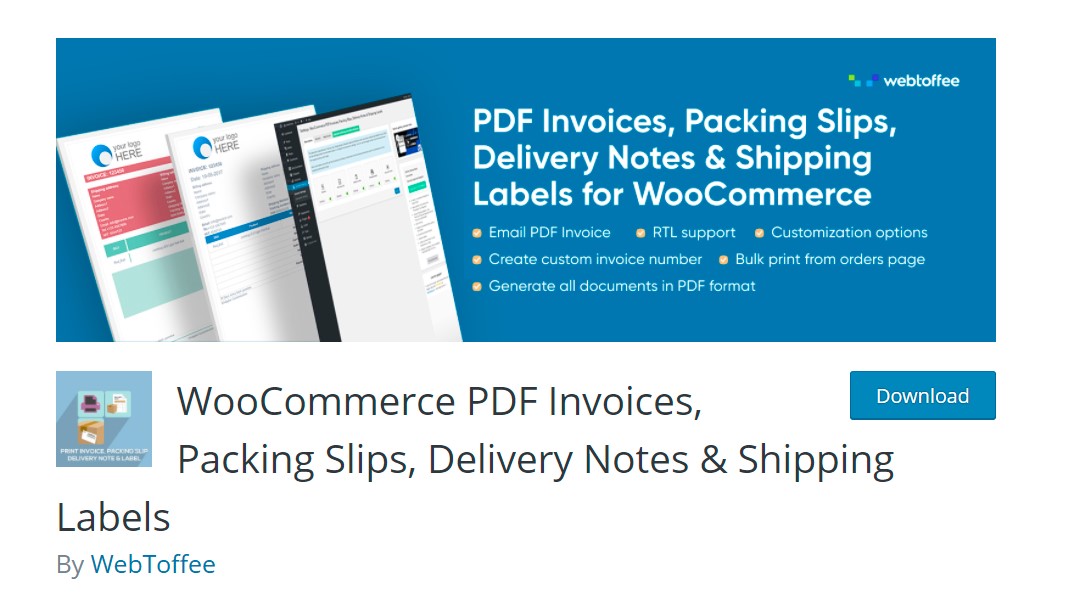 WooCommerce Print Invoice, Packing Slip, Delivery Note & Label plugin allows you to produce PDF invoices, packing lists, packing slips, delivery notes, and shipping labels from the WooCommerce orders page. You can easily streamline your online store's shipping and order procedures by using this plugin.
Key Features
Documents supported include PDF invoices, PDF packing lists, PDF shipping labels, PDF delivery notes, and PDF dispatch labels.
PDF invoices and packing slips are available for download.
Personalize invoices by including your store logo, name, and other information.
Customization of shipping labels by including a barcode, tracking number, and other information.
Logged-in clients can print their invoices from the My-Account page.
Automatically create a customized invoice number
Pricing
There are both free and premium versions of this plugin. As for the premium version, the single site, 5 sites, and 25 sites licenses are charged at $69, $99, and $199 respectively.
4. WPspring for WooCommerce - Print Invoices and Packing List Plugin

WPspring for WooCommerce - Print Invoices & Packing List Plugin will make managing invoices and packing lists become super easy. You will be able to print invoices and packing lists for all of your orders (individually or in bulk) and distribute them to your clients. As a result, by simplifying the fulfillment process, you can deliver excellent customer service.
Key Features
Customize Invoices: store name, store URL, add extra or subheading information, store logo, address…
Print, Email, or View Invoices from Account Page
Packing and Pick Lists
Bulk and Single Order Actions
Multiple packing List settings
Pricing: $10
Final Words
With the help of plugins, you can effortlessly create packing slips for your WooCommerce store. We hope that you find our tutorial on creating WooCommerce packing slips helpful. If you have any questions regarding this topic, please let us know in the comments section below.
Thank you for reading this article and we'll see you in the next one.
New Posts
Subscribe
Stay in the know
Get special offers on the latest news from AVADA.
40k
subscribers has been joined!
Earn $10 in reward now!