How To Create Free Shipping Coupon In WooCommerce
How To Create Free Shipping Coupon In WooCommerce
In the eCommerce industry, shipping is a necessary procedure. Many businesses begin with a straightforward strategy to shipping, such as free shipping or quick delivery. A successful brand, on the other hand, constantly employs smart shipping choices. One of them is providing shipping coupons. It also aids in lowering cart abandonment. Woocommerce offers three delivery options: flat pricing, free shipping, and local pickup. WooCommerce's built-in capabilities can even give free shipping vouchers. However, WooCommerce cannot provide appealing and sophisticated bargains on its own.
That is why today's article will show you how to create a free shipping coupon in WooCommerce. The platform has a default option for creating and managing coupons. However, you may enhance the coupon system with a variety of sophisticated plugins that provide new functionality. You can select one of the WooCommerce smart coupons plugins that we recommended based on the coupon strategy that you are attempting to implement.
Why do we need to offer a free shipping coupon in WooCommerce?
Some eCommerce merchants consider free shipping to be a competitive requirement. While there are costs connected with giving free delivery, there are also some people who are genuinely good about it as well. When firms like Amazon initially started offering free shipping coupons some years ago, it may not have made sense for every eCommerce shop, especially small ones, to follow suit. However, due to size and rising customer expectations, free delivery has become usual and advantageous to specific vendors.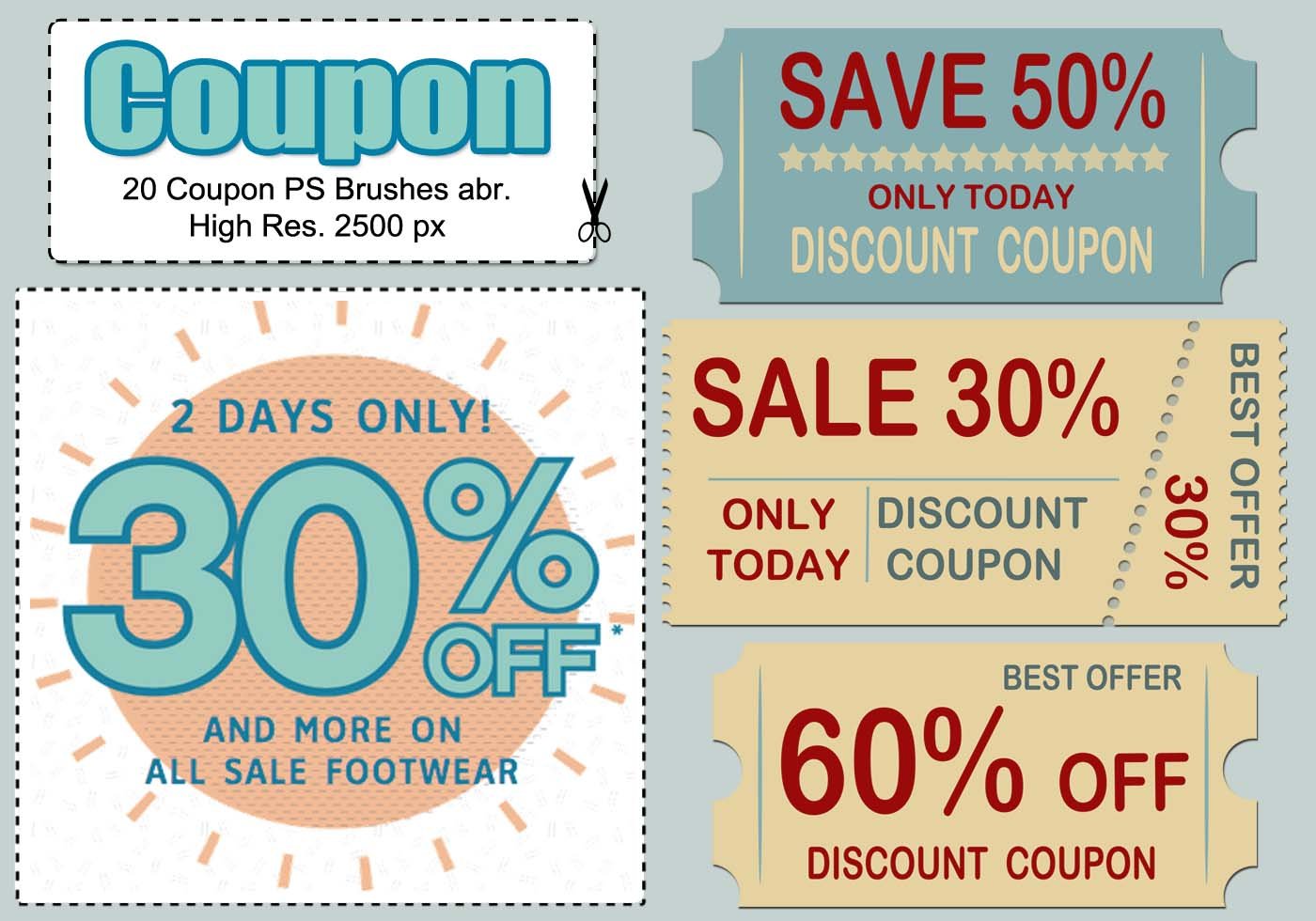 Regardless of how ridiculous it appears to most online shops, it continues to be a significant promotion in E-commerce. According to David Bell, a Wharton marketing expert, there are psychological reasons for buyers' interest in a free delivery offer. A savings of merely $6.99 through a free delivery offer is far more attractive than a $10 straight reduction on the product value. This revealed that online buyers are more inclined to value free shipping.
How to create free shipping coupon in WooCommerce
Method 1: Using the built-in features
You can take advantage of the default setting of WooCommerce to generate free shipping coupons. This technique allows you to have more control over who has access to this offer. You might, for example, only share the necessary code with your newsletter subscribers or social media followers. To begin with, navigate to Marketing > Coupons > Add coupon.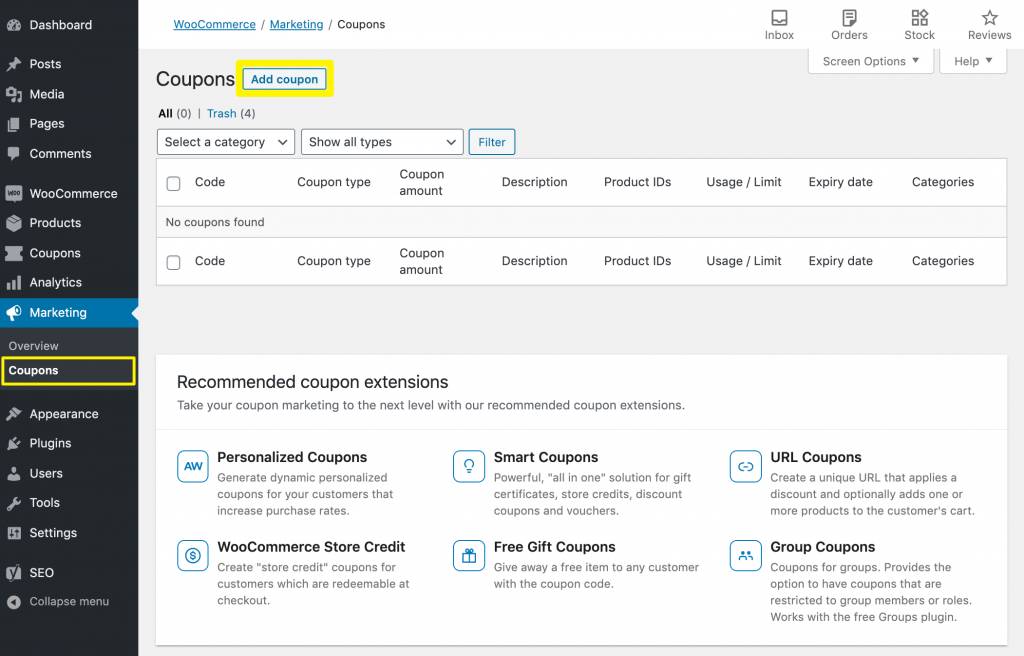 Add the discount code that you want consumers to use at the checkout to get free delivery. WooCommerce may also generate one at random for you. Click the General tab to specify that this is a free shipping voucher. Then, choose the Allow free shipping checkbox here:
Next, press the Publish button. The final step in this procedure is to ensure that your shipping zones allow consumers with valid coupons to get free delivery. To do so, you will need to enable the Free Shipping method in the Shipping settings section. If your WooCommerce store is already available, you should have at least one shipping zone arranged. You may get to it by going to WooCommerce > Settings > Shipping: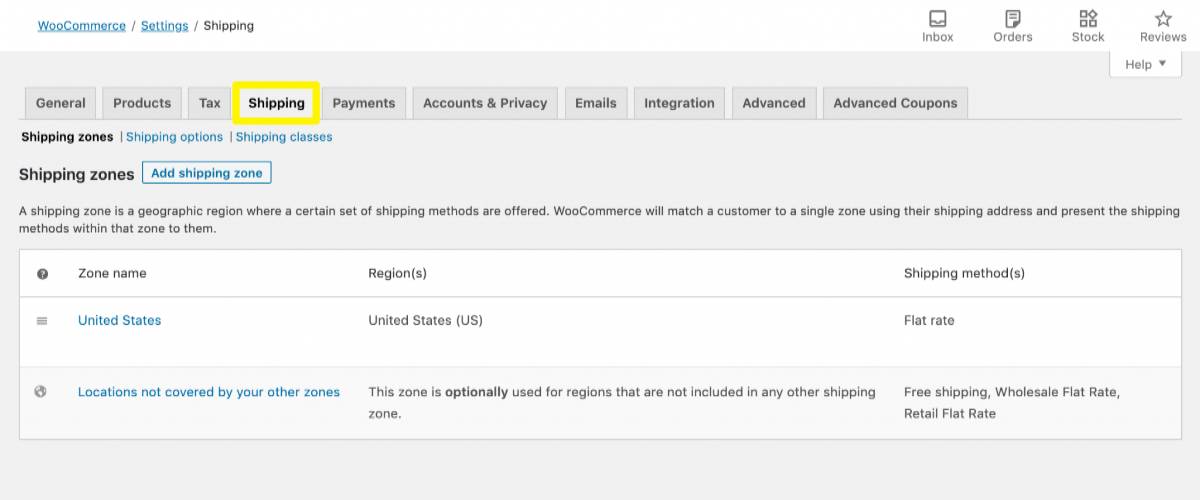 If necessary, you may add a new shipping zone by clicking the Add Shipping Zone option. Otherwise, select the Edit option to the right of the current zone for which you wish to provide free delivery. Then, select the Add shipping method button on the following screen: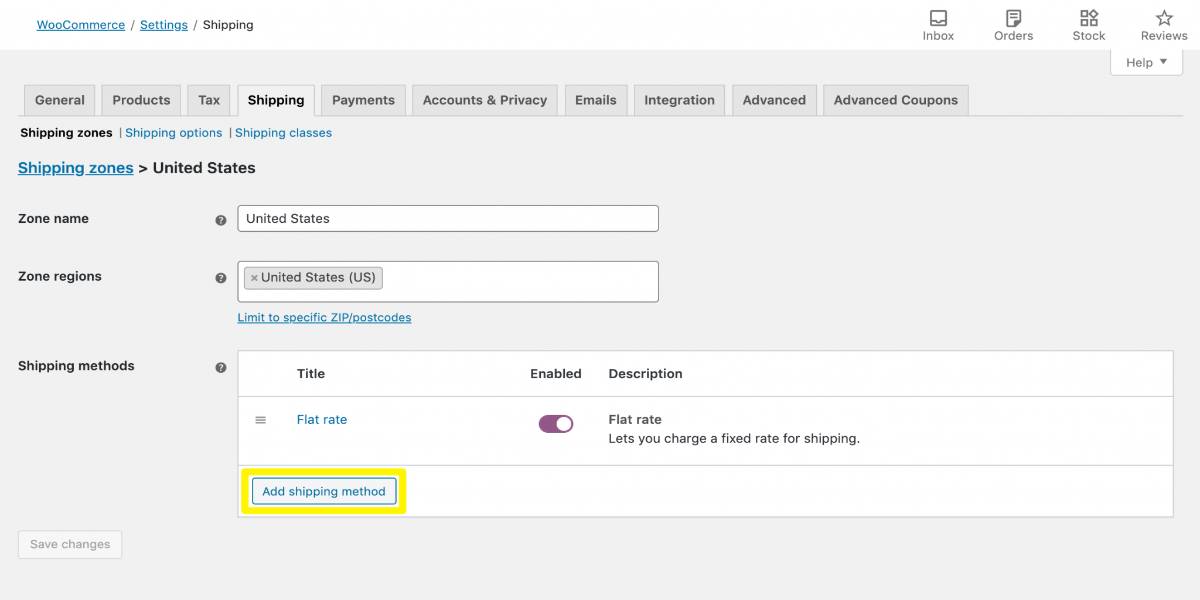 In the following box, choose Free shipping from the dropdown menu:

This will add the method to the zone's list of shipping choices. Drag your mouse over Free shipping and select Edit:

Select N/A from the Free shipping required option if you wish to give free shipping on all orders delivered to this zone. On the other hand, depend on your marketing plan, you can choose one of the following choices from the Free shipping needed dropdown menu:
A valid free shipping coupon: A genuine free shipping voucher allows the client to free shipment regardless of the amount spent.
A minimum order amount OR a coupon: The client qualifies for free shipping regardless of total purchase. If the consumer spends more than the minimum purchase quantity, they will be eligible for free delivery regardless of using the discount code.
A minimum order amount AND a coupon: The consumer will only be eligible for free delivery if they spend more than a certain amount and provide a valid discount code.

If you choose one of the minimum order choices, you must indicate the amount. It would be best to determine whether to apply this rule before or after any extra discount offered by the coupon.
Method 2: Using a third-party plugin
The second method is to use a third-party plugin. In this tutorial, we will take advantage of a plugin named WebToffee Smart Coupons for WooCommerce. Begin by doing the following installation steps:
Download the plugin from the API Downloads section of the My Account page.
Install the downloaded plugin on your WooCommerce website.
Log in as a site admin and navigate to the Coupons > License page, then activate it with the email and API key you received in your inbox.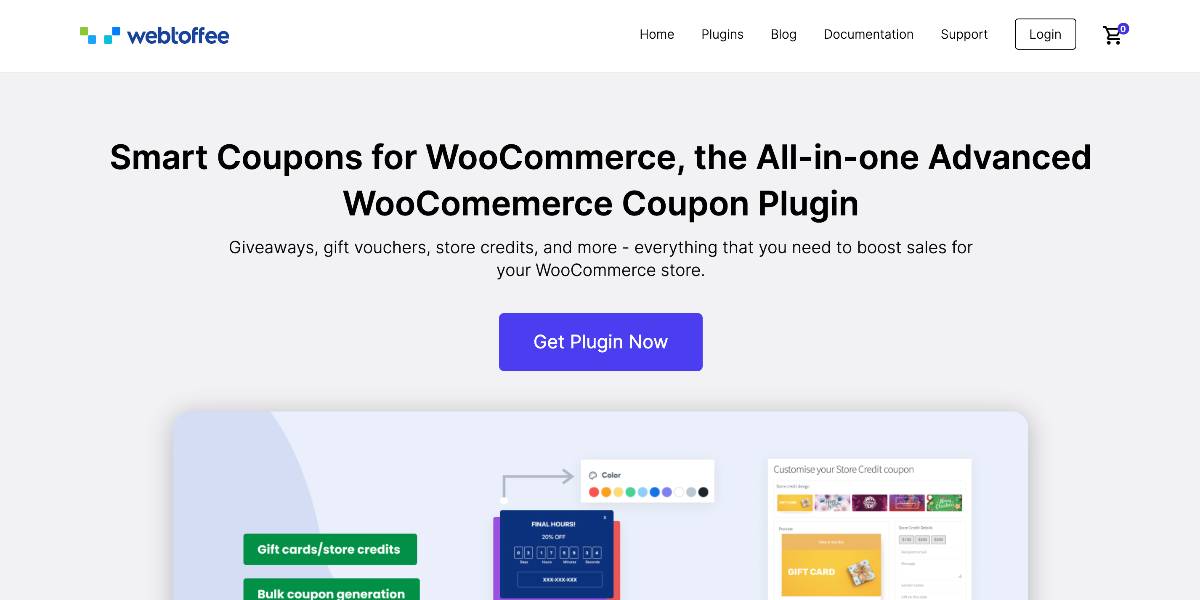 Using the examples below, we'll show you how to create shipping coupons with Smart Coupons for WooCommerce. From your dashboard, navigate to WooCommerce > Coupons. After that, click on the Add Coupon button in the Coupons window to configure the setting of the new coupon. In the Add new coupon area, enter the Coupon code and include a description of what the code accomplishes.

Now, it's time to configure the general settings of your new shipping coupon. You can choose your desired discount type from the General section. In this example, we will select the Percentage discount. After that, you can enter a coupon value. It could be 25, 50, or 100% - depending on your shipping strategy. If you want the coupon to appear in the customer's cart, add the cart tag from the Make coupon available section in the dropdown menu.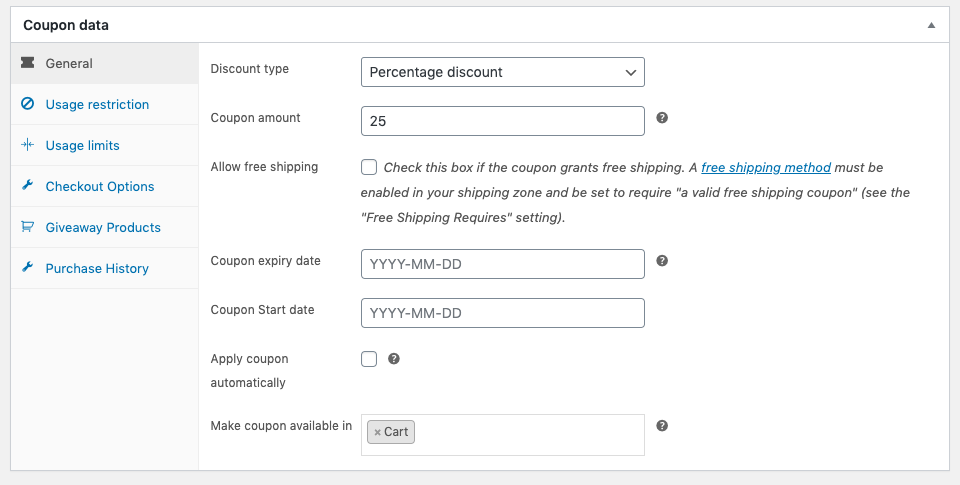 Once finishing customizes the general settings, you will need to set up the checkout options. To do so, navigate to the Checkout Options section. On this page, choose a shipping method from the dropdown menu. In this sample, we will select the Flat Rate option. Next, to filter the shipping nation, you can use the Shipping Address radio option. Finally, choose the country to provide the shipping coupon from the list and remember to save your changes.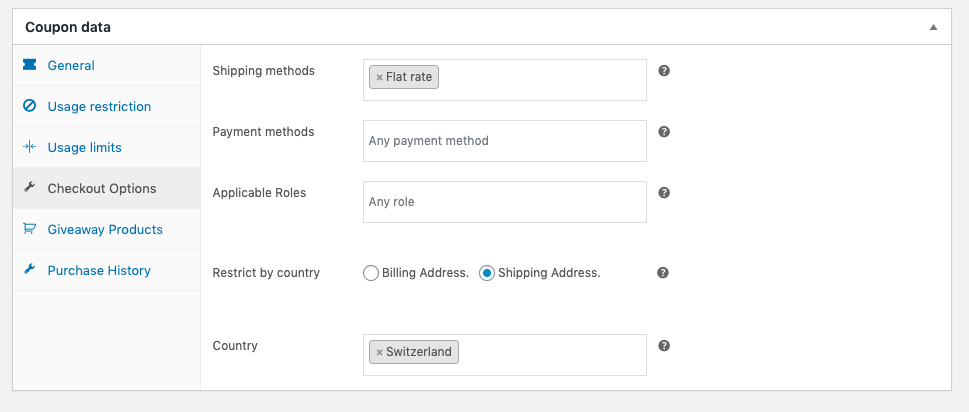 And, that's all, we have completed all of the necessary settings to produce a shipping voucher. Distribute the discount code to your consumers. If you have enabled the coupon in the cart, it will appear on the cart page, as seen below.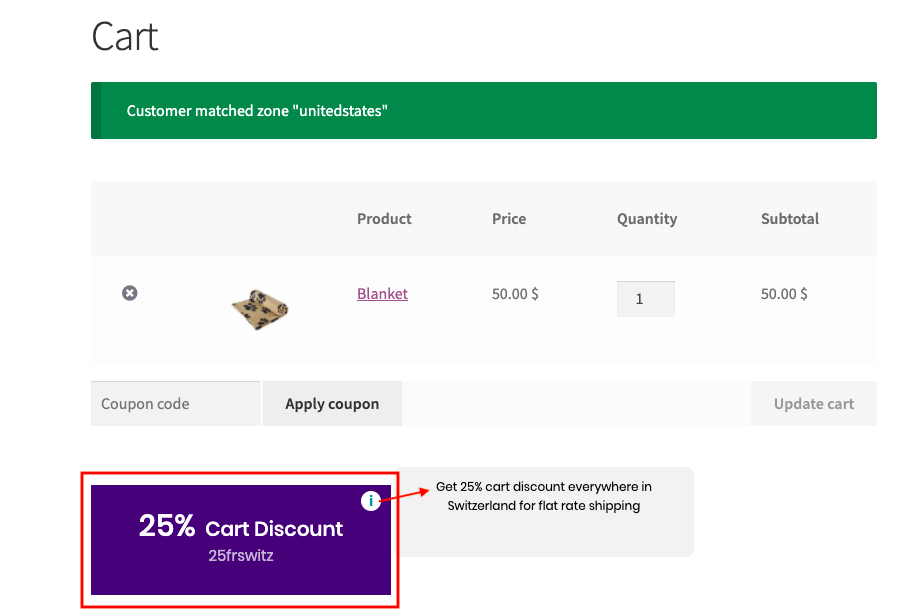 4 Best Plugins To Create Free Shipping Coupon In WooCommerce
Coupons Pro for WooCommerce
The Coupons Pro for WooCommerce plugin offers two methods for automating the coupon strategy on your WooCommerce store. It allows you to generate two types of coupons: product page coupons and re-engagement coupons. Product page coupons may be produced and displayed on specific product pages, where buyers can activate and apply them during the checkout process. The re-engagement coupons will detect inactive consumers on your site and send them coupons at predetermined intervals to attract them to purchase. Both of these discount techniques have the potential to increase your conversions significantly. The settings of this plugin are straightforward to configure.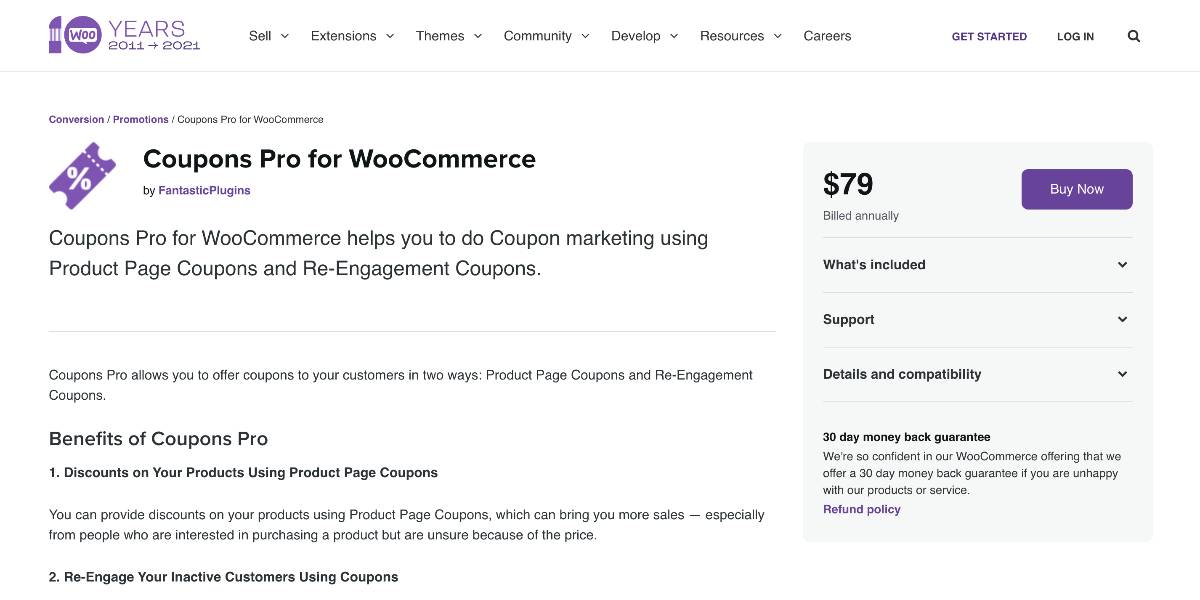 Outstanding features:
Allow you to provide discounts on your items, which may lead to additional sales
Help you reconnect with inactive consumers, which may inspire them to return to your site and purchase items.
Allow you to send follow-up emails with a promo code to consumers who have previously purchased from your site but have not purchased recently.
Enable your users to collect coupons from your site and utilize them later.
Allow you to create coupons in bulk.
Price: The plugin costs $79 on the WooCommerce Extensions store.
WebToffee Smart Coupons for WooCommerce
WebToffee Smart Coupons for WooCommerce is another comprehensive solution for managing coupons on a WooCommerce website. It provides a plethora of choices for creating coupons and configuring various discount kinds such as fixed value, percentage, etc. It also allows you to modify the look of the coupons. Furthermore, it provides a plethora of constraints to assist you in implementing the most suited discount approach for your shop. You may use this plugin to produce coupons in bulk, as well as product giveaways, gift coupons, shop credit, and so on.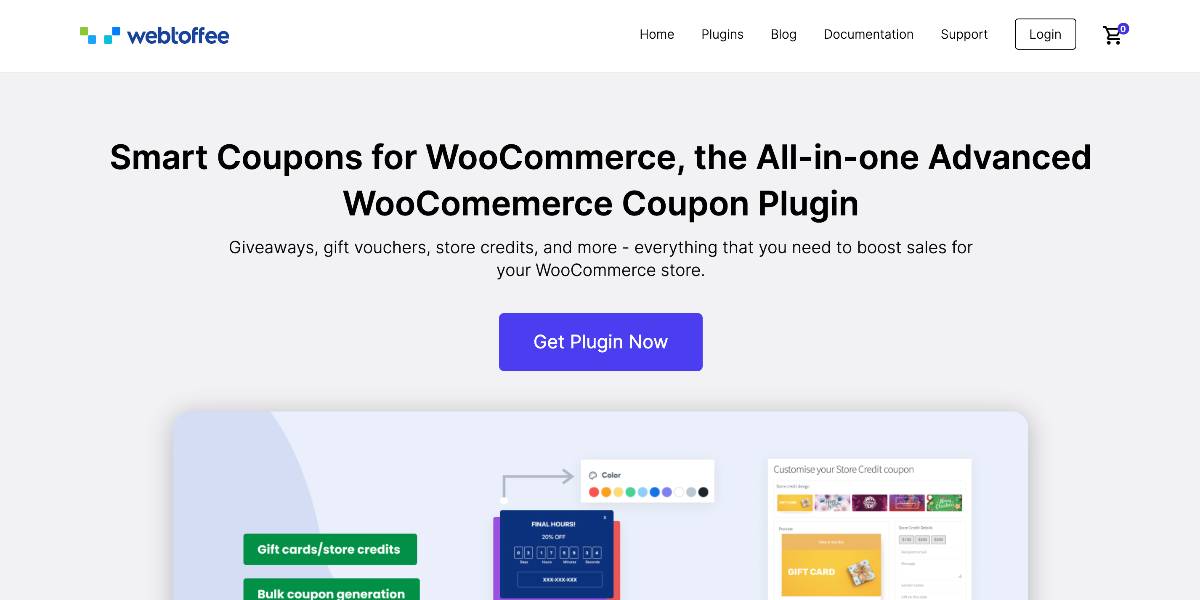 Outstanding features:
Configure special coupons and deals that can only be used if specific requirements are satisfied at the time of purchase using sophisticated coupon rules.
Create discounts based on consumer behavior to boost conversion rates and keep customers returning.
Allow consumers to purchase gift vouchers to use themselves or send to friends through email using appealing gift card designs.
Allow consumers to purchase shop credit for future purchases or presents to loved ones or store credits instead of refunds.
Price: The plugin costs $69.00 for a single site license.
Smart Coupons
The WooCommerce Smart Coupons plugin functions similarly to WooCommerce discount rules. It allows you to provide several types of discounts to clients. The success of an eCommerce shop is primarily reliant on three elements—the excellence of the graphics and themes you utilize in your shop. The sort of discount coupons that your shop gives is the second and determining element. The shipping charges criteria are the last to be considered. When they realize the expensive shipping costs, most consumers leave the business without purchasing anything. You may use this plugin to provide shipping incentives to your clients. This is one of the most effective ways of improving your WooCommerce coupon strategy.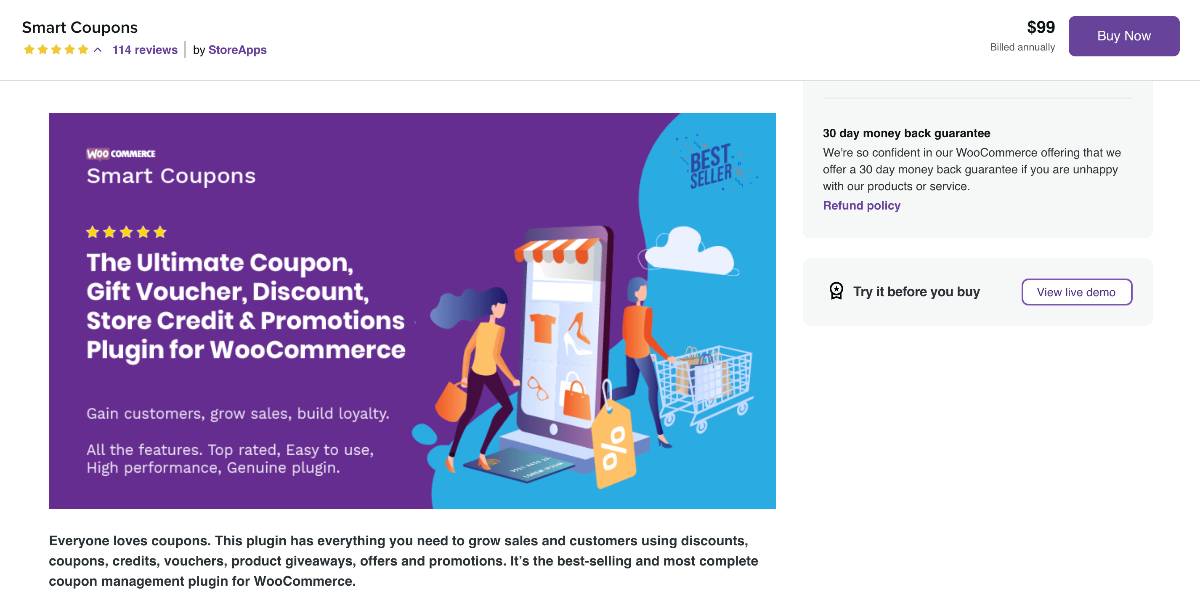 Outstanding features:
Improve the actual WooCommerce coupons with a variety of additional rules and settings.
Allow Smart Discounts to produce hundreds of thousands of coupons for you, which you can then add to your business, export as a CSV, or send to all recipients.
Give free delivery as straightforward as possible – even through shop credits and fine-tuned limitation restrictions.
With one or more discounts, quickly produce links that you may include in emails or social media postings (or anyplace else).
Price: You'll have to pay $99 to get this plugin on the WooCommerce Extension store.
WooCommerce Volume Discount Coupon
WooCommerce Volume Discount Coupon is a WooCommerce plugin that provides automated discounts and coupons based on the number of goods in the checkout. When discounts apply, they can be displayed directly on the items or accompanied by a free-form explanation or an automatic remark. Discount information for relevant goods in the store, product category displays, product sets based on tags, product archives, and individual product pages may be displayed automatically.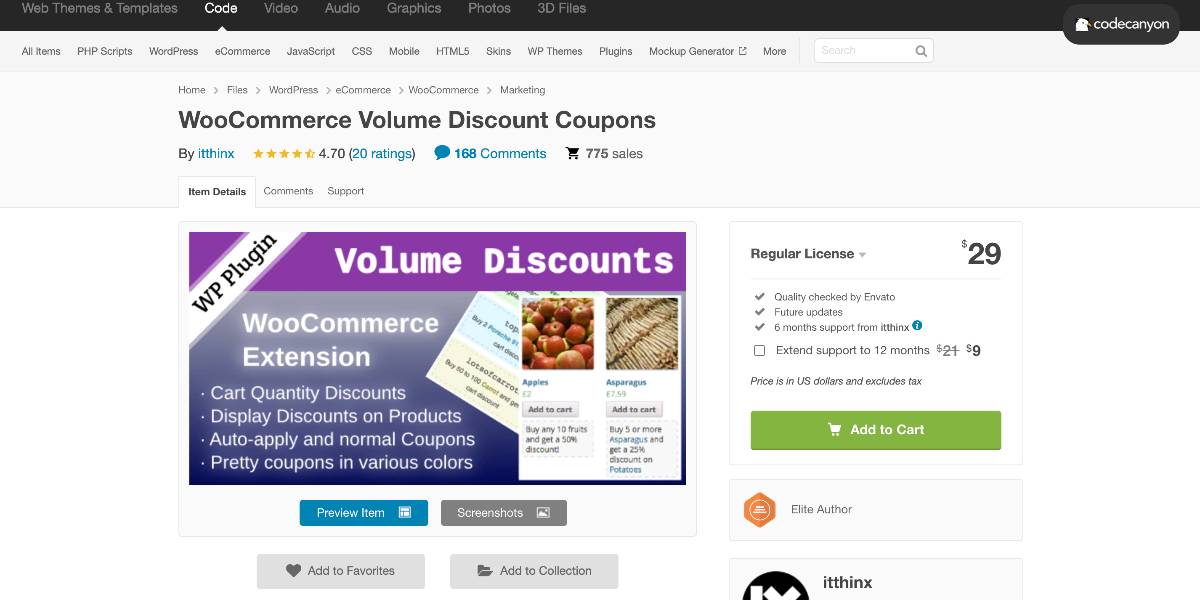 Outstanding features:
Apply discounts automatically depending on the minimum and maximum quantity requirements provided in coupons.
Allow customers to use volume discount coupons.
Volume discounts for specific items and product categories can be specified.
Display discounts directly when they apply to goods.
Provide a new shortcode that generates attractive coupons in a variety of colors.
Price: You can get this plugin at the cost of $29.
Conclusion
Free shipping is an effective method for increasing sales, attracting new consumers, and capitalizing on high-selling seasons such as Christmas. It can, however, eat into your profits, so design your offerings wisely.
We hope this article will clear your mind on how to create a free shipping coupon in WooCommerce. We also believe that these WooCommerce smart coupons plugins will help you implement your business's more effective marketing plan.
New Posts
Subscribe
Stay in the know
Get special offers on the latest news from AVADA.
40k
subscribers has been joined!
Earn $10 in reward now!