How to Connect Endicia to WooCommerce
How to Connect Endicia to WooCommerce
For e-commerce enthusiasts, the prospect of opening an online store is exhilarating. They can use their imagination to come up with a new business name, logo, and website design. There appears to be an infinite number of things to sell, and the world of internet retail is brimming with opportunities. There are dozens of shipping carriers operating today, each with its own set of services. What works well for one company may not be the ideal fit for yours, so do your homework before signing any contracts or committing to any carriers.
Therefore, we have put the article How to Connect Endicia to WooCommerce to show you how to set up Endicia in WooCommerce in the hopes that you will be able to connect Endicia to WooCommerce to help your online business run more smoothly. Let's get started!
Why Should You Integrate Endicia in Your WooCommerce Store?
Endicia is a leading provider of internet-based postage services for e-commerce firms of all sizes. Endicia's postage and shipping solutions save time and give you access to the best USPS® prices available. Understanding that shipping can be complicated, Endicia's objective is to make your shipping operations as simple as possible to focus on what you do best.
Endicia's electronic postage solutions make shipping parcels through the USPS® simpler and more economical. Thousands of businesses have used products of Endicia to print more than $14 billion in the mail. It has developed its status as a long-time, trusted partner of the USPS by focusing on simplifying, optimizing, and upgrading the shipping experience for the clients. "Innovation with a cause" is what we call it.
Endicia is critical to the customers' businesses because Endicia assists them to save energy, money, and resources while also increasing efficiency. Endicia can support you whether you are a high-volume warehouse shipper, running an e-commerce website out of your garage, or simply attempting to get invoices out well before the end of the day. In addition, there are several functionalities that Endicia could offer you as follows:
Less hassle. More time
Connecting to existing systems

Save time and money by avoiding trips to the post office

No specific hardware, printers, or scales are required
Spend less money
USPS Tracking and Signature ConfirmationTM at a Discount

Domestic and international Priority Mail® and Priority Mail Express® packages are discounted

There is no need for a contract: You can cancel at any moment
Maintain a professional appearance
Print real-time postage that includes both the shipping and return addresses

Track parcels and generate postage reports with ease

Add an image or logo to your shipping label to increase brand exposure

Send your customers a personalized email notification
How to Connect Endicia to WooCommerce
Step 1: General Settings
Choose the Orders tab from the drop-down menu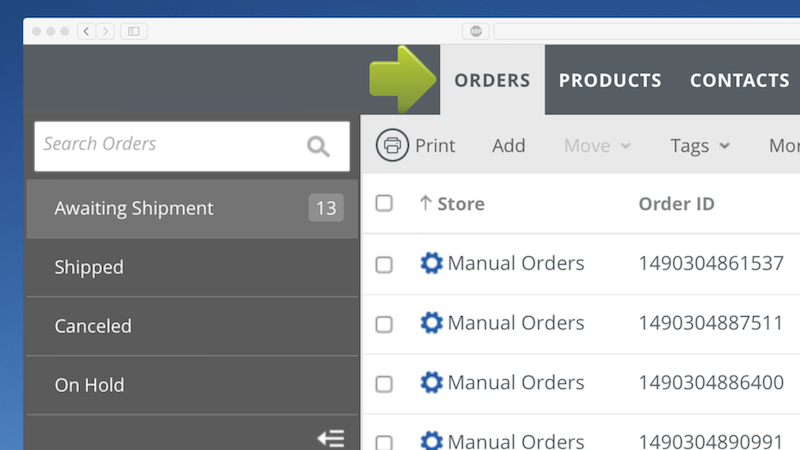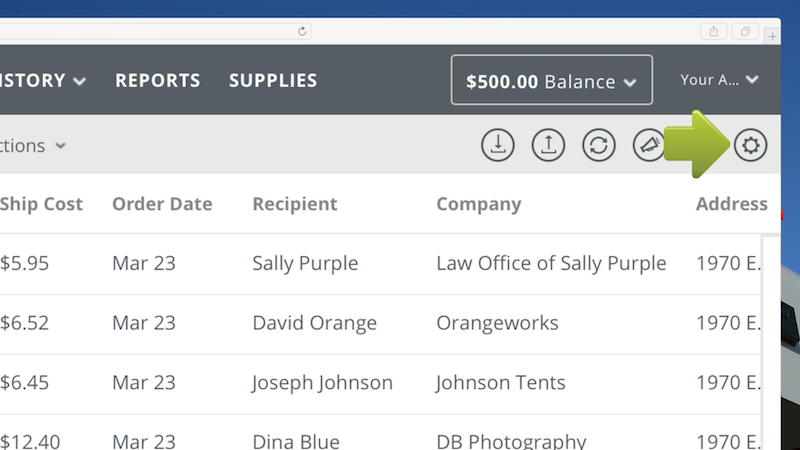 The Orders Settings window will display on the screen. Chose the Stores option from the drop-down menu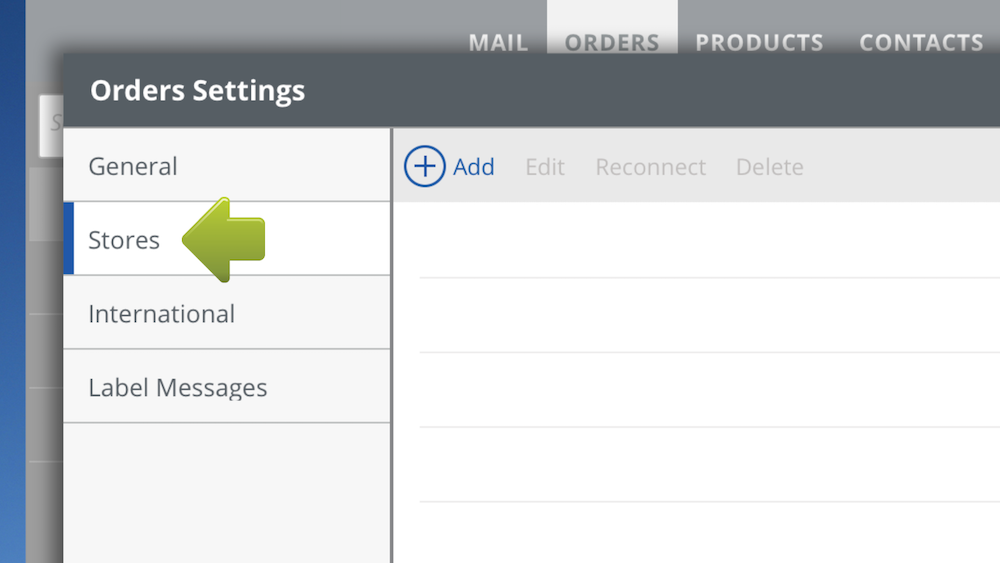 Step 2: Add Your WooCommerce Marketplace
Click Add as demonstrated in the following image
The window for adding your store or marketplace will appear. Select WooCommerce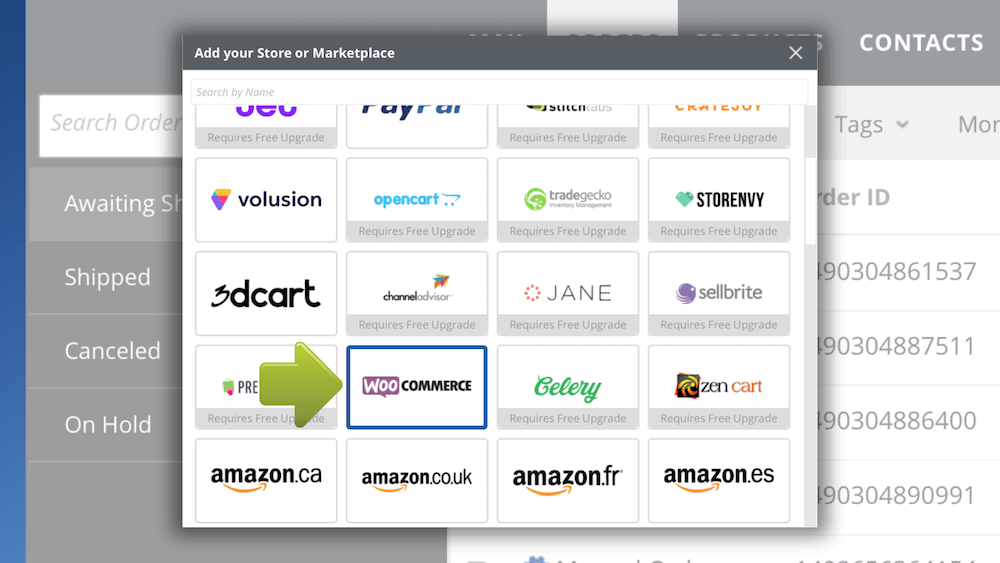 Step 3: Connect to Your WooCommerce Store
The window for connecting your WooCommerce store will pop up. The following instruction contains a list of all the steps required to connect to WooCommerce:
Please open WooCommerce in a new browser and log in to your account

Follow the instructions in the Connect Your WooCommerce Store window, which includes providing your authorization key, storing your store's URL, and choosing services.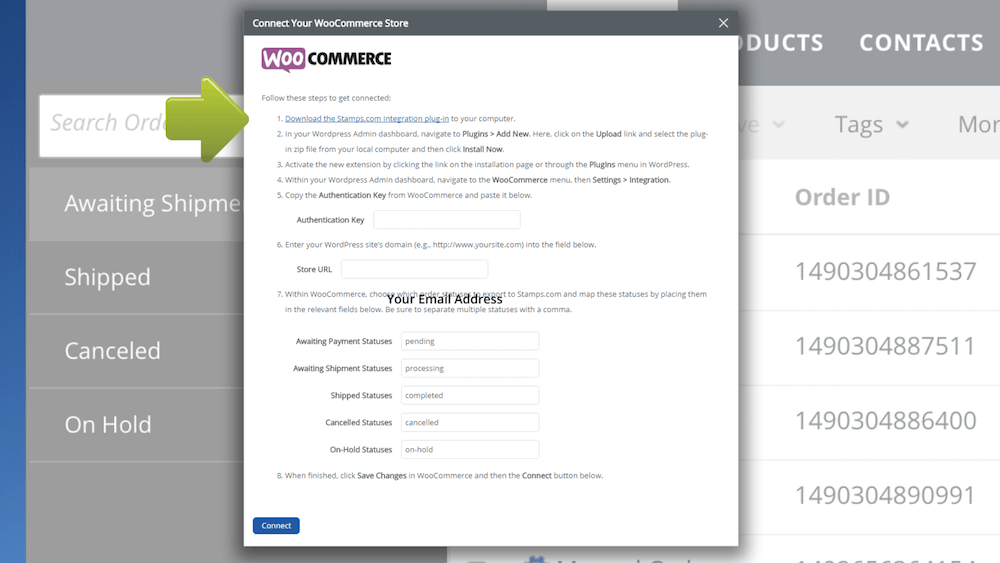 Press Connect once you have done inputting your WooCommerce Store information and preferences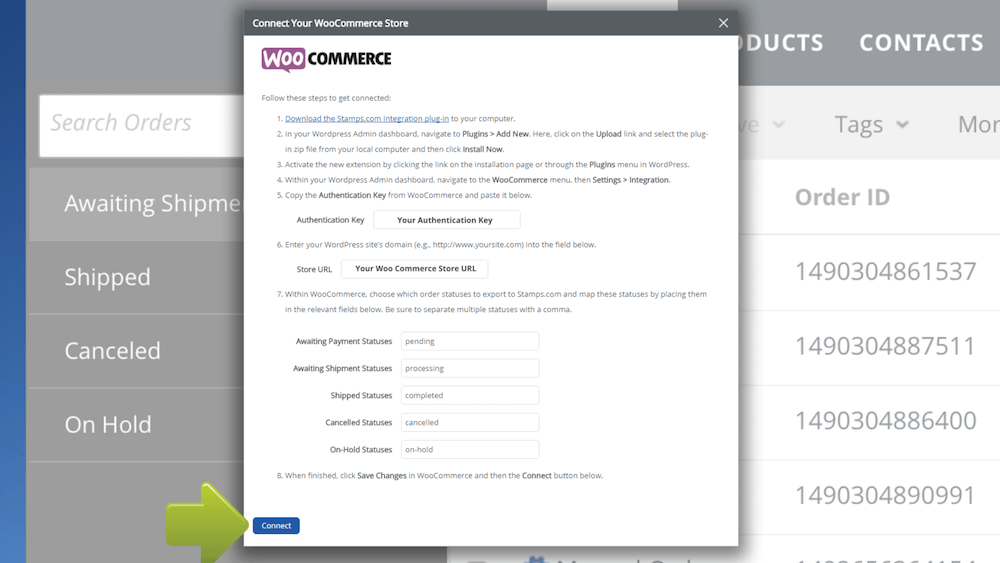 Step 4: Customize your WooCommerce Store
The Settings window will appear on the screen. Hit Save after giving your WooCommerce store a unique name

With our comprehensive Settings capabilities, you may customize your WooCommerce Store right now or at any point in the future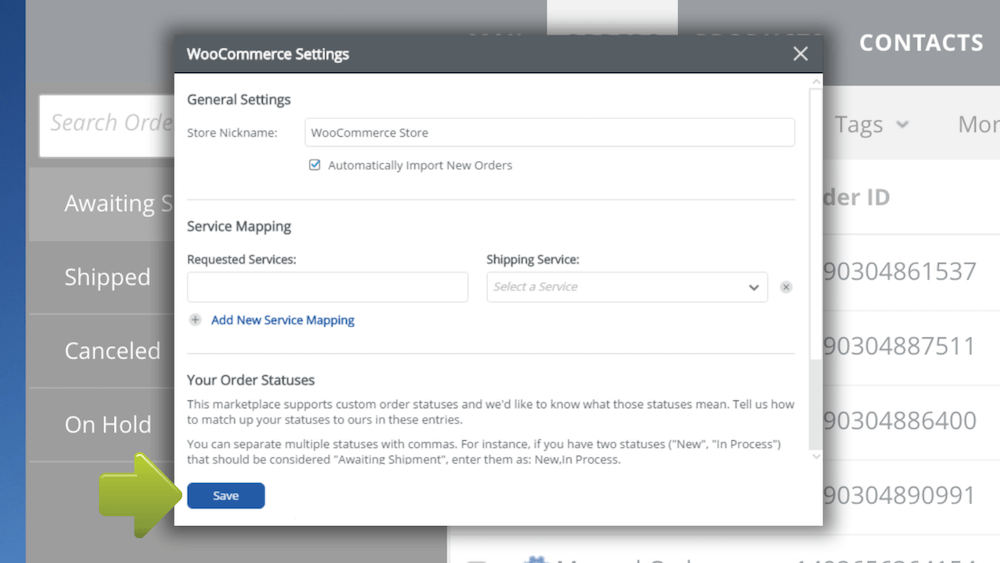 On the Orders Settings page, you can see your WooCommerce store. The Orders Settings window should now be closed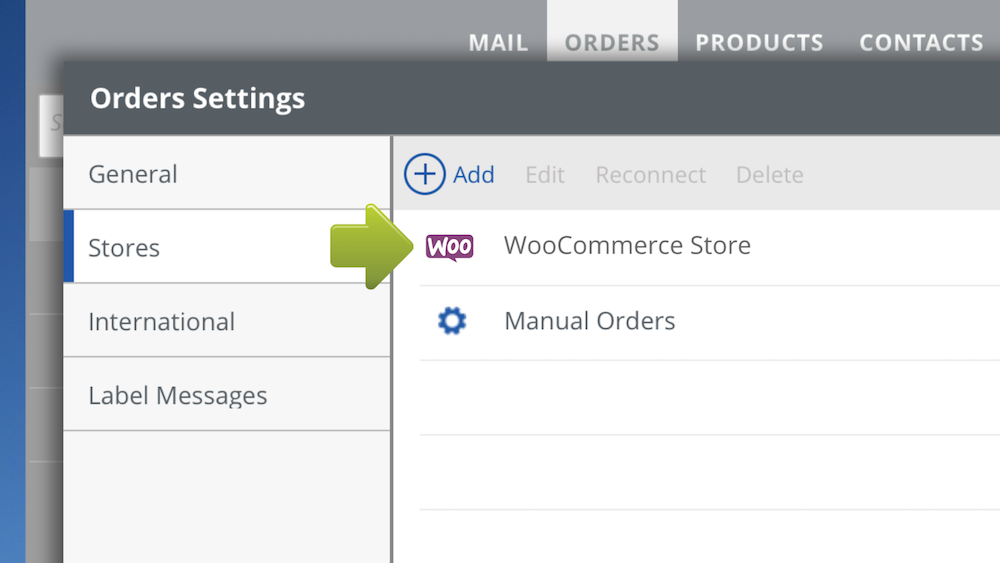 Your WooCommerce store is now fully functional and ready to receive orders.
Top 3 Most Popular Endicia WordPress Plugins
1. Ship200 Shipping Software-Bulk Processing
Ship200 Shipping Software - Bulk Processing is a free multi-carrier shipping software that allows you to print shipping labels in bulk or individually and integrate the label creation process into your WooCommerce store. This extension will connect all shipping carriers into your backed/admin: UPS, FedEx, and USPS (Stamps.com and Endicia.com). There is no need to keep track of each combination separately. In addition, you will receive the best shipping postage discounts.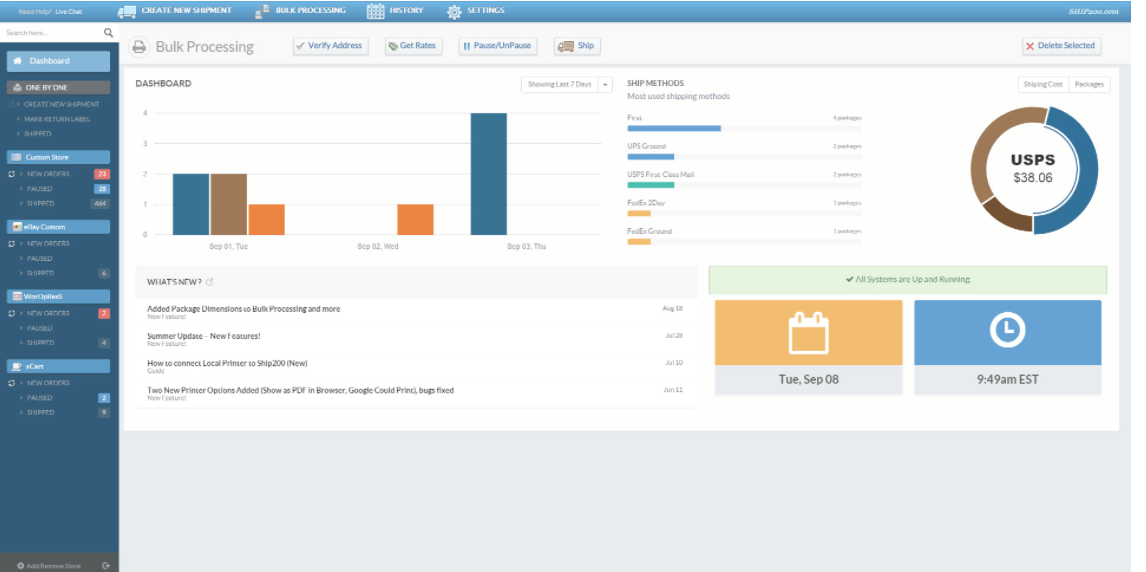 Highlight features:
Customers can save up to 80% to 90% of their time at the shipping department
All new orders will display in Ship200 for bulk processing when integrated
Choose a Shipping Company (can be selected automatically)
Ship200 will update the tracking# and order status back to the admin/selling channel after it has been created
The shipping process becomes smooth, stress-free, and extremely simple
Price: As we mentioned above Ship200 Shipping Software - Bulk Processing is a completely free plan with no time limit
2. Order XML File Export Import for WooCommerce
Your WooCommerce orders will be exported in XML format using the Order XML File Export Import for WooCommerce. Stamps.com's desktop application, UPS WorldShip, Endicia, and FedEx all support this XML format. This extension will reduce the amount of time and effort when transferring orders from your WooCommerce store to print labels and fulfill orders. The Service Providers tools can simply import the output XML. You can import order information as XML to your WooCommerce website after producing labels with Service Providers tools.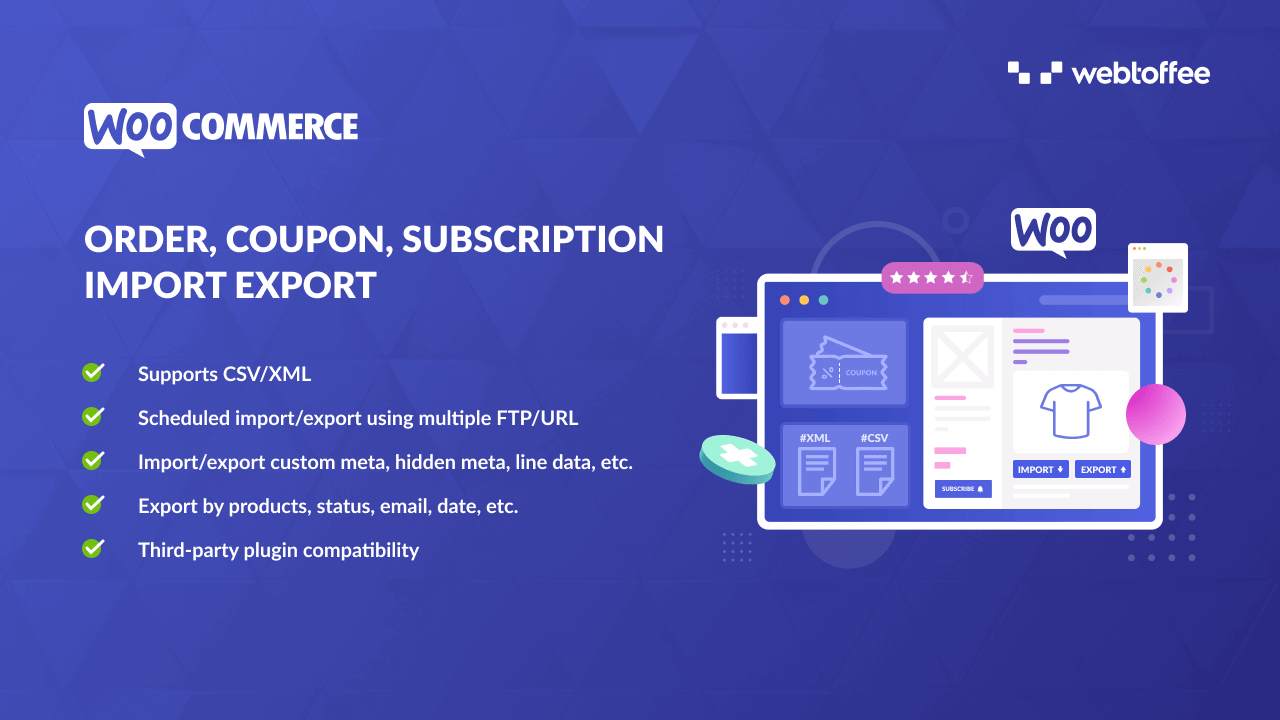 Highlight features:
Compatibility with the most popular custom plugins
Ajax interface with a configurable API
View the history, debug logs, and Cron Schedules in detail.
Enable orders to be imported and exported from other formats.
Orders/Coupons/Subscriptions from CSV/XML can be exported or imported.
Price: The Order XML File Export Import for WooCommerce offers $69 per year for a single site; $99 for up to 5 sites; and $199 for up to 25 sites, including License for 1/5/25 site(s), 1 year of plugin updates, and one year of ticketed support
3. Postmen Shipping
Connect your WooCommerce store to Postmen Shipping: Free Shipping Labels for WooCommerce, Discounted Shipping Rates. You may then use your own shipper accounts to create shipping labels with tracking numbers. Orders can be filtered by order ID, client name, payment status, fulfillment status, and location with ease. You may calculate shipping charges and receive available delivery alternatives from numerous couriers before creating labels.
Highlight features:
Labels may be printed quickly
In a single click, you can calculate delivery costs
Send reminders and update the tracking number
Shipping both domestically and internationally
Support more than 60 couriers
Price: Postmen Shipping plugin allows you to start free with no credit card required
Final words
In conclusion, we hope that the article How to Connect Endicia to WooCommerce has given you a better understanding of the value of integrating Encicia in your eCommerce business. In addition, we suggest and provide an in-depth guide to you through a variety of options to assist you in determining the best course of action for optimizing online business activities. This will not only help you boost the value of your website and shipping solutions, but it will also help you considerably increase sales.
As a result, we believe that the article How to Connect Endicia to WooCommerce has aided your eCommerce business in some way.
New Posts
Subscribe
Stay in the know
Get special offers on the latest news from AVADA.
40k
subscribers has been joined!
Earn $10 in reward now!