How to Change Product Price Based on Quantity in WooCommerce
How to Change Product Price Based on Quantity in WooCommerce
The right pricing system is key to the seamless operation of both physical and online stores. There is a good probability you will gain popularity in your store if you provide additional price reductions. As a result, pricing should be done with great care, taking into account your present brand value as well as the pricing trends of your rivals.
Consumers are willing to spend hours comparing pricing of similar products across numerous eCommerce retailers. They also compare the price of a product in a physical store to the price of the same thing in an online store to see if there are any price differences.
In the eCommerce sector, quantity-based pricing is very prevalent, as evidenced by the numerous deals provided by retailers depending on the volume of purchases made by clients. Check out these eCommerce store examples of quantity-based pricing:
In the article How to Change Product Price Based on Quantity in WooCommerce, we will go over a couple of methods that we hope can help you set up your price more easily in your WooCommerce store.
The Advantages of Changing Product Price Based on Quantity in WooCommerce
WooCommerce comes with tools to assist you set up sale prices for your products by default. Nevertheless, this is pretty straightforward and leaves little room for flexibility or innovation. Fortunately, with the support of our in-dept instructions, you will be able to create a variety of discount rules that will aid you in achieving various business objectives. Listed below are a handful of them.
Boost your revenue
Discounts on your eCommerce store will, of course, result in an increase in earnings due to higher sales volume. Many stores flock to discount offers when they need an immediate income boost. With the benefits of well-advised pricing strategies, meanwhile, you will be able to establish store-wide discounts based on factors that will help you achieve your business objectives.
Increase the average order value
One of the key measures that will give you a deeper understanding of your store's performance is the estimated average value. You may increase the average order value of your store by activating cart discounts on your online store.
Pricing that is tailored to you
You are focused on a customized pricing policy on your store when you deliver personalized pricing for consumers or customer groups. This will go a long way toward enhancing consumer satisfaction and simplifying pricing administration, particularly for wholesalers. The majority of changing prices based on quantity allows you to create personalized pricing based on user roles in your WooCommerce store.
Increase the number of sales of specific products
You might desire to enhance the revenues of a low-performing item in your store from period to period. Only by offering reductions can you adjust discount conditions for certain products, allowing you to offer them at a cheaper cost without sacrificing profitability.
How to Change Product Price Based on Quantity in WooCommerce
You now have a basic look at changing product prices based on quantity in eCommerce. It's time to delve into the way to modify the quantity-based pricing in your WooCommerce store.
Here are some steps for generating those product prices that can benefit both your online business and your customers' purchase experience. Let's get started!
Step 1: Install the plugin
Sign in to your ELEX account
As illustrated in the screenshot below, hover over the profile symbol in the top right corner and select Dashboard.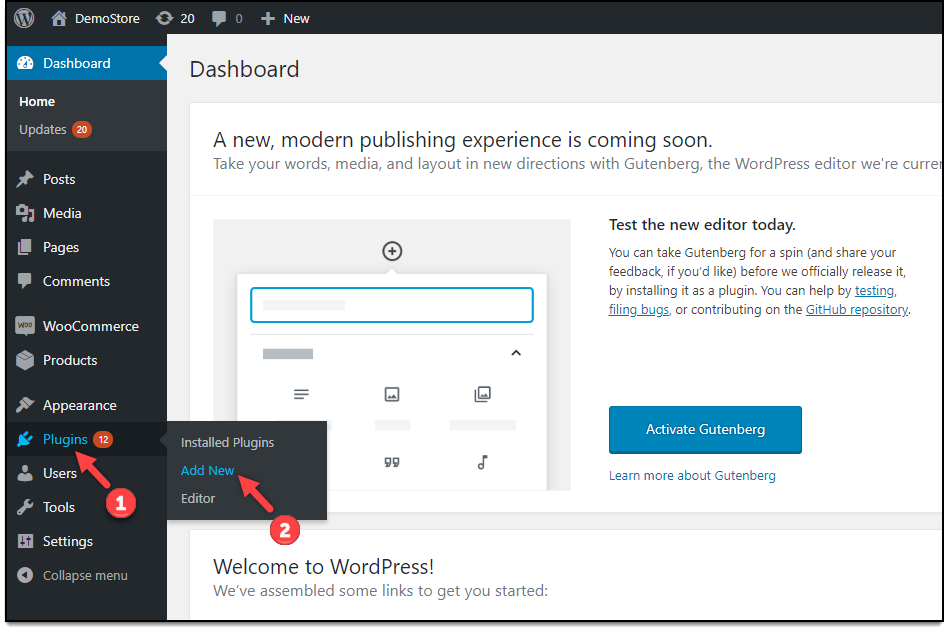 Use your admin credentials, sign in to your WordPress / WooCommerce website.
If you have the plugin's Basic version activated, make sure to disable and uninstall it before running the Premium version you have bought and downloaded. All of your data, including plugin settings, will be saved.
Next up, navigate Plugins > Add New in the WordPress sidebar menu on your website admin page, as seen in the following image.
Click on Upload Plugin > Select Newly Downloaded File > Install Now
Press Activate to complete this step.
Step 2: Select a discount rule and implement the quantity based discount
You may need to consider several settings when establishing a discount offer for a product. Providing a set price or a percentage reduction may not be sufficient in the long run. As a result, setting up a quantity-based discount for an underperforming product or whose stock has to be cleared could be a terrific solution.
Consider the following scenario: you have a stockpile of a specific product from the previous year. The goods will be replenished in two months. To move the stock faster, consider offering a quantity-based discount for the goods. Here are our instructions you can follow
Go to Product rules, and generate a new rule.
Create your rule name and specify the conditions. You can indicate the product for which you wish to provide a discount and the amount of the product that must be purchased to apply the discount. Lastly, you have the option of specifying the discount amount or proportion.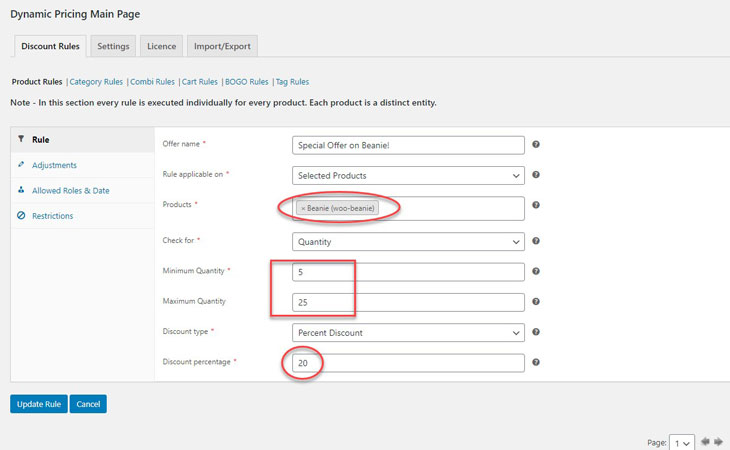 After saving the rule, the cart page will show the result as below: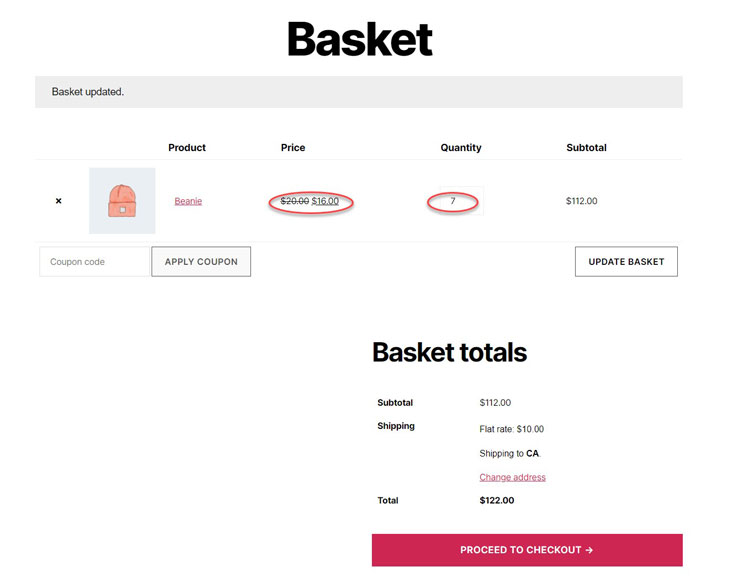 Step 3: Modify the prices for certain categories
You will want to set up a discount rule for an entire category rather than a single product in many circumstances. This is especially important for apparel retailers who organize their products by season.
One of the best methods to deal with this is to create a category-specific discount rule that only applies when clients buy a certain amount of something.
Go to the category rules section. Here, insert a name for the offer, establish minimum and maximum quantity of products to purchase, and a discount percentage.
In this case, we have put up a 30% discount for customers who buy between 10 and 50 products from the 'Summer Collection' category.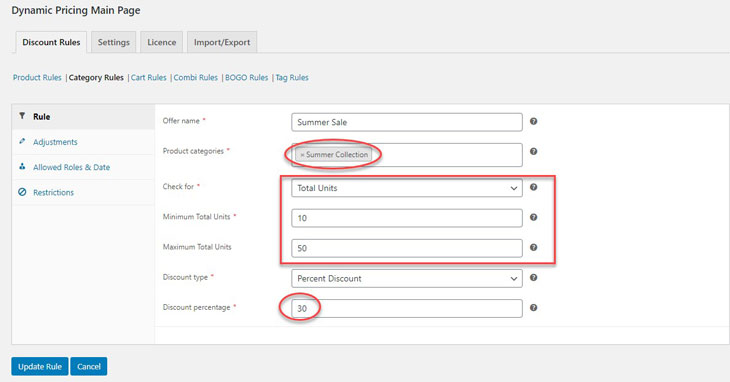 A discount will now be offered if a consumer purchases more than 10 units from that category.
As you can see, once the requirements are met, the discount will be applied immediately. Also, if a product from a separate category is in the cart, the discount will not be applied to that item.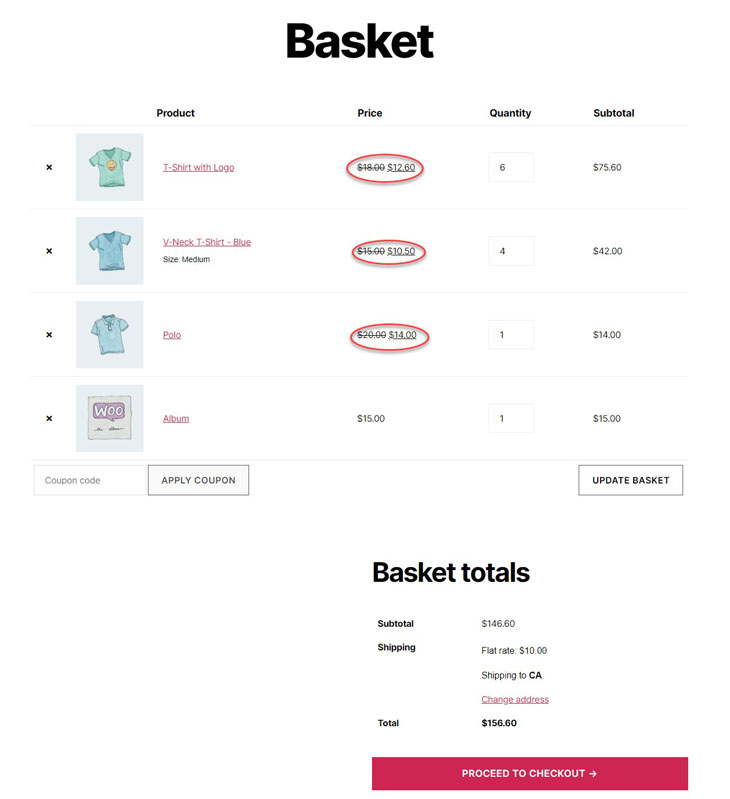 Step 4: Combinational discount rules
Creating discount policies based on two separate categories is another highly intriguing dynamic pricing and discount method. When you can exploit the reputation of one category to promote sales for another, this may be extremely beneficial.
When you wish to boost sales of similar products, you can employ combinational discounts. If you sell running shoes, for example, you might wish to give a discount on running accessories that are related to the order of the shoes.
Let's look at how to give your WooCommerce store a quantity-based, combinational discount.
Access Category Combi rules by going to the plugin settings page. You can indicate both the categories you wish to combine as well as a discount percentage in this section.
In this illustration, the quantity for the Fall Collection will be 1, and the quantity for the Winter Collection will be 2.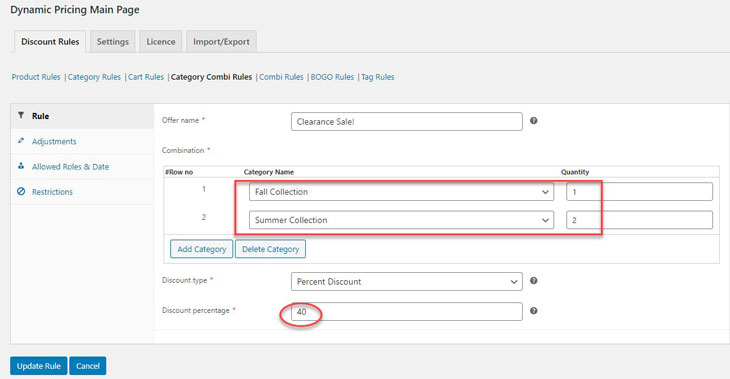 When buyers purchase two items from the Summer Collection and one from the Fall Collection, they will receive a 40% discount.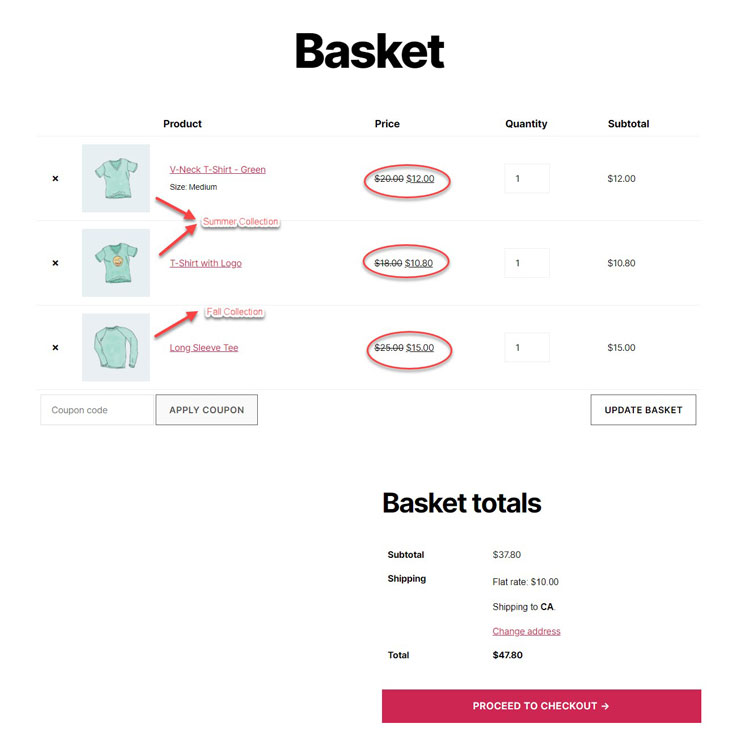 Step 5: Set the prices based on cart products
What if you are not concentrating on any particular products or categories? You aim to increase your overall sales or volume of sales. The solution will be a quantity-based reduction established simply on the cart items. Create cart-based discounts that are limited to transactions of a certain quantity using this method.
For instance, you might wish to give a 25% reduction to any transactions that include three to ten different goods in the cart. You may simply set this up with the plugin mentioned above.
Go to the plugin settings page and select Cart rules.
Give the rule a name and define the minimum and maximum variety of products in the cart to receive the discount. Also, indicate the discount amount, which in this case is 25%.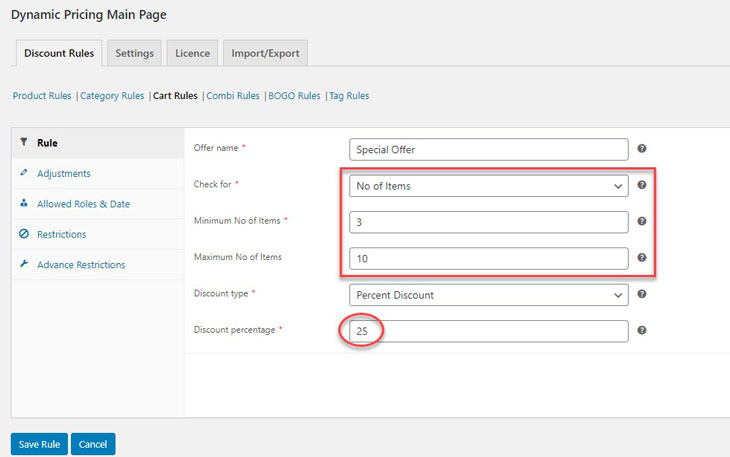 You can now see that when a consumer puts more than three things into their cart, the 25% discount is provided regardless of the products or categories.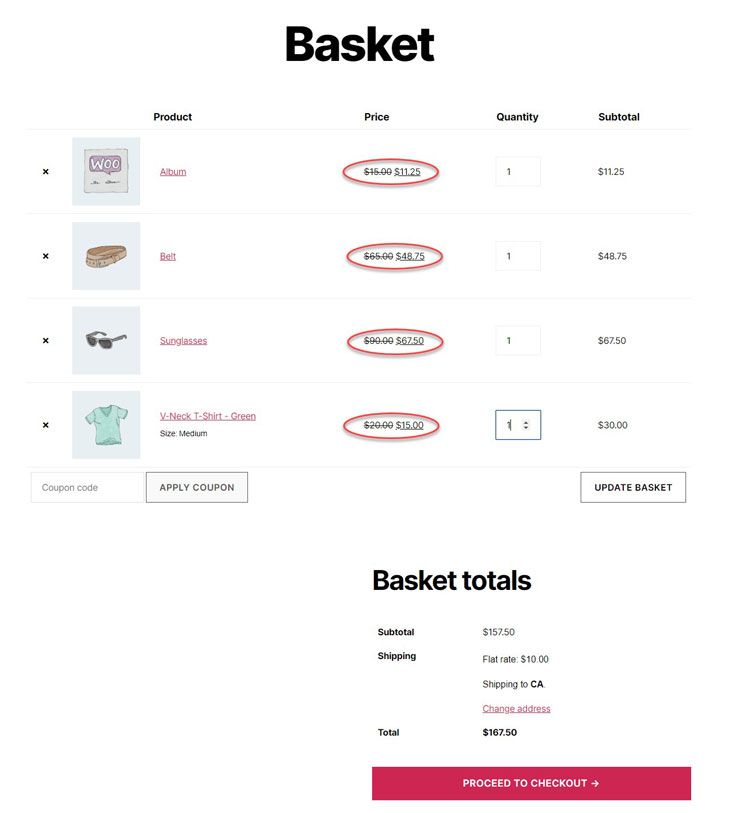 Step 6: Adjust the prices based on user roles
You can also provide discounts and special prices to a subset of your users. Role-based pricing and discounts are a great way of rewarding your most loyal consumers. Any of the discounts you create with this plugin, for example, might be restricted to specific user roles.
Navigate the Allowed roles & Date section and limit the rule to the user roles you wish.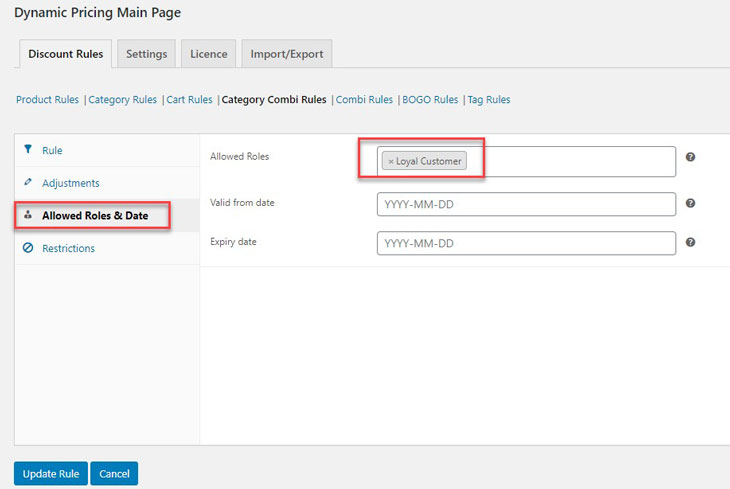 Only customers who have this user role will be eligible for this discount when they shop at your store.
4 Best WooCommerce Plugins for Changing Product Price Based on Quantity
1. Tiered Pricing Table for WooCommerce
Tiered Pricing Table for WooCommerce will assist you in implementing tiered pricing in your WooCommerce store depending on quantity categories. Customers can view the price differences based on the amount they select and buy the product appropriately. Simple configuration selections are provided by the plugin, which allows you to configure quantity ranges in the product data meta box of particular products.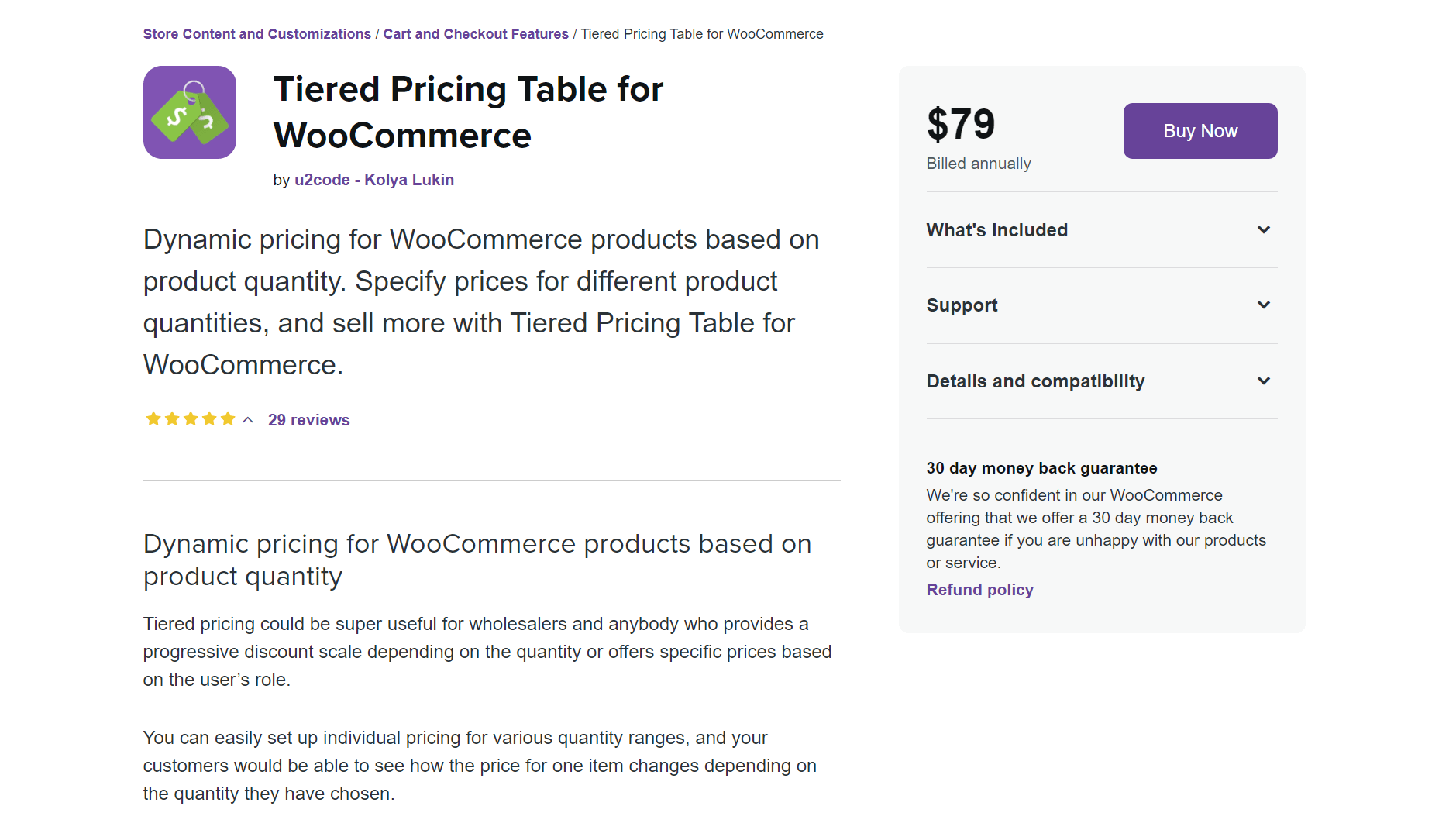 Outstanding features:
Offer discounts on your products based on a fixed sum or a proportion value
Modify the pricing dependent on the quantity selected by the consumer
On your product pages, include a differential pricing chart
The pricing table's layout and position can be customized
WordPress themes are compatible with this plugin
Price: The single site subscription of the plugin costs $79
2. WooCommerce Fees and Discounts
WooCommerce Fees and Discounts is a well-liked plugin that allows you to make a variety of price adjustments on your WooCommerce store. With this plugin, you can easily establish user-based discounts, bulk pricing, and buy one, get one deal. You can establish discount rules based on product, category, or the entire cart when using this plugin to provide bulk discounts. You can also build several pricing tiers based on quantity, which you can then present in a visually pleasing table.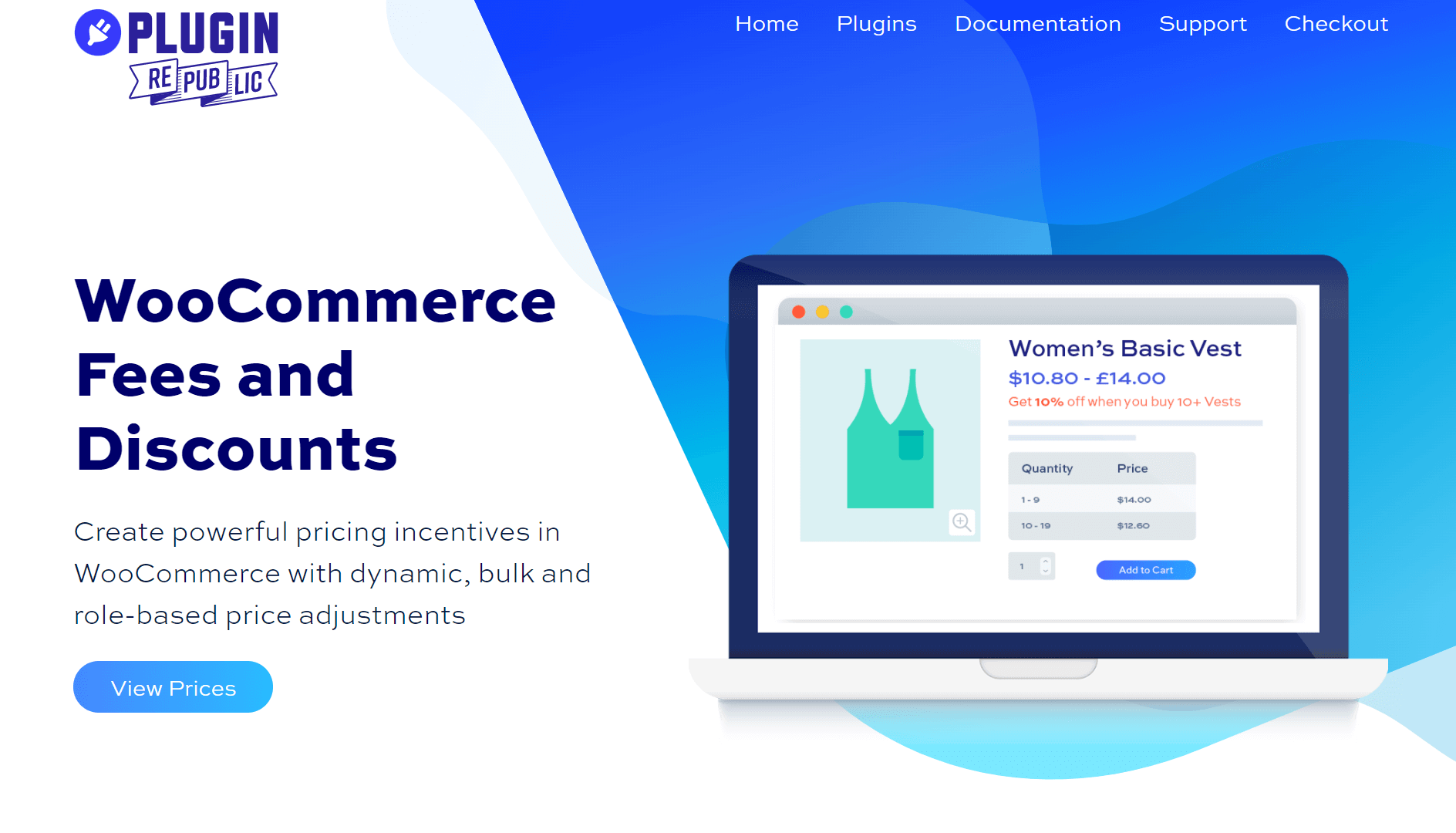 Outstanding features:
On your WooCommerce store, create bulk discounts
To aid customer knows tiered pricing, include a pricing table on your product page
Different dynamic pricing reductions can be created based on products, categories, etc
Discounts can be configured depending on user rules
Buy one, get one deal
Price: The Basic edition of this plugin costs $49, while the Pro version costs $89
3. WooCommerce Tiered Pricing – Price by Quantity Plugin
WooCommerce Tiered Pricing – Price by Quantity Plugin plugin may be useful if you want to offer mass discounts on your WooCommerce store. Customers will be able to receive discounts based on the number of things they purchase. Additionally, you can display a tiered price table to properly educate customers about the offers offered in your store. The plugin makes it simple to set up pricing policies for individual products, categories, or the entire business.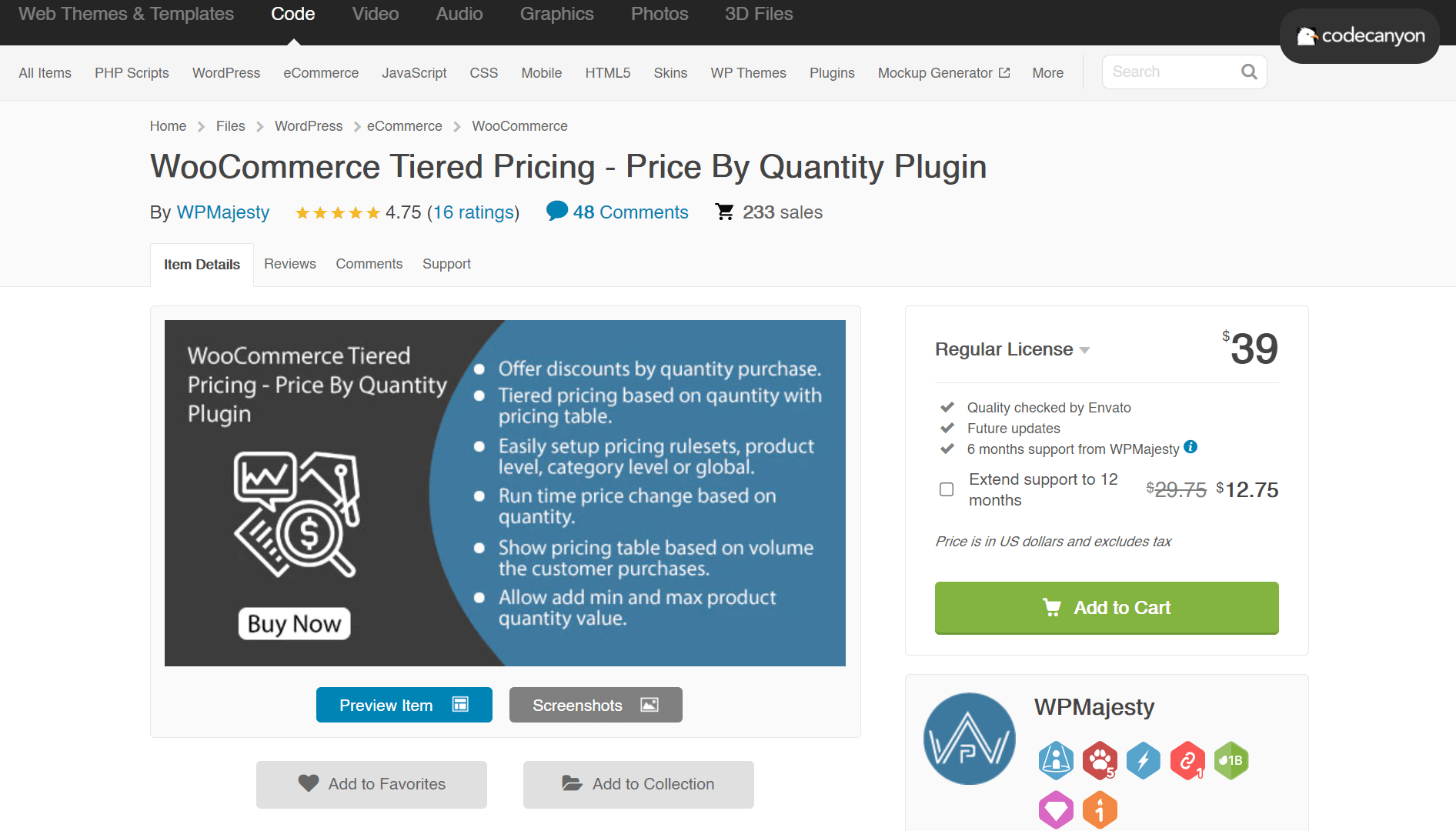 Outstanding features:
Add tiered pricing at the product, classification, or global level
You can create a tiered pricing rule distinctive to override pricing rules at other levels
Show a differential pricing table with various options for placement
Automatically adjust the price of a product based on its quantity
Works with products that are both simple and variable
Price: A regular license of the plugin costs $39
4. WooCommerce Product Table
WooCommerce Product Table plugin is mostly used to generate an order form for your WooCommerce store by displaying various products in a table. This plugin, on the other hand, can be used to generate tiered pricing based on quantity. You can build different product modifications based on quantity, then assign varying prices to each of them. You can present quantity-based pricing as multiple rows or as a dropdown menu this way.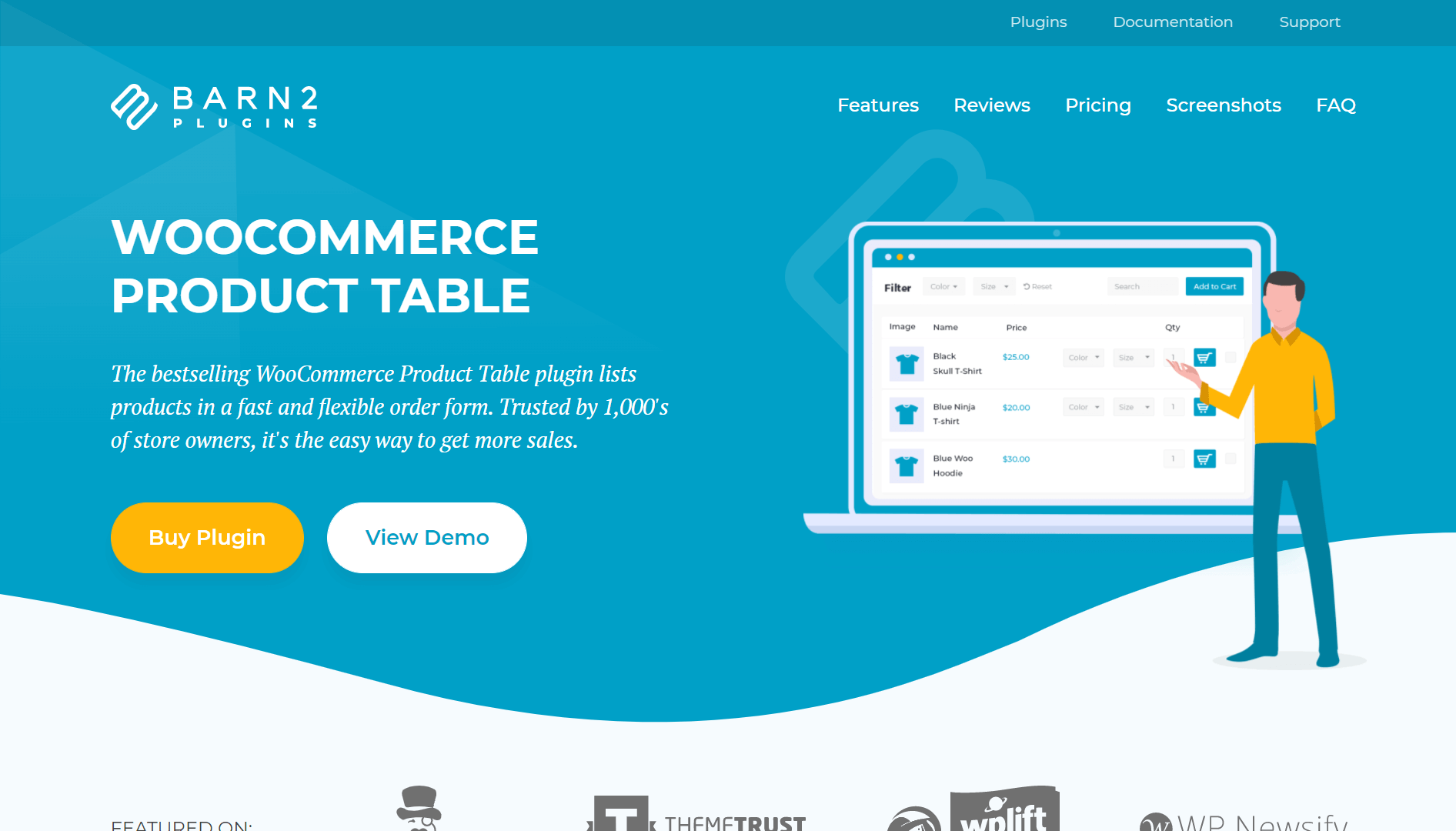 Outstanding features:
On your WooCommerce store, create a simple one-page ordering system.
To exhibit quantity-based price tables, change the plugin's parameters.
Shortcodes can be used to display product tables anywhere on your website.
The user interface is simple and accessible.
Quantity-based pricing in multiple rows or via a dropdown menu.
Price: The plugin costs $99
Final words
To summarize, launching a business is difficult, but ensuring that it runs smoothly and effectively is a whole different thing. As a result, we hope to assist you in making the internet business marketplace more accessible to you. We also go over how to change product price based on quantity, as well as some of the benefits when you customize price based on quantity in WooCommerce on your own.
We would like to help you grow and earn from your business as well. Furthermore, your extension experience is really valuable to us, so don't hesitate about expressing it.
New Posts
Subscribe
Stay in the know
Get special offers on the latest news from AVADA.
40k
subscribers has been joined!
Earn $10 in reward now!