How to integrate BuddyPress with Woocommerce?
How to integrate BuddyPress with Woocommerce?
WooCommerce is a solid platform on its own, but when combined with BuddyPress, it becomes even more so. You can easily transform your website into a full-featured social network with member profiles, activity streams, user groups, etc.
In today's article, we'll show you how to integrate BuddyPress with WooCommerce. Let's get started!
BuddyPress Overview
BuddyPress is an open-source social networking software package that can be integrated with WooCommerce to create a dynamic social networking website, just like Facebook and Twitter.
The plugin allows you to create, update profiles, send private messages to others. You can also make friends online, form and join groups, or participate in forum discussions.
Benefits of Integrating BuddyPress with WooCommerce
BuddyPress is a significant plugin, thus integrating it with WooCommerce gives your WooCommerce store a number of benefits.
Create a social networking website that includes member profiles, activity streams, user groups, chat, and other features.
Add attachments to messages and collaborate on documents.
A comprehensive online publishing platform for creating, updating, and managing content.
Increased user engagement and a better user experience on your WooCommerce store.
Sync customer information like purchase history and product downloads.
Have a quick and comprehensive picture of your customers' and users' engagement levels, allowing you to better manage your store.
How to Integrate BuddyPress with WooCommerce?
In this part, we'll show you how to integrate BuddyPress with WooCommerce using the plugin WooBuddy by ThemeKraft.
This is a simple yet effective plugin that combines all WooCommerce shop data into BuddyPress member profiles. It's worth mentioning, however, that the integration will only function if you have WooCommerce and the BuddyBoss Platform by ThemeKraft. installed and activated on your site. Please download and install the BuddyBoss Platform before proceeding with the procedures below.
Step 1: Install and activate the integration plugin
Go to this link to download the WooCommerce BuddyPress Integration plugin: https://wordpress.org/plugins/wc4bp/

Upload the downloaded file to yourhostname/wordpress/wp-content/plugins in the WordPress plugins folder. Alternatively, navigate to the WordPress dashboard > Plugins > Add New > Upload Plugin. Then browse to the file that you've just downloaded and choose to upload it.

To activate the WC4BP - WooCommerce BuddyPress Integration plugin on your website, click Install and click the Activate Pluginbutton.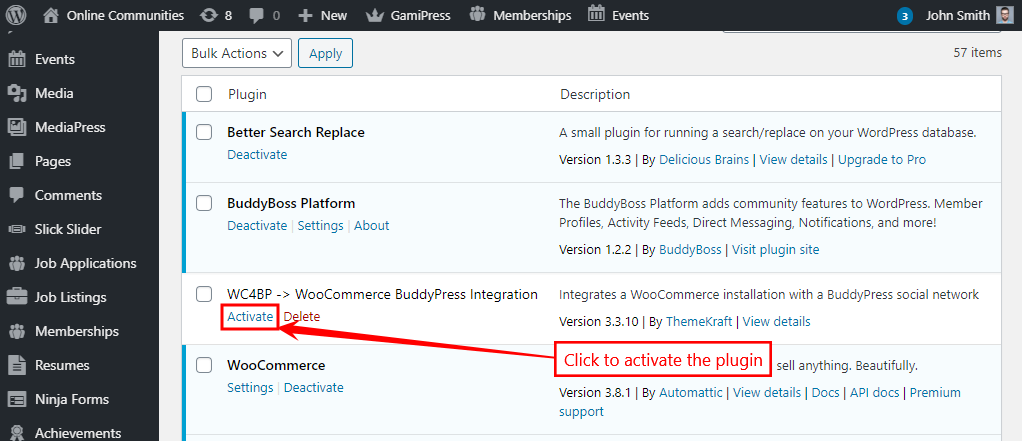 Step 2: Configure the plugin
Go to WordPress Dashboard > WC4BP Settings from your WordPress dashboard.
Adjust the features for the integration in the WC4BP Settings tab as desired.
Click Save Changes.
Click the Sync Now button in the Profile Fields Sync tab to sync all default WooCommerce customer fields with BuddyPress.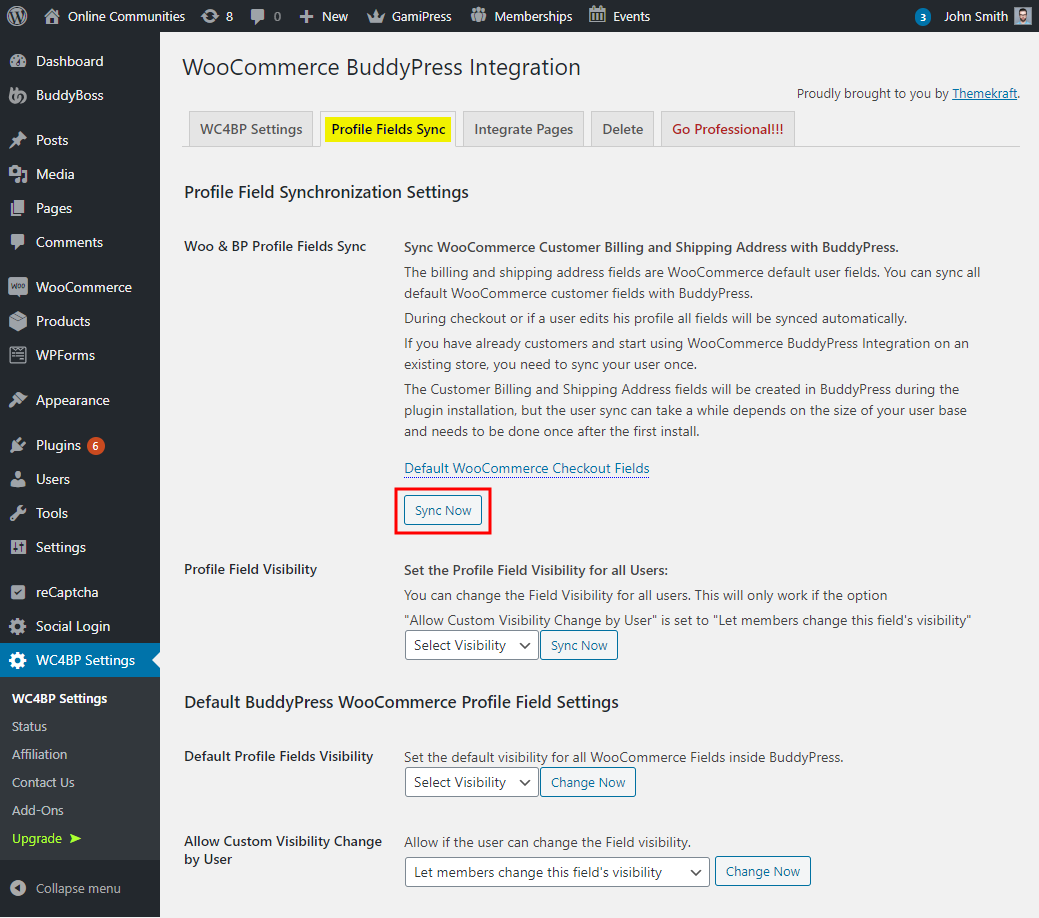 Top 2 plugins for integrating BuddyPress with WooCommerce
In this part, we'd like to introduce to you the two best plugins to integrate BuddyPress with WooCommerce, other than the previously mentioned plugin WooBuddy by ThemeKraft.
1. BuddyPress WooCommerce Integration by Wbcom Designs

BuddyPress WooCommerce Integration by Wbcom Designs enables you to integrate WooCommerce with BuddyPress. You can sell physical or digital items on your social community website when the integration is complete, and you can also manage your orders straight from your profile page.
Features
Simple setup
Simple order tracking
BuddyBoss friendly
Manage shops directly from your BuddyPress profile
Get notified about newly published products and reviews via BuddyPress activities
Manage all settings from the backend
Perfect for a community-based social marketplace
Pricing
Free
2. BuddyCommerce

BuddyCommerce facilitates the most robust integration of WooCommerce with BuddyPress user profiles. The purpose of this plugin is to provide BuddyPress and WooCommerce site administrators the ability to integrate user accounts as they wish. As a WooCommerce online store administrator, you have complete control over the plugin's settings.
Features
Integration of a WooCommerce user account with a BuddyPress user profile.
Configurable redirection from the WooCommerce account to the BuddyPress profile tab.
You can control which WooCommerce account material displays on your BuddyPress profile.
You can customize the slug, label, location, and other aspects of each tab.
You can add a Track Order tab to your BuddyPress User profile.
You can put all of these tabs as top-level tabs or as a child of some other tabs.
Integrate WooCommerce Payment Methods tab on BuddyPress User profile as tab/sub-tab.
Pricing
Free
Final Words
Integrating BuddyPress with WooCommerce brings immense benefits to business owners. We hope that our instructions on how to integrate BuddyPress with WooCommerce have helped you build a profitable and successful online business.
If you have any questions, feel free to ask us in the comments section below. Thank you for reading, and we'll see you in the next article.
New Posts
Subscribe
Stay in the know
Get special offers on the latest news from AVADA.
40k
subscribers has been joined!
Earn $10 in reward now!