12 Best SSL Certificate Providers for WooCommerce
12 Best SSL Certificate Providers for WooCommerce
You may have heard of WooCommerce SSL but don't really understand what it is. WooCommerce is a robust eCommerce platform for WordPress users that want to build a business. It's simple to use, doesn't require programming experience, and has excellent inventory and transaction management capabilities. People who open their own WooCommerce store are frequently unaware of the security dangers that come with running an eCommerce store. An SSL certificate can help here by establishing a secure, encrypted connection.
In today's topic, we will give you reviews about 12 Best SSL certificate providers for WooCommerce to help you have the best choice.
Reasons to set up SSL certificate for WooCommerce
WooCommerce can be used on a website that does not have an SSL certificate. That is because WooCommerce, as an eCommerce platform, provides a way to manage your products and receive orders. Customers will be sent to the secure site of the payment gateway company for the transaction if you use a payment gateway like PayPal Standard. If you're just getting started, this option can get you up and running without the need for an SSL certificate.
However, because SSL certificates have become the industry standard for online security, it is recommended that you obtain one for your website. It could be a deciding factor for many clients considering making a purchase from your store. It will instill a sense of trust in your customers, encouraging them to make a purchase at your store. This is especially true if you're still expanding your consumer base and acquiring new ones.
12 Best SSL certificate providers for WooCommerce
1. Namecheap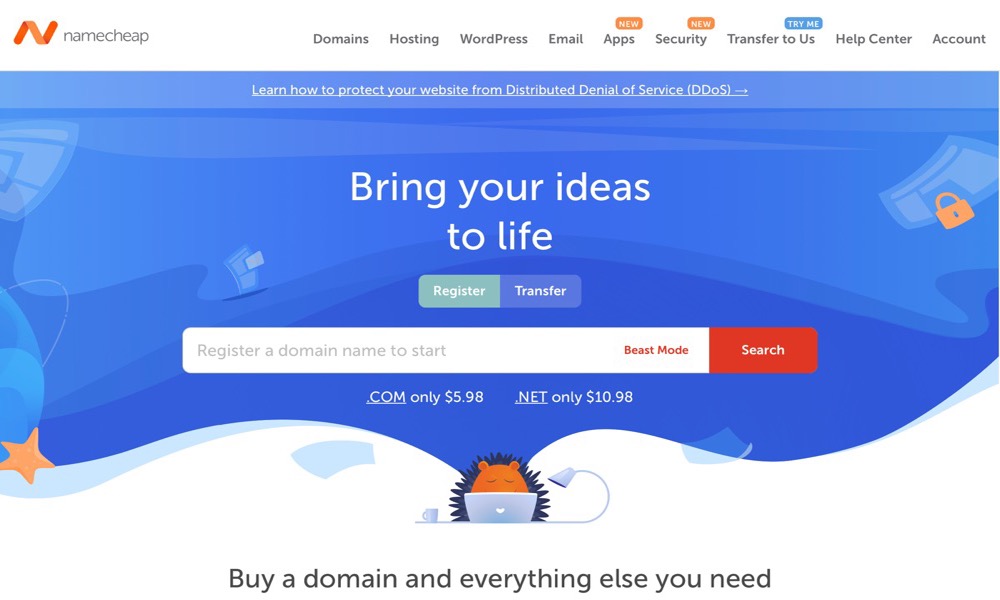 If you want to buy a lot of domain names for a low price, or if you just want to get the best value on your domain registration, Namecheap is the place to go. Keep in mind that you'll need to renew your domain registration on a regular basis. This is true of any registrar, but Namecheap's renewal rates are among the best in the business.
Namecheap is a great site to go if you want to acquire a domain name and hosting all in one spot for a low price. There are numerous hosting alternatives available.
Main features:
Cutting-edge server technologies from Dell, HP, and Supermicro.
Numerous redundancies.
Pages load exceptionally quickly
Softaculous installer
Shared hosting options with unlimited bandwidth.
Options include twice-weekly backups, free auto backup with Stellar Plus and Stellar Business.
Billing and support through a single point of contact.
No contracts.
Pros and Cons:
| Pros | Cons |
| --- | --- |
| Free domain and migration | Setting up SSL certificates is difficult and often needs help |
| Good uptime – 99.96% | Some aspects of the dashboard are hard to find |
| Decent load time 417 ms | No phone support |
| 30-day money-back guarantee |   |
| Fully-Loaded value plan |   |
| Third-Party reviews are excellent |   |
Price:
Stellar ($1.44/month) includes 20GB SSD storage, three websites, 30 mailboxes for personal use.

Stellar Plus ($2.44/month) includes an infinite number of websites and email accounts, an unlimited amount of data on SSD drives, automated backups for a small business website.

Stellar Business ($4.44/month) includes limitless websites, email addresses, 50GB of storage, cloud storage, automated backups for a content-rich website.
2. Bigrock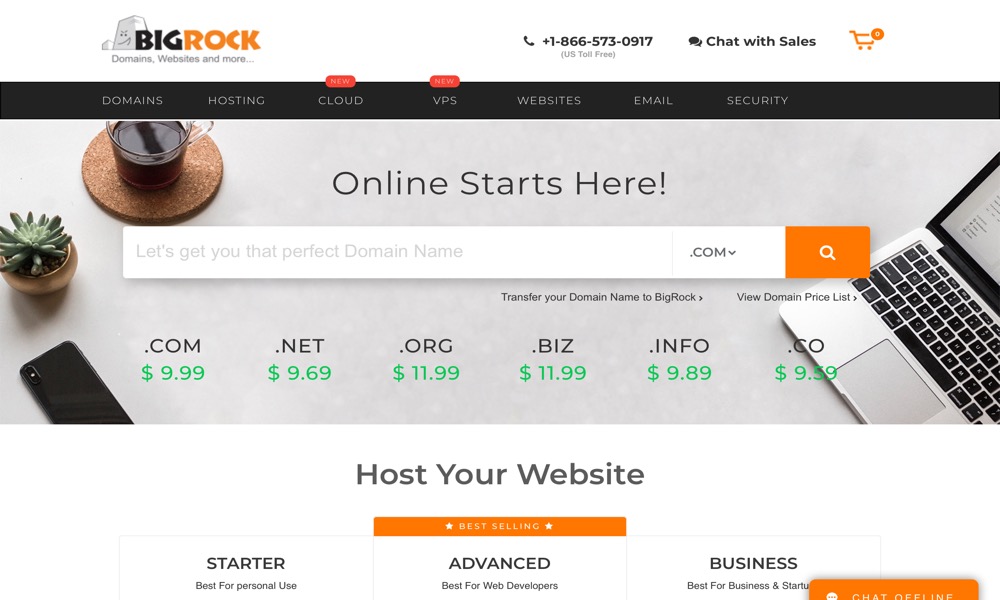 Bigrock is an Indian web hosting company that is owned by the Endurance International Group (EIG), which also owns Bluehost, Hostgator, and several other hosting companies. They're ICANN-accredited, and they claim to be able to provide pricing up to 80% lower than other domain registrars because they cater to people and small enterprises. They currently power over 6 million domains, according to their website. BigRock also has a worldwide distributed data center, which is a collection of redundant server architecture that houses all of the company's goods and services.
Main features:
Web Acceleration
Email Hosting
Softaculous
SSL Certification
SiteLock
Root Access
RAID 10 Protection
Coding Language Support
Intuitive Control Panel
Pros an Cons:
| Pros | Cons |
| --- | --- |
| Leading ICANN Domain Registrar in India | Average support regarding your issues |
| BigRock Hosting Plans and their prices | No Flexibility to change Name Servers |
| Referral Schemes and Discounts |   |
| Money Back Guarantee |   |
| BigRock Server Uptime |   |
Price:
Starter ($1.59/month) includes one website, ten gigabytes of storage, unlimited bandwidth, and 200 email accounts.

Advanced ($3.49/month) includes a single website as well as unlimited storage, bandwidth, and email addresses.

Business ($5.39/month) includes three websites and unmetered storage, bandwidth, and email accounts.

Pro ($7.39/month) includes unmetered websites, storage, bandwidth, and email accounts.
3. Hostinger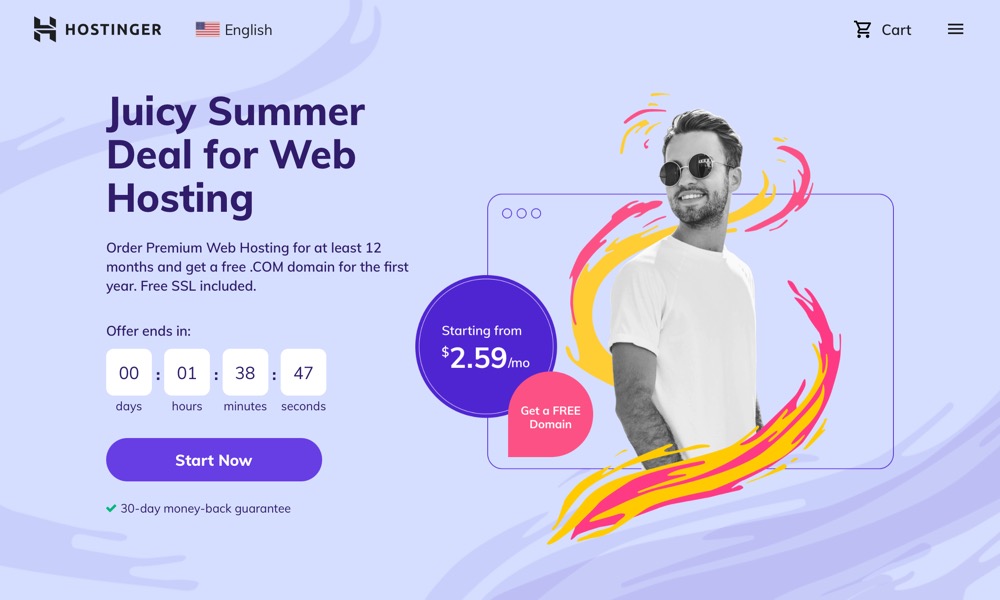 Hostinger is a supplier of fast, stable, and streamlined web hosting services at very low prices, with the purpose of making web developers' lives easier.
Hostinger specializes in WordPress-optimized shared hosting and scalable virtual private servers, as well as a drag-and-drop website builder. For yearly plans, the VPS service also includes daily/weekly backups and a free name. The data center for the service uses cutting-edge storage technology, including strong solid-state drives.
Main features:
24/7 WordPress support in 20+ languages
One-click WordPress installation
A free domain name
Enhanced security features, such as daily backups and a free SSL certificate
Practically unlimited bandwidth
Pros and Cons:
| Pros | Cons |
| --- | --- |
| One-click WordPress installation and a free domain name | Support response times are moderate |
| Shared hosting plans at an affordable price | For sites outside of the United States and the United Kingdom, modest performance outcomes were obtained |
| The United States and the United Kingdom, in particular, have had strong performance results | The uptime is a little erratic |
| Server status that is visible to the public |   |
Price:
Single ($1.39/mo) includes hosting for 1 website with 30GB SSD storage space, bandwidth for up to 10k monthly visits, and 1 professional email account.

Premium ($2.59/mo) includes 100 websites and email accounts allowance, 100GB SSD storage space, and bandwidth for 25k monthly visits.

Business ($4.99/mo) includes 200GB SSD storage space, bandwidth for 100k monthly visits, free daily backups, and CDN.
4. GlobalSign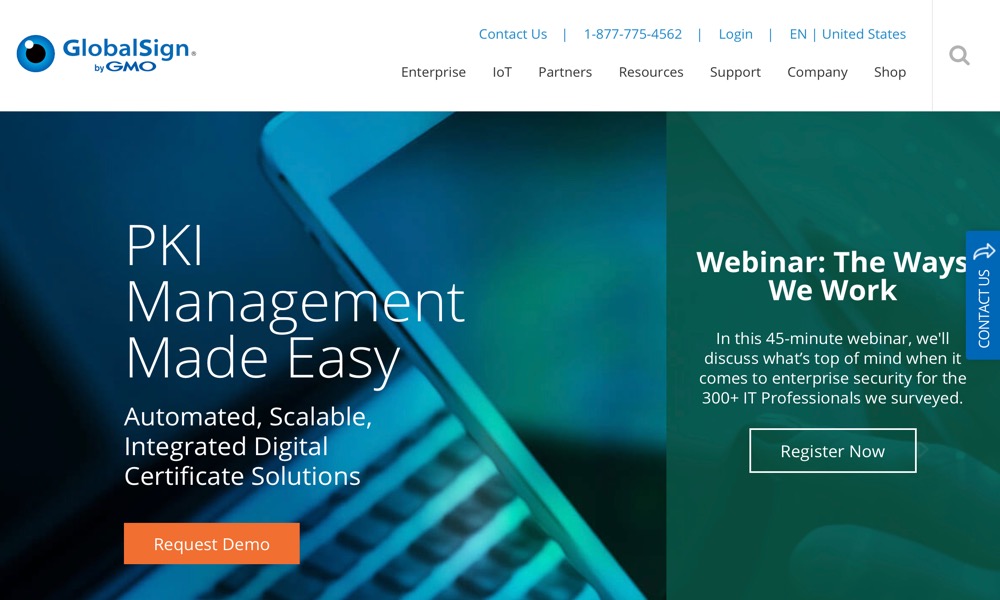 GlobalSign is the world's most trusted identification and security supplier. Providing secure online communications, managing millions of verified digital identities, and automating authentication and encryption to businesses, large corporations, cloud service providers, and IoT innovators around the world. Its high-scale Public Key Infrastructure and identity solutions support the Internet of Everything's billions of services, devices, people, and things.
GlobalSign is an identity services company that offers cloud-based, highly scalable public key infrastructure (PKI) solutions to businesses that need to perform secure commerce, communications, content distribution, and community interactions.
Main features:
Domain SSL
Organization SSL
Extended SSL
Domain SSL Wildcard
Organization SSL Wildcard
Pros and Cons:
| Pros | Cons |
| --- | --- |
| Control and flexibility | Costs is invisible |
| Self-reliant | Maintenance |
| Security | It necessitates dedicated IT support |
|   | The company is responsible for data security |
|   | In the event of data loss, a backup is required |
Price:
Domain Validated ($249/ year) includes issues in minutes, no paperwork required, wildcards, up to 100 SANs for personal websites

Organization Validated ($349/ year) includes complete business authentication, wildcards, up to 100 SANsfor business websites

Extended Validated ($599/ year) includes company name displayed in the browser, financial institutions, phishing targets for eCommerce.
5. Comodo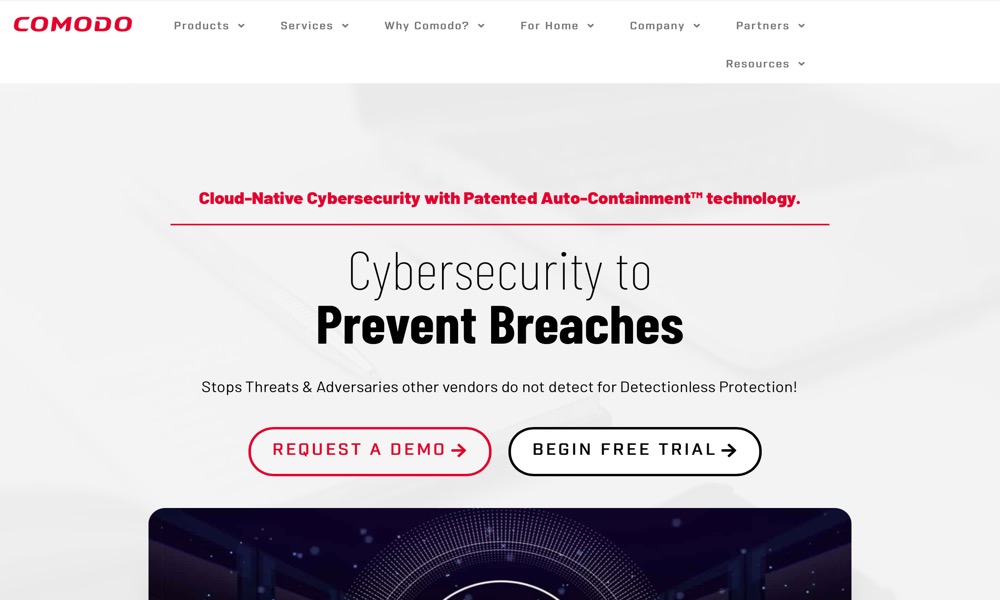 In the world of internet security, Comodo is a well-known brand. Comodo's SSL certificates are suitable for both small and large online stores, with configurations ranging from EV to UC to Wildcard.
Comodo SSL comes with a number of benefits, including quick certificate issuance and validation, 256-bit encryption that is trusted by 99.9% of browsers, a 30-day money-back guarantee, and a free "Confidence Logo" that helps increase conversions and trust.
Main features:
Multilingual Support
Basic Firewall
Identity Protection
Network Monitoring
Internet Security
Longer Graph History
Detect viruses
Block botnets
Advanced Firewall
Pros and Cons:
| Pros | Cons |   |
| --- | --- | --- |
| The list of features provided is extensive | There are no proper third-party test findings |   |
| Configurable to the max (but only for the expert users) | Phishing protection is woefully inadequate |   |
| Fully compatible with Windows, Mac OS X, and Linux | Protection against ransomware is very inadequate |   |
| It includes a secure browser as well as a firewall |   | It significantly slows down the system |
| Sandboxing tool that works (Valkyrie) |   | There is no protection for your webcam |
| Strong anti-malware defense |   |   |
Price:
Positive SSL ($7.27/year)
Instant SSL ($75.00/year)
EV SSL ($130.00/year)
Positive SSL ($124.00/year)
UCC SSL ($124.67/year)
6. GeoTrust
GeoTrust is the second-largest SSL certificate vendor in the world. According to their website, GeoTrust is used by more than 100,000 customers throughout the world for SSL encryption security. Their SSL certificates provide a quick turnaround time and support up to 256-bit SSL encryption. The site seal is another fantastic feature of the GeoTrust SSL certificate. The site seal displays the level of security uniquely provided by each SSL certificate. A comprehensive management interface, world-class continuous support, and bulk pricing for GeoTrust Partner firms, as well as enterprise-level users, are just a few of the outstanding services offered by the organization.
Main features:
On a 2048-bit root, strong 256-bit encryption is used.
For the duration of the certificate, you are entitled to unlimited free reissues.
More than 99% of browsers and the majority of mobile device browsers are supported.
Free security for exampledomain.com
Pros and Cons:
| Pros | Cons |
| --- | --- |
| Reduce the number of bounced visitors to a website | Different goods require different validation timeframes |
| Conversion rate has improved | The cost of a wildcard certificate is relatively high |
| Providing clients with the confidence they require to conduct business on a website |   |
| The SSL certificate's expiration date |   |
| Customers can validate the domain by clicking the seal |   |
| A stamp with the date and time, as well as an organizational stamp |   |
Price:
QuickSSL Premium ($63.33/year)
QuickSSL Premium SAN ($94.90/year)
QuickSSL Premium Wildcard ($223.04/year)
7. RapidSSL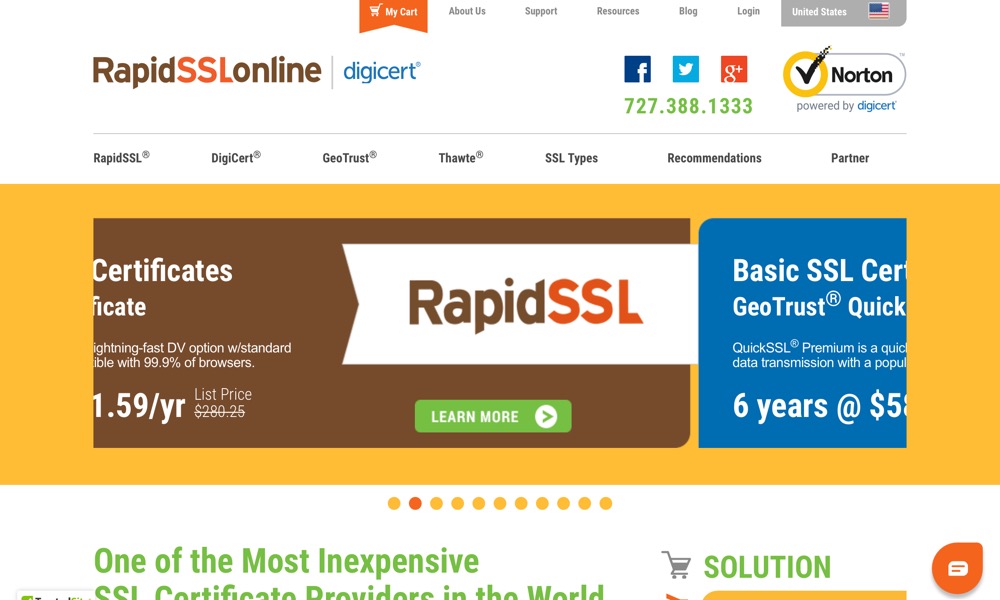 RapidSSL is one of the oldest and most well-known certificate providers, focusing on low-cost Domain Validation SSL certificates. RapidSSL Certificates are inexpensive and feature super-strong 256-bit encryption to secure your website's visitors. RapidSSL offers a fully automated service with lightning-fast validation. There is no paperwork required; all that is required is confirmation of domain ownership. As a result, the transaction can be completed and an SSL certificate issued in as little as a few minutes.
Main features:
Instantly issued digitally
Domain level validation
WildCard SSL
Extended validation certificates
Rapid self-sign certificates
Competitive costs as opposed to some premium SSL providers4
Pros and Cons:
| Pros | Cons |
| --- | --- |
| With Digital Certificates, it provides high-level 256 encryption | SSL Security Options are Limited |
| Cost-Effective Alternative |   |
| Users can use their Switch Enrollment Program to their advantage |   |
| Money-back guarantee for 30 days |   |
| Online processing eliminates the need for paper formalities |   |
| Issuance of Instant Certificates |   |
Price:
Single/Standard Certificate ($49/year)
Wildcard ($199/year)
8. Sectigo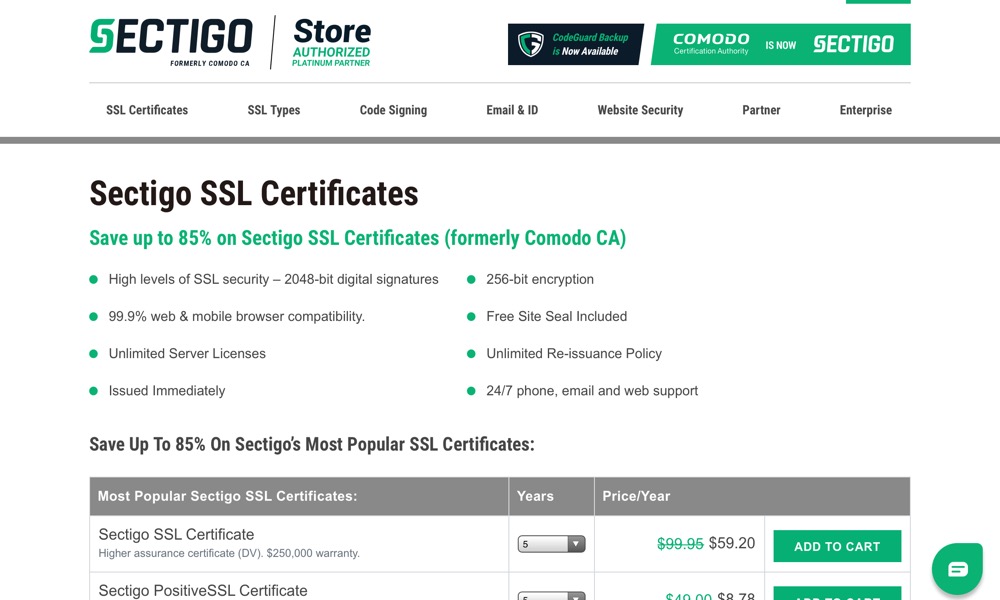 Sectigo has a wide choice of SSL certificates to meet the demands of small and large organizations, as well as every budget. Sectigo SSL is a popular entry-level SSL certificate that uses the highest encryption standard to secure a single domain.
Sectigo SSL certificates are Domain Validated SSL certificates that are usually issued within minutes of being purchased. When you secure your website with a Sectigo SSL certificate from Sectigo's flagship line, the address bar will display "Secure," indicating that your website is safe to visit and transact on.
Main features:
Domain Validated SSL Certificate
Covers www and non-www
Strong 256-bit encryption
Display the padlock symbol in the address bar
Compatible with almost all browsers and mobile devices
Sectigo secure trust seal
Unlimited server licenses
Unlimited re-issuance
Pros and Cons:
| Pros | Cons |
| --- | --- |
| Cost-cutting | Capacity Limits |
| Certificate Management Made Simple | Keys that are kept private |
| Flexibility of Multiple Servers | There is no EV option available |
Price:
SectigoSSLstore ($58.50/year)
TheSSLstore.com ($60/year)
CheapSSLsecurity ($47.12/year)
9. Entrust SSL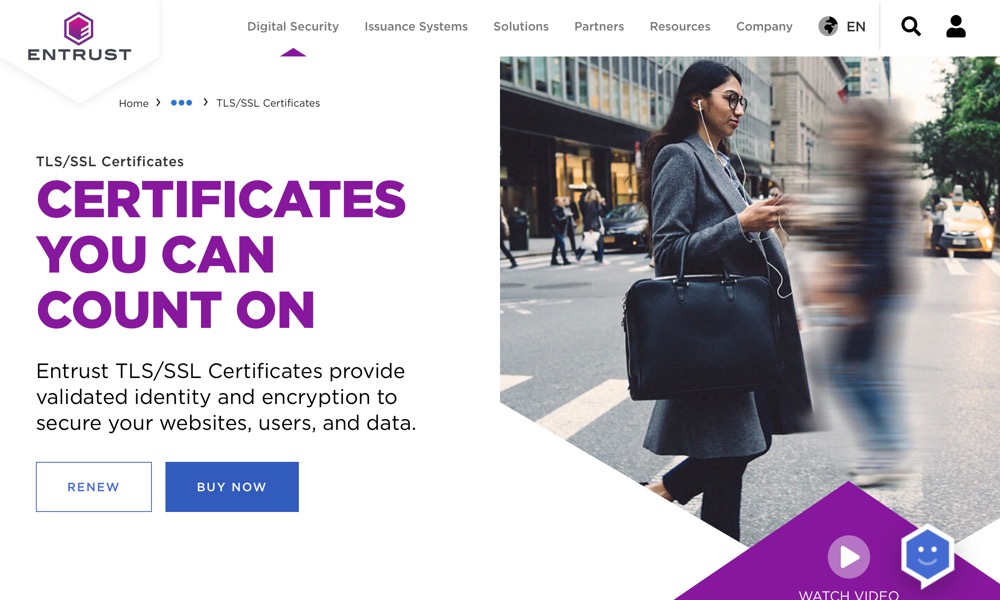 Entrust Inc. is a privately held software company specializing in PKI security software and services such as SSL Certificates, fraud detection software, mobile authentication, and digital certificates.
Entrust SSL provides many types of SSL certificates for website and software security in the realm of digital security. Entrust offers SSL certificates with standard domain validation, organization validation, and extended validation, as well as multi-domain, wildcard, and UCC features. Entrust SSL Certificates are built for high customer confidence and excellent encryption, making it a successful Certificate Authority.
Main features:
Avoid browser error messages
Support RSA
Support ECC
50 more domains for retail accounts
250 more for Enterprise Accounts
Get extended identity validation
Secure unlimited subdomains
Pros and Cons:
| Pros | Cons |
| --- | --- |
| The renewal procedure is really straightforward | Entrust does not offer a competitive price |
| New requests are processed quickly |   |
| Owners of applications have access to a comprehensive email notification system |   |
Price:
Advantage SSL Certificate ($196/year)
Wildcard SSL Certificate ($573/year)
Private SSL Certificate ($122/year)
EV Multi-Domain SSL ($280/year)
UC Multi-Domain SSL ($262/year)
10. GoDaddy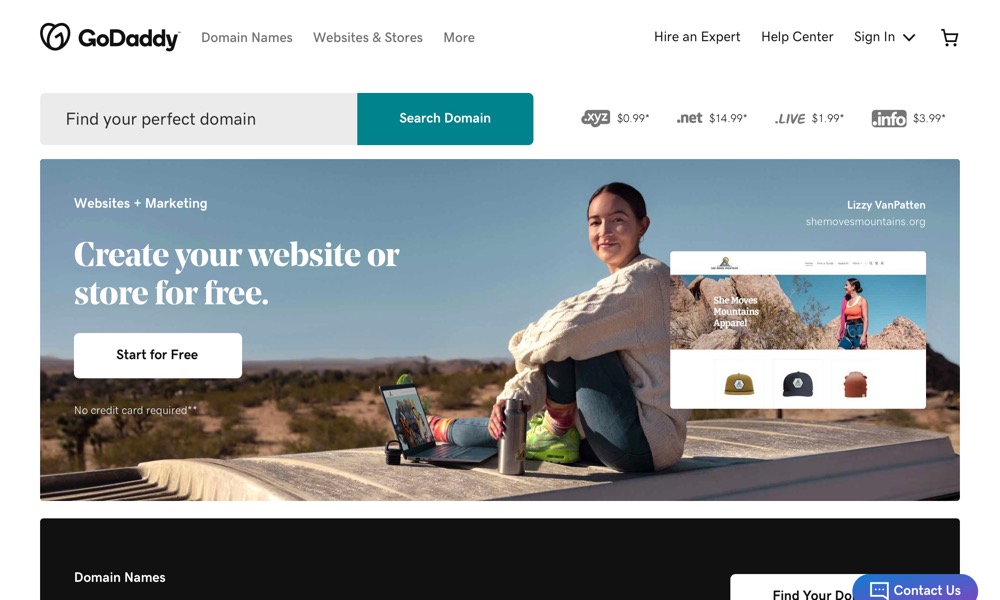 GoDaddy is a well-known domain registrar and web hosting provider. GoDaddy has also begun offering SSL certificates to their customers for both commercial and personal use.
GoDaddy SSL Certificates have powerful 2048-bit encryption technology, round-the-clock high-end support, and a full use trust level, among other features. For website security, it offers domain SSL certificates and code signing certificates for software/app security. Server communication, user-sensitive information, customer transactions, and user credentials are all secured using GoDaddy SSL.
Main features:
Deliver the most secure SHA-2 and 2048-bit encryption possible
Support is available at all times of the day and night
Ensure the security of an unlimited number of servers
Ensure that your website has a dynamic Security Seal
Pros and Cons:
| Pros | Cons |
| --- | --- |
| Live chat help is available around the clock | After installation, users have reported issues |
| When compared to other CAs, this one is really affordable | There were a lot of unfavorable comments about tech support |
| Multi-domain certificates cover five sites, with the SAN allowing for up to 100 | When you renew your contract, the price goes up |
| Money-back guarantee for 30 days | Additional scanning is not included |
Price:
Standard DV SSL ($69.99/year)
Deluxe OV SSL ($99.99/year)
UCC/SAN SSL ($149.99/year)
Wildcard SSL ($299.99/year)
Code Signing ($199.99/year)
11. Network Solutions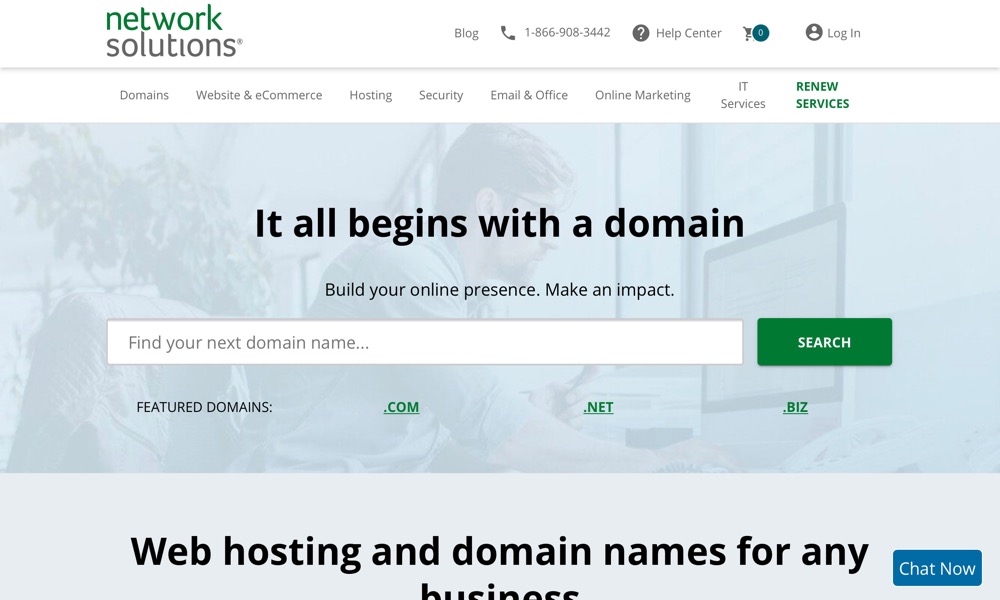 Domain name registration, web hosting, e-commerce, search engine marketing, and SSL Certificates are all companies in which Network Solutions is involved.
For the protection of small, medium, and large-scale online company websites, Network Solutions offers a comprehensive selection of SSL Certificate security solutions. The trust seal from Network Solution shows that the site is legitimate and authorized. Network Solutions offers a wide range of SSL Certificates, including Domain Validation, Organization Validation, Extended Validation, Multi-Domain Validation, and Wildcard Validation.
Main features:
SSL with 256-bit encryption is available
With a team of security professionals on hand 24 hours a day, 7 days a week, SSL certificate authority with the fastest growth and highest level of trust.
CA/B forum participant
When compared to other competitors, it offers SSL at a lower cost.
The certificate has an unlimited server license and is compatible with 99.9% of web browsers.
Pros and Cons:
| Pros | Cons |
| --- | --- |
| TXT, MX, and CNAME records are supported by Network Solutions | Pricing might be more affordable |
| DNS changes take a while to propagate |   |
| For account management, Network Solutions offers an online management interface |   |
Price:
Xpress DV SSL ($32.99/year)
Basic OV SSL ($65/year)
Advanced OV SSL ($99.80/year)
Wildcard SSL ($307.40/year)
Extended SSL ($239.70/year)
12. Thawte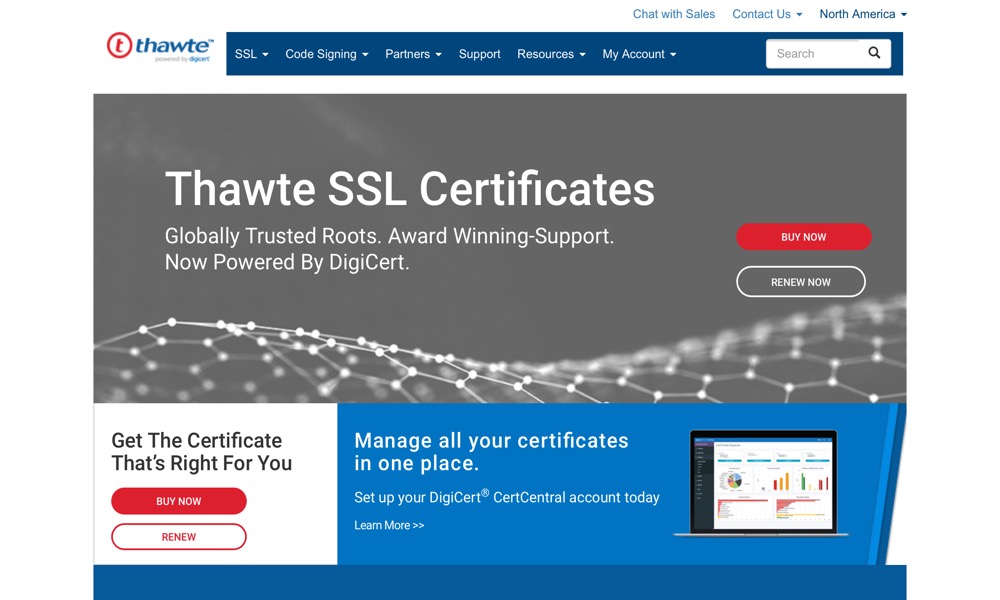 Thawte is the world's fifth-largest certificate authority. They are a Symantec subsidiary (now owned by DigiCert) and one of the most well-known SSL certificate providers. Thawte Certificate Authority is most known for being the first company outside of the United States to offer SSL certificates.
Main features:
Thawte Trusted Site Seal
Access to Thawte Certificate Center to easily manage certificates
Unlimited server licensing
Free reissues
Access to SSL/TLS tools
99% Browser compatibility
Industry leading tech support
Up to 256-bit encryption strength
Pros and Cons:
| Pros | Cons |
| --- | --- |
| Almost all browsers are compatible with Thawte SSL certificates | You will need to get another SAN certificate to encrypt more than one domain |
| SSL certificates with up to 256-bit encryption are the best in class |   |
| Try it out for free for 21 days |   |
| All SSL plans come with a NetSure warranty |   |
| IDNs are compatible with SLL products |   |
| Online application process is quick and straightforward |   |
Price:
SSL Web Server with EV ($344/year)
SSL Web Server ($238/year)
SSL123 ($149/year)
Conclusion
It is critical to maintaining your WooCommerce store secure if you're running one. WooCommerce SSL comes in handy here. Even if you're referring them to a third-party site to process payments, you will be collecting data about them, and that data mustn't get into the wrong hands. Adding SSL to your WooCommerce store will help protect both your site and your customers' personal information. For any store owner, this is a must-do step.
I hope you will find these reviews about 12 Best SSL certificate providers for WooCommerce fundamental!
New Posts
Subscribe
Stay in the know
Get special offers on the latest news from AVADA.
40k
subscribers has been joined!
Earn $10 in reward now!