10 Best Simple Auction Plugins for WooCommerce Stores
10 Best Simple Auction Plugins for WooCommerce Stores
Businesses use a variety of techniques to get optimum profits by providing their customer base with what they want. Auctions are a popular sales strategy in which you establish a base price for a product and consumers put bids as the price of the product steadily rises.
Thanks to numerous useful plugins, setting up an auction sales model on your WooCommerce site gets simple. In this post, we'll go through the 10 best simple auction plugins for WooCommerce stores.
Let's have a look!
Why Should You Set up a WooCommerce-based Auction site?
By setting a WooCommerce-based auction site, you gain multiple benefits:
The WooCommerce-based auction site would enable shoppers to bid on your products.
Your WooCommerce store can sell products by setting a minimum start price.
The auction site will allow users to see live updates about the auction.
The auction site would boost your site traffic.
The auction site would also increase your sale and profit margin.
Top 10 Auction Plugins for WooCommerce Store
In this section, we'll introduce you to the top 10 auction plugins that you should take into consideration for your WooCommerce stores.
1. YITH Auctions for WooCommerce

YITH Auctions for WooCommerce helps you to create and manage auctions. It will assist you in utilizing the auction business model, which many customers prefer, thanks to the pricing benefits. The plugin also enables you to establish a base price for your auction items so that their worth does not depreciate.
It works nicely with the YITH multi-vendor plugin and makes it simple to set up an auction marketplace. It will be quite helpful in setting up automatic raises, and it will also allow consumers to purchase items using the 'Buy Now' button. Users will also be able to see all the data of previous and current auctions, as well as the users who are bidding.
Features
Create unlimited auctions in your shop
Create sealed auctions, and auctions with fee
Set the start/end date and time for the auction
Hide automatically the "buy now" button after the first bid is placed or when a bid exceeds the auction reserve price
Enable an option to automatically extend the end date of an auction if a bid is placed a few minutes before its end
Show an optional countdown on the auction page or loop.
Pricing
€ 69,99/ year (on sale)
2. Auctions for WooCommerce

Auctions for WooCommerce will present a new product type called Auctions to your WooCommerce store. It will enable you to run four distinct sorts of auctions on your site, ranging from proxy to reverse (services like Infatica.io). You can also use this plugin in combination with the Product Vendors plugin to create a marketplace where users can auction their own items.
The plugin comes with many advanced features that will help you create a one-of-a-kind auction site. It's also very flexible, with a variety of templates to choose from, and it accepts hooks for developer-level changes.
Features
Lets you specify the starting bid, bid increments, the reserve price, the "buy it now" price, auction start and end times, and the item condition.
Bidders can add auctions to a watchlist and see all auctions they're participating on a My Auctions page.
Sends automated email notifications
Displays browser notifications when a bid is placed, a new auction is starting, and an auction closes.
Lets customers sort by current bid, date, buy now price, activity, ending date, start date, or auction activity.
Lets you choose from a compact or extended countdown format.
Adds administrator features to wp-admin
Pricing
A single site subscription of this plugin will cost you $89.40.
3. WooCommerce Simple Auctions - WordPress Auctions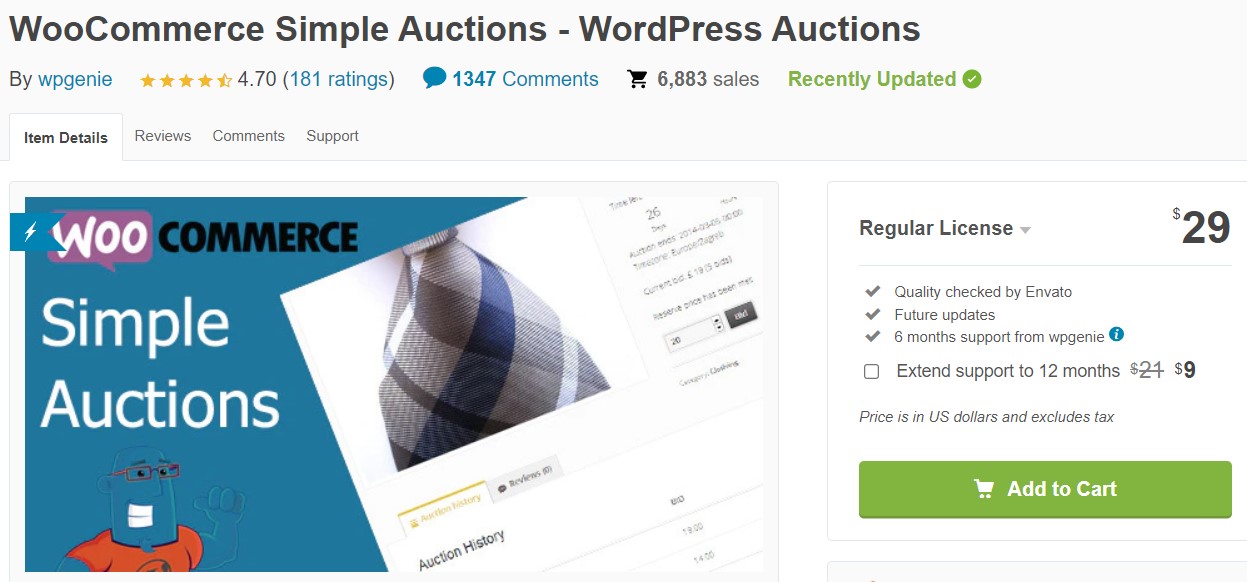 WooCommerce Simple Auctions , created by wpgenie, allows you to build a professional eBay-style auction site. This plugin makes it incredibly simple to create, edit, and operate auctions. You can run different types of auctions using this plugin, such as standard, silent, reverse, and proxy bidding service like Proxy-Store.
The plugin also lets you choose the starting price, reserve price, selling price, and incremental bid. Furthermore, the plugin has an anti-snipping feature that extends the auction finish time if a bid is placed just before the end of the auction. When something happens in the auction, you can send email notifications to buyers, auction winners, and admins.
Features
Ability to verify credit card/payment details before user can bid (via addon)
Normal, reverse and sealed (silent) auctions, proxy/auto-bidding
Define start price, price increment, reserve price, buy it now price
Set start and end time for the auction
Easily control how you want to display auctions – along with products or separate
Widgets with ending soon, future, latest, featured, recently viewed, my auctions and random auctions
Email notifications (with editable email templates)
SMS notifications (via 3rd party plugin)
Pricing
The regular and extended licenses cost you $29 and $175 respectively.
4. Ultimate Woo Auction Pro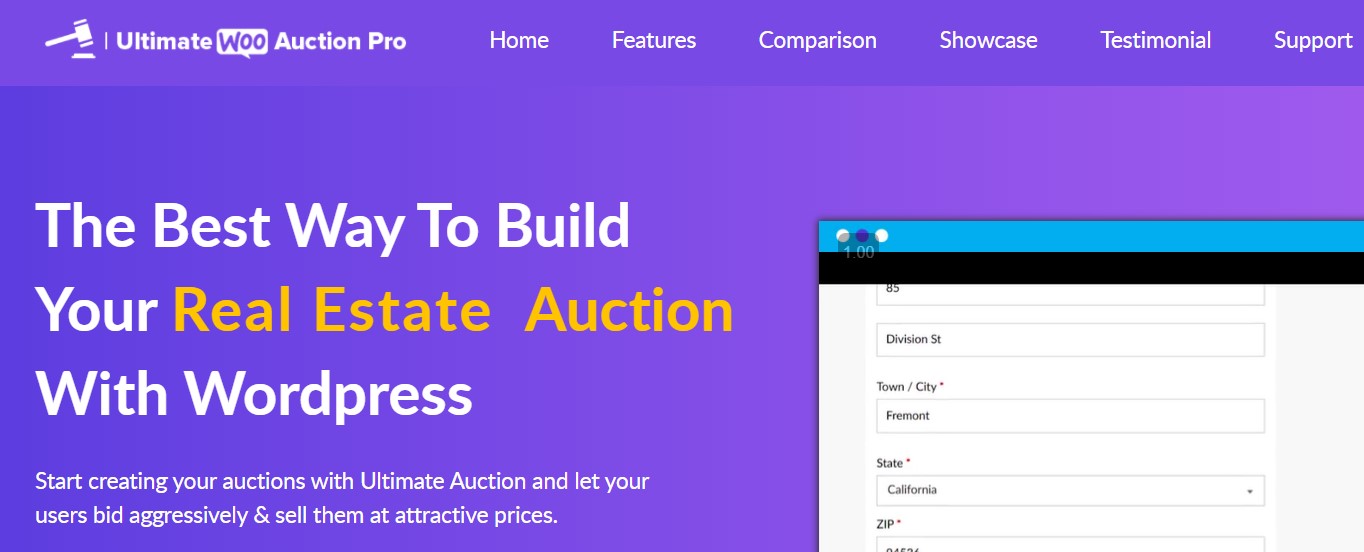 Ultimate Woo Auction Pro is another WooCommerce auction plugin that allows you to build auctionable products and enhance sales by setting competitive prices. You can set up an eBay-style store and allow vendors to run auctions. The user must first register and validate their credit card details before bidding. Furthermore, the system's timed bidding function enables users to specify their maximum bid, which the system will bid on your behalf based on increments.
Features
Add a premium amount on top of the bid price.
Avoid sniping by automatically increasing the time interval, and by sending notifications to all users.
Manual and automatic options to relist a product if nobody has placed a bid on a product.
Bulk imports multiple auction products in one go.
Widgets and shortcodes to display different groups of auction products.
SMS and email notifications.
Automatically accept payments from the user's account.
Pricing
The Starter, Business, and unlimited licenses cost you $79, $119, and $199 per year respectively.
5. WordPress WooCommerce Marketplace Auction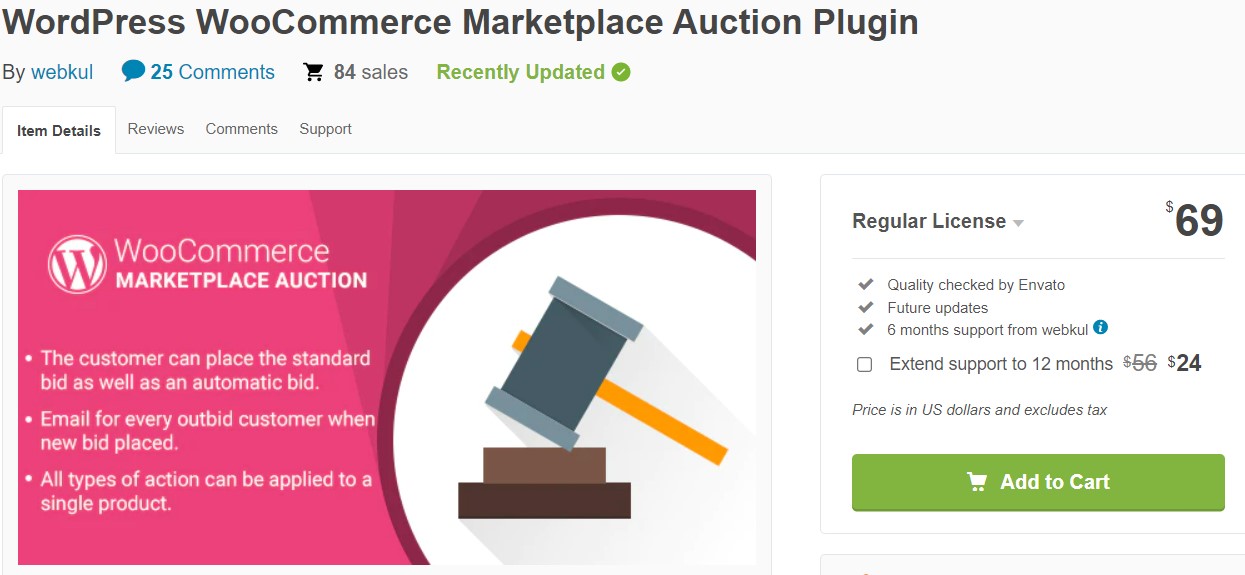 With the WordPress WooCommerce Marketplace Auction plugin, you can easily add auctions to your WooCommerce marketplace and have complete control over how they are managed. You can change the duration, starting price, reserve price, increment rate, etc.
You can create 4 types of auctions: Standard (Fixed Price), Reserve Auctions (Minimum Bid), Automatic Auctions, and Incremental Auctions. Please keep in mind that this plugin requires Webkul's WordPress WooCommerce Multi Vendor Marketplace Plugin in order to work.
Features
The seller can add standard, incremental, automatic, and reserve auction.
The admin can add standard, incremental, automatic, and reserve auction.
Email for every outbid customer when new bid placed.
All types of action can be applied to a single product.
The admin has the option to show current bid.
The admin has the option to show all the bidders and their price.
The admin has the option to show bidder name, bid, and details under automatic bidding.
Pricing
The regular and extended licenses are charged at $69 and $281 respectively.
6. Dokan Simple Auctions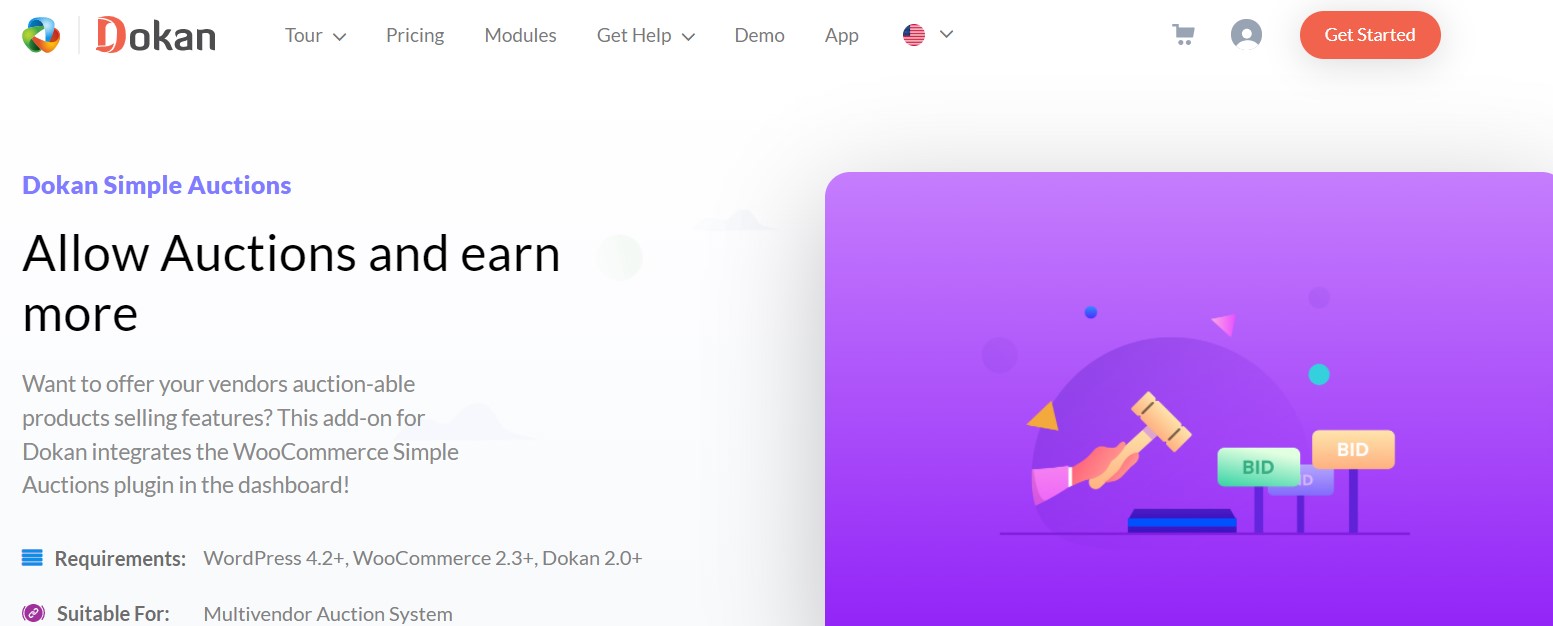 Dokan Simple Auctions differs from the other plugins we've looked at so far in terms of how it operates. Dokan Simple Auctions is more of an add-on than integrating your eBay account or establishing a totally auction-focused page.
The plugin has one unique feature, which is multi-vendor bidding. Other vendors will be able to register on your site and establish their own auctions for buyers to bid on. It's similar to making your own lighter version of eBay.
Features
Multiple auction types
Proxy bidding
Set start price, reserve price, and selling price
Set incremental bid price
Set start/end date of auctions
Display finished and future auctions on the page
Countdown timer
Pricing
The plugin is available for $49 a year and includes six months of updates and support. It's worth noting that in order to utilize this auction plugin, you'll also need to buy the main Dokan plugin.
A single-site license for the Dokan WordPress plugin costs $112 per year.
7. Auctions Made Easy for WooCommerce

Auctions Made Easy for WooCommerce is a simple plugin that allows you to create an auction website. Rather than providing a marketplace where visitors may sell their own products, it is created for business owners to auction off their own items.
The plugin supports 5 auction types, including normal, reverse, proxy, sealed, and unique. Admins can customize the product by setting the starting bid, buy now price, reverse bid, and bid increments, etc.
Features
It supports a variety of auction kinds, including normal, reverse, sealed, proxy, and unique
It allows you to define the beginning bid, bid increments, reserve price, "buy it now" price, auction start and end hours, as well as the item condition of the Auction product.
Bidders can add auctions to a watchlist.
Widgets are available, as are badges for auction items, a separate postable for site administrators.
Sends out automatic email notifications, complete with customizable email templates
Pricing
$47.40 (on sale)
8. Auction Nudge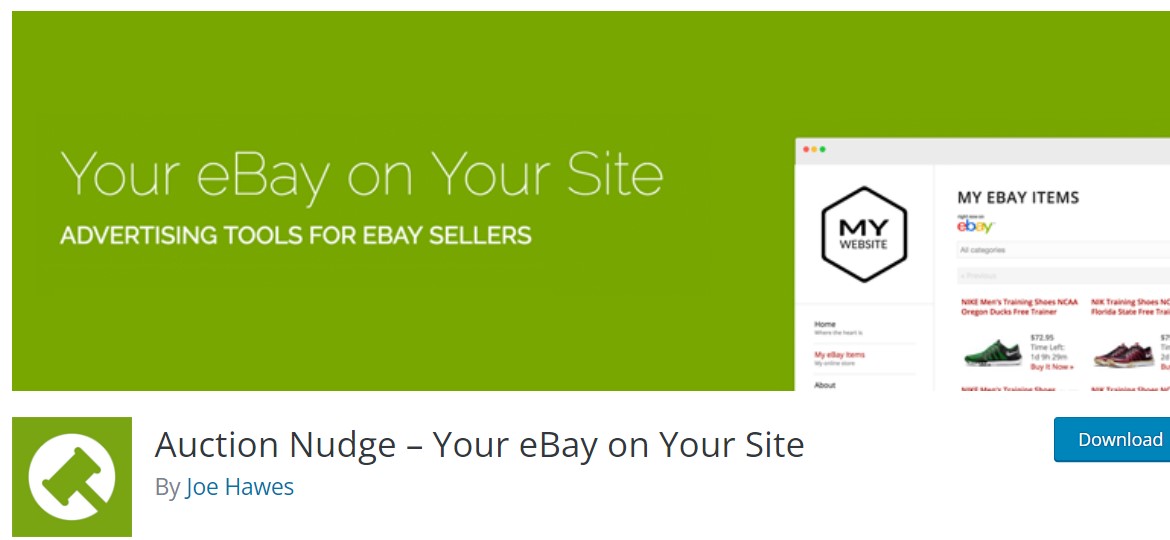 Auction Nudge allows you to integrate eBay data into your website. Your eBay listings, eBay profile, and eBay feedback comments can all be shown on your website with this plugin. Using the plugin's widgets and shortcodes, you can include this information in your posts and pages.
Multiple themes are included with the plugin, enabling you to customize how your information is displayed on your website. You can also include a category list, which allows consumers to categorize your eBay products based on their interests.
Features
Display eBay listings
Display eBay profile
Display eBay feedback comments
Multiple display themes
Show category list
Search box
Sorting and filtering
Pricing
Free
9. Woo Auction Software
Woo Auction Software is a WordPress auction plugin that allows you to easily create an eBay-style marketplace on your website. It enables anyone to run their own auctions on your site and sell straight to your audience without incurring any charges upfront.
This social shopping platform benefits everyone by increasing your traffic and sales while giving all vendors greater visibility. Because the software integrates with Woocommerce hooks, there are no restrictions on what features can be added via extensions, making it simple to customize if you know PHP.
Features
Relist auctions manually or enable the automatic relist option
A diverse set of payment gateways
Widgets in sidebars or homepages
Customer Pricing
Schedule auctions
Anti snipping
Proxy bidding
Bid watchlist
Pricing
Free
10. BuddyForms WooCommerce Simple Auction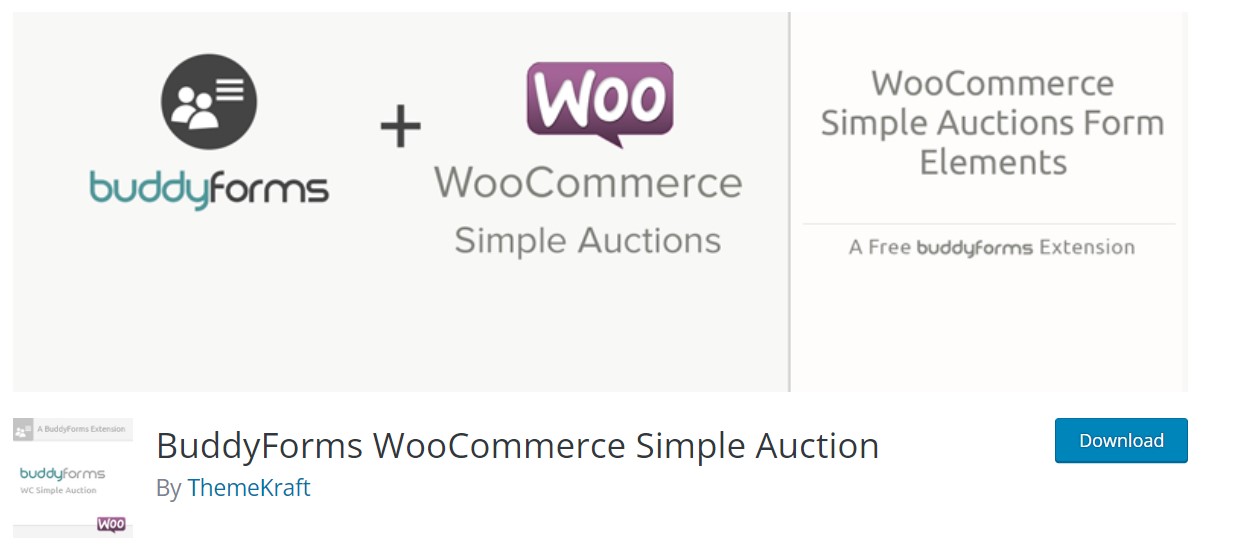 BuddyForms WooCommerce Simple Auction will add a new section to the BuddyForms WooCommerce Form Element "Auctions". It allows you to create and manage auctions from the front end by using simple auction form elements in the Form Builder.
Features
Create auction type
Auction proxy
Set the start price of the product for the auction
Bid Increment
Set reserve price
Set From and To the date of auction
Pricing
Free
Final Words
An auction could be a profitable strategy to maximize the value of your products. There's a plugin for every business, whether you're aiming for ease of use, dynamic features, or a low price.
With our list of the 10 best simple auction plugins for WooCommerce, we believe you can develop a simple and strong site, where you can sell auctionable and normal items together. We hope you found this post useful in your search for the finest plugin for your business.
Please leave a comment below if you have any questions about the plugins listed in this list. Thank you for taking the time to read this post, and we'll see you in the next post.
New Posts
Subscribe
Stay in the know
Get special offers on the latest news from AVADA.
40k
subscribers has been joined!
Earn $10 in reward now!