10 Best Prices By User Role Plugins for WooCommerce Store
10 Best Prices By User Role Plugins for WooCommerce Store
Pricing is a critical component of a WooCommerce store owner's marketing strategy. Offering a different price to different consumer groups might be a good strategy in this day and age of tailored pricing. You will focus more precisely on creating long-term connections with clients if you provide diverse rates. The notion is that clients who consistently obtain the most excellent pricing from you will want to return to your shop. This is a crucial aspect of your price, primarily if you sell wholesale.
That is why today's article will show you the 10 best prices by user role plugins for the WooCommerce store. They will assist you in obtaining new clients as well as rewarding existing ones. To manage all of these cases, user role-based pricing plugins are convenient in the WordPress community. There are various paid and free methods for implementing role-based pricing on your WordPress WooCommerce shop. So, let's dive in!
Advantages of using role-based pricing on WooCommerce
If you use role-based pricing on your WooCommerce website, it will benefit you in various ways. This is especially true if you run a WooCommerce wholesale business with a variety of pricing options. Here are some of the apparent benefits of incorporating role-based pricing into your WooCommerce business:
Enhance the customer engagement
There will be various instances where buyers will decline to purchase due to the increased cost of a product. Similarly, you most likely have a set of consumers that are entirely unconcerned about pricing. Offering a one-of-a-kind pricing tailored to a specific consumer category will boost sales as well as customer satisfaction. The difficulty is to get the segmentation correct through the use of analytics and market research.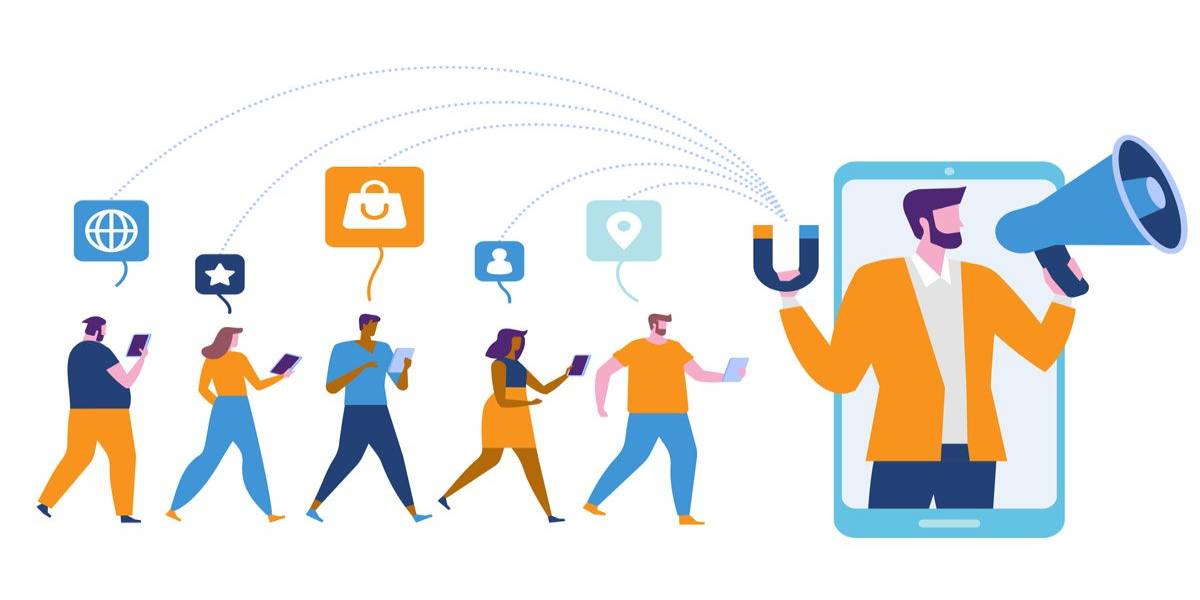 Set up tiered pricing quickly and easily.
Tiered pricing is an essential feature of wholesale shops. You will have distinct consumer categories for whom you may have a varied price structure. Many wholesale shops do not allow direct purchases through their website. Customers will have to contact you through your registration form in certain circumstances to seek a quote. Then, based on the number of other factors, you must determine appropriate pricing for the order. When you have a significant number of consumers and pricing levels, this can get quite problematic.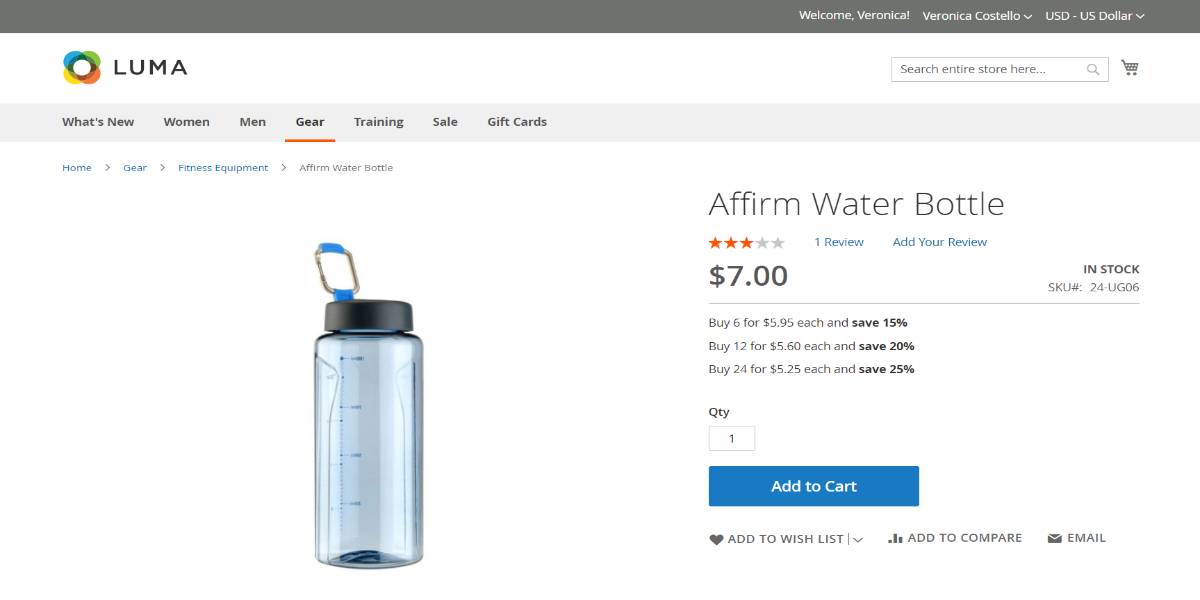 Improve your management of visitor users.
You must manage visitor users if you have a wholesale business and registered clients. You will also be able to modify the shop for guest users using role-based pricing plugins. You can show a personalized message or lead them to a website where they can contact you.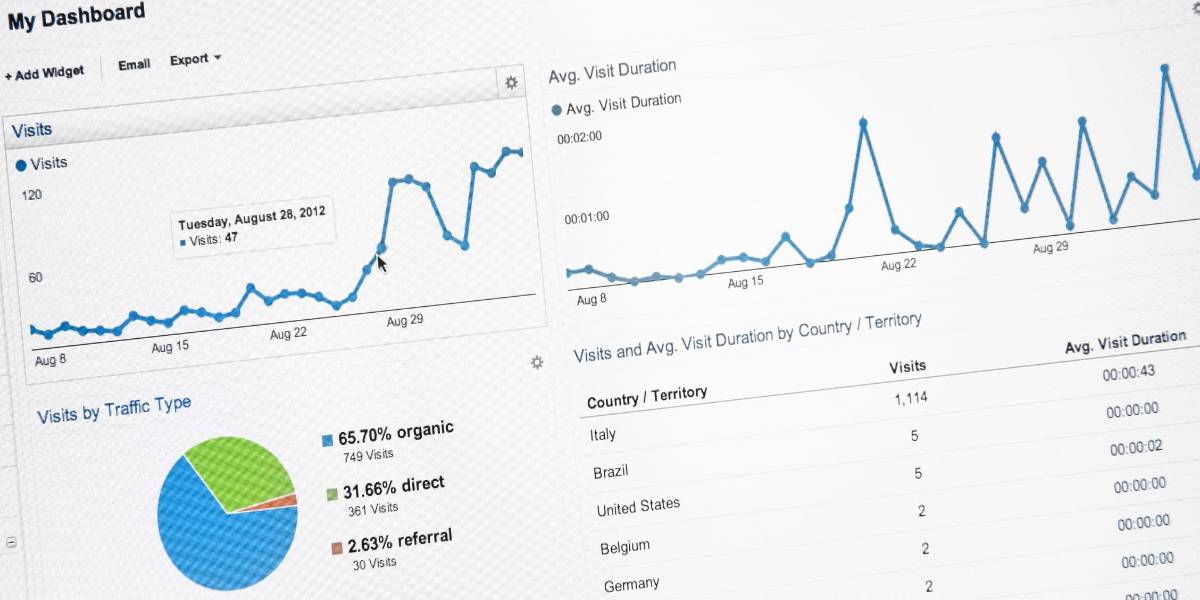 10 best Prices By User Role plugins for WooCommerce store
Role-Based Pricing for WooCommerce
The Role-Based Pricing for WooCommerce plugin allows you to price your products based on user roles and individual consumers. Prices can be discounted or marked up by a set or percentage amount. Only the specified customer and user roles will see the new pricing when prices are modified, while the rest will see the old rates. This addon includes rule-based management, which allows you to adjust pricing in bulk for an entire category or a subset of goods. When creating a pricing adjustment, you may specify a minimum and maximum order quantity, preventing clients from purchasing more than the established quantity restriction.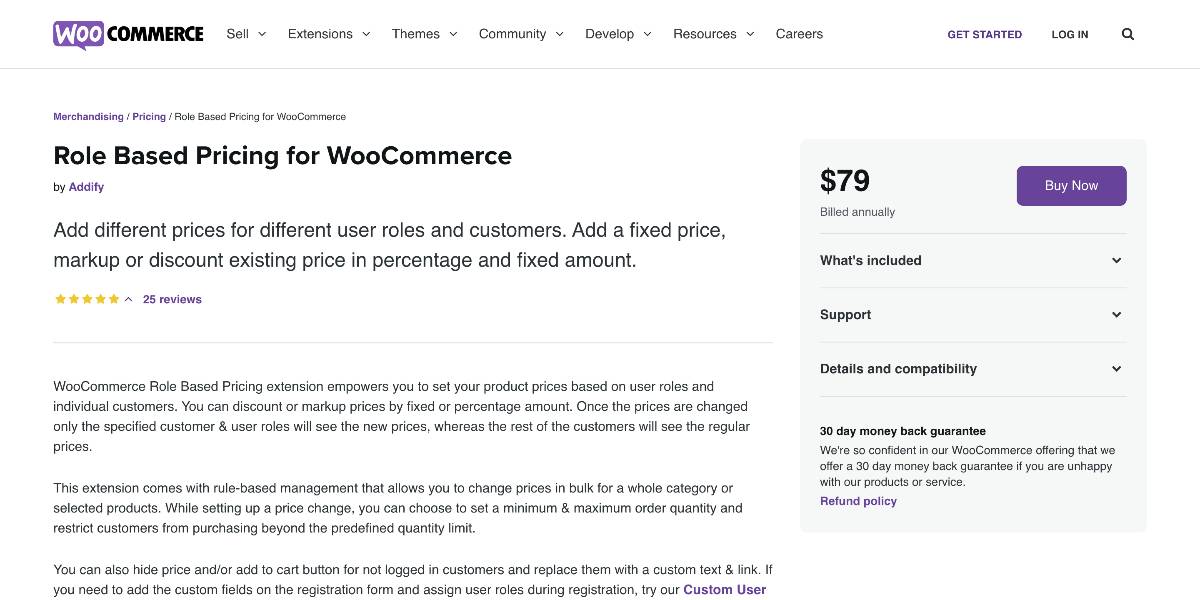 Outstanding features:
Create customized product pricing based on user roles.
Make price changes based on user roles.
Set minimum and maximum order quantity limitations.
Customers can see the price difference by using a strike-through over the old pricing.
Create rules that allow you to alter pricing in bulk for specific items or categories.
Replace the pricing with your own words.
Price: This plugin's single-site subscription will set you back $79. The five-site subscription costs $129, while the 25-site subscription costs $179.
Discount Rules for WooCommerce
The Discount Rules for WooCommerce plugin assists you in setting any degree of the discount plan for your WooCommerce store. The plugin allows you to create both sophisticated and straightforward discounts based on your WooCommerce store's needs. This plugin will enable you to define the WooCommerce deal for specific user roles. You will have a particular set of users as an online shop owner, such as Subscribers, Wholesalers, Retailers, Administrators, and so on.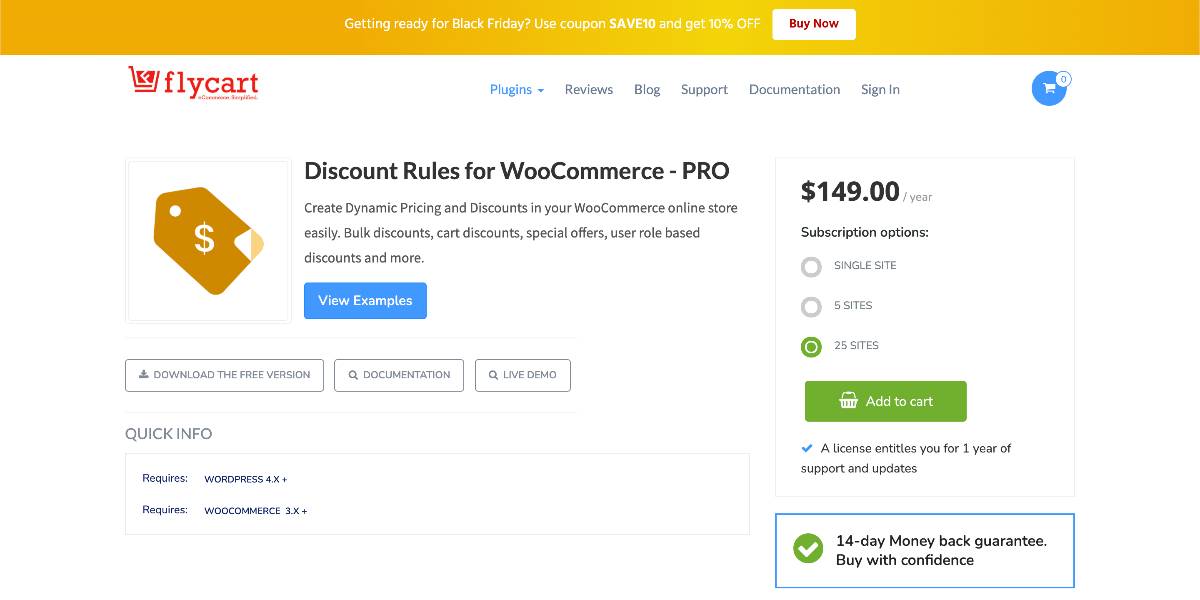 Outstanding features:
Set the offer only to be applicable for a particular product category in WooCommerce.
Dynamic pricing and promotions can help you grow your online business by increasing your customer acquisition rate.
You can make any restrictions that the clients must meet to be eligible for the discount.
Discount on Variable Products based on User Role.
Discount for a given user role dependent on the cart.
Price: This plugin will cost you at least $59.00 for a single site. You must pay $89 for five sites and $149.00 for twenty-five sites.
ELEX WooCommerce Catalog Mode, Wholesale and Role Based Pricing
The ELEX WooCommerce Catalog Mode, Wholesale & Role Based Pricing plugin provides a lot of flexibility to your pricing schemes thanks to its extensive customization possibilities. Based on the user roles you've allocated to them, you may create a bespoke price plan for each client. When you have wholesale purchasers, long-term customers, guest shoppers, and so on, it's essential to diversify your pricing tactics. For some user roles, you may specify a custom pricing or completely hide the price. The plugin also allows you to restrict access to individual customers' Cart and Checkout pages. You may also change or delete the Add to Cart button for specific user roles.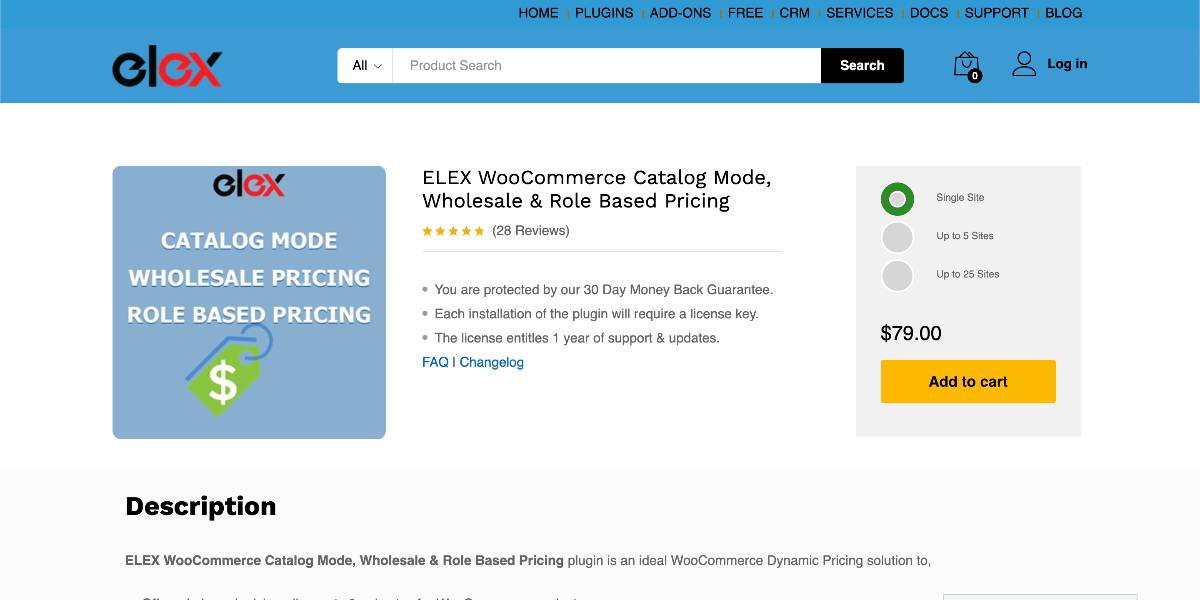 Outstanding features:
Offer WooCommerce items with role-based pricing, discounts, and sales tax.
Based on the WooCommerce product category, provide customized prices and discounts.
WooCommerce wholesale prices and incentives are available.
Provide WooCommerce customers with unique values.
Hide the WooCommerce 'Add to Cart' button and the price to put your WooCommerce store in catalog mode.
Price: Overall, if you're searching for a way to add role-based pricing to your WooCommerce store, this plugin is a great choice. The plugin's single-site license will cost you at least $69.
Prices By User Role for WooCommerce
This plugin also allows you to set different pricing for various user roles in your store. Prices By User Role for WooCommerce can assist you in creating a price tag for wholesale and retail customers. Similarly, you may provide a special discount to your most devoted consumers. Prices and the Add to Cart button can also be hidden from specified user roles or visitor users. You may use this plugin to offer a discount or markup for specific user roles.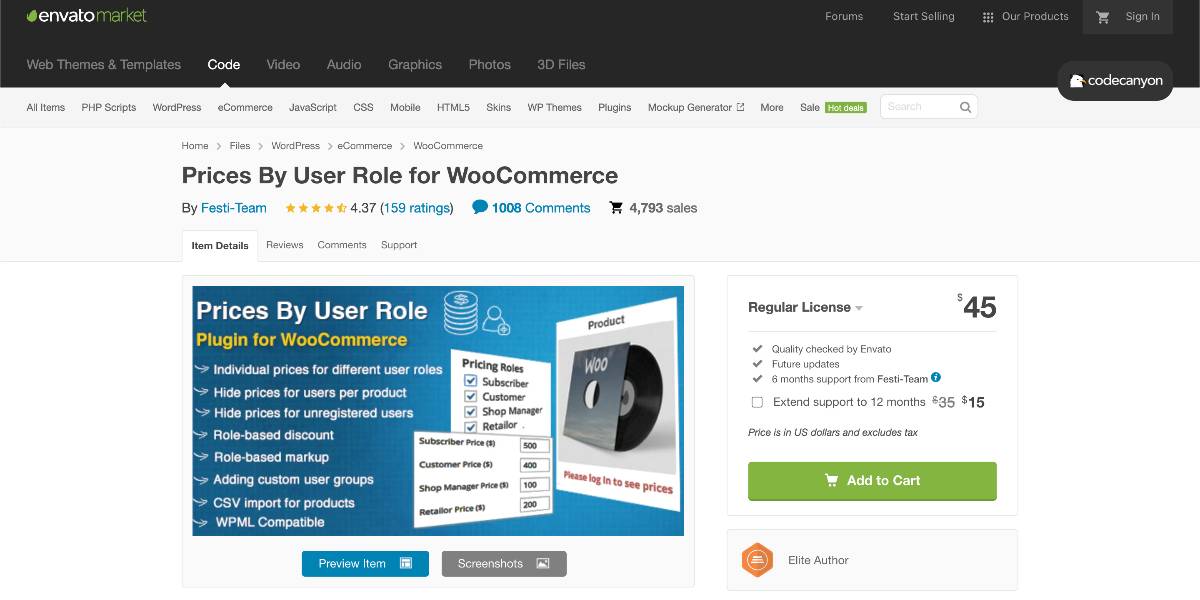 Outstanding features:
The user role group receives a discount.
Non-registered users will have the "Add to Cart" button hidden.
Remove the "Add to Cart" button from the "Add to Cart" button for a particular user role group.
Hide the expenses from a specified role category of users.
Show the proportion of money saved.
User groups that you create yourself
Price: On CodeCanyon, a standard license for this feature-rich plugin costs $35.
WooCommerce Dynamic Pricing and Discount Rules
This handy plugin will assist you with your online store's role-based pricing and promotions. The WooCommerce Dynamic Pricing & Discount Rules plugin allows you to establish alternative pricing based on factors like cart amounts, product quantities, and more. More particular, you may define tiered pricing with increasing discounts for succeeding units and specify minimum orders at checkout. You will be able to arrange promotional offers with a beginning and ending date. As a result, you may implement dynamic price reductions based on user roles, product categories, or even a particular period range.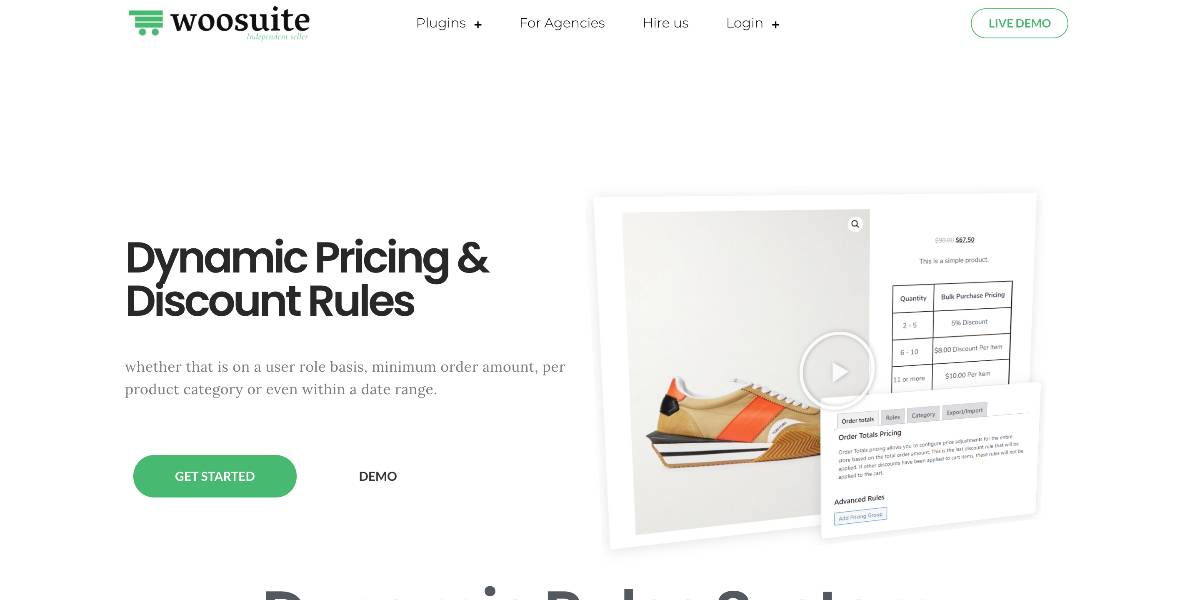 Outstanding features:
Users may use this plugin to plan promotion offers with a start and end date.
One of the essential advantages is the ability to bulk change your price rules.
You may establish a minimum order amount for clients with this plugin.
You may develop multiple prices and special offers for the same product.
You may set up tiered pricing, which means that future units will receive more incredible discounts.
Pricing reductions can be calculated as a percentage or as a set sum.
Price: You can get the Basic version at the cost of $99 or the Premium plan at the fee of $139.
YITH WooCommerce Role Based Prices
Managing a wholesale or retail shop with segmented pricing may be a real pain. You may need to develop price tables for individual consumers or client groups on occasion. Using this YITH WooCommerce Role Based Prices plugin, you can automate the entire process and handle role-based pricing on your site with ease. This plugin assists you in authenticating registered users and displaying special pricing for each of them. You will demonstrate a standard pricing, discount, or user role-specific price for each user role. Please keep in mind that you will not be able to create new user roles with this plugin. To establish new user roles, you can use one of the plugins listed in this post.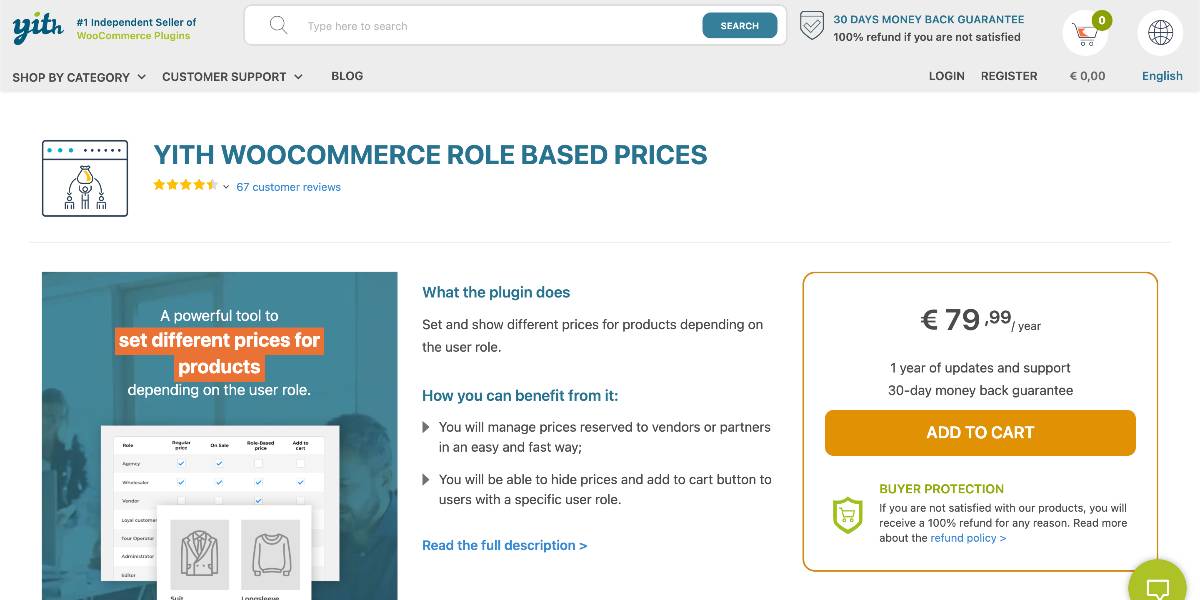 Outstanding features:
Increase or reduce the price of a particular product based on the user role.
Create distinct price rules based on the user's part.
Apply a role-based pricing rule to a single product or a subset of categories or tags.
Exclude a pricing rule based on a role from particular categories or tags.
Increase or reduce the price of a product by a percentage or a set amount.
Price: This plugin does offer some user-friendly WooCommerce role-based pricing solutions. It may be purchased for €59,99 for single-site membership, or you can pay €89,99 for a six-site membership and €129,99 for a thirty-site subscription.
WooCommerce Role Based Pricing Pro
This is another handy plugin that will assist you in implementing role-based pricing on your WooCommerce store. WooCommerce Role Based Pricing Pro allows you to distinguish between registered and visitor users on your site and encourages repeat purchases. Surprisingly, the plugin includes a time-based universal key that you may provide to clients for them to access their role-based pricing. You may also set a start and end date for a user role-based pricing to be active. This plugin also allows you to limit payment gateways depending on user roles. Similarly, you may change the display of a product for particular user roles. You may enhance its functionality by combining it with the WooCommerce Dynamic Pricing plugin.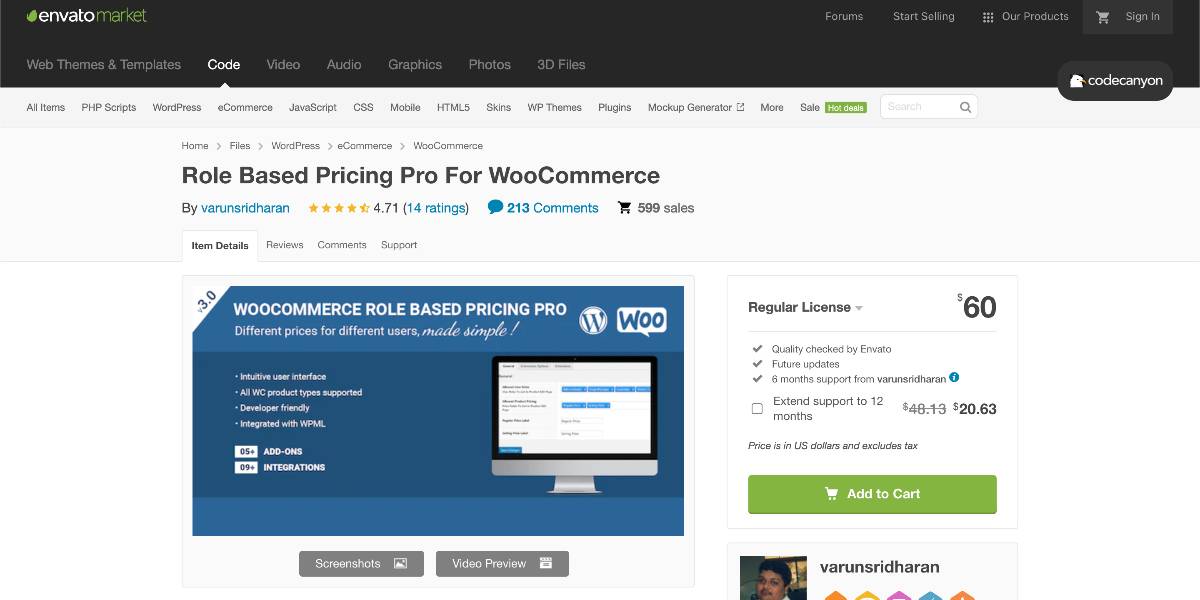 Outstanding features:
Rename Able User Roles Shortcode to get the product pricing.
Bulk edit variable Role-Based price.
This plugin allows users to organize promotion offers with a start and end date.
One of the most significant benefits is the ability to update your price rules in bulk.
With this plugin, users may also create dynamic pricing reductions depending on user role, product category, or even date range.
Price: The standard license for this plugin is $60.
ELEX WooCommerce Role-Based Pricing Plugin
With the ELEX WooCommerce Role-Based Pricing Plugin plugin, you'll be able to set up role-based pricing on your WooCommerce store quickly. You may alter prices and price display choices on your WooCommerce store with the aid of this plugin. The Add to Cart button on your store and product pages may be removed or customized with this plugin.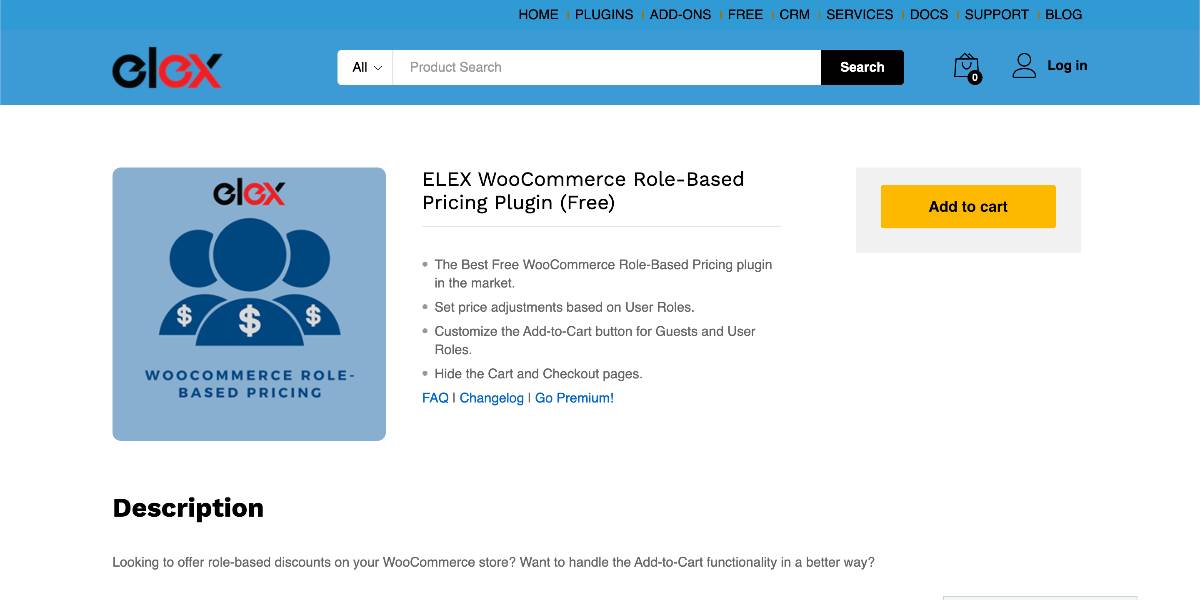 Outstanding features:
Create distinct price schemes for different categories of consumers, such as merchants and wholesale purchasers, incorporating several premia and long-term clients.
Replace the Add to Cart button with HTML content based on User roles.
Change the Add to Cart button to Custom text and Redirect to the desired page to personalize it.
Price: This plugin is 100% free.
Booster for WooCommerce
The Booster for WooCommerce plugin is a complex tool that allows you to customize your WooCommerce store in various ways. This features role-based pricing, which will enable you to show costs depending on user roles. Furthermore, the prices and currencies setting provides a plethora of other choices to assist you in developing a thorough pricing plan for your WooCommerce site. There are solutions for bulk currency conversion, which will help you integrate automated currency exchange rates into your shop.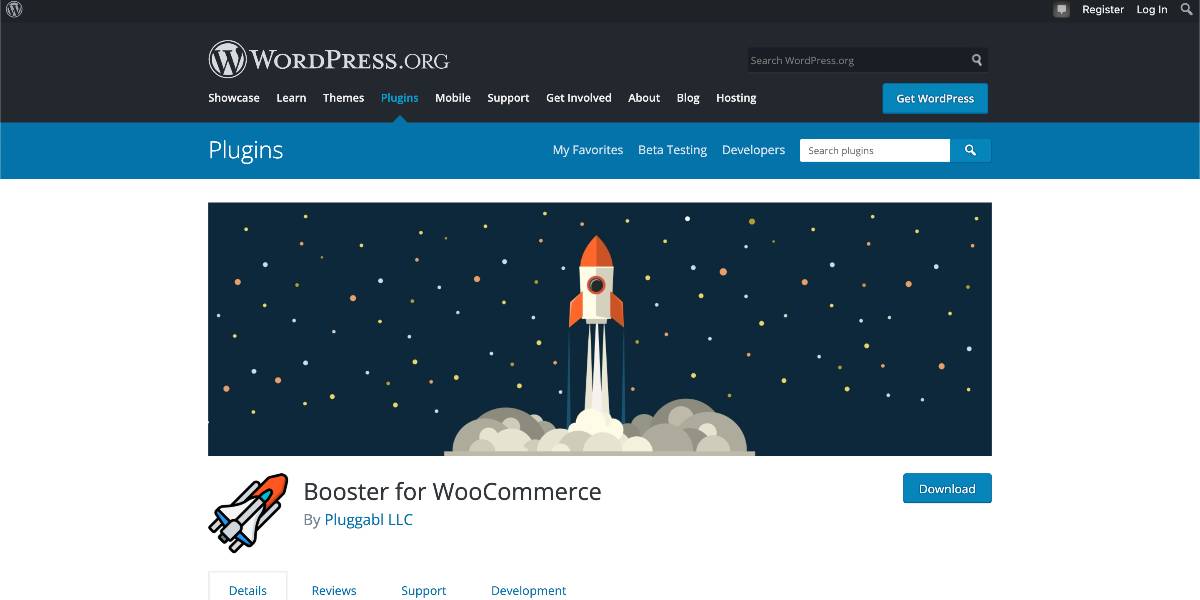 Outstanding features:
Adding professional WooCommerce PDF invoices and offline packing documentation streamlines WooCommerce orders and paperwork.
Add extra custom input fields to all items or individual products to allow clients to provide more details for the perfect bespoke product.
Attract foreign clients by presenting their currencies with automated exchange rates on your website. With WooCommerce Dynamic Pricing, you can set pricing rules and give worldwide discounts.
Price: You can get this plugin for free.
WISDM Customer Specific Pricing
The WISDM Customer Specific Pricing plugin will assist you in providing customized pricing to clients in your store. You may configure exclusive pricing for consumers, user roles, or groups. Depending on your shop strategy, customized pricing might be applied at the product or category level. You can also use the plugin to build up tiered pricing in your store to promote bulk purchases. Furthermore, the plugin will allow you to import and export price data through a CSV file. The import option will enable you to adjust pricing in bulk, saving you a lot of time. In addition, the plugin allows you to specify flat rate and percentage pricing modifications depending on customers, user roles, and groups.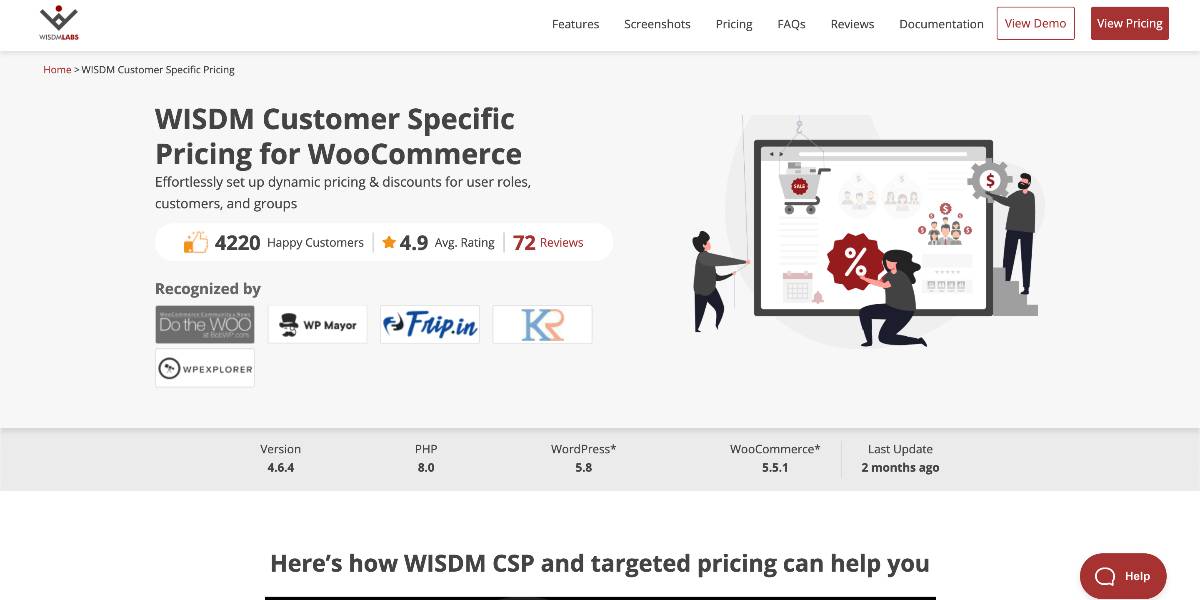 Outstanding features:
Personalized shop page to give various consumers a sense of belonging.
Set different rates for each consumer to provide a more personalized purchasing experience.
Increase memberships by providing role-specific discounts.
Offer cart discounts to encourage larger purchase orders.
Create pricing levels to facilitate easy conversions.
Price: This plugin costs $79 for a single site license.
Conclusion
Providing personalized pricing for your online shop visitors may be a time-consuming and labor-intensive operation. Frequently, wholesale shops must build separate price tables for their consumers and then communicate about them directly. You may use WooCommerce role-based plugins to establish individual and global product pricing depending on user roles.
We hope this article will help you find out the 10 best prices by user role plugins for the WooCommerce store. These plugins should automatically save you a lot of work while providing a better experience for your clients. You may always rely on the paid versions of these plugins for enhanced functionality and increased sales!
New Posts
Subscribe
Stay in the know
Get special offers on the latest news from AVADA.
40k
subscribers has been joined!
Earn $10 in reward now!