10+ Best WooCommerce Point Of Sale Plugins For Business
10+ Best WooCommerce Point Of Sale Plugins For Business
Several eCommerce enterprises sell through several retail channels. When trading through numerous retail channels, inventory status and order information must be kept in sync. A solid point of sale (POS) system will allow you to handle all of your data in one place while also providing an excellent client experience. It will simplify your storefront monitoring system by accepting orders, managing payments, adjusting inventory, and tracking statistics.
Looking for an excellent POS system for your WooCommerce online store but don't want to or can't afford to invest a lot of money? Fortunately, there are several free and reasonable premium POS systems for WooCommerce that include all of the tools you want to run a successful business. Today's article will show you the 10 best WooCommerce point of sale plugins for your online business. We will go through the short description of each plugin and some outstanding features to give you an overview of using this type of sales system.
Why do we need a POS plugin for WooCommerce?
A WooCommerce Point-of-Sale (POS) plugin connects brick-and-mortar retailers to your online store. These technologies give a frontend interface and interact with your online business, synchronizing data about orders, product inventories, transactions, personally identifiable information, and more. This allows you to improve client experience and handle online and offline purchases more effectively.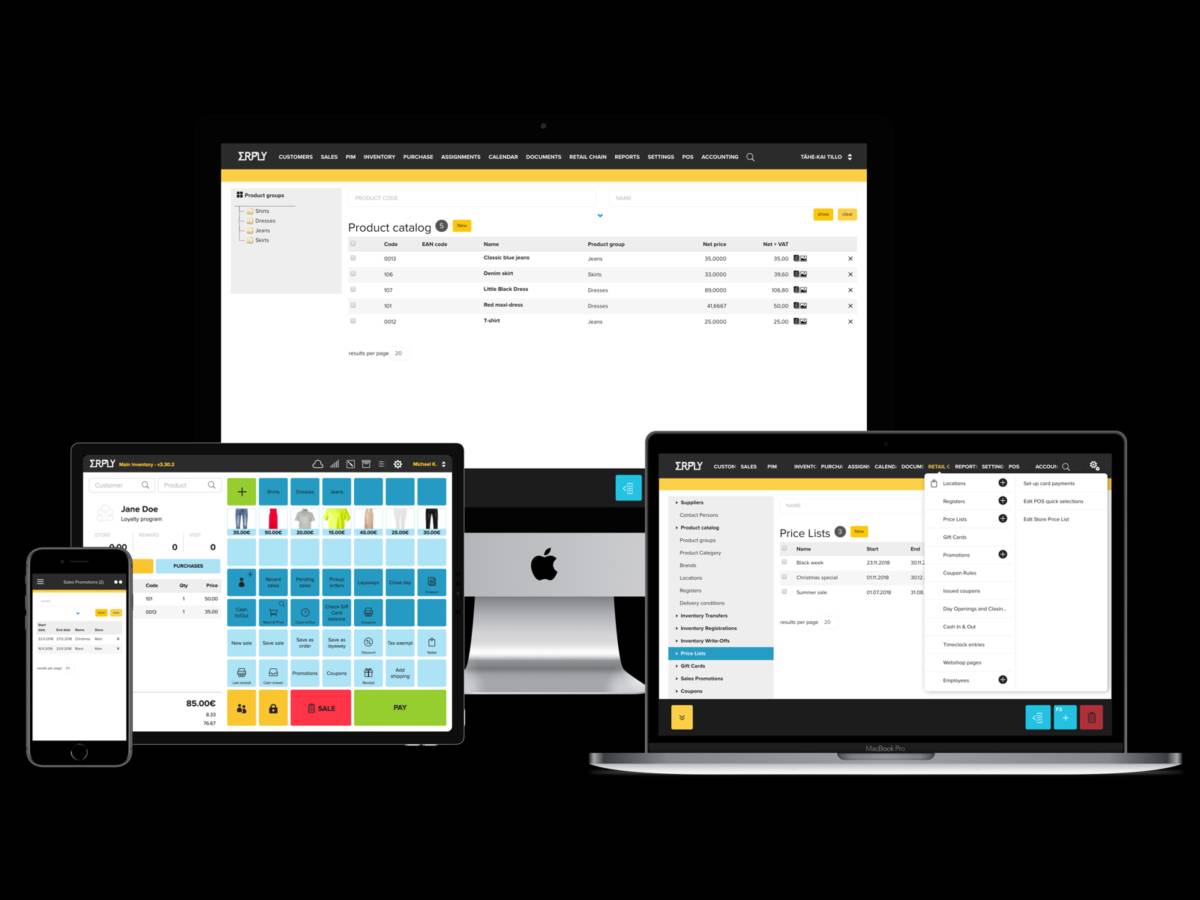 POS plugins may be incredibly beneficial to businesses with physical locations. Furthermore, they are an excellent choice for people who will have a booth at an event since they will allow you to record every purchase. Many plugins function offline and rely on the Internet to sync data with your online shop. Finally, most POS plugins will enable you to print invoices, identify barcodes, and so on, making them a great addition to your eCommerce business.
10+ best WooCommerce point of sale system plugins for business
ConnectPOS
ConnectPOS is a prime global award-winning omnichannel solution that makes in-store operation simple and digitized. The POS system empowers retailers to centralize data in one platform, manage multiple sales touchpoints, and provide impressive inventory control. ConnectPOS offers an easy-to-use and tailor-made system for businesses at all scales, especially for retail chains and enterprises. Being used in 150 countries, ConnectPOS has contributed to the success of ASUS, Eyewa, SCG, and thousands of brands in the retail industry.
Outstanding features:
Directly manage multiple locations in real-time and instantly sync data including inventory, orders, customers, and products to one unified platform.
ConnectPOS can adjust the POS solution to perfectly fit your existing system with a strong ability for personalization and localization
Easily integrate with third-party vendors from the payment gateway, and accounting system to the loyalty program
ConnectPOS runs perfectly on PC, tablets, mobile and is compatible with iOS, Android, ChromeOS and macOS
As a global POS solution provider, the customer support team is ready to offer help to every country and timezones, from that extending the power of multinational companies.
Price: You can activate this plugin at the cost of $19/month
Point of Sale for WooCommerce
The Point of Sale for WooCommerce plugin allows you to manage both physical and online stores easily. You can essentially transform your browser into a cash register and handle your orders, customers, and inventory. This plugin can manage many retail channels for various types of enterprises that sell through different channels. The plugin integrates easily with WooCommerce and provides advanced customizations to assist you with various business demands. You may also easily set up several user profiles to manage the cash register.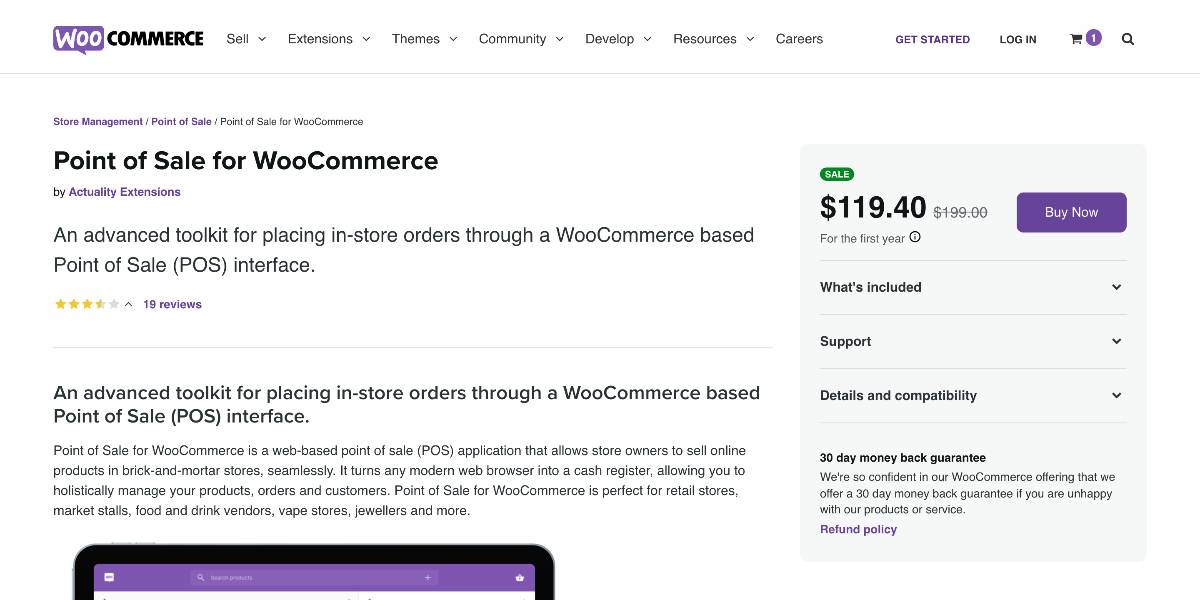 Outstanding features:
This plugin, which offers a choice of POS settings, gives store owners the flexibility and agility they need to stay competitive and inventive for success and development.
Right from the POS interface, you may add custom goods on the fly. Include crucial product features such as color and size, and publish them to your current catalog simultaneously.
Set up product grids and tiles to display certain goods and categories. Assign grids to individual registers to give a POS experience that is suited to each retail department.
Accept cash or use a third-party card terminal of your choosing to handle payments. When using the associated Chip & PIN payment option, cashiers can be prompted with a reference number for record-keeping when using the related Chip & PIN payment option.
Price: You can get this plugin at the cost of $119.40 for the first year of usage.
wePOS
wePOS is an excellent WooCommerce POS plugin for integrating with physical shops. It's simple to use, has a nice layout, a plethora of functionality and personalization choices, and allows you to track inventories instantaneously. WePOS is built on a REST API and conducts all processes in a one-page application, making it fast and dependable. It also has a search function for looking for items and consumers, as well as filtering capabilities. Furthermore, it is compatible with the most prominent payment gateways and card and cash payments.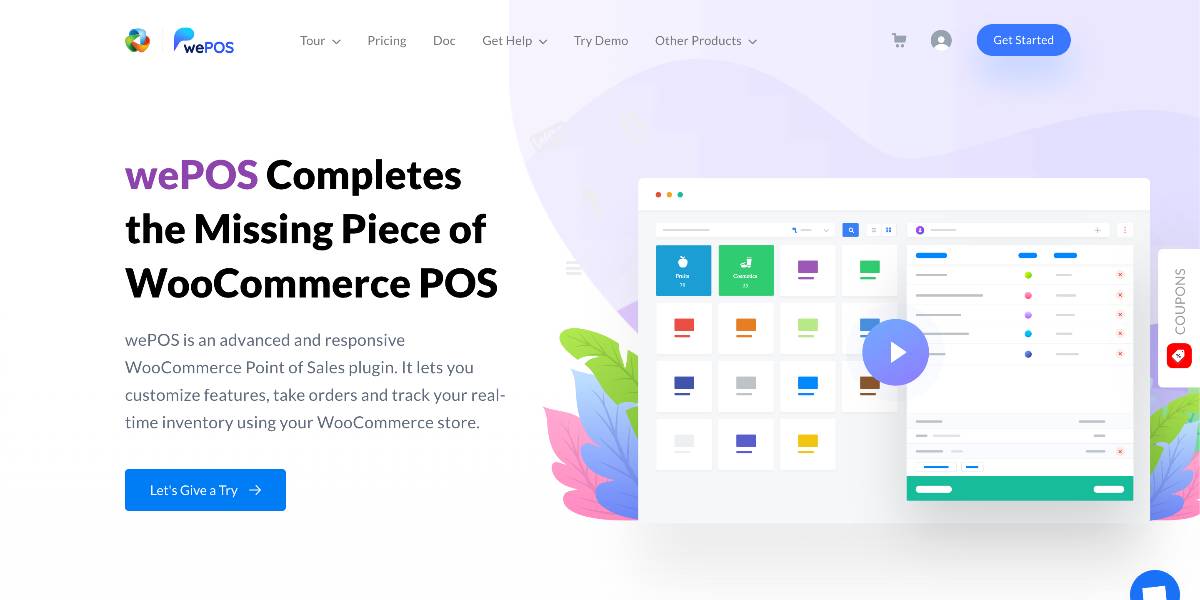 Outstanding features:
WePOS is a single-page program that completes all processes in record time. The one-of-a-kind search feature allows you to locate preferred items and consumers as quickly as possible.
WePOS allows you to handle an unlimited number of outlets and counters at the same time. You may manage these locations individually and assign various cashiers/agents to each.
Cart Management's tabbed interface makes it simple to manage several live carts without losing data. Start the checkout process for numerous clients at the same time.
Your cashiers can access the system using their credentials; however, they can only see the frontend. It will reduce the possibility of fraud on the staff/cashiers and increase positive production.
WePOS makes it incredibly simple to set up and operate. The user-friendly UI takes little or no training to become accustomed to.
Price: This plugin's Starter package will set you back $199 per year. There is also a free version that solely supports cash gateways.
FooSales for WooCommerce
The FooSales for WooCommerce plugin will offer you a reliable POS system that will allow you to handle all of your financial transactions directly from your browser. By integrating with your WooCommerce store, you will be capable of managing and executing orders on your retail store. When you use this plugin, data from your inventory, charges, and customers will be synchronized automatically. More significantly, FooSales connects to WooCommerce effortlessly via the REST API, eliminating any integration headaches.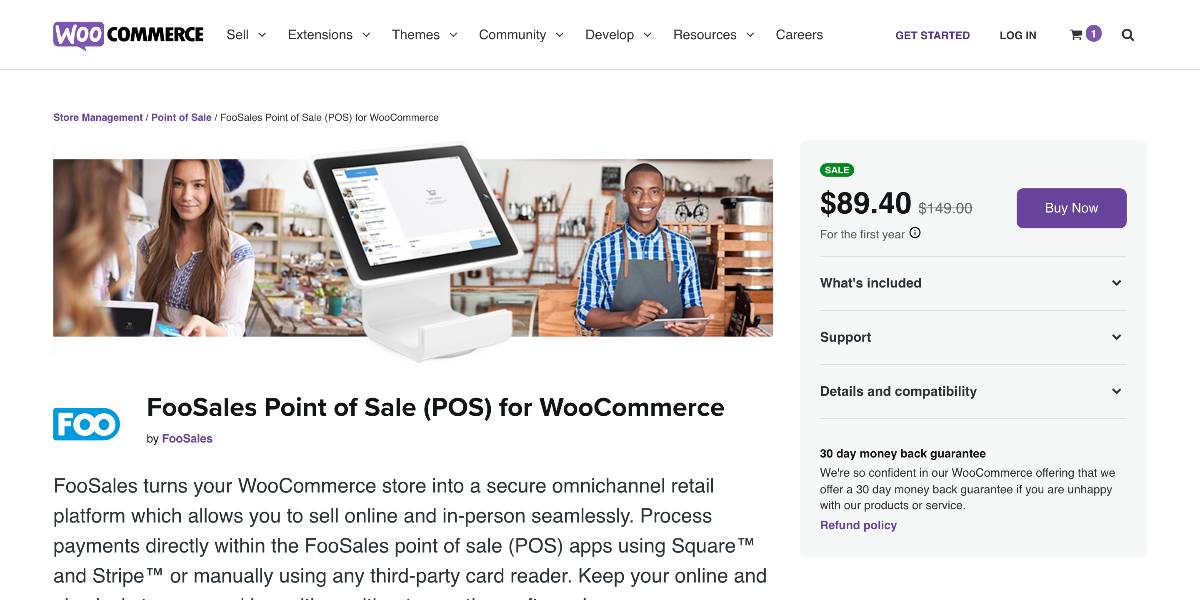 Outstanding features:
Products can be sold through various channels, such as an actual store, a pop-up store, and so on.
Inventory and order details may be synchronized from the same user-friendly interface.
The WooCommerce backend provides access to the order source and other data.
Without difficulty, issue partial and full refunds and resupply particular goods.
Customer data is safer since it is kept on your web server instead of a third-party service.
Price: This plugin's single site license will cost you at least $89.40.
Point of Sale System For WooCommerce
The Point of Sale System For WooCommerce gives business owners the ability to operate their online stores and their physical stores. The POS system can be used both online and offline, with the ability to synchronize all sales and customer data from the offline store with the online store whenever it goes online. The module plays a vital role in growing day-to-day sales by involving the management system to handle both online and physical businesses.
Outstanding features:
The admin may set up many storefronts for the online business and assign sales representatives to them.
The admin can allocate master-stock to all goods at once. This master stock is also available in bulk.
This module includes a PWA POS desktop application for improved handling and performance.
It also includes a PWA POS mobile app that works with a slow internet connection, loads on the home screen, etc.
The consumer can pay using a variety of methods, which are recorded in the POS. Customers can also choose to pay in installments.
Price: With a standard Envato license, the Point of Sale System for WooCommerce charges $99.
Hike POS
Hike POS is a well-known cloud-based retail POS software for managing your business with intuitive inventory and analytical reporting. It is a completely customized all-in-one plugin for running and expanding your business. Hike allows you to effortlessly enhance your sales, customer service, and inventory management systems. It improves your capacity to handle all of your sales channels and transactions. This innovative solution works flawlessly on all platforms, including the iPad, PC, and Mac.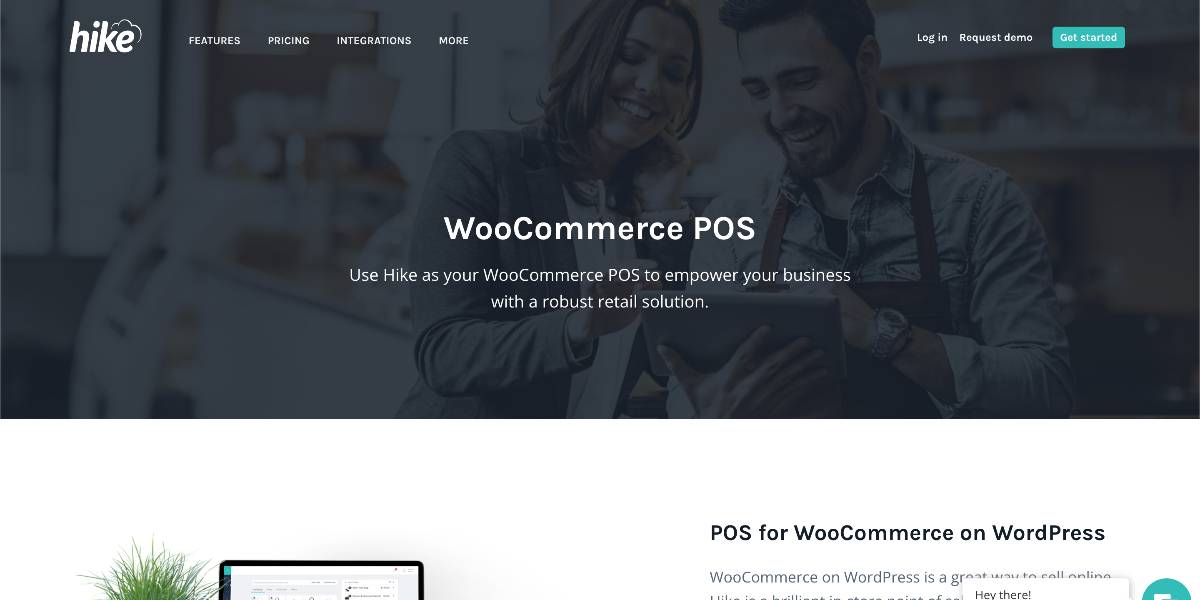 Outstanding features:
Integrate your current inventory from Hike to Woo or the other way around automatically.
Choose whether you want your entire Hike inventory or certain goods from your outlets to show on your WooCommerce store.
Hike's sales analytics may be used to acquire insights into both in-store and online sales with total sales integration.
Sales, purchases, inventory takes, and other transactions will instantaneously update the list on both Hike and WooCommerce platforms.
No more duplicate entering with a consolidated inventory and catalog. Hike makes it simple to add, alter, or delete items, and changes are instantaneously reflected in your WooCommerce store.
Price: Many options range from $59/month to $129/month. You will be able to choose between a 14-day free trial and 24/7 customer assistance.
Oliver POS
Despite not being as well-known as others on our list, this cloud-based application is one of the most acceptable WooCommerce POS plugins. Oliver POS is intended to assist store owners in integrating their online and physical establishments and providing a seamless omnichannel experience. It enables you to tailor the checkout process, manage stock, transactions, and customer data from a phone, tablet, or other mobile device. It also includes detailed data to help you keep track of the best-selling goods and categories, as well as the general success of your businesses.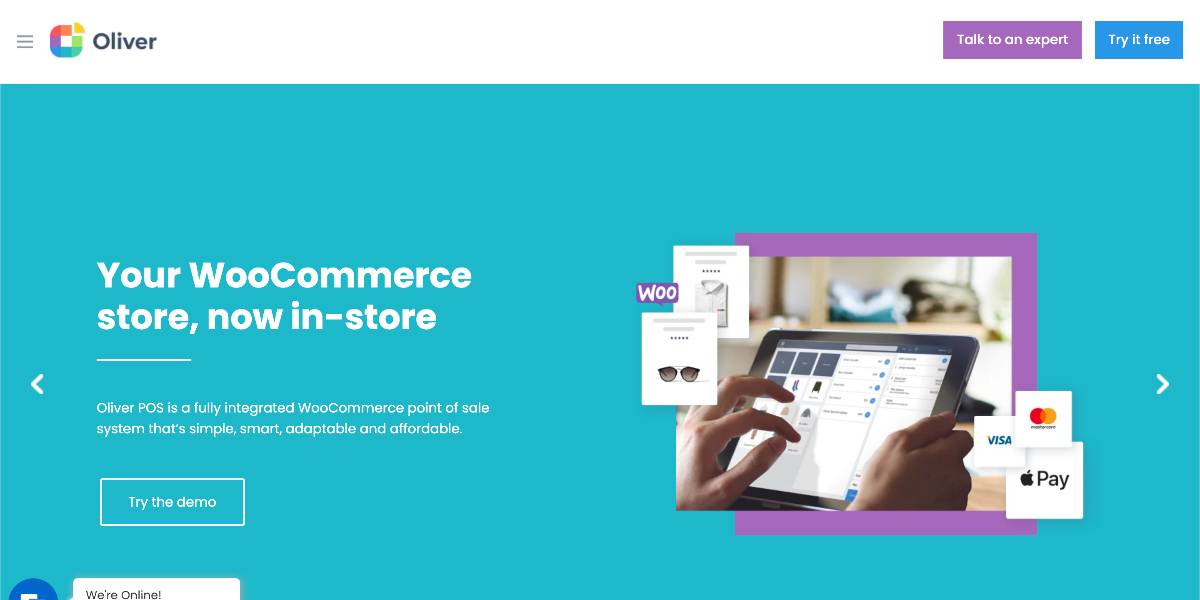 Outstanding features:
Oliver's POS system lets you use your online and physical stores in tandem, streamlining your omnichannel retail operation.
With seamless inventory synchronization, you can rapidly connect your online and physical stores.
Oliver POS syncs instantaneously, making it simple to manage items throughout your storefront, eCommerce shop, and warehouse.
Oliver works with your existing payment source, or you may integrate with our increasing list of payment partners.
With Oliver's payment partners, you may get the most competitive payment processing rates in your community.
Price: Oliver POS is a freemium application. It offers a free version with restricted functionality and three premium subscriptions starting at $19 per month. All licenses come with a 30-day money-back guarantee.
YITH Point of Sale
YITH Point of Sale is another excellent WooCommerce POS plugin that allows users to manage and collect payments from both online and offline establishments. You may use this application to handle customer, order, and product inventory information. A unique feature of YITH Point of Sale is constructing a virtual cash register without using an actual device. This allows you to save money on pricey equipment. Furthermore, the virtual cash register is compatible with desktops and any form of mobile device.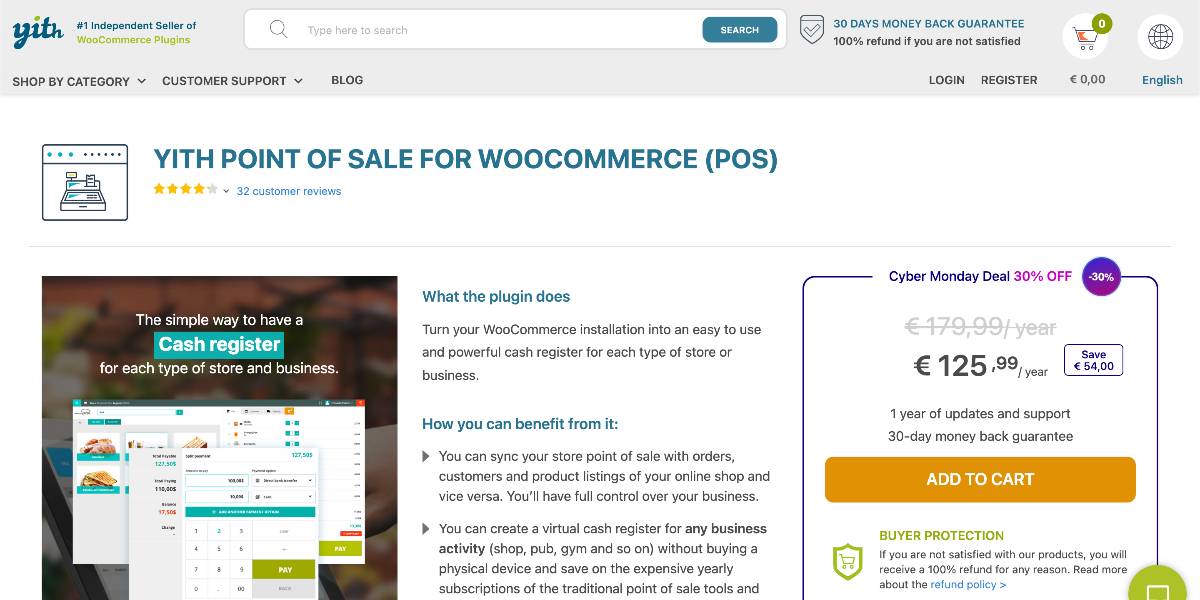 Outstanding features:
To sync orders to the WooCommerce database, create a WooCommerce POS using the REST API.
Create an infinite number of stores and separate registers for each department in your store.
A centralized dashboard that allows you to track orders and sales information easily.
Give your team members access to the cash register using the frontend registration form.
Engaging POS interface to assist you in creating goods and managing stock data.
Price: You can get an annual subscription to this plugin at the cost of $125.99.
Square for WooCommerce
Square for WooCommerce is a well-known point-of-sale system. You will be able to effortlessly link your WooCommerce store with your Square account with the aid of this plugin. It will allow you to successfully manage numerous sales channels and inventory, sales, and customers. You may sign up for a Square account and use this plugin to connect it with your store in minutes. Square is simple to use and can be up and running in minutes. There are no long-term contracts, hidden fees, or unpleasant surprises. Square charges you only when you make sales.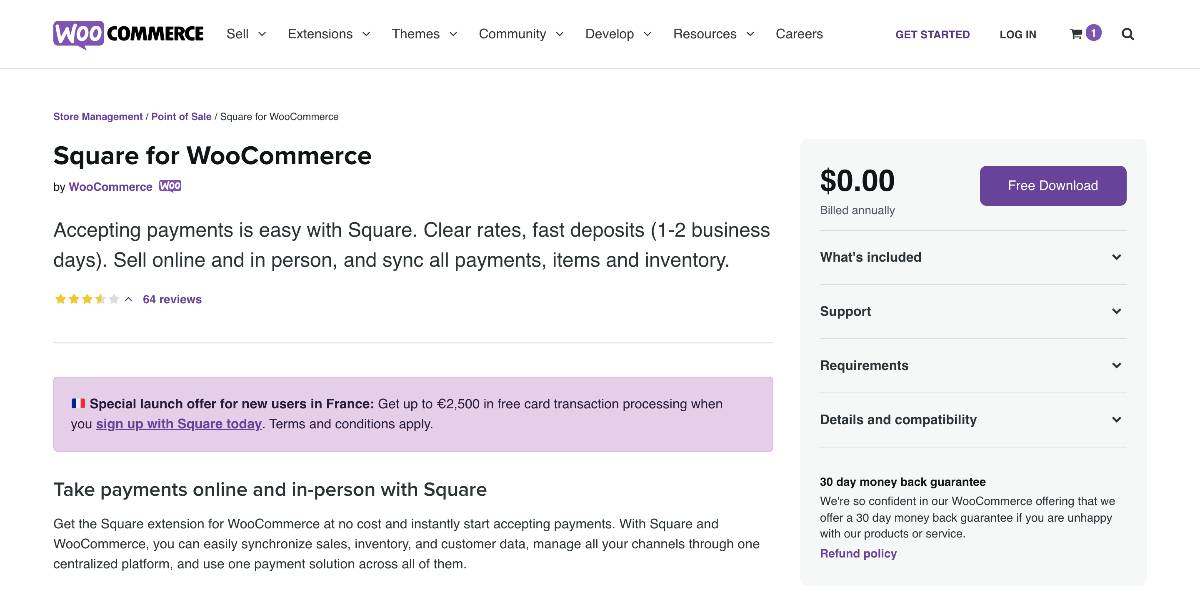 Outstanding features:
Drive sales by providing mobile-friendly, quick-checkout digital wallets that accept Apple Pay® and Google Pay.
Recurring clients may now securely save their payment methods and mark them for simple identification when deciding how to pay.
Authorize transactions when your consumers place an order and then collect money once the things have been dispatched.
Manually sync products from WooCommerce to Square or from Square to WooCommerce – no need to duplicate item setup. When you buy something, your inventory instantly syncs between platforms for precise inventory management.
Square is a security and fraud prevention industry leader. It provides a portfolio of risk management services, tools, and resources to flourish your organization. And if you join Square, it's all included at no extra charge.
Price: The plugin is free to get from the WooCommerce Extensions shop.
WooCommerce POS
Kilbot's WooCommerce POS provides easy access for taking orders through your WooCommerce business. It can be a good substitute for Vend or Shopify POS. This self-hosted solution makes use of the same database that your shop does. As a result, you may own your data without paying monthly membership costs. Furthermore, your inventory will be in sync with all purchases at all times. You may configure and utilize this WordPress plugin in a few simple steps, or you can do it individually.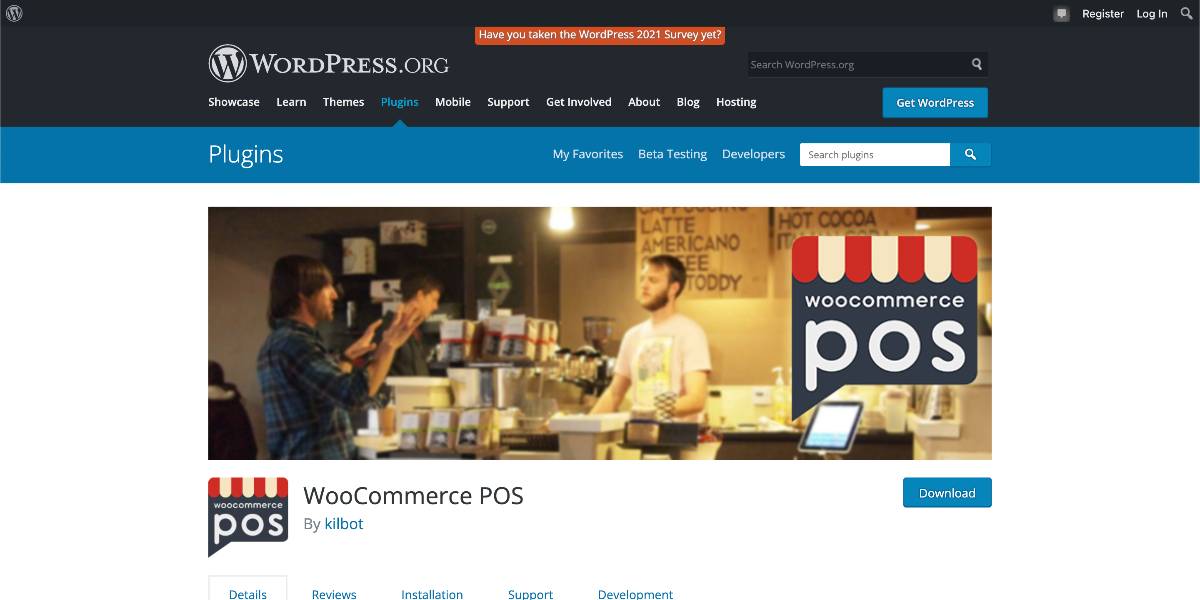 Outstanding features:
WooCommerce POS, like WordPress and WooCommerce, is a self-hosted solution. You control your data, and there are no monthly costs.
The same database powers WooCommerce POS as your online store. Whether you sell online or in-store, your inventory is constantly up to date.
WordPress and WooCommerce are a potent mix for online commerce. For business owners, WooCommerce POS is the missing piece of the big picture.
WooCommerce POS's underlying code will always be free and open source. The project is hosted on GitHub, and developers are encouraged to submit pull requests and provide comments.
Price: You may get the free version without spending any money. The pro edition costs $129 for a single site license, including one year of updates and support.
MWB Point of Sale for WooCommerce
The MWB Point of Sale for WooCommerce plugin is an excellent foundation for your store, assisting you with accessible managing inventory, barcode formation, contact-free order invoice processing, response billings, easy product search/filter, and flexible discounts, all on a single page based React JS Webapp that offers ultimate personalization, appealing UI, and supportive display. As your service system, use MWB Point of Sale (POS) for WooCommerce to seamlessly ease all of your order processing issues.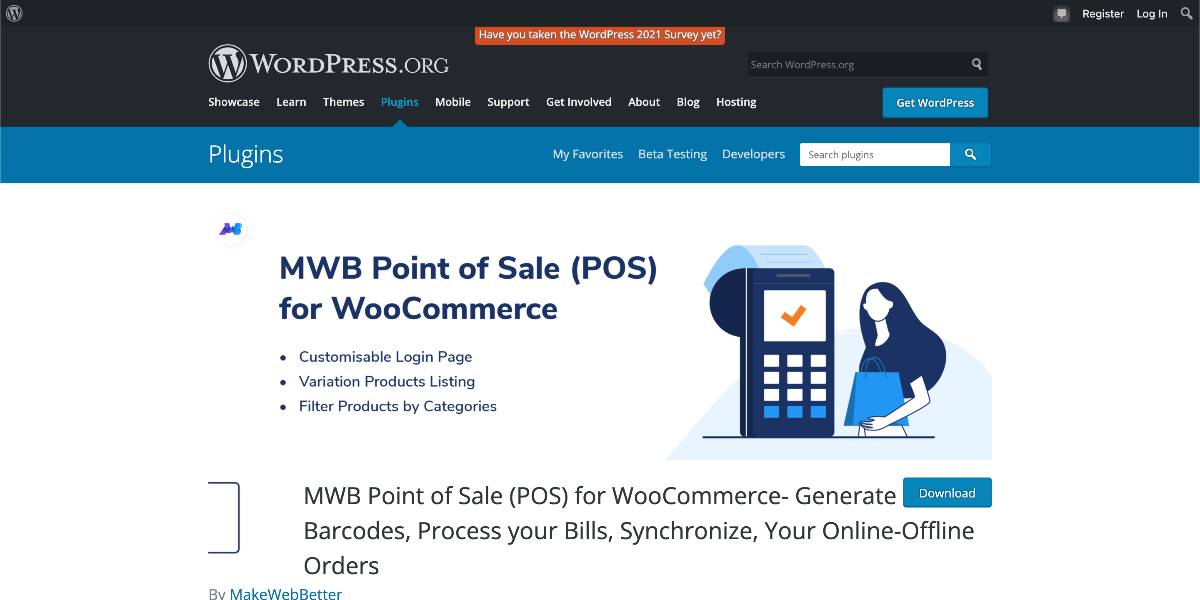 Outstanding features:
Using the plugin, the admin may quickly produce barcodes for various goods using the single barcode generator button.
Provides effective inventory management that is seamless and eliminates the need for you to update order data manually. You can track a product's sales and determine to refill your stock.
Store/outlet managers can accept cash, credit cards, and debit cards for offline POS billing payments. They can also apply discounts to orders and calculate taxes.
Admin managers can delegate outlets and items to store/outlet managers and provide user responsibilities.
Price: You can get this plugin for free.
Conclusion
To summarize, point-of-sale technologies may assist you in connecting your offline and online stores to improve client experience. They're an excellent choice for eCommerce businesses with physical storefronts and those who wish to set up booths at various events. An automated Point of Sale system expands your company's capabilities by syncing all client management and purchase information data.
We hope the detailed descriptions of the 10+ best WooCommerce point of sale plugins for business will help you boost more sales! To efficiently manage all aspects of your WooCommerce business, including inventory management and analytics, you need to use an innovative POS system right now. Take some research and choose the most appropriate plugins for your online business.
New Posts
Subscribe
Stay in the know
Get special offers on the latest news from AVADA.
40k
subscribers has been joined!
Earn $10 in reward now!