10 Best WooCommerce Measurement Price Calculator Plugins for Your Store
10 Best WooCommerce Measurement Price Calculator Plugins for Your Store
If you're a WooCommerce store owner, a WooCommerce Measurement Price Calculator Plugins is a must for Your Store.
WooCommerce is a terrific way to sell physical things through WordPress, but your actual product may have different price requirements at times. If you're only selling a single product, WooCommerce is excellent for you. WooCommerce, on the other hand, provides limited alternatives for those selling products with varying pricing.
Are you seeking a way to use your WordPress website to compute prices, dimensions, dates, form fields, and more? Calculator plugins give your website a unique and useful element by allowing customers to estimate the cost of things, calculate payback terms, and even assess their health.
In this blog post, we'll give you a list of 10 Best WooCommerce Measurement Price Calculator Plugins for Your Store from which you can easily find your answer for your cost calculation issue.
Benefits of using a WooCommerce Measurement Price Calculator Plugin
First, before digging deeper into 10 Best WooCommerce Measurement Price Calculator Plugins for Your Store, you should know how to take advantage of a WooCommerce Cost calculator plugin to help you manage your store.
Below are the 3 most noticeable reasons why you should equip your WooCommerce with one.
Let your customers take control of their expenditure: A calculator must be a helpful assistant for each of your customers while they're shopping around and gives them a sense of control over their spending.
Help your customers make better decisions: The previous benefit results in a more sensible decision of your customers while they have to deal with the limit of their pocket.
Reduce cart abandonment: When they are concerned about their purchasing decisions, they tend to consider more carefully when adding an item to their cart to avoid piling up the products and then abandoning it.
10 Best WooCommerce Measurement Price Calculator Plugins for Your Store
When you know what to do with a Cost Calculator plugin, you may be curious about what to choose. Don't worry, we won't let you wait anymore!
Here is the list of 10 Best WooCommerce Measurement Price Calculator Plugins for Your Store.
WooCommerce's Measurement Price Calculator makes it simple for online store owners to apply price to items in their stores that come in various sizes. In fact, it allows you to price things depending on the parameters that your customers choose. Depending on dimensions, square footage, volume, and weight, you may also provide dynamic product amounts. This WordPress calculator plugin includes inventory management and a price table option. Additionally, for those goods in your shop that allow for user-defined inputs, you may set up an overage estimate.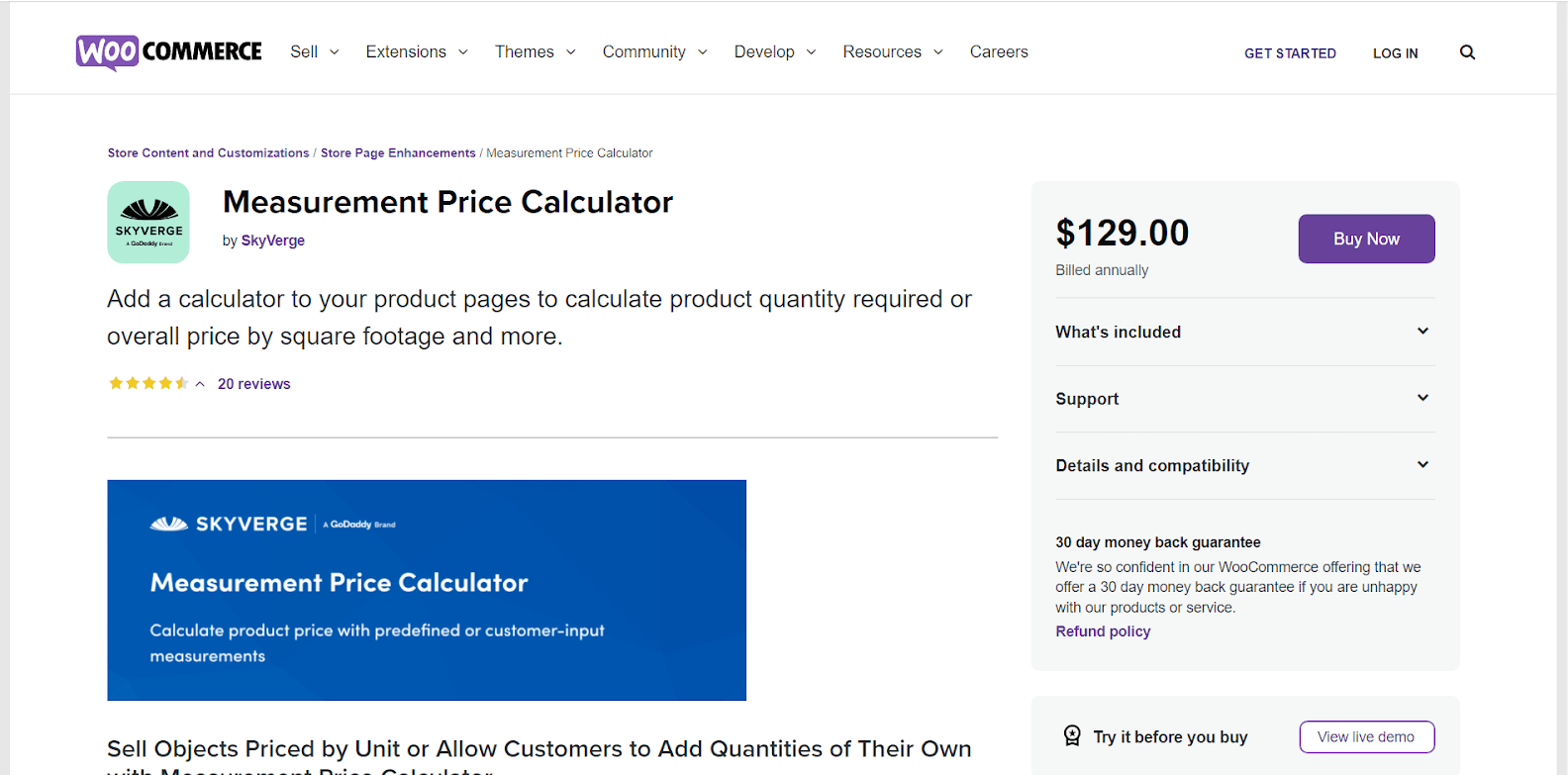 KEY FEATURES
Provides inventory support for the price calculator
Measurement and price labels can be customized.
For selling wallpaper, use the special rooms walls calculator.
The price of a product can be displayed per unit.
Calculators are accessible for all physical characteristics.
PRICE
Measurement Price Calculator costs you an annual price of $129.
Stylish Cost Calculator is designed for websites that provide personalized and rapid quotations to consumers or clients. This calculator plugin is GDPR compliant and can produce quotations instantly depending on user input. It also looks excellent owing to the 7 pre-built themes that are included. It can identify your lead's location and instantly convert between currencies. It also has conditional logic, language translation, and WooCommerce integration, making it ideal for individuals who run an online business.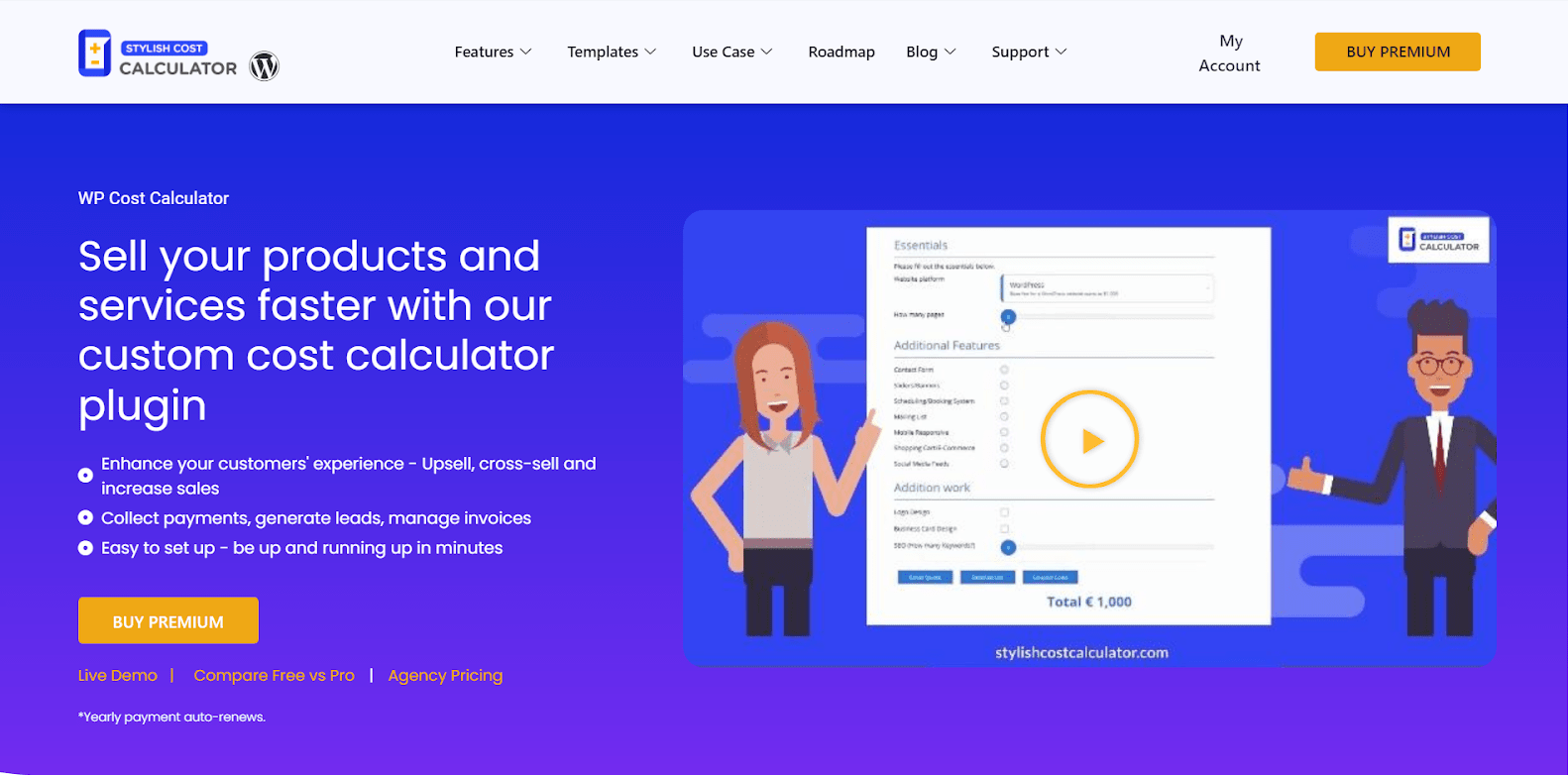 KEY FEATURES
Translate the complete pricing calculator into your own language.
With disclaimer notes, logos, banners, and more, you can brand and customize the email estimate form.
Create discounts and vouchers for your users.
Change the text size, color, and style with ease.
Simply copy and paste the provided shortcode onto any website.
PRICE
You can get Free version of Stylish Cost Calculator on the WordPress website.
The WooCommerce Measurement Price Calculator plugin allows you to sell things based on their size, weight, or volume. It allows you to sell things in various quantities and provide discounts on products. The WooCommerce measurement price calculator plugin also includes a dynamic pricing table that enables you to define the price per unit for all of your items. With this plugin, you may sell any goods, such as tiles by sqft, beverages by liters, wires by meters, grains by kg, and so on.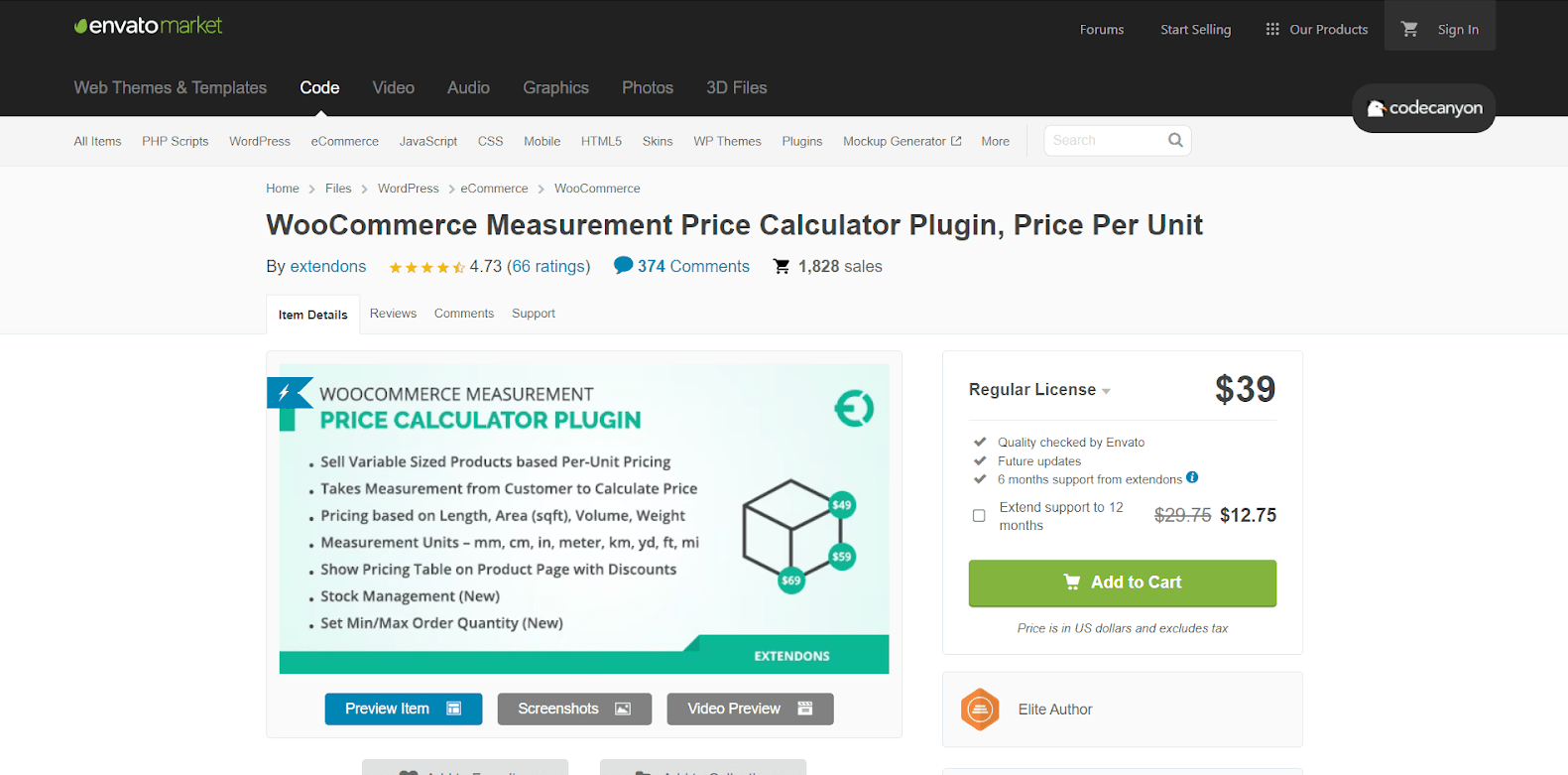 KEY FEATURES
Enables you to sell things based on their area, volume, weight, and box size.
You may use it to add a pricing calculator to your product pages.
Assists you in selling products by box.
Encourages the use of variable products.
Display a pricing table in the Product Tab.
Allows you to personalize the pricing label and units.
PRICE
You can get WooCommerce Measurement Price Calculator with only $39 and also be supported by Quality checked by Envato, Future updates and 6-month support from extendons.
When you need a beautiful, yet flexible estimation form for your website that people can fill out and conduct calculations on, the Cost Calculator Plugin for WordPress is here to help. This enables customers to better understand the cost of your products and services, letting them make more educated purchasing decisions. Cost Calculator Plugin for WordPress can work for you whether you operate a booking website, rent vehicles, manage a delivery business, or offer freelancing services that vary based on the services delivered.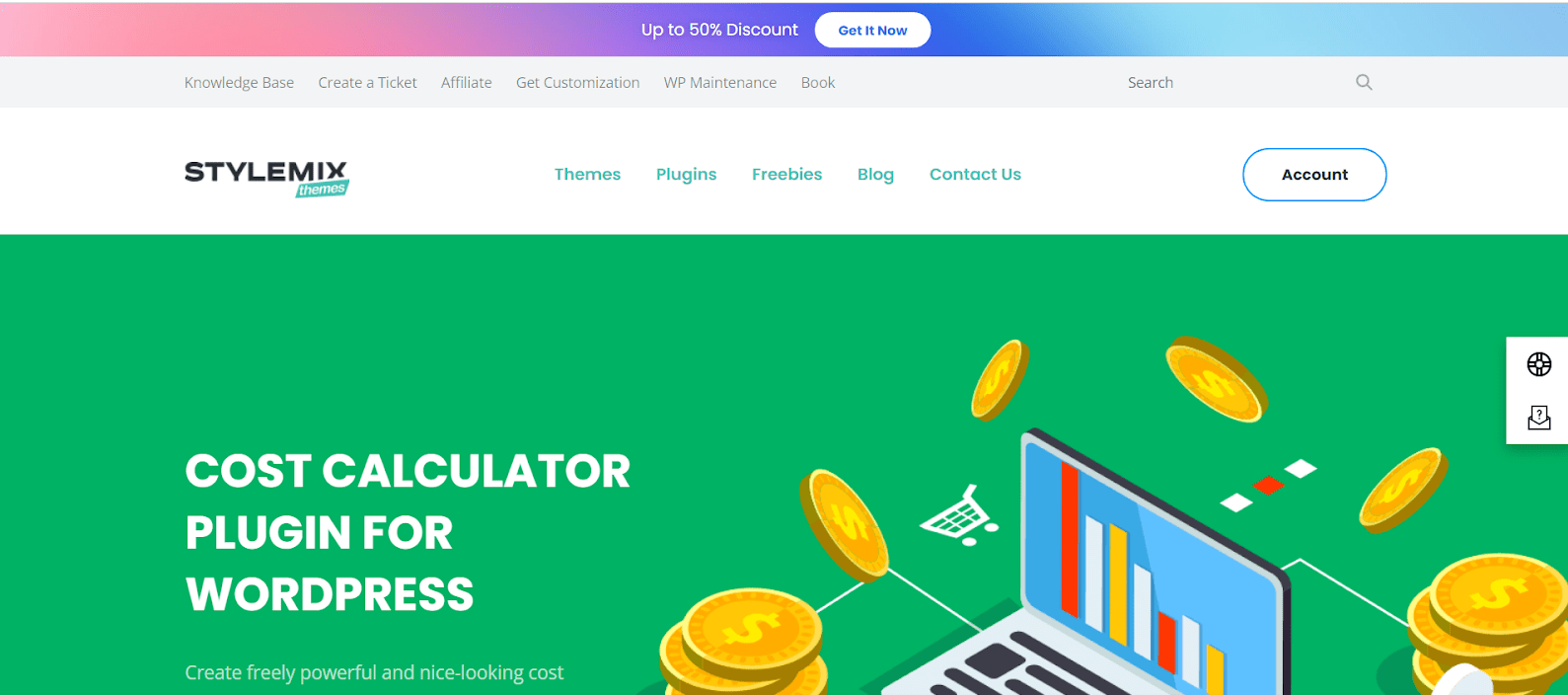 KEY FEATURES
Allows consumers to estimate project costs right away.
You can ensure the security of your website and deny internet bots by enabling ReCaptcha.
Calculator to integrate with a contact for the best client experience.
Allows you to add a date picker with a range of functionality to the calendar.
Check the status of all your clients' orders and manage them easily.
PRICE
You can choose between annual or lifetime payment, each of which contains 3 pricing plans as you can see here:
Yearly

SINGLE SITE: $14.99
5 SITES: $39.99
25 SITES: $99.99

Lifetime

SINGLE SITE: $49.5
5 SITES: $119.5
25 SITES: $299.5
Sumo WooCommerce Measurement Price Calculator will compute the price/quantity depending on the measures provided by the client, as well as assist you in selling items in meter, foot, kilogram, and even single, double, and triple inputs. It's powered by WooCommerce and can handle both basic and varied items. It is completely translation-ready, and both the pricing and unit labels may be customized. Other features include a selling price for measurement pricing regulations, product inventory in the form of measurement, dynamically generated product weight, and so on.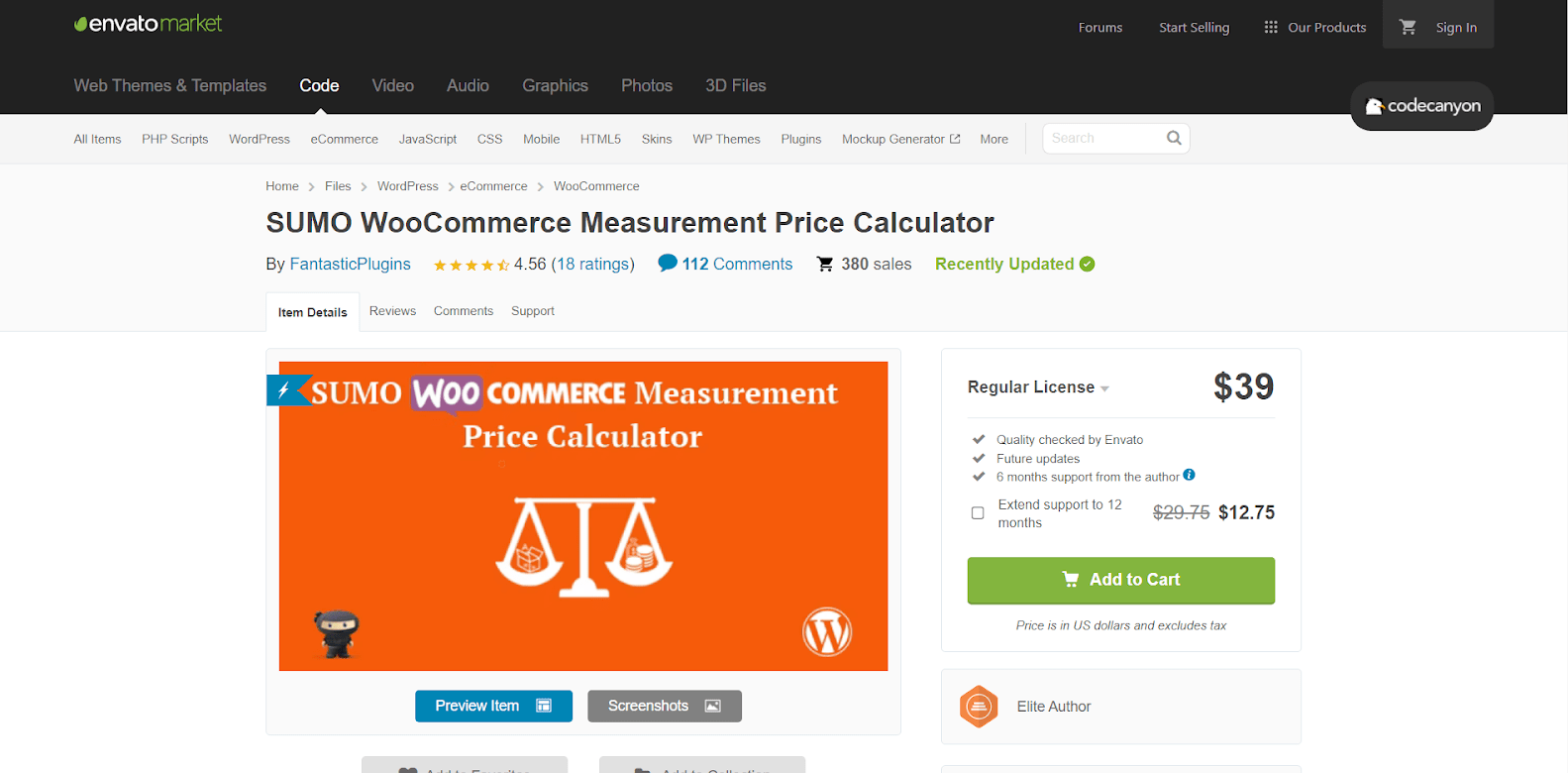 KEY FEATURES
Supports Products that are both simple and variable.
For each measurement kind, many types of units are available.
Calculates the quantity depending on the input from the user.
Measurement Units are used to keep track of product inventory.
Sale Measurement Pricing Rules can be scheduled for a price.
Pricing and unit labels can be changed.
PRICE
You can get Sumo WooCommerce Measurement Price Calculator with only $39 and also be supported by Quality checked by Envato, Future updates and 6-month support from FantasticPlugins.
Another of the greatest WordPress calculator plugins is EZ Form Calculator. It allows you to easily and without scripting develop estimating forms, cost calculators, and even payment forms for your website. Using the visual drag and drop builder, you may add over 15 items to your calculator, including date pickers, dropdowns, and checkboxes. You can quickly reach a worldwide audience because it's translation-ready and compatible with WPML. The fact that you can do visual email handling with the WordPress editor is unique to this calculator plugin.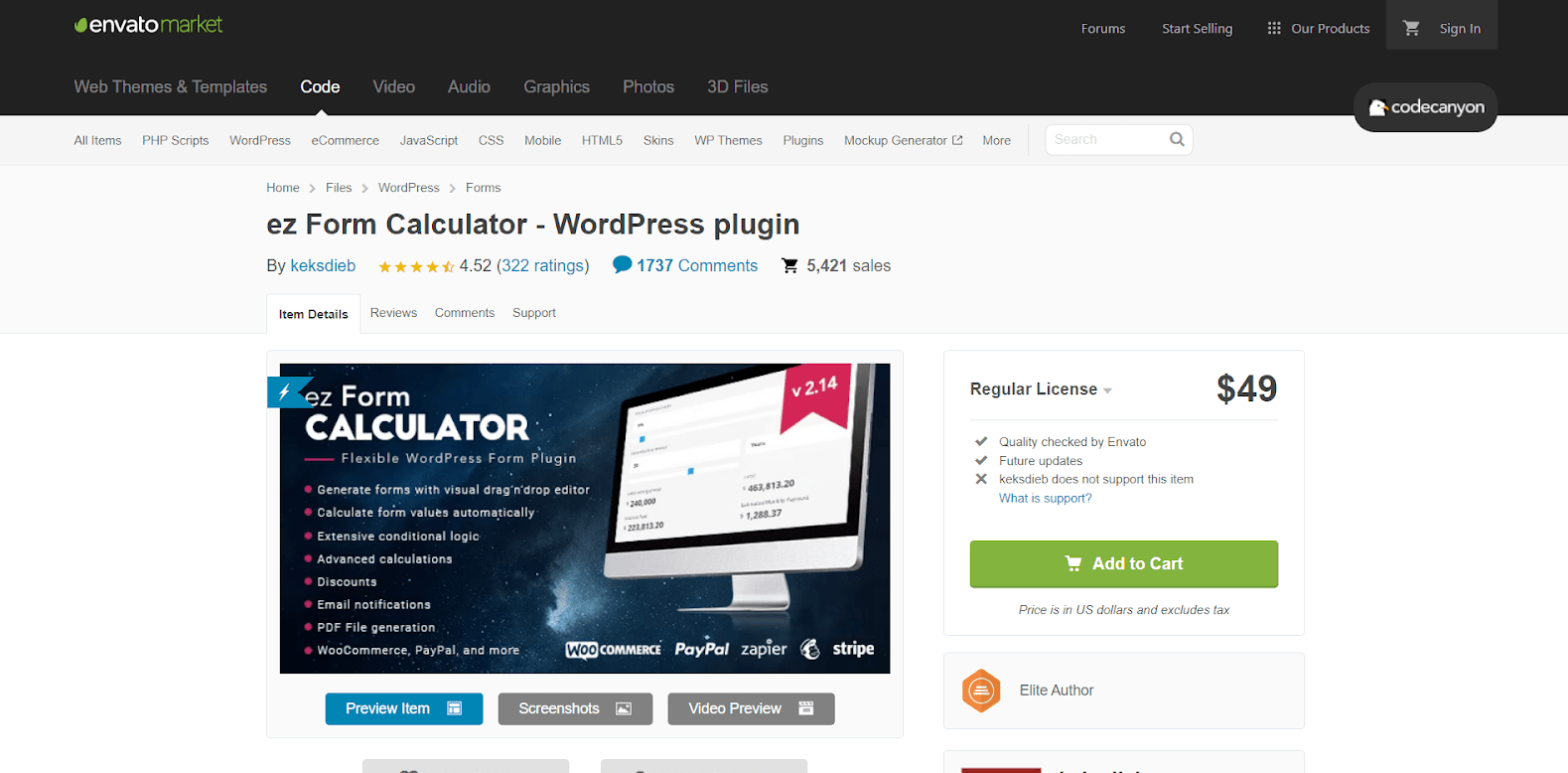 KEY FEATURES
Basic form components such as CHECKBOXES, DROPDOWN, MENUS, and RADIO BUTTONS are simple to add.
A value may be set to each form element, which will be computed automatically.
Form submissions may be delivered to both the administrator and the consumer, each with their own wording.
The plugin may automatically produce PDF files from contributions and attach them to emails.
PRICE
You can get EZ Form Calculator with only $49 and also be supported by Quality checks by Envato and Future updates.
The Calculated Fields Form plugin lets you make web forms with determined fields whose values are dynamically calculated based on the values of other fields in the form. There are no limits to the possibilities. Text editing, advertising services and translation are all part of the module. The fact that you don't need to pay a coder to design the forms is the most striking aspect. In only five minutes, you can create a professional form using only basic information. It's all about the visuals when it comes to creating a shape.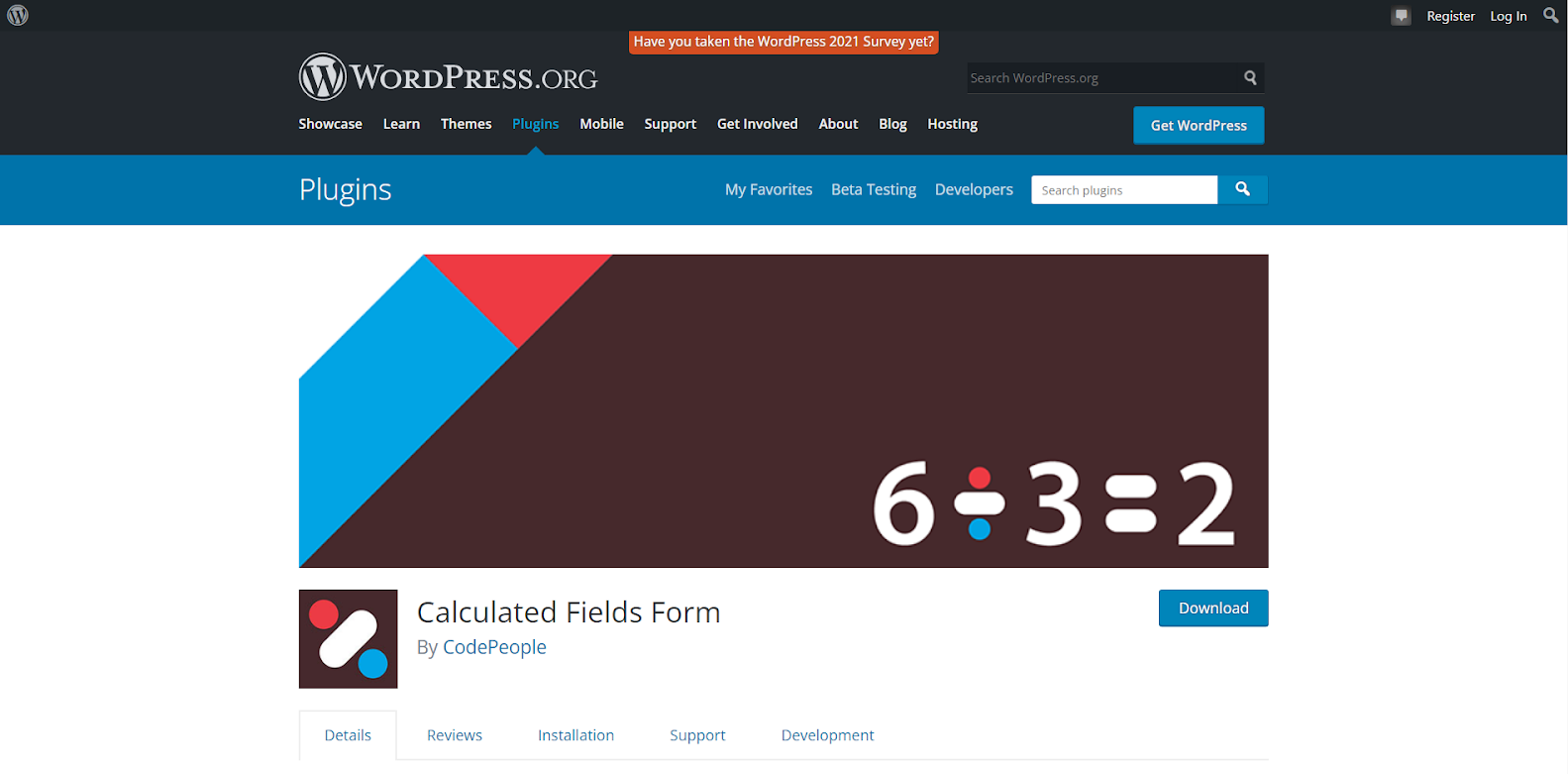 KEY FEATURES
Calculated fields are those whose values are derived from actions on other form fields.
Fill up the form with as many calculated fields as you require.
Contains various predefined forms that may be used as a jumping-off point for your projects.
You can reuse previously completed work by copying a form.
To optimize the website's performance, you can deactivate forms during the indexing process.
PRICE
You don't have to spend a penny for this plugin as it's free on the WordPress website.
The Cost Calculator is the 8th plugin on our list of WordPress Calculator plugins. This plugin is clean and easy, and it will assist you in tasks such as obtaining a basic quotation, project price, or estimation, and then creating a quote or price estimating form for your website. Your current and potential clients will be able to check the cost calculation for your product or service by using a price estimation form on your website.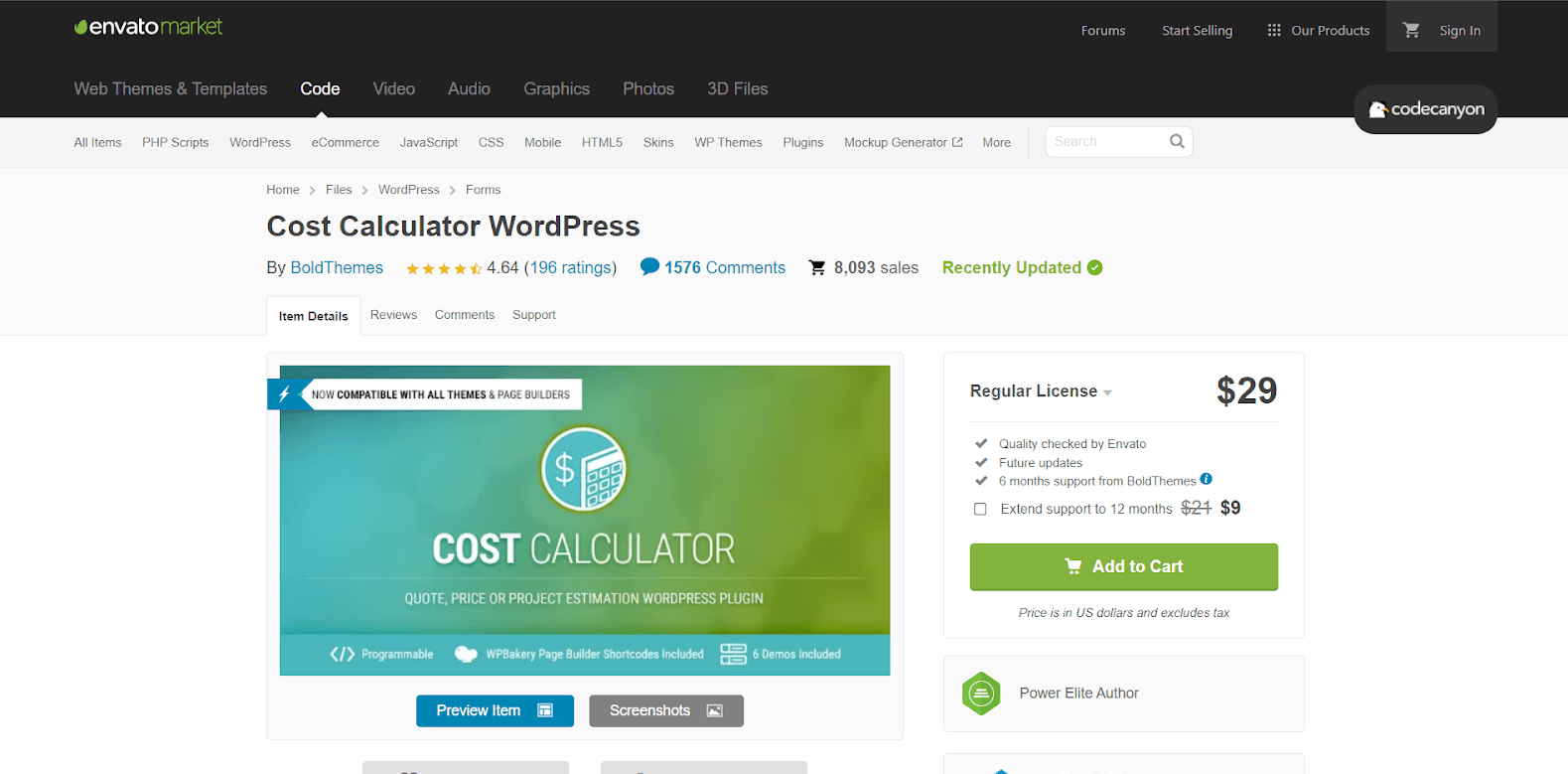 KEY FEATURES
You can see how it works in the themes where it's incorporated, such as Renovation Demo, Dentist Demo, Car Wash Demo, and Loan Demo.
The Contact Form transmits all of the user data entered into the Cost Calculator to a specified email address, making it an effective lead-generating tool.
The Cost Calculator supports PayPal and Contact Form 7 - each form element is included as a separate item in the final statement.
Cost Calculator works on all devices, including smartphones, tablets, and PCs.
PRICE
You can get Cost Calculator with only $29 and also be supported by Quality checked by Envato, Future updates and 6-month support from BoldThemes.
The Zigaform is a cost estimating calculator and form builder plugin. This plugin is fantastic because it includes a real-time drag-and-drop form builder that allows you to view your adjustments and customizations as you go. Zigaform will be able to estimate any service for your customers, and they will be able to pay via a payment gateway or an offline payment gateway. It's also cross-browser compatible, so no matter what web browser your users use to access your site, they should be able to enjoy the plugin's functionality.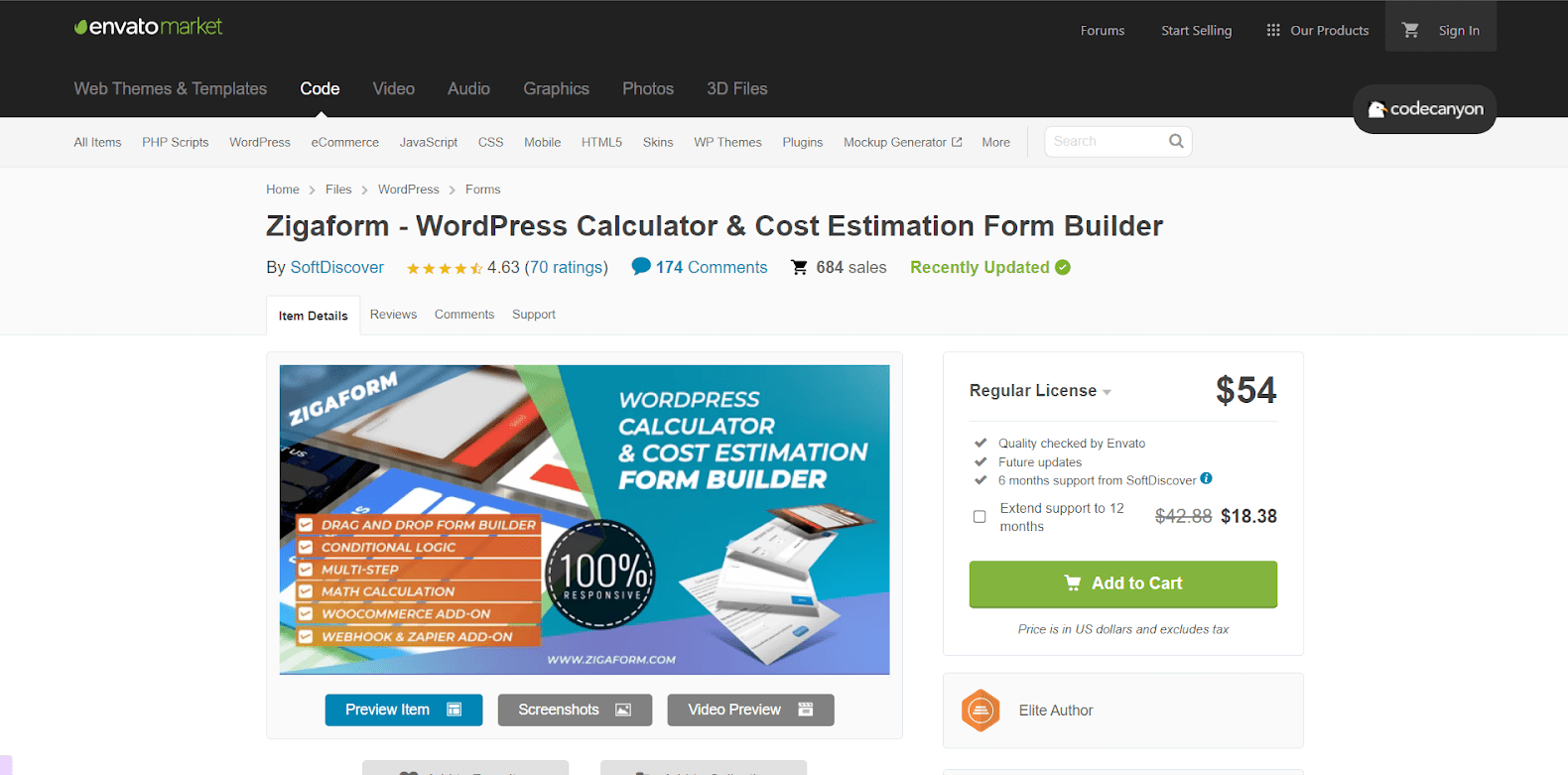 KEY FEATURES
Allows you to modify invoices and send them to your clients as a PDF file.
Allows you to develop bespoke formulas that can be used for any type of computation.
Allows you to design unique form layouts in a completely adjustable and responsive grid.
Supports you to see and send submitted form data through email from inside the WordPress admin area.
PRICE
You can get Zigaform free version on WordPress website or with only $54.
WP Cost Estimation and Payment Forms Builder might be the appropriate match for you whether you're an SEO firm, sell flats, or provide fitness services. This plugin allows you to build flat and responsive cost calculator forms that you can display anywhere on your site. You may construct any sort of form with varied fields and constraints based on your business type. You may build graphically complicated price and quantity computations for your items if your business demands them.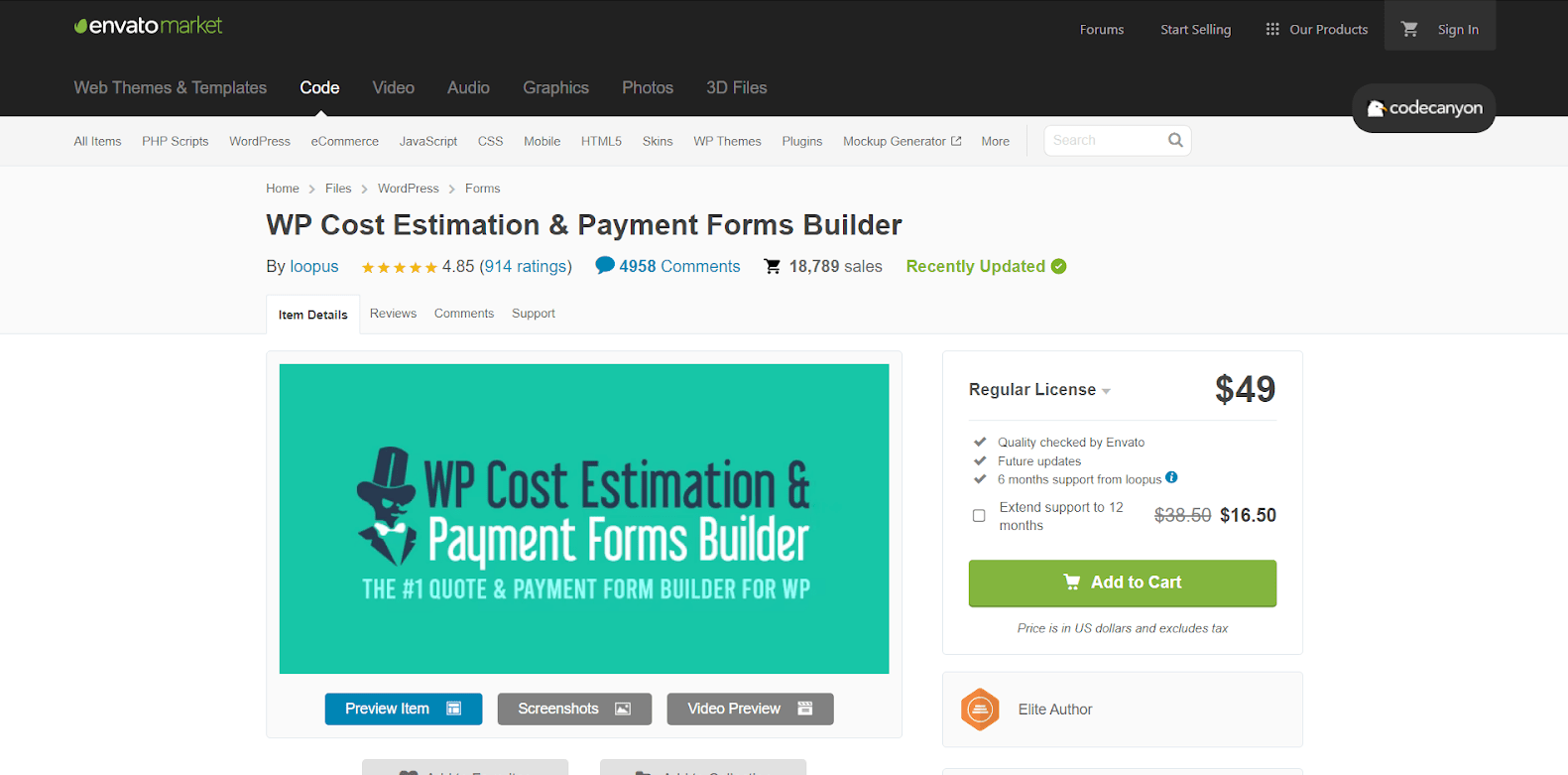 KEY FEATURES
You may make whatever type of form you want, such as a contact form, a quiz, a booking, a cost estimate, a payment, a survey, and so on.
This plugin is a full-featured application that runs on your Wordpress server.
The component edition panel's extensive choices allow you to fully personalize each accessible component.
Using the visual step builder tool, you can quickly design complicated arrangements.
Its form creation wizard feature allows you to customize your form's major settings with only a few clicks.
PRICE
You can get Cost Calculator with only $49 and also be supported by Quality checked by Envato, Future updates and 6-month support from loopus.
Summing up
That's all there is to it! The top WordPress calculator plugins on the market for calculating things like loan payments, product pricing, and even health-related information for your site users. The sort of calculator plugin you employ on your website will be determined by your specific requirements. So, before you start utilizing one, be sure to think about it thoroughly using our reviews.
We hope that our list of 10 Best WooCommerce Measurement Price Calculator Plugins for Your Store would be helpful.
New Posts
Subscribe
Stay in the know
Get special offers on the latest news from AVADA.
40k
subscribers has been joined!
Earn $10 in reward now!