12 Best Form Builder Plugins for WooCommerce Store in 2021
12 Best Form Builder Plugins for WooCommerce Store in 2021
As a WooCommerce store owner, you'll need to find a Form Builder Plugin for your WooCommerce Store to stay ahead of the game.
You've probably come across a few of the top website builders. What about form builders, though? A form builder is a must-have plugin for any WordPress website. The presence of a contact form on a website allows users to interact with the webmasters without having to utilize their email account. Indeed, a modern contact page with a contact form serves as a link between a website's owner and its visitors, resulting in a better user experience.
To contact the website owner, users have to copy or store any email address, street address, phone number, and other information from a contact page. Such a conventional method appears to be inconvenient for consumers, but it provides a chance for spammers to ruin your precious website data.
That being said, in today's blog, we'll give you a list of 12 Best Form Builder Plugins for WooCommerce Store in 2021, from which you can find one for yourself, after naming some of the most noticeable benefits of owning a WooCommerce Form Builder Plugin.
Let's check'em out!
Why do you need a WooCommerce Form Builder Plugin?
A Form Builder Plugin is a must for WooCommerce users, and these are reasons why:
Save time for your customers: Instead of finding your company's contact information or customer service, customers now just have to go to your website and connect with you through automatic forms.
Give better interaction with you customers: It's obvious that with the help of A Form Builder Plugin, it can be easier for you to get access to your customers and respond to them immediately and solve their problems.
Help you enhance customer experience: The two previously mentioned reasons already shed light on this reason. Customers are the utmost priority of store owners, which is a motivation for you to enhance their experience when they reach your store.
Facilitate faster conversion: Of course, when your customers are satisfied with the experience you offer, you'll stand a higher chance of raising conversion rates, but what about at a faster pace? You can, too, with the help of a quick WooCommerce Form Builder Plugin.
12 Best Form Builder Plugins for WooCommerce Store in 2021
Now as you know what to do with your WooCommerce Form Builder Plugin to make the most out of it, you may be confused among a huge number of WooCommerce Form Builder Addon in the marketplace.
Don't worry, we've got your back! Here is a list of 12 Best Form Builder Plugins for WooCommerce Store in 2021 where you can easily choose the most suitable one for your WooCommerce store.
Formidable Forms is a WordPress form building plugin that is easy to use not only to construct forms, but also to produce lists or directories depending on acquired data. The obtained data from the filled-out forms can be easily filtered, formatted, and displayed, and the data may be shown using custom views. You may quickly add pages and articles to your WordPress site using the data. Formidable Forms is a wonderful option to explore if your forms are data-heavy. Another feature we enjoy about Formidable Forms is its ability to quickly convert highly complicated or long forms to multi-page forms, which is useful in some situations.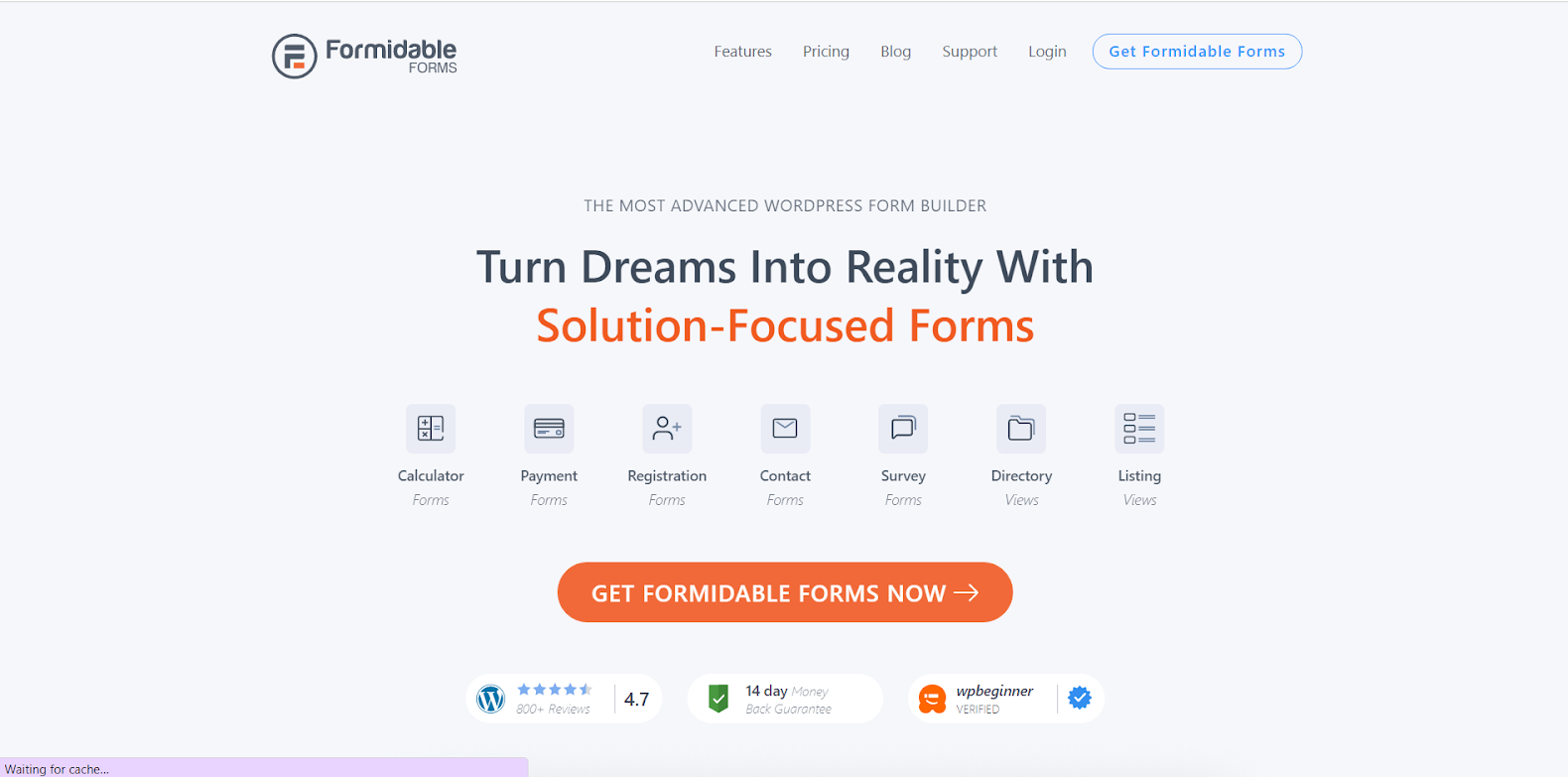 KEY FEATURES
Excellent performance possibilities. Allow you to pick whether or not you want their scripts and styles to load on all pages or only the ones that include your form in the settings.
To avoid spam, it has a simple interface with reCAPTCHA.
Allows you to see entries from your contact form on your WordPress dashboard (in the free version).
Has a fantastic style editor where you can fine-tune the CSS for your form (error colors, successful submission colors, etc.) Over 17 paid add-ons for MailChimp, Stripe, PayPal, WooCommerce, Zapier, AWeber, and more services.
PRICE
Formidable Forms has a free version available on the WordPress website. But if you want to take advantage of advanced features, we recommend you go for Premium versions which are offered with 4 different pricing plans, including:
Elite: $599/year
Business: $399/year
Plus: $199/year
Basic: $79 /year
Gravity Forms is a highly intuitive visual form builder that is simple to use, making it a great form builder for beginners. On the other hand, Gravity Forms has several complex capabilities for expert WordPress users. The fact that conditional logic is included in all Gravity Forms plans is a unique feature, since other form builder solutions need you to pay extra or utilize third-party solutions. Additionally, Gravity forms can automatically calculate numerical data given by visitors, which is essential if your forms require sophisticated calculations such as a compound interest calculator or an expected installment payment, among other things.
KEY FEATURES
A getting started guide, information on add-ons, popular features, and developer documents are all included in the extensive documentation.
Email alerts, file uploads, and the ability to save and continue are all supported by Gravity Forms.
Perform complex computations depending on user input. (Perhaps appropriate for a banking or real estate website.)
You may use a form to set a restriction on the number of submissions. Forms can also be scheduled.
PRICE
Gravity Forms offers you with 3 pricing plans:
Basic: $59/ Year
Pro: $159/ Year
Elite: $259/ Year
Pabbly Form Builder is just what you need if you're seeking for a builder that's simple to use, efficient, and economical. Unlike other form builders, this one charges a little fee for infinite functionality such as form submissions, file uploads, users, and storage. Pabbly Form Builder is not a WordPress plug-in, but rather a full-featured form builder that works seamlessly with your WordPress site. You may adjust every feature of your form, such as form width, length, and other fields, and create an interactive form in minutes with its extensive customization and field choices. You can also easily embed or distribute them on your WordPress site through a link.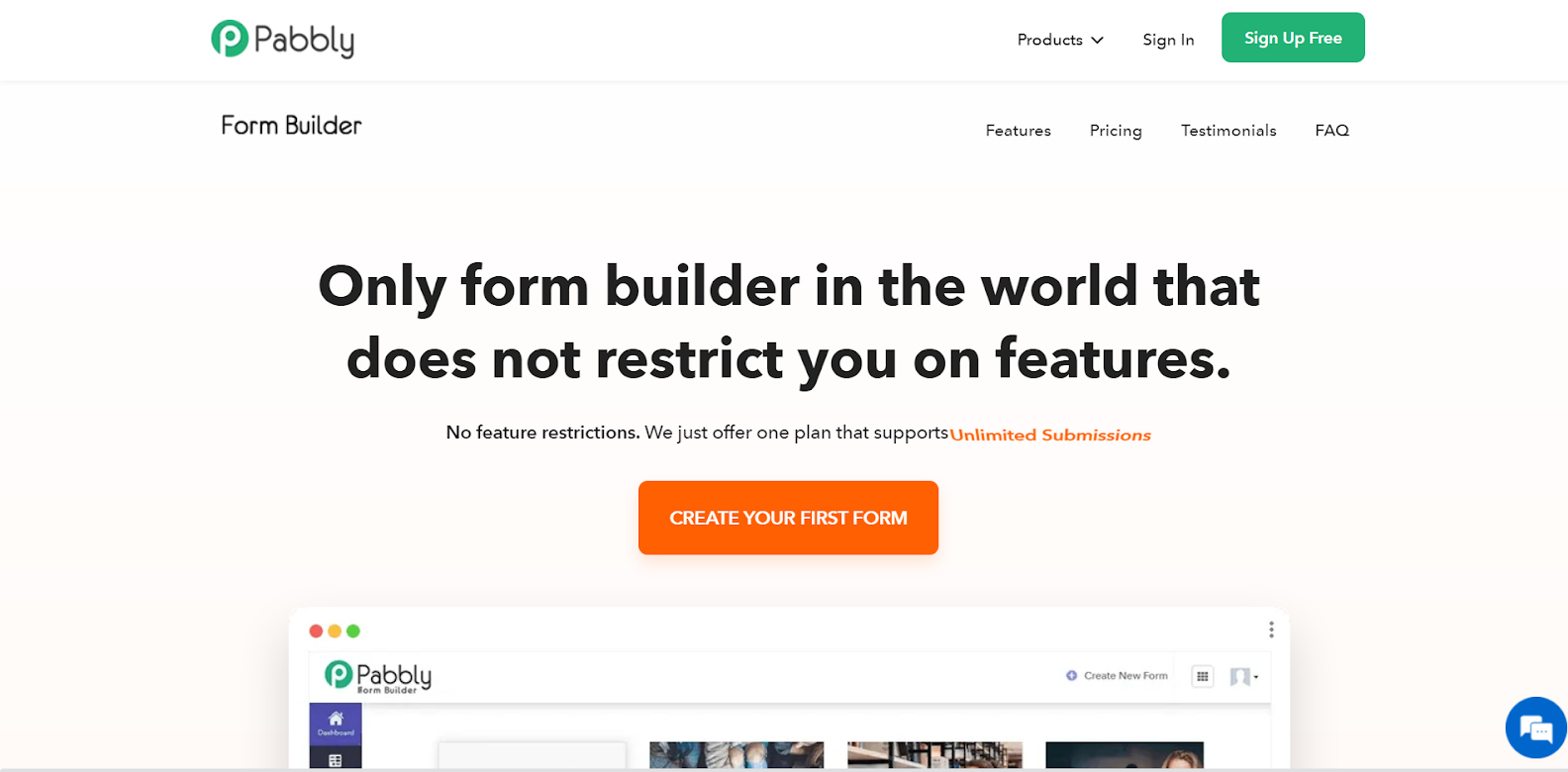 KEY FEATURES
It has the opportunity to customize its branding.
You may use it to make an email autoresponder.
It gives analytics for forms.
It has the ability to manage an unlimited number of payment accounts.
You may use it to schedule Forms.
PRICE
You can get Pabbly Form Builder with a monthly payment of $15.
There is no free or light version of FormCraft to try out before purchasing. It is, however, a strong WordPress contact form plugin with significantly more appealing designs than any of the other plugins. The WordPress contact form plugin comes with beautiful themes and hundreds of add-ons to help you get more out of your forms. Furthermore, this premium WordPress contact form plugin comes with unique features such as built-in popup forms and math formulae. Payments may be collected via PayPal Standard or Stripe, and the Zapier integration will undoubtedly streamline some of your operations. You may make it multisite compatible with further add-ons. Overall, the FormCraft plugin provides more creative, configurable templates and designs.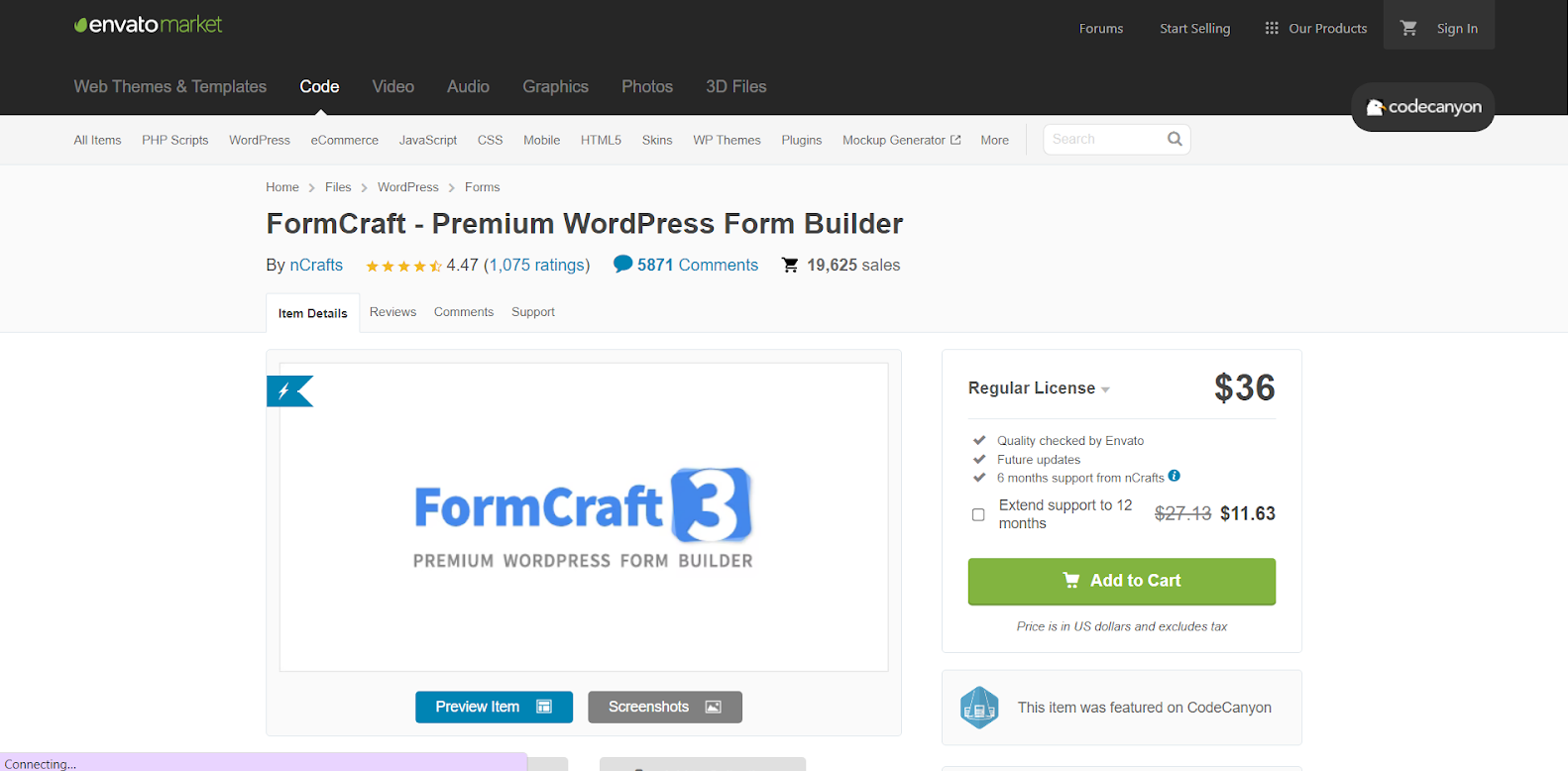 KEY FEATURES
One of the most powerful tools on this list is the drag and drop builder.
The FormCraft WordPress contact form plugin comes with a lot of layouts.
Mailster, MailChimp, MailPoet, reCAPTCHA, and Campaign Monitor are just a few of the free - add-ons available.
Multi-page forms, Stripe, PayPal Standard, and WordPress multisite support are just a few of the premium add-ons available.
FormCraft is one of the finest WordPress plugins for getting creative with your designs and building a stronger brand through your contact form.
PRICE
You will have to pay $36 one time for unlimited usage which includes the item price and a buyer fee. You can also benefit from Quality checked by Envato, any future updates and 6 months of support from nCrafts.
Many of the WordPress contact form plugins on this list are designed only for making contact. QuForm is a bit unusual in that it can be used to create any sort of form, even ones with complex features and fields. The drag-and-drop editor alone is worth the price of admission, but you also get a slew of other features, like 19 element kinds and a simple theming system. This drag and drop editor isn't quite as fantastic as others we've seen, but it's still user-friendly. These webforms are mobile-friendly and offer an incredibly versatile style. That's why the cost appeals to us. It allows all businesses to observe how the style works without breaking the bank.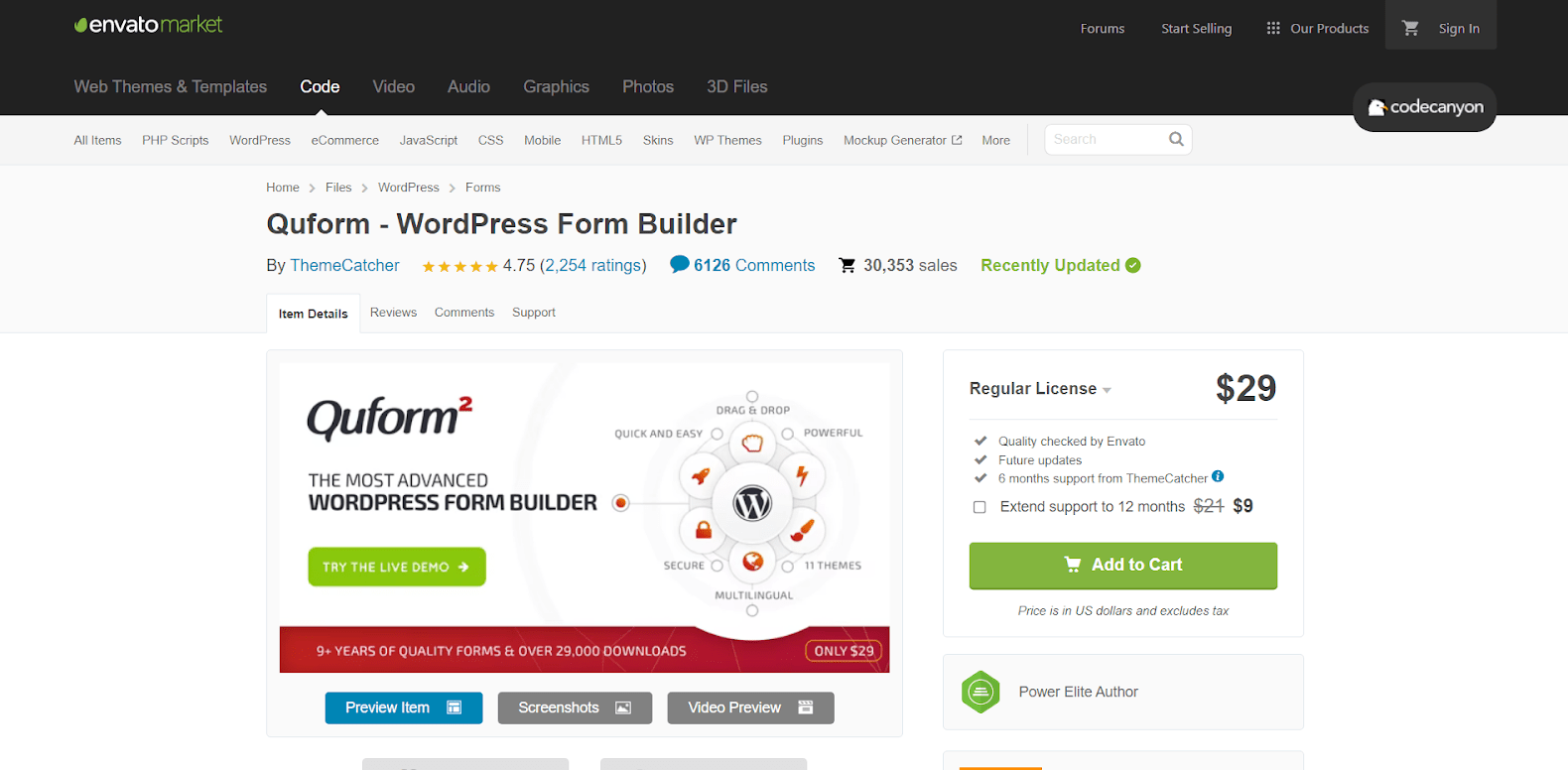 KEY FEATURES
The performance of the QuForm plugin has been tuned to ensure that it does not slow down your website.
You won't have to spend a lot of money. In truth, there is simply a one-time purchase for the plugin.
There are nine validators and six filters in the QuForm plugin.
The improved file upload capability is ideal for customer service and client collaboration.
When a certain response is provided through your form, use conditions to show certain items automatically.
PRICE
QuForm offers you 2 different pricing plans, both of which is bundled with Quality checked by Envato, Future updates and 6 months of support from ThemeCatcher.
Regular License: $29
Extended License: $145
WPForms is one of the most widely used WordPress form plugins for a good reason. First and foremost, it is a really simple-to-use form builder that also has a lot of functionality. We also get the Form Templates Pack with over 150 templates spanning nearly all themes and demands when we upgrade to the premium edition. With WPForms, we can simply choose a form template and then construct our forms using the drag-and-drop builder. We may also make adjustments to the forms, such as adding or removing fields, and making changes to each and every part of the form to improve its performance.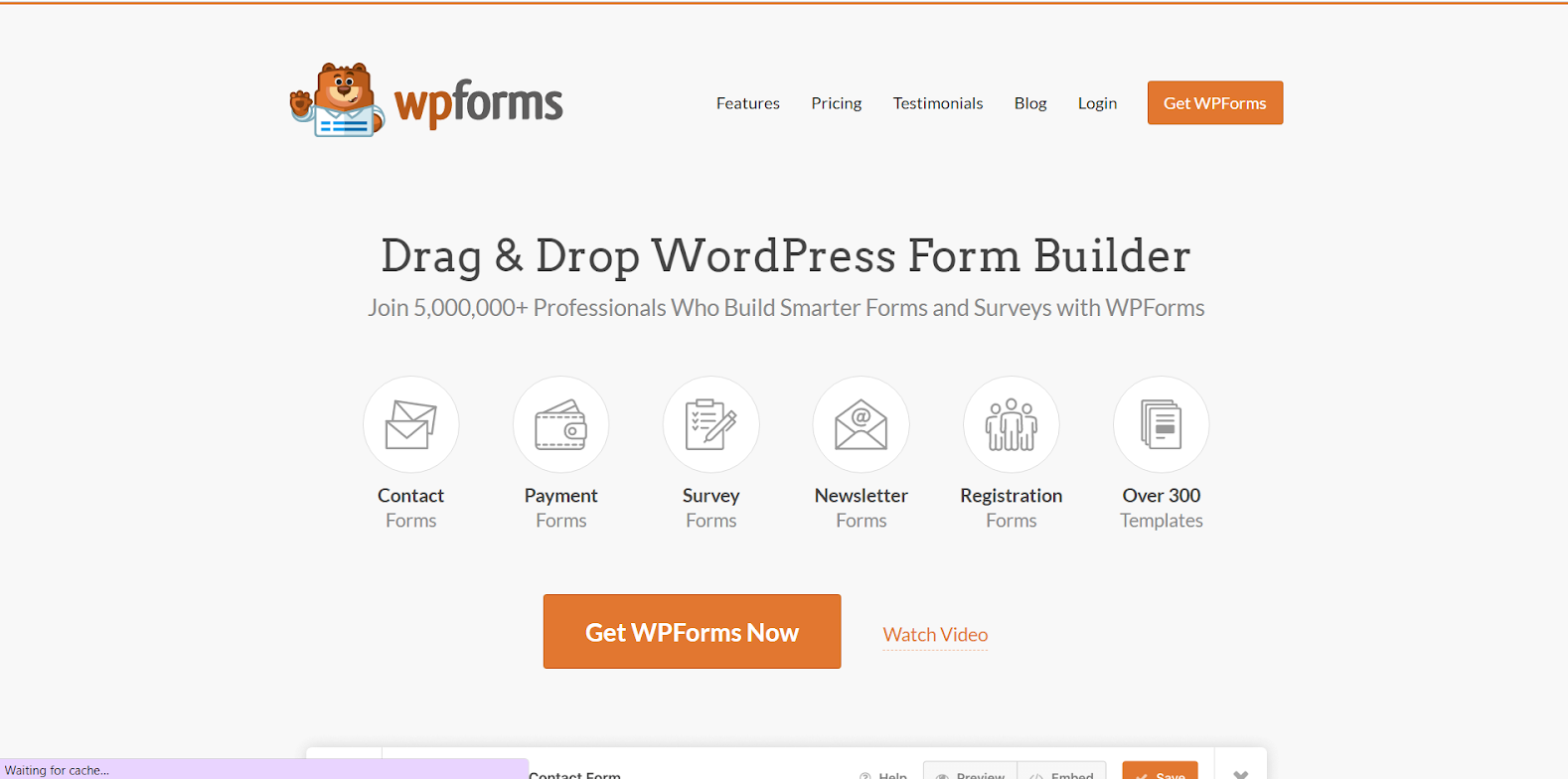 KEY FEATURES
We may create both basic and complicated forms using custom field types.
Can capture emails even if users don't complete the form, lowering the rate of form abandonment.
With a variety of tools, you can create effective surveys and polls.
Form submissions allow you to submit files, documents, or photos.
To prevent spam submissions, use Honeypot, reCAPTCHA, or a custom CAPTCHA.
PRICE
WPForms has a free version available on WordPress website. But if you want to take advantage of advanced features, we recommend you go for Premium versions which are offered with 4 different pricing plans including:
Elite: $599/year
Business: $399/year
Plus: $199/year
Basic: $79 /year
Although Ninja Forms provides a free version in the WordPress library, most respectable businesses would choose the paid version. The free contact form plugin has a lovely user interface for creating custom contact forms. There are no restrictions on the kind of forms, fields, or emails you can receive, and you can save your forms for later use. The free version has a lot of basic fields and functionality, but it's simple to customize your forms and make them look great on your website.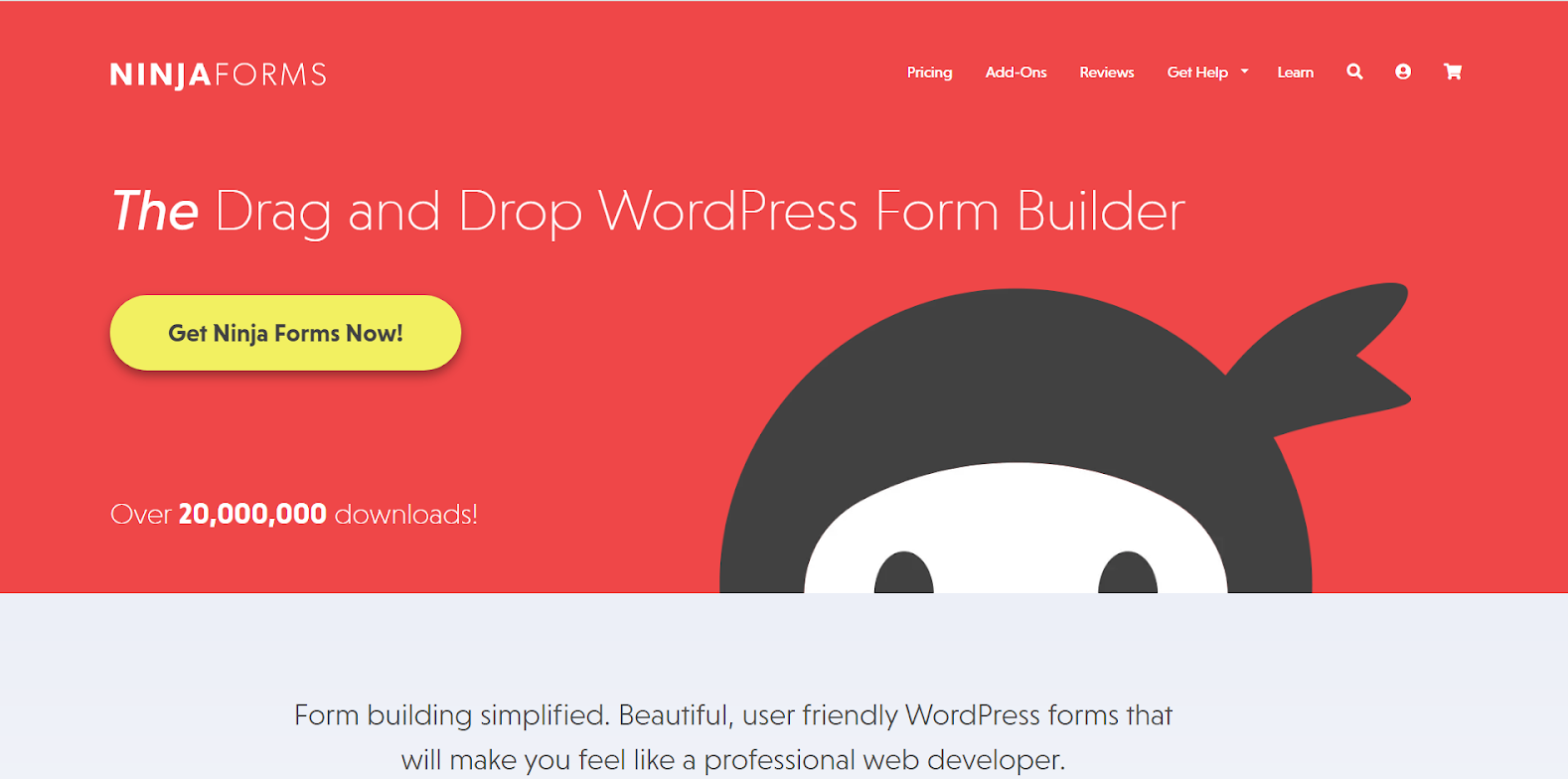 KEY FEATURES
Ninja Forms has more than 40 add-ons, including conditional logic, multi-part forms, front-end posting, file uploads, layouts, and style.
You may use MailChimp, Campaign Monitor, and AWeber to integrate your forms.
With the aid of PayPal Express or one of the many other payment processors, you may collect payments straight through your forms.
Connect with Zapier to eliminate most integration and automation limits.
Connect to your preferred CRM, such as SalesForce.
PRICE
WPForms has a free version available on WordPress website. But if you want to take advantage of advanced features, we recommend you go for Premium versions which are offered with 4 different pricing plans which are supported by 14 Day Money Back Guarantee including:
AGENCY: $499
PROFESSIONAL: $199
PERSONAL: $99
À LA CARTE: $29-$129 / year
Jetpack is a multi-purpose plugin package that also includes a built-in contact form. You may use it to construct a very simple contact form that site visitors can use to contact you or subscribe to your email list. The best part about utilizing Jetpack's contact form is that you just need to enable the contact form module if you already have the Jetpack plugin installed. Despite the fact that Jetpack is one of the most limited contact form plugins in this roundup, it ensures that your site will never be slow or unresponsive. You can also send email alerts to whatever email address you like, change the form parameters in the editor as you add it to your site, and even combine it with the renowned Akismet spam filtering plugin.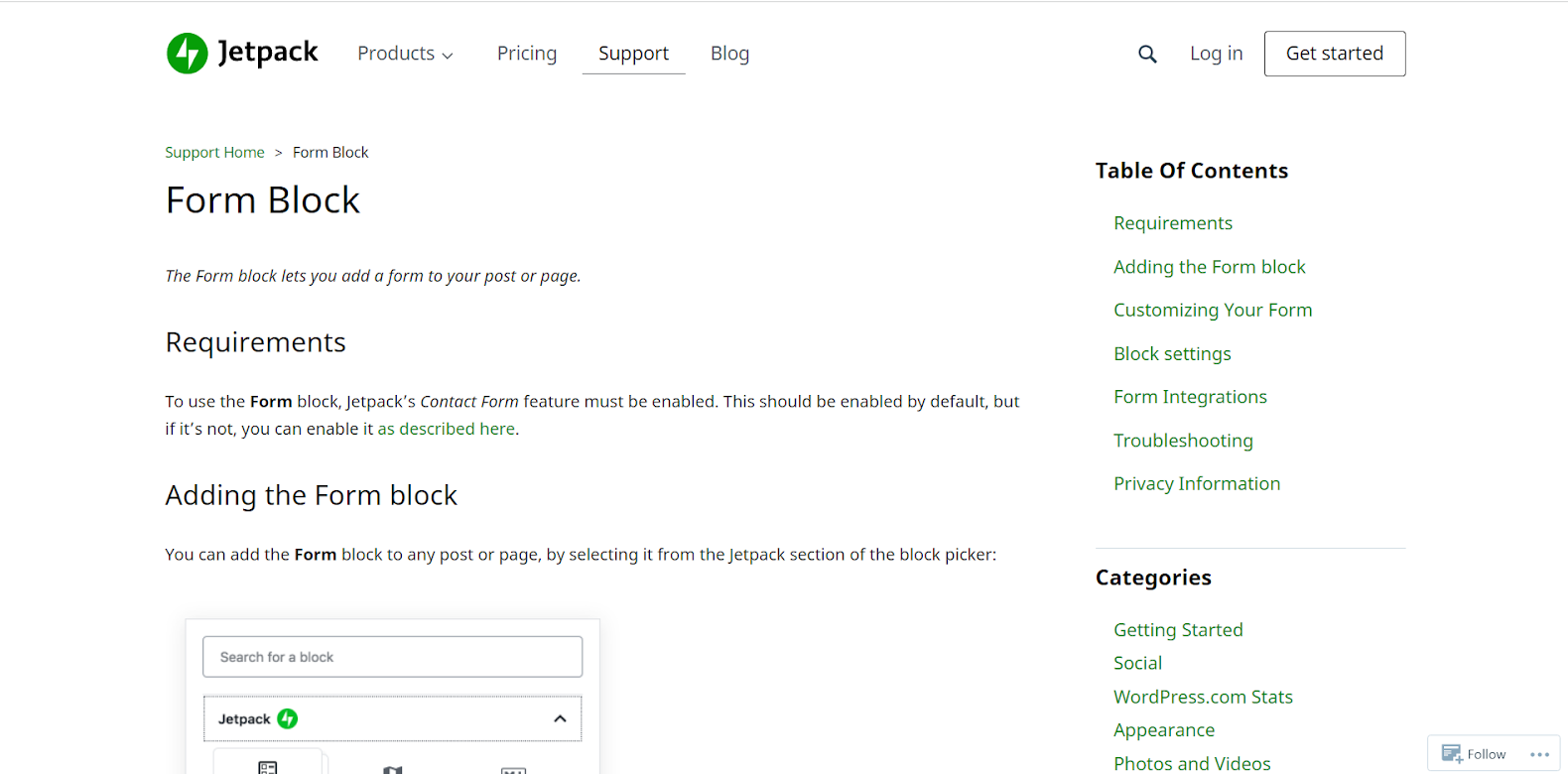 KEY FEATURES
It enables you to quickly create many sorts of forms.
It can assist you in setting up email notifications.
You will have the ability to personalize the forms.
It may be seamlessly integrated with a variety of different tools.
PRICE
You can get JetPack Form Block free on JetPack.
In a league table of WordPress contact form builders, the ARForms plugin is one of the more mature options. It has been servicing thousands of WordPress users for five years and has received great comments. A straightforward drag-and-drop real-time form builder that allows you customization control over each field, 28+ fields, a sumptuous design toolkit, and a whole host of additional elements for generating customized forms are the most obvious features that set this player out from the pack. Within a premium edition, any of those modern-day templates for a variety of niches may be downloaded for free. Before you pay any money, you may sign up for a free trial account and thoroughly review all of the choices on the backend.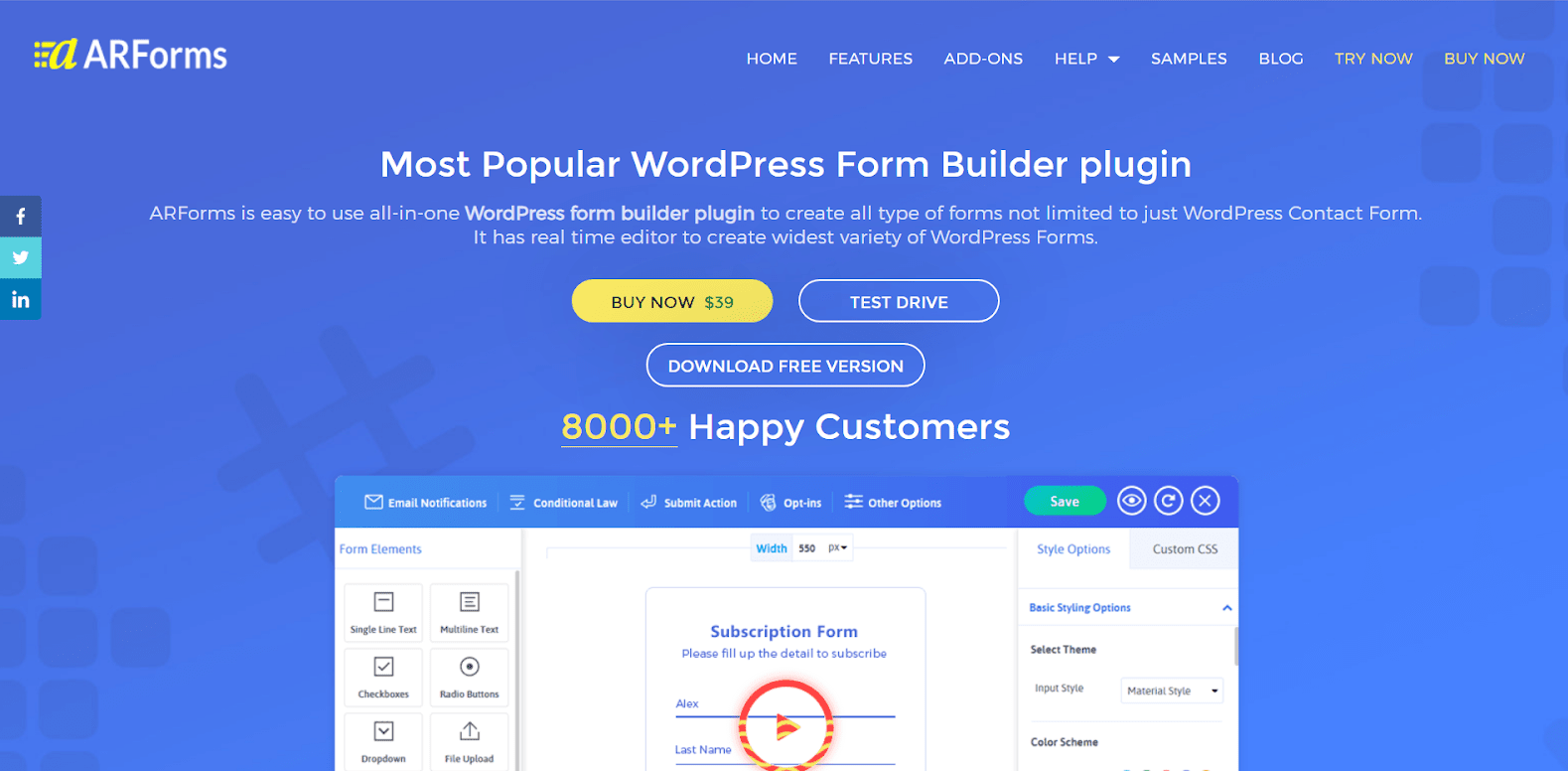 KEY FEATURES
The plugin is well tuned for speed, allowing you to host lightweight forms with little baggage.
The basic plugin has conditional logic and arithmetic computation capabilities that are simple to use.
On mobile and tablet devices, you may get a live preview of the forms without leaving the editing area.
Insightful form analytics and easy entry management
Long forms may be broken down into many phases, giving consumers a better user experience.
Create multicolumn responsive forms with resizable fields with ease.
PRICE
You only have to pay $39 for ARForms.
WP Fluent Form is a freemium form builder built by the WPManageNinja team for WordPress users. The free version of the plugin is available on WordPress.org, and it also includes a pro-addon with a slew of sophisticated features for a variety of uses. The nicest thing about WP Fluent Form is that it includes all of the features in its free edition that other plugins charge for. The plugin is the easiest to use, and it allows you to build an infinite number of online forms on your website. Almost any sort of web form may be created. For example, in a matter of minutes, you may develop single forms, multiple forms, subscription forms, payment forms, and any other sort of creative form. To make things easier for users, the plugin is user-friendly and offers many pre-built form templates. WP Fluent Form is also totally responsive and well-optimized for speed.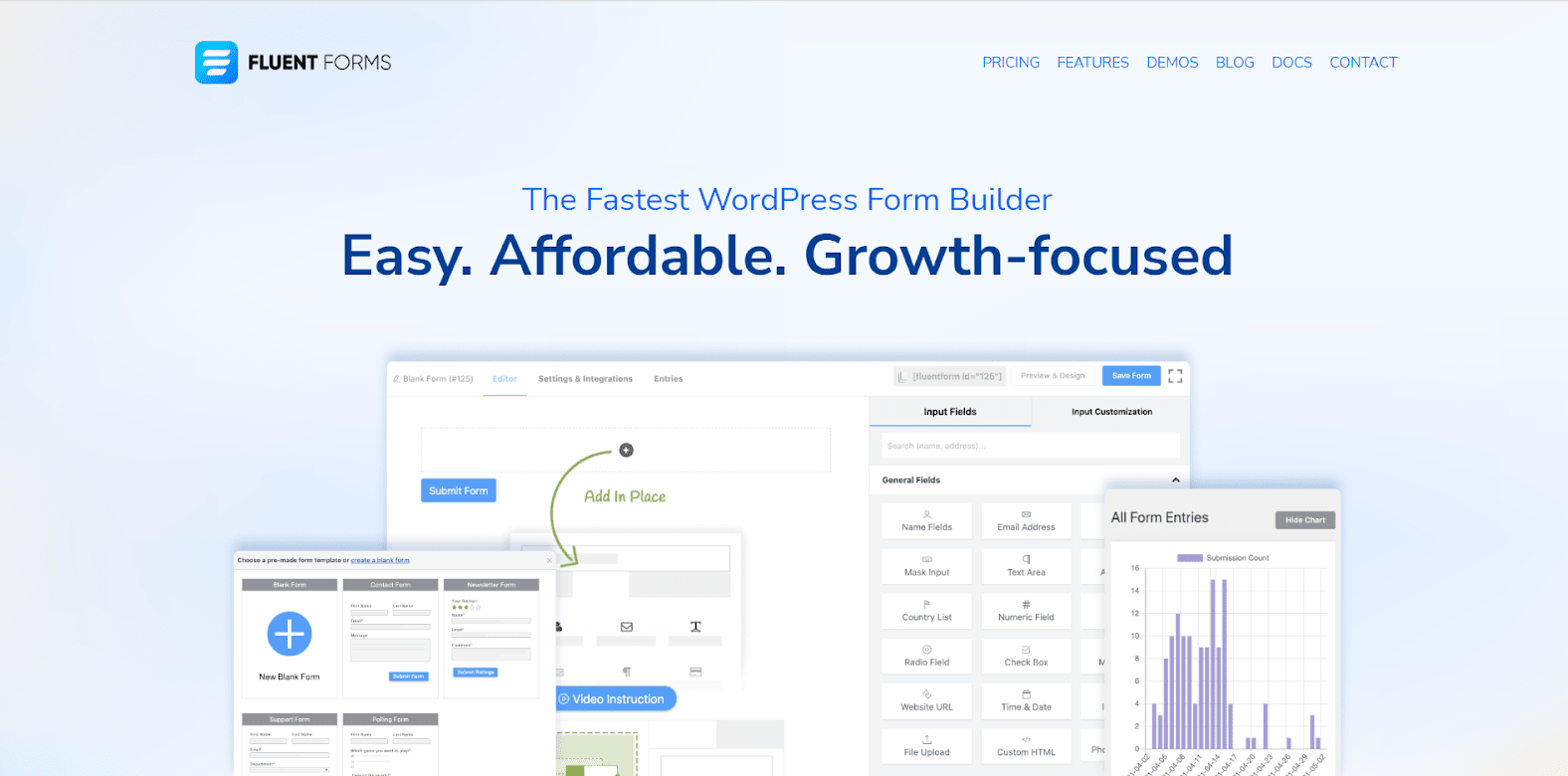 KEY FEATURES
Fluent Conversational Forms are included.
It aids you with its simple drag-and-drop editor.
It comes with a package of ready-to-use form templates.
Multiple payment gateways are supported.
It's connected with a number of CRM applications.
PRICE
Fluent Forms offers you with 3 pricing plans, all of which are accompanied by 1 Year Plugin Update and 1 Year Priority Support
Single Site License (1 Domain License): $59
Agency License (5 Domains License): $129
Unlimited License (Unlimited Domains License): $199
One of the most powerful form builder tools available is HubSpot's online form builder. The program blends the fundamentals of form creation with cutting-edge technology to provide users with far more functionality than a standard online form builder – and it's completely free. Even though it's one of the most complex form builder tools, HubSpot's form builder doesn't require any technical knowledge. Using infinite forms, fields, submissions, and custom forms that all connect to your contact database, you can easily construct forms with the drag-and-drop form builder and turn anonymous website visitors into leads.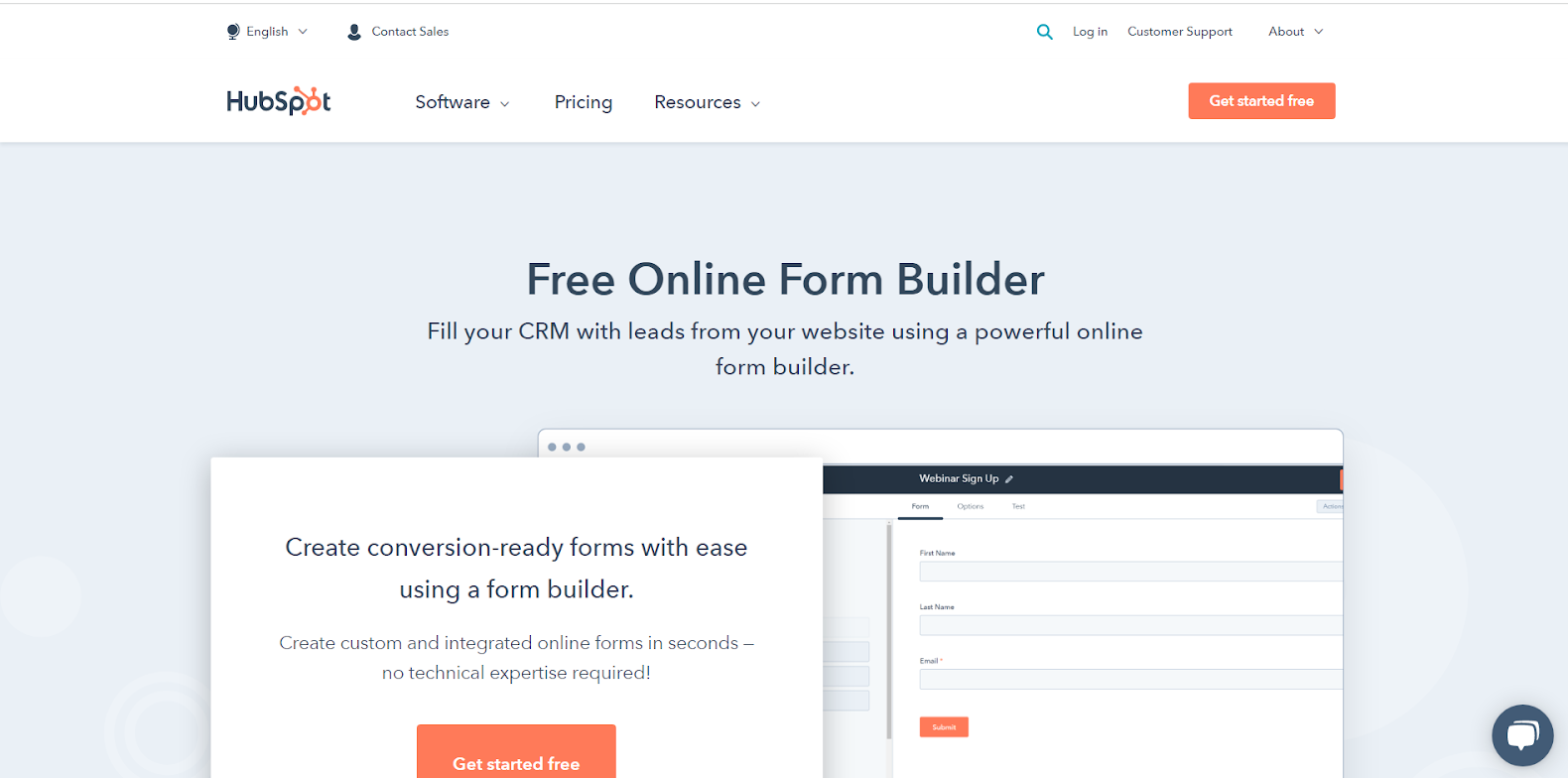 KEY FEATURES
It offers a user-friendly drag-and-drop interface.
It allows for an unlimited number of fields and submissions.
It comes with built-in statistics to help you examine your most popular sites.
It works seamlessly with a CRM to manage your contact database.
It consists of live chat and bots.
PRICE
Fluent Forms offers you with 3 pricing plans:
Starter: at least $45 per month
Professional: at least $800 per month
Enterprise: at least $3,200 per month
Not only is Contact Form 7 extremely popular, but it has also been free for as long as I can recall. This little gem provides a solid and functional contact form that most blogs and small companies require. You would believe that the nicest thing about Contact Form 7 is that it's absolutely free (there are no subscription plans), but there's more to it than that. In fact, because this free plugin contains documentation, a FAQ, a help forum, and a comprehensive website with information, you might argue that the support is the finest component. That's a lot more than some expensive plugins provide.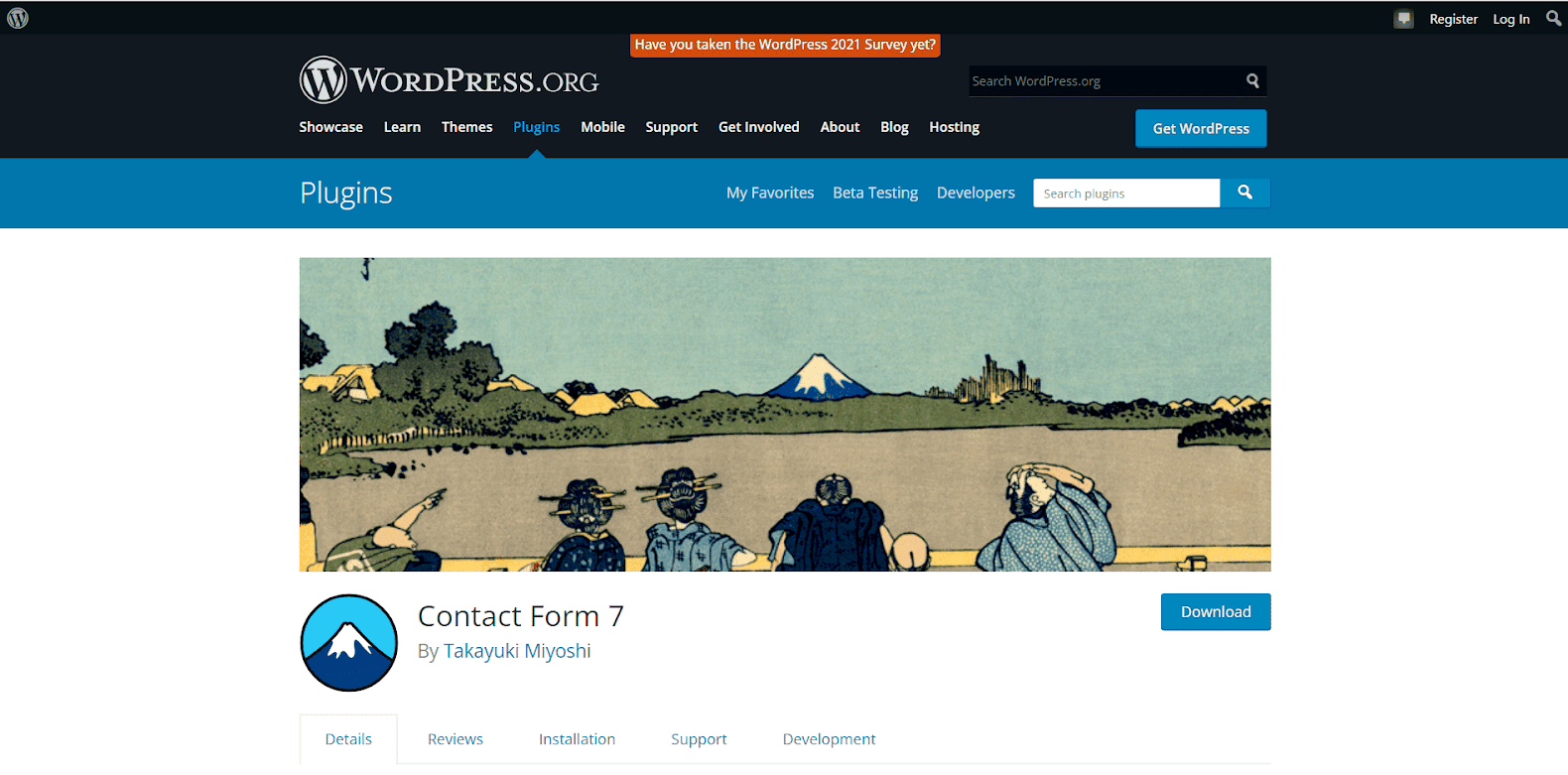 KEY FEATURES
There is no visual builder. To design your forms, you'll need to know some basic HTML.
Versatile, allowing you to design basic contact forms with text boxes, checkboxes, dropdown menus, dates, and more.
To combat spam and bots, Google reCAPTCHA is included.
There are a number of free addons available to extend the usefulness of Contact Form 7 by adding new features.
PRICE
It doesn't cost you anything to own Contact Form 7.
Conclusion
Now it's your turn! Make up your mind about the most ideal WooCommerce Form Builder Plugin and get your customers over the moon with your service.
New Posts
Subscribe
Stay in the know
Get special offers on the latest news from AVADA.
40k
subscribers has been joined!
Earn $10 in reward now!