10 Best Food Ordering plugins for WooCommerce Stores
Last updated: September 01, 2023
Food delivery has now grown to be a global sector worth more than $150 billion, having more than tripled in value since 2017. With the introduction of attractive, user-friendly applications and tech-enabled driver networks, as well as shifting customer expectations, ready-to-eat food delivery has emerged as a prominent market.
For this reason, online restaurant owners on eCommerce platforms like WooCommerce should update their stores with a compatible and useful Food Ordering plugin to be outstanding in the market.
In today's blog post, we will clarify the importance of integrating a Food Menu Add-on into your WooCommerce store as well as give you a list of 10 Best Food Ordering plugins for WooCommerce Stores which is the main part of this article.
Okay now, let's dive in!
Why use Food Ordering plugins for your WooCommerce Stores
If you are a WooCommerce food store owner, a Food Menu plugin must be a wise choice for you to satisfy your customers with the convenience of ordering their favorite meals with just a few clicks. In addition, a Food Ordering add-on for WooCommerce Restaurant is also an effective solution for your business in pursuing cost-effectiveness and brand positioning.
To be more specific, below are some of the most noticeable benefits of owning a Food Ordering plugin for WooCommerce Stores that you may find helpful while making your decision on whether to install one or not. The following reasons are given from both customers' and WooCommerce Restaurant owners' point of view.
Save money for additional apps for food ordering: For WooCommerce food businesses, a virtual menu that can showcase the products and services and help customers order easily is very important. This requires a WooCommerce plugin or developing an external app. However, the latter choice seems to be more efficient in terms of cost, which saves you a huge amount of budget.
Keep up with the 'Food Ordering trend': Online food ordering is now a trend among different groups of people in society, such as college students or white-collar workers. Therefore, you, as a WooCommerce restaurant owner, need to keep up with the race and equip your WooCommerce stores with a compatible menu plugin to stand out from the crowd.
Guarantee the accuracy of customer orders: If the manual order processing sometimes makes mistakes that annoy customers and take you a lot of time to resolve, then a Food Ordering plugin is recommended. Mistakes seem to be an inevitable part of manual work, especially when your WooCommerce restaurant tends to expand and grow, which may leave an unwelcome impression on your customers. In that case, a WooCommerce restaurant menu add-on can take the responsibility to ensure the accuracy of customer orders.
Simplify the ordering process by replacing phone orders: Phone ordering has been a popular method of food ordering for many decades and now it's still the choice of many restaurants. However, as an online business, customers from your WooCommerce food store may be more inclined to find an online menu more convenient. They can see the whole list of food and immediately choose their preference instead of picking up their phone and talking to them the staff. In fact, this can also be beneficial for you since you don't need to take notes about the orders due to the accurate order details from the plugin.
Update menus and inform customers of the new menus easily: By having an online menu for your WooCommerce restaurant, you can easily update the menus by adding your new services to the list. Furthermore, unlike physical advertisements, virtual advertising via a Food Ordering plugin appears to be more accessible for your WooCommerce customers in case there are new menus, and you want to inform them about it.
10 Best Food Ordering plugins for WooCommerce Stores
Now as you see the benefits of using Food Ordering plugins for WooCommerce Stores, you may wonder about which one to choose when the list of restaurant menu add-ons seems to lengthen continuously.
Don't worry, we've got your back!
Below are 10 Best Food Ordering plugins for WooCommerce Stores, which are most highly recommended and used among WooCommerce restaurant owners. Each of the following plugins seems to have both pros and cons and the prices are diverse. We also integrate our suggestions on the compatible types of restaurants for each add-on in the below sections.
Now, let's see what they are.
WooFood is a clean, modern plugin with a trendy design that will blend in with your website's theme and layout. This WordPress food delivery plugin includes automated printing software to help you properly handle food order receipts. For adding extras, you may create a single-choice, multiple-choice, or limited-choice menu. As an administrator, you may ACCEPT or DECLINE orders in real time and notify the customer of the expected delivery time. If you have more than one store, the MultiStore functionality allows you to juggle numerous menus.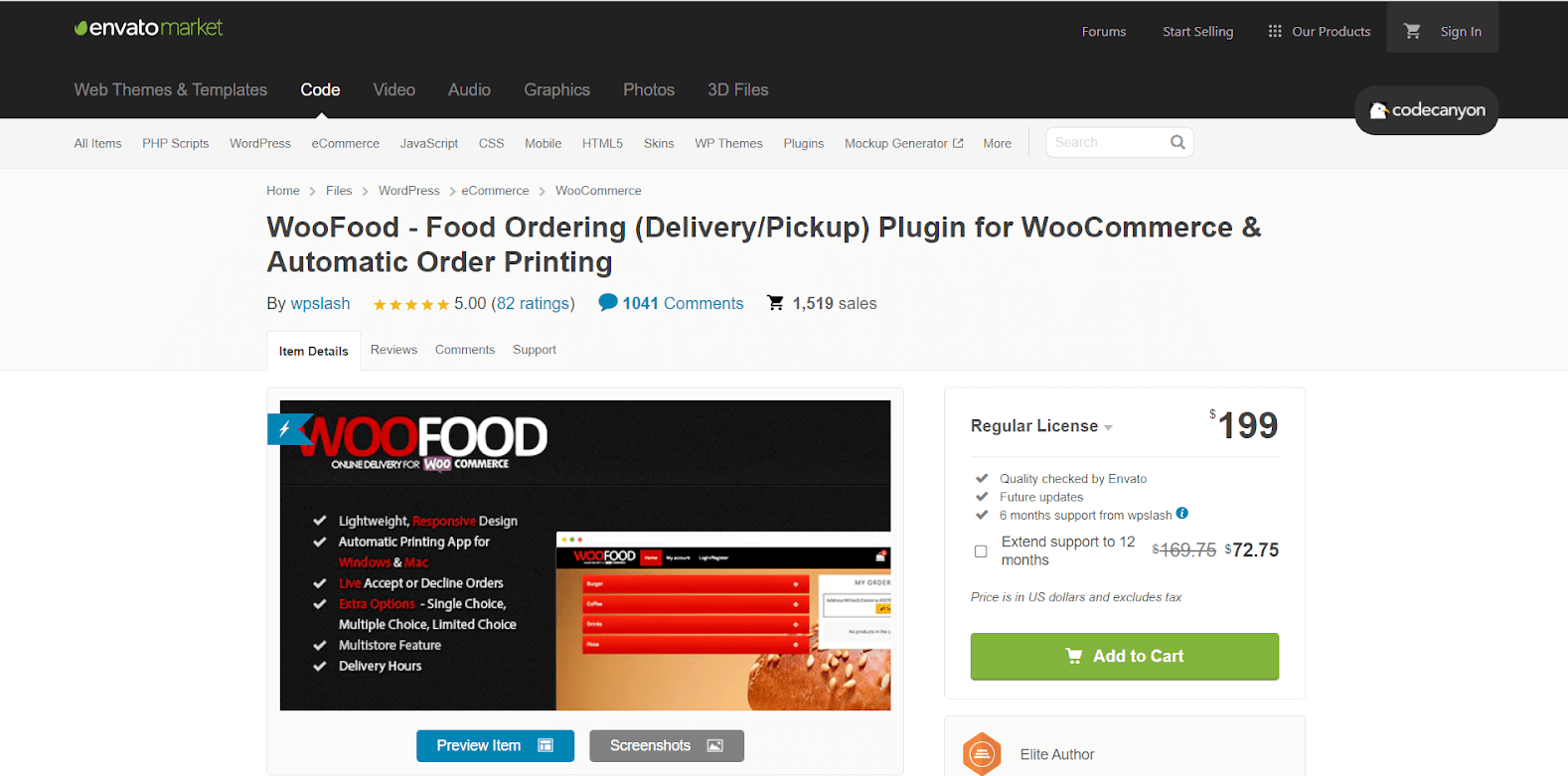 Main features
Print customer orders automatically for kitchen staff to pick and work on immediately.
Allows you to update the maximum delivery distances for local deliveries.
Its dashboard is easy to use with all of the basic features like recent orders.
Allows your customers to set the delivery time.
The design is responsive to your WooCommerce store, thus may not be attractive enough, which is a weak point of this plugin
Pricing
WooFood offers you 2 pricing options which are:
Regular license (end users not included): $199
Extended license (end users included): $4999 You just need to pay for the plugin once with the support of Quality checked by Envato, Future updates and 6 months support from wpslash.
Who should use it?
WooFood seems to be a good choice for restaurants whose most customers are quite familiar with the restaurants' services because of its simple design and basic but necessary functions. This WooCommerce Food Ordering plugin can be a source of additional tools to facilitate the management of processes.
Using Five Star Restaurant Menu's simple menu builder, producing food and drink menus for your website becomes second nature. This plugin allows you to completely change the look of your menus, including photographs of food and drinks, descriptions, pricing, and more. You'll also be able to categorize your products, such as appetizers, main dishes, vegan, dairy, or gluten-free options, daily specials, and so on. This plugin's menus are designed for various device types, including mobile, which is critical considering that most users order from their mobile phone or tablet.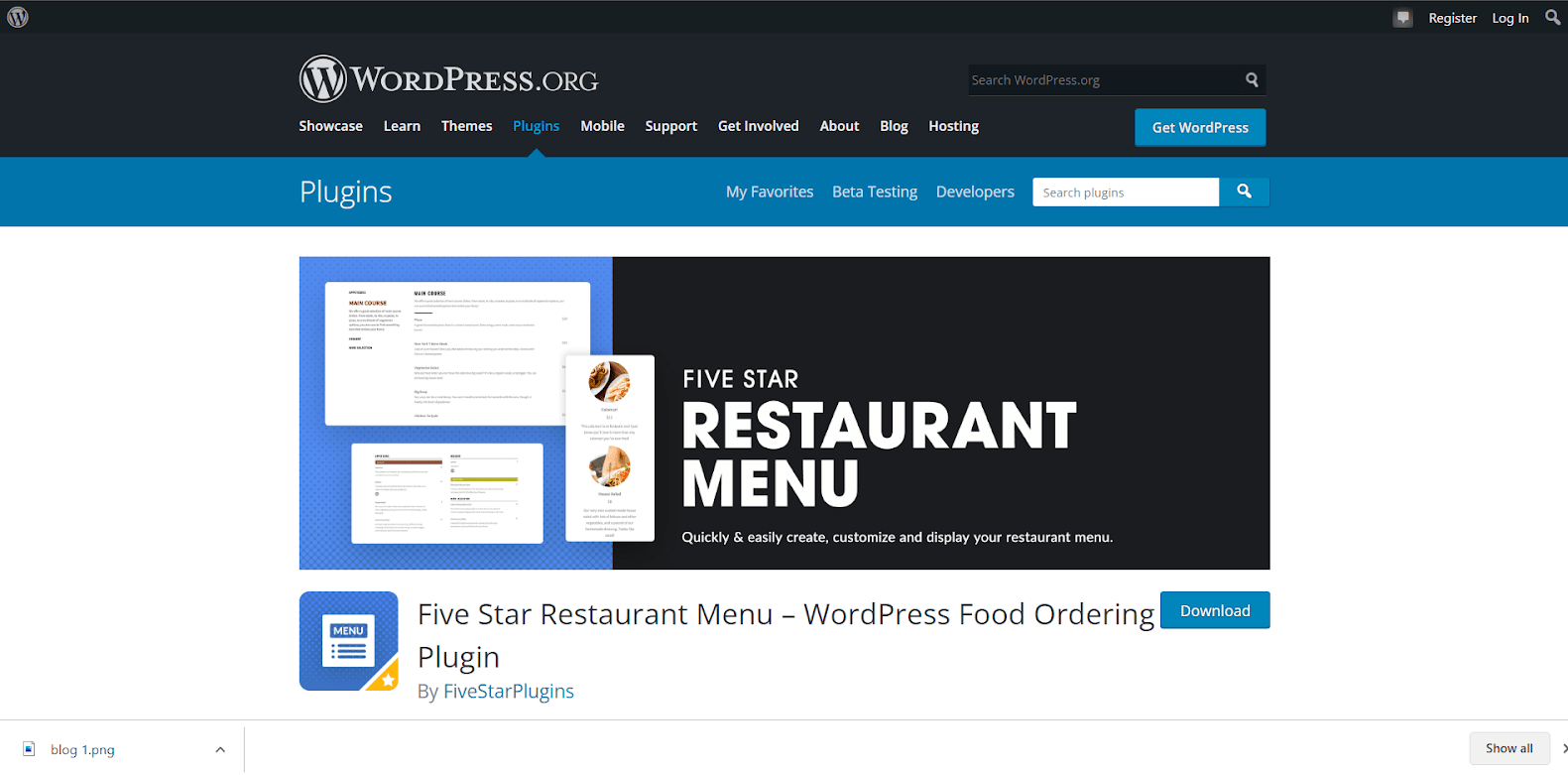 Main features
Menu items, add-ons, payment, and order progress are all available in this advanced restaurant menu ordering cart.
It contains Icons that represent dietary and ethical standards.
Google Maps may be used to display local vendors or ethical sourcing initiatives.
Customers can easily find menu item reviews.
To show restaurant menu parts, you can use Gutenberg blocks.
Pricing
Five Star Restaurant Menu allows you to experience the premium version with 7-day free trial. After that, you can choose to continue using it by picking one of the 3 pricing plans below:
Single Site License: $57
5 Site License: $147
10 Site License: $247
Who should use it?
WIth the affordable price, Five Star Restaurant Menu will be ideal for WooCommerce restaurants with large menus because of the convenient menu listing features. Furthermore, it can also be a good choice for newly opened restaurants with the aim of attracting customers.
GloriaFood has a simple one-page checkout for ordering takeaway and delivery. There are also a variety of payment alternatives available, including cash, online payments, and other features. The restaurant booking system provides a simple reservation form and choice, as well as the ability to confirm table bookings. You may also set up notifications in the event that the ordering app is unavailable. When the restaurant is not taking orders, the staff might phone the client to let them know.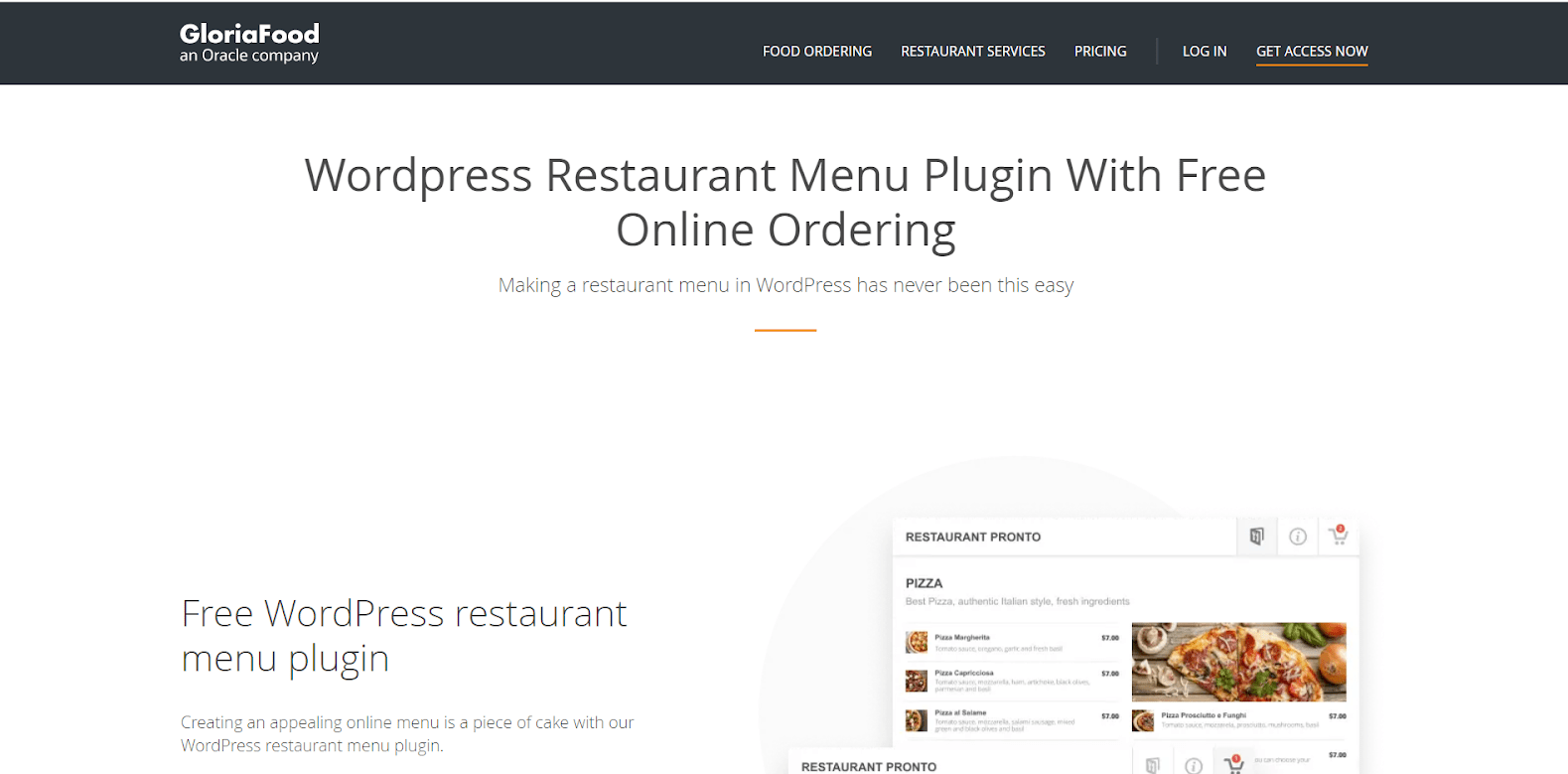 Main features
GloriaFood is bundled with the restaurant reservation app available on Android and iOS, which helps you receive and confirm table bookings.
You can easily watch ordering status at a restaurant, website statistics, and a delivery heatmap.
Menu items can be customized, as well as promotions.
It helps send customers notifications when the ordering app is unavailable and follow-up calls when restaurant personnel is not receiving orders.
Pricing
GloriaFood appears to be a cost-effective solution that Costs you nothing to benefit from the excellent features.
Who should use it?
The adaptable food menu design of GloriaFood works well with any cuisine, making it ideal for restaurants that serve a variety of cuisines.
WooCommerce Food is a highly manageable one, with a slick style and responsive capabilities that will be quite beneficial to your business. The user interface is inviting, with a beautiful design and responsive components. WooCommerce Food comes with lots of customization choices and features that will allow you to fit it into the design of your website. The Google Maps API may be used to limit the shipment radius. You may also establish a shipping cost based on the location, among other things.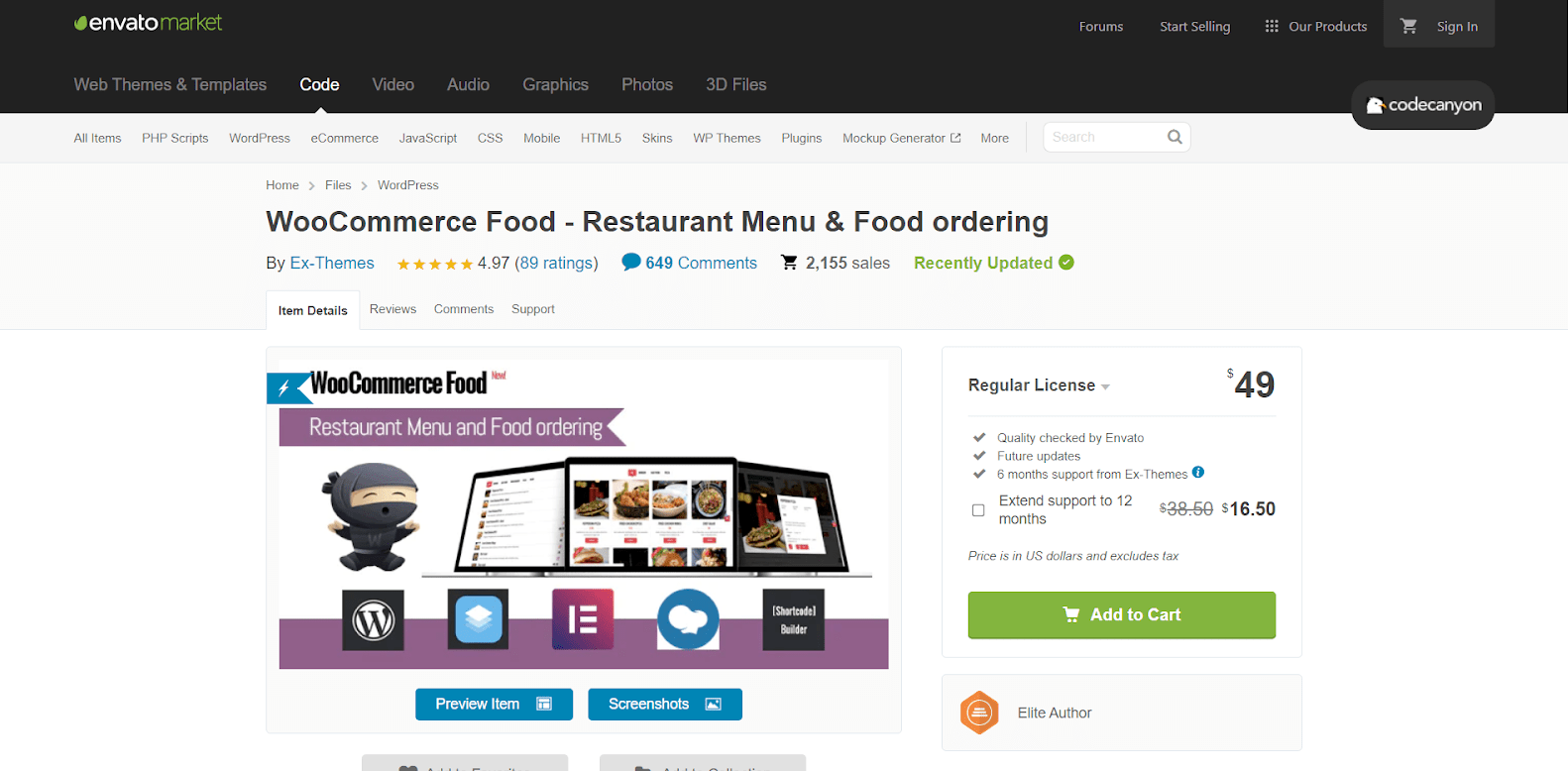 Main features
As an extension of WooCommerce, WooCommerce Food allows you to directly manage your restaurant through WooCommerce.
It is suitable for RTL languages, which supports restaurants and customers from different countries
One of the plugin's strengths is its payment gateways.
It also contains a review system.
Pricing
WooCommerce Food offers you 2 reasonable pricing plans, which are:
Regular license (end users not included): $49
Extended license (end users included): $360
Who should use it?
WooCommerce Food is a come-in-handy solution with an affordable price and all basic features, proving that it can fit with almost all types of WooCommerce restaurants.
Themewinter's WP Cafe is the ideal all-in-one option for getting started. It's appropriate for all sorts of eateries and cafés. Furthermore, with Elementor help, you can quickly create the ideal restaurant website. This WordPress plugin is ideal for managing restaurant reservations. Multiple reservation schedules and seat capacities may be readily created and maintained. It also sends you an email with a reservation confirmation. You can use it to cancel or confirm reservations. There are options for adding exceptional food discount codes to your menu.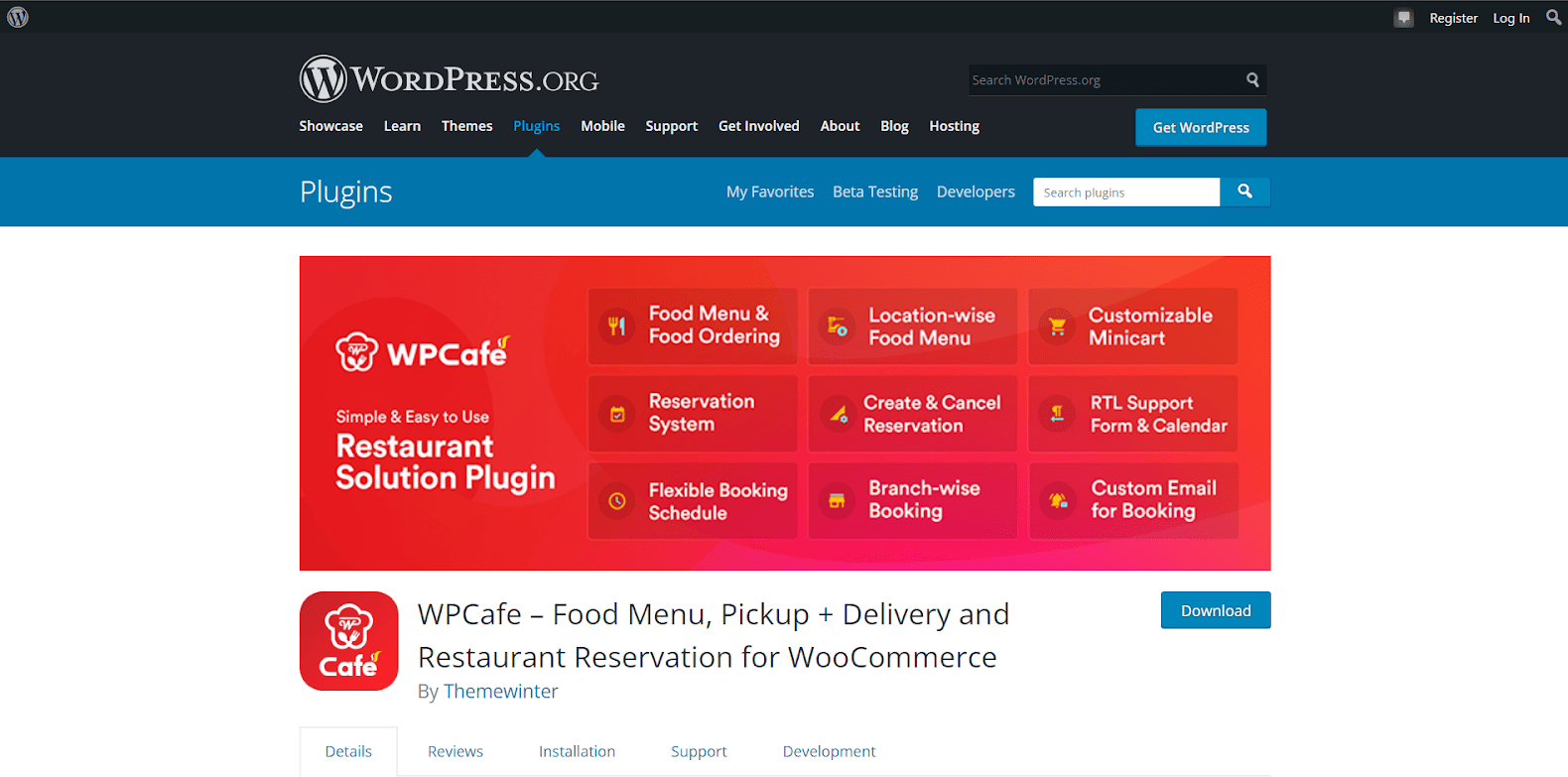 Main features
It allows you to display your meals in a modern, elegant menu list.
Meal menu is customizable depending on the location.
You can insert multiple menu styles into one page.
You may create a pop-up with locations so that clients can order from their preferred location right away.
You can display an AJAX mini cart in the website's sidebar so that consumers can simply compute the total amount of their transaction without being sent to the cart page.
Pricing
ThemeWinter provides you with 2 payment options which can be differentiated based on the time you want to pay for the plugin. Each option also contains 3 levels of pricing plans. In details, the 2 payment options are:
Annually:

Agency: $279/Year
Premium: $139/Year
Standard: $33/Year

Lifetime:

Agency: $479/Time
Premium: $259/Time
Standard: $129/Time The price can vary depending on the sale season.
Who should use it?
WPCafe can be most suitable for WooCommerce restaurants with an emphasis on the design or any visual effects that impact the customers' ordering experience. However, as you can see from the excellent features of WPCafe, it is a wise choice for any WooCommerce food store.
Food Online for WooCommerce by Arosoft.se is a WooCommerce-compatible WordPress food menu and delivery plugin. It is simple to use and has many useful functions. Menus of various layouts and designs may be created. There are three different layouts to pick from. They even have an accordion menu that consumers can utilize to order food. This plugin provides a variety of distribution choices. Customers can select from a variety of delivery options. A map is also provided to help you pick the exact delivery spot. Shipping charges and the most cost-effective shipping option may also be seen.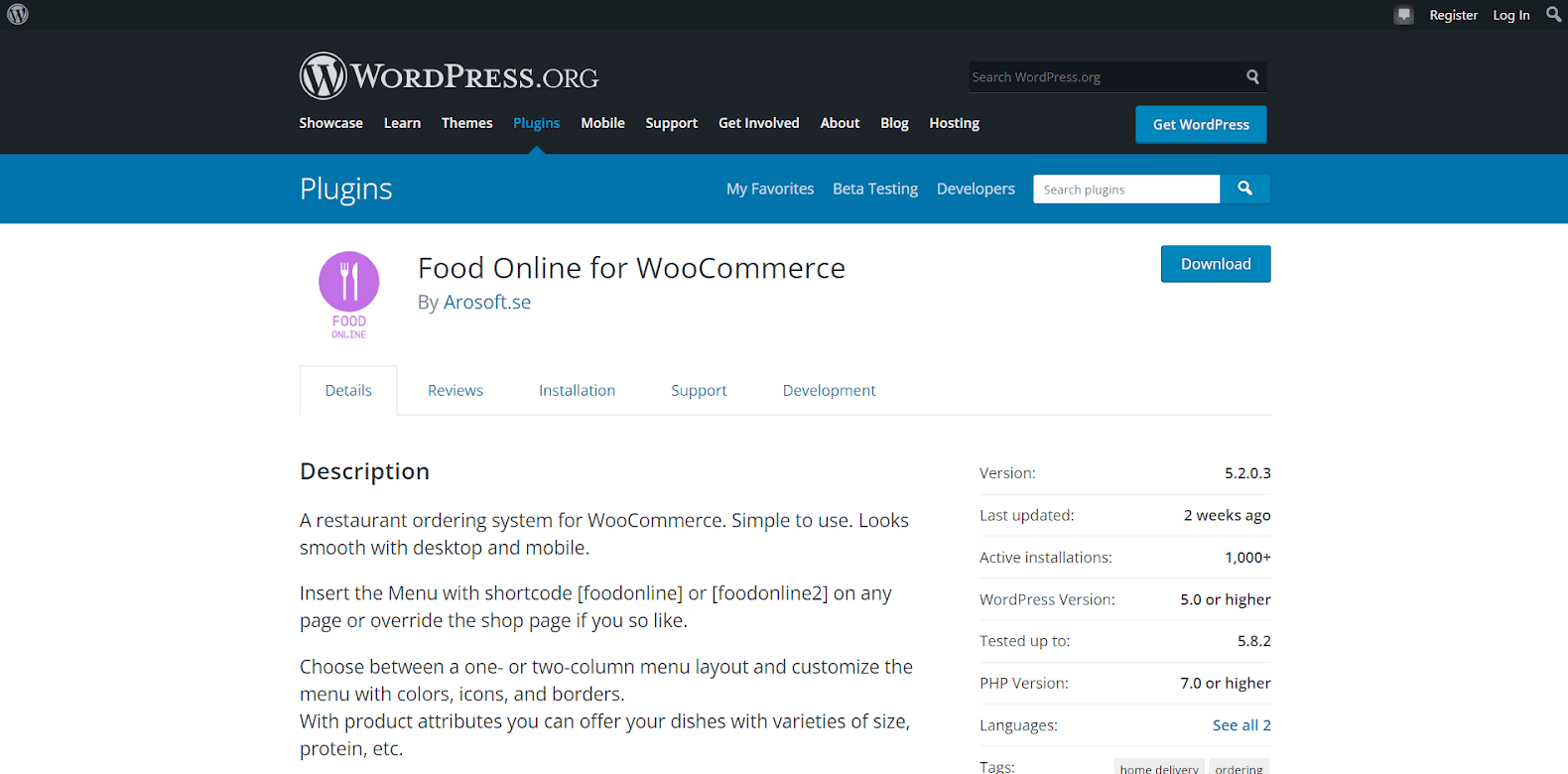 Main features
It provides you with 3 menu designs, which seems to be limited in comparison to the remainder of the list.
It allows you to create Product Pop-ups, helping in notifying the customers about the new menus or services.
Customers can benefit from the Time Picker feature.
Pricing
You can get Food Online for WooCommerce with the payment of from $49 to $199. In details, there are 3 pricing options as below:
Single Site: $49
5 Sites: $99
25 Sites: $199
Who should use it?
We recommend you install Food Online for WooCommerce if customization is your priority when creating menus for your restaurant.
RestroPress is a free restaurant menu plugin for WordPress. You get free access to all of the features of the basic plugin. It also provides expensive add-ons for adding other functionality. RestroPress allows you to construct a full meal menu as well as an online ordering system. You may also link a payment provider to manage online orders and delivery.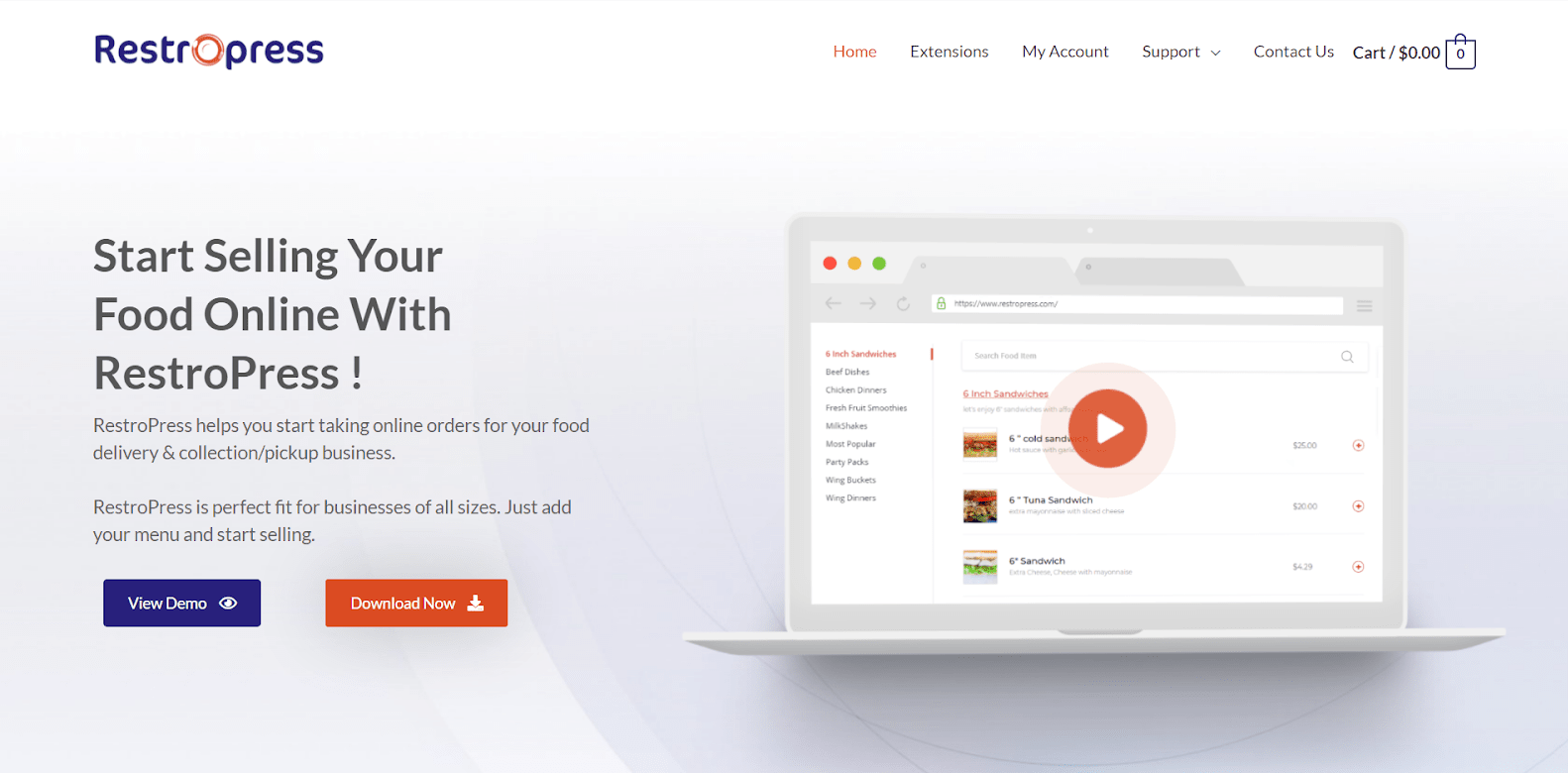 Main features
With a few clicks, you may alter pricing and deactivate goods you don't wish to sell online.
Customers may quickly buy online from your website using their phone with a Mobile-friendly interface.
You can simply control your restaurant's opening and closing timings, holidays, and much more.
RestroPress allows you to receive orders in two ways: email and push notifications.
Pricing
RestroPress doesn't cost you anything to own such a wonderful WooCommerce food ordering plugin.
Who should use it?
RestroPress, with its zero cost, can be a good choice for small and medium WooCommerce restaurants to start with as it provides all of the standard features that an average WooCommerce food store can benefit from.
Food Store is a clean, minimalistic plugin that is simple to understand and use. This WordPress food ordering plugin has an easily accessible options panel, so you may modify the layout, colors, menu styles, and products whenever you want. The plugin works well on both mobile and desktop platforms. To accommodate varied diets, you may label your menu items as vegan (vegetarian) or non-vegan.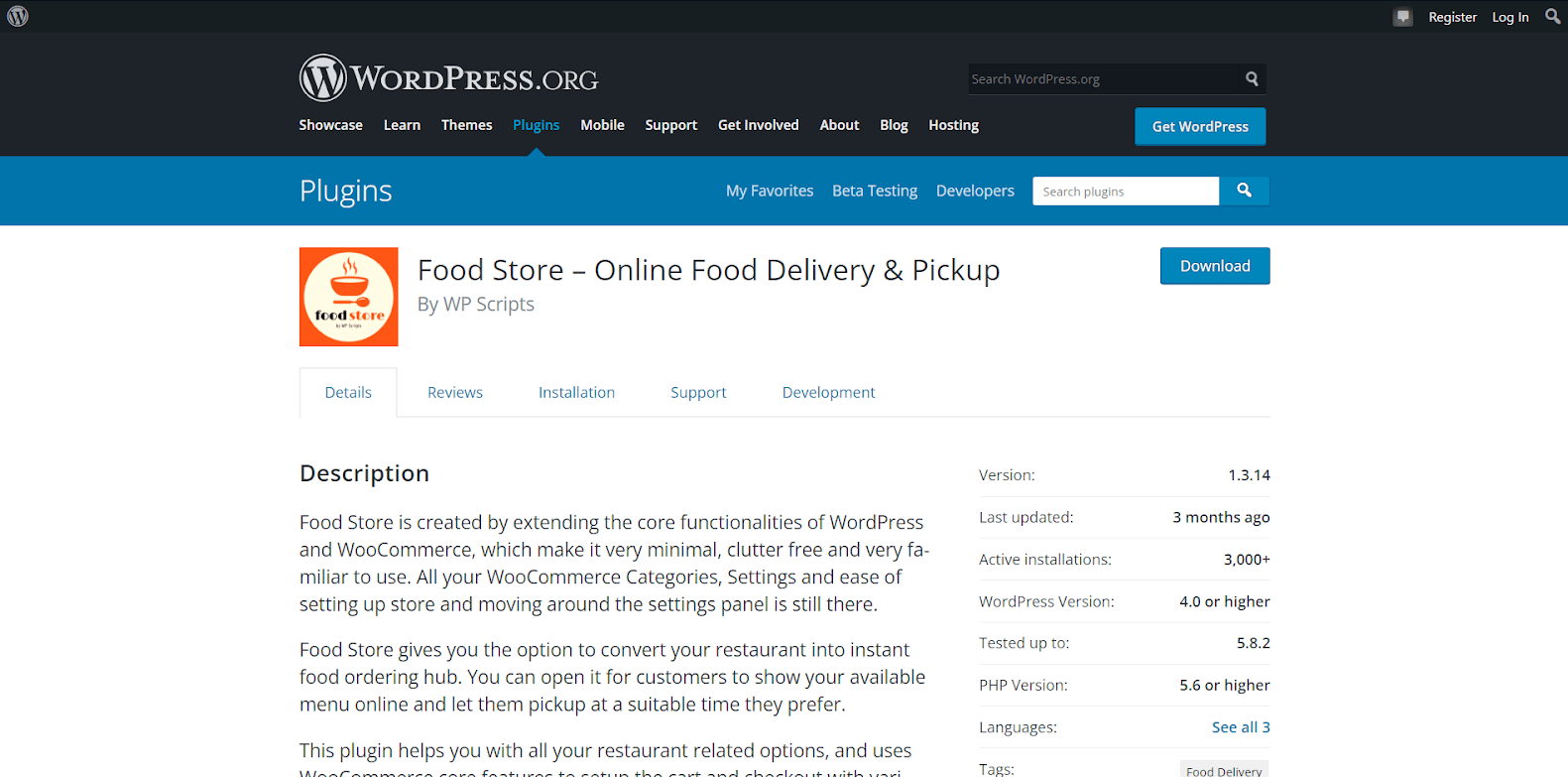 Main features
Food Store is compatible with any WooCommerce settings.
With WooCommerce, you can easily set up your food goods.
Easily enable Catalog Mode / Restaurant Menu.
Mark your products as Veg or *Non-Veg *.
Mobile devices are fully responsive and optimized.
WhatsApp cart is available as a paid addition.
Pricing
Food Store is another Food Ordering plugin for your WooCommerce store, which you can get for free.
Who should use it?
Food Store is the ideal plugin if you want a basic, clutter-free, easy-to-use plugin, but it has limited functionality that must be expanded using addons.
The Restaurant & Cafe Addon for Elementor includes all of the necessary parts for building a superb Restaurant website using Elementor Page Builder. All of the Restaurant aspects are covered by 50+ unique and basic Elementor widgets.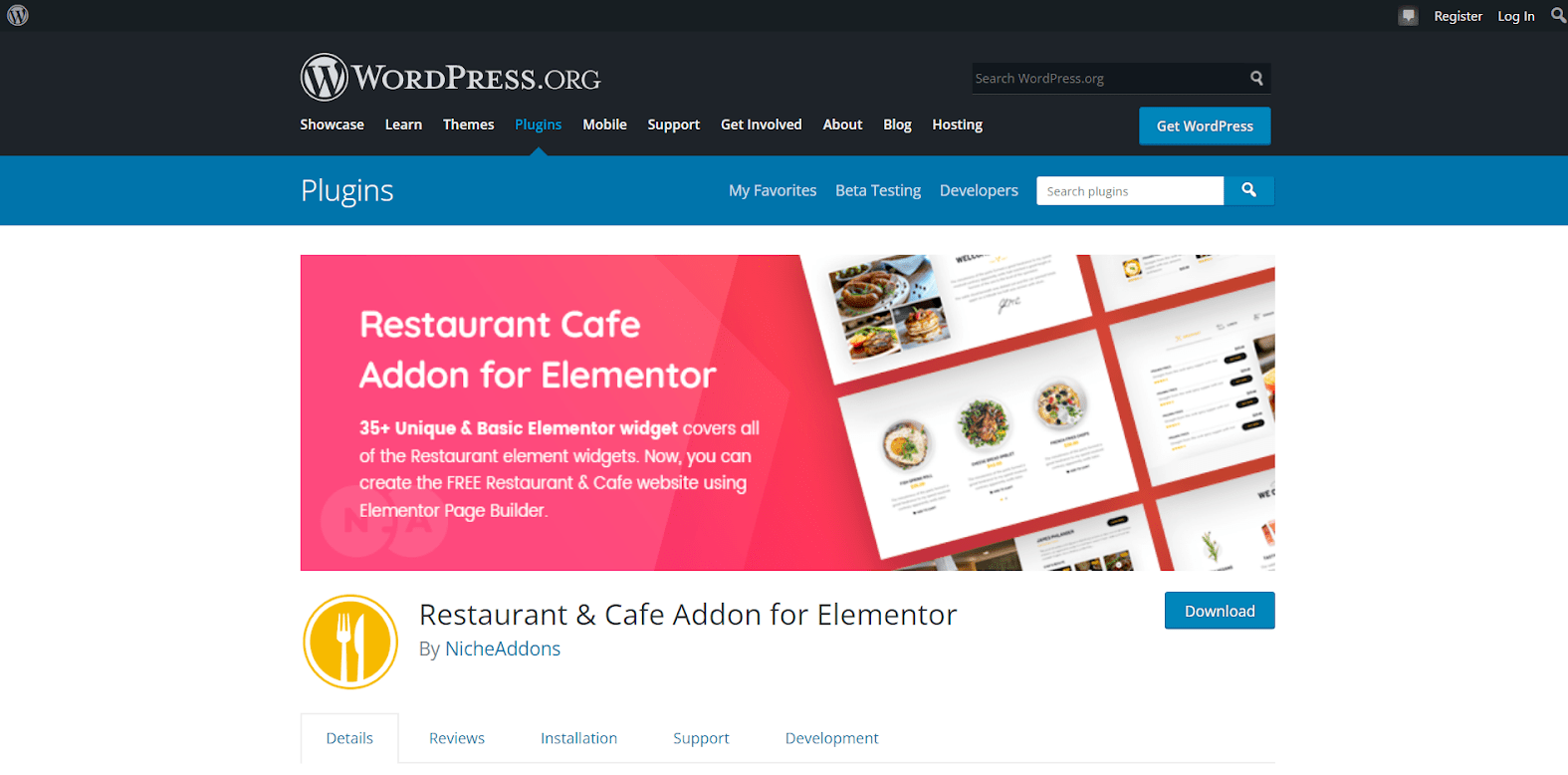 Main features
It allows you to make appealing menus.
It has price packages available for set dinners, etc.
Displaying photos and profiles of your team members is a great method to develop trust.
It enables you to showcase your branch locations.
For Pro version, you can have more customization options: food banners, sliders, pricing tabs, gift cards, etc
Pricing
If you choose Restaurant & Cafe Addon for Elementor, you can either go for the free version or level up the plugin with Pro version, which costs you $29.99 annually for Single site. If you're not sure to pay, there is also a 7-day free trial for you.
Who should use it?
As you can flexibly choose the Free or Premium version of Restaurant & Cafe Addon for Elementor, this plugin can fit with almost all types of WooCommerce restaurants.
FoodBook is a plugin built on the WooCommerce platform. This WordPress food ordering plugin offers both pick-up and delivery options. The menu has a simple style that is simple to change until it matches the overall theme of your site. Because this plugin is self-contained, you may insert the shortcode pretty much anywhere you want. The creators guarantee that there will be no problems, and that the plugin will be updated for free. Of course, you don't need any coding ability to accomplish this. Customers will be able to arrange delivery times as well as add instructions and other information.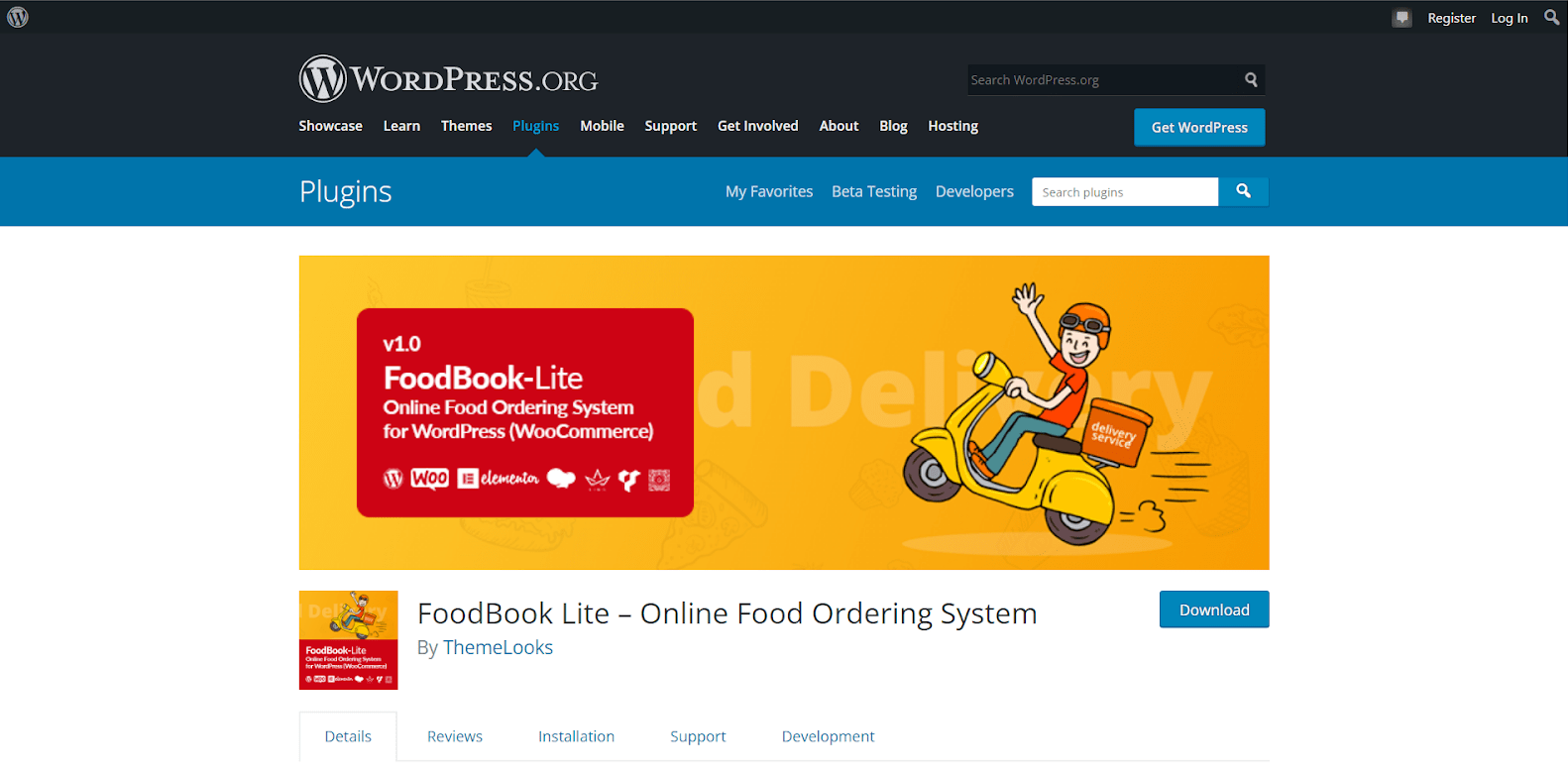 Main features
It provides your customers with both Delivery and Self-pickup options.
It is compatible with WordPress 5.4+
It contains translation options for WooCommerce restaurants from different countries.
The cart system is on only one page, which is easier for users to navigate and manage their cart.
Pricing
FoodBook in pro version offers you with 2 pricing options which are:
Regular license (end users not included): $49
Extended license (end users included): $350 You just need to pay for the plugin once with the support of Quality checked by Envato, Future updates and 6 months support from themelooks
Who should use it? For all of the features and pricing plan above, we recommend you use FoodBook if you already have WordPress 5.4+ and your customers are mainly people using regional language.
Conclusion
Online restaurants are becoming a trend as it meets the requirements of the majority of the population as well as it is profitable business. As WooCommerce users, we cannot deny the benefits of Food Ordering plugins for WooCommerce Stores. However, choosing the best plugin for your restaurant is a difficult task, which explains why we have this blog post.
With this list of 10 Best Food Ordering plugins for WooCommerce Stores, we hope that you can choose the most suitable for your restaurant and be successful with your food business.
---
Roger has over 4 years of experience in SEO. While in college, he started learning about SEO and showed a passion for the field. Right after graduation, he embarked on SEO projects and achieved great success. After years of working, he has learned deeply about SEO. Currently, he is the SEO team leader at avada.io