9 Best Follow Up Emails Plugins for Your Woocommerce Store
Last updated: September 01, 2023
Follow up email is one of the best practices in marketing strategy, especially in personalized customer experience. For eCommerce participants, serving each and every customer can be much more difficult because of the massive number and complexity of customer segments. On the other hand, providing products and services on eCommerce platforms also brings some certain benefits as you can serve your customers with the help of automatic tools.
For WooCommerce users, it can be even happier to tell you that you're supported with a wide range of WooCommerce plugins assisting in customer service and marketing strategy. One of those most be Follow Up Emails Plugins. As WooCommerce is a popular platform among online store owners, there are numerous Follow Up Emails Plugins for Your Woocommerce Store that can meet the needs of many different types of businesses.
If you're still uncertain about which one serves you best, don't worry, we've picked 9 Best Follow Up Emails Plugins for Your Woocommerce Store, each of which is accompanied by necessary information and our advice on who should use the plugin.
Why hesitate? Let's begin to find your destination.
Why are Follow Up Emails Important?
For those who are new to Follow-Up emails and wonder why every big business needs to apply this in marketing strategies, below are the most obvious and noticeable benefits of owning a Follow Up Emails.
It helps your WooCommerce store boost conversion rate.
Follow up emails can reduce cart abandonment.
It's a great way to inform your customers about the sales, vouchers,…
Emailing is the best way to personalize your customer experience.
When you're a WooCommerce shop owner and your business is continuously expanding, a Follow Up Emails Plugin must be a good choice to help you manage and nurture your relationship with your customers.
9 Best Follow Up Emails Plugins for Your Woocommerce Store
Now you can obviously see the benefits of owning a Follow Up Emails Plugins for Your Woocommerce Store, you may want to consider the following 9 highly recommended plugins.
Each of the following has its own strengths and weaknesses as well as suitability for certain types of WooCommerce store owners. Let's see what they are!
Follow-Ups has already been familiar with WooCommerce users, and it is also among the top WooCommerce Follow Up Emails plugins in a number of review blog posts. This is a premium plugin developed by WooCommerce itself. Follow-Ups is claimed to be able to change your business for the better. It also contains Twitter follow-ups so you can not be behind the times when Social media is on the rise. With Follow-Ups, you can communicate with your audience effectively and thoughtfully as well as keep track of the conversations to make timely adjustments with little effort.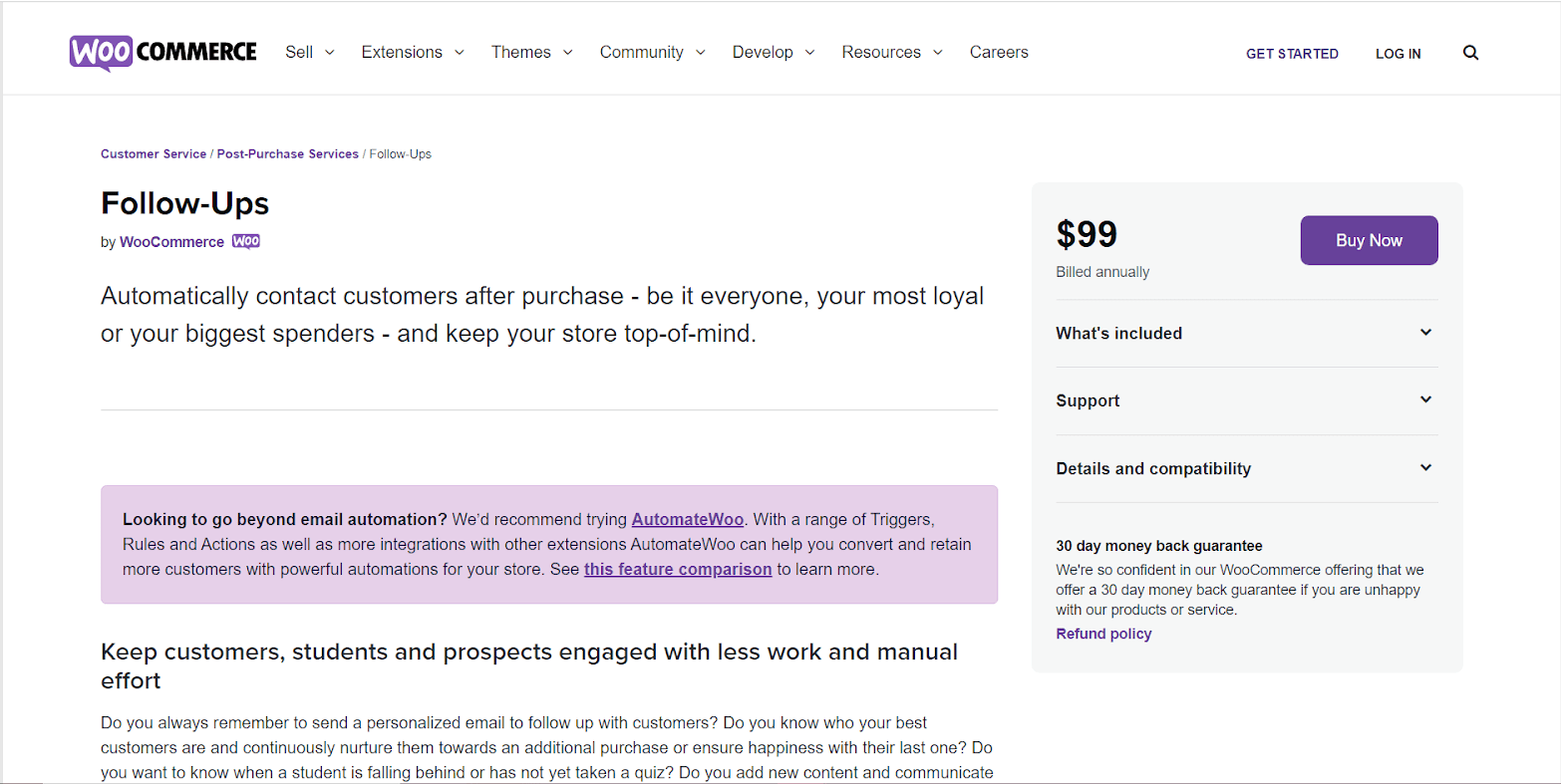 Key Features
Follow-Ups allows you to create an email as easily as writing a post.
It helps you categorize emails and tweets into campaigns for easier management.
Provides you with a detailed report in the form of graphs
It allows you to take complete control over each communication,
Send personalized coupons and vouchers to your customers.
Pricing
Follow-Ups costs you an annual price of $99, which includes 1-year extension updates and support as well as a 30-day money-back guarantee.
WooCommerce Custom Emails developed by RightPress is another popular method for creating personalized email campaigns on your WooCommerce site. You may set up several restrictions to guarantee that the emails are only delivered to the customers or groups you plan to send them to. This will increase the number of clients that open your emails. As a consequence, your email marketing initiatives will be more successful.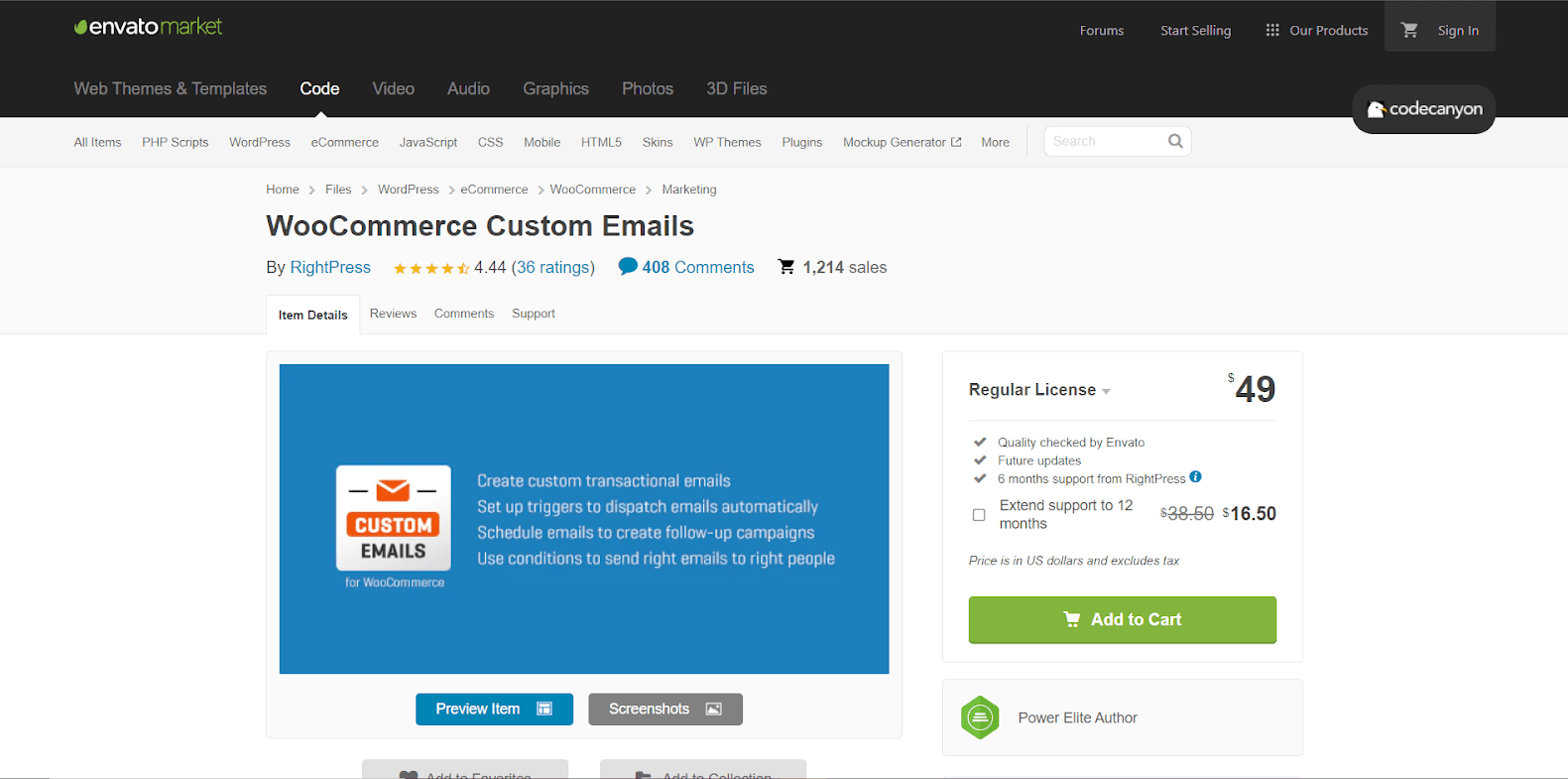 Key Features
Allows you to schedule emails (after a period of time or on a specific date)
Creates custom emails with in-built algorithms
Set criteria to ensure that your customized emails are delivered to the inboxes of just those who need to receive them and no one else.
Create reusable content blocks and use triggers to send out customized emails.
Pricing
WooCommerce Custom Emails offers you a price of $49 with Quality checked by Envato, any future updates and 6 months of support from RightPress.
Retainful is a full-packaged email marketing solution. It provides from cart recovery; order follow-ups to win-back emails. With those comprehensive functions, Retainful, as its name points out, focused on retaining customers. It is one of the most powerful WordPress automation plugins, allowing you to automatically send an order to follow up emails to customers. You may use the automation workflow editor to plan and automate follow-up emails in a timed sequence. Once activated, Retainful will automatically send WooCommerce follow-up emails to clients who meet the trigger conditions, persuading them to recover their carts.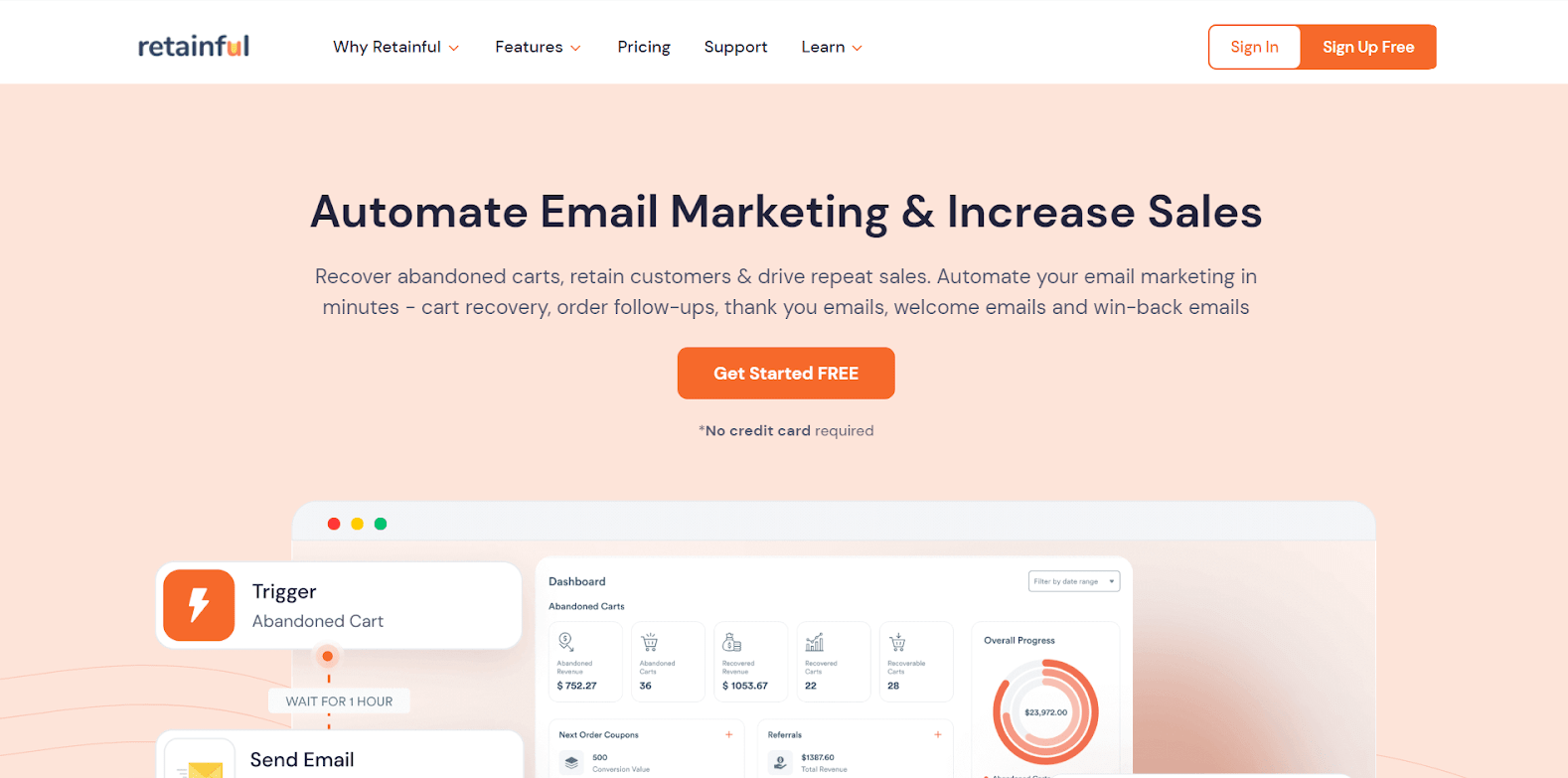 Key Features
Personally take care of your customers by automatically taking them through their journey according to their interactions with your WooCommerce store.
Contains pre-built email templates that help you save time spent on writing emails, all you should do is to modify it to your liking before use.
Automates coupon codes offered to your customers.
Simplify email sending with automatic but non-repeat emails by using split paths.
Pricing
Retainful does have free version with basic and standard functions. However, if you want to benefit from its premium features, there are 3 pricing plans for you which support from 2000 to 25000 contacts as below:
Starter package: $19/month
Growth package: $49/month
Professional package: $199/month
You can go to the official website of Retainful to be supported to choose the most suitable package.
SIP Advanced Email Rules is a product of ShopitPress. As its name implies, the plugin is developed to mainly focus on optimizing customer personalization by supporting you in sending emails based on advanced custom criteria. This plugin uses conditional logic to generate automated follow-up emails for your WooCommerce store. Because it has no limit on the number of emails, you will be able to set up many campaigns simultaneously. The plugin might be useful in creating emails for a certain customer segment.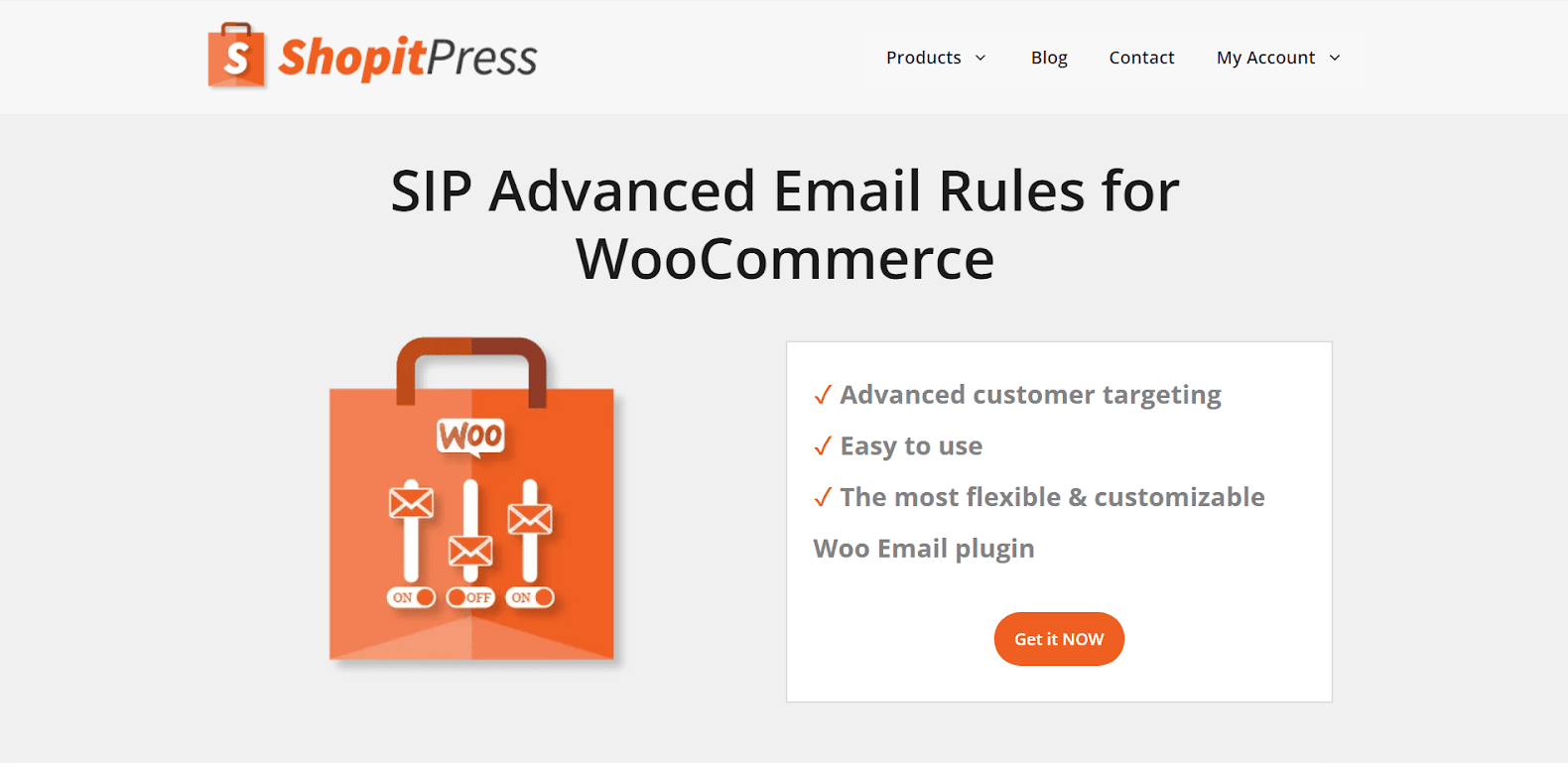 Key Features
You can utilize order details as well as conditionals to generate email rules.
Allows you to use shortcodes in the process of personalization, which seems to be good news for non-technical users.
Sends emails to your customers with a particular payment or shipping method.
Pricing
SIP Advanced Email Rules offers you 3 affordable pricing plans, which are:
$29 annually for Single Site
$34 annually for 5 Sites
$39 annually for Unlimited Sites
AutomateWoo is another excellent choice in the WooCommerce extensions for increasing client interaction and conversions. It integrates seamlessly with the WooCommerce UI and makes it simple to generate customized email campaigns. Campaigns may be scheduled and configured to send emails to consumers at predefined intervals or depending on certain customer behaviors in your business. It includes innovative capabilities that identify between existing customers and new users even before they sign in, and it gathers guest user emails throughout the checkout process.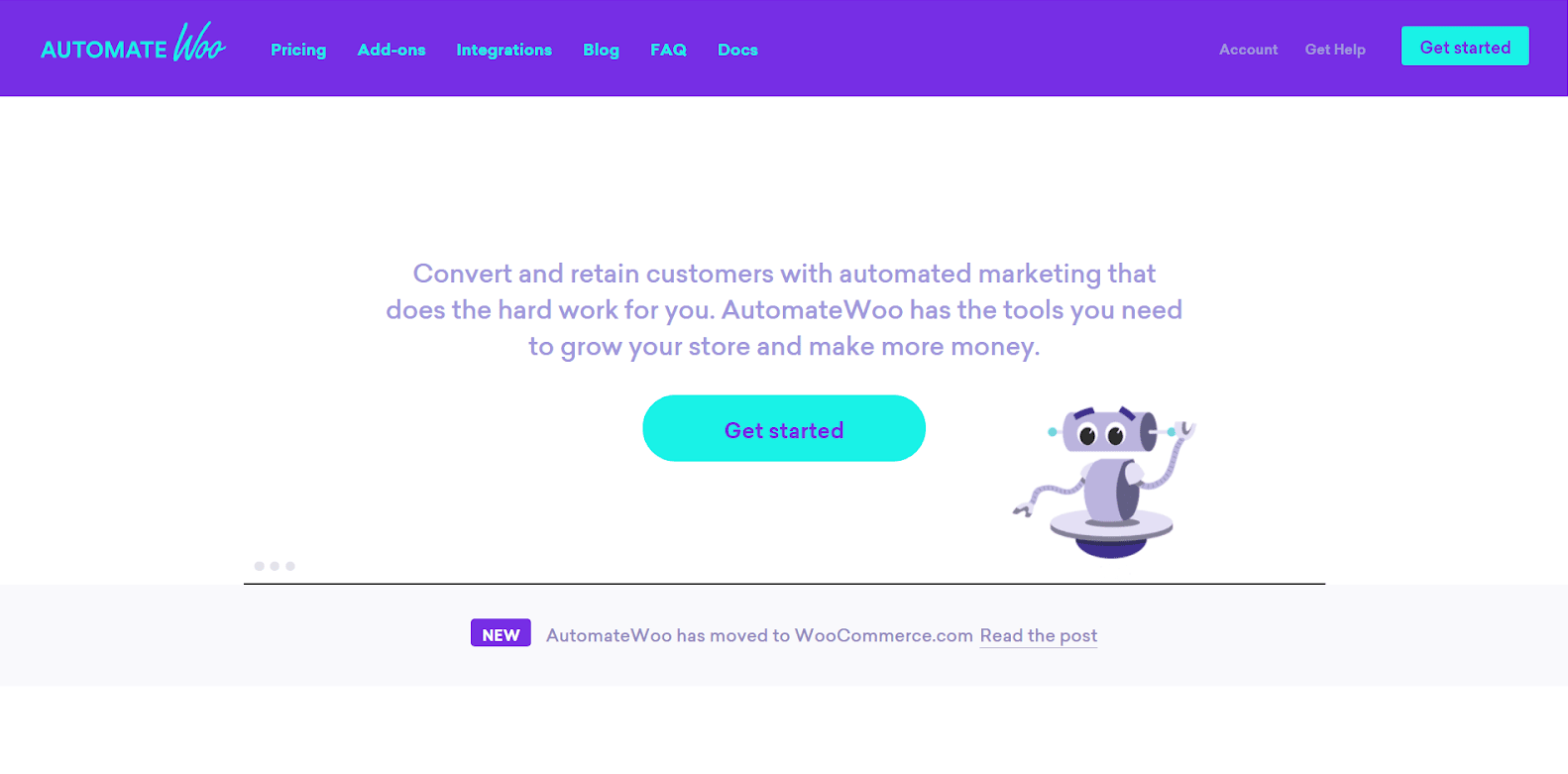 Key Features
Helps to offer review rewards to customers.
Take care of your customers personally by creating wishlist reminders, birthday emails, credit card expiry alerts, etc.
Allows you to generate suitable coupons according to customer performance.
Helps you make a comprehensive assessment of your marketing campaigns with detailed reporting features.
An unlimited number of emails can be sent.
Pricing
You can easily get AutomateWoo with a $99 paid annual subscription, which is bundled with plugin updates and email support. AutomateWoo also provides you with a 30-day money-back guarantee, Secure online payment, and Exceptional customer support.
ShopMagic is a WooCommerce email marketing and follow-up email plugin that helps you develop your business by improving conversions and retaining customers through marketing automation. It is user-friendly and designed as a WooCommerce plugin. You may start using it right away, without having to go through a long registration or setup procedure. Because ShopMagic is a WooCommerce plugin, you own and have complete control over your customers' and store's data. Furthermore, you may simply enhance ShopMagic with your own modifications to meet all of your requirements.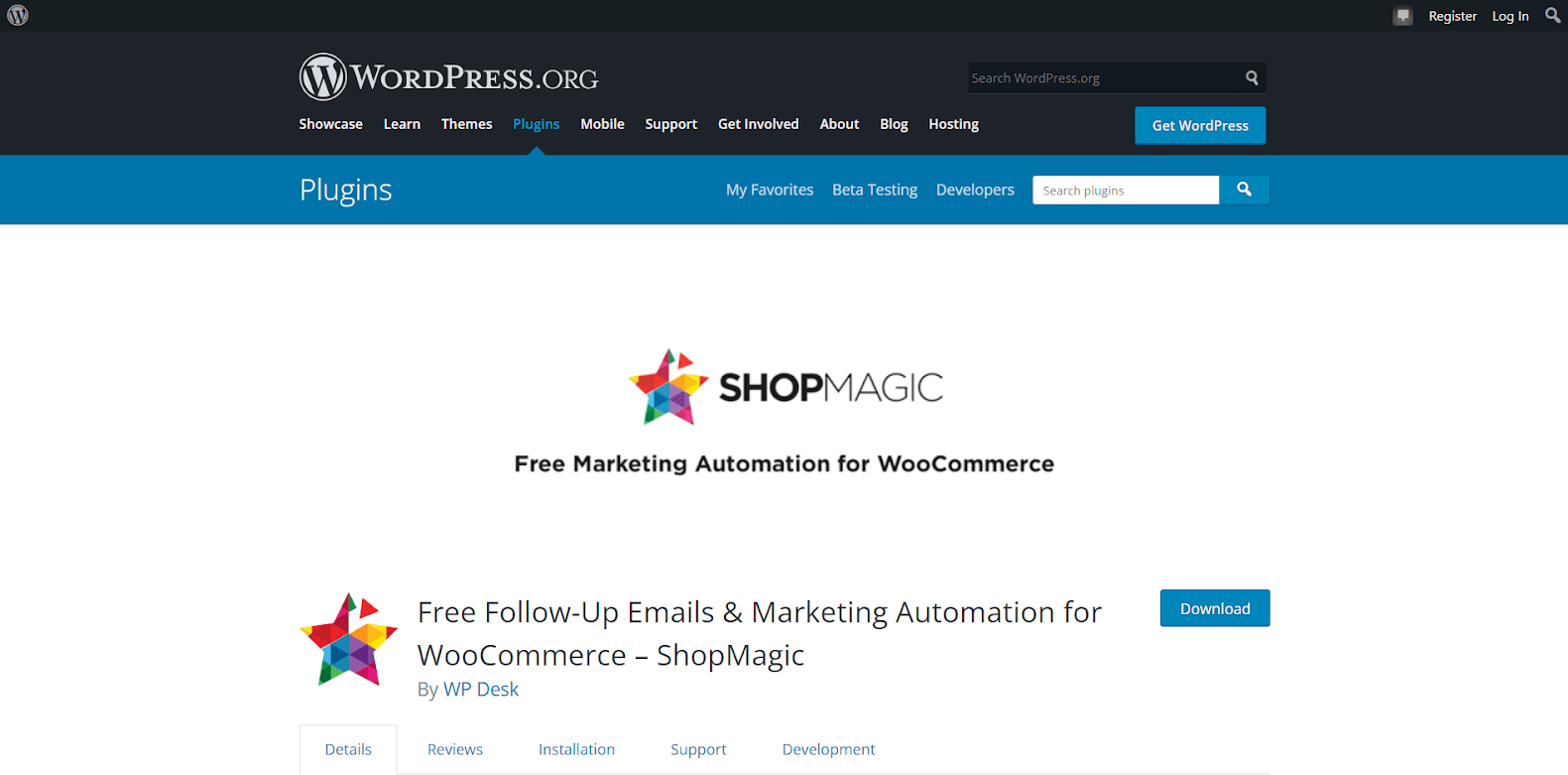 Key Features
Email automation templates are available.
Allows you to create emails according to order status.
It is integrated with Mailchimp, which makes it convenient to add customers to Mailchimp lists on checkout.
Categorize and segment customers into lists for easier management.
Pricing
The good news is that ShopMagic is now available for usage without any payment.
WooCommerce Recover Abandoned Cart is a premium plugin developed by FantasticPlugins that allows you to monitor customers' abandoned shopping carts and send them an email notice with the cart link to recover them. If the transaction is not completed within 10 minutes, WooCommerce Recover Abandoned Cart begins sending an automatic series of follow-up emails that you may personalize to match your brand. You may use a series of emails to encourage consumers to finish their purchase, get feedback, or even provide a discount to motivate them to do so.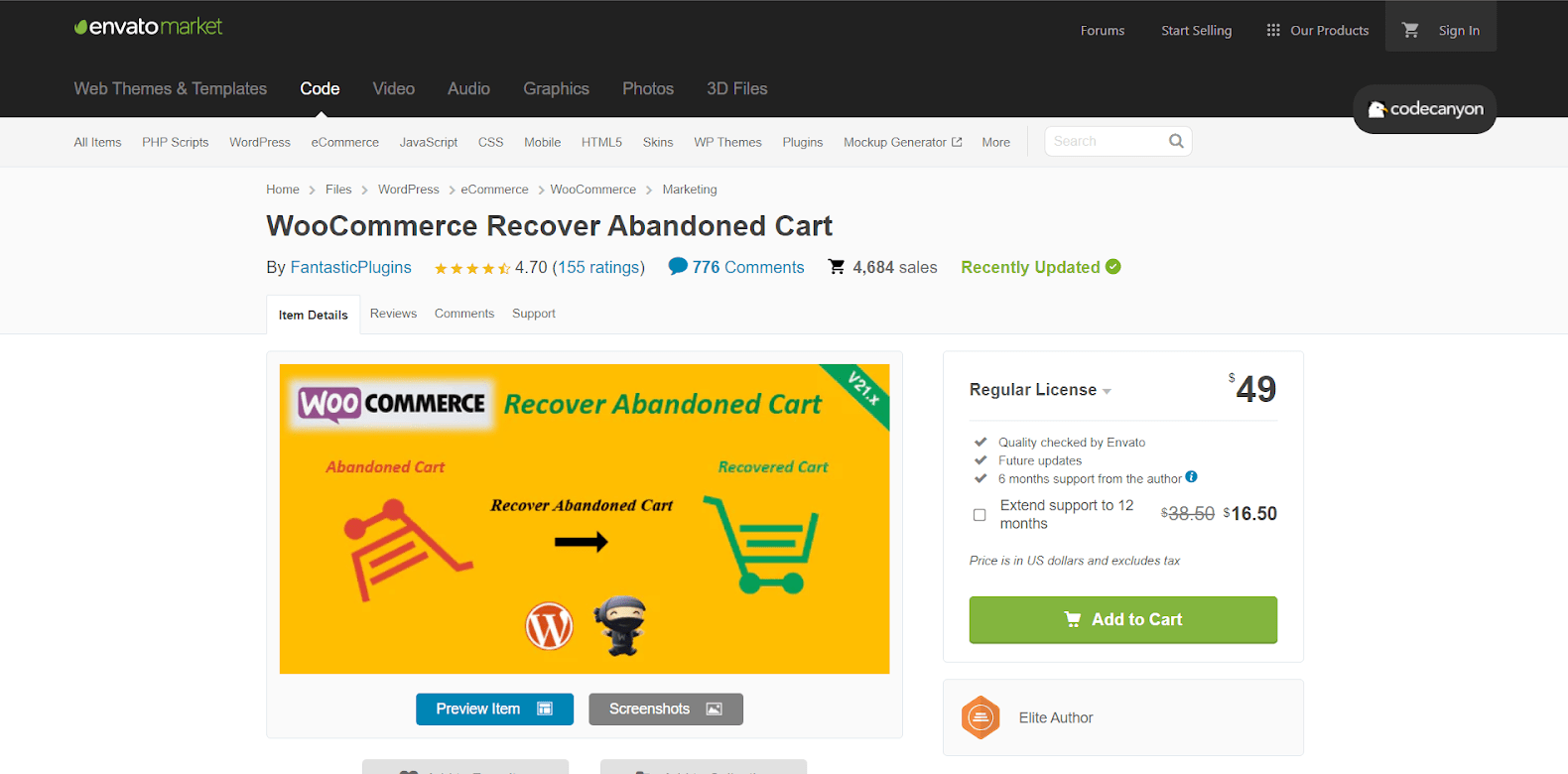 Key Features
Focus mainly on resolving Cart Abandonment.
Send recovery emails to both registered and guest users.
Provide you with translation through WPML.
Allows you to get customers' phone numbers in case of manual follow-up.
Pricing
WooCommerce Recover Abandoned Cart costs you $49 for Regular License while the Extended License has a cost of $490.
Follow up Email for Woocommerce is a premium plugin created by Magenest that allows you to send emails to your customers depending on their interactions. It enables you to maintain a personal connection with your consumers by sending them a polite prompt based on whether they are a frequent customer, a new visitor, or a returning visitor who hasn't purchased anything yet, among other things. It also allows you to send a reminder email to consumers who abandon their purchasing cart.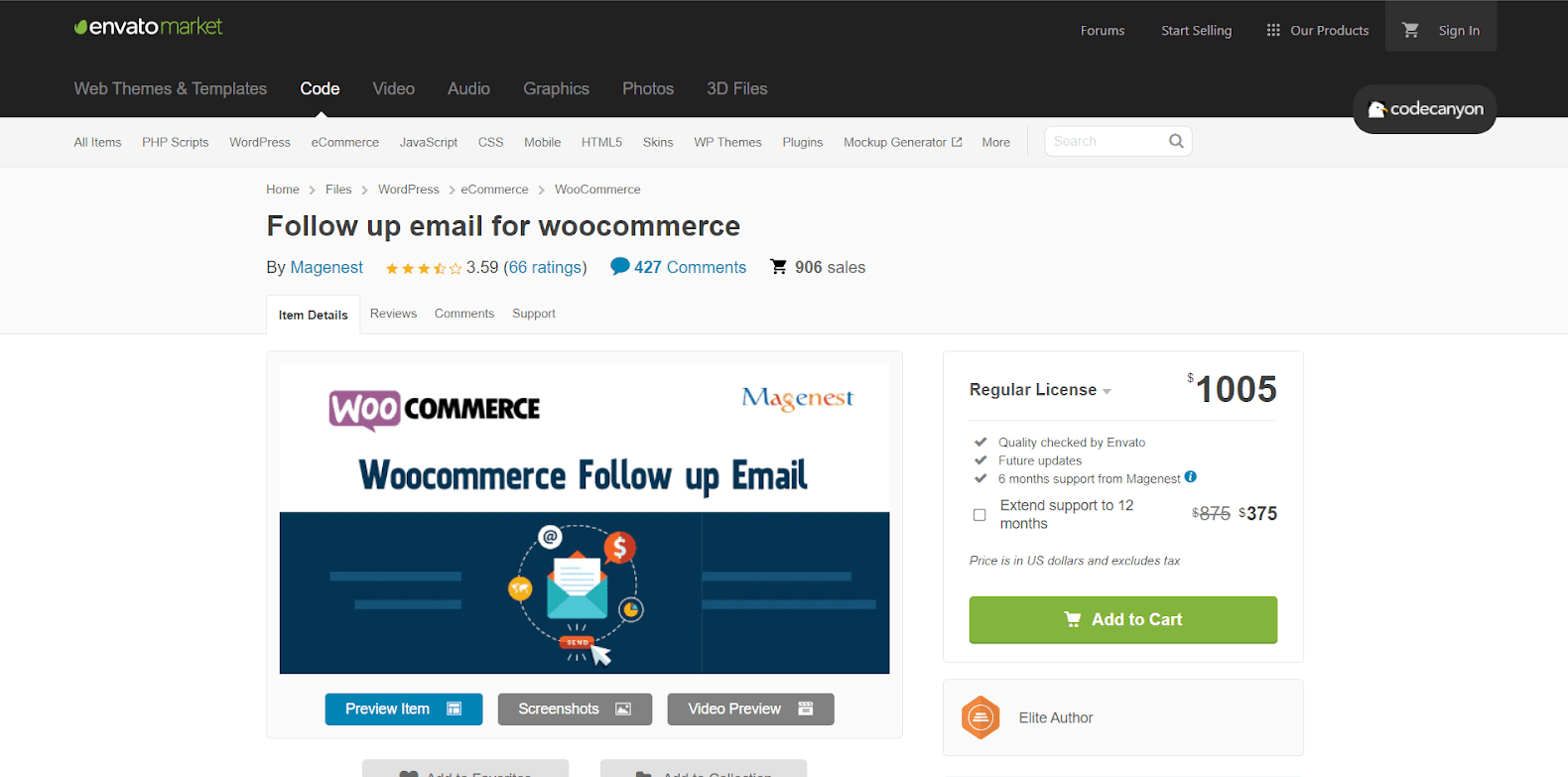 Key Features
Gives you complete control over editing, sending discounts, and curating email campaigns.
Allows you to design emails to be delivered to customers on specific dates, such as the day before a holiday or on a customer's birthday.
Gives you an email to send to consumers who have signed up but haven't purchased anything in a long time.
Pricing
Follow up Email for Woocommerce is the most costly item on the list with the price for Regular License as high as $1005 and the Extended License costs $1225.
WooCommerce reminder emails for WordPress is a plugin that allows you to send SMS and email alerts to your customers. All of these messages may be configured by administrators on the backend. Every component of the email, from the subject to the main text, is customizable. WooCommerce reminder emails for WordPress also includes a preset email template for WooCommerce to utilize when sending emails. It's simple to set up and use, with only four steps: install, activate, set up, and then configure the email to your needs. Then all you have to do is create a Twilio account and save the settings.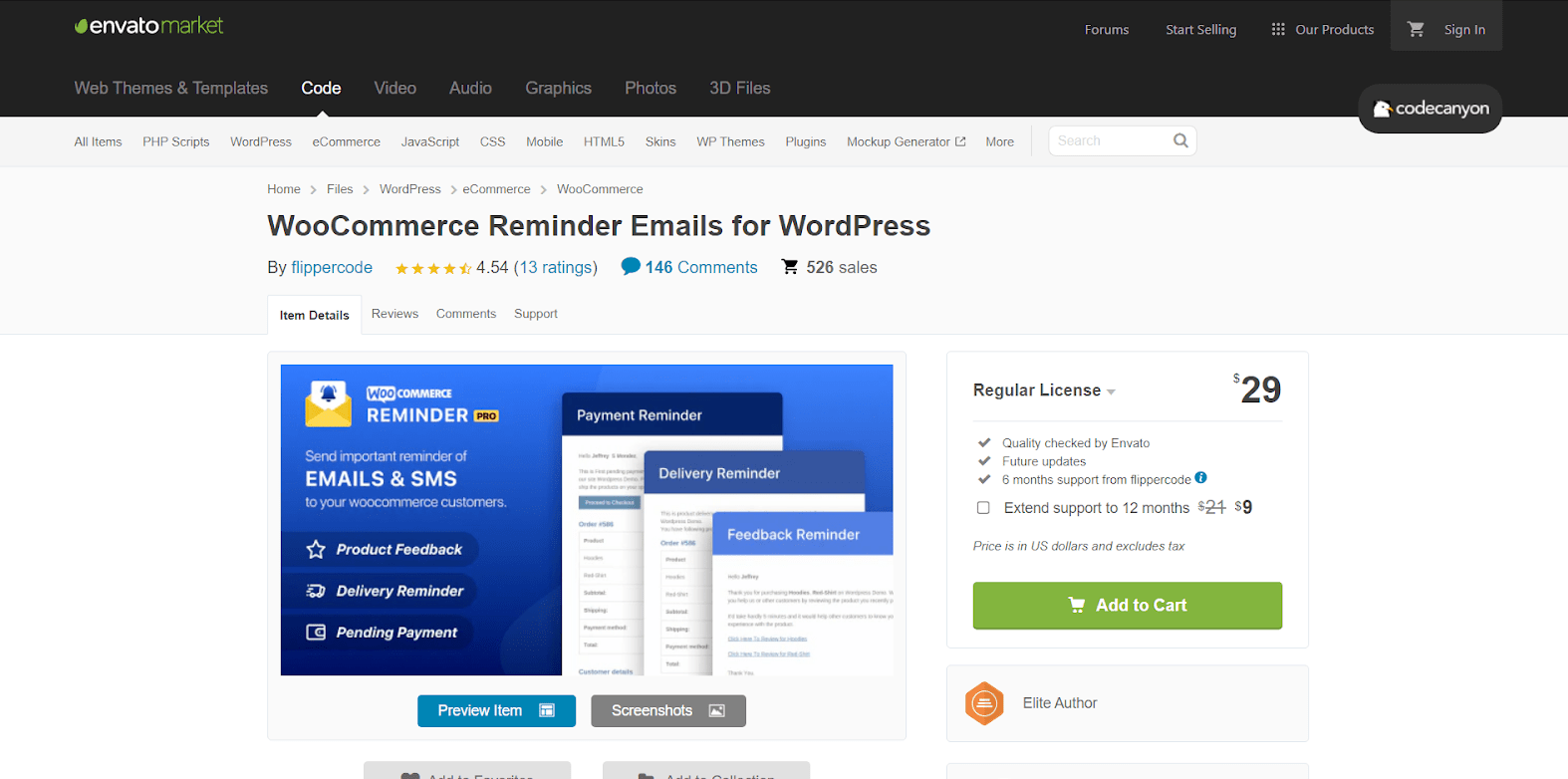 Key Features
Product reviews from customers who have recently purchased the product are provided.
The backend interface allows you to fully customize all of the emails.
The backend settings are straightforward, making it easier for newcomers to get started.
Email data placeholders
It is possible to send out new order emails, payment pending reminders, product delivery reminders, and review reminders.
Pricing
You can own WooCommerce reminder emails for WordPress with an as affordable price as $29 for Regular License and $95 for Extended License.
Conclusion
Above is a list of 9 Best Follow-Up Emails Plugins for Your Woocommerce Store, which are of the highest quality and picked from multiple price levels from Free to more than $1000 so that you can choose the most suitable for your requirements and budget.
Email marketing is important and directly affects customers retention and reduces cart abandonment. Therefore, we highly recommend you to carefully choose a Follow-Up Emails Plugin for Your Woocommerce Store to make the most out of your business.
---
Roger has over 4 years of experience in SEO. While in college, he started learning about SEO and showed a passion for the field. Right after graduation, he embarked on SEO projects and achieved great success. After years of working, he has learned deeply about SEO. Currently, he is the SEO team leader at avada.io