14 Best Crowdfunding Plugins for WooCommerce Stores
14 Best Crowdfunding Plugins for WooCommerce Stores
Crowdfunding is a method of raising funds from the public to support a project, a business, or a product.
To reach a broad audience, this is usually done online via a website or social media. However, with plugins, you can do it straight from your online store.
If you are looking for great plugins to perform any type of crowdfunding on WooCommerce, you've come to the right place. In this article, we've compiled a list of the 14 best crowdfunding plugins for WooCommerce stores that you can use to start raising money from your website.
Let's check it out!
Advantages of Crowdfunding in WooCommerce Stores
Crowdfunding has numerous advantages in WooCommerce stores:
There's no need to fill out an application, and you won't have to wait long to get your money.
It allows you to communicate with individuals who aren't in your network.
It's enjoyable to create and share.
You don't have to suffer the anxiety of asking for financial assistance.
14 Best Crowdfunding Plugins for WooCommerce Stores
Here are our 14 top crowdfunding plugins for WooCommerce stores.
1. WP Crowdfunding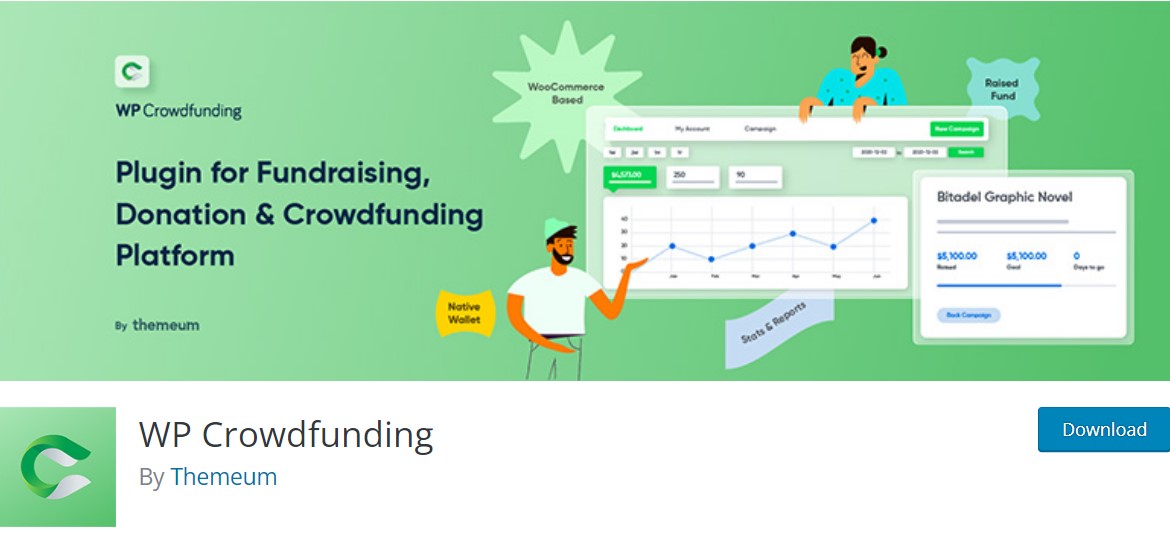 WP Crowdfunding is a WooCommerce-based plugin that allows store owners to use the WordPress content management system to establish a crowdfunding site. It's incredibly user-friendly and straightforward to use.
It has over 4,000 active installs and a 4.5-star rating, and it is constantly updated.
Features
This free version includes the majority of the fundamental WP Crowdfunding features. However, if you desire more advanced features, the premium version is available.
User registration, submission form, start and finish dates for the project
Funding objectives and pricing choices
Options for project updates
Add photos and videos
A reward system based on delivery dates
(Premium) Distribute all funds using PayPal Adaptive, Stripe Connect, Skrill, Authorize.net, etc.
(Premium) Native centralized wallet system
(Premium) Reports on analysis
(Premium) Notifications by email
(Premium) Creating reports
(Premium) Sharing on social media
Pricing
There are free and pro versions of this plugin. The Pro version starts from $149 per year.
2. IgnitionDeck Crowdfunding & Commerce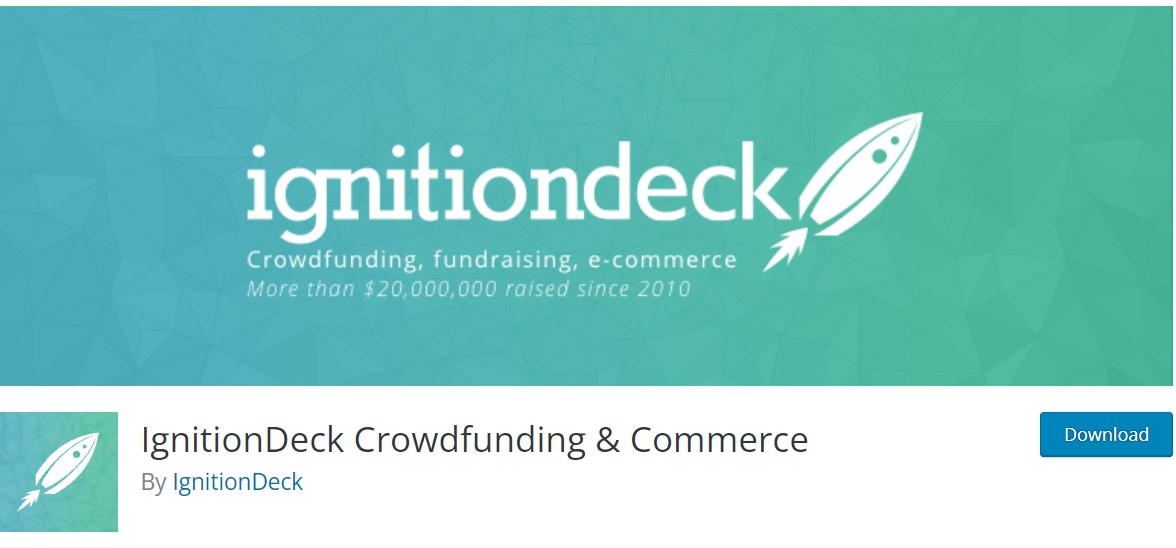 Hundreds of businesses are using the WordPress plugin IgnitionDeck to run their own crowdfunding platforms.
IgnitionDeck also comes with the free WordPress Fivehundred Crowdfunding Theme and the famous 500 Classic child theme, making creating your own crowdfunding site a breeze.
Features
Crowdfunding displays available as post template, widget, or embed code
Fundraising goal, end date, open/closed campaigns
Video embed, multiple crowdfunding levels
Custom project taxonomies for categorical data
Manual order entry and updates
PayPal Standard in all available currencies
Pricing
There are free and premium versions of this plugin. The premium version starts at $149.
3. WP Attractive Donations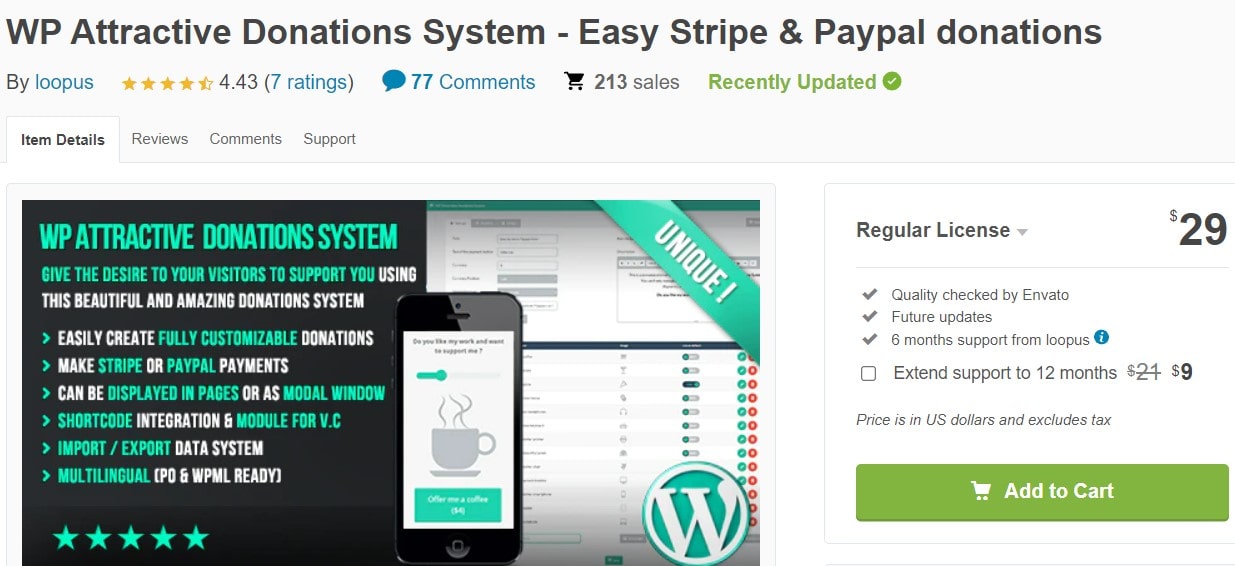 The WP Attractive Donations System plugin allows you to quickly and easily create beautiful and appealing donation panels on your WordPress website.
Each donation can have its own amount steps, messages, colors, and images using PayPal or Stripe payments.
Features
Manage as many donations panels as you want
Donations widgets
Each donation panel can make payment using Paypal or Stripe
Freely manage amount steps and use your own images
Colors, font, texts, and currency symbols are fully customizable
Automatically colorize all your pictures with the chosen color
Shortcode & Visual Composer integration
Import/Export system
Pricing
The regular and extended licenses cost you $29 and $125 respectively.
4. Galaxy Funder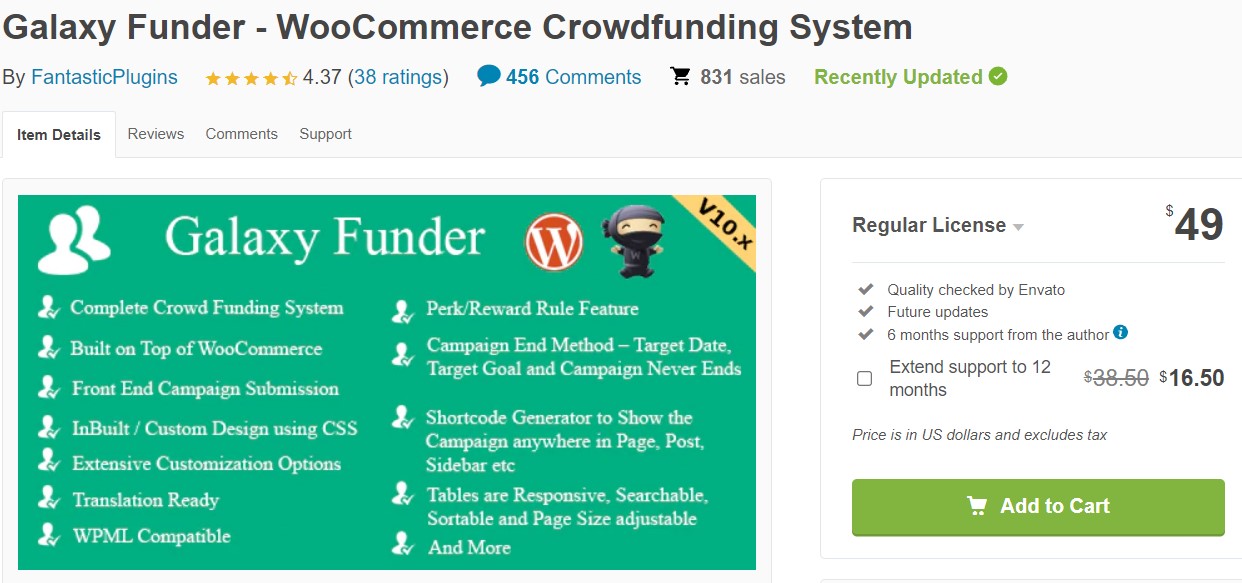 Galaxy Funder is a premium WordPress plugin that allows you to build a crowdfunding system for your site. The design is basic, yet it has all of the functionality you'll want.
It's a feature-rich Keep What You Raise Crowdfunding system built on top of WooCommerce. You can use Galaxy Funder to create your own Crowdfunding site or to add Crowdfunding Campaigns to your current WooCommerce store.
Features
Complete and Powerful Crowdfunding System
Perk/Reward Rule Feature
Fundraising / Product Purchase
Front End Campaign Submission for Members
Back End Campaign Creation for Moderators
Mailing Options for Campaign Submission, Approval, Rejection, Deletion, and Completion
Campaign End Method – Target Date, Target Goal and Campaign Never Ends
Pricing
The regular and extended licenses are charged at $49 and $490 respectively.
5. Crowdfunding for WooCommerce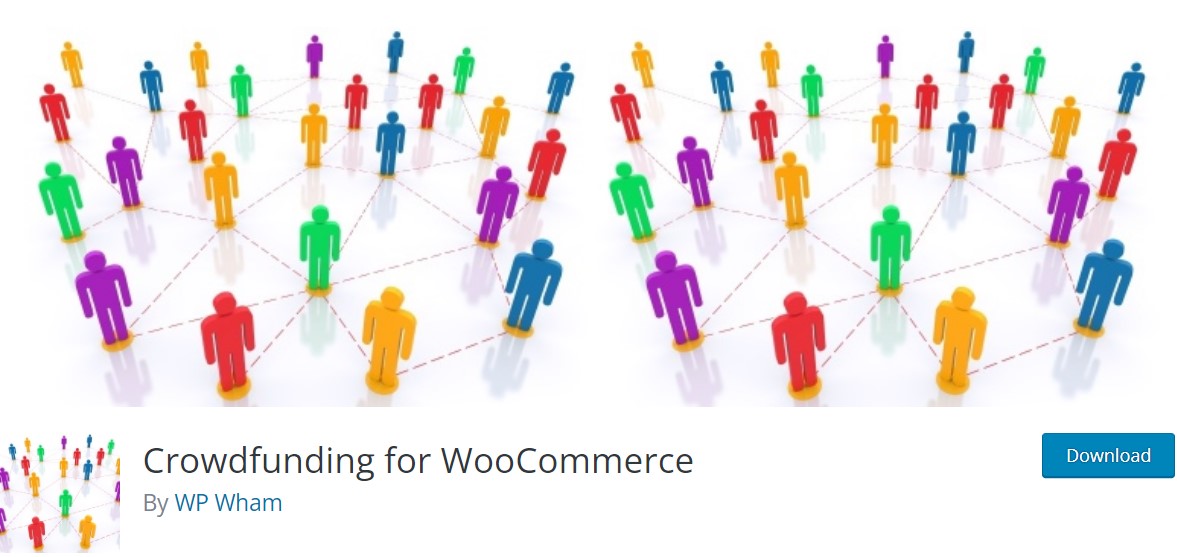 WooCommerce Crowdfunding is a free plugin. It was created by the Algoritmika Ltd team, which has over 30 plugins in the WordPress repository, the majority of which are related to WooCommerce.
This free plugin provides the necessary features to turn a standard WooCommerce store into a full-fledged crowdfunding platform.
Features
Edit pledge amounts, start and end dates, and button labels
Edit pledge amounts, start and end dates, and button labels
A form allows users to add campaigns to the system.
Edit information such as goals, time left, amount of funding.
CSS-styled progress bars for campaign status
Pricing: Free
6. Charitable – Donation Plugin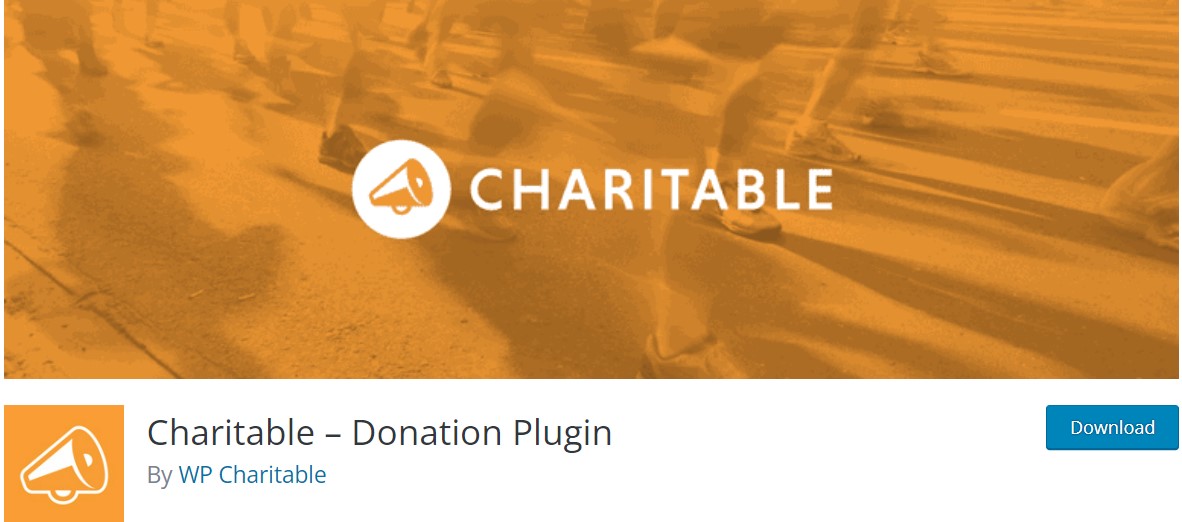 Charitable is a robust donation plugin for WordPress that never charges transaction fees.
Whether you need a donation form for your regular ongoing donations, you're raising money for a timely need, or you're collecting donations for a particular fundraising goal, Charitable allows you to build fundraising campaigns in minutes.
Features
Unlimited fundraising campaigns
Customizable donation forms
Easy PayPal donations
Collect donations via cheque, bank transfer, or any other offline method.
Direct donation management
Recurring donations
Peer to peer fundraising
Pricing: Free
7. Give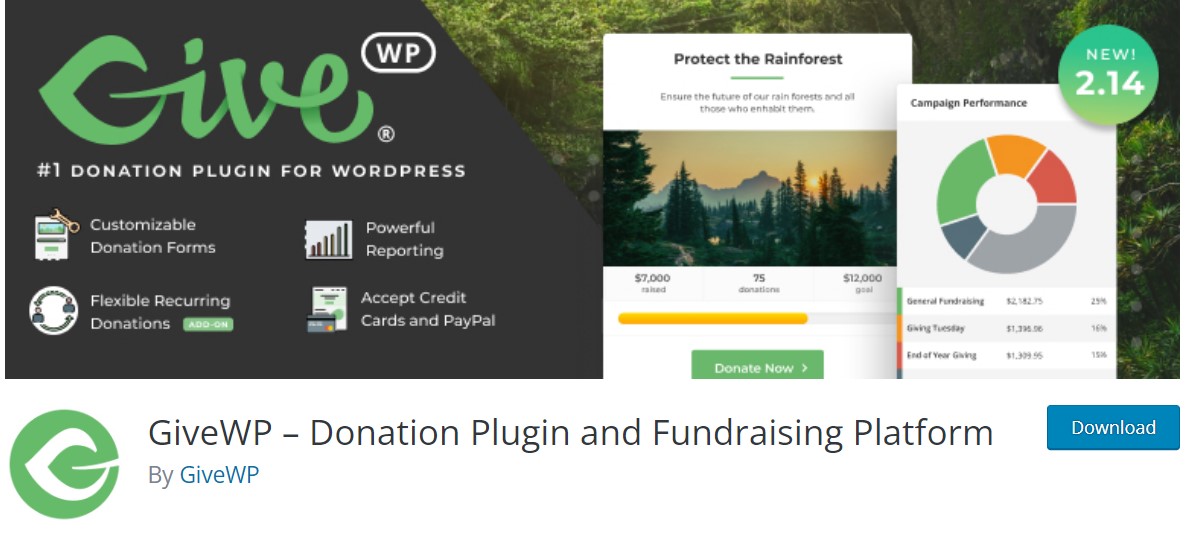 GiveWP is the best-rated, most downloaded, and best supported WordPress donation plugin. GiveWP is a robust donation platform geared for online giving that was built from the ground up for all of your fundraising needs.
GiveWP is a free WordPress plugin with a lot of powerful features to meet your demands.
Features
Full-featured reporting
Powerful Donation Forms
Complete Donor Management
Integrate with a wide variety of third-party gateways and services
Accept credit card donations: Stripe, PayPal, offline donations
Pricing
This is the free version of this plugin. But you can also purchase the premium versions for more advanced features, which start from $249 per year.
8. WP Fundraising Donation and Crowdfunding Platform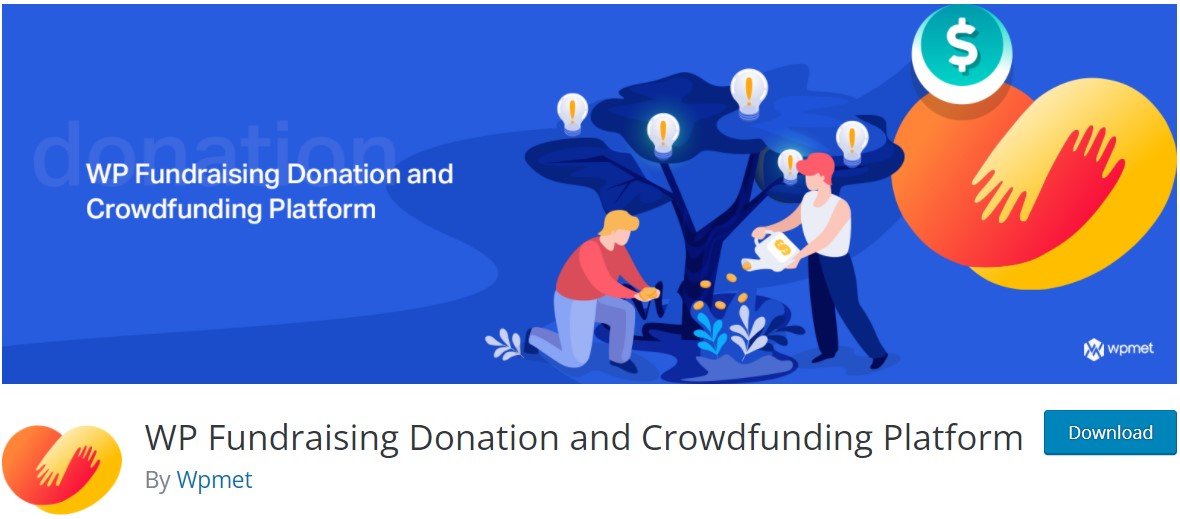 WP Fundraising Donation and Crowdfunding Platform plugin features a single donation and crowdfunding solution. This plugin allows business owners to use WordPress to construct a crowdfunding and single donation site.
Features
Frontend User Registration and Login
Frontend Campaign Submit Form
Start and End date
Setting featured image
Show/Hide Backer Table
Campaign End Methods: Target Goal; Target Date; Target Goal and Date; Campaign Never End
Create Unlimited Rewards
Pricing: Free
9. Whydonate – FREE Donate button – Crowdfunding – Fundraising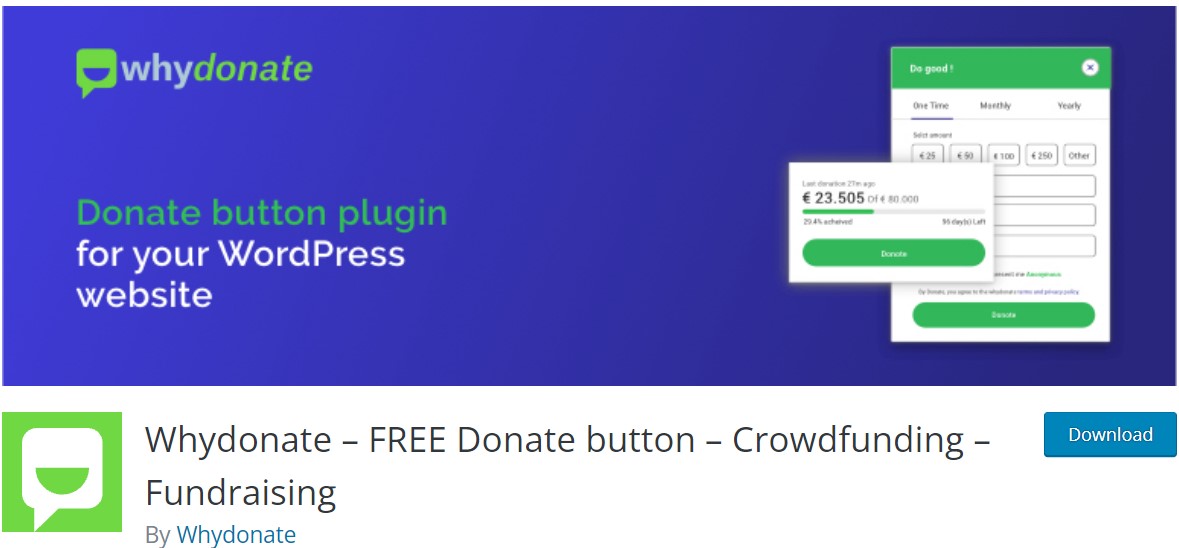 You can take donations directly on your WordPress website using the Whydonate plugin. You can also put the Whydonate button on any page of your website and start raising money right away. This plugin is simple to set up and customize, and it doesn't require any coding experience.
Features
Host a crowdfunding campaign
Peer to peer fundraisers
Dashboard
Create new fundraisers
Completely customizable
Multiple payment options
Interact with donors
Pricing
Free
10. YITH Donations for WooCommerce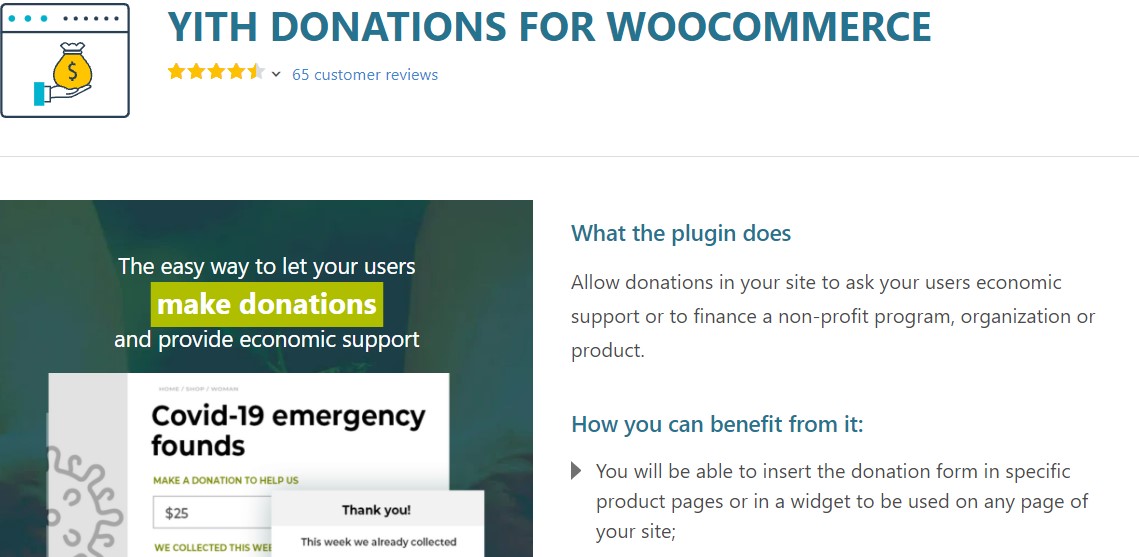 YITH contributions for WooCommerce allows you to accept donations on your website to seek financial support from your customers or to fund a non-profit program, organization, or product.
With just a few simple clicks, you can associate a donation to a product or allow your visitors to make donations to your site, thanks to the plugin's stability and comprehensive capabilities.
Features
Minimum and maximum amount for each donation
Donation form on the cart page
Set specific payment methods for orders with one or more donations
Change the style of the form button
Add the donation form to more products of the shop
Make donation mandatory on one or more products of the shop
WooCommerce Summary widget showing the total amount of donations received
Pricing
There are free and premium versions of this plugin. The premium version costs you €79,99 per year.
11. PayPal Donation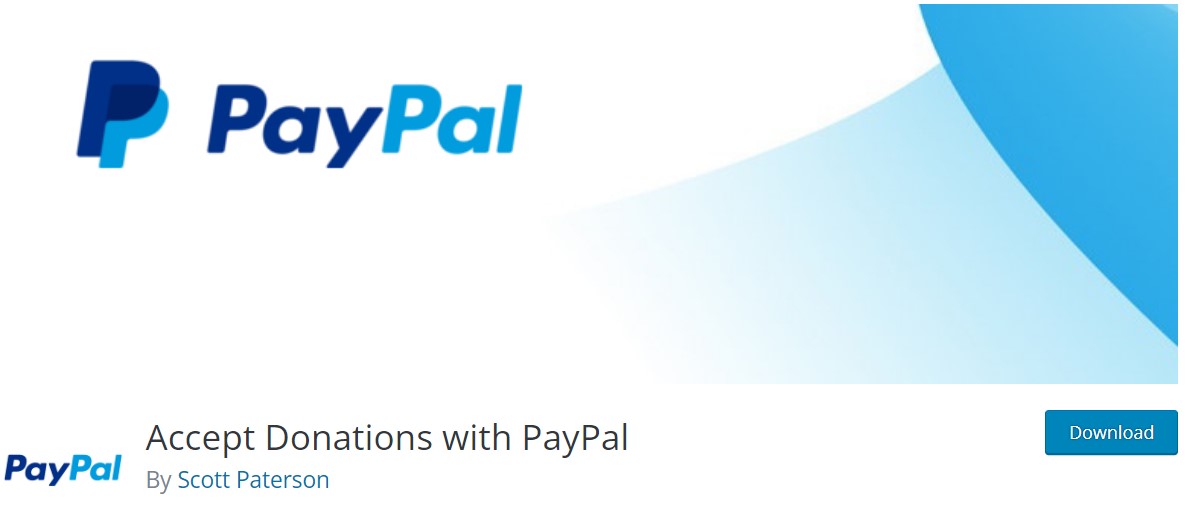 You can accept PayPal donations on your website using the plugin Accept Donations with PayPal . A PayPal Donation button can be placed anywhere on your website where you wish to raise funds.
The simplicity of this PayPal donation plugin is what makes it so successful. You only need to install the plugin, and consumers from all over the globe will be able to donate to you via PayPal in a matter of minutes.
Features
View donations made
Button Manager
Page / Post Button shortcode Inserter
Donation Widget
PayPal testing with Sandbox mode
Each button can have its own language, currency, image, and its own PayPal account
Pricing
This plugin is free but you can also purchase the premium version of it at the minimum cost of $39.99.
12. Woo Donations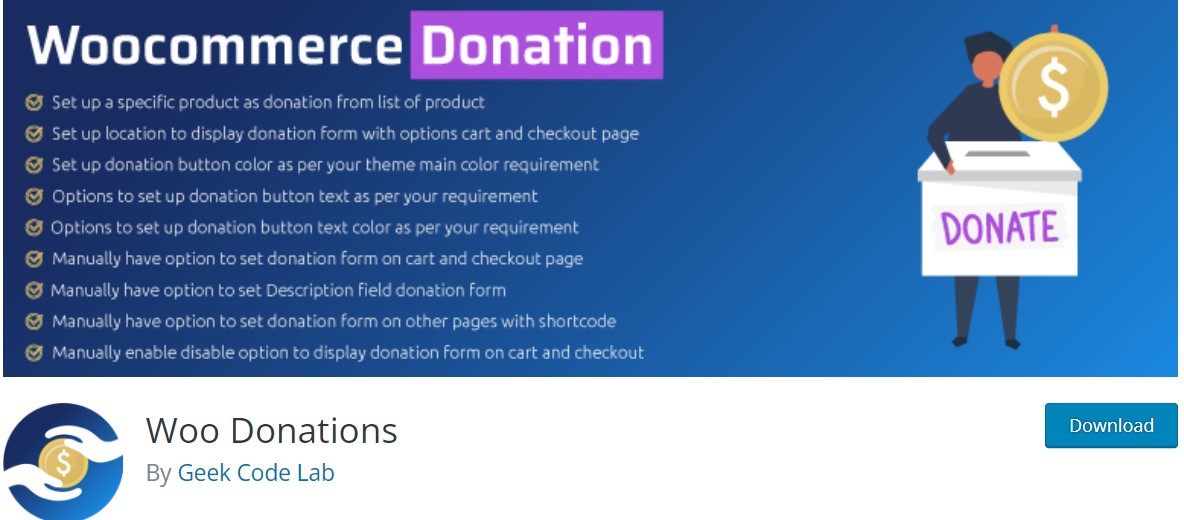 Woo Donations allows you to accept donations in WooCommerce with an amount defined by the end user, allowing consumers to give any amount they choose.
A donation can be shown as a product; if the end-user wants to modify their donation amount, they can do so by re-entering it on the cart or checkout page.
Features
Set up a specific product as a donation from a list of product
Set up location to display donation form with options cart and checkout page
Set up donation button color and text
Set donation form on cart and checkout page
Manually have the option to set Description field donation form
Manually enable/ disable the option to display donation form on cart and checkout
Pricing
This is the free version of this plugin, you can also check out the pro version, which costs $19 for lifetime use.
13. Donorbox

Donorbox is a WordPress crowdfunding management plugin that is both robust and safe. It includes everything you'll need to include a Donorbox donation form on your website.
Features
Fully customizable donation forms
Easy fundraising with multiple currencies supported via Stripe, PayPal, Apple Pay, Google Pay, and ACH payments.
Monthly recurring donations
Donation management from the dashboard
Export donation details as a CSV file
Fully PCI compliant
Pricing: Free
14. InFunding
InFunding is a WordPress plugin that allows you to build a philanthropic program and collect funds via Paypal or bank transfer. You can quickly establish and manage any charity programs, donors, and donations with this plugin.
Features
Create and manage charity campaigns
Manage donations and donors
Manage volunteer
Offer easy-to-use shortcodes
Support responsive and customizable template
Pricing
Free
Final Words
The 14 top crowdfunding plugins highlighted in this post can all greatly assist you in collecting donations on your WooCommerce stores. The finest WooCommerce donation plugin for your online fundraiser, on the other hand, will depend on your requirements.
We hope you found this article useful and if you have any questions, please reach out to us via the comment section below.
Thank you for taking the time to read this post, and we'll see you soon.
New Posts
Subscribe
Stay in the know
Get special offers on the latest news from AVADA.
40k
subscribers has been joined!
Earn $10 in reward now!