10 Best Coinbase Plugins For WooCommerce To Drive Sales
10 Best Coinbase Plugins For WooCommerce To Drive Sales
ETH, Bitcoin, and other cryptocurrencies are gaining popularity. If you want your customers to use cryptocurrencies to pay for items and services on your website, you'll need a solid WooCommerce digital coin-based payment gateway. There are several advantages to adopting cryptocurrencies, including security features, the simplicity of conducting cross-border transactions, a larger market, and buyer anonymity.
Today's tutorial will show you the 10 best coinbase plugins for WooCommerce to drive more sales. Having a blockchain-based gateway on your WooCommerce store would be helpful for users who choose to pay with cryptocurrencies. In addition, it may avoid mediators, chargebacks and pay cheaper costs than utilizing services such as PayPal. So, let's dive in!
Benefits of using the Coinbase plugins for WooCommerce Stores
First of all, let's take a look at some of the benefits of using Coinbase plugins in your WooCommerce store:
Coinbase plugin offers a simple method to get your Bitcoin wallet for commercial transactions, with an email address-based enrollment procedure that takes only a few minutes.
You may accept payments in several cryptocurrencies with the Coinbase plugin without setting up individual coin merchant accounts.
Thanks to simple connections and speedy setup, the total procedure also crosses the hurdles commonly seen with Bitcoin payments.
While the Coinbase solution still necessitates using a cryptocurrency account, having a merchant account with the service prevents you from revealing your wallet address.
By creating a Coinbase account, you may also immediately outline your wallet address online utilizing the solution's hosted checkout procedure. This saves you from having to create individual pages or checkout procedures for your website or app.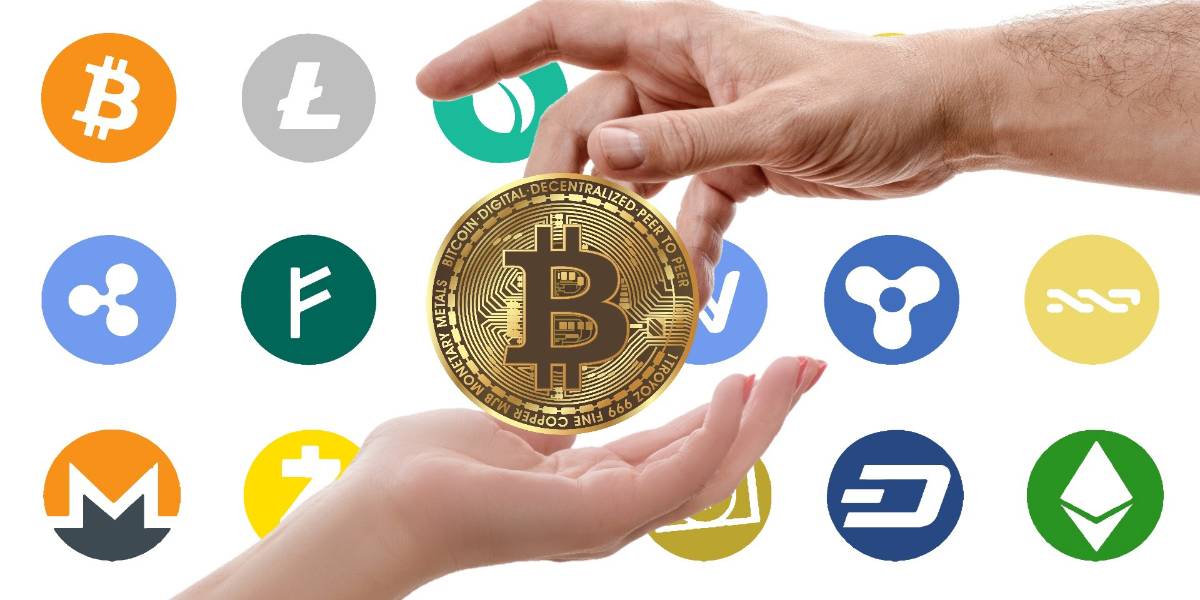 Paying using cryptocurrency is more common than many retailers, and customers believe. Microsoft, Expedia, Dish, CheapAir, and Newegg are just a handful of the hundreds of retailers worldwide who take Bitcoin. According to a poll of 100 shops, 60% of them would accept Bitcoin instead of dollars. Respondents came from a variety of sectors and earned at least $100,000 each year. That is why using the Coinbase plugin to diversify your payment gateways will drive more sales for your business. Next, we will show you some top-notch plugins to improve your crypto exchange system.
10 Best Coinbase Plugins For WooCommerce To Drive Sales
Coinbase Commerce for WooCommerce
Coinbase Commerce for WooCommerce is a commercial plugin created by Infinue. Coinbase Commerce for WooCommerce enables you to begin taking cryptocurrencies in just a few clicks. All you need to do is create a Coinbase Commerce account and install Coinbase Commerce for WooCommerce on your website. It accepts the following cryptocurrencies: Bitcoin, Bitcoin Cash, Litecoin, Ethereum, and USD Coin.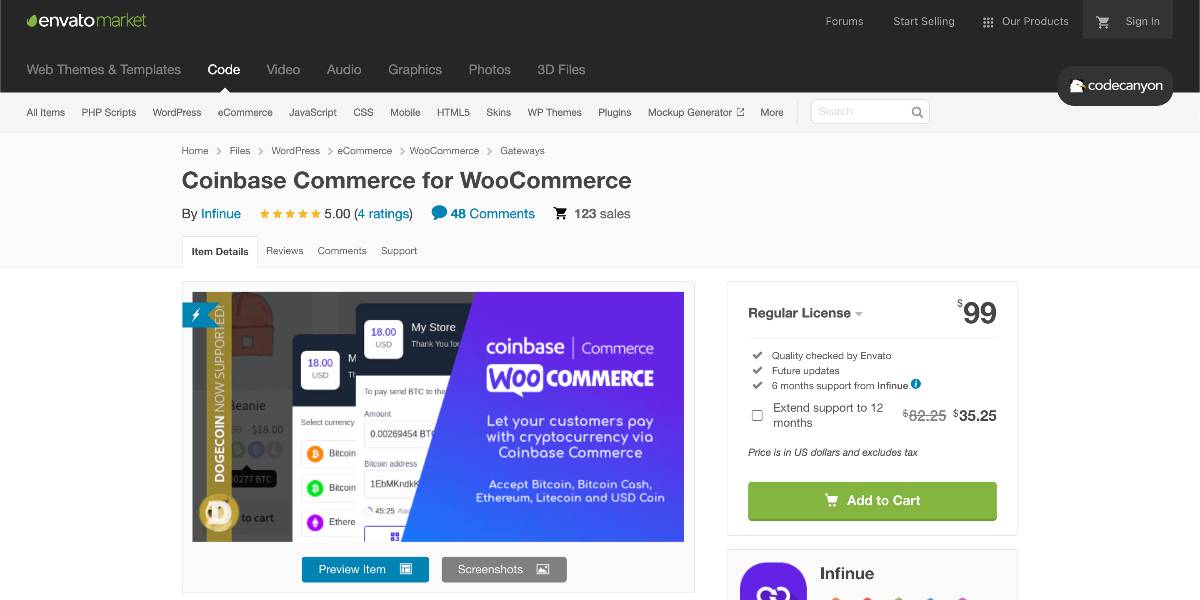 Outstanding features:
Bitcoin (BTC), Bitcoin Cash (BCH), Litecoin (LTC), Ethereum (ETH), Dogecoin (DOGE), Dai (DAI), and USD Coin (USDC) are all supported.
Simple to set up and personalize.
Coinbase handles payment processing, which is both secure and quick.
Display Bitcoin pricing.
Order notes in great detail.
Price: You can get this plugin at the cost of $99 for an annual subscription.
Blockonomics
Blockonomics enables Bitcoin payments to be accepted by online exchanges. This decentralized payment processing system accepts Litecoin, Etherium, Bitcoin, and other cryptocurrencies as payment, allowing businesses to increase their total sales, income, and profitability. Its P2P encrypted invoicing system is a terrific option for many companies. To use their services, you must have a Blockonomics account, and they charge a 1% transaction fee.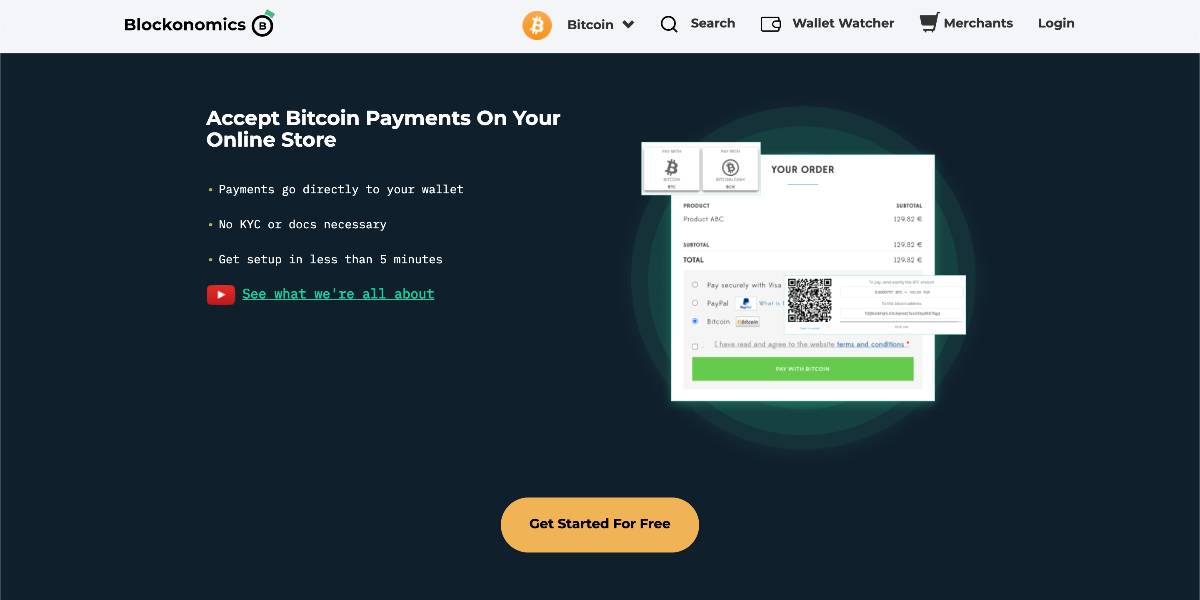 Outstanding features:
Customer information will never be sent to Blockonomics. All customer information is kept in your business, so you don't have to worry about security vulnerabilities.
Segwit compatibility allows for the lowest potential transaction costs.
Mycelium, Ledger Nano S, Blockchain.info, Trevor, and all other popular HD wallets are supported.
Blockonomics offers an incredible checkout experience that is seamlessly integrated with your store's theme.
Any personalized website can have payment buttons. Payment links may be sent via instant messaging, social networks, and email to receive Bitcoin payments.
Price: This plugin is free to download, but you must pay a 1% transaction fee per payment.
Coinbase Commerce Payment Gateway for WooCommerce
Coinbase Commerce Payment Gateway for WooCommerce is a merchant payment service that enables Bitcoin payments to be accepted by tech firms. The platform makes use of blockchain development technology to create digital asset payments easier for its consumers. Coinbase Commerce is available to many business industries and may be linked with well-known eCommerce systems. This gives it the core capabilities of traditional payment providers, with the critical feature of accepting Bitcoin payments.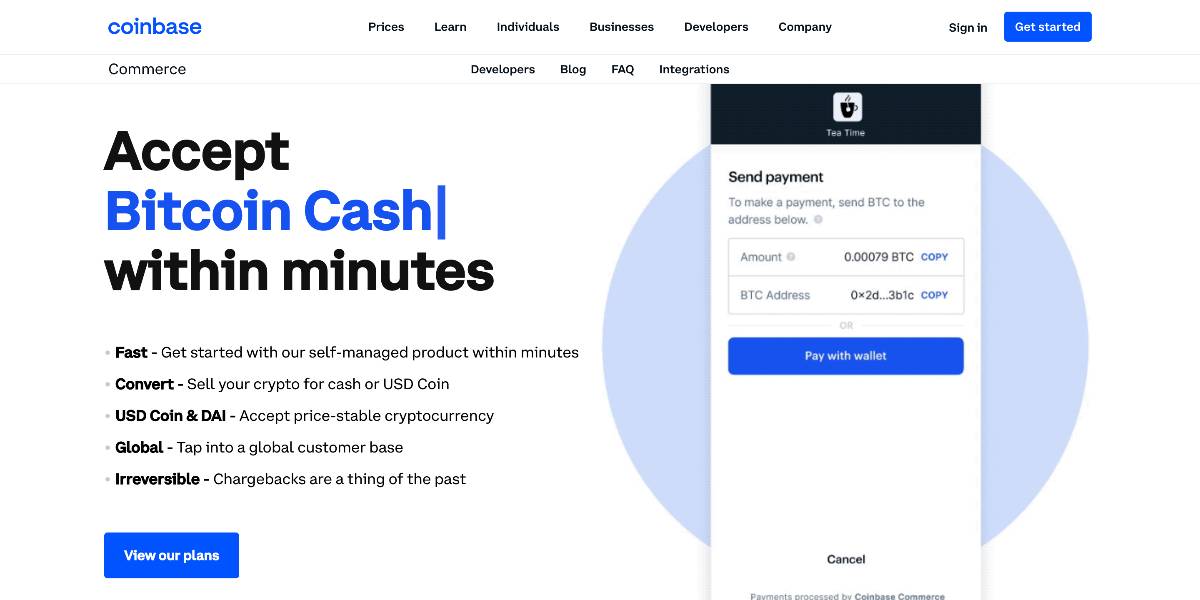 Outstanding features:
Accept cryptocurrency payments from your consumers for all of your products and services.
Bill and invoice your customers with ease.
Make your processes and experiences.
Accounting and reconciliation transaction reporting tools
Merchants using Coinbase Commerce may refund payments to their consumers straight from their merchant dashboard.
Price: This plugin is free to go; however, each payment will incur a 1% transaction charge.
TripleA
TripleA is a Bitcoin payment processor. There is no need for a specific account, and there are no costs. With this WooCommerce cryptocurrency gateway, you can begin accepting Bitcoin payments right now. All your customers need to do to send payment is scan the QR code. TripleA also makes it easier for sellers to run their businesses. Real-time currency rates (with a 0.8 percent withdrawal charge) are utilized to allow you to withdraw funds in 19 different international currencies.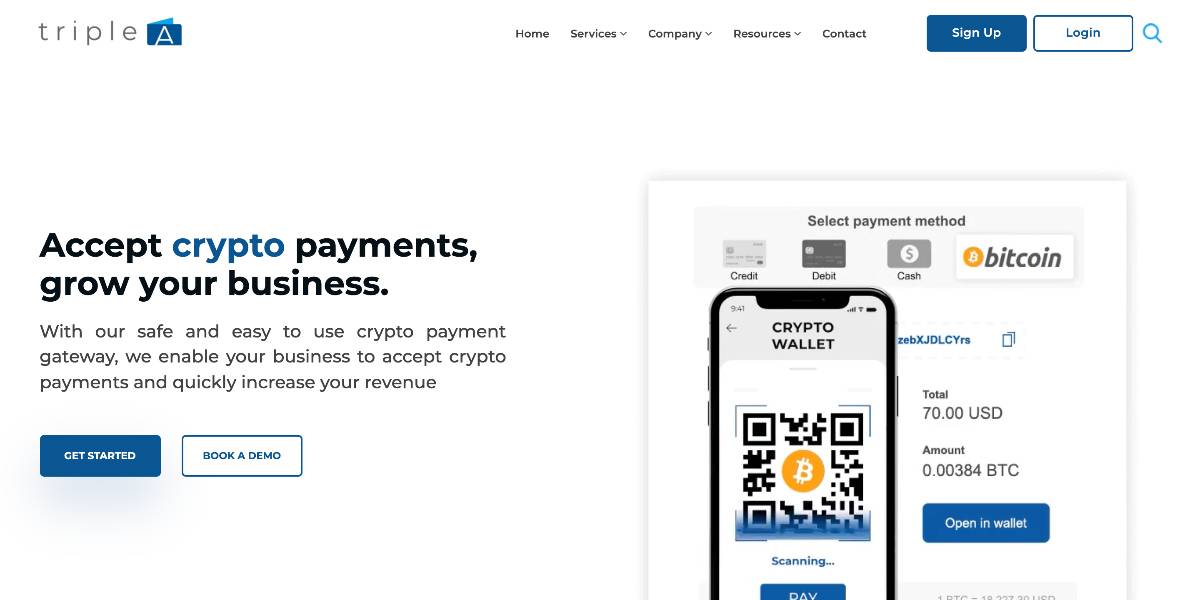 Outstanding features:
Payments in your local currency can be received and instantly sent to your bank account.
You don't need to be an expert in Bitcoin to accept Bitcoin payments.
The due amount will be deposited into your account. There is no reason for you to be anxious about market volatility.
Conversions from Bitcoin to local currencies always utilize real-time exchange rates.
It is a wallet-to-wallet transaction. There are no middlemen in this non-custodial system.
Price: This plugin is 100% free. There are no fee-based chargebacks if your customers use Bitcoin, and you may also receive email alerts for each transaction.
GoUrl
GoUrl is a cryptocurrency online payment option that may be used in a variety of countries. Customers and merchants can use its payment platform to make transactions. It does not utilize the same technology as many other payment gateways. Because it connects seamlessly with site pages, GoUrl does not launch external payment sites. You could accept Altcoins and Bitcoin using the GoUrl WooCommerce plugin. After picking one of their three payment connection options, you can start receiving payments straight away. They also provide subscription and white-label services.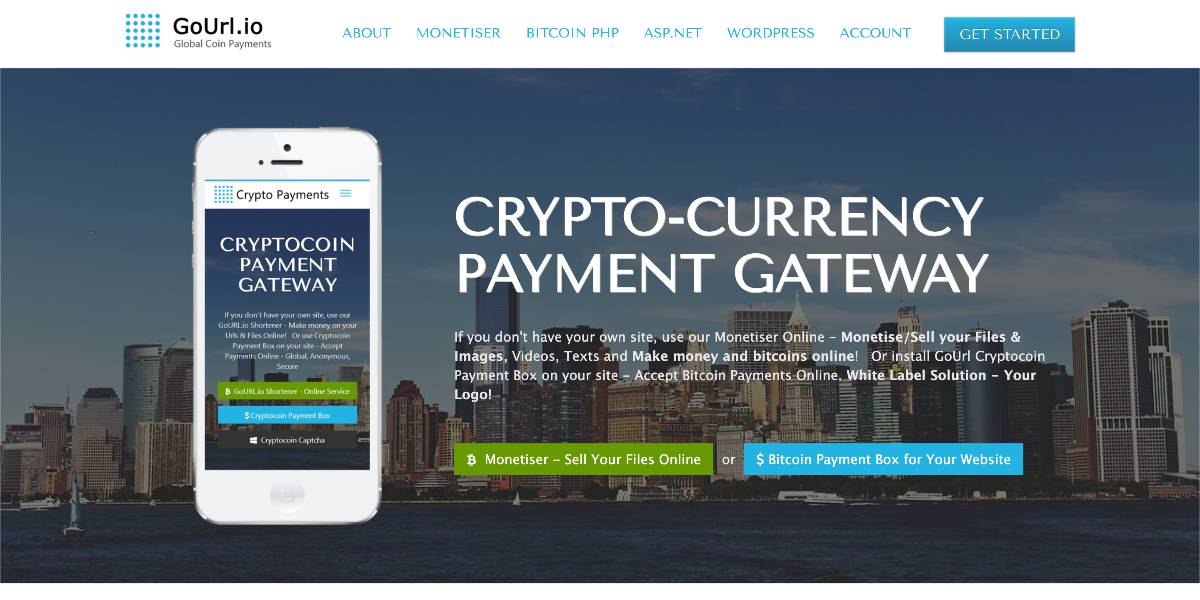 Outstanding features:
Transaction costs begin at 0%. There are no monthly fees, and you are not required to have a bank account.
Everything occurs automatically. The payment process is safe and secure on a worldwide scale. Chargebacks are not a problem.
External payment pages are never accessed. The plugin connects directly with your website. The payment box is very customizable and works well with mobile devices.
Your site or server sends payment information to users' browsers. Their server will send the required data to your server.
Price: This plugin is entirely free, and you just need to pay the withdrawal fee for each type of cryptocurrency.
BTCPay
BTCPay Server is a cryptocurrency merchant services solution that allows you to accept direct payments in Altcoins and Bitcoin. The open-source, free resource does not require an intermediary and has no transaction or other fees. All BTCPay payments are put into your online wallet. All transactions are safe and secure. No essential private information is sent to the server. This non-custodial invoicing technique does not require the involvement of third parties. Because coins are sent to your wallet, you will have better security and privacy.
Outstanding features:
There is no address re-use because each invoice creates a unique address based on your pub key.
BTCPay can be hosted by a third party or run on your server as a self-hosted solution.
Using the self-hosted solution, you may utilize Lightning Network to integrate as many stores as you want with BTCPay. It can also handle payments made by customers on those websites.
There are no transaction costs (other than mining fees by the crypto network itself).
Price: This plugin is free to access, and there is no transaction fee for Bitcoin.
NOWPayments Crypto Payment Gateway for WooCommerce
NOWPayments Crypto Payment Gateway for WooCommerce enables users to accept cryptocurrency payments and supports a variety of cryptocurrencies. It is a non-custodial service with cheap transaction costs. Using plugins and applications, you can quickly integrate its crypto payment channel into websites, social media accounts, and the top e-commerce platforms. The NOWPayments WooCommerce plugin allows users to pay for digital products using one of the 50+ cryptos that are supported. NOWPayments does all of the heavy lifting; all you have to do is create an account, generate an API key, and install the plugin.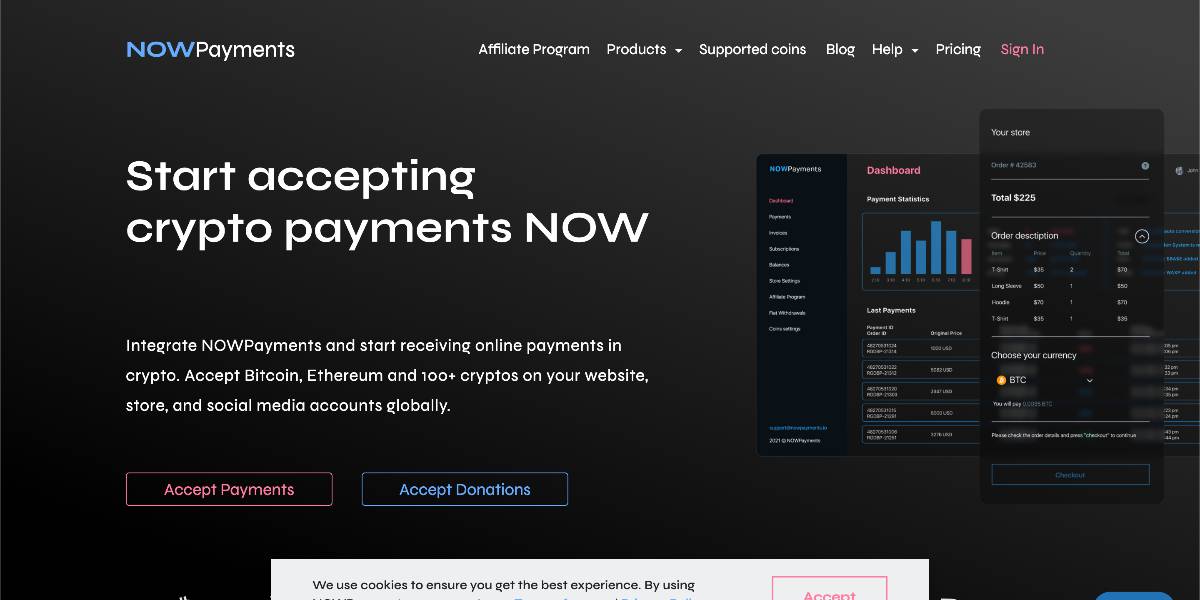 Outstanding features:
NOWPayments accepts a wide range of popular cryptocurrencies as payment for products and services.
It's simple to connect, and the non-custodial service offers low transaction costs.
The payment gateway may be integrated into massive e-commerce platforms, social media accounts, and other websites.
All transactions are secure and encrypted. ChangeNOW automatic conversions are also available.
Regardless of the currency in which your consumers pay, you will get your selected coin.
Price: NOWPayments charges a transaction cost of up to 0.5 percent. However, this is frequently cheaper with or without our savings. ChangeNOW will impose a transaction fee of up to 0.5 percent if an auto-conversion occurs during the transaction.
CryptoWoo
With CryptoWoo, you can integrate Litecoin, Dogecoin, and Bitcoin payments into your WooCommerce store and receive automated payment verification. This resource simplifies the management of private keys, customer data, and order checkouts. You may also use the capabilities provided by the CryptoWoo HD Wallet add-on. It is capable of transferring shop payments to your HD wallet account. Other add-ons can be connected to accept different types of cryptocurrency as payment.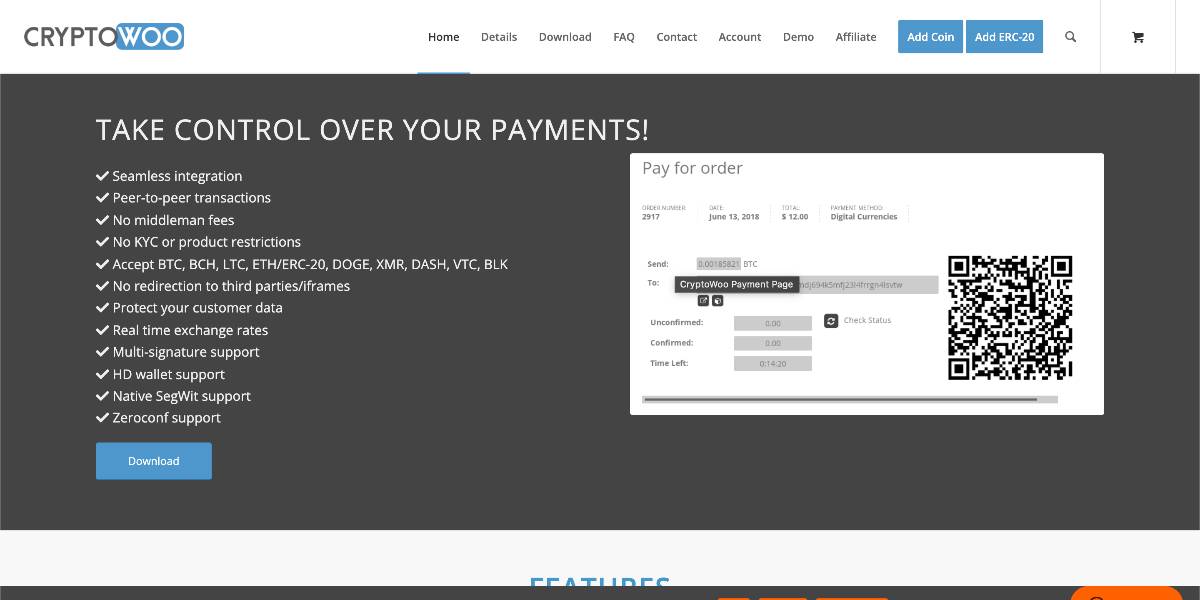 Outstanding features:
When customers check out, they will not be led to iframes or third-party websites. They'll remain in your shop.
You have the option of using a Block.io premium account or providing your own Litecoin, Dogecoin, and Bitcoin wallet credentials.
During the purchase checkout process, you can collect refund address information.
Except for Lao KIP, all current WooCommerce shop currencies are accepted.
Markups and coupons can be applied separately for each currency as needed.
Price: You can get this payment gateway for free with the limited cryptocurrency accepted.
CryptoPay WooCommerce
With CryptoPay WooCommerce, you can effortlessly accept cryptocurrency payments. Furthermore, you may do it directly using MetaMask, a cryptocurrency wallet. As you are aware, virtual POS and many other payment options charge you a commission. The sole commission, in this case, is the transfer cost charged by blockchain networks. As a result, the funds will be transferred immediately to your account. Payments can be received via the Binance Smart Chain and the Ethereum network.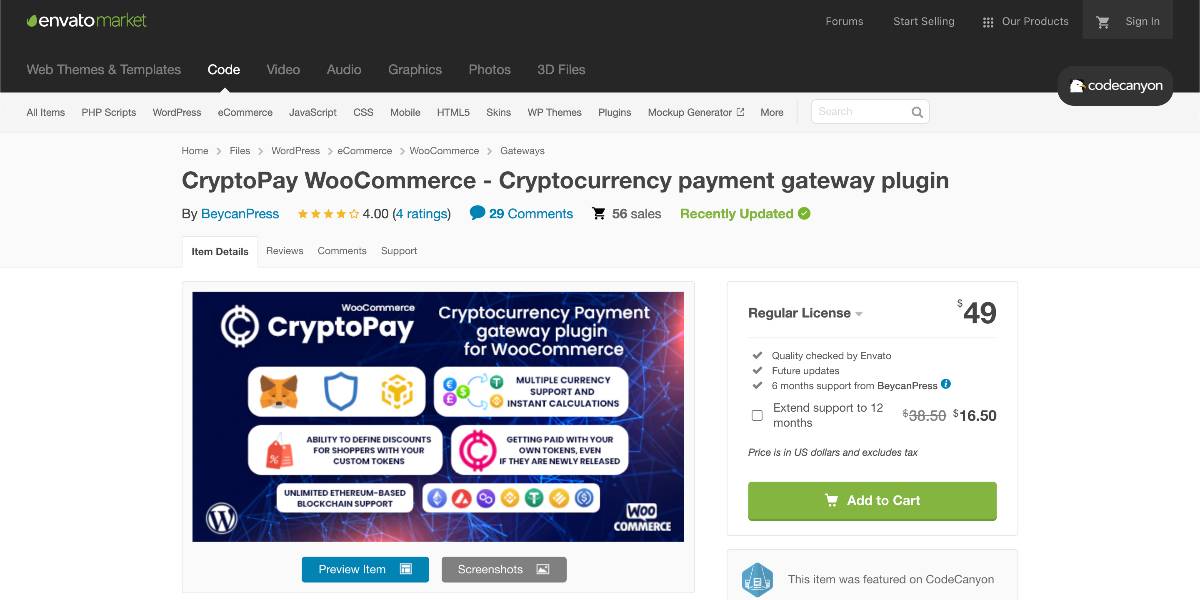 Outstanding features:
Payments may be made using any of the crypto wallets supported by the plugin and any of the blockchain networks supported by these wallets.
You can purchase with original currency from blockchain networks or tokens issued by these networks.
You can evaluate your currencies against fiat currencies that Currency Converter does not support and get paid in private tokens.
You may quickly enable or disable the wallets, networks, and currencies from which you want to receive payments.
The explorer verifies the correctness of the payments. It even validates the payment procedure after verifying the given address and money.
Price: You can get this plugin at the cost of $49 for a regular license.
CoinMarketStats
You can accept Altcoin and Bitcoin payments from your WooCommerce online store without the need for an intermediary. This Bitcoin/Altcoin Payment Gateway for WooCommerce eliminates the requirement for a third-party wallet to receive payments directly to your coin address. With this plugin, you can choose between automated and manual order confirmations. After a consumer has placed and paid for an order, you must go to your bitcoin address to check that money was received. The order will be put on hold until you confirm payment.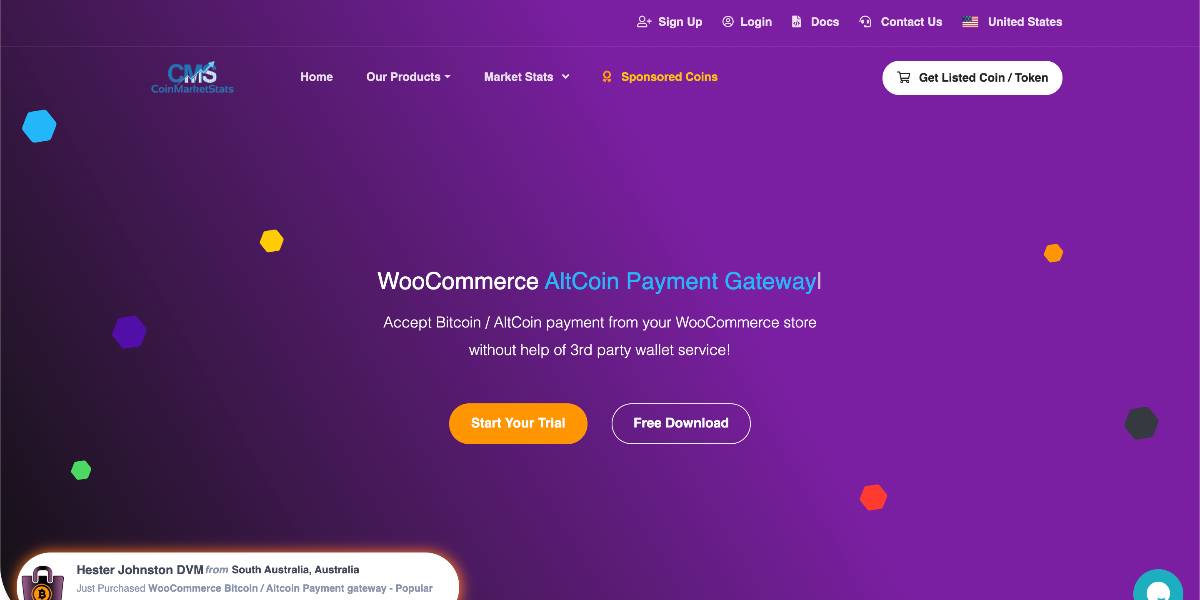 Outstanding features:
There are no transaction or withdrawal limitations. Payments will be sent directly to your cryptocurrency address.
Discounts can be applied to each form of cryptocurrency that is utilized. This might be either a fixed sum or a percentage.
Product offer boxes on single product pages can be shown or hidden as desired.
The most reputable exchange portal's price computation is rapid and automated.
WooCommerce product pricing may be converted to Altcoin and Bitcoin values automatically.
Price: You can download this plugin for free, but the exchange rate will depend on the type of currencies.
Conclusion
Accepting Bitcoin and other comparable cryptocurrencies as payment has grown increasingly enticing to WordPress site owners as blockchain technology gains popularity. Still, deciding how to begin and utilize WordPress to handle Bitcoin payments might be tricky. Fortunately, several plugins and other tools are available that enable you to use WordPress to accept and receive Bitcoin payments.
We hope this article will help you discover the 10 best coinbase plugins for WooCommerce to drive sales. The WooCommerce crypto payment gateway plugin you choose should be based on the demands of your site and customers. Take an in-depth look at all the plugins mentioned above and select the most appropriate one for your online business.
New Posts
Subscribe
Stay in the know
Get special offers on the latest news from AVADA.
40k
subscribers has been joined!
Earn $10 in reward now!