Top 15+ WooCommerce Cart Reports Plugins For Your Store
Top 15+ WooCommerce Cart Reports Plugins For Your Store
WooCommerce is one of the most common eCommerce platforms, thus having decent WooCommerce analytics and reporting plugin is essential. The platform made a significant breakthrough almost soon after its release in 2011, because of its incredible features. WooCommerce is already used by over three million websites, and the platform is growing at a consistent rate of 13-15 percent per quarter. If you own or want to open a web store, you should know what makes this eCommerce system so unique and how to use helpful tools to make your business more successful. After all, WooCommerce powers more than 40% of all online stores, so you'll need to be proactive if you want to outperform your competitors.
In this article, we will show you Top 15+ WooCommerce cart reports plugins for your store to upgrade your online store.
Benefits of WooCommerce cart reports plugins
WooCommerce is the most global used eCommerce platform on the planet. It's a free WordPress eCommerce plugin making selling products and services online a breeze.
It is critical to know how well your WooCommerce store operates if you run one. You should track conversions, see where your customers come from, and determine which marketing methods are successful.
You will need a WooCommerce reporting plugin to figure out all of this and more. It assists you in gaining insight into how clients use your website so that you can provide them with the items and services they prefer.
Aside from that, you may utilize a WooCommerce reporting and analytics tool to track the success of your marketing initiatives and find out where visitors are abandoning your site before making a purchase.
15+ Best WooCommerce cart reports plugins
1. Metorik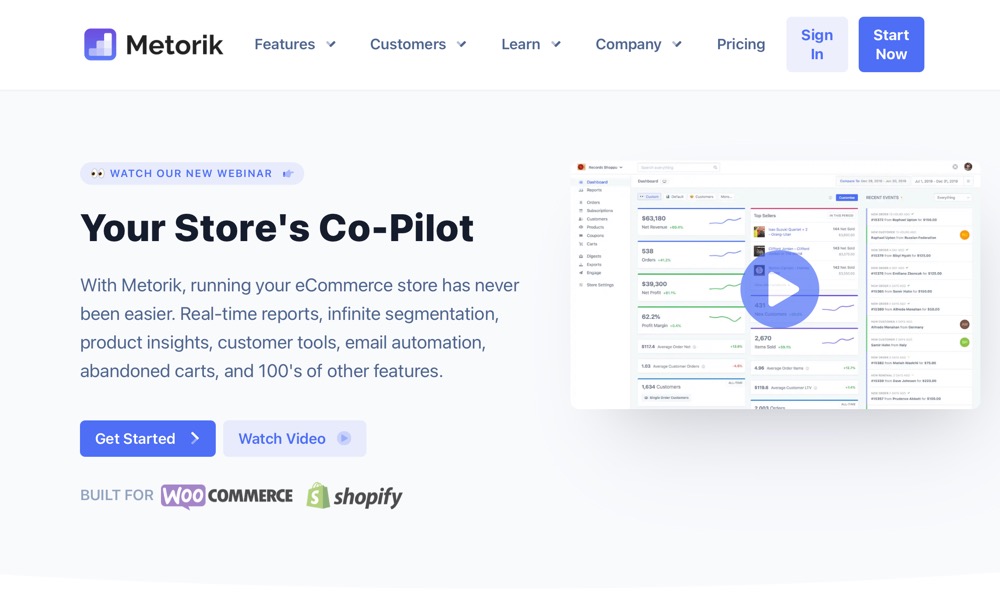 Bryce Adams, a former Automattic employee who worked on WooCommerce, has created Metorik, an app-based WooCommerce analytics and reporting platform.
Metorik has two major advantages because it is an app rather than a plugin that lives in your WordPress dashboard: The user interface is far superior to anything you'll find on your WordPress dashboard. It's not only more attractive, but it's also more functional. Because its database structures are distinct from the conventional query restrictions, Metorik will provide much better performance for large stores. As a result, huge retailers will no longer have to wait around 30 seconds to generate enormous reports.
Features:
Easy segmentation with a large number of and/or conditions and the ability to save certain segments.
Reports on product, variant, and category sales to help you figure out what's hot.
Orders and customers can be managed directly from the Metorik interface.
Email digests that provide the most critical information directly to your inbox or Slack channel (super convenient).
Customer support is made easier by integrations with common help desk platforms.
Price: $50
2. Abandoned Cart Lite for WooCommerce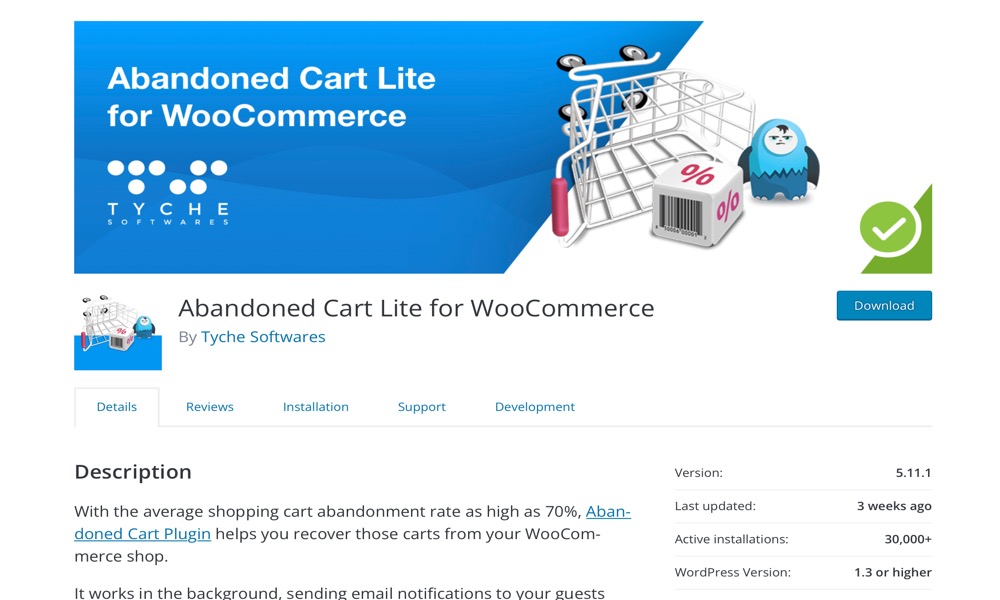 Abandoned Cart Lite for WooCommerce plugin will allow you to send customers automated emails reminding them of items in their shopping cart. These reminder emails can be sent to both registered and non-registered users in your store. The plugin will assist you in locating information about a cart, such as the products in an abandoned cart. It also allows your consumers to retrieve an abandoned cart with just one click.
Features:
Track the value of recovered orders when using the plugin
Estimate the amount of sales you will be able to recoup as a result of reminder emails.
When an abandoned cart is retrieved, the plugin also sends messages to store administrators.
When a customer buys something from an abandoned cart, the plugin turns off the alerts.
Price: Free
3. ActiveCampaign for WooCommerce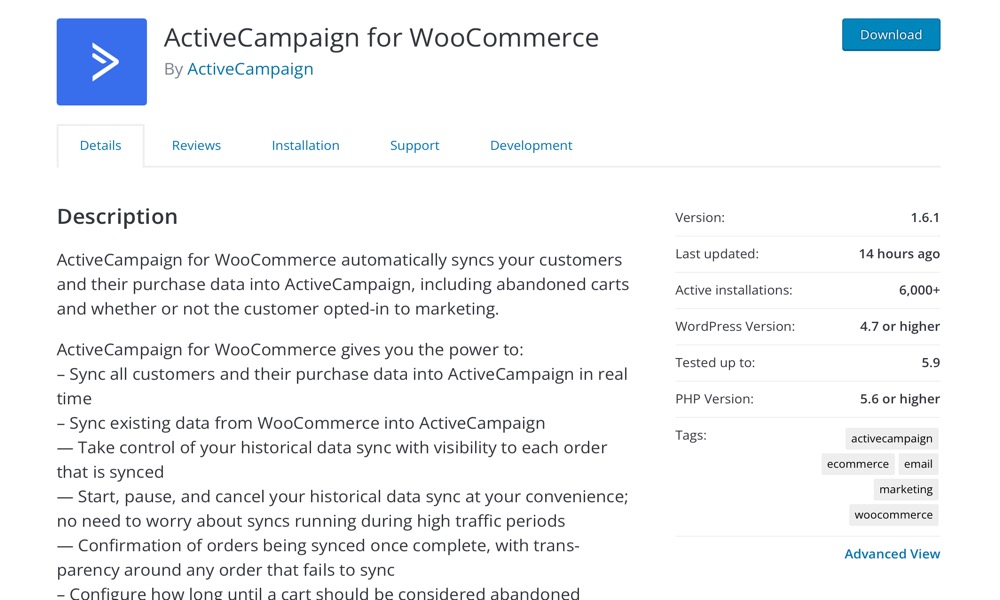 ActiveCampaign for WooCommerce is a prominent email marketing service that, among other things, may help you recover abandoned carts. You can sync your WooCommerce customer and purchase data to ActiveCampaign in real time with the aid of this free plugin. You will be able to set the amount of time a cart must be inactive before it is considered abandoned. You may set up cart abandonment emails to be delivered automatically anytime a customer abandons their shopping basket.
Features:
Take control of your historical data sync by seeing every order that has been synchronized.
Confirmation that orders have been synced once they have been completed, as well as openness about any orders that have failed to sync.
Set the time limit for when a cart is declared abandoned.
Customers can opt-in to marketing by checking a box on your checkout form.
Set the text of the opt-in checkbox and whether it is checked by default.
When a customer abandons a cart, automate the process.
Price: Free
4. YITH WooCommerce Recover Abandoned Cart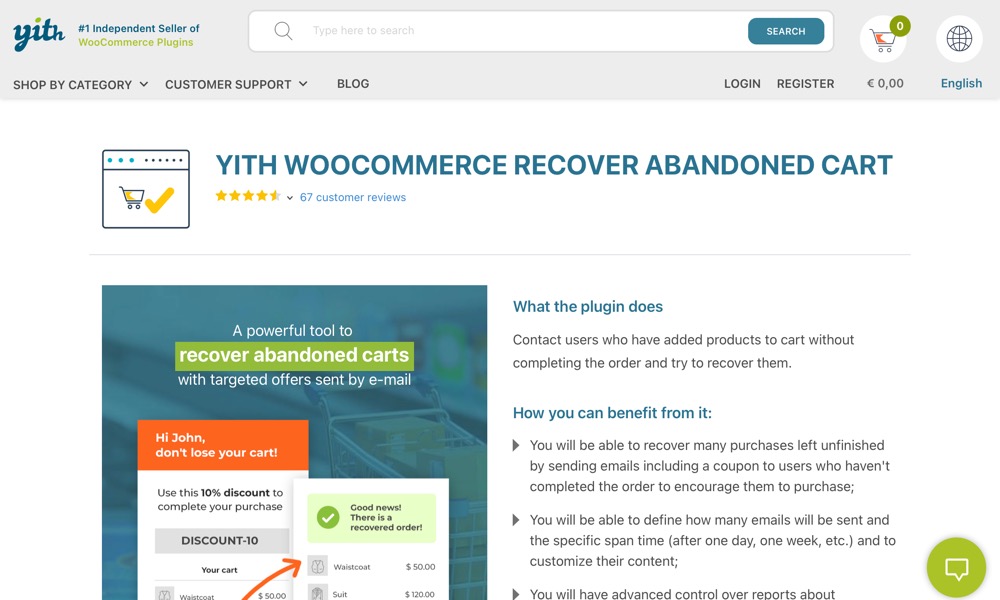 Among the free WooCommerce abandoned cart recovery plugins, this is another simple choice to explore. You will be able to remind your consumers to complete a purchase when they abandon a cart, much like all the other plugins we've seen. It will also assist you in customizing your email templates for sending to customers. The YITH WooCommerce Recover Abandoned Cart allows you to manually send cart abandonment emails to individual users or groups of users in bulk.
You can decide how long an inactive cart should be considered abandoned. This is a straightforward plugin that will assist you in maintaining control over your sales figures.
Features:
Recover a large number of unfinished transactions by sending emails with a coupon to customers who haven't completed their orders.
Determine how many emails will be sent and when they will be sent (one day, one week, etc.) as well as customize the email content.
Complete control over reports on abandoned carts, visitors to the site resulting from emails sent, and carts that have been recovered.
Price: $90
5. Metrilo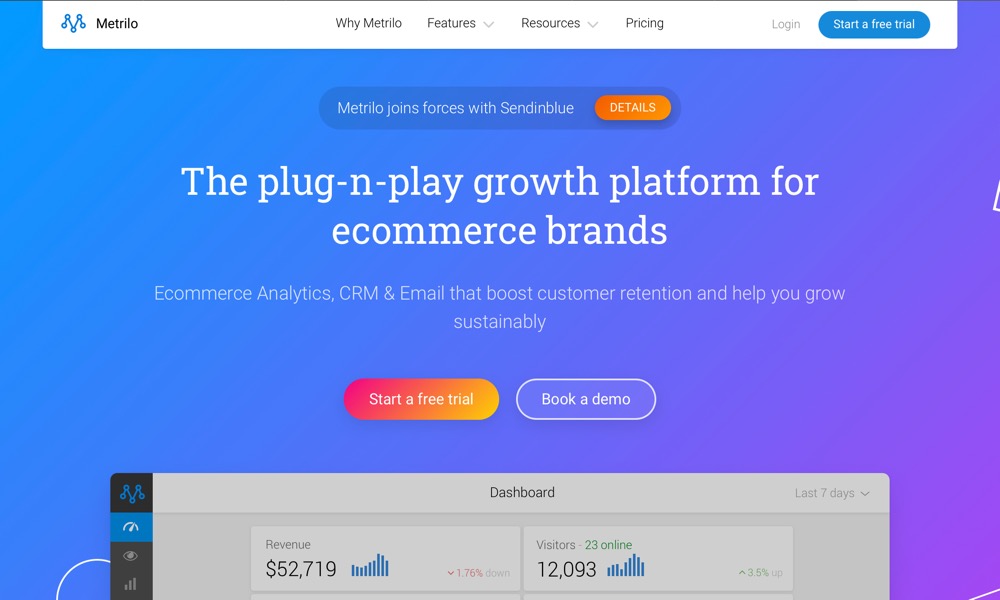 Metrilo is a stand-alone program that can be simply integrated with WooCommerce using a plugin. In the Metrilo cloud dashboard, you can access detailed analytics from there. Metrilo, on the other hand, is more than just surface-level analytics. It can assist you in delving deeper into what's going on at your store. For instance, Metrilo has a funnel analysis tool that allows you to look at three separate funnels instead of just one: Product, Content Marketing, Shopping Cart.
Features:
There is also a tool for analyzing retention.
Conduct cohort analysis to track the progress of specific groups of customers over time.
CRM for WooCommerce
Tool for automating email marketing
Price: $119
6. Woocommerce Google Analytics Pro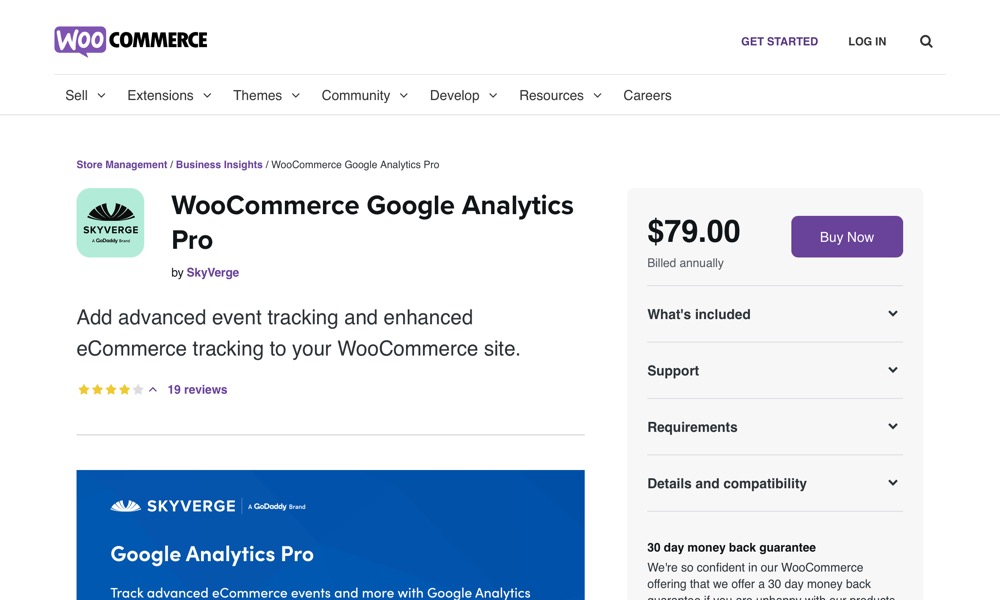 Suppose you enjoy the notion of a plugin that lets you combine Google Analytics with WooCommerce but found anything wanting in the previous tool we looked at. In that case, you might prefer the official WooCommerce Google Analytics Pro plugin. The Woocommerce Google Analytics Pro's primary goal is to integrate advanced event monitoring into your WooCommerce site and transfer relevant data from your business to your Google Analytics dashboard.
Features:
Easily monitor critical indicators like conversion rates, average order value, and the most popular goods and categories.
Improved eCommerce tracking in your Google Analytics account, and let this plugin handle the rest.
IP anonymization is a feature that allows you to hide your IP address.
Keep track of what you've put in your cart and what you have taken out.
Price: $79
7. ELEX WooCommerce Abandoned Cart Recovery with Dynamic Coupons
The ELEX WooCommerce Abandoned Cart Recovery with Dynamic Coupons is the ultimate solution to recover lost sales and boost revenue! With this powerful plugin, you can easily identify and follow up with customers who have abandoned their carts, sending them personalized reminder emails with dynamically generated discount coupons and encouraging them to complete their purchases.
You will also have access to detailed analytics and reports, giving you insights into your cart abandonment rate and strategies to optimize your conversion rate and tailor your recovery strategy to your business needs.
Features:
Send automatic recovery emails to customers who have abandoned their cart without completing the purchase.
View detailed reports on abandoned carts, including customer information, cart contents, and order value.
Include a direct link to the abandoned cart in recovery emails, making it easy for customers to return to their cart and complete their purchase.
Set up a series of email reminders at specific intervals to remind customers about their abandoned carts.
Set a limit on the number of recovery emails sent per customer to avoid spamming.
Personalize the email subject and content to make it more appealing to your customers.
Recover abandoned carts from both registered and guest customers.
Dynamically generate a coupon code for customers who recover their abandoned cart, encouraging them to complete their purchase.
Price: $79
8. Putler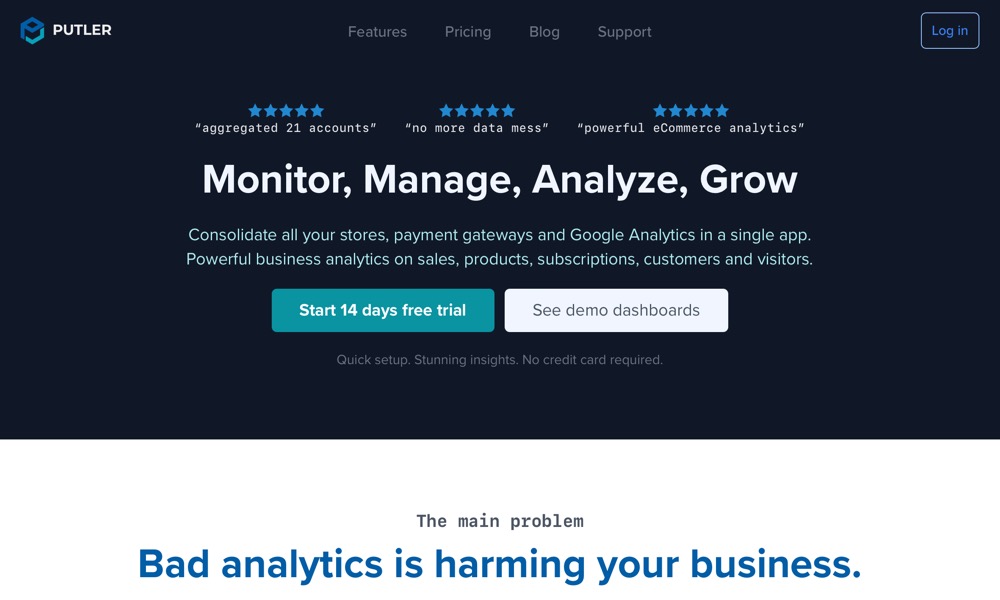 The huge dashboard of the Putler WooCommerce reporting plugin gives you an at-a-glance view of masses of different data without ever feeling cluttered or crowded, which is one of our favorite features. It is as complete a plugin as you will find in this industry, covering everything from basic statistics about your website's performance (such as page views, bounce rates, and so on) to in-depth information on your customers' browsing and purchasing habits. This plugin, unfortunately, does not provide it for free. You can rest assured that the pricing is fair.
Features:
Report sharing is simple and just takes a few clicks.
Reports that are customized and scheduled
Refunds can be issued directly from the platform.
Currency conversions and timezone conversions are done automatically.
Profiles and histories of customers
Geocoding, among other things
Price: $20
9. Monster Insights
Monster Insights is not solely a Woocommerce tool, but it does frequently top lists of the best general WordPress analytics reporting plugins, and it does come with its own eCommerce extension, so we'd be remiss not to mention it. While we don't have enough information to confirm or deny that allegation, it wouldn't surprise me if it were accurate, given how many useful features it contains. While other tools on this list may offer more comprehensive WooCommerce statistics, Monster Insights gives them a run for their money when it comes to basic site-wide tracking.
Features:
Includes universal tracking, which lets you track websites across several platforms and advertising campaigns without writing a single line of code.
Page-level data that is accurate and real-time, as well as the ability to measure clicks on affiliate links, advertisements, and other outbound links
Compliance with numerous data protection standards, such as GDPR, is built-in, making it an excellent choice if you're striving for the highest level of security.
Price: $99.50
10. Glew.io
Glew.io is without a doubt one of the most appealing WooCommerce insight plugins available. The main dashboard and the entire user interface are beautifully designed, making it easy to keep track of all of your important data. Still, we all know that substance, not aesthetics, is what matters most in this situation, and happily, Glew.io delivers on that front as well. Like all excellent reporting plugins, this plugin is designed to help you use your tracking data to better position your products and enhance conversion rates, and it succeeds admirably.
Features:
Learn about popular and trending items, lapse points, and more.
Inventory analytics reporting allows you to keep track of your stock levels and determine which items are taking up valuable space.
Figure out which subscription plans are the most popular.
Improve cash flow management and financial forecasting by using MMR (Monthly Recurring Revenue) measures.
Keep track of your long-term subscriber retention.
Price: Free
11. HubSpot for WooCommerce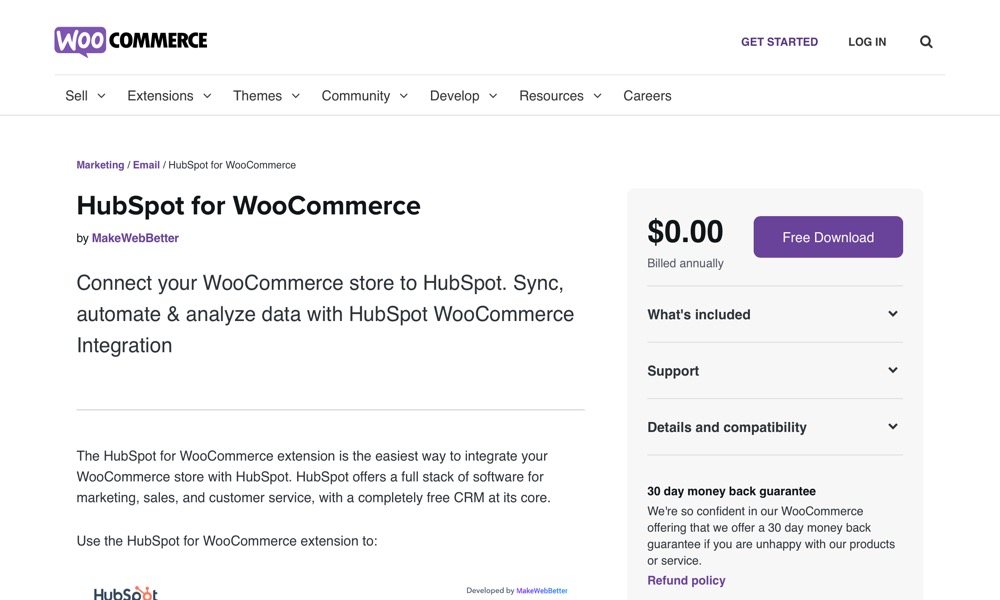 While other WooCommerce tools may be more concerned with products and inventory, HubSpot for WooCommerce is mostly concerned with marketing. That isn't to say it doesn't have all of the features you'd expect from a WooCommerce analytics plugin. Customer profiles may be created, inventory can be checked, popular and trending products can be viewed, and basic site performance information can be viewed.
Features:
The plugin integrates WooCommerce with your primary HubSpot account, allowing you to track your customers' whole journey.
To help you better examine your data, it's been broken down into separate categories.
Come with personalized, scheduled reports so you can get the most up-to-date stats delivered directly to your inbox.
Google and social media advertising campaigns
Price: Free
12. Enhanced eCommerce Google Analytics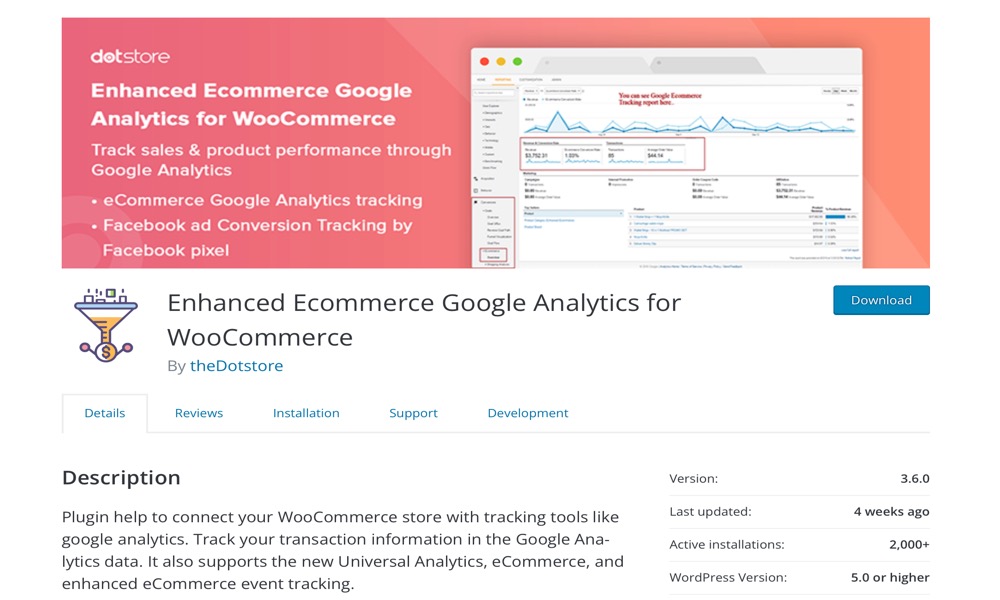 Improved Ecommerce Google Analytics does not generate analytics or reports on its own. But it does make it simple to set up Google Analytics Enhanced ECommerce capabilities in your WooCommerce business. You can track all of your customers' actions across your WooCommerce store with Enhanced eCommerce Google Analytics.
Features:
Purchasing Habits
Checkout Attitudes
Performance of the Product
Performance in Sales
Price: Free
13. Product Sales Report For WooCommerce
Product Sales Report For WooCommerce is an excellent reporting tool for determining how many sales your eCommerce site generates and then sharing sales information with others. Aspen Grove Studios created a WordPress plugin that is incredibly simple to use. You can select which products to include in the sales report and adjust the reporting period.
Features:
Various options for how the report's reporting fields are displayed. For example, you can display product ID, SKU, name, quantity sold, gross sales, product category, and other information.
Generate and view the sales report right from your WordPress dashboard, and save it as a CSV file to share with others.
Price: Free
14. WP Mail SMTP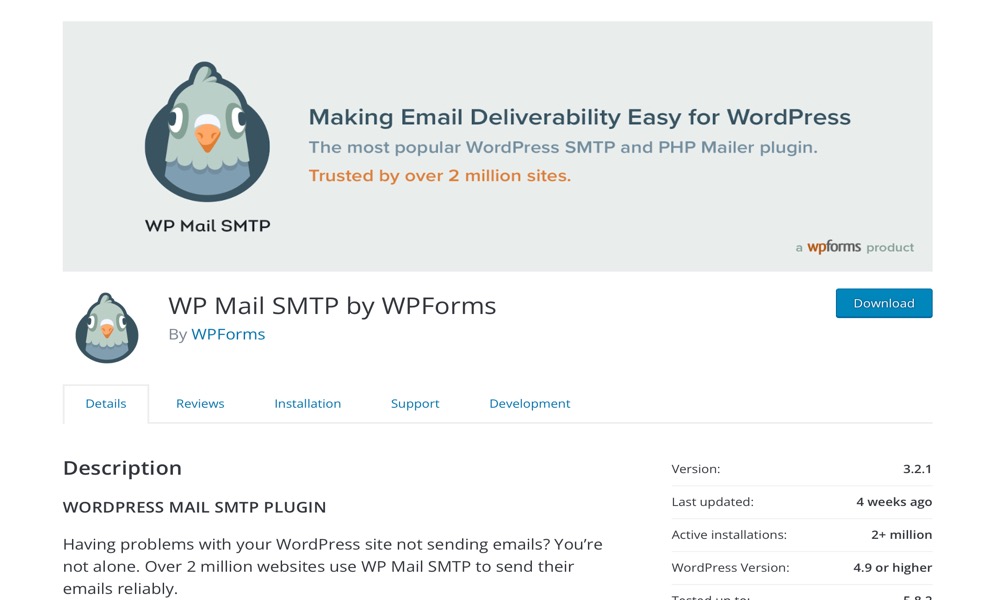 One of the best WooCommerce plugins for your store is WP Mail SMTP. It ensures that your emails reach your consumers' inboxes and provides tracking and reporting for all emails sent from your website. You'll need to provide your customers receipts for their purchases, order details, user account details, order confirmation emails, and a lot more on a WooCommerce store. If your customers aren't receiving these critical emails, it will create a negative user experience and lose potential clients.
Features:
You can track whether or not your emails are delivered with WP Mail SMTP.
Allow email logs to be enabled in WP Mail SMTP, and the plugin will handle the rest.
View your email logs in your WordPress dashboard to see how many times each email has been delivered, opened, and clicked.
Price: $39
15. Sales Report By Country for WooCommerce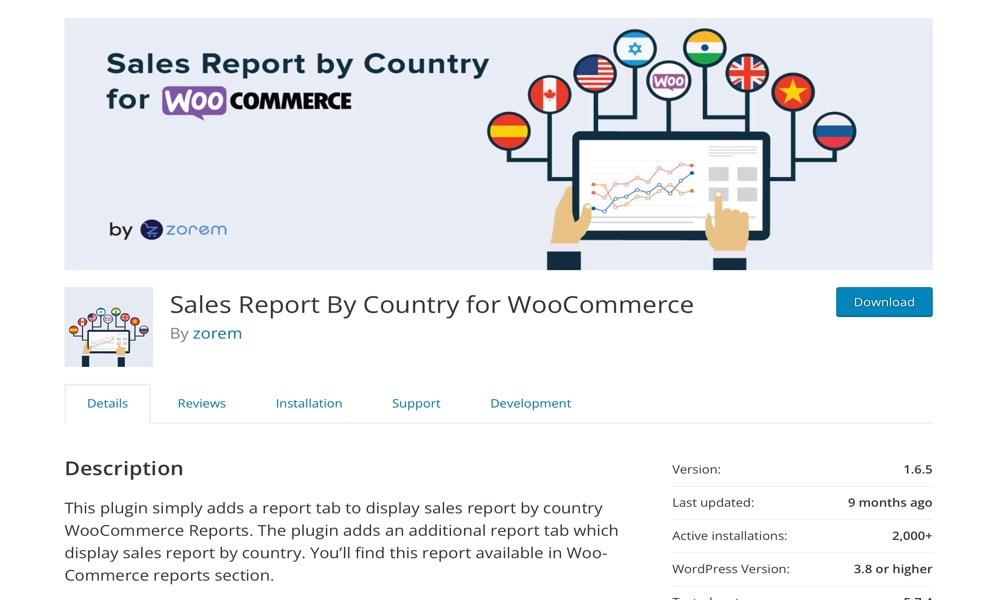 Another great WooCommerce reporting and analytics tool is Sales Report By Country for WooCommerce. The plugin was created with the goal of tracking sales from various locations on your online store. It is so simple to use and requires no setup. All you have to do now is install the plugin and go to your WooCommerce reports area to see the sales report by nation.
Features:
Simply examine the top 10 nations that bring income to WooCommerce stores with the plugin.
Customize the way the graphs in the report are visualized using a variety of choices.
Sort the data by date range, see sales from the previous year, month, week, or select a custom date range.
Price: Free
16. Advanced WooCommerce Reporting
![Advanced WooCommerce Reporting](https://cdn4.avada.io/media/shopify/oKTyY67.jpg
Advanced WooCommerce Reporting is a popular CodeCanyon plugin that improves your in-dashboard charts for a one-time fee, whilst Metorik takes a more traditional method. It not only gives you additional options, but it also looks nicer than the WooCommerce reports that come standard. In addition to its popularity, this plugin has good reviews at CodeCanyon and includes a full-featured sample that you can play around with before purchasing.
Features:
Report on all orders - a large report with a lot of precise information.
Reports on products, category, taxes and refunds
Providence reports - let you compare your actual data to the objectives you've set.
Sending scheduled reports via email is a good way to get a quick summary of your store's most critical data.
Price: $39
Conclusion
Cart abandonment is inescapable when it comes to running an eCommerce company. Customers will continue to add items to their shopping carts, but they will not complete the purchase for a number of reasons. On the other hand, timely communications can help you turn a high number of abandoned artworks into successful sales. If you have a WooCommerce store, you can use a variety of free and premium plugins to help you recover abandoned carts.
We hope you will find this article about Top 15+ WooCommerce cart reports plugins for your store necessary!
New Posts
Subscribe
Stay in the know
Get special offers on the latest news from AVADA.
40k
subscribers has been joined!
Earn $10 in reward now!