10 best Beaver Builder plugins for WooCommerce store
10 best Beaver Builder plugins for WooCommerce store
What if we told you that there was a way to take the already-excellent Beaver Builder page builder plugin and…add a slew of new modules and functionality? That sounds great, doesn't it? That is precisely what Beaver Builder add-ons can assist you with.
Would you like to add shadow borders to your image galleries? Checked. Do you require customized elements and buttons for your online store? Easy. Additionally, you may accomplish a great deal more using the numerous Beaver Builder extensions available.
In this essay, we'll discuss 10 best Beaver Builder plugins for WooCommerce store that add this feature to your preferred page builder. The add-ons are various and versatile; some are included in the free version, while others require an upgrade to the premium version.
Why should you use Beaver Builder plugins?
Before we begin, you may be wondering why you should bother with add-ons. After all, Beaver Builder is quite capable on its own.
There are two compelling reasons for this:
To enhance functionality.
To expedite the process of creating a website.
To begin, add-ons enable you to extend functionality that is not included in the regular Beaver Builder installation. For instance, the Fullwidth Layouts add-on enables you to create layouts that span the entire width of the screen. Others, such as Ultimate add-ons, add a slew of new features.
Second, by saving time and effort, add-ons can help you enhance your productivity. For instance, the Dashboard Welcome add-on enables you to modify the login page's welcome message. This enables you to quickly gain an overview of a variety of metrics and settings, saving you (or your clients) considerable time.
10 best Beaver Builder plugins for WooCommerce store
Orbit Fox is a versatile plugin that extends your theme's functionality via modules. You can incorporate social network sharing buttons and symbols, as well as uptime monitoring, Google Analytics, and custom menu icons.
Along with its additional Beaver Builder add-ons, Orbit Fox delivers a slew of other useful features unrelated to Beaver Builder. Additionally, you may monitor your website's uptime/downtime, add social sharing icons, integrate Google Analytics, import free stock images from MyStock.photos, and install free pre-built layouts.
Key Features
Buttons and symbols for social media sharing.
Icons for menus customized.
Monitoring of system availability.
Notice regarding our privacy policies (GDPR friendly).
Directory of Templates.
Elementor Widgets and Addons.
Price: Free.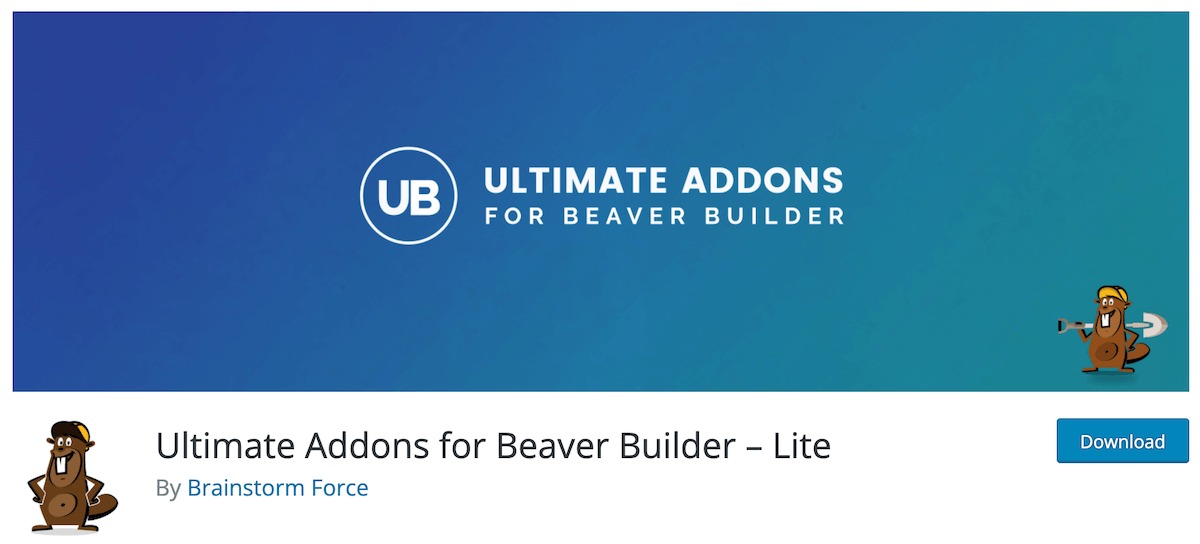 The Ultimate Addons for Beaver Builder save you time by automating the complex website construction process using easy-to-use drag-and-drop modules and templates. Simply drag and drop custom modules and pre-designed row and page layouts to significantly cut your website creation time!
This plugin includes a plethora of add-ons and modules for your preferred page builder, however only a select few are available in the light version. By a few, I mean ten, which is still quite a lot; the premium edition includes a far larger package. Boost Beaver Builder's performance with 60+ strong modules, 200+ section templates, and 100+ page templates for lightning-fast WordPress website development! This Beaver Builder Addon is meant to simplify the process of website creation for everyone.
Key Features:
Beaver Builder modules totaling over 40.
300+ page and section templates in the Template Cloud.
While remaining in the editing page, you can view a live preview.
Branding under a white label.
Modules can be enabled and disabled easily.
Performance and speed have been optimized.
Price:
The Lite version is available for free. However, if you wish to unlock further add-ons, there are 3 price plans to choose from:
Ultimate Addons: $69/month.
Essential Bundle: $207/month.
Growth Bundle: $392/month.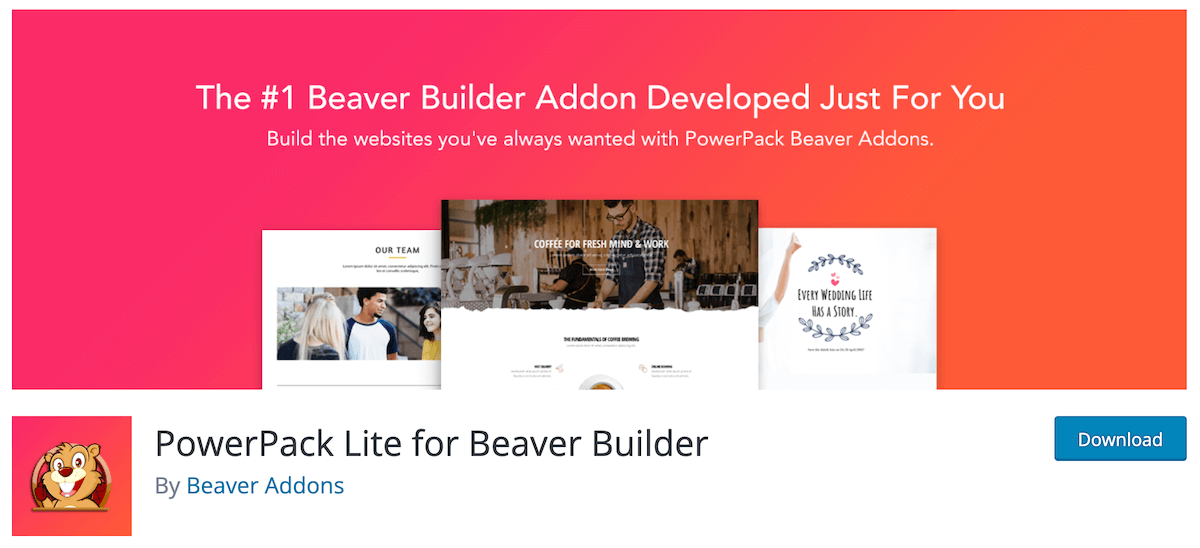 PowerPack Lite is another excellent Beaver Builder extension. It includes more than 50 custom modules and 350 design elements to assist you in building an excellent website. They significantly accelerate the website development process, saving you time and energy. Additionally, you do not need to know how to write code, making it accessible to users of all ability levels. This plugin is also available in two varieties – lite and premium.
Key Features:
50+ really strong modules (of which 9 are free).
For businesses, there are 250+ Beaver Builder page and section templates.
Front-end preview with a single click for Beaver Builder.
Enhanced module search.
Branding under the White Label.
Select from Grayscale or Colored row templates.
Price:
The Lite version is free of charge.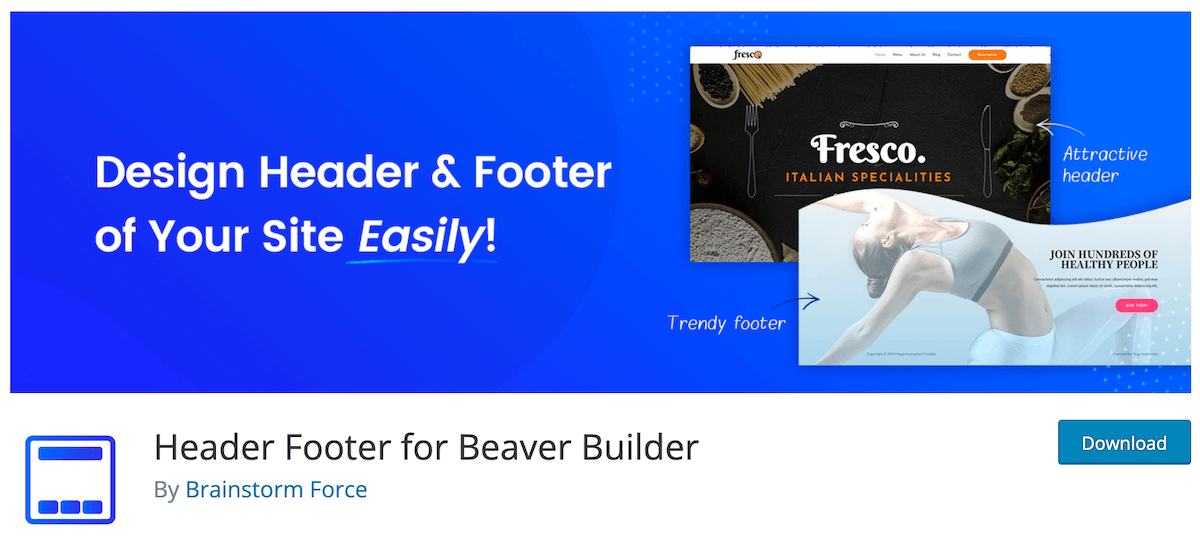 This is a free plugin that enables you to create your own header and footer using the Beaver Builder editor. To construct a header or footer, simply create a new page as usual and save it to the drafts folder.
Once a header or footer has been generated, navigate to the Beaver Builder page builder settings and click on BB Header Footer. You can now select the header and footer that you previously designed and altered. Once finished, save everything and you're ready to go.
Key Features:
Allows you to utilize completely customized headers and footers throughout your website.
You can create your own footer/header.
The plugin enables you to use any page saved to your blog's archives as a header or footer.
Comes with a variety of header options, including translucent, sticky, and shrink.
Price:
This plugin is available for free.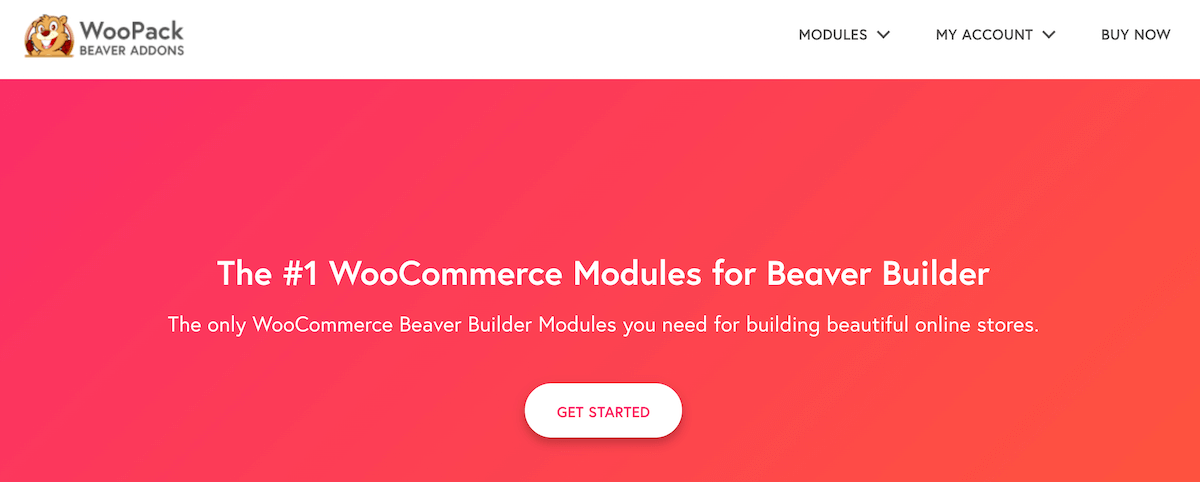 WooPack Beaver Add-ons is one of the most well-known Beaver Builder add-ons, and with reason. It's brimming with features and extras that will assist you in optimizing your Beaver Builder website.
There are more than 65 modules, 350 readymade templates, and extensions available. Additionally, you may customize your pages with headers and footers, off-canvas content, a content ticker, and other inventive aspects.
This paid plugin enables you to integrate Beaver Builder's functionality into your WooCommerce store. All modules can be viewed 'live' via their respective live demo pages.
Key Features:
Four distinct styles for individual product pages.
Design alternatives for call-to-action buttons that are simple to implement.
All elements have color options.
Multiple layouts for related and prominent products in a carousel.
65+ robust modules for adding various components to your site.
350+ pre-designed themes for pre-designed website kinds.
Price:
This plugin is a terrific choice for any project. There is a free and a premium version available. The free version was already mentioned, but the paid version is:
WooPack: $59/year.
PowerPack: $69/year.
Combo: $99/year.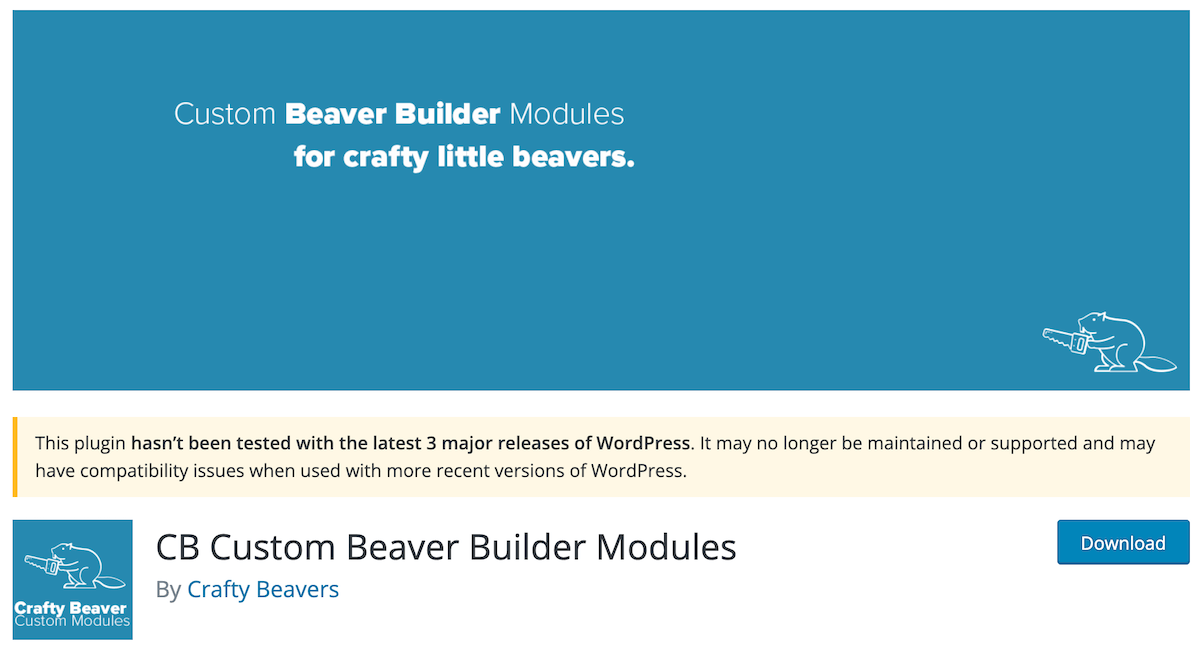 This is another free Beaver Builder add-on bundle, with 13 useful modules for extending the functionality of your website. The wonderful thing about this plugin is that if you don't like any of the free Beaver Builder add-ons, you can design your own for a fee determined by the creators based on the intricacy of your requirements.
To do so, you must complete the comprehensive form available on the plugin's official website. While the custom module service is what characterizes Crafty Beaver Custom Modules, if you're simply seeking to expand your Beaver Builder add-ons collection, you might want to start with the ones included with the plugin. Additionally, keep in mind that some of the modules may require the premium edition of Beaver Builder.
Key Features:
Menus, images, photo galleries, backdrop effects, and information lists are all available as free modules.
Custom module development services are available for a fee.
Design and development on a custom basis.
There will be three rounds of changes.
Price:
This plugin is free to download.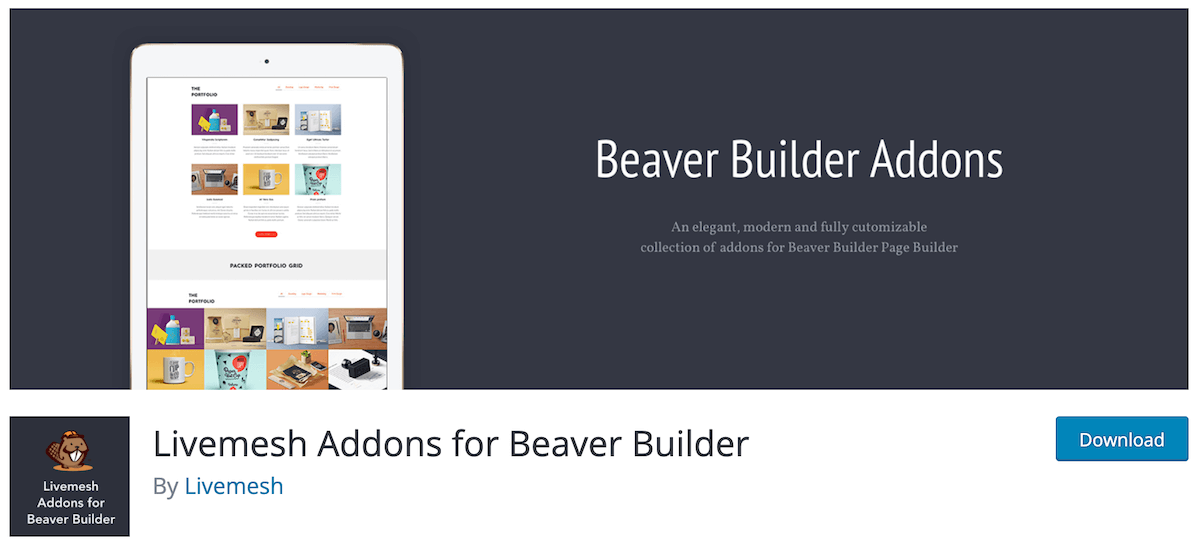 Livemesh Addons for Beaver Builder is a massive collection of excellent, easy-to-use, yet extremely functional extensions for the Beaver Builder page builder. This is a genuine premium plugin that is available for free.
This plugin includes extensions for nearly everything you need to create a professional website without having to convert to a premium theme - services, team profiles, counters, bar charts, pie charts, testimonials, clients list, portfolio/posts grid, post carousels, and pricing plan in the PRO edition. All the addons that enable you to convert your free theme to a premium one in a matter of clicks. By simply enabling this plugin, you'll have access to every premium page builder element you'll ever need.
Key Features:
Almost every element has a dark counterpart (aka display in a dark or image background).
Sample data to assist in reproducing the demo site.
Widget styles and variations.
Translation is prepared.
Price:
This plugin has a free version that is ready to download right away. There are also 3 PRO versions available to purchase:
Personal: $39/year.
Business: $69/year.
Developer: $99/year.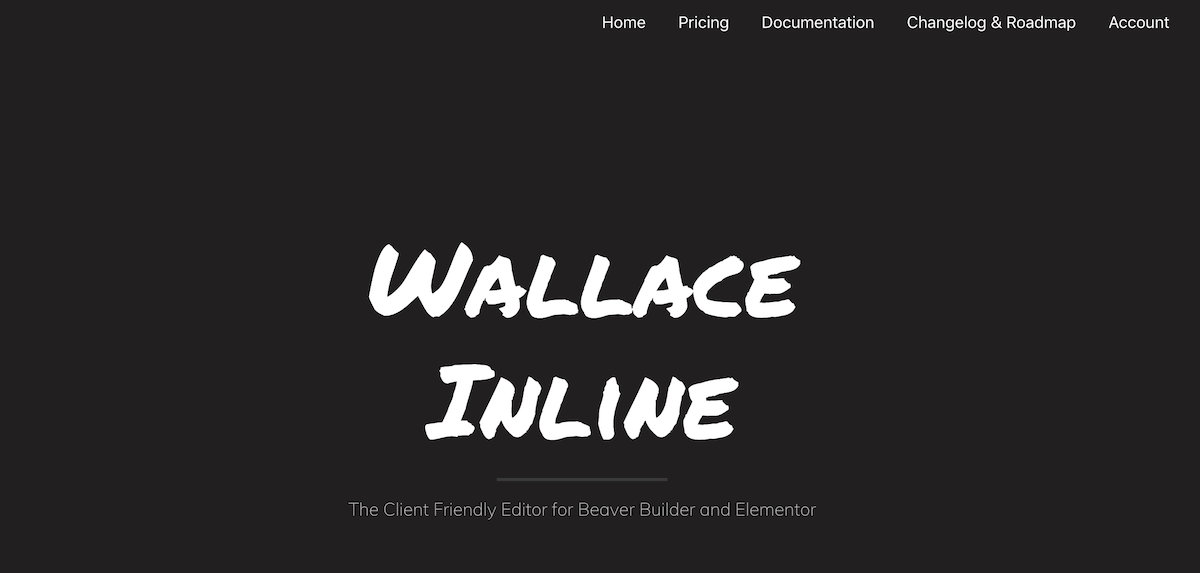 Wallace Inline is a cutting-edge editor explicitly created for Beaver Builder and Elementor. It is "client friendly," which means it is designed to assist your clients in managing their own websites. As a result, it is advantageous for freelancers and agencies.
Wallace Inline makes modifications directly on the page without requiring clients to grasp the technological back end. Additionally, you, the developer, can specify precisely what is modifiable. Text, photos, and other site elements are all editable.
Key Features:
Client-facing inline editing.
Easily edit text, photos, and other elements from the front end.
Price:
$49 per year for up to three locations.
$249 one-time fee for unlimited sites.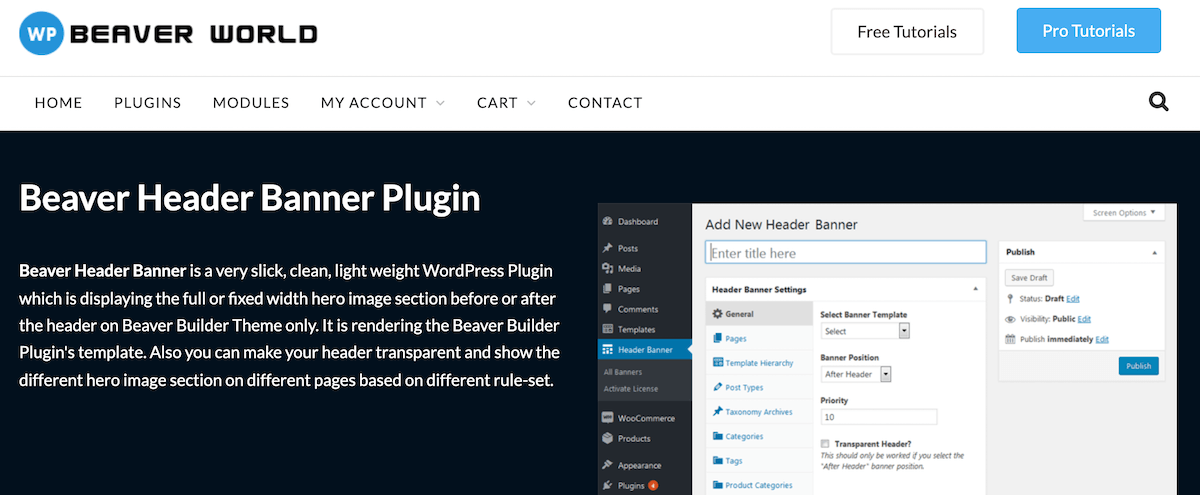 Beaver Header is a straightforward and uncluttered plugin that enables you to include a hero section before or after the header. It is a full-width template, making it excellent for marketing your items or including a subscription form.
Additionally, you can make the header transparent. Best of all, you can build rules that specify which headers should be displayed on certain pages.
Key Features:
Include a section with a hero header.
Header that is transparent.
Diverse headers on distinct pages.
Price:
9.99 dollars for a one-year license.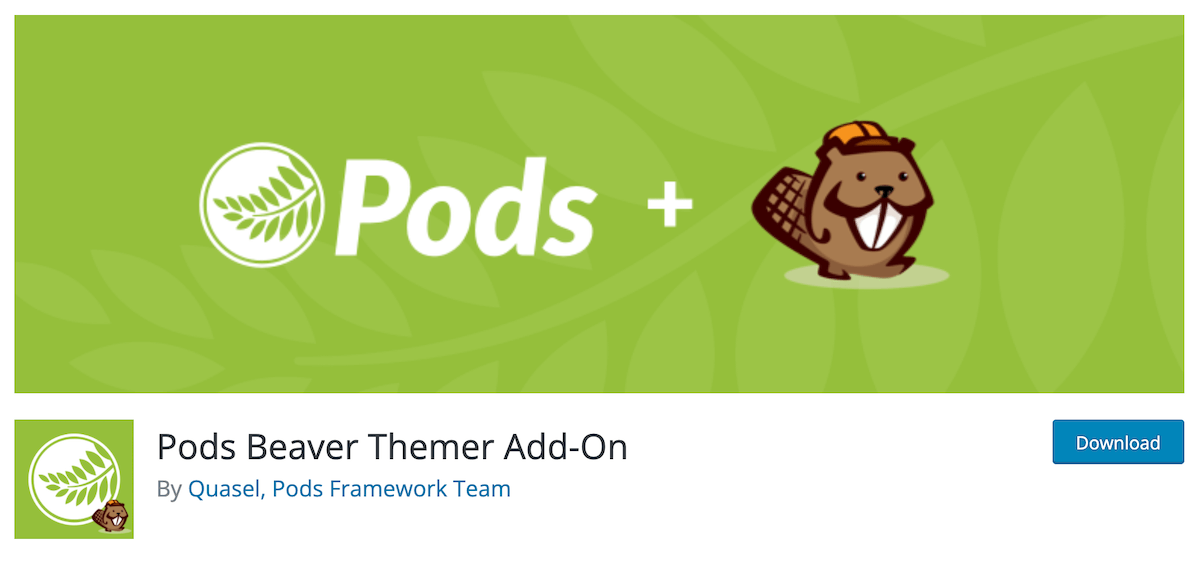 Want to create some stylish custom content such as custom post types, custom taxonomies, and user profiles? This is made simple with the Pods Beaver Themer Add-On.
This plugin enables you to manage all of your custom content in a centralized location. When paired with Beaver Themer, you can simply create dynamic websites utilizing Beaver Builder's drag-and-drop capability.
Key Features
Manage all of your custom content, post kinds, taxonomies, and user types in one location.
Select Pods fields via a dropdown Costs menu in Beaver Themer field connections.
Price:
This is a free WordPress plugin that you can download from the WordPress repository.
Final thoughts
These are our top selections for the greatest Beaver Builder add-ons for adding additional functionality to your website. You may extend your existing Beaver Builder interface even further by adding media elements, styling and design, WooCommerce, content, and business-related sections and boxes.
New Posts
Subscribe
Stay in the know
Get special offers on the latest news from AVADA.
40k
subscribers has been joined!
Earn $10 in reward now!